The best thermal baths/ Swimming pools in Budapest
Thermal baths are part of the Budapest experience; you haven't really experienced Budapest unless you've been to a thermal bath. The thermal baths here are so unique and if you're anything like me and you want to always try out new things, then this would be perfect for you.
Thermal baths here are part of our lifestyles here, like every once in a while we're like you know what we should do? We should go to a thermal bath. It's an activity for all seasons and all moods. If you're in the mood to chill, then perfect. Spend a day chilling in those pleasingly warm hot tubs and if you're in the mood to party, then check out when the nearest "Sparty" is. Yes you heard it right; "Sparty" is a completely Budapestian tradition. It's a mixture of the words Spa and party. They are super popular here and although I admit they're a tad bit expensive, I still think it's worth going once. It's a little expensive for us Budapestians and especially students but I don't think it's that pricey for tourists, it's the same price as a fancy spa. They've got Djs, bars and whole lot of swimming and dancing in those hot steaming waters! I'll attach some reputable pages so you guys can seek more information in regards to it.
But back to the main topic of this article, the thermal baths; there are quite a few of them around Budapest and even in other cities and so in this post, we're going to take a look at them one by one. I'll introduce my favorite ones and we'll go through them one by one.
1) Gellert Bath
Address: Budapest, Kelenhegyi út 4, 1118
This thermal bath is undoubtedly the most well-known thermal bath in all of Budapest. Of course as it's usually the case with the most well-known of the places, they aren't necessarily the best. Gellert bath is beautiful that's for sure but it's also small, expensive and often crowded. It is located in Gellert hotel itself.
If you are looking for a more unique experience, I would definitely suggest the other thermal baths.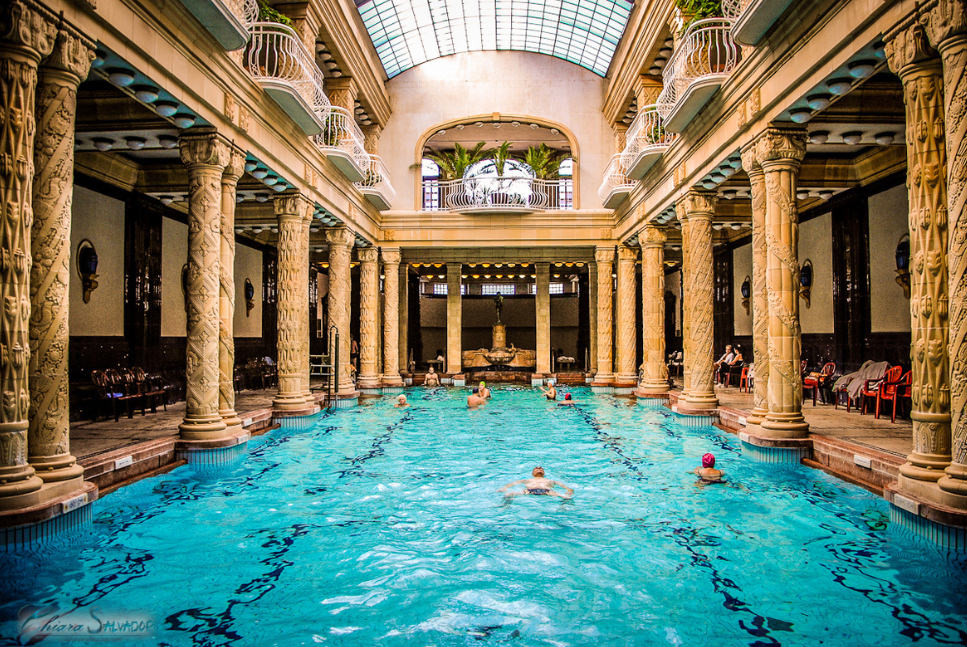 2) Szechenyi thermal bath
Address: Budapest, Állatkerti krt. 9-11, 1146
The Szechenyi thermal bath is apparently one of the largest bath complexes in Europe and it is certainly my favorite thermal bath out of the list. I like it the most because it's so large and spacious that it doesn't matter how crowded it gets. You can still enjoy it. this thermal bath has 21 pools! That's insane.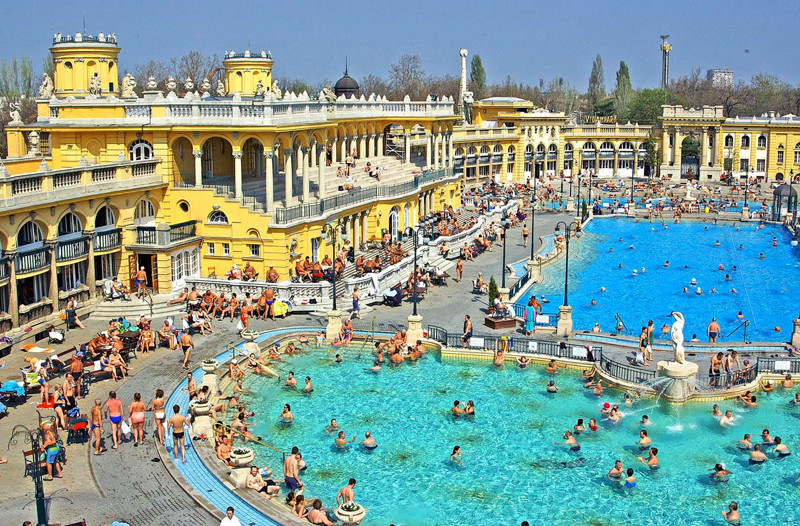 I would say the tickets are kinda expensive, if I'm not mistaken it's about 5700 forints for a day ticket which is like less than 20 Euros. Again this isn't too much for a tourist but for a student, it's certainly a little expensive.
The szechenyi bath is one of the oldest thermal baths here in Budapest and it also provides a lot of other services such as massages, pedicures and even mud massages. The prices are more expensive that outside venues and I have never tried them so I've got no opinions.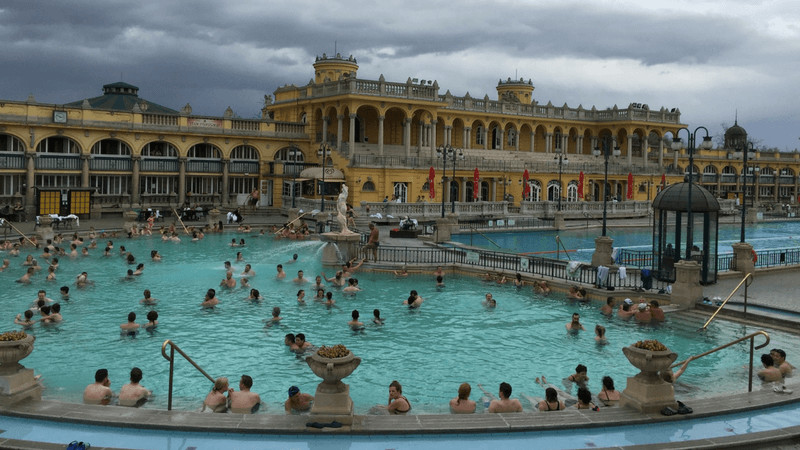 If you want my advice, go early! If you want to take the day ticket, be there before 9 am that's when the queue is the smallest. You'll be in the queue for a shorter time and have more time in the thermal bath itself. If you want to buy the evening ticket, then be there way earlier than 7 pm. I have never been there for the evening shift but I know that it can get crowded more so in the summer and hence you'll have even less time in the pool. I went here during a weekday, it was a Wednesday if I'm not mistaken and it wasn't so crowded, but of course this was before this crazy touristy season. Oh also take something with you to eat, everything is so expensive there that it's much better to not buy anything in there.
I have attached the website and you guys can go and check out the prices. It even gives a detailed description of the pools with their water temperature.
3) Rudas bath
Address: Budapest, Döbrentei tér 9, 1013
Address: Rudas Gyógyfürdő és Uszoda, H-1013 Budapest, Döbrentei tér 9
I am torn between Szechenyi and Rudas. One is magnificent, large and spacious and the other is cozy and offers a breath taking view. I genuinely don't know which to choose. I went to Rudas bath on a winter afternoon. It was so cold outside, definitely something like -5 degree Celsius and the warm water was our only shelter from the cold. Rudas is a rather small thermal bath if you compare it to Szechenyi but the coziness that you feel here is irreplaceable. I still remember the feeling, it was so tranquil and given it was so cold, there was almost no one there. At some point it even started snowing and it just felt magical. Unfortunately I never got the time or the money to go here once more during the winter but this winter you know where I'll be.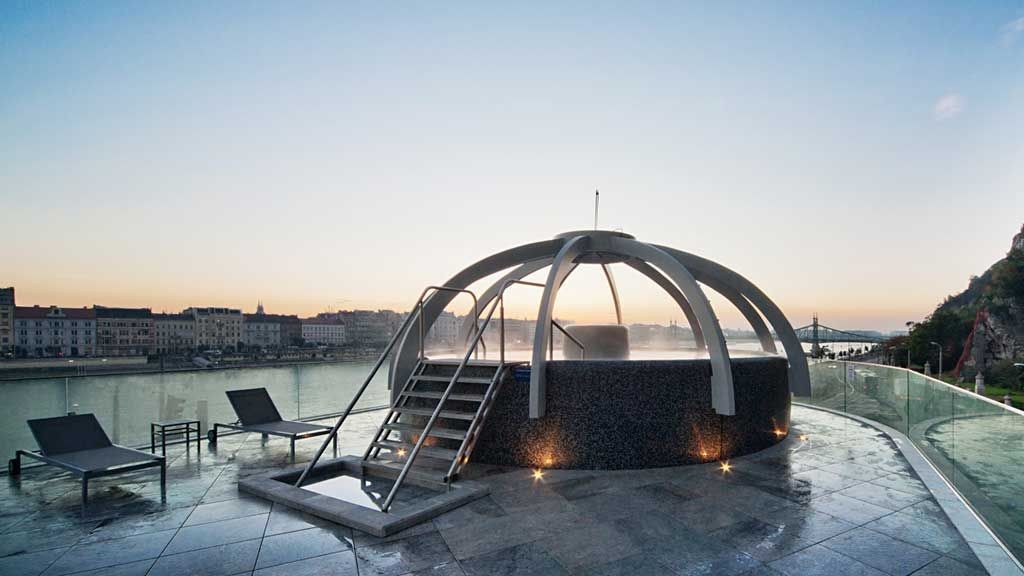 The ticket prices range from 2000 HUF to 6200 HUF depending on the type of ticket you choose. The cheaper tickets only include swimming tickets and the more expensive ones also include the therapeutic thermal baths.
4) Palatinus Bath
Palatinus bath is nothing short of iconic. It was opened in 1919 and has operated ever since! It offered the first outdoor baths in which the guests could use to bathe outside. Nowadays the complex contains 1o different swimming pools including a very iconic swimming pool which contains various slides for your entertainment!
There is a wave pool, swimming pools and beach type of pools. So trust me when I say that an entire day isn't even nearly enough for this complex. There are various swimming pools and equipment which are suitable for children. There are also playgrounds in the complex so the kids never get bored!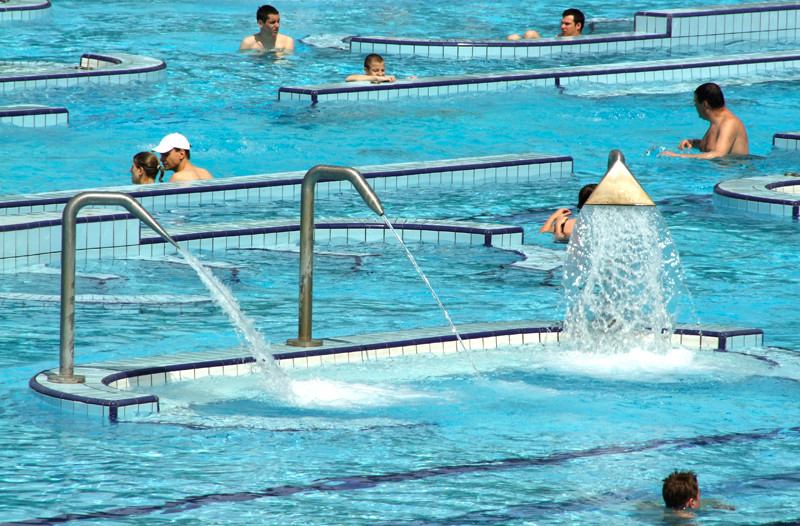 The location of the pool is certainly well accessible via public transport, as I metioned above you can take the 4/6 tram and go to Margit Hid, from there you can walk to the Margaret island and hence the Palatinus bath.
The water is supplied by the margit island hot water springs and although not all the swimming pools contain thermal water, you can still find a few. You can find the name of the pools, their water temperature and depth on the website. The depth is from 0 to about 140 cm, which means it's not that deep.
I like the slide pool and the wave pool the most out of all of them which incidentally they are the ones that attract the most visitors. Now let's take a look at some of the most practical details such as opening hours and the ticket prices.
The opening hours are from: 8 AM to 8 PM
The ticket prices vary from 3100 for adults and they cost 2400 for students. there are 3 hour tickets and on weekends the adult ticket is 3600 and the student ticket is 2600 Forints.
They also offer different massage services such as foot massages, head massages and even something like Hungarian Wine Massages! The duration of the massages vary and so do the prices.
If you have a Budapest card, you're inclined to get 20% of discount from the thermal baths. Do you know what a Budapest Card is?
Another option is to purchase a "Budapest Card", which is basically a card that includes discounts to various attractions; I have never purchased this card and so I can't tell you whether or not to buy this. When you purchase the Budapest card, you can use the public transportation for free and get discounts for up to 21 attractions.
The tickets cost 6, 490 Forints for 24 hours and 12, 990 for 72 hours. The prices are quite high but if you plan on going to majority of these attractions they could be worth it.
For more information check out their website.
My personal experience is that this swimming pool is perfect for the summertime. I mean it's so refreshing to go here and there is never a dull moment. I wouldn't really suggest it the most during the winter since there are better thermal baths like Rudas and Szechenyi that you can go to. Also the combination of the slides makes it an even more fun experience.
5) Alfred Hajos Swimming pool
There is another swimming pool complex in Margit Sziget but this one is a rather professional complex. It is for those who would rather swim professionally. Some important European matches were held here during 2014. Even professional sportsmen play water polo her and practice their speed swimming. As you can see I don't know anything about swimming and hence I'm sounding a little amateur now.
Let's take a look at the other facilities of this complex. The swimming pool is called Alfred Hajos which was the first Hungarian Olympic champion.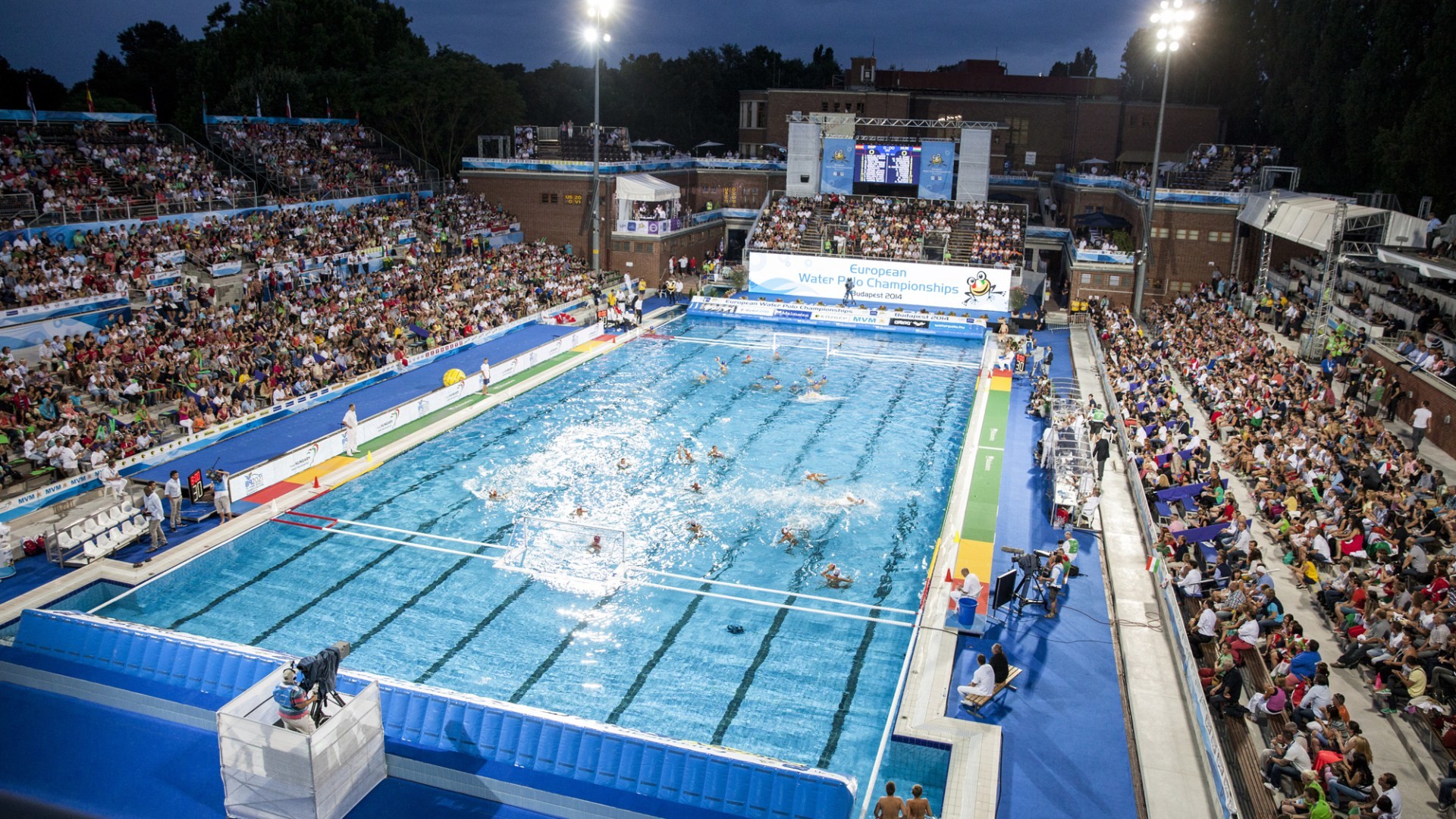 There are overall 8 swimming pools and a diving spot. You should always check out their website before going there because sometimes they have some sort of professional competitions going on and the pools are closed to the public.
Generally I would suggest this place if you are an intermediate or professional swimmer. I'm genuinely not a good swimmer; I'm not even nearly a good one. So I usually go to Palatinus baths since they're more fun. Yes I know I'm a child inside and out.
I hope you enjoy this short guide to Budapest's thermals baths and swimming pools.
Follow us at @diariesofwanderers
Cheers
---
Photo gallery
---
---
Content available in other languages
Want to have your own Erasmus blog?
If you are experiencing living abroad, you're an avid traveller or want to promote the city where you live... create your own blog and share your adventures!
I want to create my Erasmus blog! →