Wanderlust takes me to Brussels
So my Erasmus journey is coming to its end soon, the effects of it, however, I am sure will last forever. Before going back to Turkey, I decided to have one last trip to some of the countries I had not been to yet. So I made a 7-8 days travelling plan for Belgium, Netherlands and Germany.
I was going to do it alone, but at the last moment my friend from Kyrgyzstan decided to join me.
In this blog I am going to focus on my experience is Brussels alone.
Reaching Brussels from Poland
So we found quite cheap tickets from Warsaw Chopin Airport to Brussels Charleroi Airport. A one side ticket for one person cost around 14-15 Euros with Wizz Air. However the Charleroi Airport is quite far from Brussels city centre and the shuttle service will cost a good 16 Euros. If you want to reduce your cost, I would suggest finding a suitable ride at Blabla car beforehand.
Accomodation
For accommodation, our plan was to do couch surfing, but since we were arriving quite late at Brussels City centre and that too, on a weekday, we couldn't find someone to host us. Anyway we found a good hostel not far from the city centre. I remember from the bus stop we went there by walk. The name of the hostel is "Brussels Hello Hostel" and we paid 34 Euros in total for 2 persons for one night. A good breakfast was also included in the price; therefore I would highly recommend it.
I was quite shocked to see the quantity of taxis on the road though; I never knew there would be so many of them in the capital of Belgium. After all, I knew the city to be famous for bicycles. At first sight, I thought they were all parked in a parking. But that was not the case, well, that was a huge Traffic Jam.
So we reached hostel quite easily. Thanks to the Google Maps! We went almost straight to the bed to get charged for a great adventure tomorrow.
Let the adventure begin
We started our day by having a nice breakfast at the hostel. There were free city maps at one of the stands near the reception which served as a good guide for knowing: From where to where?
Our first destination was the Church of Saint-Jean Baptiste as it was the closest and most suitable place to start our tour. When we reached closer, we found that there was a big open bazaar around it and what surprised us was the amount of immigrants there. For a while, I felt like being in a traditional bazaar back in Turkey.
The church was one of its kind with a very different and distinctive architecture, however it was difficult to get a good view of the because of the stands and crowd surrounding it.  We went inside, and for the moment everything taking place outside. It was so peaceful and serene. The plain walls and arches with colourful windows! And not to forget the blessings! I had a small interesting conversation with a person inside who probably was one of the responsible authorities there. He asked if I was Catholic, on hearing a "No", he asked if I was Angelic. I again replied with a No and told him that I was a Muslim. He somewhat appeared happy and probably surprised as well at my answer. He then asked if it was my first time in a Church and I told him that I have been to many for I like to be in Holy Places. Our conversation grew longer and I told him that I have been in a Muslim Community all my life, for the last 5 months I was living among Christians and that now I really want to experience living in a Buddist community. He suggested going to Indonesia.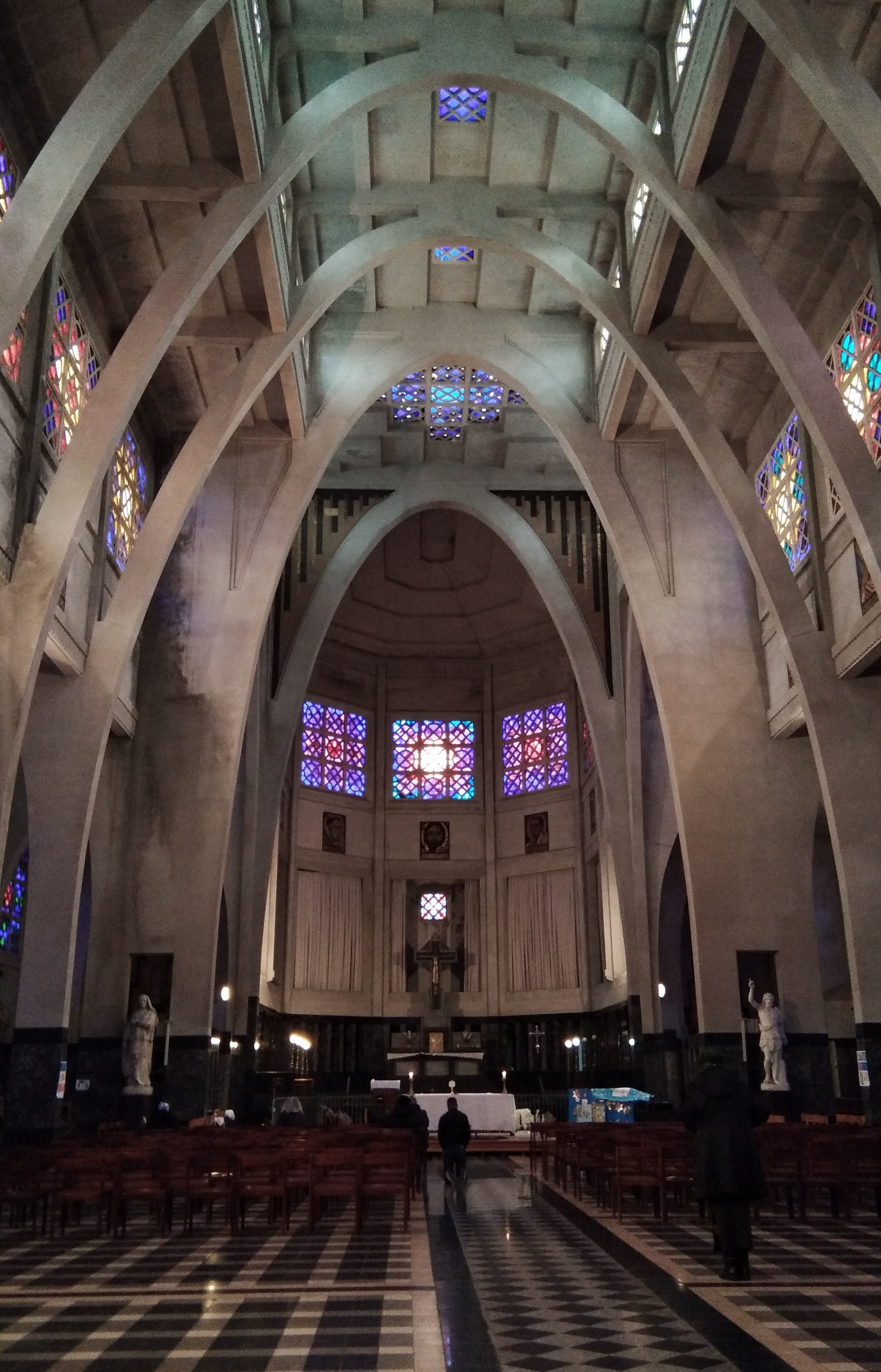 After the Church we walked to the Petit Château. We also got a chance to get a glance of the Brussels canal on our way as the Chateau is located on one of its edges. This place now offers asylum to the asylum seekers and is one of the biggest.
We didn't spend much time there and walked to our next destination which was also a Church that is known as the Church of Saint John the Baptist at the Béguinage. The beautiful facade was enough to make us fall in love with that.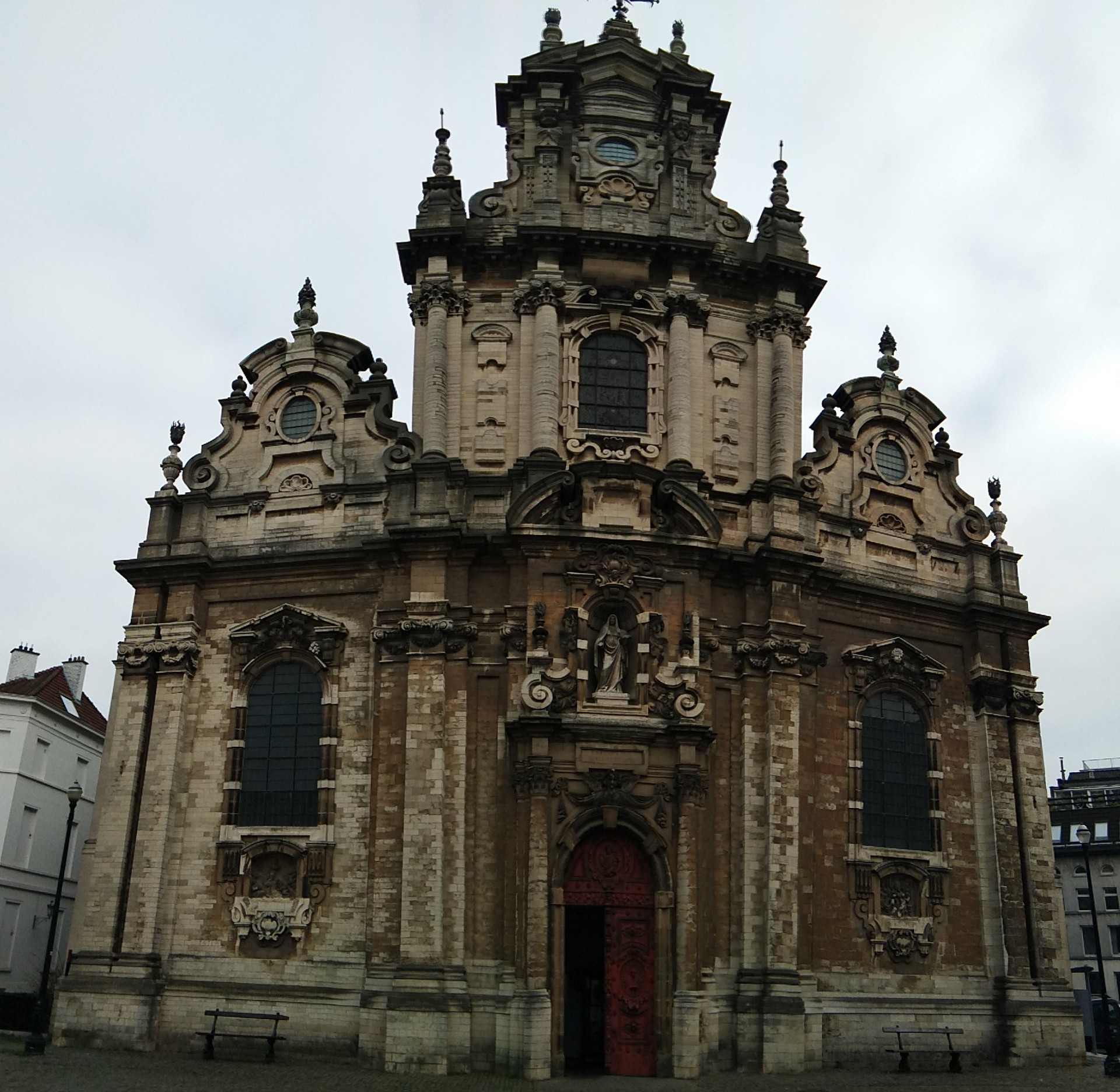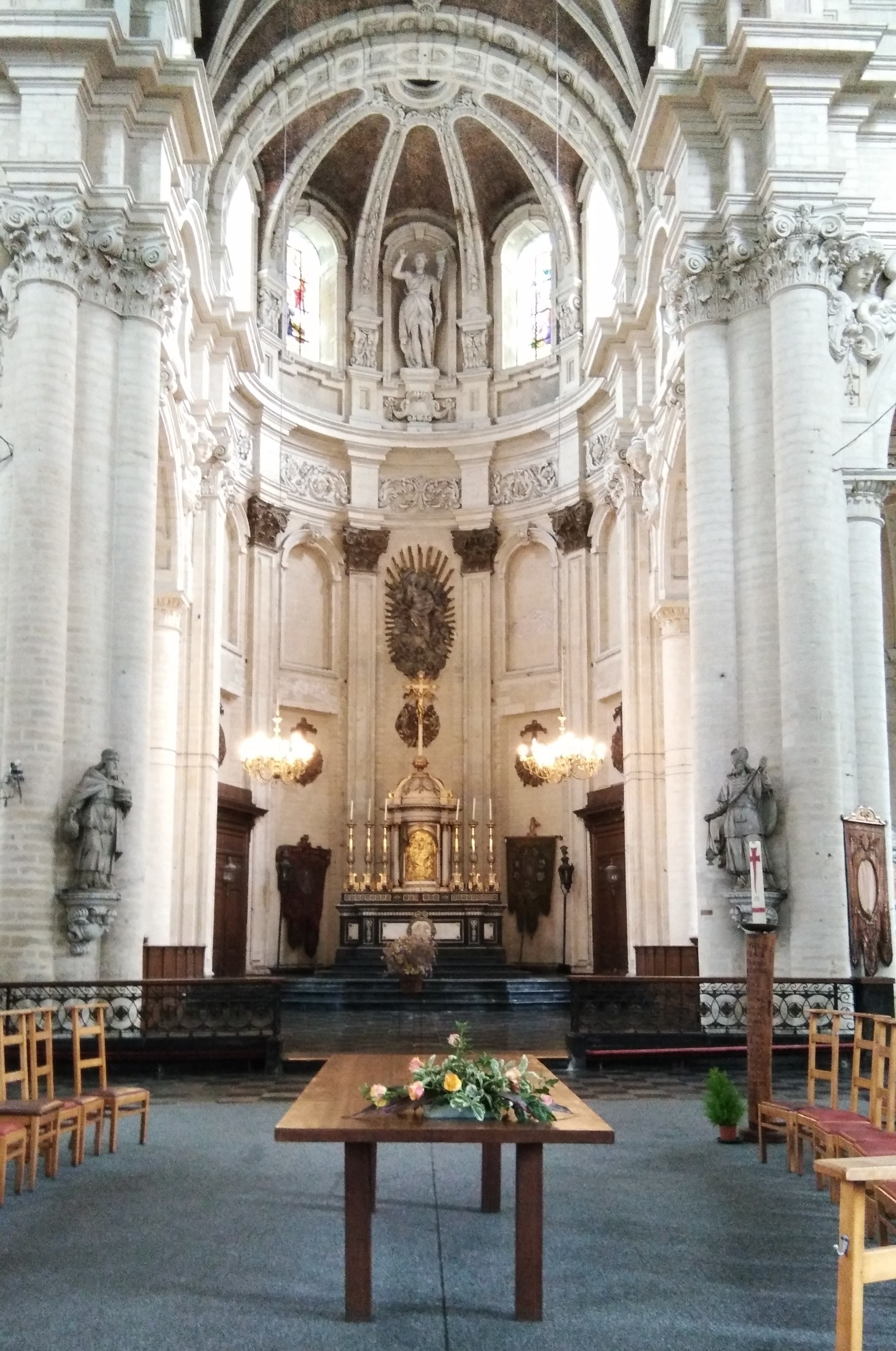 We also entered this Church and above everything what fascinated me the most was "Peace tree". A tree which was not covered with green leaves or flowers but with prayers and wishes of peace and love throughout the world! There were some empty pieces of coloured paper nearby, so we also wrote our wishes and hanged it on the tree.  Another small yet powerful message I got there was this paper demonstrating the Universality of Golden Rule in the World Religion. It is a proof that all religions are found on the same basic principles of humanity, love and concern for others.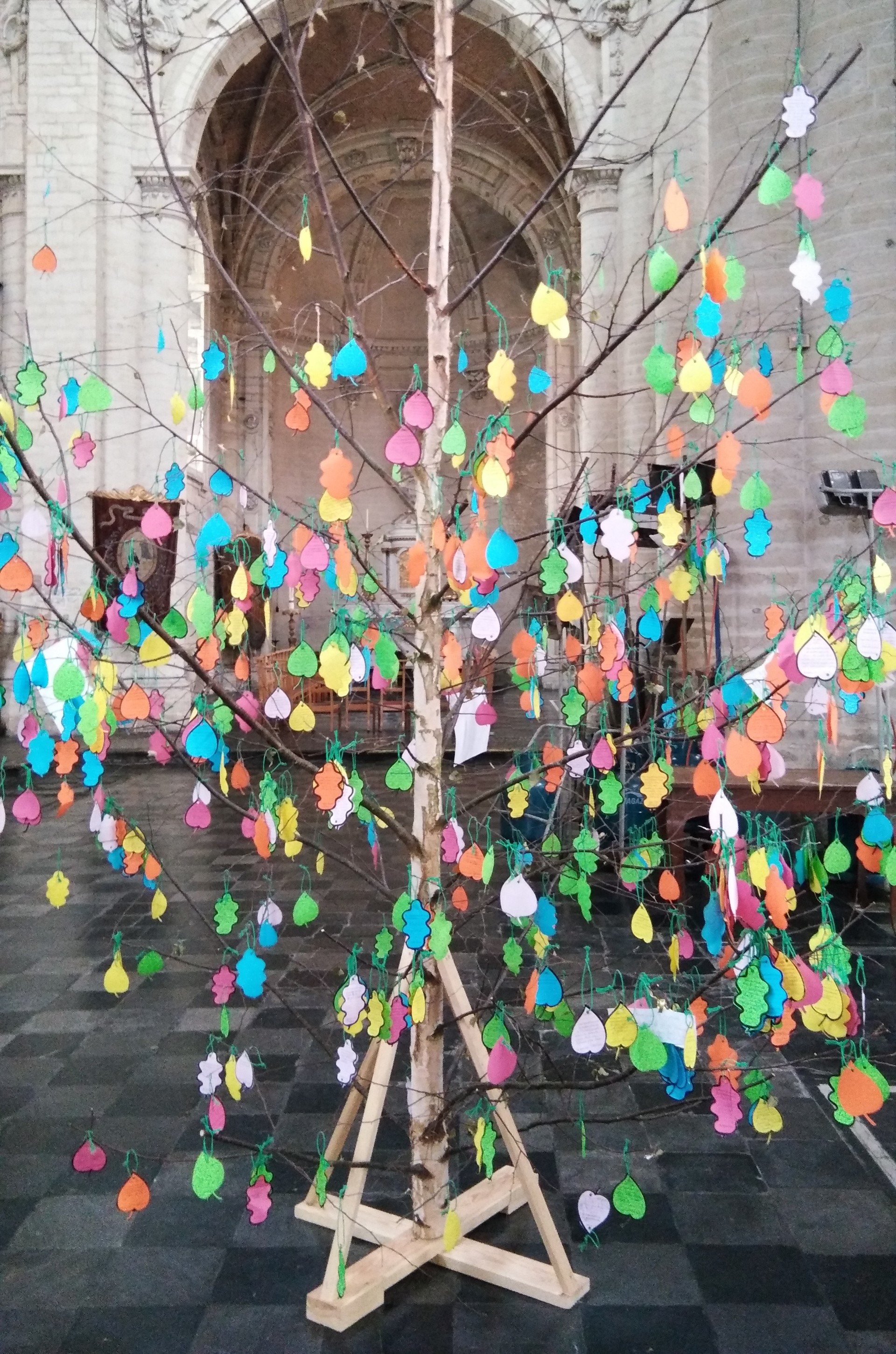 We then visited the famous Sainte Catherine church. This church had been rebuilt except for one bell tower. We first saw the North Facade which looked quite old and not in the best condition perhaps. However when we went to the other side and saw the West and the front facade, it looked like a completely different building.  It had a similar structure inside with the churches we visited earlier. The plain light walls and arches with minimal sculptures and carvings had a grace and an appeal of their own.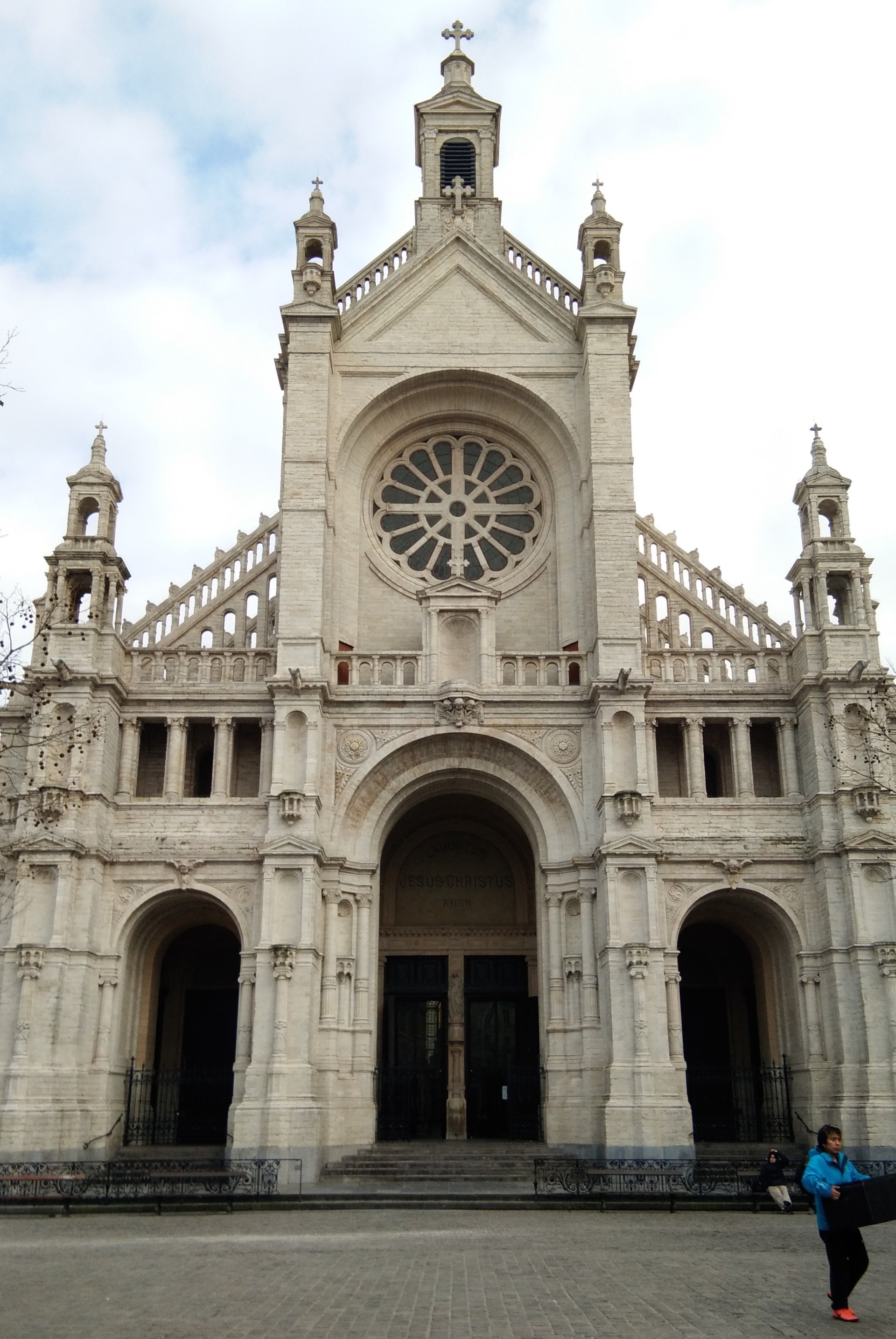 We then came across a building which looked like a theatre or an opera house to us, but well it was the Stock Exchange of Brussels, which was created on the order of Napoleon roughly 2 centuries ago.
Behind the stock Exchange was this little Church of St. Nicholas. We didn't go inside this one, but I can surely share a picture of the exterior.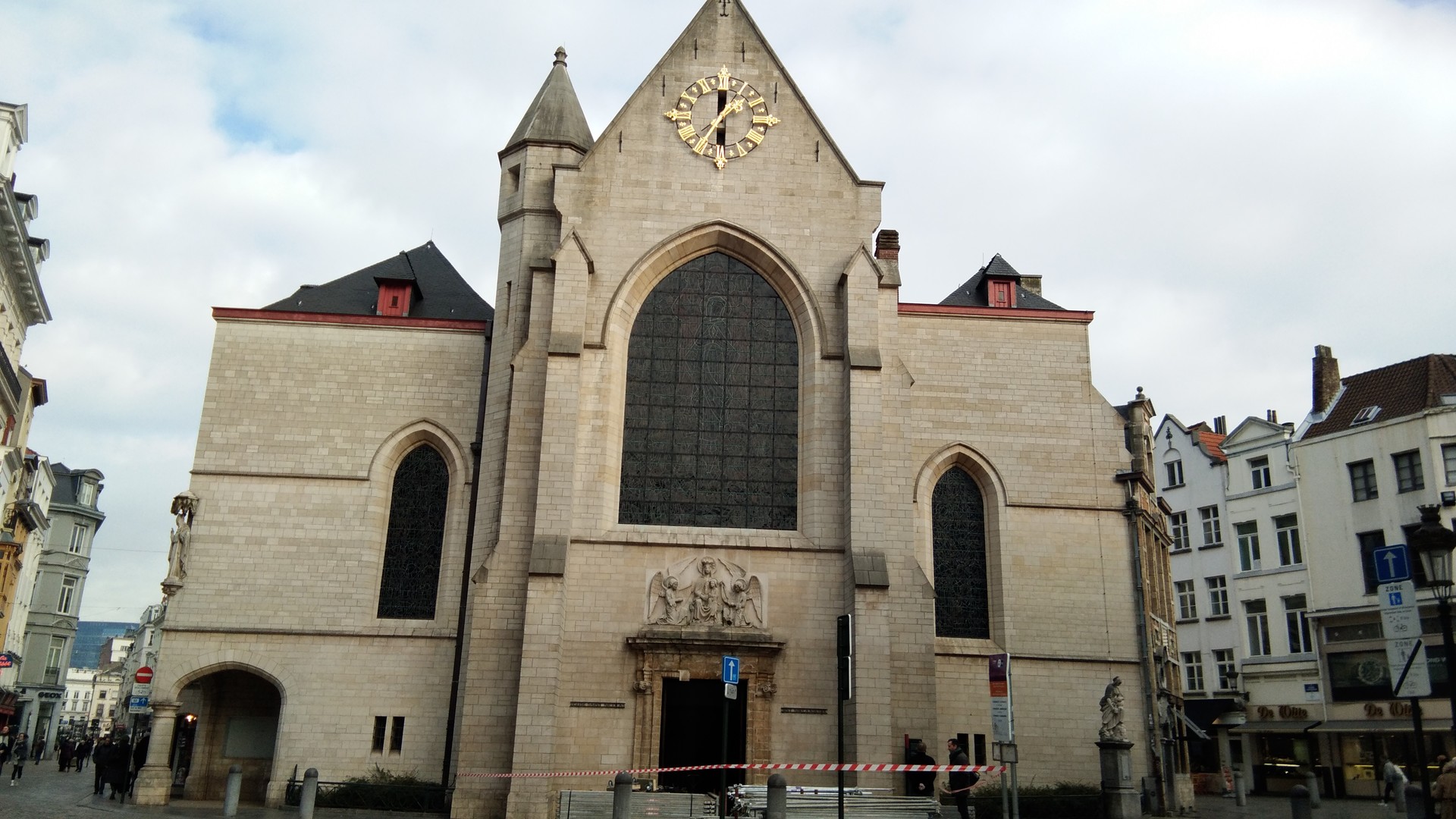 We were actually following a magnificent Gothic style tower with an archangel on its top and in our pursuit we finally found ourselves in what makes Brussels a definitely worth visiting place – the Grand Place. Trust me I am not adding this "grand" by myself. It is there: in the name as well as in the place. So basically this place is the central square of Brussels; is the busiest place in the city housing many government and private buildings; is regarded as one of the most beautiful squares of the World and is a part of UNESCO World Heritage List.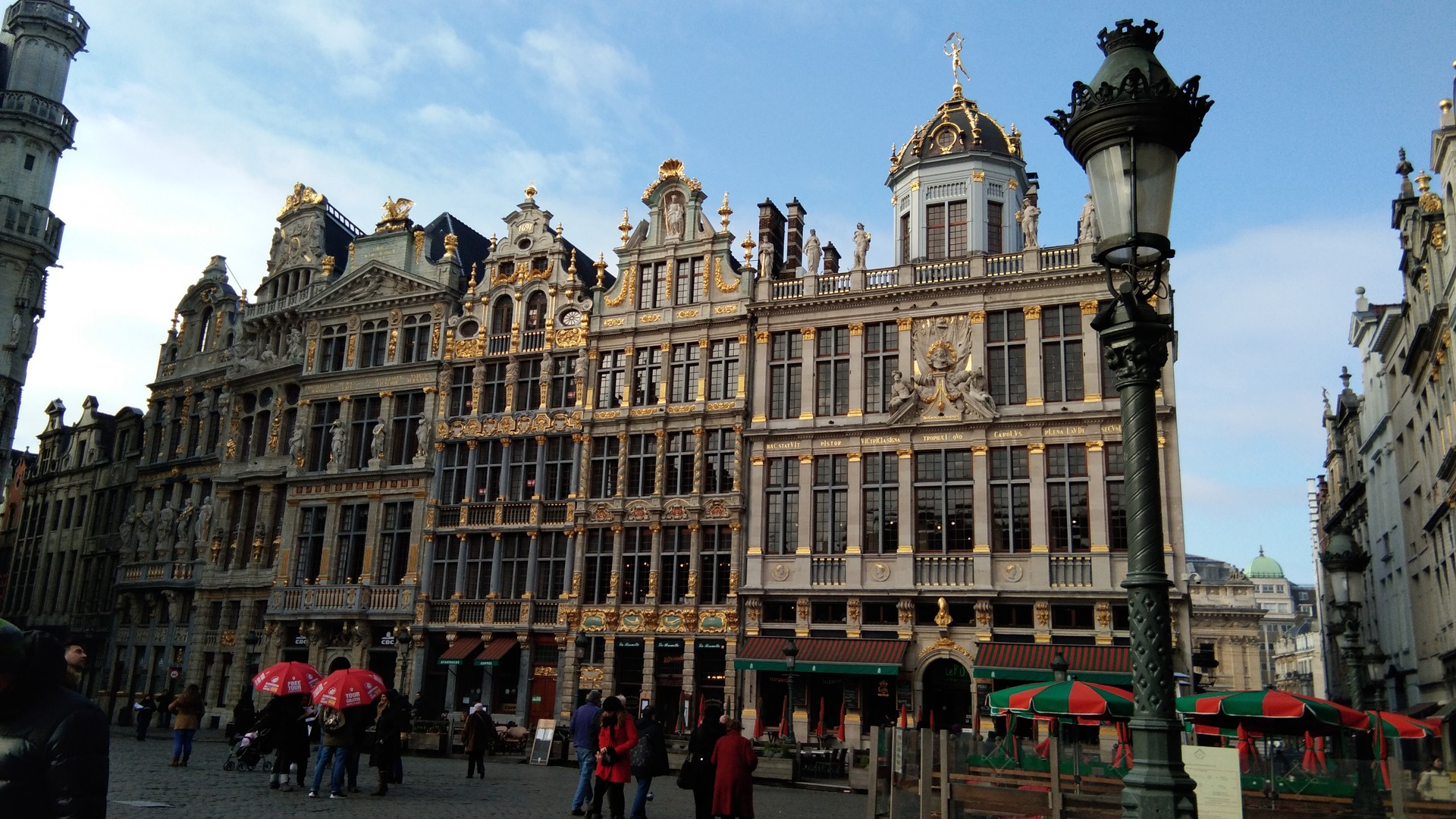 It original history dates back to the 12th century; however it was destroyed later during a war and was restored back in the 17th century. Well in short, it's where the grandeur of Brussels lies.
The main building there is the town hall. It is the building in front of which everyone takes pictures when they visit Brussels and well the tower which attracted us till there was the part of this Town Hall which dominates in the entire Grand Place. It is open to visitors for just two days in the week. (One was Wednesday for sure, I cannot remember the other one) It was closed the day we visited, however there is an information des inside and you can take further information from them if you are very curious. I saw two portraits on one of the walls inside and asked the guys there politely "Who are they". Well, they were the King and Queen of Belgium.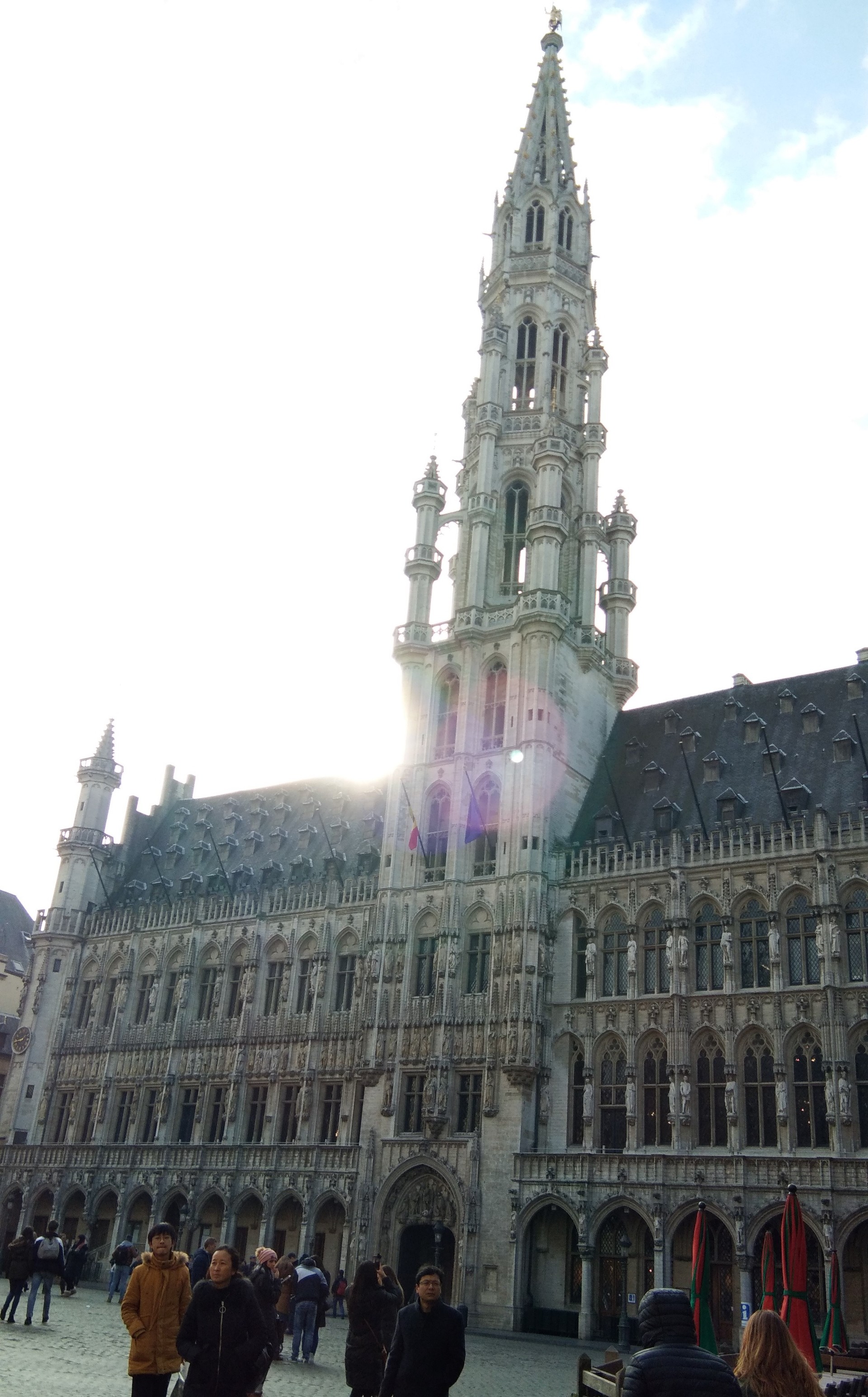 Don't say I am ignorant; I am just from another part of the world.
The other buildings of the Grand Palace include: The Swan, the Star, House of the Dukes of Brabant, The King of Spain, The Dove, The King's House which also houses a museum, Amman's Tiny Bedroom and some other buildings. They all have marvellous architectural details and interesting history which can be found easily on the internet if someone is interested. Because if I decide to write that here, this blog will never end.
After that we visited Manneken Piss. One of the most famous tourist attractions! A peeing boy! It is like a bronze statue which works as a fountain at the same time. You will find this boy on all the souvenirs. There are so many legends and myths which have contributed in its fame. The most interesting one I found was that the boy saved the city during a war by peeing on the gun powder which the enemies hidden under the city.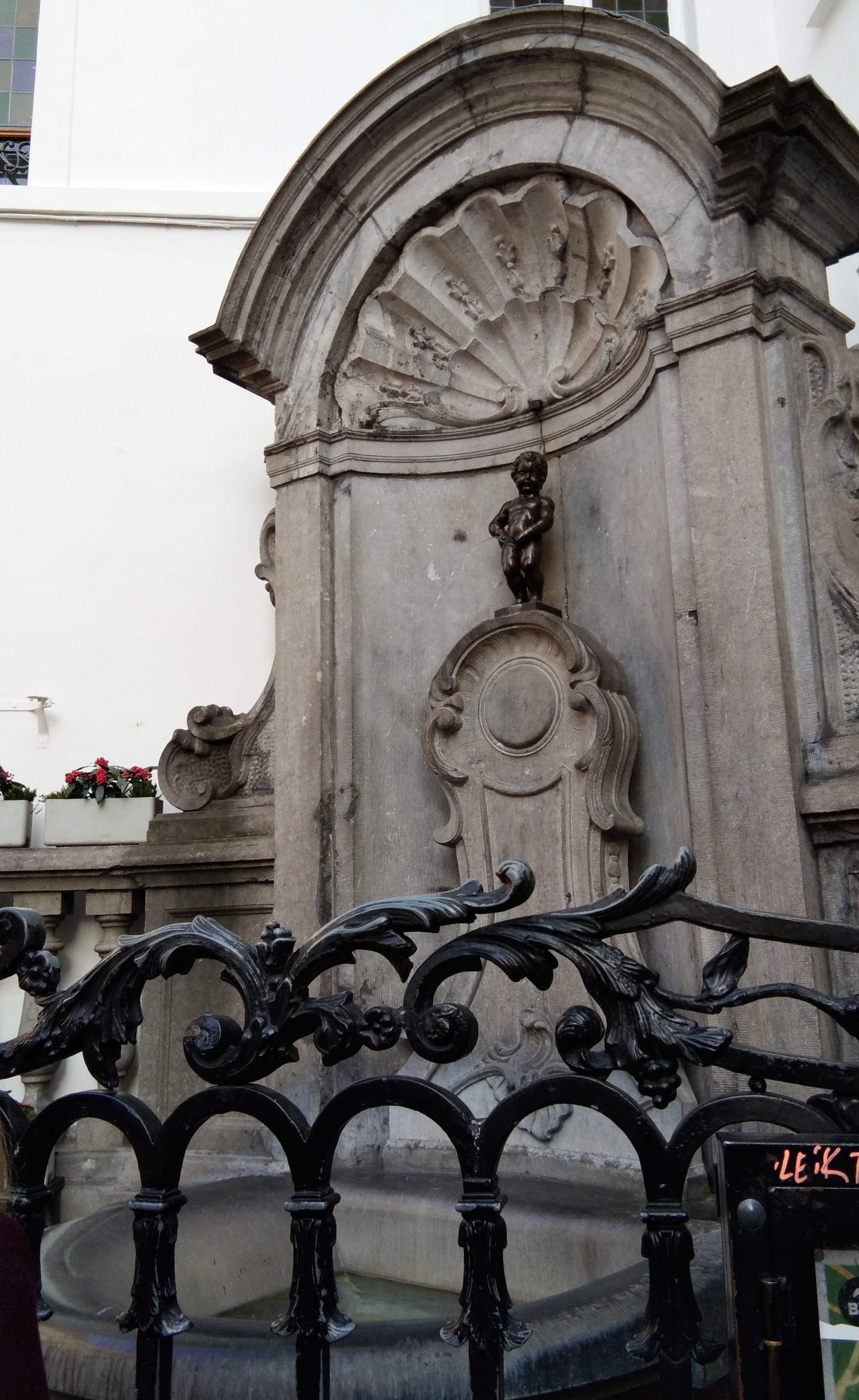 Our last destination was the Royal Palace for which I don't really have a lot to say as we didn't enter inside. And I don't think I need to write long details for the exterior praising its royalty and all, because, well, after all it was a Royal Palace.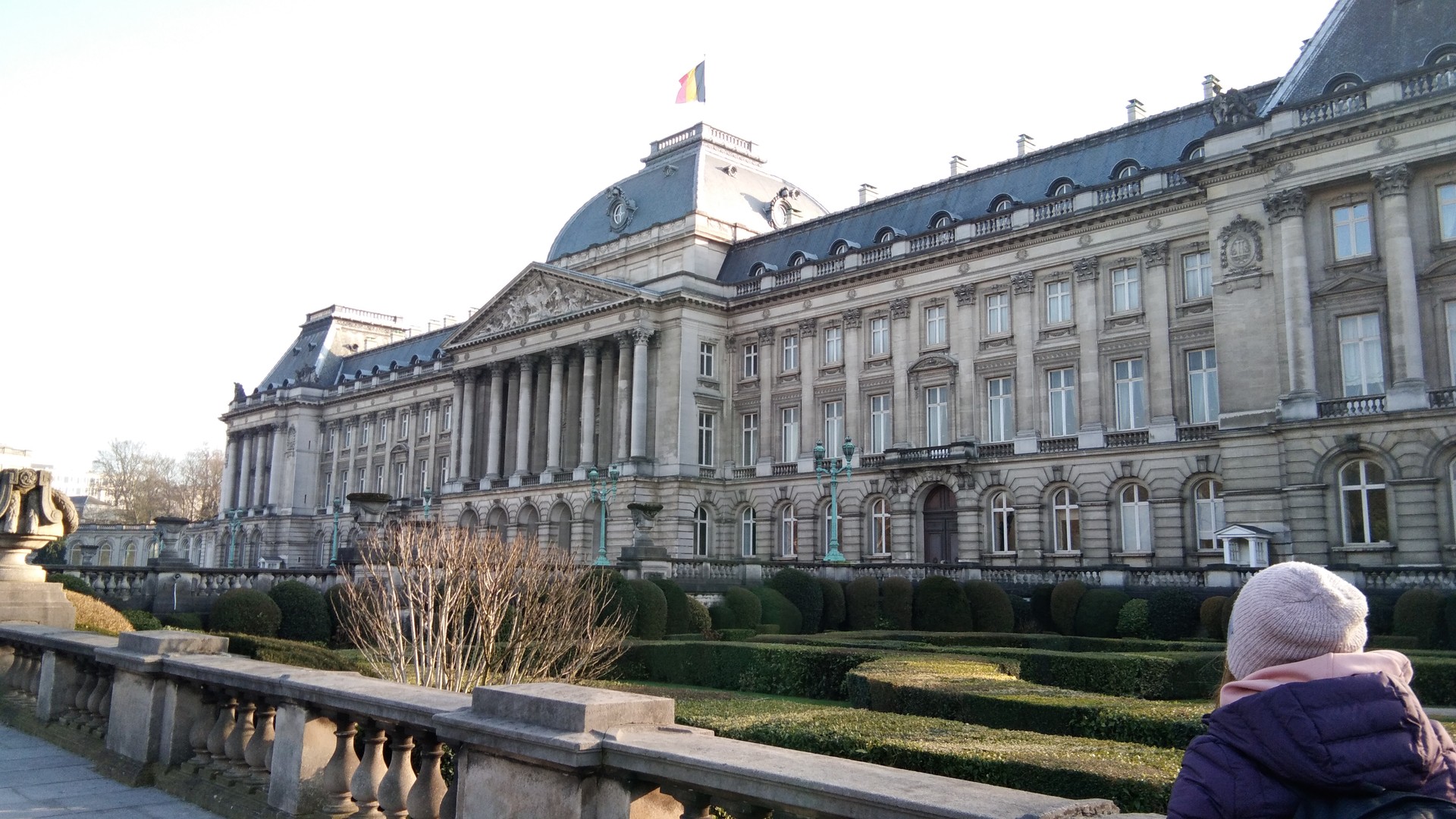 And the day ends...
So this was our day in Brussels, we saw almost everything and would highly recommend to visit the city atleast for a short time. Ghent was next in our list, the story of which I will share in my next blog.
Don't Forget!
And yes don't forget to eat the Belgian Fries, the Waffles and of course the Chocolates!
---
Photo gallery
---
Want to have your own Erasmus blog?
If you are experiencing living abroad, you're an avid traveller or want to promote the city where you live... create your own blog and share your adventures!
I want to create my Erasmus blog! →