Bologna and its towers
After partying in Modena with my friends and other Erasmus students of the city, we woke up very late, had breakfast quickly and went to the train station to catch a train that would take us from Modena to Bologna.
We had to wait a long time after missing the first train we wanted to take. Finally, the next train arrived and we got on. I was excited about the idea of ​​going to Bologna, I study architecture and we had talked a lot about the city in my town planning classes. I knew about its exceptionally tall towers and its ancient history. As we were leaving Modena behind, we realised that in that direction, on the particular tracks that the train travelled, there were many towns with "Emilia" in their name. The friend who was there on Erasmus told us that this related to an old Roman road, Via Emilia, which gave its name to the Emilia region and therefore it was to what they owed its name.
When we arrived at the station of Bologna we immediately realised that it was a much larger city than Modena, there was hustle and bustle, both in and outside the station. We could see that there were taller and more exuberant buildings. We were not in Modena anymore.
Hardly after leaving the station there is the Piazza delle Medaglie d'Oro, which translates to "Gold Medallions Square". We left that square to go to another, Piazza XX Settembre, where you can find a modest monument, La Porta Galliera. From it you could see some ruins, which were like traces of what had once been the ancient arena, the amphitheatre of Bologna. You could distinguish the arches and bricks of what were the ground floors of this monument. Next to these ruins is the Scalinata Del Pincio, with a beautiful sculpture right in the centre, that provides access to a park, Parco della Montagnola, I suppose it's named this way because it is located on slightly elevated land.
We walked down a large street towards the city centre, it was Sunday and there were quite a few people. On the one hand, we were the tourists, trying to navigate ourselves in this famous Italian city; on the other, there were the people who live there and have to deal with it all.
Food in Bologna
Suddenly it was time to eat. We spent a while looking for a restaurant that we all liked, we were very hungry and it was the only thing that mattered to us at that time. We managed to find a nice restaurant that was quite cheap in which everything looked very good. They were very kind for serving us so late in the evening and they had a lot of patience. We all ordered some pasta, dessert was also offered on the menu, we had some cake. When we had finished all the food, they invited us to have some limoncello, a local liqueur.
The centre of Bologna
Whilst digesting the huge pasta dishes we'd just eaten, we walked at a leisurely pace towards the centre. We passed by the Cathedral of Saint Peter of Bologna, I observed that its facade is Baroque style. There were more and more people in the streets, suddenly the Palazzo Re Enzzo appeared before us. From the outside it looked much more austere than the previous building we had seen, perhaps because it's also older. Our friend told us that it was once a prison where an enemy king was incarcerated until his death. In the square in front of this palace there were some children playing with a man who was making giant soap bubbles.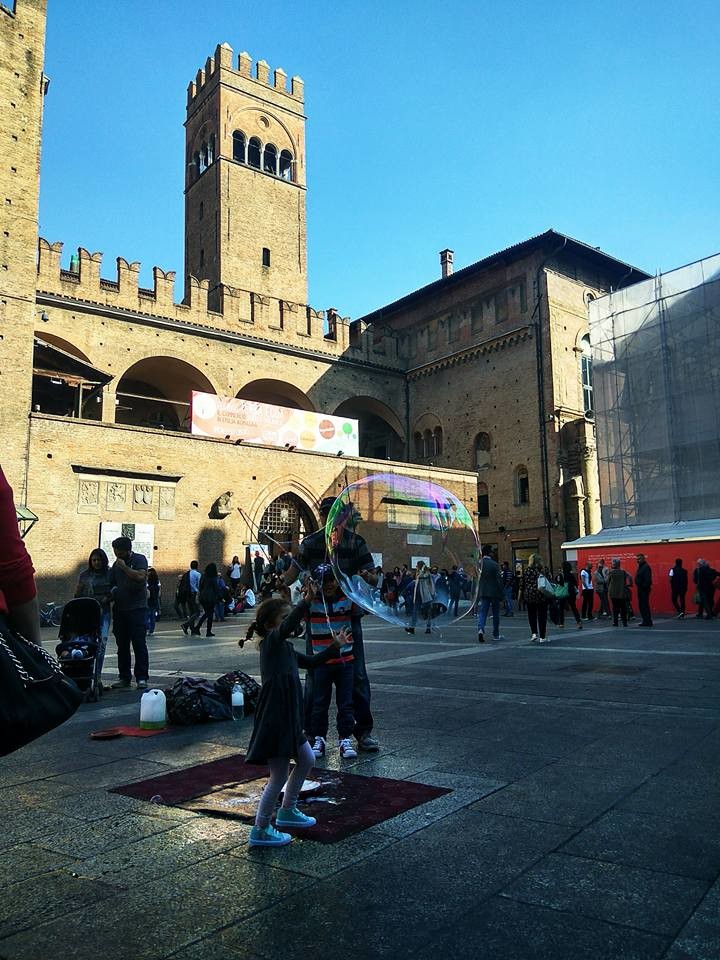 We continued walking and we appeared in the next square, the main square, "Piazza Maggiore", there was Bologna's key basilica, the Basilica of San Petronio, with its characteristic half-finished facade, with the lower part made of clear marbles being typical of many Italian buildings. At the intersection between this square and the previous one is the Fountain of Neptune. There was a lot of atmosphere in the square, it wasn't too hot, it was very nice, some of the musicians in the centre were giving an incredible show. They encouraged everyone with their songs and even danced with the most daring children. We sat on the floor for a while to listen to them and even recorded some videos of them. This square was also surrounded by some other very beautiful buildings.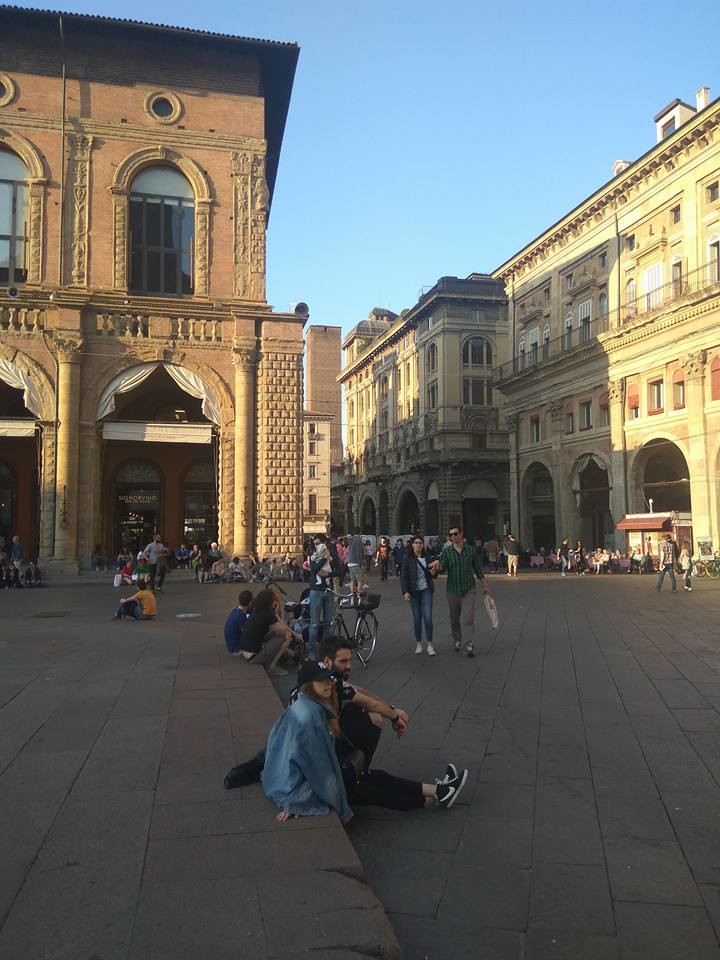 We continue strolling around Bologna, we took lots of pictures of its streets and got lost in all its corners. Our friend wanted to show us a river that flows under the city, but it was pretty far away. Having retraced our steps, instead of going through the streets we had gone before, we changed the route a bit by entering a square that enclosed the buildings of the Town Hall, which is next to the Basilica of the Plaza Mayor. In the centre of this square there's a wishing well. We also went through a gallery that serves as a a passageway under these buildings. There were some old photographs and we were studying them for a while.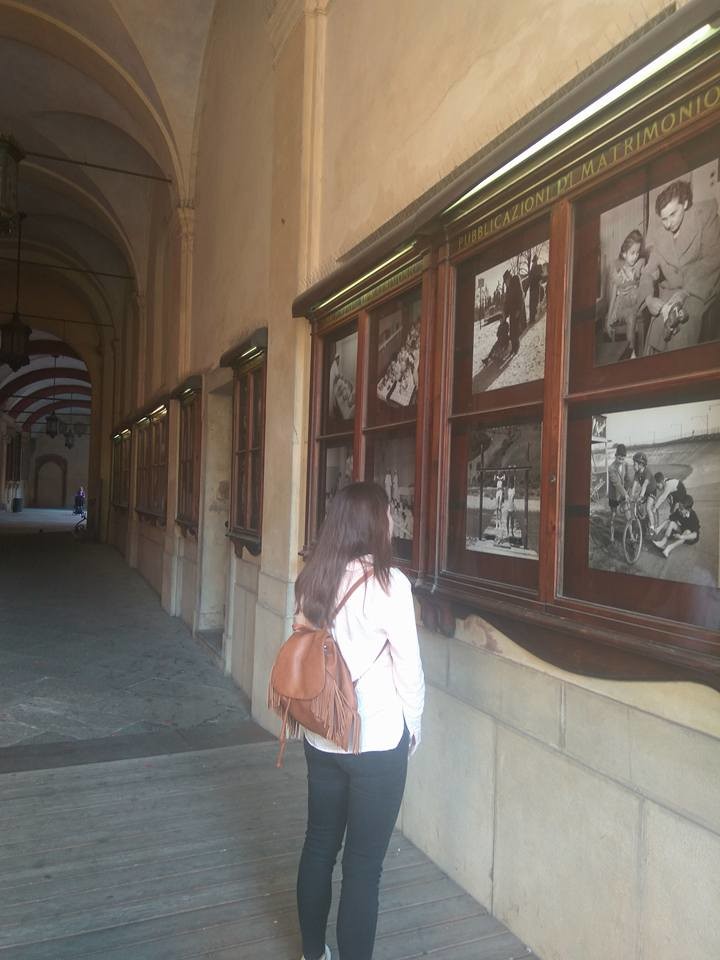 When we left from there we found ourselves again in Plaza Mayor, and the musicians were still playing. We crossed the square and continued walking through some streets, it was already late afternoon and we had a snack. Meanwhile we passed by many beautiful buildings, some of which were very old. In addition, there were now also giant bubbles in this square.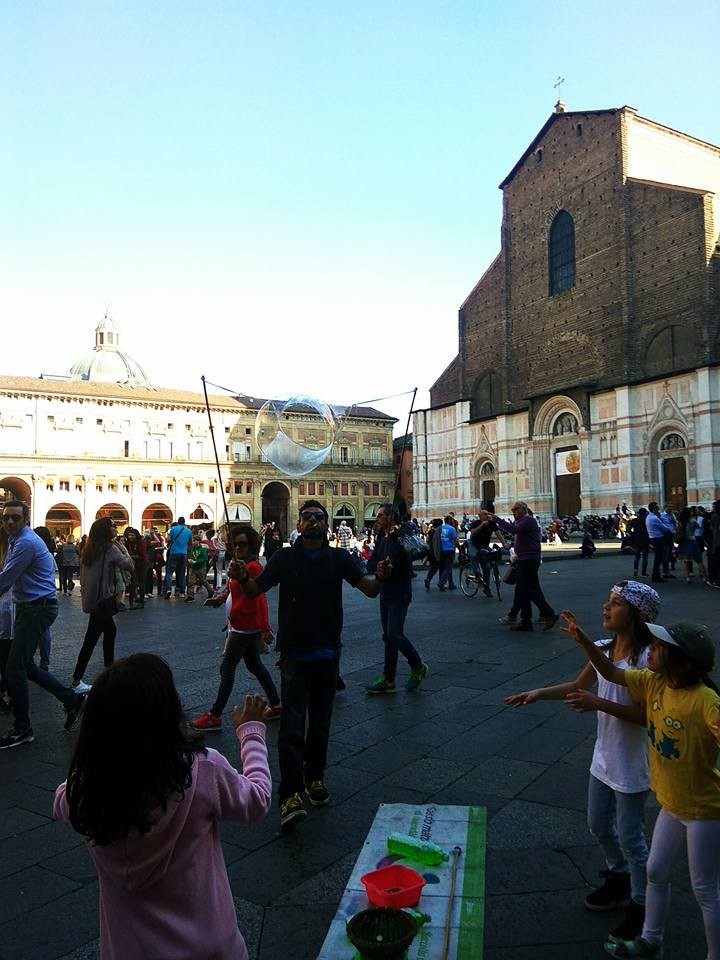 The towers of Bologna
We got closer and closer to the very tall towers that were always visible wherever we went, and finally we arrived. From below they look a little lopsided, as if they were going to fall. Their origin is medieval and now only two remain, but it's believed that there were around 180 towers and that they were built for the richest families as a symbol of power.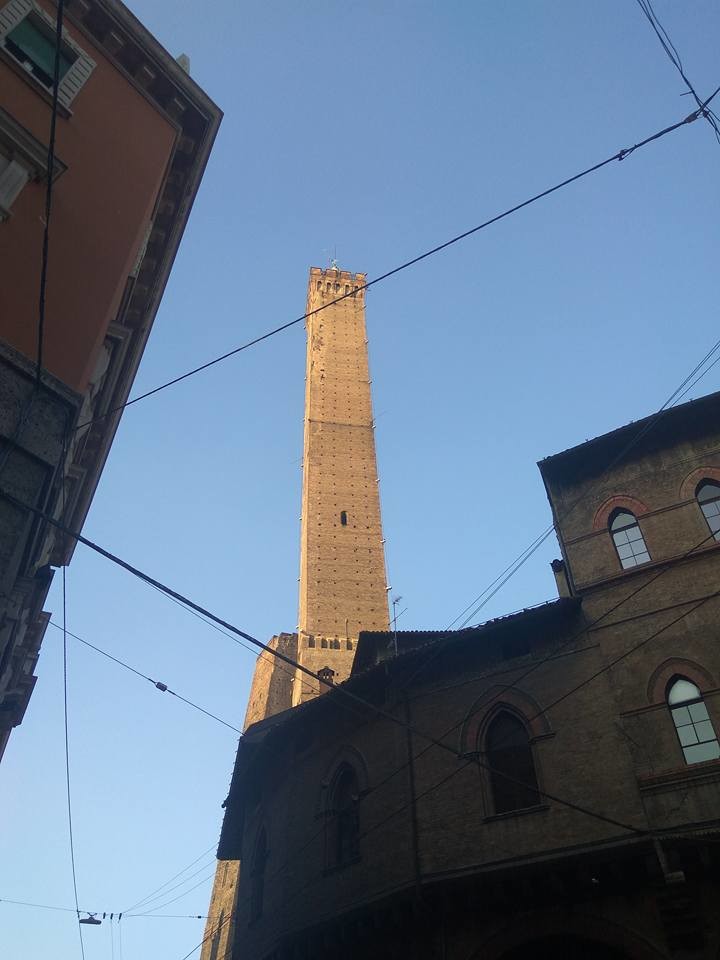 Finestra sui Canali
We finally got to the river that our friend had mentioned. It was a canal that crossed Via Piella at a perpendicular angle, and through a window you could see how the buildings next to it opened out to let it flow through. This place attracts many tourists and is called Finestra sui Canali, it's unmissable.
Finally, we returned to the station to catch a train to Modena, where we were all staying.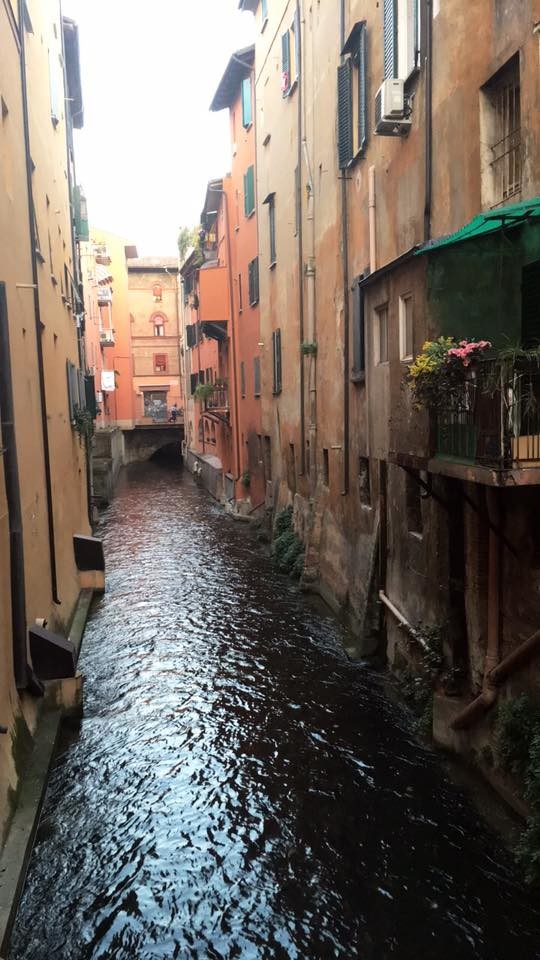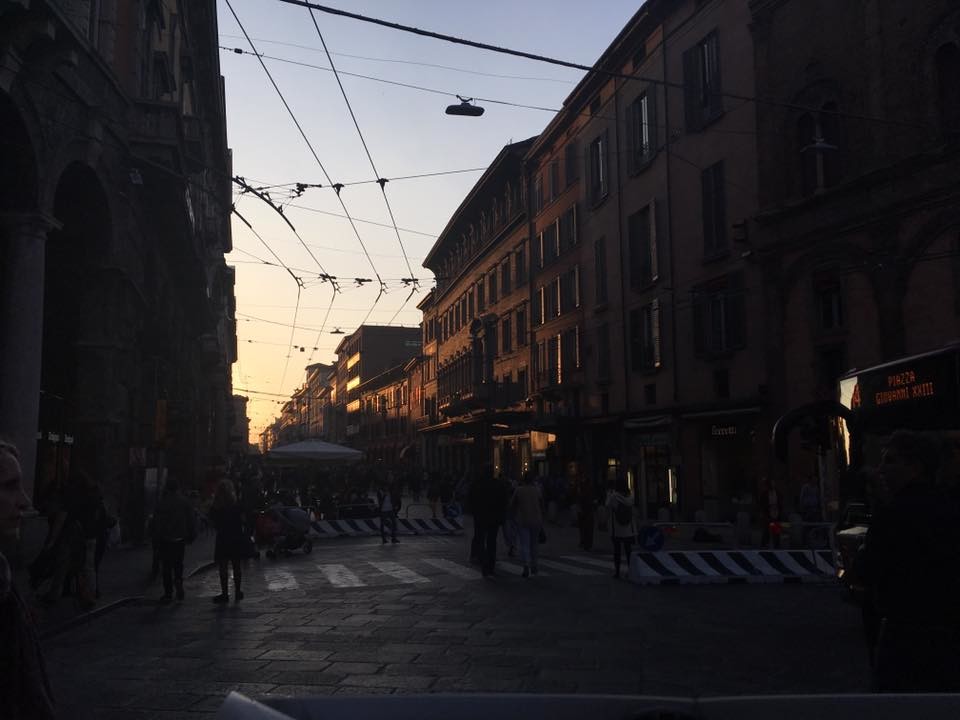 Click here to see more photos of my trip.
---
Photo gallery
---
---
Content available in other languages
Want to have your own Erasmus blog?
If you are experiencing living abroad, you're an avid traveller or want to promote the city where you live... create your own blog and share your adventures!
I want to create my Erasmus blog! →