Sunday by the lake
Hello dear reader this time around we are going to talk about on how to enjoy one of these sunny and warm weather days. If you are someone like me living and studying in Perugia you know that at some point there is the urge to feel the fresh breez that comes from the sea or even a lake. So if you just want to be around that kind of nature as far as I know to all the people living in Perugia the nearest lake is called Lago Trasimeno (lago is the italian word for lake) and for someone who has a car can be reached very easily. So me and my friends went to the lake this past Sunday to appreciate the arrival of the new season: springtime is here. If you wish to embark on this journey from Perugia all the way to Lago Trasimeno then please continue reading as you will discover some of the undercover/unknown and maybe even unconventional ways to get to this beautiful place and enjoy this gift of nature. From this moment on you start the road to Lago Trasimeno with me so tighten up your seat belt and get ready to take off.
Lago Trasimeno 
If you are a future Erasmus student planning to spend a studying period in Perugia or if you are a future tourist, then you should totally make sure you get this beautiful natural reserve Lake on your list of things to visit. Whenever there is good weather or even in the summer a lot of people choose to go to Lago Trasimeno because, if you didn't know here in Umbria (which is the region where the city of Perugia is located), there is no direct access to the sea. The nearest sea is located outside of the region and you have to drive at least 4 hours by car or get on a  shuttle bus. Luckily we had two cars at our disposal and we where divided into two groups with a total of seven people, nervously waiting until the arrival to the destination where we were all hoping to have some chill out time.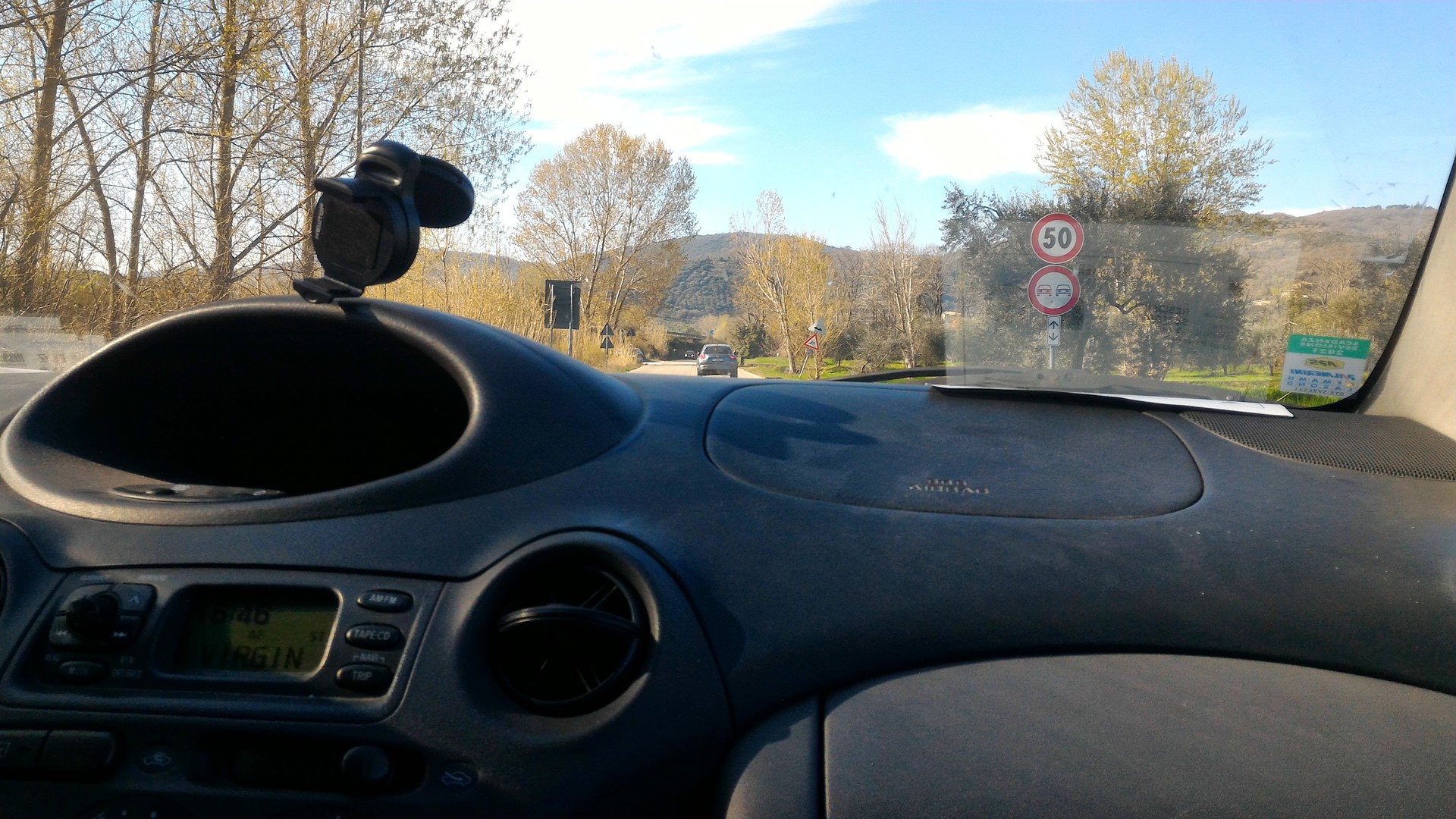 Image of the road trip
As we chose our route Perugia to Passignano sul Trasimeno and inserted it on Google Maps, the car ride took a bit more than half an hour through the highway. But as we got to Passignano sul Trasimeno, which is a town looking over the lake, what we encountered was a very busy and crowded Passignano sul Trasimeno with masses of people walking near the lake. This occured probably because it was Sunday and there was an exceptionaly good weather. So from this point on we started to drive to the next town by the lake. After many tries and turns we stopped by at Castiglione del Lago where we finally found a parking spot and we didn't want to waste any more of the remaing daylight.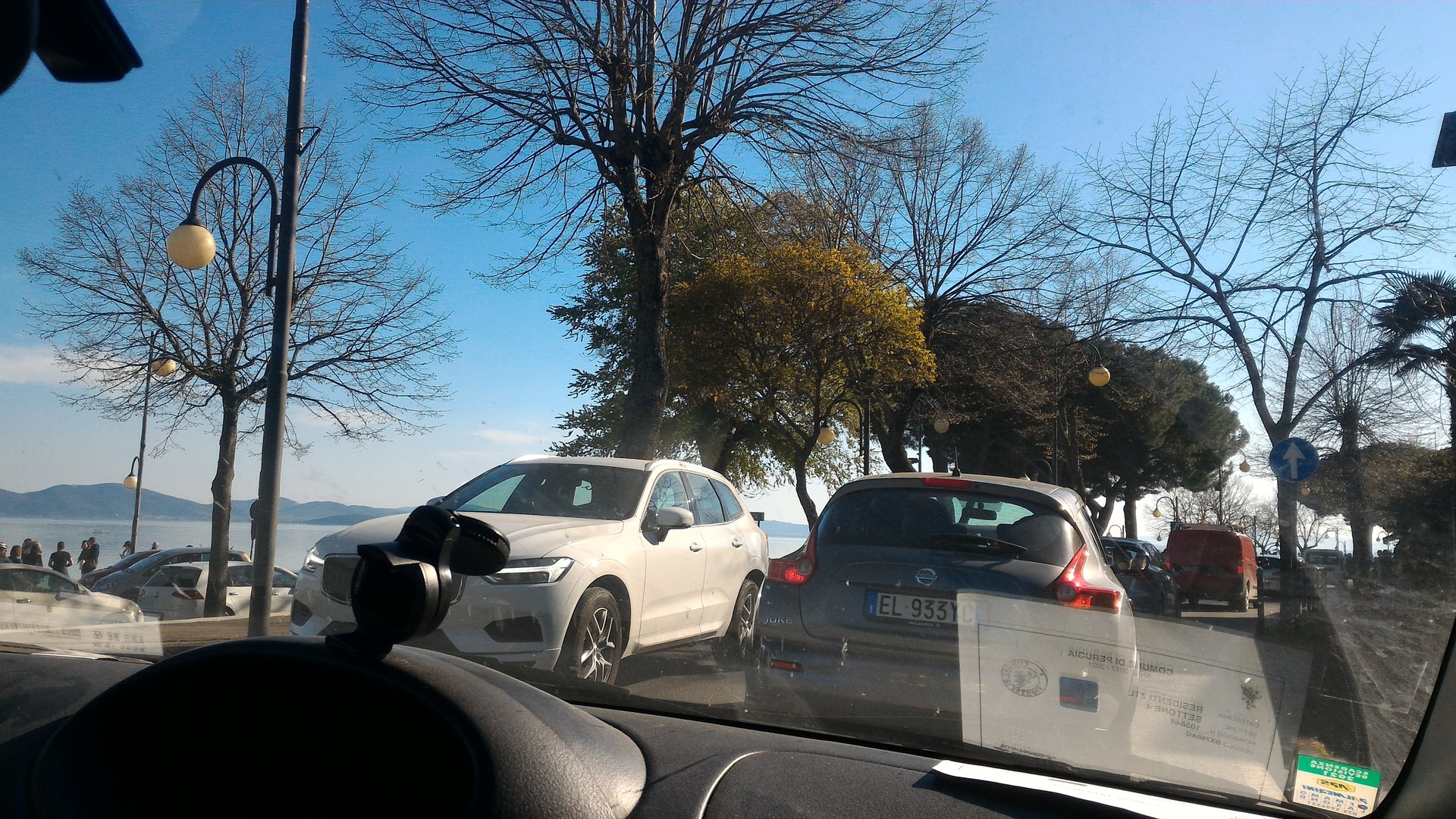 Image of crowded traffic of Passignano sul Trasimeno
Essentials to bring along
As you're starting to plan a day by the lake I suggest you bring the following items so that you stay for your afternoon can be pleasant and creates mini blissful memories for you first of all be sure to grab some good friends to bring with you willing to spend an afternoon of relaxation and sunbathing I just disconnecting from the world just for a little while but talking about what you can bring in you back with you here is the list of the things that I had brought with me:
A towel or a blanket is the first essential because realistically speaking you don't know the kind of place you might find so if you would find for example a grass that is not so well preserved and if you kinda uncomfortable of getting your clothes dirty you can just lay out Ann Hughes the blanket to sit or to lay down and breathing and enjoy the sun and of you and the wind and all the nature around you.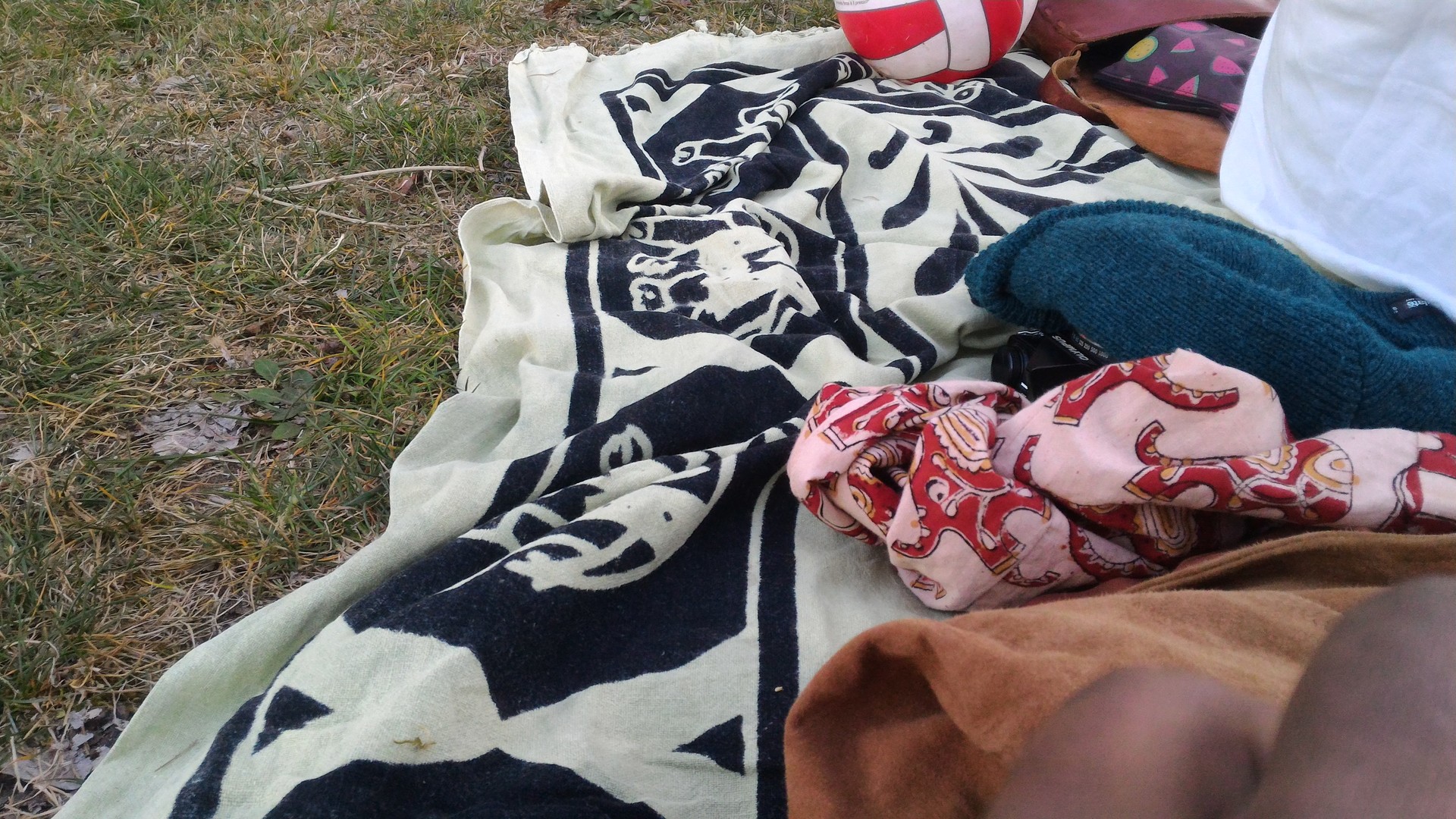 In order to keep your body hydrated at all times you should also think about grabbing a bottle of water or another drink of your preference especially now with the changing weather and getting warmer and warmer, drinking a lot of water is going to help you. I have brought my usual bottle of water from home which is the easiest thing to do that other friends of mine had some pulled out a couple of bottles of beer and I must say that no one cost any problem in regard to the fact that we were on a public space and consuming alcohol.
Another big essential is food so what I like to do is to prepare some snacks or some munchies that can be eaten easily and keep you full for a long time. This kind of foods are mostly nuts,  fruits and a panino (italian word for a quick sandwich). This time around I brought a small bag of salted peanuts which were a delight because all of us enjoyed it a lot. Nonetheless,  in the place where we stoped by, there were some shops and pubs (including some other facilities) that provide food and drinks. I suggest you to grab some good ice-cream and enjoy it by the lake. Do know that unless you go for a really secluded and marginalized lakeside of Lago Trasimeno you can find a pub.
Since you won't be sleeping around the whole time it is best to bring a small ball or some playing cards along with you. Since among us some of the other guys like to play guitar, they brought their instruments as well and they were singing. Mean while some other people were playing soccer  so I joined in. I must say it felt really good because it was a long time since I had played soccer and this time was even more special than other times because in the background I had the music of my friends playing and singing.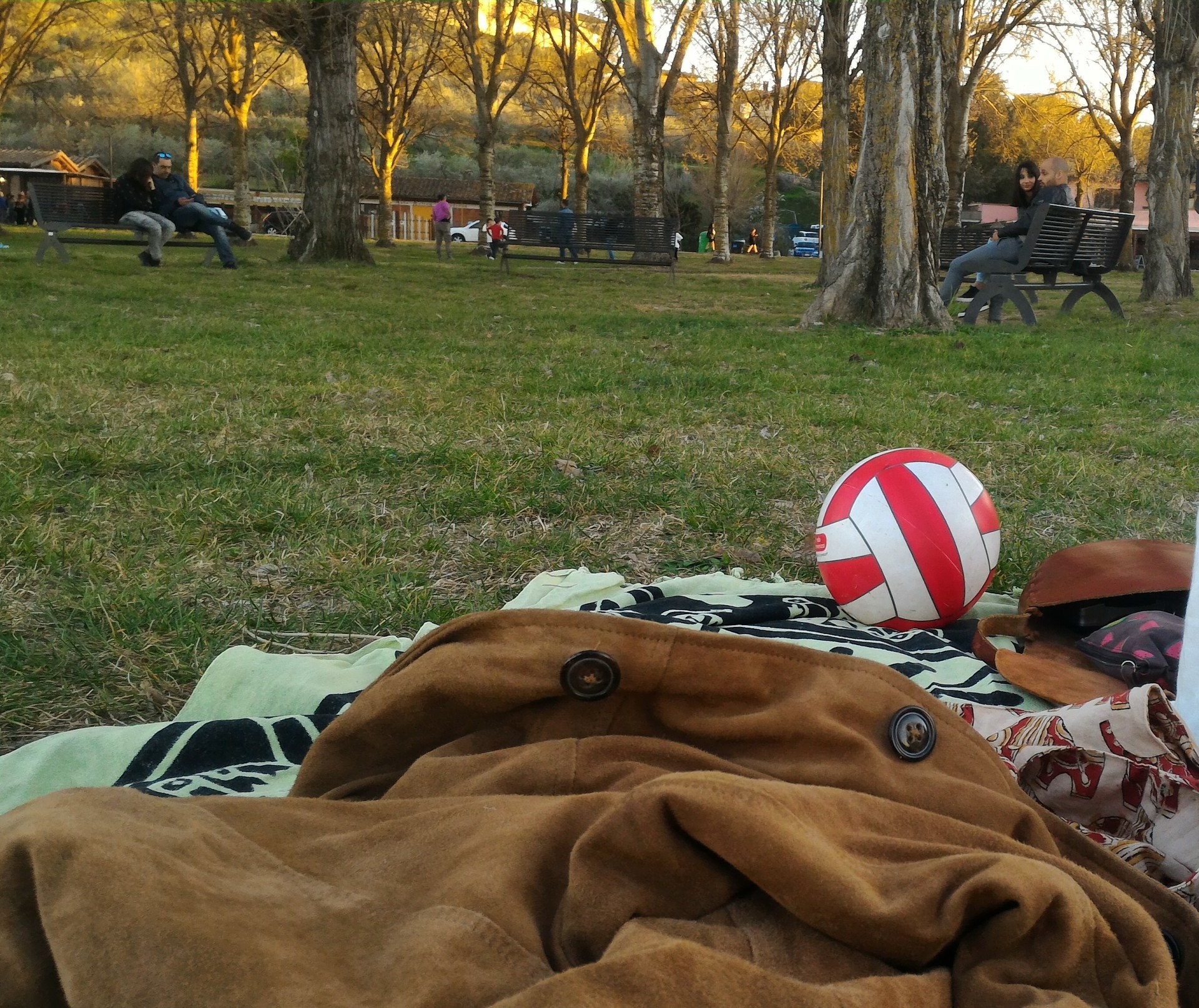 The surrounding
The area we found near the lake was a nice spot with green grass and quite clean and well preserved. There were also many trees so we did't have any difficulty when looking for a shaded spot.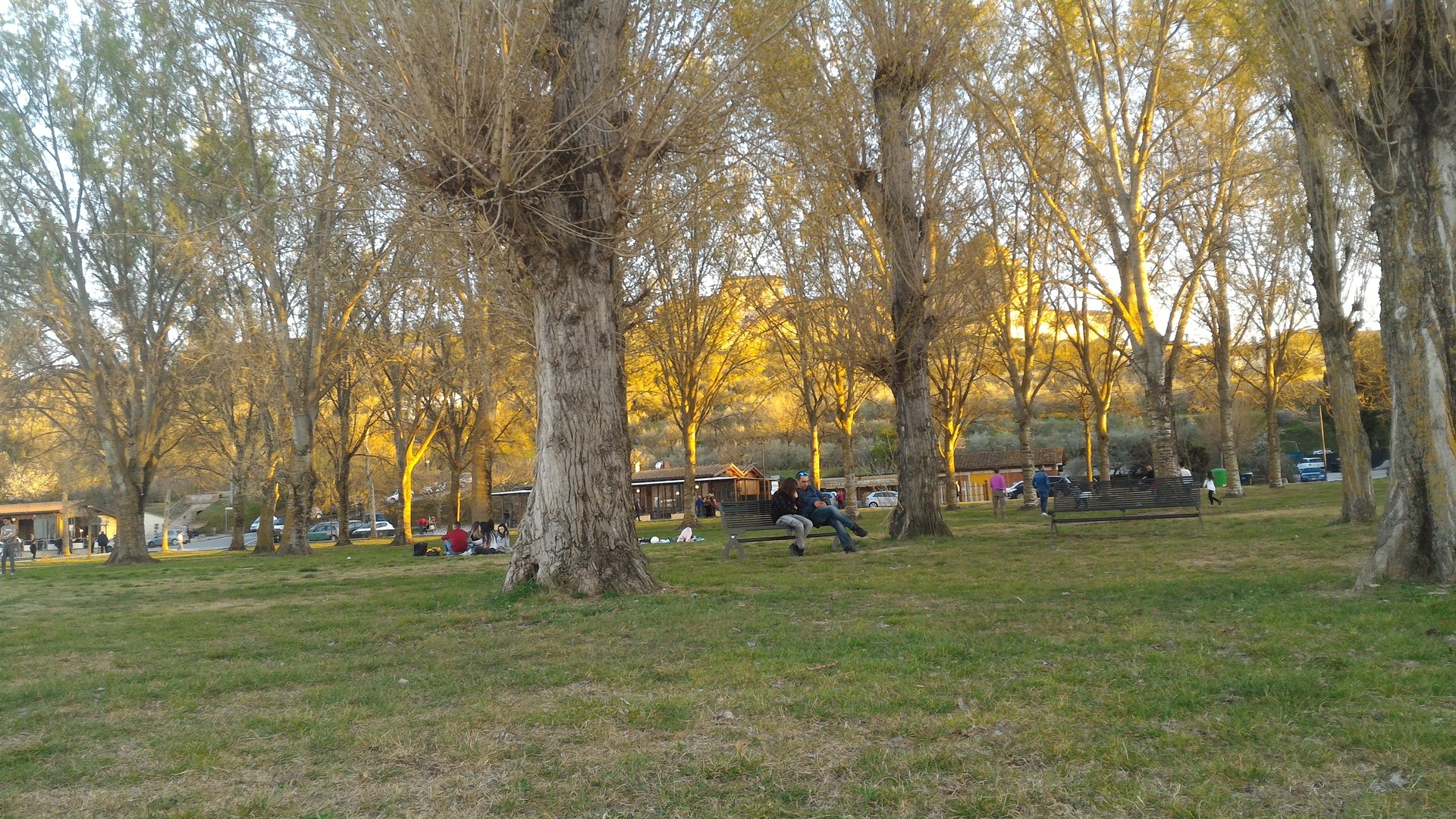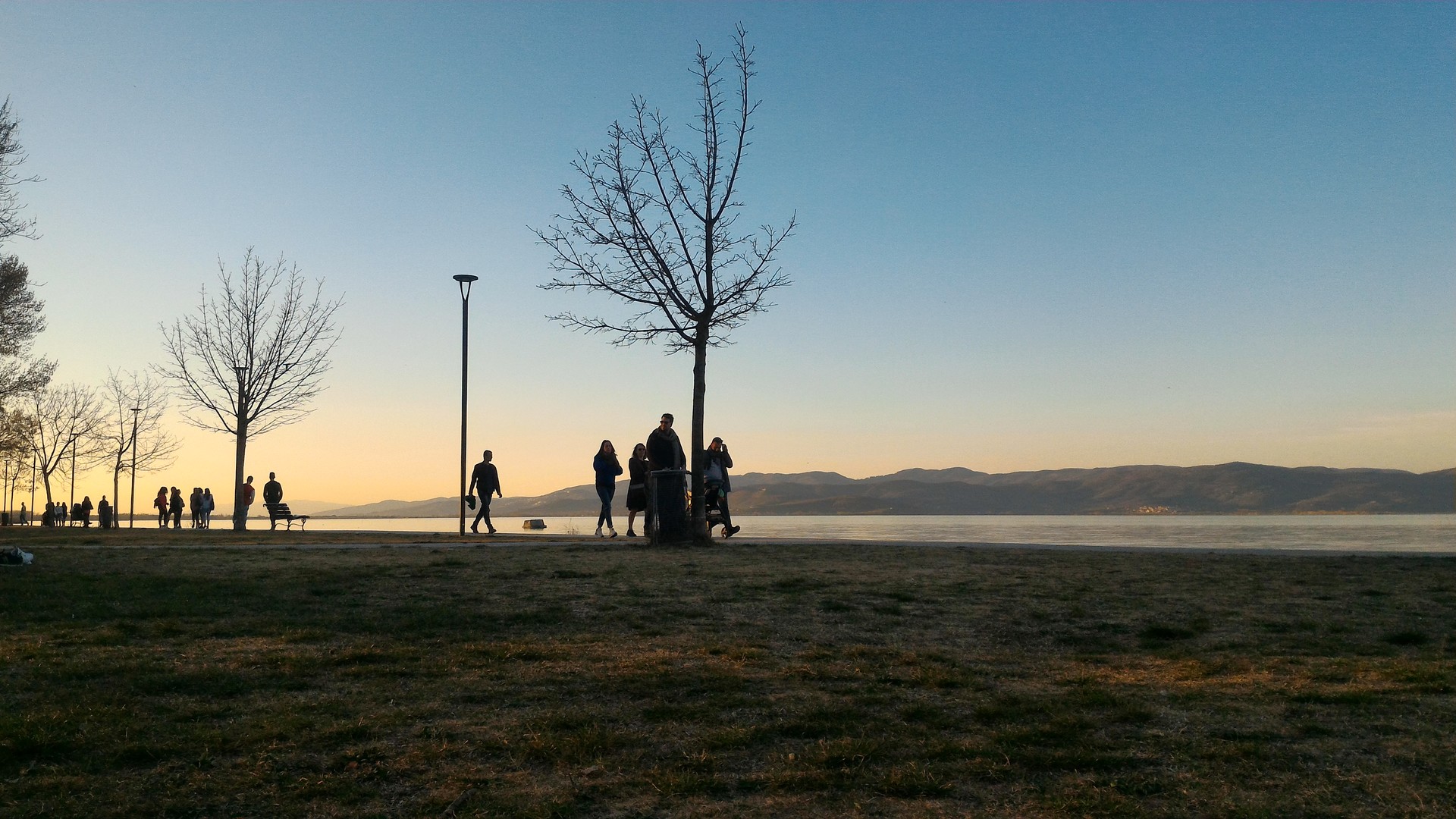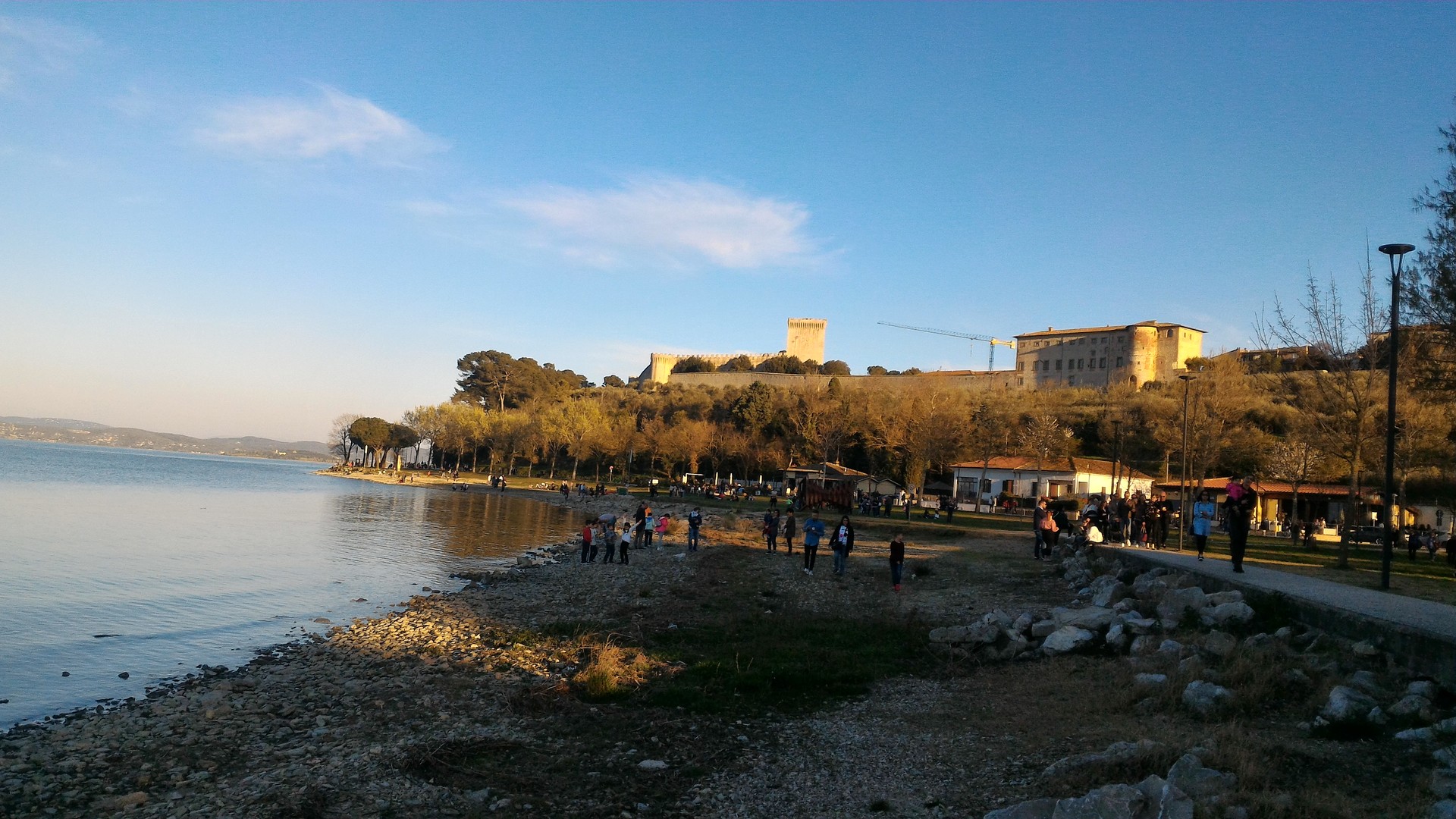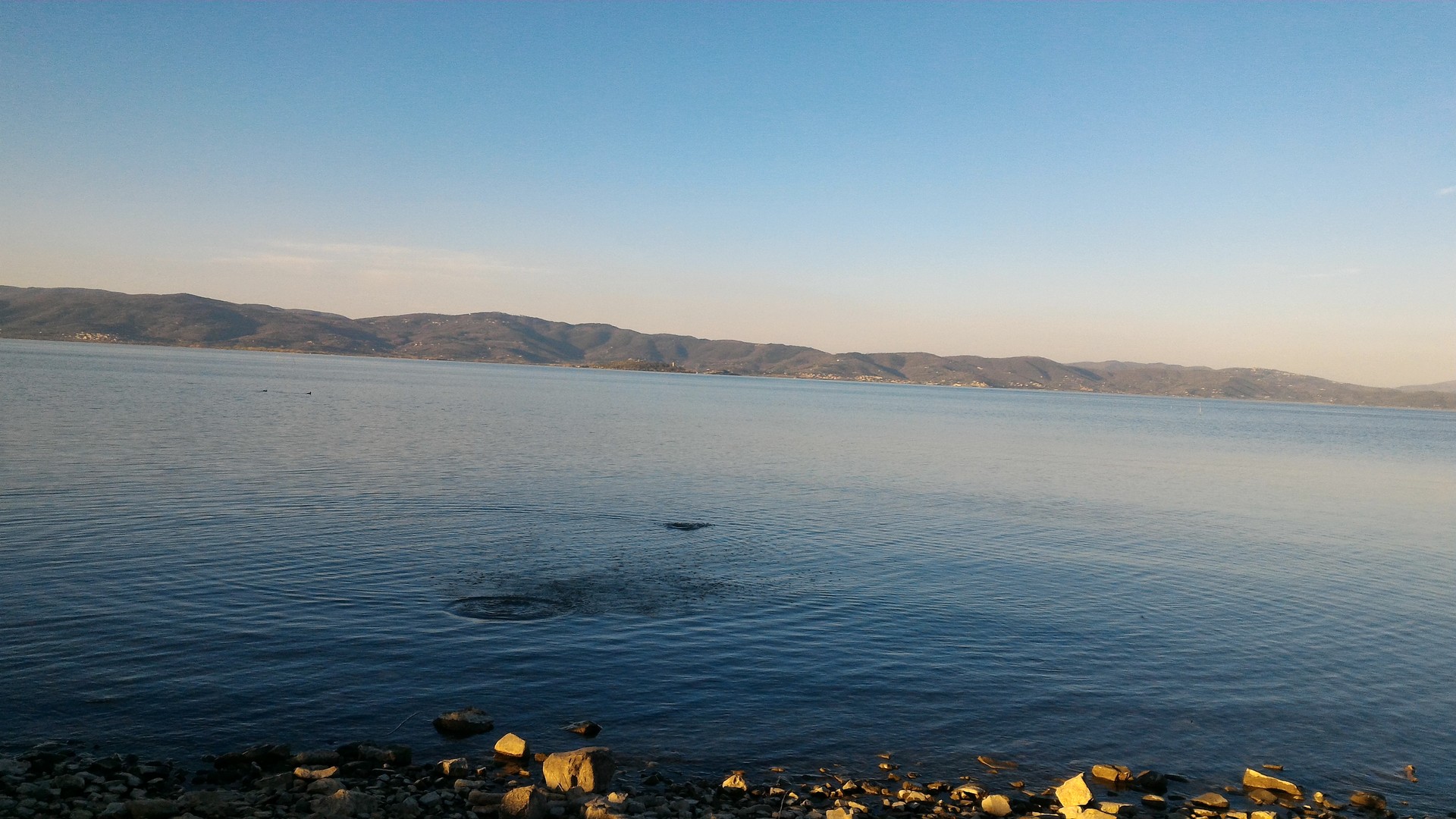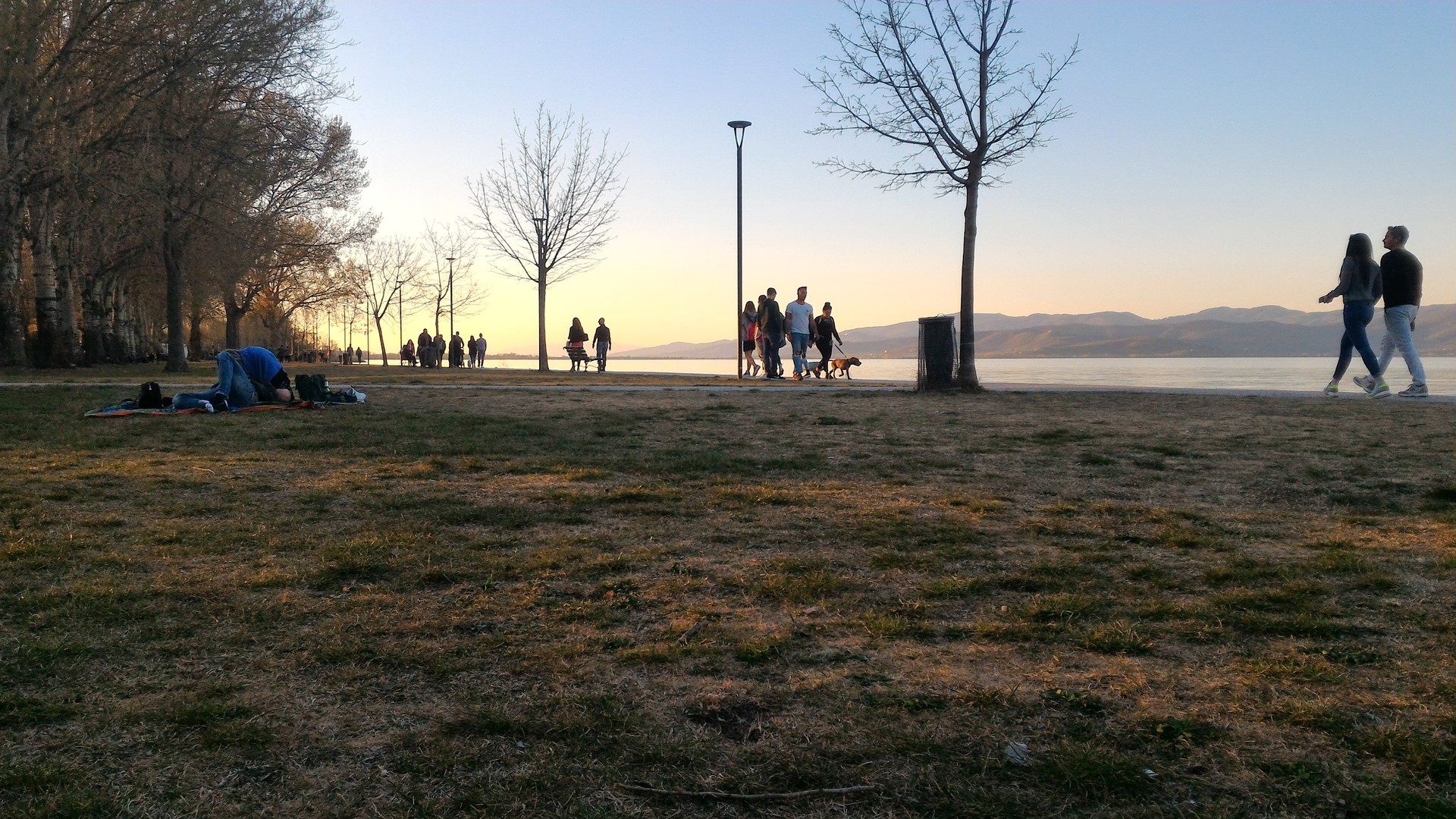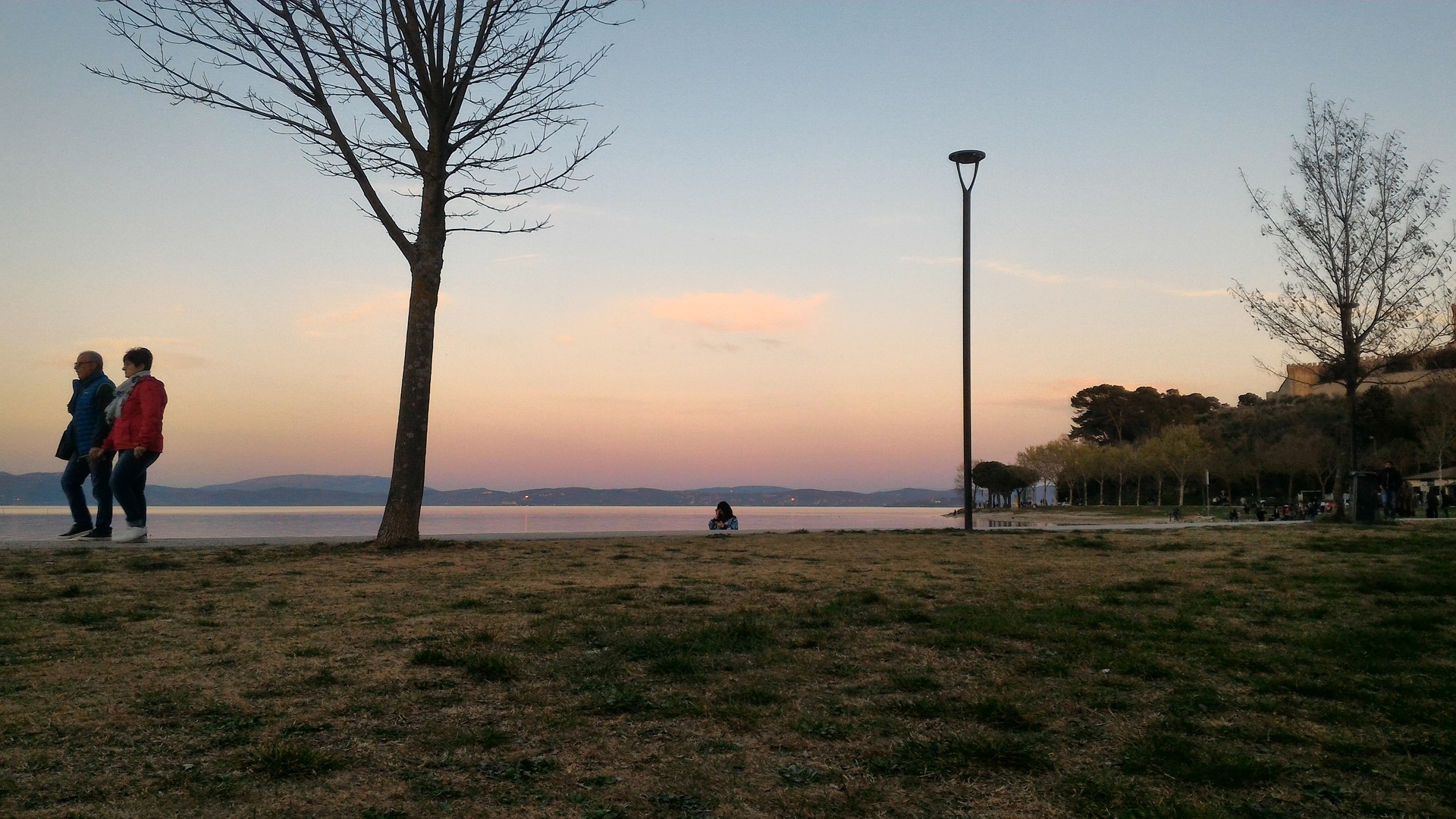 Thanks for reading and I hope this article was interesting and provided enough informations to you, so you that well motivated to go and check out Lago Trasimeno.
---
Photo gallery
---
Want to have your own Erasmus blog?
If you are experiencing living abroad, you're an avid traveller or want to promote the city where you live... create your own blog and share your adventures!
I want to create my Erasmus blog! →