My opinions about EAE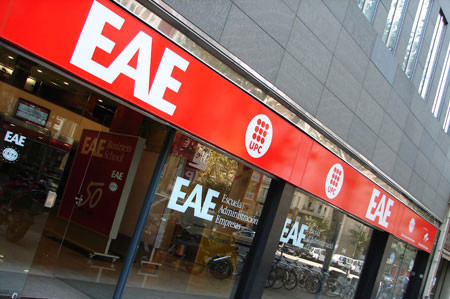 I know many of you won't know this but I have been studying the online master's degree in Sales and Marketing Management at EAE Business School for nearly six months now, so I wanted to write this post in which I am going to tell you about my EAE opinions. Above all, I want to do this in order to help future students of this school of business and to give you an idea of what it is like and what they offer to their students.
As usual, my search for the perfect masters started in Google. The first thing that I did was a search for the best masters in my area and I found that many users highlighted EAE.
From there, the second Google investigation had the objective 'opinions about EAE business school', in order to find out people's opinions about the school. The thing that caught my attention was the fact that the majority of opinions about EAE were positive. However, I did not have complete peace of mind until I spoke to the cousin of a friend who had just finished the same master degree that I was interested in at this school of business.
I told him everything that I had discovered thanks to the opinions online about the EAE business school and he said to me that everything they said was true: a practical approach, effective methodology and a curriculum adapted to the needs of the labour market. He told me about everything he had learnt during the masters and the type of modules that he did; this made me very excited and I decided to stop searching for opinions about EAE and to enrol myself on the masters.
From there, I had to complete all of the admission processes, supplying the papers and everything else that was needed. It was simple thanks to the staff who explained step by step how it worked.
Once it was admitted and I enrolled myself the online master degree started and to tell you the truth, it has been much better than I thought. Obviously, I am a marketing freak, those of you who know me know this, but only with the focus that they give to the content, they can make anyone interested in this area.
They don't centre the studies on theory but, like the EAE business school opinions say, all of the modules are based on real cases, so you are able to see how to apply the different techniques in business and their results.
On the other hand, although it an online masters, numerous tools are available to do it dynamically, for example, the virtual simulator. I spend hours and hours practising everything we have learnt on this.
Also, another thing that has pleasantly surprised me is the professors because despite being professionals that work in positions of great responsibility, they always respond to you, they are very friendly and they make sure that you really understand the concepts.
I am currently about to start the final work of the master, which according to the opinions of EAE, it is the most difficult part because you have to demonstrate that you have absorbed all of the content of the masters. I hope that everything goes well and in a few months, I will obtain my master degree in Sales and Marketing Management at EAE Business School.
---
Photo gallery

---
---
Content avaiable in other languages
Want to have your own Erasmus blog?
If you are experiencing living abroad, you're an avid traveller or want to promote the city where you live... create your own blog and share your adventures!
I want to create my Erasmus blog! →