Learn Spanish Cuisine with "Erasmus en la Cocina"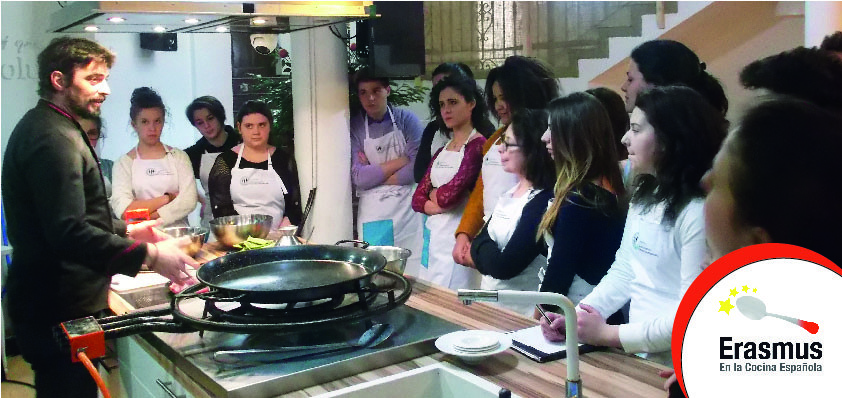 In Spain there is an expression: "you do not know a culture of a country if you do not taste their food" :) Gastronomy as a cultural manifestation of a country, it´s part of a trip that we should never lose sight of. Based on this idea has arisen Erasmus en la Cocina Española, a new Project that melts away the Spanish culinary culture with leisure and learning. 
During your stay abroad as an Erasmus student, you'll discover the well known Spanish Cuisine.                                                                            
Marca España collaborates with CSHM in this project Erasmus en la Cocina in his international expansion. Their target is to train more than 10,000 students coming from different countries. The project will start with our star dishes Los Arroces y Las Paellas.
The purpose of this of the Erasmus Project is to encourage the improvement of quality, excellence, internationally innovation, as well as to promote the linguistic diversity and the intercultural awareness. In this particular field can be placed Erasmus en la Cocina. Erasmus en la Cocina strives to get people in touch with dishes and traditional Spanish foods to those who wants to have an unique experience. You will learn how to perform different elaborations at the same time you immerse yourself into the Spanish culture.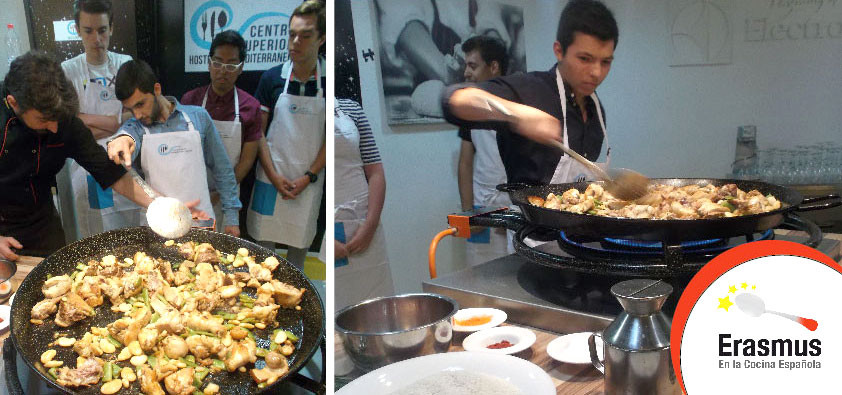 Spanish Cuisine Courses
In our Centre you can follow workshops, given by delegates of the main Spanish brands, discovering new flavors, aromas typical of our national territory.
We will talk about wine, about grape varieties and how the ground and the temperature can influence the process. We will talk about rice, paramount significance for human healthy; as well as we will talk about our Iberian ham, his quality and genuine flavor have made Iberian ham being one of the most appreciated product in the world. In each course an expert will introduce his own product, and will teach you how to prepare it and afterwards you will taste it.
Where you can take these courses?
Nowadays our center is located in Madrid and Valencia. Please find here more information or stay up-to-date with our news in our website, our Facebook or Twitter.  
---
Photo gallery
---
Want to have your own Erasmus blog?
If you are experiencing living abroad, you're an avid traveller or want to promote the city where you live... create your own blog and share your adventures!
I want to create my Erasmus blog! →