Car Rental Tips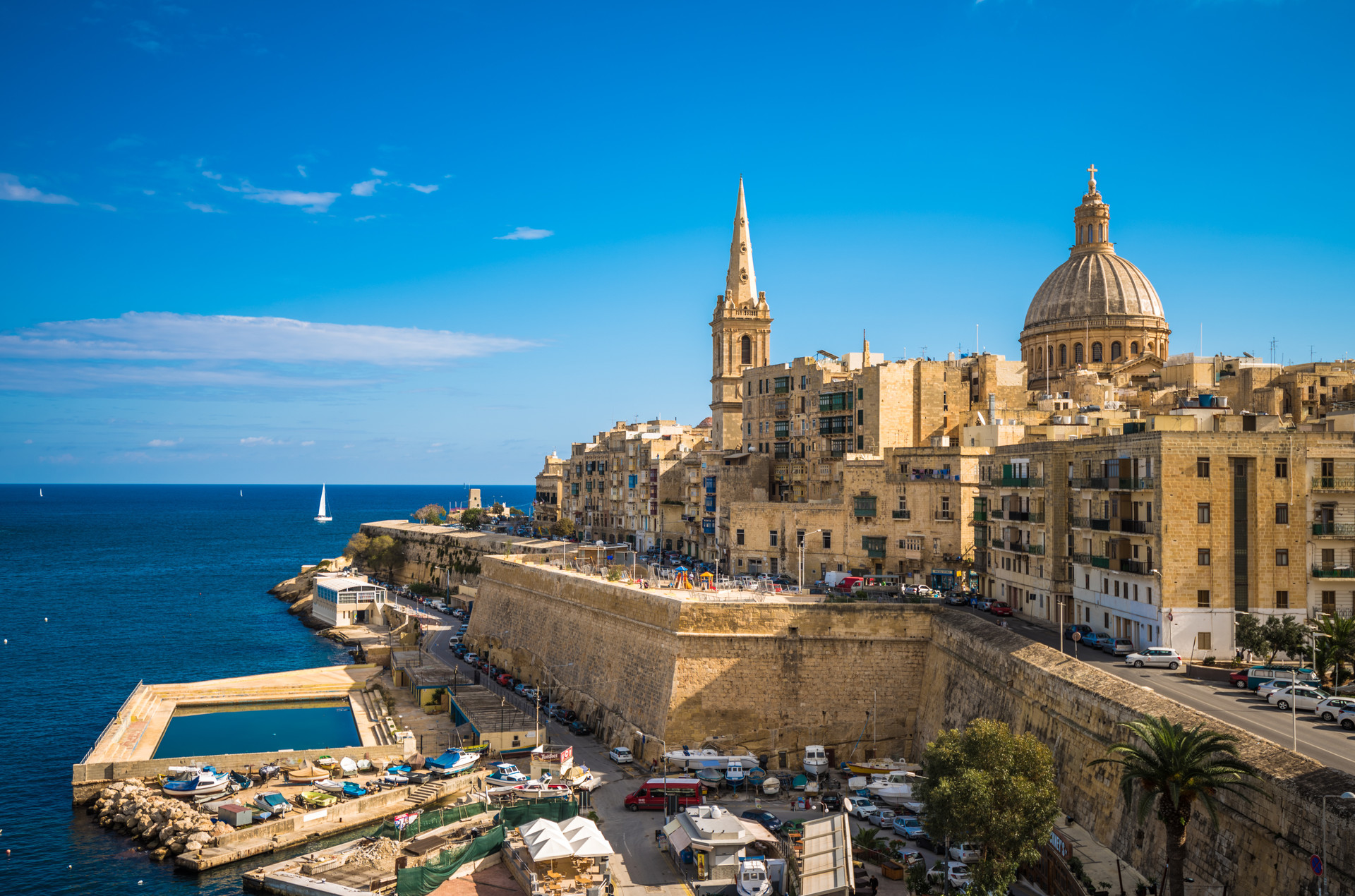 So you're participating in Erasmus for a semester in a different country and want to experience all that it has to offer. It's natural to assume that as a student, renting a car isn't an option for you. Au contraire, renting a car may be the way to make use of your limited time in the country.
Imagine being able to travel at your own schedule not having to rely on public transportation. Also imagine being able to reach remote places for a bit of solitude as relief from your busy daily life. Or perhaps you want to travel with friends and be able to experience as much as possible in a limited amount of time. All of these are great reasons to consider renting a car.
The number one way to save money on renting a car is to plan and book ahead of time. Rental prices almost invariably will be higher on the spot than if booked ahead of time. Just showing up at the airport wanting to rent a car also means that you won't be able to compare the prices and details of all the companies. If you book online ahead of time, you can compare everything to find which company has the best deal for you.
Sharing a Rental With Friends
You're probably not thinking of traveling in your temporary country alone. Not only would taking your new friends along make the trip more exciting, but they can also help share the cost of the rental car and gas. There are a few things you should be aware of before you plan this, though. 
First, whoever is going to be listed as the primary driver of the vehicle is going to be the only one financially responsible in case it is damaged. All rental companies require a deposit be left when picking up the car. Most of the time this is in the form of a hold on your credit card. Rarely, a larger cash deposit can be left.
Most rental cars will include some form of what is known as a Collision Damage Waiver and Theft Protection (as well as the legally required liability insurance). This, however, doesn't mean you won't be charged for any damage or if the car is stolen. On the contrary, these will have an excess which you will be liable for in the event of damage or theft.
To illustrate, say you get into an accident in your rental car in which the damage is €1,000 and the excess on your Collision Damage Waiver is €500. In this case, you will have to pay €500 which means that this amount will be deducted from your deposit.
The rental companies' waivers also do not cover damage certain parts of the car, such as the tires and windshield. So if that truck in front of you kicks up a rock into your windshield, be read to pay. However, they will often offer you coverage for these parts when you pick up the car (for an additional fee, of course). Many also offer further coverage to reduce or eliminate the excess. Another, possibly cheaper, option is Discover Car Hire's Full Coverage. For a small daily fee, this coverages all parts of the car and will reimburse you if the company takes any money from your deposit (as long as you were operating within the rental contract).
Second, if planning a longer trip, you may want your friends to share the driving responsibilities. You must notify the rental company of this in advance. Any person that drives the rental car will need to be registered with the company. Usually (but not always) there is an additional fee for adding drivers. Don't forget to take this into account when making your plans
Minimum Age
Confusingly, rental car companies all have different age requirements for drivers to be able to rent cars. This differs not only between companies, but also between countries with the same company. Even more confusing is the fact that a company in one country may have different age requirements for different classes of car. Usually, the youngest renters are only able to rent mini, compact, and economy cars. Here is a handy map detailing the lowest age at which you can find a rental car on Discover Car Hire's website in every Europeand country. There are many countries where even 18 year olds can rent a car.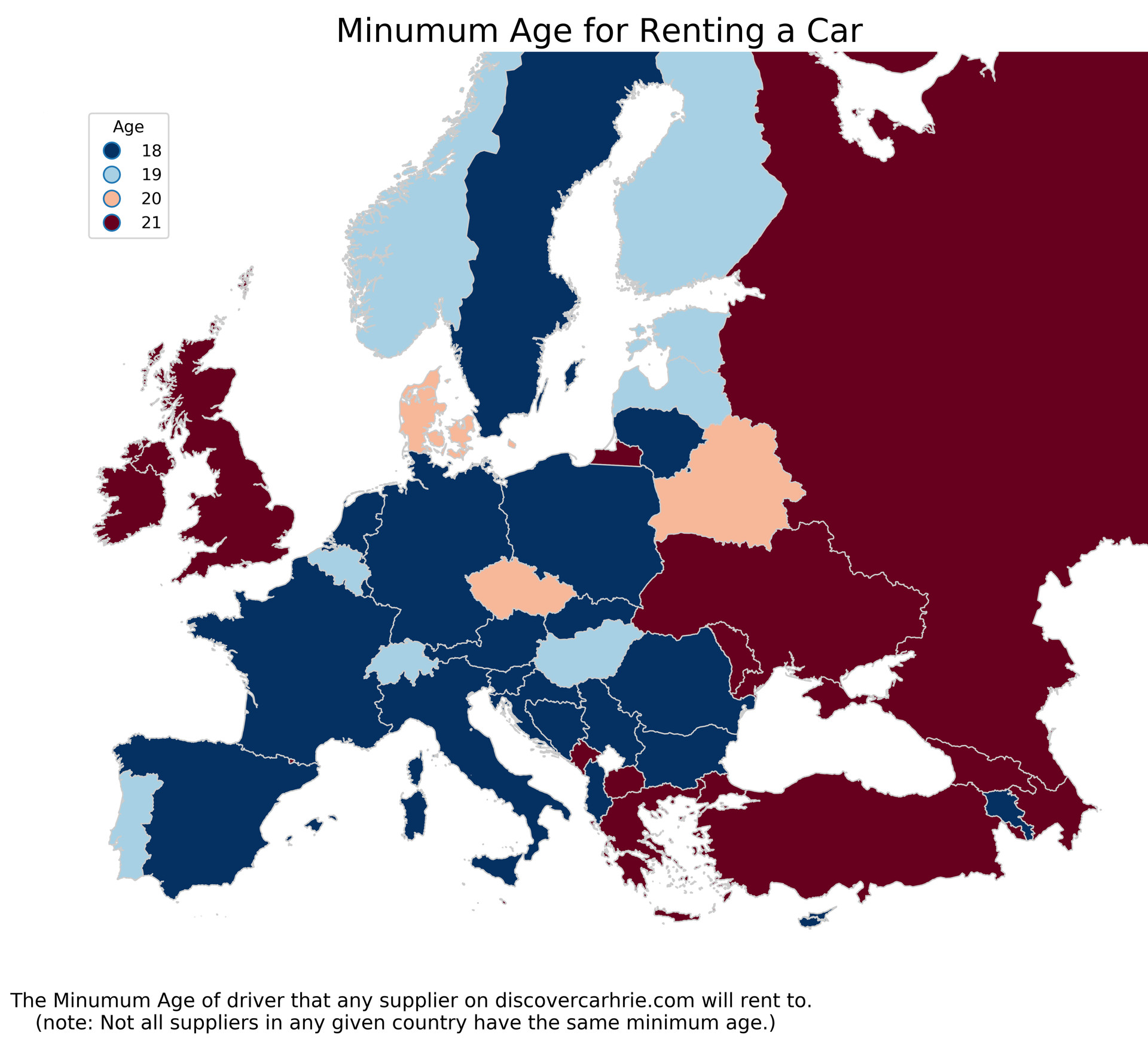 Unfortunately, most companies in most countries charge what is known as a young driver fee. This fee, usually charged for each day of the rental period, may apply to drivers below the age of 25. However, this is not always the case. For countries where the minimum age is 18, the fee may only apply to drivers between 18 and 21. In some rare cases, there may not be an additional fee at all.
So it's best to pay attention to the Driver Requirements sections and be on the lookout for young driver fees. Even if one company has a cheaper offer, another might be cheaper in the end if it doesn't charge this fee.
Driver's License
The other thing to look out for when it comes to the requirements to be able to rent a car are the company's policies regarding the length of which you have held your license. In general, you will have had to have held your license for at least one year prior to renting a car. This is the rule most companies throughout Europe have. Some companies require you to have had your license for three years. And even more confusing is the fact that many companies have different requirements based on the type of car you would like to rent. 
Sometimes there will be a higher fee, similar to the young driver fee, for those who do not meet this requirement. I've you have held your license for less than one year, expect it to be difficult, though not impossible, to rent a car in most places.
You may have heard of an International Driving Permit (IDP) before. This serves as a translation of one's driver's license for international use. It is not in itself a license and can not be used on its own. It must always accompany the holder's home-country license.
If your driver's license was issued in an EU country, you do not need an IDP to rent a car or drive in any other EU country. You are also unlikely to need one to rent a car in any other European country.
If your driver's license was issued in a non-EU country (but still in Europe) and is in the latin script, then you are unlikely to need an IDP to rent a car in Europe. If your license is not in the latin script, then you almost certainly will need an IDP to both drive and rent a car in Europe. If you are uncertain, you should check the Drive Requirements of the offer you are interested in and contact the company in advance to ask.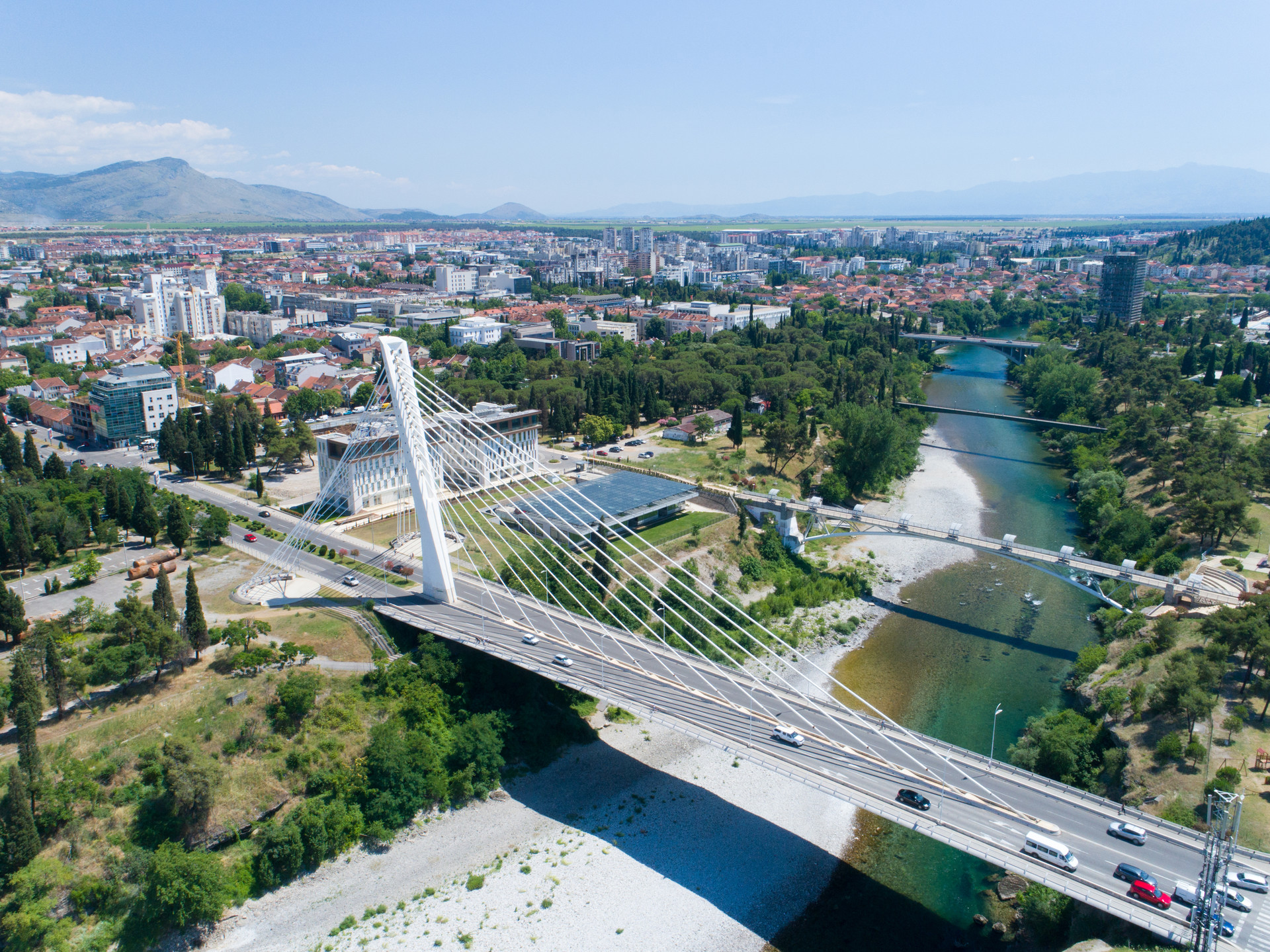 Mileage
So there's a holiday in the country you're studying and you want to make a trip seeing as much as possible in your three day weekend. Make sure to check the rental companies limits on how far you can drive before you book. Look for offers that include unlimited mileage. You don't want to be limited, because you'll have to pay a hefty fee for every kilometer you drive over the limit.
Fuel Requirements
Another facet of renting cars that many find confusing at first is what to do about the car's fuel. The standard way of dealing with the fuel is that the car will be given to you with a full tank of fuel and you are expected to return it the same way (so fill up right before you return it). Occasionally, you'll be given a car that does not have a full tank of fuel. In this case, you just return it with the amount that was in it when you picked it up. In both cases, make sure you return the vehicle with the amount of fuel that was in it when you picked it up. Otherwise, the rental company will charge you for the missing fuel (at a marked-up price) and a fee for refueling it. 
Rental companies will often ask you at the rental desk if you would like to purchase a tank of fuel. In this case, you would be relieved of the hassle of refueling before returning the car. Unfortunately, nothing in life is for free. The rental companies all charge significantly above the local market fuel rate for this service. In addition, you receive no refund for any fuel left unused when you return the car. 
Like always, the best way of handling this is to know the requirements and plan ahead so that you can fill the tank up before returning the car.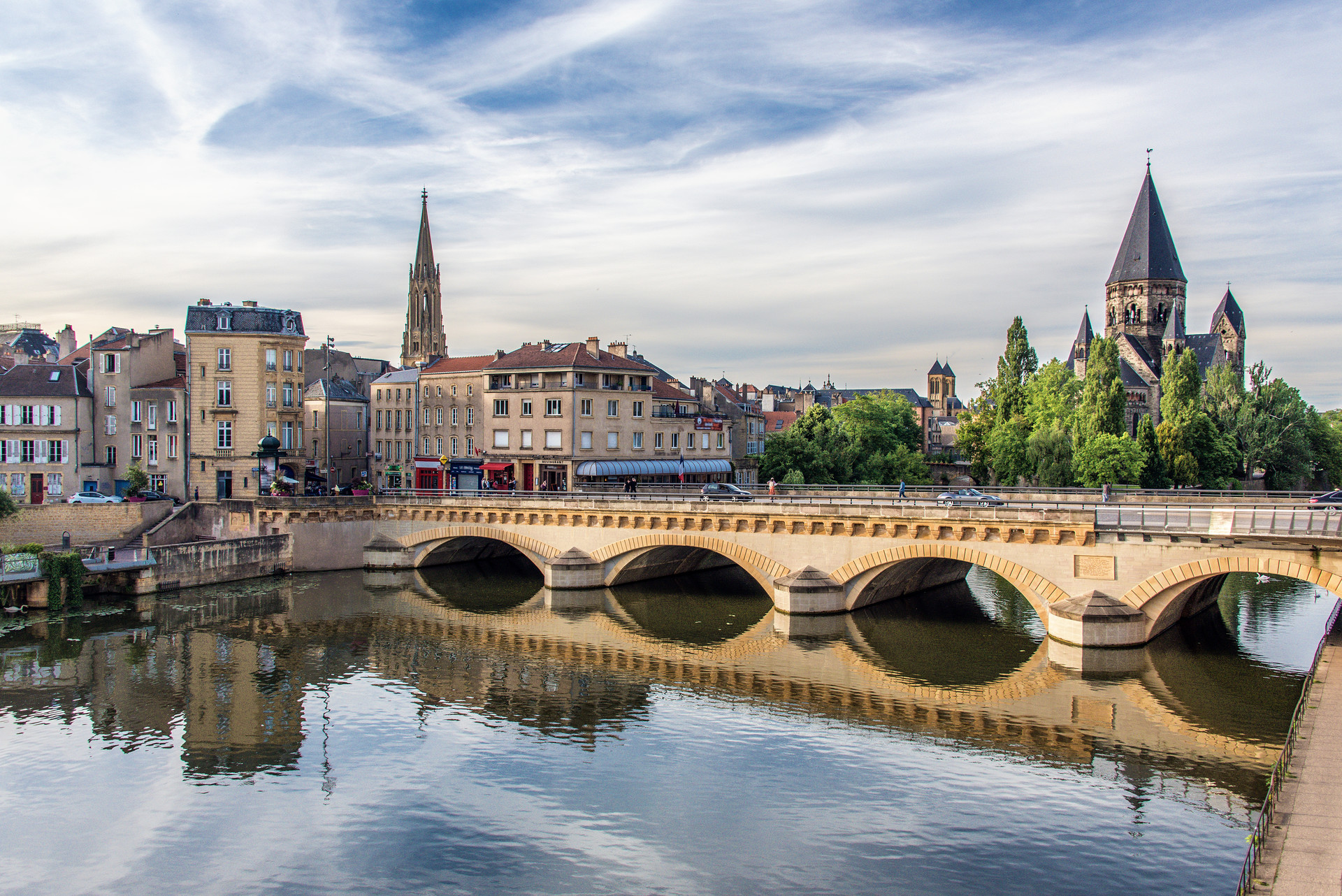 Crossing Borders
Have a longer period in which to travel? Want to take a road trip through multiple countries? With some advanced planning, this is entirely possible, especially within the European Union. You will be hard pressed to find a rental company in Europe that won't allow its car to be taken outside of the country it was rented in. That doesn't mean you can take the car anywhere, though. All rental companies have a list of countries which you can take the car to.
Sometimes an additional fee or insurance will be necessary for one or more of the countries to which you plan to travel. Though this is rarely the case when going between countries in the European Union.
The best thing you can do to avoid any problems is to ask your rental company ahead of time if you can take the car to the countries you are planning to go to on your trip.
Ferries
Planning to travel to Greece? Want to do some island hopping? Plan for your friends to all be jealous. Don't plan to take a rental car on a ferry, though. Most rental companies forbid their cars to be taken on ferries, even in Greece where ferry travel is a way of life. If you do this without their permission, expect to be liable for all damages (even if you have a waiver).
Don't fret, though. Rental cars are available on all major islands, usually even at the port. You can drop off one rental car at one port and pick up another when you reach your destination. Given how expensive it is to take a car onboard a ferry anyway, this will even save you money so you can party more. Of course, the only downside is a little more time is needed for planning.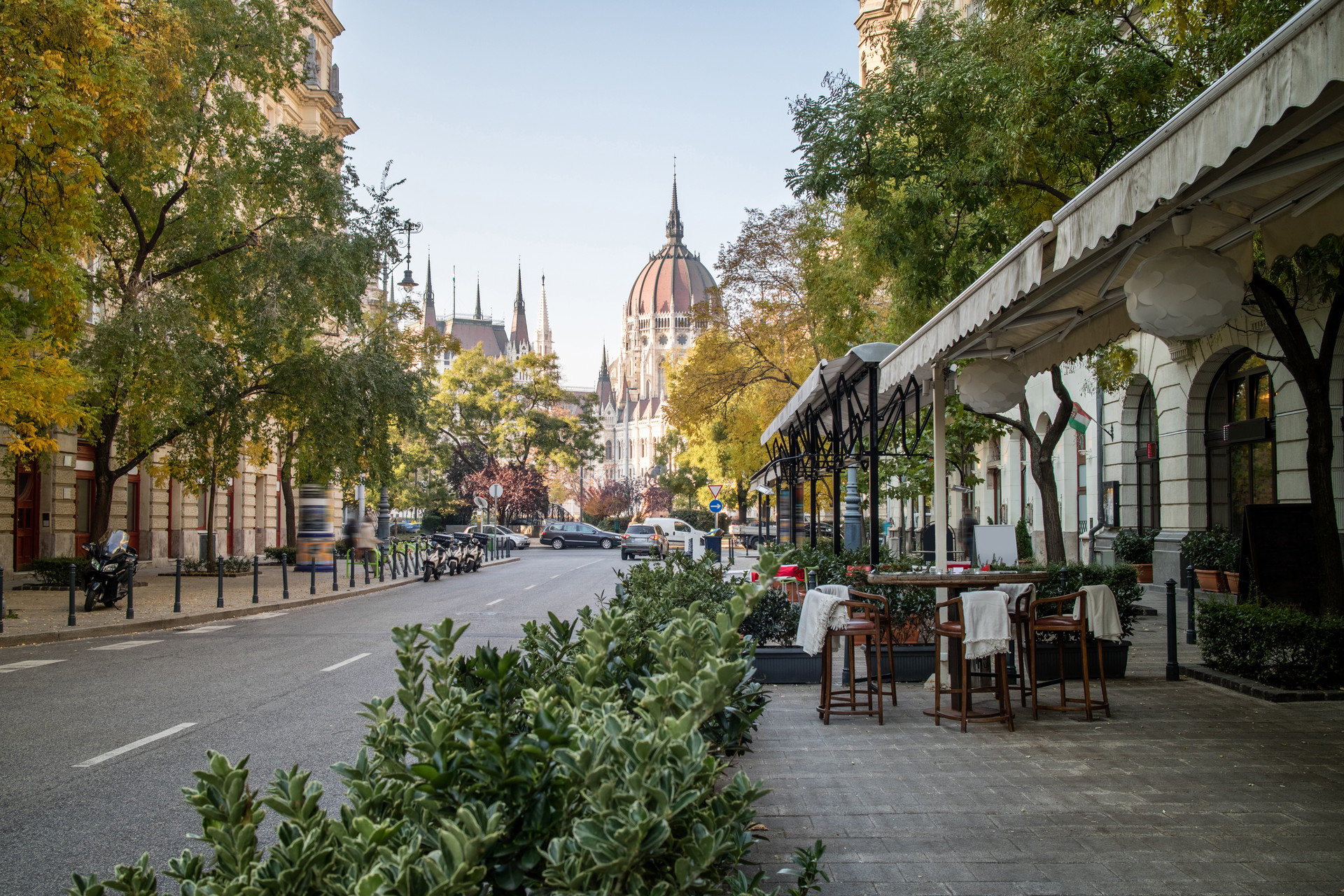 Conclusion
Renting a car is certainly worthwhile. It doesn't have to be hard, though. It just takes a little research to find the best car for you. Even if you're under 21, there are plenty of countries in Europe in which you can rent a car (if you've had your driver's license for at least a year) though you'll need to pony up a little extra.
---
Photo gallery
---
Want to have your own Erasmus blog?
If you are experiencing living abroad, you're an avid traveller or want to promote the city where you live... create your own blog and share your adventures!
I want to create my Erasmus blog! →