Which Covid Apps do you need to travel abroad?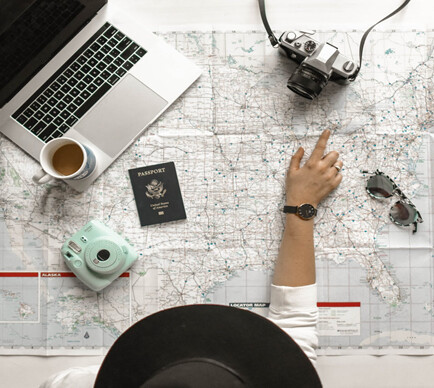 Do you want to travel abroad for work, study or tourism despite COVID-19? Don't you feel safe? Don't worry! Some COVID-19 apps have been developed... i. e. apps for traveling during pandemic that will help us to travel more safely!
The best way to travel the world and fly again is to make sure you are tested negative for Covid or vaccinated. How? Thanks to the new app developed by IATA (International Air Transport Association), Travel Pass, available soon. This Covid app for traveling abroad checks the health status of passengers. It guarantees Covid-19 negativity when a test is done or reports vaccination. Moreover, there is information and there are regulations and restrictions of the country you are traveling to. For more information, visit the official IATA website.
There is also another Covid travel app, available soon for Android and iOS. Developed by the European Union, it is the Digital Green Pass. It is a digital passport that allows you to visit countries in Europe and the rest of the world. This Covid app provides the vaccination confirmation or Covid-19 negativity. It is designed to facilitate the mobility of travelers and will be available in early 2021.
These will be the best Covid apps for traveling abroad, download them!
COVID-19 apps
There are many COVID-19 apps. Below, you will find a list of the best Covid apps for traveling. You can download them whatever your operating system.
COVID-19 apps for iPhone and for Android:
COVID-19! It allows you to stay up to date with Coronavirus news and with how to cope or protect yourself against it.
SOS Medico. It offers you the opportunity to seek advice from health experts and a section concerns COVID-19, if you have any question or doubt.
diAry. It allows you to track your movements and trace where you have been and who you have been in contact with in case you test positive for COVID-19. It is very useful for keeping the spread of the virus under control.
Moreover, if you have a smartwatch, remember to enable all the necessary modes in order to calculate your medical status. It could find out the symptoms of COVID-19! The device alerts you if you have a fever or an irregular heartbeat, by being able to examine changes in your health. Everything will be much easier with the Smartwatch Covid app.
If you are interested and have time to help the community get a detailed map of the virus... you can download the COVID Symptom Study app! There you will have to enter a report on your health (even if you are fine) and write an estimate of the COVID curve in your area. This would be a great help and would only take you 1 minute a day!
Coronavirus App: travel across Europe safely
Each country within the European Union has its own laws and rules for dealing with the COVID-19 pandemic. These vary according to the nationality and movements of the traveler. Everyone agrees that one can travel, but avoid non-essential travel. One can travel for any health or work emergency.
Do you want to travel for work or study to Europe even if there is the pandemic? You can!
However, before doing so, I suggest you download the apps that each government has deemed useful for the management of virus. We at Erasmusu have created for you a table of some Covid apps that may be useful if you have to travel to one of these countries:
| | |
| --- | --- |
| Covid App Switzerland | SwissCovid |
| Covid App France | StopCovid |
| Covid App Germany | Corona-Warn-App |
| Covid App Spain | Asistencia COVID-19 |
| Covid App UK | NHS COVID-19 |
If you want to travel to France during the COVID-19 pandemic, you should know that there is still a curfew in place from 6pm to 6am. However, it has come out of the lockdown and, like all countries, has restrictions that vary according to infections and the pandemic curve. In order to enter French territory, you must take a molecular swab within 72 hours prior to entering the country.
The rules for traveling to Germany during the pandemic are somewhat stricter. If you have been in an area considered 'at risk' in the 10 days prior to entering German territory, you must undergo health checks.
All European and Schengen citizens can travel to Spain during the pandemic. Quarantine is not necessary, but it is compulsory to present a negative test done within 72 hours of arrival. Only then you will be given a QR code to show, if requested. The Canarian Covid app is Asistencia COVID-19, if you are a tourist I suggest you download it. The country is still on alert and there are rules for traveling during the pandemic between provinces within Spain. However, the situation often changes according to the number of infections and localised lockdowns.
There is the pandemic, but traveling to Portugal is still possible. However, it's compulsory to present a negative swab done within 72 hours before boarding.
If, on the other hand, you want to travel to Albania during the pandemic, you will be happy to know that the borders are open (only to EU and Schengen citizens) without the obligation to self-isolate once you have landed.
Covid, can you travel safely around the world?
Do you want to get out of Europe and travel the world? Anything is possible! Obviously, however, you will have to respect the rules of each country. Below, you will find some of the world-wide Covid apps:
| | |
| --- | --- |
| Covid App Argentina | CUIDAR COVID-19 ARGENTINA |
| Covid App Mexico | Mexico Plan Jalisco Covid-19 |
| Covid App Peru | Peru en tus manos |
| Covid App to travel to Canada | COVID Alert |
| Covid App to travel to South Africa | COVID Alert SA |
| Covid App Dubai | COVID19 - DXB |
If, for example, you want to travel to Egypt during the pandemic, remember to take a PCR test within 72 hours before boarding.
Apps useful to travel by plane or by car despite the pandemic
For air travel during the pandemic, all airports are developing strategies to minimize contact and travel with more serenity.
Moreover, with the development of Covid air travel apps, such as Travel Pass and Digital Green Pass, you can travel more safely.
You can also travel by car during the pandemic but there are many restrictions. Traveling by car during pandemic means traveling with no more than two people and with adequate spacing between driver and passenger. There are no Covid apps for traveling by car yet, but I always suggest you download the ones for the country you are traveling to.
Can you travel to Italy during the pandemic?
The government has divided Italy into three zones of high, medium and low risk based on a colour: red, orange and yellow. In the red zone you cannot leave the municipality, in the orange zone you cannot leave the region and in the yellow zone there are lighter restrictions.
In this list you will find the Covid apps of some Italian regions:
Covid App Veneto: Zero Covid Veneto App
Covid App Campania: e-Covid App
Covid App Sardinia: Sardegna Sicura App
Covid App Sicily: Sicilia Sicura App
With all these apps you can feel more comfortable before moving to another country or even going on a trip.
Moreover, if you have finally decided to go, you can find out What impact has Covid had on Erasmus or you can carefully read the Erasmus 2021 Procedures to not get caught unprepared.
Have you decided to go and you are looking for an accommodation? We can help you on Erasmusu!
Check out our website and choose a room, a studio, an apartment or a university dorm. We are always at your disposal to help you choose the perfect accommodation.
If you liked this article, follow us on Facebook, Twitter e Instagram!
---
Photo gallery
---
---
Content available in other languages
Want to have your own Erasmus blog?
If you are experiencing living abroad, you're an avid traveller or want to promote the city where you live... create your own blog and share your adventures!
I want to create my Erasmus blog! →