Tips for finding an internship abroad
Have you already been studying for a few years or have you just finished your studies and you would like to gain some professional experience? And preferably in another country? An internship is a good way to find out whether you like working in the field for which you have studied. You can therefore choose to find an internship for which you have learned or just something else that you're good at or you want to learn more from.
Finding an internship is not easy. Sometimes it's a matter of luck. You apply once and you are accepted. Sometimes it's just being lucky. But more often, finding a nice placement is a bit more difficult. For example, it took me about half a year until it finally worked out. It's a learning process. If you've never made an effort to create a serious resume, then that's the first thing you have to do. Search online about the best ways to do this. For example, think of Europass. When you write your resume for the first time in English, you can of course have it checked by someone you know. Think of, for example, your parents or maybe that one friend from England.
Then, you should think about the following:
Where do I want to do an internship?
For how long do I want to do an internship?
What do I want to learn?
What am I already capable of?
What do I absolutely not want?
Am I overestimating myself?
Or am I underestimating myself?
Remember that it's okay to ask for help! Ask people what they think would be suitable for you. If they give an answer you do not like, it will still get you thinking. Try to remain having an open attitude to everything.
Besides that, it is also important you tell everyone around you that you are looking for an internship. It is often the case that someone gets an internship through the grapevine.
Think about where you would like to work. Do you want to work for an international organization? Do you want to work for a company? It doesn't matter to you?
Start by writing a motivation letter. This you will need if you want to apply for a vacancy. Ensure that absolutely no mistakes are made in your letter! This is a crucial point. Again, have it be checked by someone. Especially if you've already sent a few but you don't receive any response.
Applying for jobs abroad is somewhat more difficult than in your own country. This is because you can't actually be present for an interview. This happens usually through Skype or telephone. The first time this can be pretty scary. Try to prepare yourself well. Make sure your internet connection is working properly and try to prepare answers to possible questions you might receive as well. Study everything that can be read about the organization or the company you have applied at. Search online for ten possible questions they might ask you during the interview. It helps to write down the answers for yourself once. Another very important point is that you also ask questions to the person that interviews you. Do not be afraid and try to just be yourself!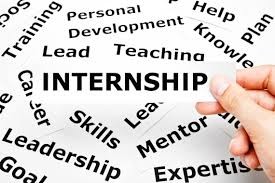 For example, think of:
What does a typical day for an intern look like?
How is the atmosphere in the office? (Formal or informal)
What will my tasks be? Will I receive support?
And everything you want to know yourself, of course.
Your first interview will probably not run smoothly for one hundred percent. But that's okay, learn from it. This way, the next time will only go better.
Good luck and do not give up because you will get there anyway! :)
If you want to find our more about internship abroad, check out our post that will leave you with no doubts why interning abroad is really wort it!
---
Photo gallery

---
---
Content available in other languages
Want to have your own Erasmus blog?
If you are experiencing living abroad, you're an avid traveller or want to promote the city where you live... create your own blog and share your adventures!
I want to create my Erasmus blog! →