Suitcase: everyone's problem!
Are you ready for your Erasmus and you don't know how to carry all of your stuff? Are you getting ready for a long one-way-trip and you don't know what to put in you suitcase? Are you simply ready to start a new journey?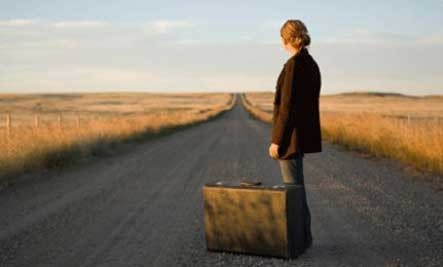 Whatever your goal may be, there are a few tips that will help you. Sure enough, you will also need some adaptability: if you are one of those people who need to carry clothing for 10 days for a 3-day-trip, then you may need to change your habits.
A strong important factor is the weather of your destination, since going to the South of Spain is not the same as going to Poland. Mild or Mediterranean climates are easier to deal with, the more you will move to the North, the more difficult it will be. But don't worry, there is a solution to everything!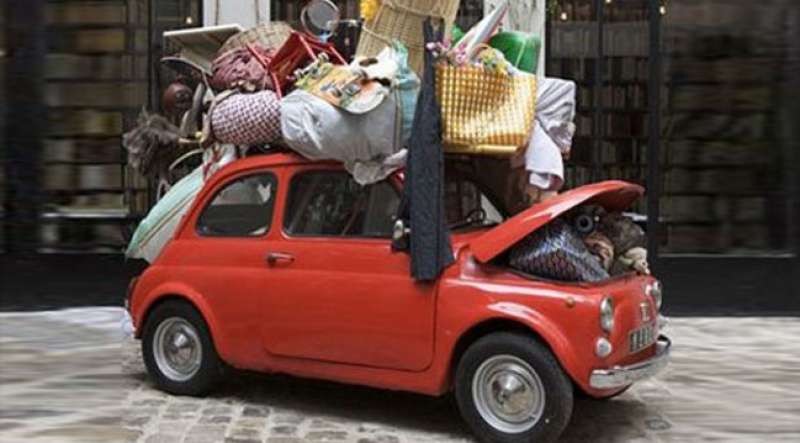 Another big problem is whether you are a man or a woman, especially if you are one of those girls that would rather bring all the matching for heels, lipstick, purse rather than eating. In fact, if you are one of those boys that change clothes only on a full moon, then you will be alright (except you are disgusting, just so you know! ).
The length of your staying is not going to make much difference, two months rather than one year is not going to change a whole lot of how you need to pack your stuff. Just consider the shift in temperature throughout the year, anyway if you are going to be back for Christmas holidays, you will be able to switch to the winter gears.
The trip itself is going to be very important, depending on whether you are moving by car, meaning you will have no troubles with your luggage, or by plane, meaning you will have to check the number of suitcases and weight. Personally, I was 9 months in Madrid, I went back home for Christmas and my parents came visit me for Easter, so I was pretty good. Eventually I was fully packed of course, and my family came pick me up by car; we took the chance to visit the gorgeous Spanish coast on our way back. Think about it, it's really not a bad idea if you have the time and the opportunity.
Therefore, you will have to pay attention to the baggage allowance of you Airline. If you decide to fly with a low-cost company, just remember that your checked baggage is not included.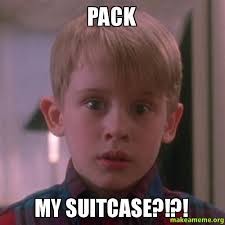 Additionally, consider the option of having your stuff sent to you via package, many companies have reasonable pricing (also depending on where you're at) and allow the shipment of your typical grandma's food, which is always welcome (especially if you are from a Mediterranean country and going to a non-Mediterranean country).
My personal technique consists in vacuum packing everything. You can buy vacuum bags in Chinese shops and, in case you don't have better tools, a vacuum cleaner will do the work. This will allow you to save a lot of space otherwise impossible to get.
In addition, your suitcase will have to be of great quality, because we all know that airlines are not very gentle with them. If you don't have a good suitcase, my suggestion is to wind a belt around it.
But what is to be stuffed inside your suitcase?
-Of course, carrying as much clothing as you can is maybe the most useful option. Just remember that if you are moving to a cheaper country, you will be able to do some shopping without emptying your wallet.
-Bring jackets, at least one light and one heavy. Do not forget sportswear and indoor clothing.
-Underwear, at least 10-12 pieces, so not to need to do the washing each week.
Bed sheets, two sets would be perfect. Just remember you can still buy them at the store once arrived.
-Hygiene products and items, I suggest bringing the least you can. Unless you will go live in a moor, you will find anything you need on arrival. You will also avoid products opening inside your suitcase. Anyway, you should bring a towel.
-DOCUMENTS, try not to forget these ones (ID card, passport, health card).
-Computer, you will need it to speak to your family and friend through Skype, and to do homework (don't forget your headphones! ).
Camera. Even though phones nowadays have the same quality, having a camera is always nice to capture beautiful moments.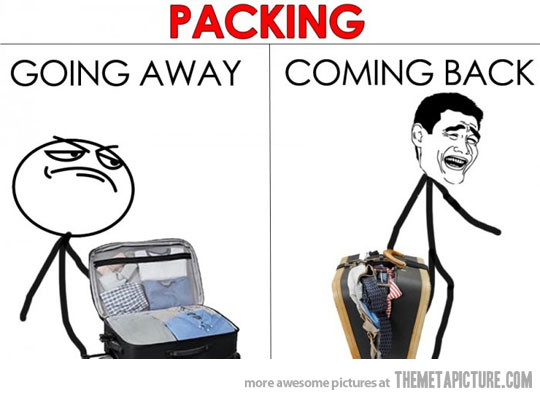 You can buy everything else on arrival, so you'd better open a local bank account to withdraw cash at no cost.
Optional: it could be helpful to bring a secondary phone where to keep your number, so not to miss important calls.
Anyway, do not despair: with little practice the nightmare of packing all of your stuff inside your suitcase will soon pass and you will be able to do it without even thinking.
Today once again I will leave you with a quote:
"So many people live within unhappy circumstances and yet will not take the initiative to change their situation because they are conditioned to a life of security, conformity, and conservation, all of which may appear to give one peace of mind, but in reality nothing is more damaging to the adventurous spirit within a man than a secure future. The very basic core of a man's living spirit is his passion for adventure. The joy of life comes from our encounters with new experiences, and hence there is no greater joy than to have an endlessly changing horizon, for each day to have a new and different sun. "
(From the wonderful movie Into the Wild)
Bye everyone, 'til next time!
P. S. I take suggestions on the next topics I should deal with!
---
Photo gallery
---
---
Content available in other languages
Want to have your own Erasmus blog?
If you are experiencing living abroad, you're an avid traveller or want to promote the city where you live... create your own blog and share your adventures!
I want to create my Erasmus blog! →