Faith, Determination and the Confidence to go forward.
Many times problems start to overwhelm us and the faith that we seemingly have starts to disappear. You see, it's normal to have a thankful, hopeful and happy attitude when everything is going okay, but the most important thing is being able to maintain this when things start to get hard and difficult. Having faith and hope in our hearts is to recognise that God is inside us and that he will always protect us, help us and teach us regardless of the circumstances that we must contend with. This faith will inspire us to improve, it will give us strength and determination to always be better.
How to keep faith in difficult times?
Faith is a state for which we must constantly work, like an army in the mindset that they can never let their guard down. While you pass through good moments, remember always to be grateful, develop good values like kindness, empathy, respect, loyalty, and in the more difficult times of your life don't forget to pray, meditate, forgive; and also be grateful for the opportunity that you have to learn and grow with every experience that God has chosen for you. A way of keeping faith and hope is by surrounding ourselves with positive and assertive people, reading valuable texts, and always reflecting on deep topics like these lovely christian sentiments that I share with you.
Sentences for Christian Reflection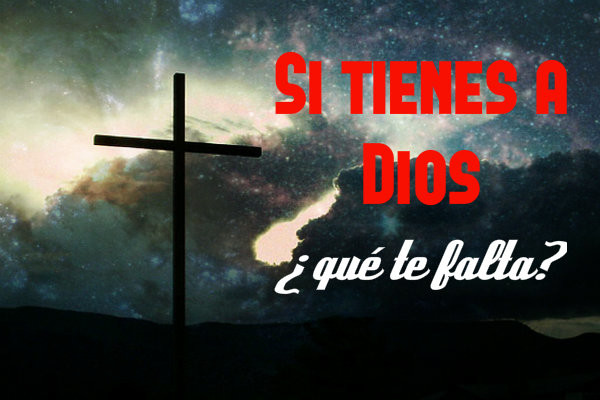 Translation: If you have God, what are you missing?
1. - The only reality that is worth persevering and fighting for, is to reach God's Truth.
2. - When you have God well placed in your heart, you will always have peace, even in the storms.
3. - Through prayer you can achieve more than any other activity. God will listen.
4. - If you find God wherever you go, you will have peace in any place you find yourself.
5. - God is with you when you feel most alone, when you feel most helpless. In these moments, God continues there.
6. - The most incredible and special energy that exists in this world is Faith, made up of true Love and Hope.
7. - Let God take the wheel of your journey, and enjoy the beautiful road to your destination.
8. - This is the best moment, right here and now, to feel thankful.
9. - Don't worry about the more challenging times, God will always give you the strength you need to overcome them.
10. - God always gives you the strength necessary to continue forwards and fly high. Receive it.
11. - With you, Lord, I have understood that the pain was only part of the lesson and that happiness is possible through your love.
12. - I will have faith in you, Jesus, because I have felt your love and greatness. You are the most beautiful love I have.
13. - Don't make yourself sick by filling your hands with material things, fill the soul with valuable treasures that are worthy.
14. - With God, you lack nothing… Without him you lack everything.
15. - As long as I am alive, I will continue to do the best that I can to abide by my lord.
16. - God's things are easily distinguished because they are always perfect.
Remember that the level of happiness, faith, love and hope that you have in your life will depend on what you decide, so always choose the Good. It only needs your thoughts and your heart's connection with God to begin remembering the great miracles that you already have in your life and those that will appear on your journey. You must open your eyes to divine beauty, kindness and compassion so that you can feel the peace, tranquillity and confidence that can only be achieved when we have infinite faith in the Lord.
---
Photo gallery

---
---
Content available in other languages
Want to have your own Erasmus blog?
If you are experiencing living abroad, you're an avid traveller or want to promote the city where you live... create your own blog and share your adventures!
I want to create my Erasmus blog! →