The best places to eat and drink in Biarritz: my top 15 recommendations!
As some of you may have gathered from my previous blog posts, I am currently on a year abroad, and for four months of it, I lived in the beautiful French coastal town of Biarritz. I was living on a bit of a tight budget – my internship was very poorly paid – but whenever I could, I'd go out and try some of the fantastic food and drinks on offer in the area. Today, I'm going to be going through my fifteen favourite wining and dining spots, explaining what I like about each, and giving you tips on what to order if you go to any of these places, too!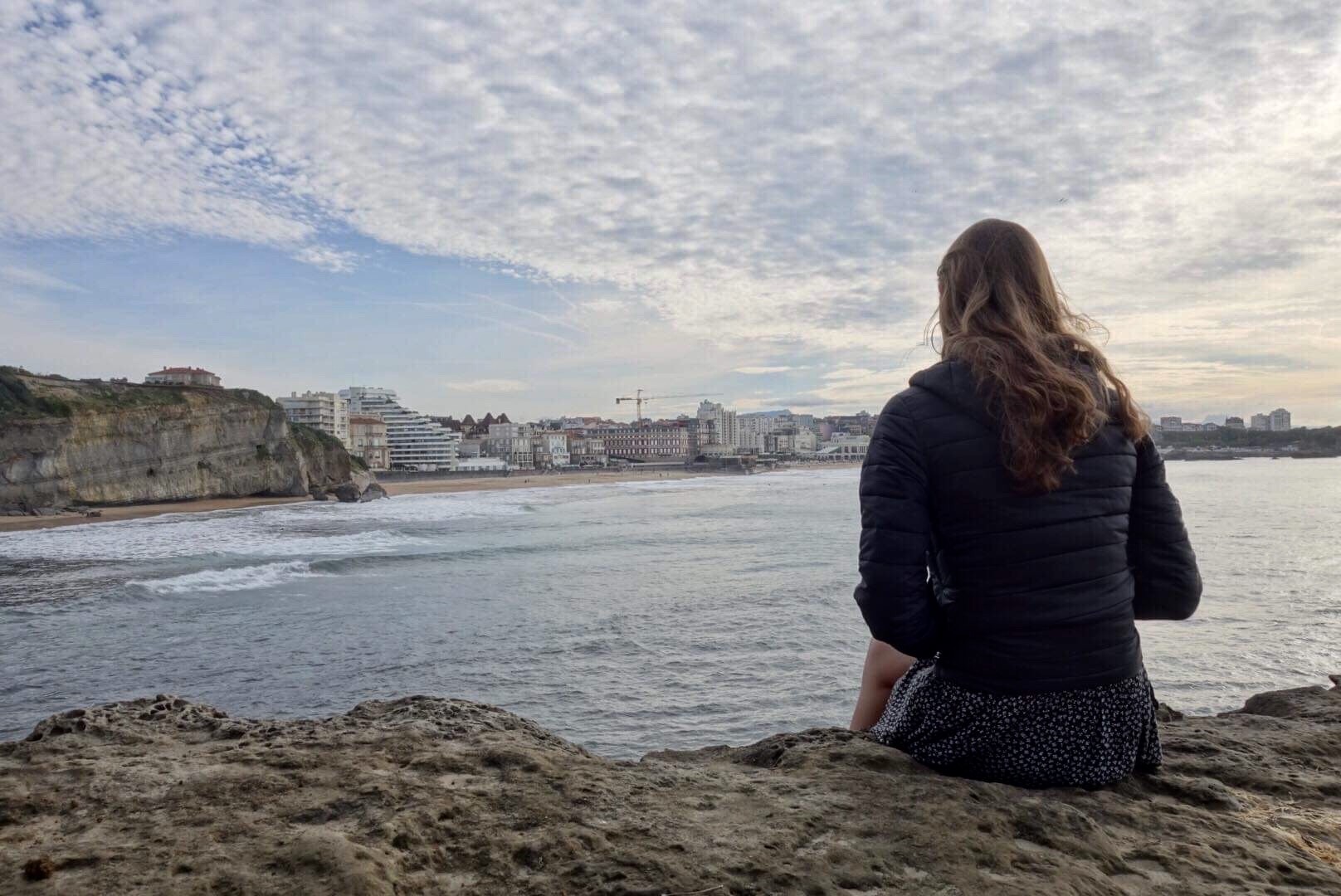 Boulangeries
Bakeries are, in my opinion, one of the greatest things about France. The food there is usually pretty cheap, and always completely delicious! I tried out many different places during my time in Biarritz, but these four were my favourite.
Boulangerie Patisserie Loubère
If you're looking for a very traditional French bakery, Boulangerie Patisserie Loubère is the place to go! They've got all the usual classics – croissants, baguettes, pains au chocolat, etc. – as well as some more unique delicacies. If you go, be sure to try one or more of the following: their chocolate escargot (a spiral-shaped pastry – not a snail! ), their mini ham and tomato pizza (actually one of the best things I've ever eaten), their puit d'amour, and their chocolate millefeuille.
Beware: there is a minimum spend of 10€ here for card payments, so make sure to bring some spare change, unless you're planning on having a proper feast!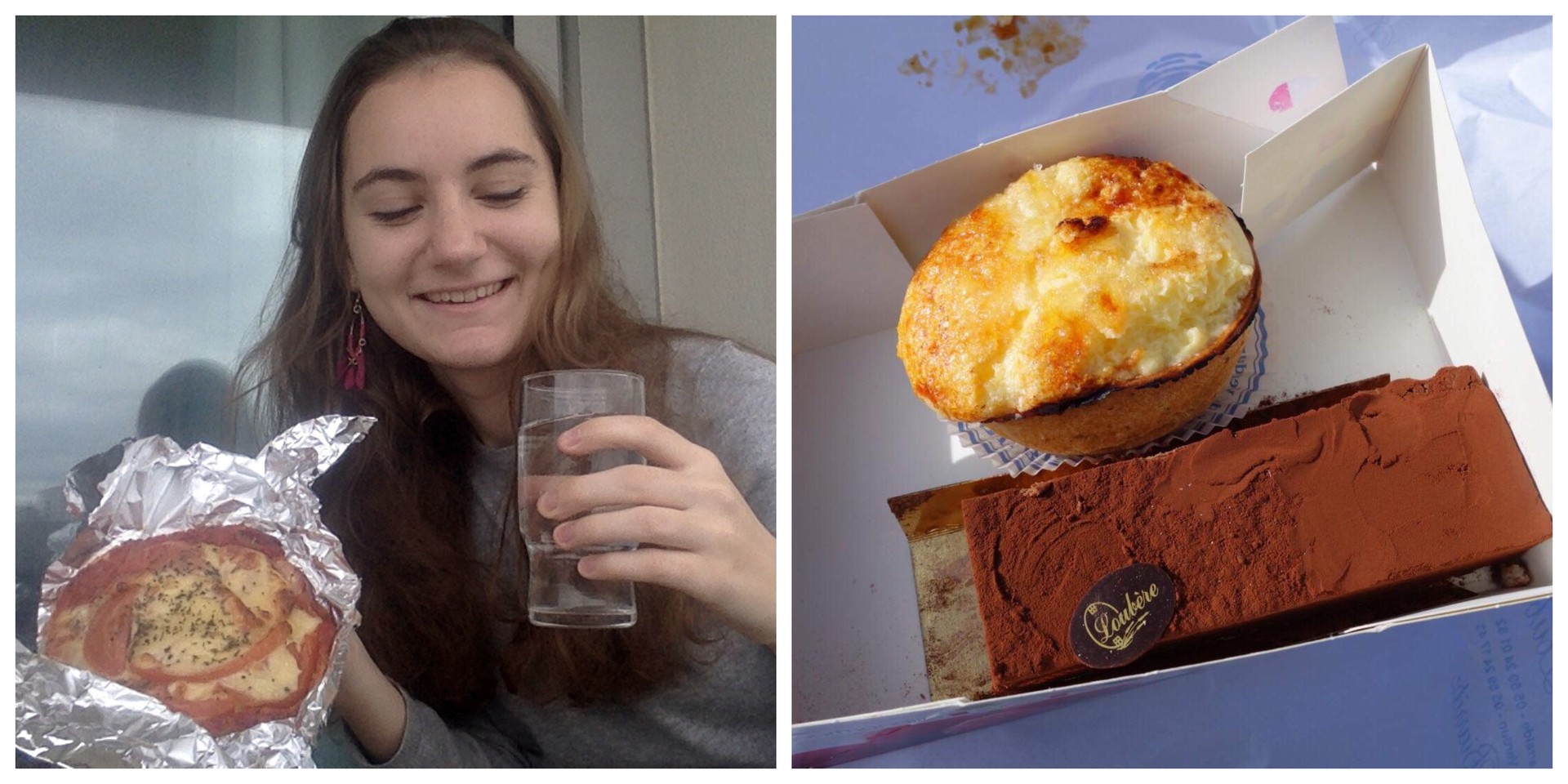 Chocolaterie Henriet
Chocolaterie Henriet may officially be a chocolate shop, but they also sell some fantastic cakes and biscuits. The gâteau basque (Basque cake) is something you've got to try while in Biarritz, and this is the perfect place to do so. You can even get a chocolate-flavoured one, if you fancy going against the crowd! Otherwise, be sure to sample some of their exquisite macarons – the blueberry flavour was my favourite. This place isn't the cheapest, but I promise you'll agree that the products sold there are worth the extra cost!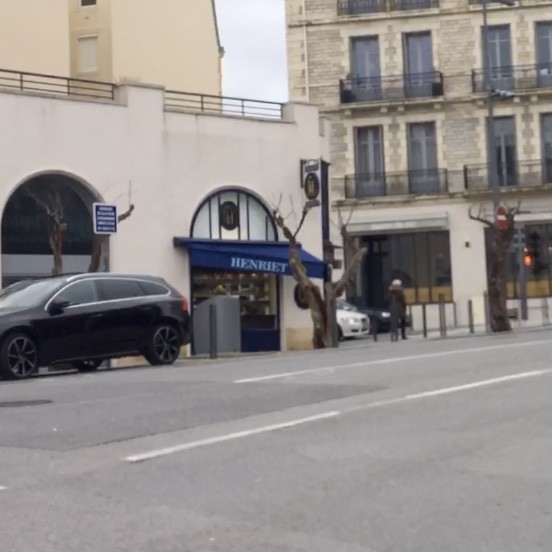 Boulangerie Les Templiers
I haven't tried much from this little bakery, located on Biarritz's bustling Place George Clemenceau, but I had to include it in this list, because of the excellent filled baguettes they sell! My boyfriend and I saw them from afar, and, after coming closer and receving a long speech from one of the shopkeepers on why they were the best thing since sliced bread (pardon the pun), we eventually gave in and bought one to share. And thank goodness for this trader's persistence, because we were very pleasantly surprised! Our sandwich (the middle in the photo) was filled with turkey meat, goat's cheese, lettuce, tomato, and apricot chutney: scrumptious!
Warning: this is another place with a minimum spend for cards, so get those coins and notes out!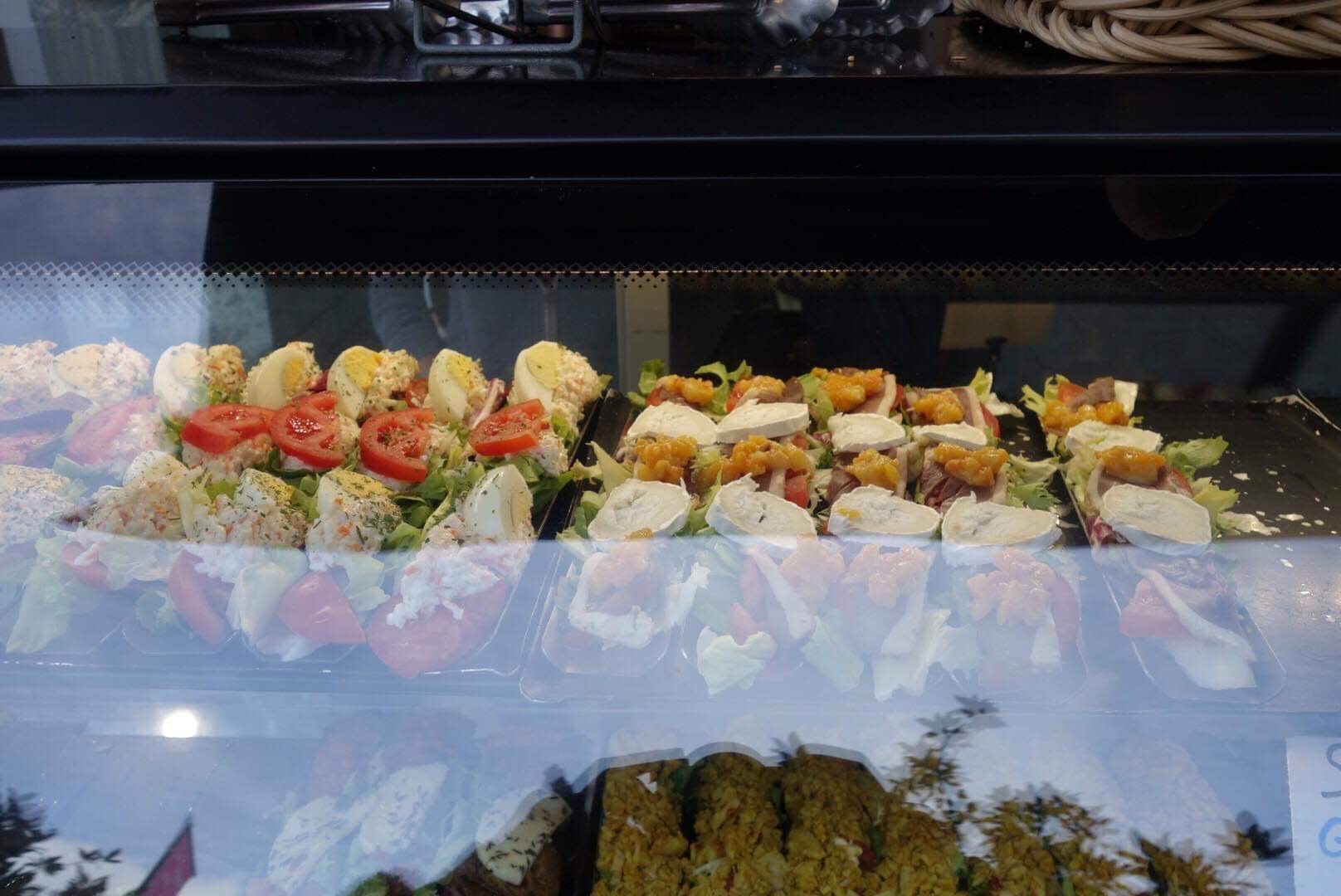 Pâtisserie Lionel Raux
Catch a bus or train to nearby Bayonne, and try the world's best quiche lorraine at the riverside Pâtisserie Lionel Raux! This delicacy is definitely best served warm, so make sure to get yours heated up if you go later on in the day. There are seats in the shop, but I'd recommend enjoying your meal on a bench by the water.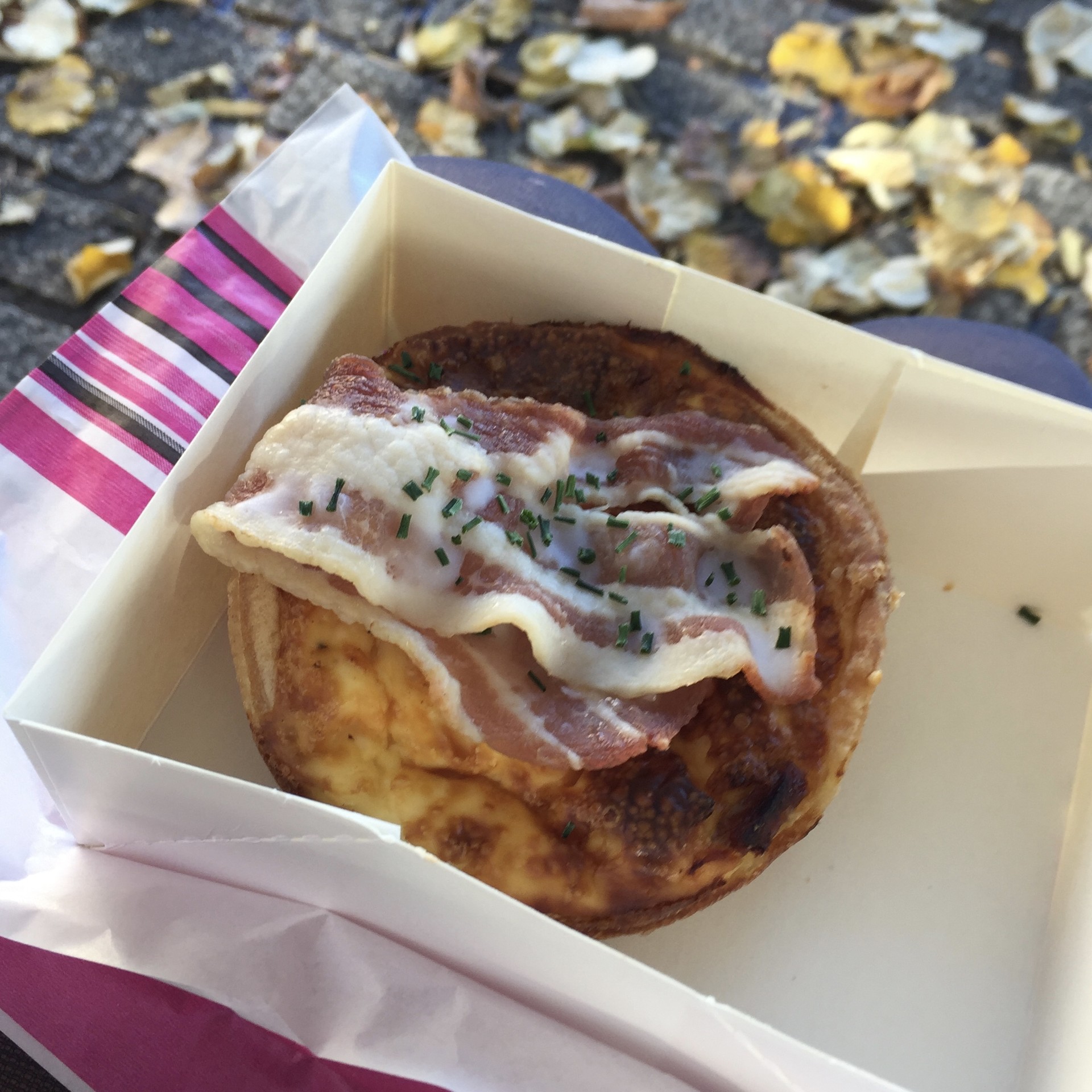 Brunch and coffee
Looking for somewhere to enjoy a late breakfast or a nice warm cuppa? Here's where to go!
Milwaukee Café
If you're looking for a hip brunch date venue, Milwaukee Café is the place to go! They've got a huge menu full of delicious-looking meals, and the café has a wonderfully youthful atmosphere. If, like me, you don't have much of an appetite first thing in the morning, I'd highly recommend the açaï power bowl – look how beautifully it was presented! Otherwise, treat yourself to a hearty breakfast platter: my boyfriend went for the Big Benedict meal.
Miremont
Miremont was one of my favourite places to go in Biarritz, and this was mostly because of their incredible chocolat chaud (hot chocolate)! You can drink it there, surrounded by chandeliers and other gorgeous decorations, you can take it away (it's slightly cheaper this way), and enjoy it by the sea, or you can buy a tin of it, and make it at home whenever you fancy. This place truly cannot be missed – it's worth just popping in to look at the amazing interior, even if you're not planning on buying anything – and is a great shop to go to for fantastic views over the city (see third picture).

French Coffee Shop
For more casual coffee dates, head to the French Coffee Shop! It's a fantastic place to study – they've got free WiFi – or catch up with friends, and the interior is very groovy, with its animal print seats. I'm actually not a coffee drinker, so I can't recommend any of their caffeinated drinks, but I've tried and loved their vanilla milkshake, and their strawberry and banana smoothie!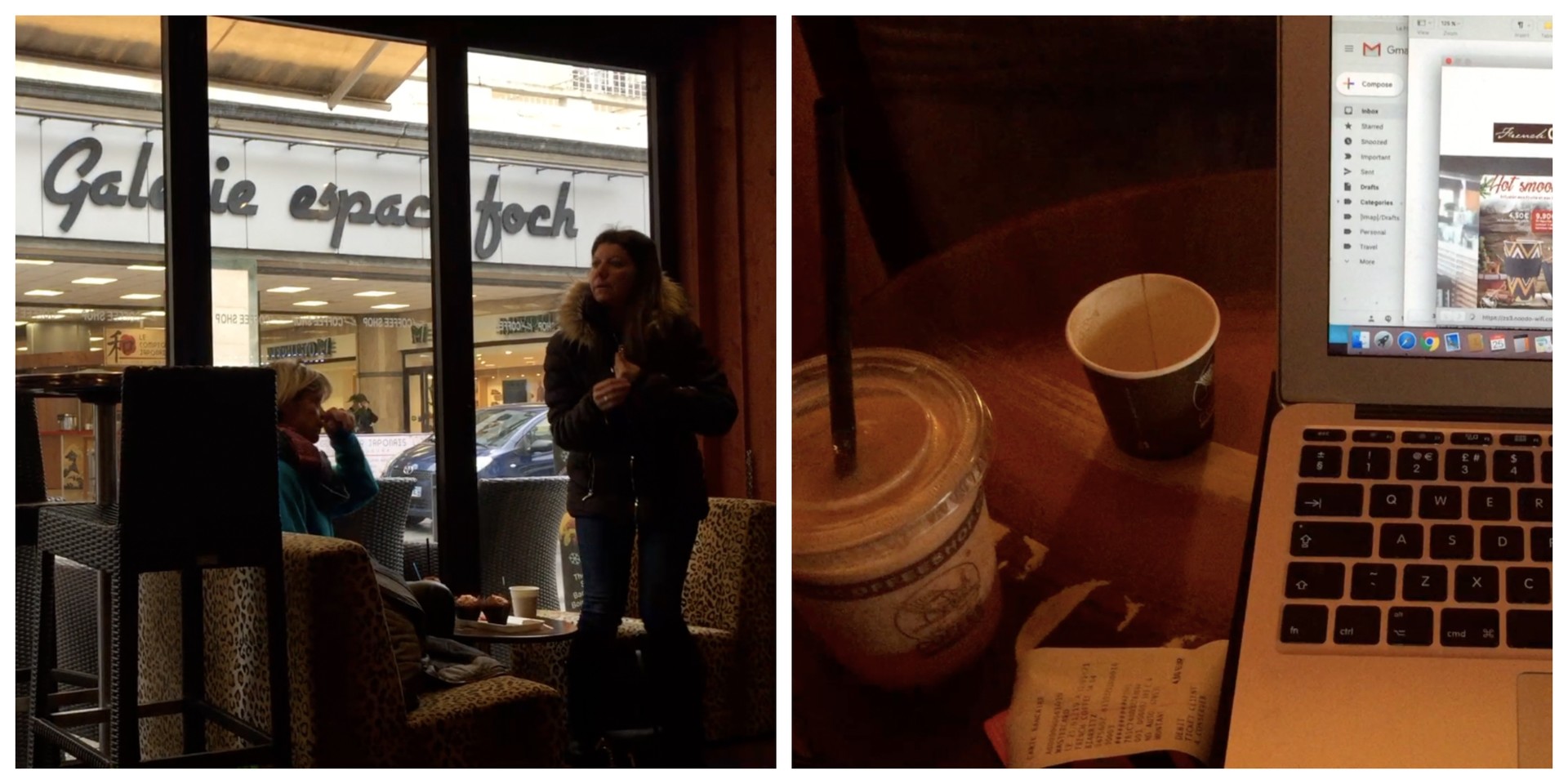 Lunch and dinner
Biarritz has a ton of great dining spots, so whether you're looking for some traditional Basque food or just fancy a pizza, there's something on this list for you!
Le Palmarium
If you feel like a good, cheap meal, Le Palmarium is the best place to go. I'd recommend ordering either a pizza (they have a huge list of toppings to choose from, as well as daily specials) or some paella (you can see it being cooked, and, for a small extra price, you can get as many subsequent helpings as you like). All meals are available to take away, too, so if the weather's nice, enjoy your meal on the nearby Port Vieux beach.
Le Surfing
If you want to enjoy lunch with a sea view, you've got to check out Le Surfing. My boss at the time actually treated me and my fellow intern to lunch here when I first arrived, and I'm so glad she introduced us to this place! I ordered the delicious Mister Surfing hamburger (not the most French meal, I know), but I think the best dish on the menu – which she ordered, and I tried a bit of – was the thon mi-cuit (half-done tuna steak). If you're feeling extra hungry (as we were! ) get an entrée of makis croquants (crunchy makis) to share.
I didn't actually manage to take a picture of my food that day, but here's a photo of the Côte des Basques beach, which the restaurant looks onto.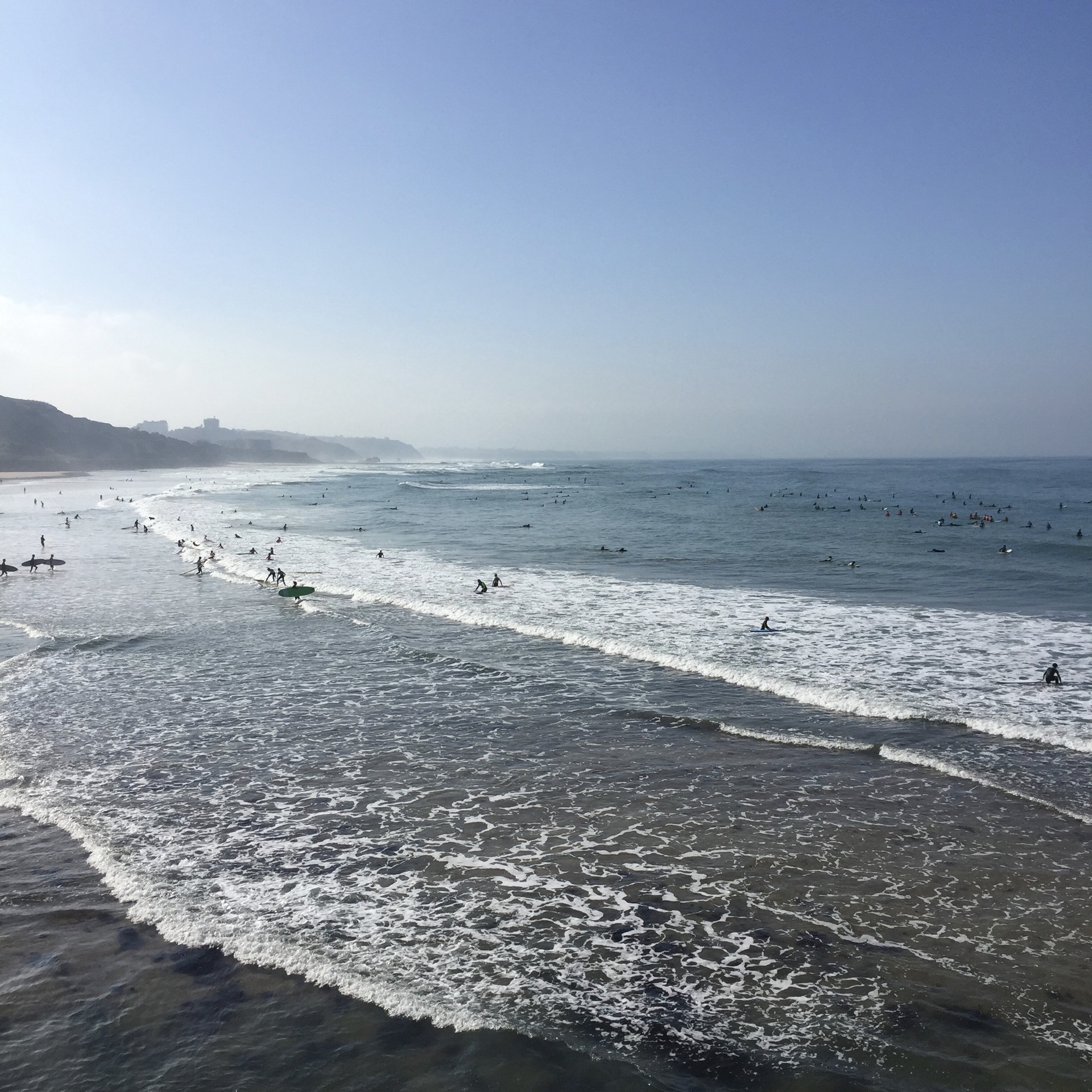 Tajinier
Another place my boss took us – this time for our Christmas meal – was Tajinier, a Moroccan buffet style restaurant in nearby Anglet. The restaurant had a canvas ceiling, which gave it a cosy, tent-like feel, and the whole room was decorated with gorgeous lanterns and chandeliers. For just €12, 90 each, we could help ourselves to endless quantities of couscous, tajine, and vegetables, and we piled so much food on our plates that we hardly had room for dessert!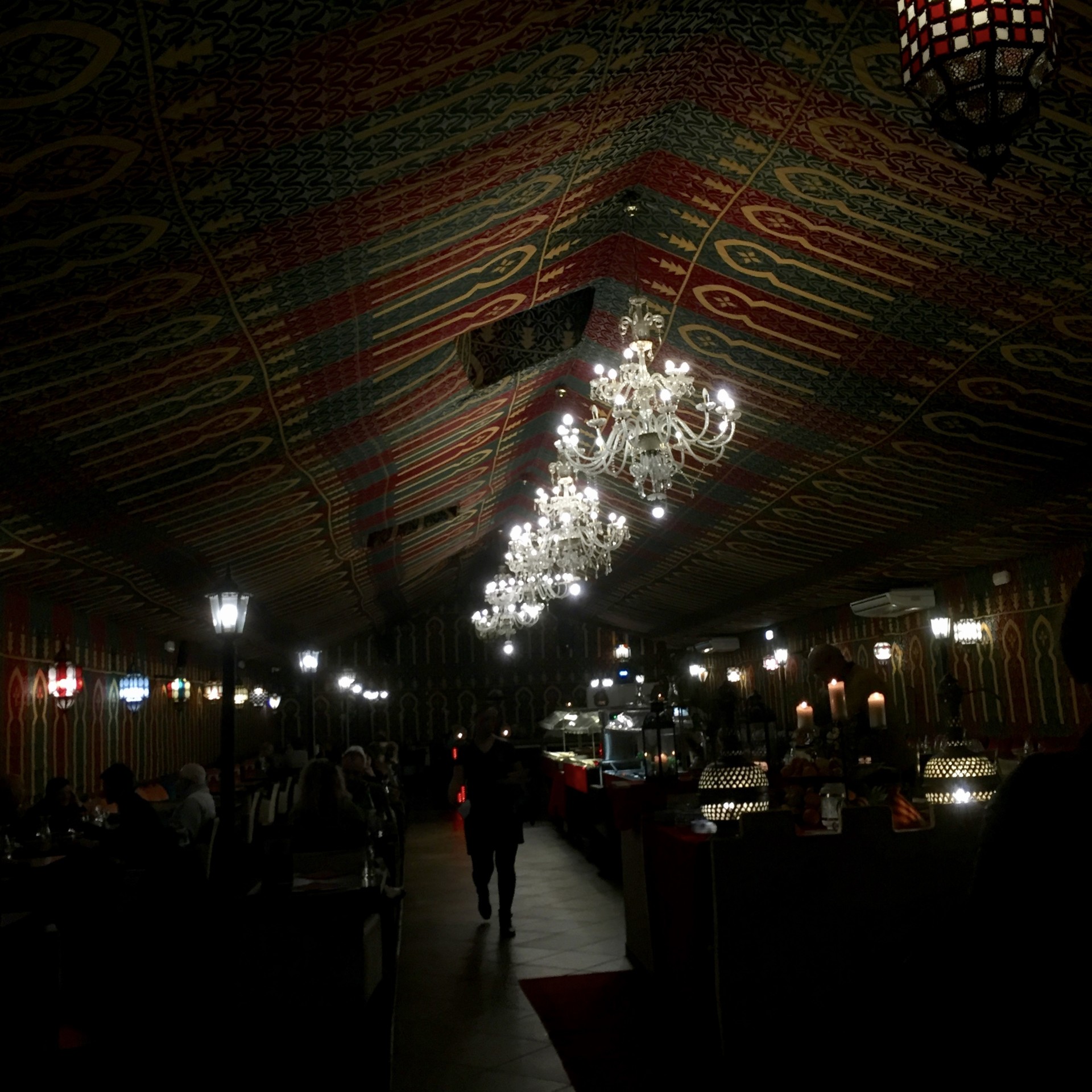 Bodega La Humade
Fancy trying some local delicacies? Book a table at the fantastic Bodega La Humade! (Shout out to my dad for coming to visit me in Biarritz, and taking me to this place for an early birthday meal. ) Our waiter recommended that we get lots of different starters to share, instead of ordering main courses, and this turned out to be fantastic advice. We got to try all sorts of traditional Basque food, and were pleased that it was still warm enough to enjoy it outside on the terrace.
Drinks/nights out
I have to say Biarritz doesn't have the best nightlife – if you're looking for a typical club night, you're better off heading to Bayonne – but there are some great bars that I discovered during my time there.
Bleu Café
If you want to enjoy an aperitif by the sea, be sure to check out Bleu Café, which looks onto the city's Grande Plage. Drinks are a bit pricy here, but the fantastic location makes it worth splashing out – just look at the incredible sunset we got to watch (no filter needed)! My dad and I thoroughly enjoyed our respective beers and sangrias.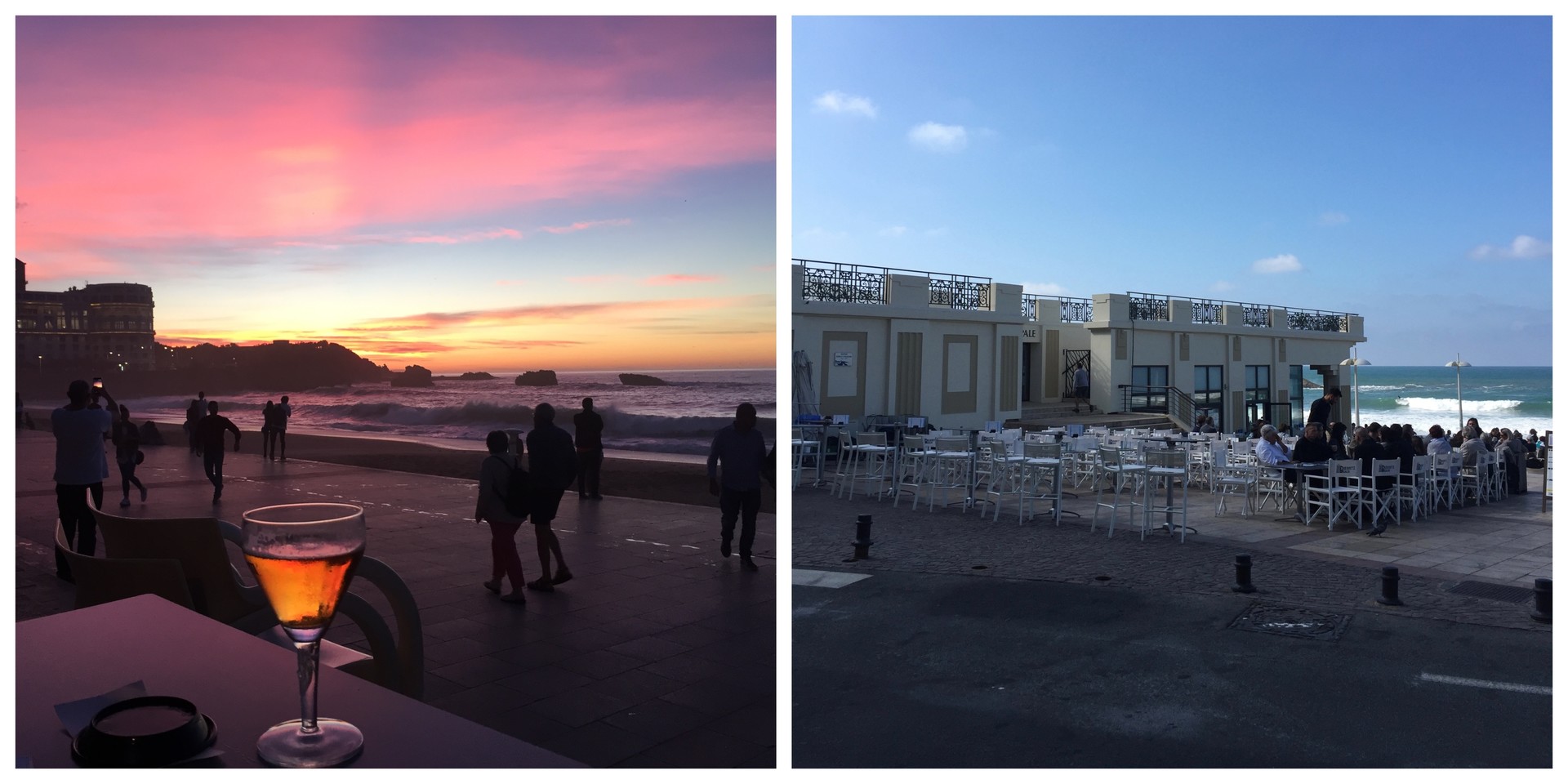 Bar de la Plage
Another drinking spot worth checking out is the Bar de la Plage, which can be seen from afar, thanks to the fairy lights in its outdoor seating area. This is a great place to go if you're looking for somewhere fancy and peaceful, but not too pricy. The Beefeater 24 gin and tonic was my go-to order, but one time, when I couldn't drink alcohol because of a recent concussion, I tried – and was most impressed by – their Twix milkshake.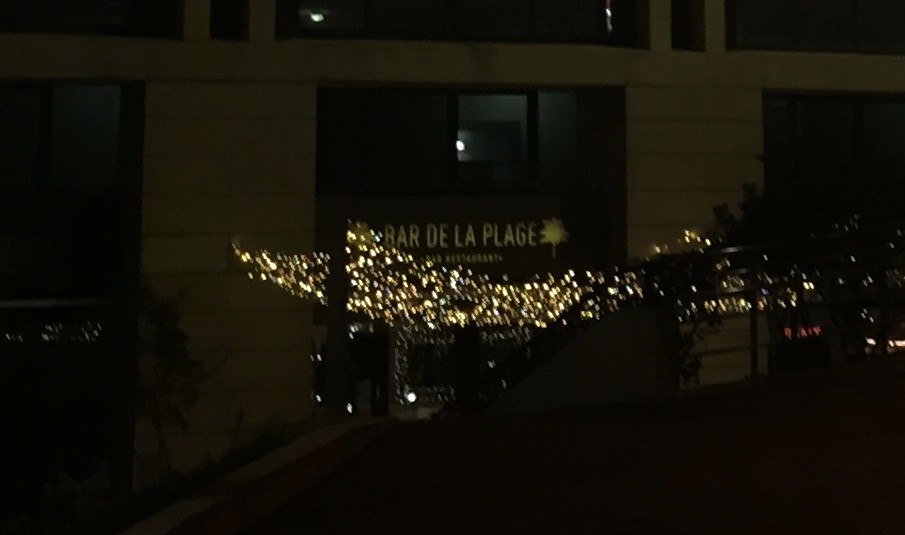 Les Colonnes
If you're looking for somewhere very upmarket, Les Colonnes is the place to go! Even from the outside, it looks very impressive, with its grand columns, and the wine served inside certainly lives up to the standard set by the exterior. Make sure to order cheese or charcuterie platters to enjoy with your drinks: the products are all locally sourced, and taste amazing.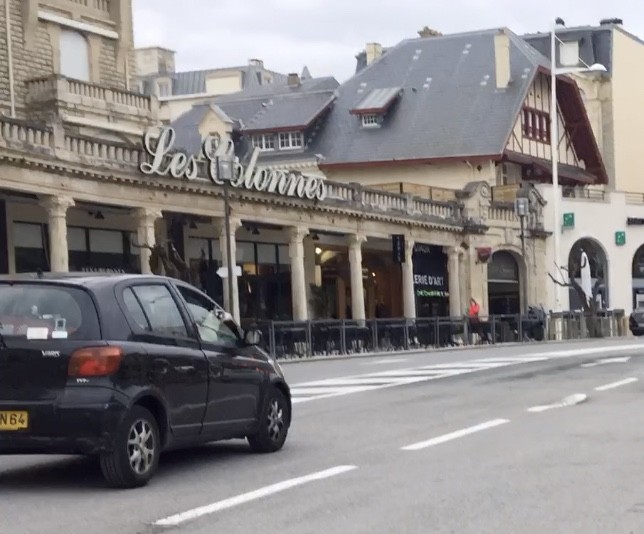 Mikelena
Finally, if you want to enjoy some local beer on the beach, be sure to head to Mikelena and grab a few bottles! My boyfriend (creds to him for the photo! ), who knows his brews well, absolutely loved the La Superbe IPA sold there, and always used to ask me to bring some when I went to stay with him in Bordeaux. This shop is also a great place to find cheap, locally-made nibbles to enjoy with your drinks, or even to buy foodie gifts for your nearest and dearest back home.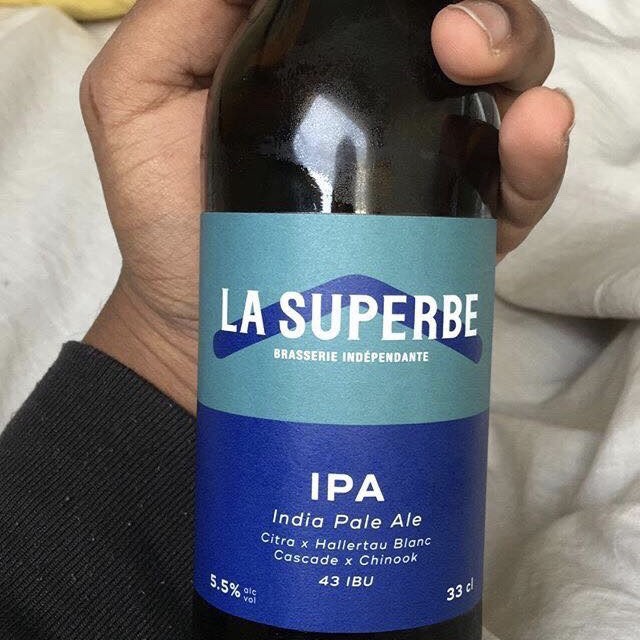 That's all, folks!
So there we have it: my top fifteen wining and dining spots in Biarritz! It's a truly fantastic city, and I'm aching to return, and check out more of what they have to offer. Have a wonderful trip, if you get to go any time soon, and please bring me back a tin of Miremont hot chocolate!
---
Photo gallery
---
---
Content available in other languages
Want to have your own Erasmus blog?
If you are experiencing living abroad, you're an avid traveller or want to promote the city where you live... create your own blog and share your adventures!
I want to create my Erasmus blog! →