Utrecht 3.5
Getting started
Let us continue from where we left off recently. We were exploring the great things to do during our trip to Utrecht University. A university located in the Netherlands that is filled with fun not only due to its location but also due to its proximity to other countries. We were taking a diverging break from exploring the city itself and instead look towards keeping an eye on the great exploration adventures you could do from Utrecht. We just hit off our adventures in Hamburg after taking a Flixbus there. Flixbus is one of the cheapest ways (besides Blablacar) to get around. I have spoken about it extensively in my past articles. I highly recommend you take a good look at it, as you will be able to enjoy a variety of places to travel to for a budget rate that any exchange student would love. It would be especially important for those who are travelling from a less wealthy country to Western Europe (specifically the Netherlands) as it is quite expensive in that area of the world.
Continuing Hamburg
Anyway, let us get to the point. We were last inspecting the Minataur wunderland, which showcased a miniature city with ports, nature, airports and much more. I spent roughly three hours there taking my time looking around. It was definitely one of the busiest places I visited in Hamburg. After that, I spent the next couple of days eating around constantly and checking out museums. I find that it is always important to learn some of the history of the city or country you are visiting. So, do yourself a cultural favour and enjoy what the city has to offer. Many of the things you could find in display are hundreds of years old. It adds more depth to your overall experience and really makes it a more memorable place to visit. In one museum (which I cannot recall as I had been to several), it showcased the complete history of Hamburg. It explained how Hamburg used to be a massive economic hub where trade would thrive out of control. What was more interesting was the security and defences of the city.
It showed an area completely surrounded by a river of water with walls and defences placed all over the defensible areas. I was very impressed by how well done it was all.
Going to a museum could take from thirty minutes of speeding through it all to several hours. Try to balance it all to get the best historical experience while still having enough time to do all the crazy things you want to do around the city. Like many museums you will visit, there will be physical or audio tours. I recommend taking the audio tour as you will be able to skip the parts you are not interested in and the rest you can have a detailed explanation of. One thing I really enjoy seeing besides all the history and old landscape towns and cities in museums are the suits of armour and muskets. It is crazy to imagine how such inventions were created and how elegantly designed they are. Although, I prefer them behind glass rather than in somebody's arms.
Food in Hamburg
Moving on, I recall that you make a long list of foods as well. Foods that each country (or better yet, each city) is known for. Your experience will truly be improved if you eat some great traditional food. Some might not be to your liking while some would be. Keep in mind that often-traditional food would be much richer and not exactly healthy. Perhaps this is the norm for most countries although it is something I was not too used to. I grew up around the Mediterranean Sea. This part of the world was better known for its olive oil, fish and healthier foods. As you, travel further north into Europe they focus more on butter and a selection of high quality cheeses. I reckon since it is colder you could also afford to eat so much to keep warm. Well, we cannot really say it is affordable but rather it was a necessity for people back in the day to eat high-calorie meals as not only were they working hard in the fields (many farmers and peasants) but would also do it in the cold, which would expend even more energy. Regardless, you will definitely find much richer and butter filled meals in this part of Europe (which really is not much of a bad thing considering how good they are. Just eat in moderation is my recommendation).
Another tip worth noting while travelling through Germany (Hamburg), keep in mind that while the main language is Germany there are many individuals who speak a decent level of English. Many countries within Europe are in the same situation although it is much easier for Germans (including Dutch and a few other nationalities) to learn English as both languages are based on the Germanic language. While it is much more difficult for the French/Spanish/Italians etc. as they are Romantic languages. So, do not fret too much about not knowing enough German, as they would still be able to communicate with you in English. Although, while you're here you might as well learn a few German words here and there to help communicate with those around you and flatter them with your curiosity of the language.
Now, back to the story. Therefore, I finished off my trip in Hamburg and decided to make my way over to Berlin. The capital of Deutschland. There are a few ways you could get from one to the other. Flying is a pretty direct way of getting around. However, I do recommend that you instead take either the bus or the train. The train is notorious for being late. Although, it is not much of an issue as it is a relatively short distance. Now, keep in mind that trains are one of the best ways to get around in Europe. They are very much commonplace when getting from city to city/town/country. It is something we do not use too extensively back in Australia due to the crazy distance that makes it impractical, as the tickets would be off the roof expensive. The main train line we have is one that goes from the very south to the very north of Australia. Although, that train is quite expensive and is considered a luxury ride that is great for tourism rather than anything else.
From Hamburg to Berlin
Of course, you could also do what I did and simply take a Flixbus. The bus is relatively cheap compared to the other options. It simply takes more time getting from A to B. Now, another option I recommend that you entertain is taking a Blablacar. This service is great for the budget hunters who want to ride in comfort. Basically, the way this service works is that you book a ride on the website where somebody is offering a ride from A to B for a small fee. It is much cheaper than one would imagine and faster than a Flixbus, as you will not have to take mandatory breaks and traffic. It is pretty safe as the drivers are screened beforehand and it is a great way to have up to four of your mates on a road trip with a potentially cool individual who will even give you advice of the things to see and what not to miss out on. It was a very common option back when I was in Reims on exchange.
Many would take Blablacars from city to city within France as a cheaper alternative to the TGV and a better option than a flixbus. Often people would go from Reims to Paris, Lille etc. It was a very popular option. The only issue is that it is pretty unreliable when it came to the hours. Sometimes the hours start pretty early in the morning and you have to have meeting points that vary. Although, this may be negotiable if you talk to your driver and see what they were thinking of doing. Perhaps they could pick you up from a more convenient location. Who knows? Regardless, make sure to pack snacks and such in case your driver is in a rush. Sometimes he or she must pick up people in another city and must get there on time. There will of course be bathroom breaks as it is more informal than a Flixbus. However, try and not make their lives too difficult. Many of these people do this as a part time job similar to an Uber drive.
Look them up on their website and see what options you have. If you find the timing and location is perfect and the total time to travel pretty low then go for it. I, on the other hand, ended up taking a Flixbus to make my life easier. I usually cannot be bothered staying extended periods of time in a car with strangers and expected to be social. As not being social would be seen quite negatively and it might not feel too relaxed. However, if you are travelling as much as you can with as little sleep as possible it is reasonable to see how this would take a toll on the body. In a Flixbus, you could be as antisocial as you want.
Busing it
The bus ride from Hamburg to Berlin is not too straining. It is about three hours of riding. If you plan to do trips such as these then make sure to grab an appropriate amount of entertainment. Either download a massive amount of music or videos. You may want to grab a book perhaps. Without a doubt you will need to grab a portable charger to travel with as well as you never know when you expend most of your battery using the GPS application to get from place to place.
After a long while, I finally ended up in the great city of Berlin. Now, Berlin is similar to France in the sense that there are a lot of pretty beautiful structures to see and many run down as well. I was told by my German mates that Berlin is not known for being the most beautiful city around although they do talk about it with great affection. They would say how they would often visit here to party and have a good time with mates. The EDM scene is particularly big in this city with many ravers and dancers hitting up the different clubs on offer. I was soon to find out much of this for myself. Like many capital cities, it is quite expensive to stay in a place such as this. Surprising enough, many of my mates tell me that Berlin is a quite affordable place to live compared too many of the other German cities. They, however, must have overlooked rent, as it was quite expensive.
Hostel
I was not keen to pay quite a lot for my hostel so I ended up finding a place just south of the city. It was within walking distance to the city so I thought I might as well stay there, as it would be a great place to go back and forth. It will also be much cheaper. I unfortunately cannot recall the name of the hostel and cannot seem to find it in any of my emails. I may have simply walked up to it and booked it straight away. I was glad to see that there was more sun in the Berlin Spring compared to the Netherlands (specifically Utrecht). The hostel I was staying at was quite cheap and clean. This is a pretty important aspect for me. If I were to stay in a country it would be ideal that the exact place I am staying at is clean rather than filthy as many other hostels are. I did not mind paying extra money simply for a cleaner shower and bed.
I recall a similar situation where I had wished that I paid more money. I once went to Bali and stayed at a hostel for the equivalent of eight dollars a day. It was in a relatively central area so the price made it all the better. However, the bedrooms were a mess. Each room had four bunk beds that were stacked with four different beds. I was not sure if there were bugs in some of them or not. Although, it looked as though bedbugs may have been a thing there. The showers felt grimy even though they were cleaned every morning. Perhaps it is the age and type of stone they chose. It is also a shame, as it was always humid so it would keep bacteria and the likes thriving in a very healthy manner. My mate and I ended up staying there for a few days even though it was in such a state due to the fact that it was so cheap and it was in such a great location. In addition, most other hostels were booked at the time so we did not have much of a choice.
Another place was this one relatively cheap hostel (it actually was not cheap but it was the cheapest one available) in Vienna. It was located right off the city. The reception and the beds were located on two different streets. Once you enter the room, you will notice that there is over 32 bunk beds in the massive room. That was the single largest amount of beds I have ever found in one room. It was always noisy and drunk people would walk back and forth. Anyway, we are deviating from the main point. In this room, we had only two showers. These showers were also pretty tiny. They must have been two to three metre squared. The floor felt pretty slimy even under my thongs (flip-flops). This is another piece of advice for those backpacking around Europe. Make sure you keep a pair of flip-flops with you. This applies even if you are travelling through the winter and risk getting frostbite if you wear them on a day out. You will need to put them on when taking a shower. You really should not shower without wearing them as you risk contracting any food related diseases or anything else from the floor as it gets quite filthy when so many people use it. The diseases could be absorbed by the skin, which would in turn cause you a great deal of trouble.
So be smart, keep a pair of thongs (flip-flops) with you at all times and always use them when showering in a hotel. There is no point risking it. Now, let us return to our actual hostel. I dropped off my stuff and kept it in a locker. It was early in the afternoon so I was keen to go on an adventure around the city and see what they had to offer. Now, like most capital cities you will probably have to face the crazy amount of traffic and congestion passing through the streets of this city. This makes taking buses or taxis around a very tedious affair as you will spend quite a long time getting from A to B. Now, you have two different options.
Getting around
One is more practical than the other although it all depends on you personally. You could decide to walk around. Basically, you will be walking for hours throughout the day as Berlin is a pretty large city so it would take quite some time to get from your location to your destination. On the bright side, you will be able to see many cool things along the way that you may miss if you get on the road. Whether those are pretty chill knick-knacks, restaurants or many other things.
I usually make it a rule that when I am travelling I almost never use public transport. Taxis are out of the question although the buses are a rarity. I usually do this as I enjoy walking around the city and seeing the small things that could be spotted. Although, to be fair I tend to listen to music as I'm walking because you may end up getting bored along the way. I experimented with this a few times and realised that keeping your headphones on you is a pretty solid idea. You also get to save a bit of money which you could use on food perhaps or simply budget it all. However, if I was walking for a particularly long time I would take a bus to return to my hostel. Although, this is a pretty rare occurrence and I would not really count on it. I usually end up walking back.
Another benefit you could take advantage of is the fact that since you're walking all over the place you could basically eat whatever you want guilt free. Now, this is a struggle that many of my mates and I have discussed about. Some want to eat whatever they want on holidays (which you should) but are worried of ruining their diet routine. I recommend you don't worry about it and simply go for it. Eat whatever you want. If you walk quite a bit then you're set/ If you don't then eat regardless. You could burn off everything when you get back from the holidays. Although, if you're experiencing the beauty and culture of the countries you visit then you should also experience the food and everything else. Do not allow a diet to get in the way of that. Rather, enjoy it all with a smile on your face. Eat that extra burger. Have some more wursts and ice-cream. Have it all with an uncontrollable joy and worry about the calories at home. It's all about experience making rather than anything else. If you're walking around then you can experience both the food and the lack of guilt (which you shouldn't even feel in the first place.
Renting a bike
However, I decided to do something quite differently from what I was normally used to. I decided to rent a bike and cycle around. Many hostels offer bike services or should be aware of nearby bike services. I ended up renting one for a full day. I can't recall how much it cost me although it was pretty cheap. The best part about a bike is that if you are short on days travelling about a big city then you should be able to see quite a bit of the city by cycling from major area to major area. From different monuments to the other. This was exactly my plan as I only had three days in Berlin. I will simply squeeze all the adventures into one day as I travelled a couple of years ago and I am not exactly sure of the chronology of the whole adventure. Regardless, let's keep on at it with what we got.
Checkpoint Charlie
There are quite a few bike renting services and it's a pretty cool activity to do with mates as well. Now, the places we could potentially go in Berlin is almost limitless. My first destination ended up being Checkpoint Charlie. This checkpoint (for those that aren't aware) has a lot of historical value. It stands as a reminder for the times of the Cold War. When Communism and the West fought politically for control of Germany. To think the country went from a divided state to one of the most powerful nations in the world (economy wise) is quite inspiring. It does help that funding and investment tricked in like a waterfall in the rainy season.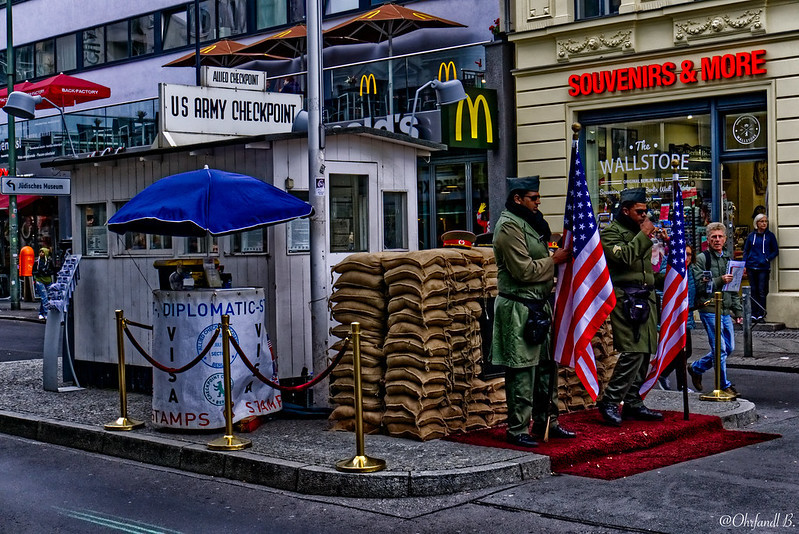 Checkpoint Charlie is the point where Western soldiers and Communist guards would stand face to face. The point where Eastern and Western Berlin was divided. A flashpoint where many historic photos stood as a testament. 'Walk further from this point and you will be entering USSR administered Berlin. It's harrowing and awe inspiring just thinking about it. How it must have felt in that exact spot decades ago before the Berlin Wall fell and Germany was united into one entity. These sort of things always make me feel small. How the world is so massive and events so huge that they transcend generations. Nowadays this checkpoint had been changed into a tourist hotspot. Along the way from the southern path you will be able to spot quite a few bars and restaurants where you could enjoy a bite and drink to eat. Also, right next to the checkpoint there's a souvenir shop where you can buy all sorts of knick knacks. I ended up stopping here right before the checkpoint so I could buy some fridge magnets for family.
Keep in mind that these locations tend to have the highest prices for touristic goods. So, I would recommend that if you're looking to save a bit of money then you should head to another location along the way to buy a knick knack. Anyway, after buying what I was looking for I headed over to the checkpoint. There were small lines of people who were looking to take photos with three individuals dressed in guard uniforms. They were pretty chatty and smiling. They certainly liked the attention. I can't recall but I'm pretty sure you had to pay to have your photo taken with them. That's pretty fair. The amount of people that want to have a photo with the guards is massive. May as well make a profit from it as long as it costs peanuts for people. The money would help the economy anyway and the city of Berlin's budget.
I stood in line for a few minutes before it was my turn to go on. I put on a USSR officer's hat. It was comically large compared to my head. Perhaps this was how it was supposed to be anyway. I posed with the two guards as the third guard took photos for me. It was ultra-touristic but I knew I was going to look back on this and smile. Regardless if it was the same exact experience many others were doing the same thing and it was pretty generic. Anyway. I kept on doing what I was doing with joy. After snapping some fun photos I decided to keep on going my way.
Memorial
Now, as mentioned earlier I forgot the chronology of the places I went to so it may not make too much sense if I am flying from one side of the city to the other to see what they have on offer. So, let's first start off with the The Holocaust Memorial. This memorial (as the name implies) is dedicated for the murdered Jews under the Nazi regime. It is located in a very central location. Being there is quite haunting. To think of how many people were killed in the Nazi death machine. Including others such as Gypsies, Poles and many different groups of people. It surely was something that stands as a testament to all the evil humanity is capable of having and how one leader could drive a nation to bend to his will and through communication, propaganda and hate spreading cause one of the greatest atrocities in recent history.
I'll be honest here. I ended up passing by the place without knowing what it represented as I was cycling. I did end up stopping and checking it out but it was not directly on my list of things to see due to how spontaneous my stops were. I was glad I did and I hope to return to fully appreciate the place. That's worth noting that bicycles make it a bit harder to stop and check out what's on the way due to the fact that you may miss what you want to see. It was surely something that was an issue a couple of times. Also, one thing that's worth noting that sometimes enters the news. I recommend that you do not actually stand on the memorial pieces. It's pretty disrespectful as it's the equivalent of going into a graveyard and taking photos on top of gravestones.
The Topography of Terror
Luckily during the time I was there it was nothing but clear skies. It was pretty beautiful seeing the whole scene move together. I stuck around for a short while exploring the place before heading off to my next destination. The Topography of Terror. This place was turned from a headquarters for the SS to a museum that talked about the horrors that they used to commit in the name of the Fuhrer and the Nazi regime. Specifically, the whole site was where the headquarters of the Secret police that served the state, the SS and the Main office of the Reich security are located. From the outside. Not only do you have a showcase of the horrors that occurred here but you also have a large section of the Berlin wall located in the southern side of the museum. So, in technicality the Topography of Terror is not only an indoor but also outdoor museum.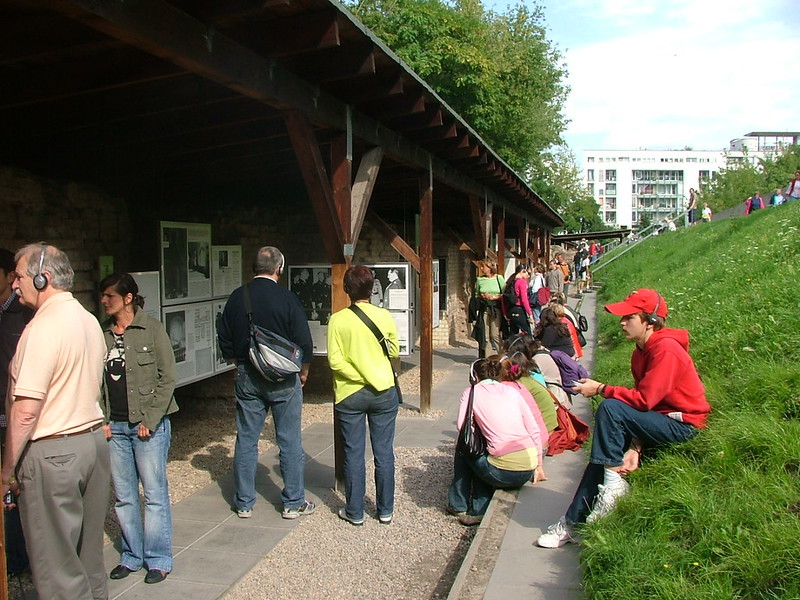 It's honestly a very interesting place where you should spend at least a couple of hours to fully comprehend the terrors that occurred here. You will see quite a lot on offer here. I would recommend that you get an audio guide or you at least spend the time to read/skim through the notes that was provided. They also provide tours which is pretty detailed about what went down. I tend to go without a tour as I enjoy going at my own pace. I could fast forward whenever or I could slow down if I pass some interesting bits. Hopefully this will stand as a testament for future generations of the horrors that must not be repeated. To make sure we never go down a path we had gone before as a species. As I believe that in the end of the day we aren't 'Europeans', 'Africans', 'Asian' or any other classification except that we are all human. We are equally able to enact great sympathy for others even to strangers. Although, we are also easily able to cause great harm to others simply due to our differences. Look towards the Rwandan genocide where more people were killed per day then during the Holocaust, the Japanese invasion and massacre of many Chinese and many more scenes where people were put through horrors.
Hopefully, it will be a lesson that our children will remember and make the world a better place. The world has become relatively more peaceful concerning wars. Let's attempt to maintain this. Keep up monuments that remind us of what has happened in the past. Do not allow the rise of voices sympathetic to the horrors to come back again. Anyway, let's get back to our adventure. The next destination we'll head to is one that is pretty iconic and known by many. Let's talk about the Brandenburg gate.
Few monuments truly stand out and are associated with their own countries. Such as Australia and the Sydney Opera house. Or Paris and the Eiffel tower. The Brandenburg gate surely stands tall for monuments widely known and associated with Germany. Luckily, it was also within cycling distance. As I was cycling towards there I noticed how old many of these buildings were. Berlin surely was not as polished as cities such as Vienna, although it had its own unique and lovable charm.
Eating out
Berlin was also bustling with activity. Tourists were abound and stuck out like there was no tomorrow. The tourist buses dominated the roads but so did the cars of the everyday Berlin resident. It was all quite interesting. One thing you may notice is that there are quite a few kebab places to eat from. I had come during the large influx of the refugee crisis. There was already a big Turkish population in Germany and especially in Berlin although now you had even more nationalities and kebab shops from many different individuals from around the globe. I ended up stopping by a kebab shop and grabbing something nice and unhealthy to power me on. Cycling all day and getting around is quite hungry work. The food is quite cheap in the kebab shops (like many other places) and it came out quite fast. So, it's a pretty good place to grab a quick meal if you're sick of other fast foods such as McDonalds and others.
Another thing I noticed is that there are quite a few Asian restaurants around. You could eat Vietnamese, Thai, Chinese and many more Asian cuisines from many different corners around the city. After enjoying my meal I made my way up to the gate. Here is where it gets pretty hectic with the amount of tourists going around. It truly is a pretty large tourist area. Once I reached the gate I parked my bike safely away to the side and walked through the historical gates. It was crazy thinking how soldiers and Hitler himself stood before this gates in speeches and such. It truly is a place of historical value. This is one of the things I truly love about Europe is the fact that some of these buildings will survive the ages. As long as the city stands then these monuments will also stand. It's interesting that during many of my travels I would find big and famous monuments under construction. This is true for Big Ben which is completely under construction.
Brandenburg gate
Regardless, it felt pretty special walking through these gates. The whole area was pretty full with people. I struggled to get a decent photo without too many heads blocking the gate. There was music being played in the background with performers and entertainers having their go at all the nearby tourists. I stood around for some time absorbing the atmosphere in the relatively warm day. I had to wear a light jacket although the weather was still good. I do recommend you keep an eye out to get the right type of clothing for your own adventures depending on what part of the year you will be coming over to. This is especially important for those coming from hotter climates. It gets quite cold in central and northern European countries. Especially if Berlin is found so far up north compared to the other cities. I may have had to wear a lot more clothing then I was wearing although I was cycling everywhere so I managed to keep myself quite warm during my adventures.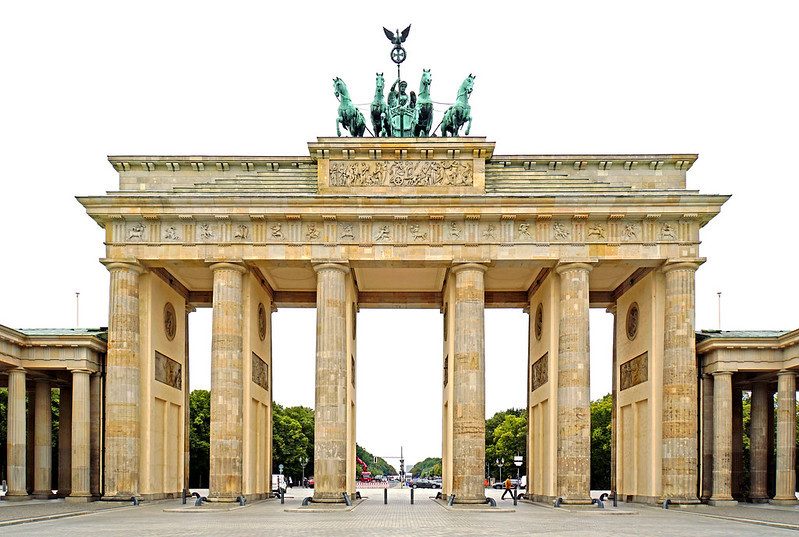 It was interesting to note that there was a crazy amount of fellow Spaniards travelling around Berlin. I don't usually meet many during my travels around Europe although Germany seems to be a popular destination for my sun soaked country's citizens. It's quite easy to know if a Spaniard is around due to the... presence... they have in the form of communication. I enjoyed the multiculturalism regardless. I would also meet so many more Spaniards in Munich. Although, that one is a story for another time. After inspecting the Brandenburg gate and taking a few more photos I then decided to make my way to one of the most visited tourist attractions in Berlin: The Reichstag.
The Reichstag
To be honest, I didn't expect much of it initially. I have seen my fair share of government buildings. Some were elegant and impressive and some were less elegant and impressive. However, none of that prepared me to witness the beauty that is the Reichstag. We will get into it in detail shortly. Although firstly I would like to give you a background (historical one, of course) of the Reichstag. During the 1930s a fire had destroyed most of the Reichstag. It was all under suspicious circumstances that to this day is still being debated as either a set up to frame the communists or an actual fire. Regardless, after the fire the Nazi party suspended many of the rights that were set up during the Weimar Republic concerning rights and much more. This would mean that many Communists were simply tossed into jails and all dissidents were placed as enemy of the states. It was a time where the Nazis held an even stronger grip than it had before.
We also must keep in mind that the capitalistic societies of the West were terrified of the spread of Communism. The antithesis of the capitalistic ideals. It would completely collapse the governments and reshape it to something else that would either have created a Utopia (according to supporters of Communism) or a society of poverty and corruption (as argued by those against the idea of Communism). Needless to say, the West saw Hitler as anti-communist and a Bulwark if the Communists in Russia ever attacked the rest of Europe in a bid for conquest. Germany would stand as a solid frontline to which would fend off the advances and act like a buffer for the rest of Europe. This would also affect how people saw Hitler. More of a hope and a leader rather than the monster he actually was. Regardless, the fire had not only infuriated the German population against Communists (who were either rightly blamed or scapegoated) but also the West. They saw this as the beginning of the bid for Communists to take over different countries.
This would end up making Western countries more lenient to Hitler and would appease him and accommodate his desires. This fire truly affected the course of history in Europe and its effects have been reverberating ever since. Who knows what it would be like if the Communists and dissidents were not mostly jailed and pushed out of power. What if the Nazi party had a weaker than normal voice as it had to compete with other powers. We'll never know. Although, what ifs are always a fun thing to entertain. The mind could simply drift off to the many different possibilities that could happen. That's what makes reading up the history of these places so fun. Make sure you don't miss out the opportunities to learn more either from the internet, guides or even your German mates. Ask them all sorts of questions of the place. Better yet, ask them to give you a proper tour guide of the place. Although, as I was solo travelling I depended predominantly on the internet and whatever plaques are located over there.
Anyway, the building is quite beautiful. It was destroyed rebuilt, fell to ruin, restored and finally put to good use. It was also located in an interesting spot. So, during the 'Western and Eastern' Berlin situation this building is found right at the edge of the Western border (within it still). Around the back area you could find where the wall should have been. It's pretty interesting as it was also a spot where the attention of the world was called upon so as to help them unite the country. It's pretty interesting to think about it. Although, at the time the majority of the administrative work was done in Bonn rather than in Berlin. It also used to be the seat of power for the Weimar republic before the rise of the Nazi party in 1933. Anyway, let's get back from all the interesting history.
As I cycled past this area I spotted a large line of people looking to enter the building. It looked crazy popular although I decided against going inside. I was short on time and wanted to see more of Berlin. When I return again I will make sure to pass by this place. This is also a pretty good strategy you could try as a traveller. It's fair to say that as students we do not usually have a large disposable pool of income to freely use. There are a slim minority of us that work quite a bit and manage to have this exact pool of income. However, for the sake of the majority I will continue on with my advice.
If you're still keen to see as many countries as possible I recommend you go for all of them anyway. Although, what you would need to do is simply spend a few days in each country. Perhaps 2-4 days per city. This is a sure-fire way to be able to have a general idea of the country and as to whether you like it or not. If you enjoy the people, food, sights, sounds, nightlife or any from a long list of things then you could visit again in the future when you were able to make enough money either in full time work or whatever means. I reckon it's a good strategy as I want to see as many things as possible with not too much time and not always with too much income.
Spy museum
However, another good option is also to simply travel to a few countries but stay there for longer. That would also work. Although, I do prefer my former option. Anyway. Let's continue. Nearby there is a museum I highly recommend you check out. The German Spy Museum. It's pretty close to the Brandenburg gate. Its located in a very pretty area and it does not stand out like most museums do. Hence the whole spy theme of it. It's a very serious museum that delves into the world of espionage, secrets, methods of information acquirement and much more. It took me an embarrassing amount of time to find the very subtle doors to this place. Luckily, during the time I got there it wasn't too full. So, I was able to explore it all at my own pace without feeling rushed or wait for others to simply move out of the way.
Inside, you can find over 300 exhibits with over a thousand different items. It's pretty cool to see how everyday looking objects were turned into lethal weapons or listening devices. On display you will have spy technology from both world wars, the Cold war and many other conflicts. They even show how animals were used as part of the spy warfare that was taking place. The technology on the cold war was especially pretty good. The best part of it all is that most of this exhibits are interactive so you could have a better grasp of how these things used to work. Many of these gadgets are originals with some being replicas. One bit that particularly caught my eye was the umbrella concealed weapon.
It basically was a story of Georgi Markov who was a journalist that started a smear campaign against the Communist Bulgarian government. So what ended up happening was an assassination. The attacks on the Bulgarian regime were pretty harsh so it was decided that he would be murdered for the sake of the inner circles within the party. So, using the KGB's help an individual associated with the KGB and the Bulgarian police travelled to where Markov's country of residence and using an umbrella that individual shot a pellet into the leg of Markov. The pellet was mostly made of platinum and was of no threat on its own. However, within the pellet there was a lethal dose of Ricin.
I ended up reading more about Ricin. So, apparently a few grains of salts worth of pure Ricin is enough to be lethal. An absolutely tiny amount. So, you could imagine how small this ball was. So, the way it works is that was injected into the body it will melt. The melting point for this substance is 37 degrees. That's a crazy number considering that our regular body heat is just about that exact amount. So, it would melt and flood into the blood stream where it will slowly poison you until you are at death's door. Interesting enough, this poison comes from castor beans. So, in the past people would eat these thinking it was edible/safe and receive the poison. It's a pretty bad way to go. After doing more research I found out that on the Guinness book of records the Castor beans plant is the most poisonous common plant in the world.
It's quite interesting what the human mind could come up with out of necessity and sometimes malice. Regardless, this was only one of many different gadgets that had been used in the past. It's interesting to think how elaborate modern day spy gadgets will be. Maybe we'll find out in a new group of exhibits twenty years into the future. For now we will simply wait for it. One part of the exhibit I also found quite interesting and I recommend you look into is the 'Honey Trap'. This strategy is as old as the spy game. It is even used to this day. For those that are not aware the Honey trap entails to a very attractive individual who (according to the Museum's description) will follow the exact interests (concerning hobbies, passions, and looks which include body types). This person will, usually, intoxicate and seduce this person and take them to bed. From there they search the person for documents or try and find out information from them while they're drunk. Why they're here, who they work for, what's the objective of this person and much more. It's honestly quite interesting. I recall the words of one of my old physics teacher: Humanity mainly focuses on two main things, power and sex.
So, they use one of Humanity's most important goals (according to my Physics teacher) and use this against different nations and their agents. It's all an elaborate game to get the upper hand in politics. The spy museum also gives you a great idea of how far countries would go to defend their interests and defeat their opponents. The subterfuge world of spies, deceit and information is an interesting one. I ended up taking a course concerning this very topic in University after this trip. Also, another thing worth checking out at the very end is the 3D interactive room. This room basically allows you to play around with technology and get photos of yourself while doing it. It's a missed experience if you do not fully interact with all the different exhibitions. It truly adds quite a bit to the whole experience. We're actually quite lucky that the museum is accessible by the public. It used to be a private museum from some private collector/s which ended up opening to the public to which I am very grateful because it helps give us a better idea of how the current spy world works. It probably will help explain where it's heading and what to expect. Which technology and methods never die and are used often throughout the ages regardless of advancing technology.
Concluding the museum
At the very end of the whole ordeal there is a restaurant/cafe and a cinema. The cinema is pretty interesting as it gives us a great level of detail into the spy world that we are allowed to learn about. Keep an eye out for it and don't miss out. I would spend roughly twenty minutes here at least. Also, another exciting exhibit is the interactive spy trap room. You basically have to pull off some James Bond moves so you don't end up getting hit by the different lasers. If you're as flexible and quick as you think then you could shoot up the leader boards that are on display. This room was pretty popular. I recall how it was basically always in use while I was investigating the bottom (and last) bit of the museum.
Some people did end up hogging it a bit so you may need to be a bit obvious in your desire to play. I highly recommend that you check this out for yourself as it's a pretty unique and entertaining place to check out. Now, if you're feeling a bit peckish after all the spy gadget inspecting and the interactive games then head on over to the cafe. The food is a bit pricey but pretty good. If you're looking to have a more budget friendly meal then I recommend you head outside and check out some budget places to eat. Keep in mind that when you head out you will be in a semi-courtyard with buildings rising high above the others. Most would be hotels so the area is basically prime real-estate. Get out of this area if you're looking for a quick and cheap meal.
Righto, let's keep on going with our adventure. The next series of events would have me enjoying great food and decent museums. Along the way I went to a random Vietnamese food and was surprised by how cheap it was considering it was so central. Berlin is quite a multicultural city so often you'll have foods from all over the world. This means that there will be quite a few restaurants from all over the world. These restaurants are also in competition with each other so it makes things even cheaper for all of us. I can't really complain. I had a three course meal for less than twenty euros. The quality of the place was not too bad and I was pretty satisfied with the taste.
Nightlife
Now, one thing I didn't do much of was enjoy the Berlin nightlife. That means going clubbing to many of the great spots. I didn't go to raves or any festivals in the area as I was solo travelling and I did not feel too comfortable going at it all alone in case things go south. If you find yourself in this situation then you have a couple of choices to choose from. You either travel with friends or make friends along the way. The best way to do the latter is by simply befriending people in the hostel. Usually, fellow travellers are keen to meet new people. However, some are established groups that may not be as welcoming. Sometimes they adopt you into the group during the travel trip. Who knows, you'll need to try it out for yourself and see how it goes. I reckon one of the main reasons people like to meet others while travelling is due to the fact that the whole regret portion of getting to meet new people is taken out of the equation by the fact that after a short while you'll never have to see this person ever again.
Food
Many of my mates who travelled to Berlin in the past had mostly gone for the party aspect of it all. It's reputation as one of the world's best EDM capitals also precedes it. So, get your dancing shoes on and go off exploring the many different places there are to party. I personally simply kept travelling about checking out the different museums. Interestingly enough, apparently there is a currywurst museum. One of the much loved drunk foods people eat. I've eaten it twice in the past and I reckon I am thoroughly impressed. It's simply sausage with some sauce and curry powder. Perhaps it's due to the fact that I often cook curries in Australia so I'm used to the delicious taste of spices. While these sausages would be like pure ecstasy with their enhanced curry powder flavour to the average drunk party goer looking for a fatty meal. It would be great if imported the South Australian AB or (as better known throughout Australia) the Halal snack pack. It surely will blow the Currywurst out of business. Or perhaps not. Who knows.
German Historical Museum
Anyway, the next place I ended up heading off to was the German Historical Museum. This museum is pretty large with quite a lot to see. I came about two hours before closing so I only saw bits and pieces. It ended up being my second favourite museum after the Topography of Terror. It focuses mostly on German history with quite a bit of emphasise on European history as well. Although, my favourite exhibition is located on a lower floor. To get to it you pass through the entrance and head straight. From straight ahead you could take the escalator that will guide you downstairs. From there you should walk straight and from there it should be obvious where to go. There is an exhibit there that focuses on nuclear weapons and the atomic bomb.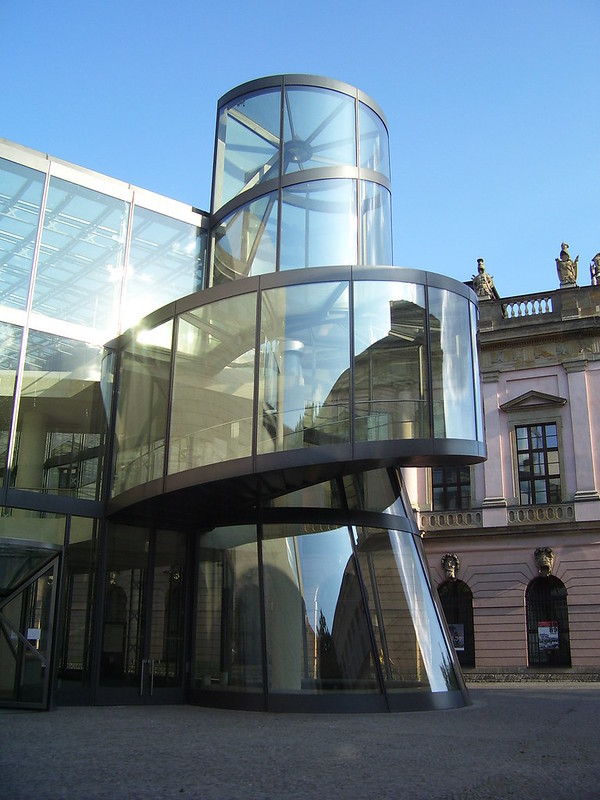 It talks about all sorts of bunkers, experiments and fears of a nuclear war brought upon the Cold War. This was definitely my favourite exhibit as I have a fascination towards this sort of thing. You will find all sorts of goodies and pieces of information. I spent about an hour and a half taking a painstaking amount of time reading almost every piece of information available as it was all quite interesting. You could also find a cinema within the museum which allows for viewings of different sections of history. It's quite interesting getting to know the history they had on offer here. Usually when we learn about the past European history we usually focus on the Roman Empire and make often mentions of Germanic people that would clash with the Roman empire. I never got into crazy detail concerning what the northern people were all about back in the day. However, I would have loved to learn more about it back in the day. The museum ends up offering that opportunity to me. I am pretty grateful for it all.
I spent my time in the museum until the very last second. From then on I decided to call it a day to guided exploring and head back to my hostel. If you have the time I recommend you simply cruise around the city and see what it has to offer.
I ended up simply cycling all over the place. Taking detours and such while heading southwards toward my hostel. I managed to see quite a bit along the way as dusk approached and the Berlin nightlife began to seep into the environment. I managed to pass some large parks and squares where I decided to sit down for a bit to relax.
After it all I decided to head over to my hostel and pass out. I was completely knackered after every day out in Berlin. Luckily, my hostel rented out my bike so I was able to simply drop it off there without having to worry about cycling to some far off place then walking the rest of the distance. I woke up relatively early the next day to prep up for my next adventure. If you find yourself in need of something quick then head on over to your nearest German bakery. The breads they have on offer out of this world. As I mentioned before in another article the bread here is of high standards. My German mates who were on exchange to Australia would often talk about the great bread with affection. They explained how there were many different types of bread and that they were rich with flavour and make the average sandwich absolutely shine. Slap on some local German cheese and wurst and you've got yourself a recipe of great taste.
I, unfortunately, did not get too into the whole bread culture while I was in Germany. Perhaps because I grew up with either Lebanese pita bread, baguettes or square sandwiches. The latter pretty much killed my interest in bread besides making sandwiches. Although, apparently the bread is so tasty that you could simply snack on it and it would definitely be socially acceptable. I recall how I would get some amazing goodies from the bakeries. They have a wide assortment of breads. They also had some very tasty sausages mixed with the breads and pretzels. They were also quite cheap as bakeries tend to not be too overpriced.
So, make sure to grab an assortment of different foods from the bakeries for a large breakfast or even some extra for the trips ahead. I reckon some of the things I miss the most out of all the foods in Germany were the bakery foods. In the future we will get into good detail of the sausages I ate when I start talking about Munich and Stuttgart in a different article during a different trip while in the same exchange. I enjoyed Germany so much that I had to visit twice in one semester simply to explore the different cities.
Once I grabbed all the food I could muster for next to nothing in pay I started walking to the nearby bus station. I was keen to grab myself a Flixbus that would take me over to my next destination: Prague. I've heard many good things about Prague due to its prices and it's party scene. I'm not too sure if that's what makes it amazing although I was curious to find out. I also adore going to countries that are relatively cheaper compared to Australia. That way it's easier to eat higher quality foods for very cheap/ This definitely improves my experience within a country. Germany was not too bad in its pricing. Although, there wasn't much of a difference between prices in Berlin and Utrecht as certain things are more expensive while cheaper in different products. So, it tended to balance out a bit.
This concludes my experience in Berlin. Truly a city that cannot be missed if you're looking to visit Europe in the near future. Many consider it not a very eye-pleasing city although I would ignore them. It has a great charm to it which should be witnessed in person. Hopefully this experience will motivate you to check out the capital of this pretty country. The story concludes with myself grabbing a Flixbus to my next adventure over in the city of Prague. This smaller city will prove to be an absolute beauty and one where I could spend money like there was no tomorrow. So stay tuned for the next article in the series. Happy adventuring and stay safe!
---
Photo gallery
---
---
Content available in other languages
Want to have your own Erasmus blog?
If you are experiencing living abroad, you're an avid traveller or want to promote the city where you live... create your own blog and share your adventures!
I want to create my Erasmus blog! →