Zaitunay Bay
Getting there
Lebanon is a place of wonder and adventure. You never know what you could find when exploring the different parts of Lebanon. It is often the case to find the best places to go you either need to find a local or have to pay an annoyingly high sum of money to get the best of your experiences. Luckily, I will be able to give you this insider knowledge of the places to go in Lebanon. Today, we shall be talking about one of the luxurious place to go that is free for all and an absolute beauty to spend the day: Zaitunay bay. One thing that many may be surprised to know about Lebanon is that it's a very humid and green country in the Middle East. It's basically an oasis in an area known for its heat and desserts. Don't get me wrong. It is very much hot in Lebanon and you should probably prepare yourself for that. Bring enough sunscreen and hats/sunglasses. As it's humid you'll also have the heat sticking to you quite aggressively. So you'll probably need to grab a substantial amount of water and consume a massive amount of ice-cream to keep warm (what a pity).
Another thing that's worth noting is that 50% of Lebanon is basically bordering the Mediterranean Sea. This is where a lot of the humidity can be attributed to. Zaitunay bay is located (surprise, surprise) by the sea. So, it's a great way to feel the sea breeze all over your body and help cool you down. The bay is basically a massive parking area for yachts of all shapes, sizes and beauties. The area is also an amazing place to go out for a delicious meal. Firstly, let's talk about how to get there. The bay itself is located in Rafic El Hariri, Beirut, Lebanon. This makes it a very central location in Lebanon. As Beirut is a very compact place you'll be able to find so many things to do in a small area. So, getting there highly depends on where you are. Let's say you are staying in a relatively close area to Beirut. So, let's say the area of Baabda or Hamra. As Lebanon is a pretty small place it's easy to get around quite cheaply. So, there are a few main options.
You could decide to take the bus. This will cost you 2,000LL which is about $1.5 (American). That will be for a single bus although you may have to take more. The bus is a bit unpredictable due to traffic and last time I checked there is no real-time application or website for those buses. Things may have changed in the last three years. Let us assume things have not changed. You could find the itinerary for the buses online or at a tourist centre. One thing that's worth noting about the buses is that they are cheap for a reason. Lebanon is not necessarily a cheap country all things considered. It isn't as rich as some of its Middle Eastern neighbours although prices do easily get pretty high for certain things. Especially when you're Beirut.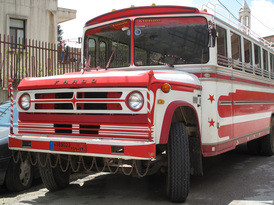 Back to the story, so the buses are cheap because they are quite simple. They are school bus sized buses with very basic chairs that are not necessarily expensive and a lack of air-conditioning in most cases. Public transport is not exactly one of the best ways to get around for long distances as it takes quite some time to get around. Some buses take less time. For example, if you take the highway buses then it would take a lot less time than taking the residential buses where they have to criss cross around different tight streets. An unfortunate thing is that Lebanon has a congestion problem with traffic. So, even in the highways you could find yourself bored out of your mind trying to get home as soon as possible. It doesn't matter if Lebanon is a small country, it still takes time to get around as you need to battle the daily rush-hour traffic.
In conclusion, while buses are quite cheap they do take quite some time to get from A to B. So, what would be the most efficient way to get around? The answer is glaringly obvious for all of us: a car. Let's focus on your own car. If you have a mate that could drive you around who is in Lebanon for whatever reason then you're in an ideal position. Let's say, however, that that is not a possibility. So, you could choose to rent a car and drive around. Parking spots would be a bit of a hassle but you have total control of where to go and who to take. This is not a bad idea overall if you can afford it. Especially since you could split the amount you pay with friends.
Another option is to simply take a taxi. This has been the most common way for my friends and I to get around. We usually have a friend that drives us to Zaitunay bay but a taxi is more than capable to get you to where you need to be. To get a taxi you will have to hail it but often you could call different companies. With companies you get certain rates and fixed ones with some companies. A taxi is literally the best way to get around on a budget in Lebanon if you're travelling with mates. It's a medium cost type of transport if you're travelling around solo. In some cases with regular taxis you could negotiate rates although this is more common for taxi drivers that do not work with a company. Keep an eye out and do your research to make sure you do not get cheated by 'tourist' rates. They aren't very common but it does happen from time to time.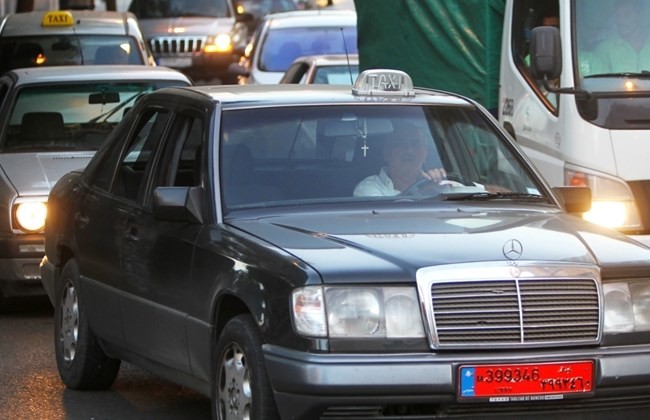 What you could do is simply call a taxi company and ask them how much it would cost to get from point A to point B. Then if you hail a taxi you could mention how much that company is charging and if they would beat that price. It's not something I would recommend if you're travelling with mates as the taxi isn't exactly expensive enough to justify all that work and negotiations. However, if you're solo travelling then you could look towards doing this. Now, I have not taken a taxi from Baabda to Zaitunay bay before although I have travelled to places nearby with that form of transport. If I use that as a point of reference I would say it should cost you between 10-15 American dollars. I am almost 80% sure that it will cost you 10 dollars to get there. What's also ideal is that in that area you are within walking distance to two of Lebanon's great party areas. Hamra and Gemmayze. We will get more into the area around Zaitunay bay later.
Using the taxi
The thing about Lebanon is that sometimes you could squeeze in five people if the taxi driver is willing. So the costs of the whole trip would be minimum. Which is an ideal situation to be in. Just, make sure you visit Zaitunay bay before rush hour or else you'll be stuck in traffic for quite some time as you will have to travel through the busy part of Beirut to get to the bay. Now, we've exhausted the different methods to get from wherever to Zaitunay bay. Let's now move on to the bay itself. One thing that's worth noting is that Lebanon is a mixture of western and Middle-eastern influence. That is to say, France and America have heavy influences not only politically but also culturally. We'll get more into that in a moment.
So, the parking area is a bit hard to access as it will get quite full quite fast. Let us assume you've hit the parking area and you're good to go from there. The area next to Zaitunay bay has been fixed up pretty well with some spectacular hotels and restaurants littering the area. You'll have to take some stairs to walk down to Zaitunay bay. After taking the short flight of stairs you should be able to spot the beautiful sea and the spectacular looking luxury boats. This area is one of my favourite places to simply sit down and chill with friends or enjoy the meal while listening to the sounds of the wave and life passing by as shoppers, lovers, friends and families walk to and fro in their everyday life. One of the things that stands out to be my favourite characteristic of the place is that while it's known as a luxurious place to go it is very accessible to everyone without restrictions. Benches are out so anybody could sit down and relax. Often, with these types of places there aren't many areas to simply sit down and chit chat with mates. Rather, the only places to sit down are restaurants and all the sort. So, it would not be ideal to simply relax there for free as all you could do is walk by. Walking up and down the bay is honestly a great thing to experience while walking and chit chatting with a mate. It's a spectacular place to be when the sunset comes in. Honestly, I can't recommend it enough to simply chill and relax here.
Zaitunay Bay
Of course, you're in Lebanon not to relax idly but to enjoy what the local area has to offer. Let's firstly check out all the different options you have to eat. Let's hit the French influence first. As mentioned previously the French had a heavy hand in Lebanese politics in the past. This also included the language (many Lebanese are trilingual. Arabic, French and English), the education (often school systems are generally divided into 'English educated' and 'French educated' systems) and the food (croissants and many other French goodies are a common meal, we will see this in the Lebanese chains). We'll start off with Pauls.
I never realised the greatness of this bakery until I had my exchange in France where you could find them anywhere. Pauls is a very popular place to eat that serves high quality goodies such as croissants, baguette sandwiches, desserts and much more. They have a wide-variety of different things to eat. If you're looking to have a French experience and get an idea of how impactful French culture and customs are in Lebanon then head on over to Zaitunay bays Paul.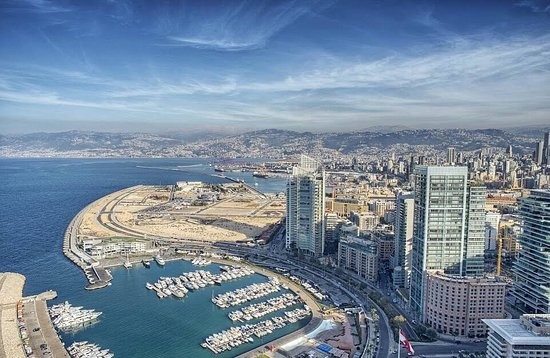 Another great place to go is Za'atar and Zeit (olive oil). This is a Lebanese chain restaurant founded in 1999. It is extremely popular due to its quality of Lebanese food. Often, they are known for their manakeesh. It used to be a mainly za'atar based menu although it has expanded since then as its rise to fame came in. They have chains all over the world from Canada to other Middle Eastern country. It isn't massive like McDonalds but it's still quite popular. Often, my mates like to come here to try the crepes (another French influenced product). They serve some great chocolate crepes of good quality. I feel like the taste of the ingredients are much richer than in other parts of the world I travel to. So, feel free to taste things you have already tasted in the past. You might reckon its just the same old stuff you could get back home but you would be surprised as to how unique it actually is in taste. The pricing for the food here is mid to low range. There are many cheaper places to go where you only need to pay about a dollar or two for a large zaatar manoushe or with cheese and veggies or all three together.
Usually the last of the three options is called a za'atar jibneh (cheese) extra. I would recommend having these pretty much every single day for breakfast. Just different manakeesh options. I will write an article of all the foods you could try in different parts of the day. Although, lets focus on Zaitunay bay. I would recommend going to Za'atar and Zeit if you're looking for a relatively light and healthy meal. Although, you could easily feel full with what they have to offer. Although, you would not get overwhelmingly full if all you're having is a pita bread with olive oil and za'atar. For those that are not aware it's normal for our manakeesh to be folded in half as an easy way to carry around and eat. If you're looking for something more filling then I would recommend checking out the Classic Burger Joint.
I haven't eaten here before but my mates talk about this place incessantly when referring to decent burgers to enjoy. It's fair to say that the food here packs a punch. It's a mid-range restaurant which offers a wide variety of different burgers but also a few different products as well. From what I've seen it often gets quite full here during lunch time and it might be a struggle to get in to enjoy a nice burger. I can't really write much detail as my knowledge of the place is based more on mate's reviews. Although, from what they told me, their beef and chicken burgers are killer good. Their side of fries is also quite satisfying. They make them quite crispy and delicious. I do recommend heading over to these place if you're keen to enjoy a burger while visiting Zaitunay bay. There are a few other areas to eat although I will focus on two more main places. Let's start off with the last proper restaurant of the list: AL Forno.
This Italian restaurant is a very popular dinner destination for many people. It's a mid to high ranged restaurant with food ranging from 15-25 USD. They offer different amazing dishes which quickly turned out to be my favourite. For example, they have Parma ham pizza. This is one of Italy's iconic hams for being so outright delicious. Unlike places like Australia and America where they have to wait long periods for shipments to come from Italy to them Lebanon is much closer. As Italy and Lebanon share the same sea it's easy to transport fresh Parma ham over the pond. I would definitely recommend this pizza when travelling here. Another great option is one of their many pasta dishes. The price range is about 16-20 USD for a pasta but they are of high quality. The view from one of their outside tables towards the sunset while enjoying a hearty Fusilli Pesto con Pollo is definitely an experience you cannot miss. In general, the views that Lebanon provides from its seas, mountains, hills and valleys are basically million dollar views. You cannot miss these things out.
Now, the very last thing I would like to make a worthy mention of is Pinkberry. This chain is one of the most popular dessert chains in Lebanon. It mainly focuses on frozen yogurt which is one of my favourite places. It's a medium priced venue that offers a wide variety of great flavours to choose from. They're as wildly popular in Lebanon as it's a delicious way to beat the heat. They also have many different types of smoothies. They're well known for being 'nutritional' and 'low-fat'. This makes it a very popular option for teenagers and young adults mostly. It has its similarities to bubble teas in Australia. Often, people would have bubble teas as meal replacements here. Same goes for the chain Boost. They have a lot less calories as meals. Even more, the bubble teas usually ranged from 150-350 calories each so they had somewhat a decent amount of calories but nowhere close to being good enough to be a meal replacement. Regardless, this yogurt based chain is popular for the same reason.
Dessert
Now, there are quite a few places to eat ice-creams of many different types and flavours. It's also pretty good in Lebanon as the quality of the ingredients could easily be decently high but still not cost an exorbitant amount. So, this makes it pretty ideal for food adventuring. Frozen yogurt brings the best of both worlds. Decent ingredients and not sugar intense like ice-cream although it's a medium ranged place to eat. I usually have the smoothies when I pass by a Pinkberry during the summer as it's a refreshing and almost get free meal to enjoy to cool you down.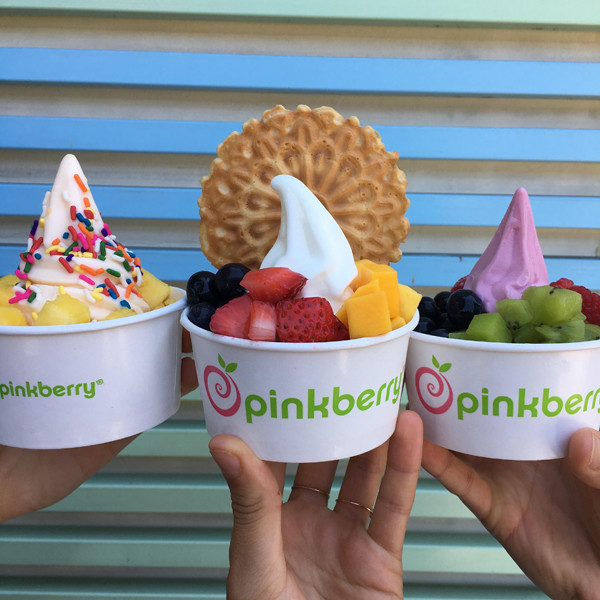 Usually there isn't much of a line here so it's quite ideal to pop in for a quick snack. Although, it isn't ideal to satisfy a deep hunger. Rather, you should go for one of the many restaurants located around. There about more than half a dozen restaurants and cafes which I have not gone into detail. Rather, it would be better if you go exploring and check out the right place to go. I recall how there were some very high end places to go eat as well. High-quality seafood by the sea is honestly a great experience to enjoy. Although, there are also some not as expensive places to eat. Just keep in mind that it's not a cheap place to enjoy a meal here. So don't expect to save on money. What you could do is simply go to the surrounding area and head on over to a tuck shop or restaurant nearby to eat. Although, if you're not keen to spend too much money then grab something from Za'atar and Zeit or a Pinkberry product and simply relax by the seaside.
As previously mentioned, there are plenty of Yachts parked in this area. So, you would usually have some wealthy people taking their boat out for a spin. They would then return and enjoy a meal in one of the restaurants. It's a common occurrence which I've spotted while relaxing with my mates or my family here. There is a sea wall that separates the bay from the rest of the ocean with a little area for Yachts to go through. From what I recall there is a Yacht club here. I'm not sure if you can park a boat here without being a member or not. Regardless, it's something I won't be planning to do unless perhaps I am making copious amounts of money.
The hotel next to Zaitunay bay is known as the Four seasons Hotel and is known for one of the best views in the area. I would look into it if you're looking to spend a generous amount of money here. What's also great about the Bay is that just to the north east of it is an empty area that is widely popular by the locals. It's also free and you could walk on for quite some time next to the sea. It's often used by joggers to enjoy a spectacular view of the ocean while exercising. The best of both worlds. It's worth noting that jogging in Zaitunay bay is not a popular occurrence due to the nature of the bay and the fact that there is quite a few people. It's like playing a game of dodging asteroids where every second moment you're trying to maneuver through people. I reckon that this is an ideal situation as the bay is a great place to simply relax with mates.
This place is an ideal spot to spend a couple of hours and relax before exploring the rest of the city. It surely is a spot you cannot miss out on. An example of a decent day spent here starts off with a taxi. Take the taxi from wherever to that spot. From there you should arrive hopefully before lunch rush hour. Go to your restaurant of choice and enjoy a hearty meal with the view of the sea at your fingertips. If you're not looking for an expensive meal you could simply go to Pauls for a nice baguette sandwich or croissant and instead have a Pinkberry yogurt to accompany it. This way you don't spend too much but still enjoy different delicious flavours without having to sell an organ to afford.
Conclusion
Hopefully this guide will help motivate you to visit this bay for yourselves. There are many different amazing places in the area. For example, within walking distance there is Lebanon's main party area known as Hamra. From here you can get some great drinks or go out dancing with mates. There are many bars of different types for you to enjoy a beverage with some mates if you aren't keen to go out partying. Another great place that is a bit calmer than Hamra but still pretty intense is actually simply a street. Known as Gemmayze Street. This street has many different bars on offer and a very popular destination for locals. Hamra is a bit more commercial although Gemmayze is a bit quieter. Although, on a night out it gets quite wild. There's also some great shopping mall areas and great sea-side restaurants and beaches. This is honestly a prime location for you to discover the different places and aspects of the thriving city of Beirut. The only issue is traffic so make sure to plan around that. Or else, simply walk around the city of Beirut after visiting Zaitunay bay as everything is relatively close to each other compared to cities such as Paris and Madrid. So, don't feel shy to hoof it and discover some amazing places in the area from nice bars and cafes to shopping districts and local iconic convenience stores. Happy adventuring!
---
Photo gallery
---
---
Content available in other languages
Want to have your own Erasmus blog?
If you are experiencing living abroad, you're an avid traveller or want to promote the city where you live... create your own blog and share your adventures!
I want to create my Erasmus blog! →