TET Holiday – Phase 2: Bangkok
The second phase of our Tet holiday was Thailand.
Lizzy, Kayt and I got a £20 bus across the border from Cambodia to Thailand; a journey which lasted about 7/8 hours. Our experience at border control was rather smooth. Having read horror story articles about spend hours on end trying to get through passport control had us worried. However, we were lucky as our bus contained around 10 passengers in total, and there was hardly anyone else at the border. We got through in under half an hour and it was pretty painless! Our bus journey concluded at a bus station in Bangkok. From there we got a taxi to our hostel just off the side of the famous Koh San Road, or the Backpacker Street.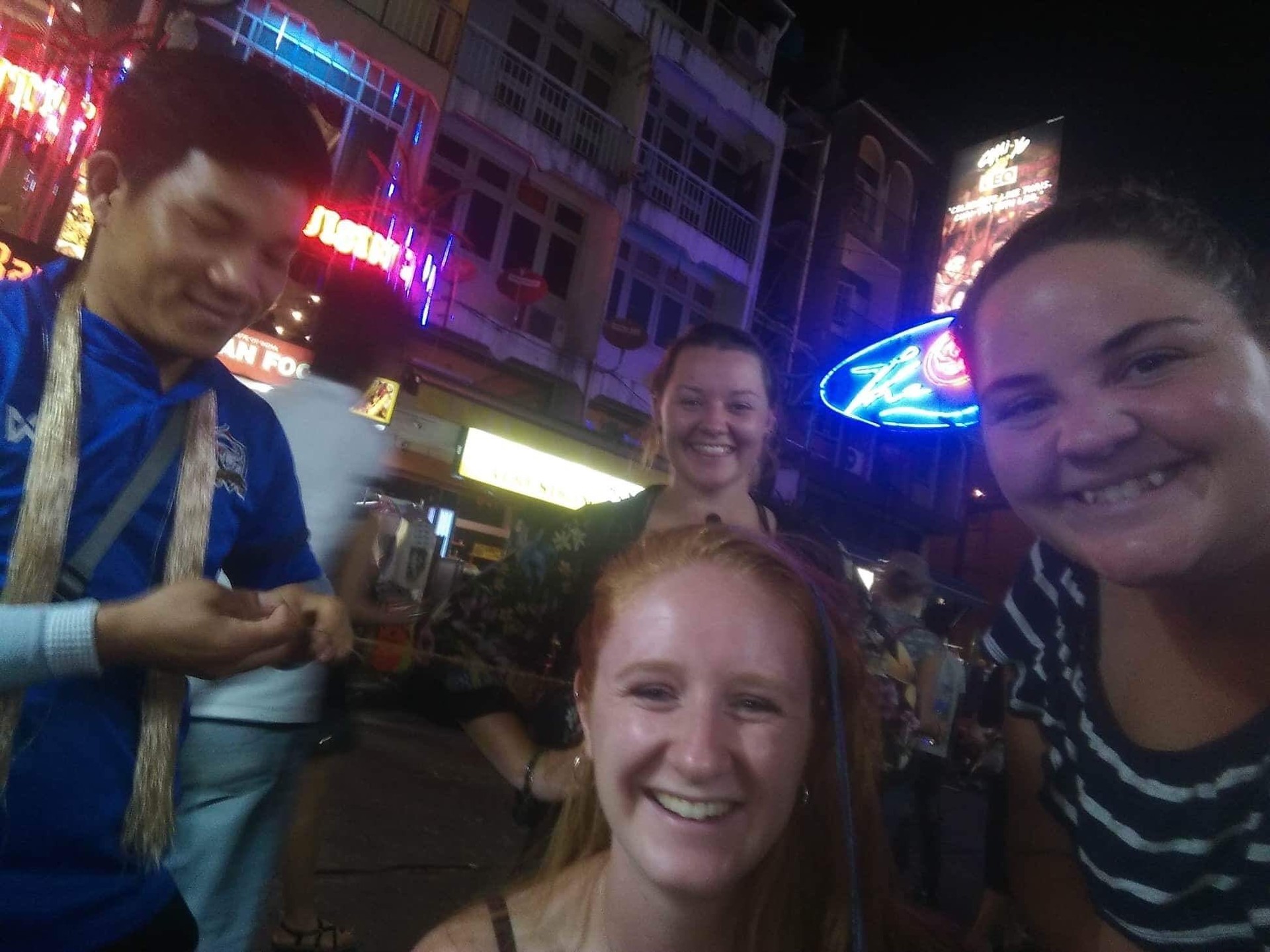 We arrived at 6pm on Valentine's Day so we hit the drinking streets. The three of us ordered a tower of Chiang Beer to last us while we watched passers-by and the bar staff dance off with each other. Kayt and Lizzy had been in contact with Iacopo who had asked them to buy me a little something for Valentine's. They had surprised me with a rose and a cute elephant garland, it was so sweet that I cried!
Accomodation:
After a few more hours of dancing and drinking we went back to our hostel. It was called the Mixx Hostel. I had stayed there 2 years ago with another friend, and it was fine. However, this time round we had a few issues… The room was boiling. It was an 8-person dorm, with no windows and the air-con only came on a night, making day-time naps impossible. We also had a questionable human in our room on the second night who brought back a Thai girl. They kept us up all night and the multiple alarms that kept getting put on snooze at 4am tipped us over the edge. The whole room was awake and arguing with our guest, which was hilarious yet frustrating. Safe to say we were exhausted the next day.
The morning after the night before:
After a lie-in we walked to Wat Pho; a series of colourful temples and a massive reclining Buddha statue. It was around a 20-minute walk from the hostel. We wandered around for an hour or so which was cool, but it was so hot in the city that we had to go back for a rest. We decided to get some coconut ice-cream and a foot massage! Both were so good that we got another the next day!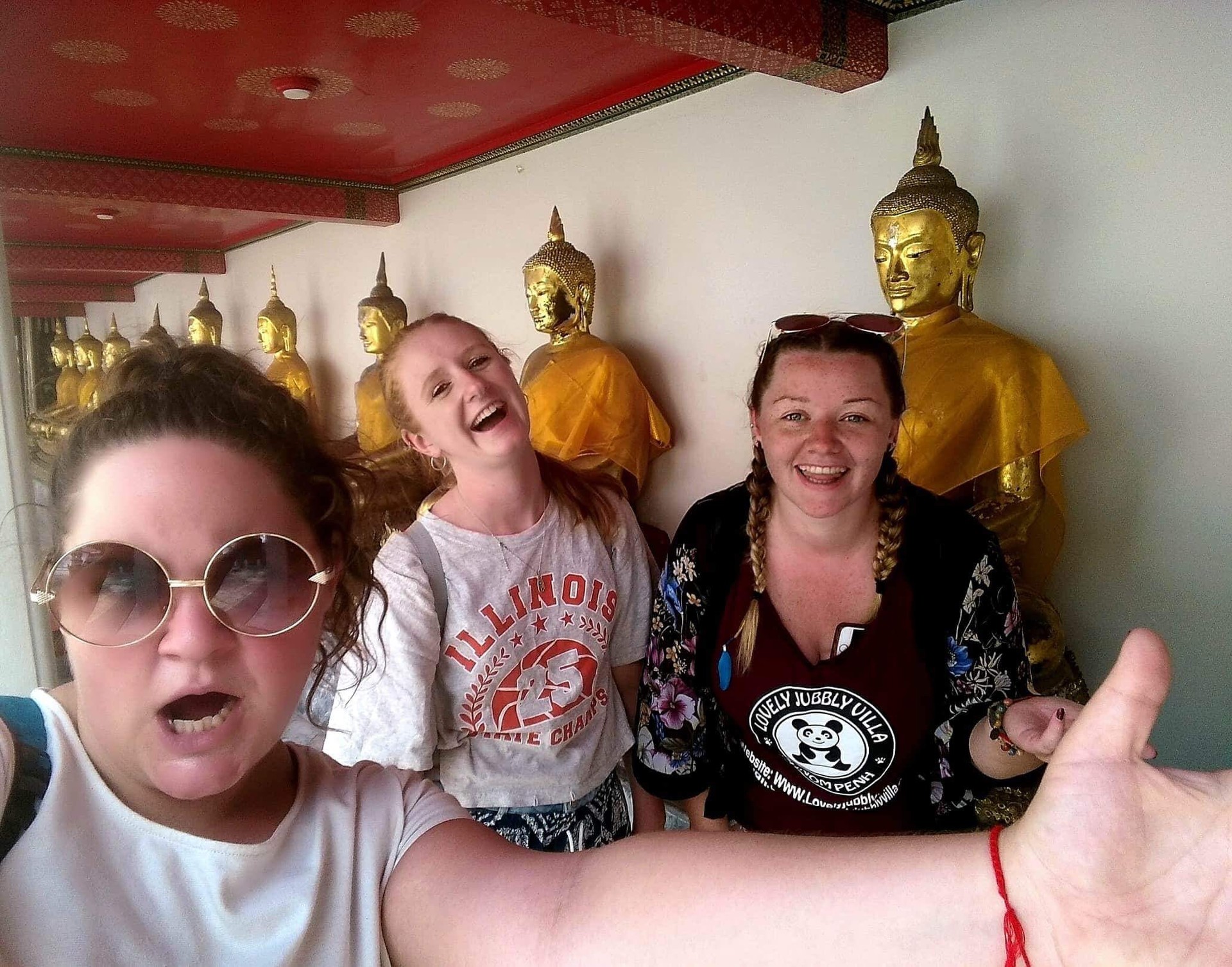 Chinese New Year:
That night was Chinese New Year, so we hit up China Town were we saw the Thai princess, Dragon dancers, fire crackers and street performances. We met two other backpackers, one form Aus and the other from Holland. We spent most of the evening together drinking in the street and eating dumplings.
It was great up until the Aussie was urinating in a bottles, he got distracted and ended up overflowing down Lizzy's leg… The night took a bit of a turn. He was very embarrassed and guilty, but Lizzy took it really well! I think I was more raging than she was! A few beers later however, we were back on to fun and games of the carnival.
 Drama:
We then stumbled across and American girl who was alone and crying in the street. We spent ages trying to get her back to her hotel with her bf and friends. None of them would help her and just left her by herself in Bangkok! We decided to then take her home ourselves as we couldn't leave her. Kayt and Lizzy got in a tuk tuk with her and I waited behind with the boys, until we got our own tuk tuk to them. Apparently we missed a lot of drama, including the American girl peeing on an artificial plant in her lobby, her stripping off while the girls tried to get her to bed and abusive texts between kayt and the damsel's boyfriend. It was a strange turn of events, but once we were all in the same tuk tuk, we headed to Koh San to join in on the nightlife, forgetting that Thailand has a 2am curfew. By the time we arrived, the street was closing down! We picked up a few beers and some infamous toasties from 7/11 before saying goodbye to our new friends and going back to our 'suite'.
To set everything off...
After witnessing a girl shit herself in the next door shower and another night sweating out every millilitre of alcohol in our bodies, we were ready to move on. I wanted Lizzy to experience as many of the different elements of Asia but the drunken debauchery of Bangkok was enough for us after day 3. We hopped on our flight to Vientiane in Laos which ended up being a god send after the craziness of Thailand.
---
Photo gallery
---
Want to have your own Erasmus blog?
If you are experiencing living abroad, you're an avid traveller or want to promote the city where you live... create your own blog and share your adventures!
I want to create my Erasmus blog! →