Learn Italian with a Marketing Communications Specialist
gilla · Teaches:

Italian


Speaks: English

C2

· Spanish

C2

· Italian

Native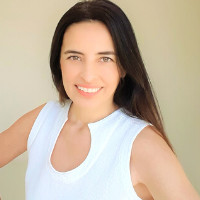 Do you speak basic or intermediate Italian and wish to improve it through one-to-one tailored lessons at your own pace? Are you a complete beginner who wants to learn fast through a personalised schedule?

I am an Italian graduate in Political Science, trained in Dramatic Arts in London, with a 14 years background in Marketing Communications as a freelancer.

Teaching Italian is a passion for me and have lots of experience doing it through different tailored formats. We can have sessions on grammar, specific vocabulary needs, specialist topics or pronunciation. I have also done Italian<>English translations for marketing materials too.

I also speak Spanish and French so learning Italian with me will be particularly helpful to those who keep mixing Italian with either language they may have studied.

Place and availability:
- Video-call format> I am available 7 days in flexible slots from 9am to 9pm via Skype or Zoom
Format:
- I do either 1.5 hours or 2 hour lessons. I have long tested this and strongly recommend not doing less than 1.5 hours, to maximise the learning in each session.
---