Master in Digital Marketing
European School of Economics - Milan Campus (ESE Milan)
Location

Milan, Italy

Type of Degree

MSc

Start Date Request info
Duration

15 months

Application Deadline Request info
Language

English

Attendance

On Campus

Dedication

Full-time

Pace

Instructor-paced

Tuition fees

28000 €
Program description
To enrich your programme you will have access to extra-curricular activities, a 6 month internship experience included and guaranteed and intra-campus mobility for study or internship reasons
You'll have access to all our campuses located in downtown Milan, Madrid, London, New York, Florence and Rome
Maximum 25 students per course
Enrolling all year round
3 intakes every year: September, January and April
All Master programmes are validated by the University of Chichester and you will be awarded with a British Degree
Introduction
While technology advances exponentially, marketing techniques are shifting from traditional models to ones whose foundations and very frameworks are created for the digital environment. For this reason, this course has been designed to provide a robust framework of entry and pathway towards success into this exciting field.
The MSc Digital Marketing degree enables students to develop digital marketing plans and strategies through an emphasis on solving real problems for real clients so in the fullest sense of economy – no effort is wasted.
Students will develop the skills to formulate appropriate responses to complex marketing problems in a course vehicle composed of only six in-depth modules and purely project-based assessments thus developing employability and enhancing your CV from day one, with a focus on the skills that employers want within this dynamic industry.
This degree route provides a critical appreciation of the elements which digital marketing strategies cover, including web site development and analytics, consumer behaviour, social media marketing, digital campaign planning and branding within the global marketing context.
Contemporary issues in digital marketing will be discussed and used in class groups to foster understanding of the opportunities and multi-channel management decisions facing marketers.
Using this knowledge, allied to the use of models and tools, will prepare students for employment in areas such as, campaign management, paid search advertising, social media marketing and other digital marketing roles.
Distinctive Features
Emphasis on the personal development of students within a supportive environment that enables students to master challenges and achieve goals
Executive style teaching in small groups is central to the delivery of the programme
Live, industry projects undertaken for external clients
Professional focus to the programme underpinned with innovative, practice-based assessment tasks and opportunities for project-based learning
Rationale, aims and learning outcomes of the programme
The rationale of the programme is to offer a course of study that enables students to explore the area of digital marketing in depth so as be operationally effective in this specialist field on graduation. The programme has been designed for students that will typically not have undertaken a marketing-based specialism at undergraduate level, and although they may have had previous work-related experience in the subject this is neither and expectation nor a requirement. The content of the programme has an emphasis on practice (based on theory) which is underpinned through live industry projects and a focus on practice- based assessment tasks. The MSc Digital Marketing degree is a postgraduate programme of study which can be undertaken in one year (full-time), or part time over a period of between two and three years. The degree provides a taught component which is preparatory to an extensive dissertation or consultancy project.
The programme aims to:
Provide a challenging, stimulating and self-rewarding study environment
Produce graduates who are confident in the conceptual understanding and knowledge of digital marketing and their ability to apply these skills at a strategic and operational level
Accommodate student needs in relation to maximising their career potential by enabling them to develop specialist knowledge, understanding and skills in digital marketing
Develop self-aware, reflective students who take responsibility for their own learning and demonstrate a responsibility to fellow learners
Provide the educational foundation that is relevant life-long learning
Develop a range of intellectual and practical skills that will enable graduates to add significant value within the work place
Provide assessment and project-based tasks that allows students to apply knowledge and skills appropriately within an authentic context
Develop a range of key skills by means of opportunities provided in the modules
Create a learning environment where professional standards are expected, but at the same time recognises that learning is challenging and appropriate support is provided both by staff and fellow
Indicative Modules
An Introduction to Digital Marketing
Global Marketing
Digital Campaign Planning
Research Methods
Brand Management
Customer Insight
Dissertation OR Consultancy Project
The course is composed of six twenty-credit modules and a 60-credit final project or dissertation for a total of 180 UK credits. Students are welcome to transfer in to this course with up to 90UK credits.
ESE's Internship Programme:
ESE offers extensive and competitive internship programmes. The quality of the placement service is a result of the relationships that ESE has fostered with global companies over the years. This enables students to have excellent opportunities to enter the job market and gain exposure. The internships are structured, evaluated and recognised as an integral part of the course of study and provide each student the opportunity to spend a period of time in a work environment consistent with the chosen specialization.
Working in collaboration with more than fifteen hundred leading international companies, including some of FORTUNE'S 100 Best Companies to Work For, the European School of Economics offers one of the most competitive university internship programmes available today.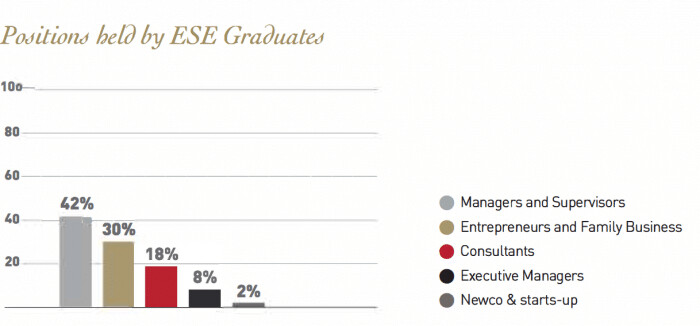 Many students are offered jobs even before graduation. The Internship Department plays a crucial role in assisting students to identify their objectives and learn how to exert their full potential. It provides personalized and challenging internship placements worldwide at all ESE campuses.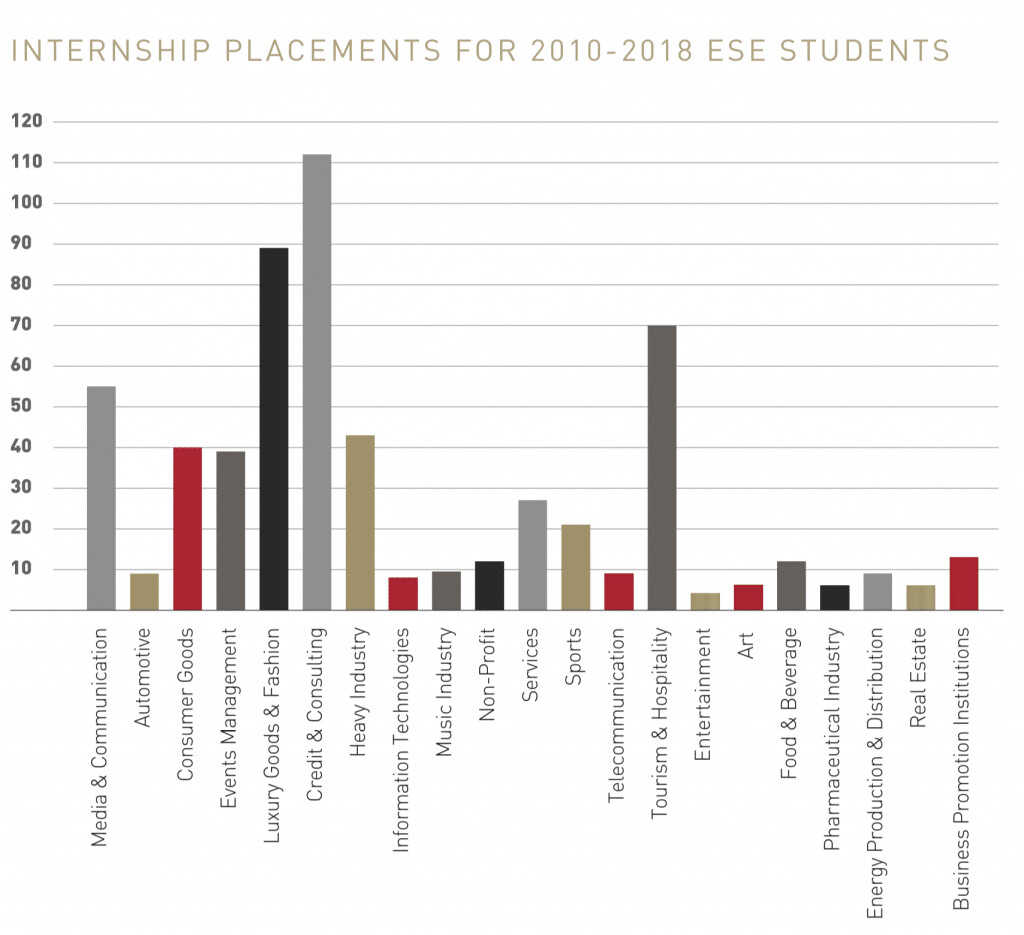 ---