Česky Krumlov: The gate to far far away
Exams are done! As a celebration, I booked this day trip to Cesky Krumlov, a lovely town 3 hours away from Prague. Despite the long trip to go from our dorm to bus stop and hours of bus trip, we were extremely excited for Cesky Krumlov! After 4 months living in Prague, finally I found a day to go to this fairy-tale city like what we read in bedtime stories. 
Another crazy thing that you can advantage in Czech republic as a student is all the discounts in several transportation means! We only needed to pay 88 czk (around 3.50) for return trip thanks to ISIC card. The bus stop is just normal shelter without a building like in Prague Florenc, we just followed the crowd up to the city center. So, if you are taking a bus at night, be prepared to go for toilet and buy food because we could not find anything around the bus stops. 
As soon as we reach the outer part of the center, we had this little balcony-like park to see to the other part of the river. Do not be disappointed because from this view it is not so wow, but just "normally" beautiful. We took nice photos here, though.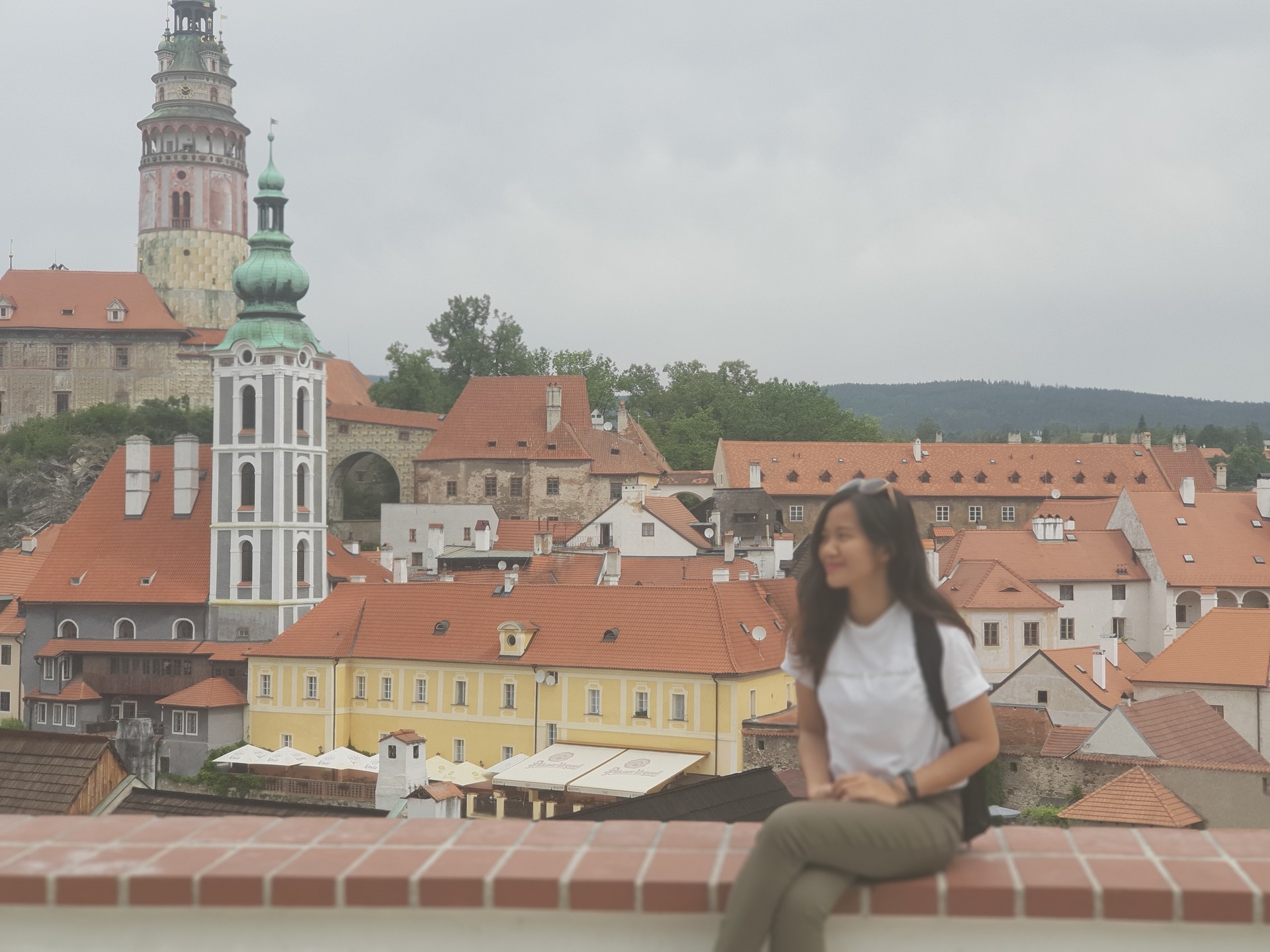 There was this man playing classical guitar so beautifully! I wish he recorded his work in online platform instead of CDs he sold inside his guitar case. I mean, seriously, his music was so soothing and matched perfectly the scenery. 
Library and Namesti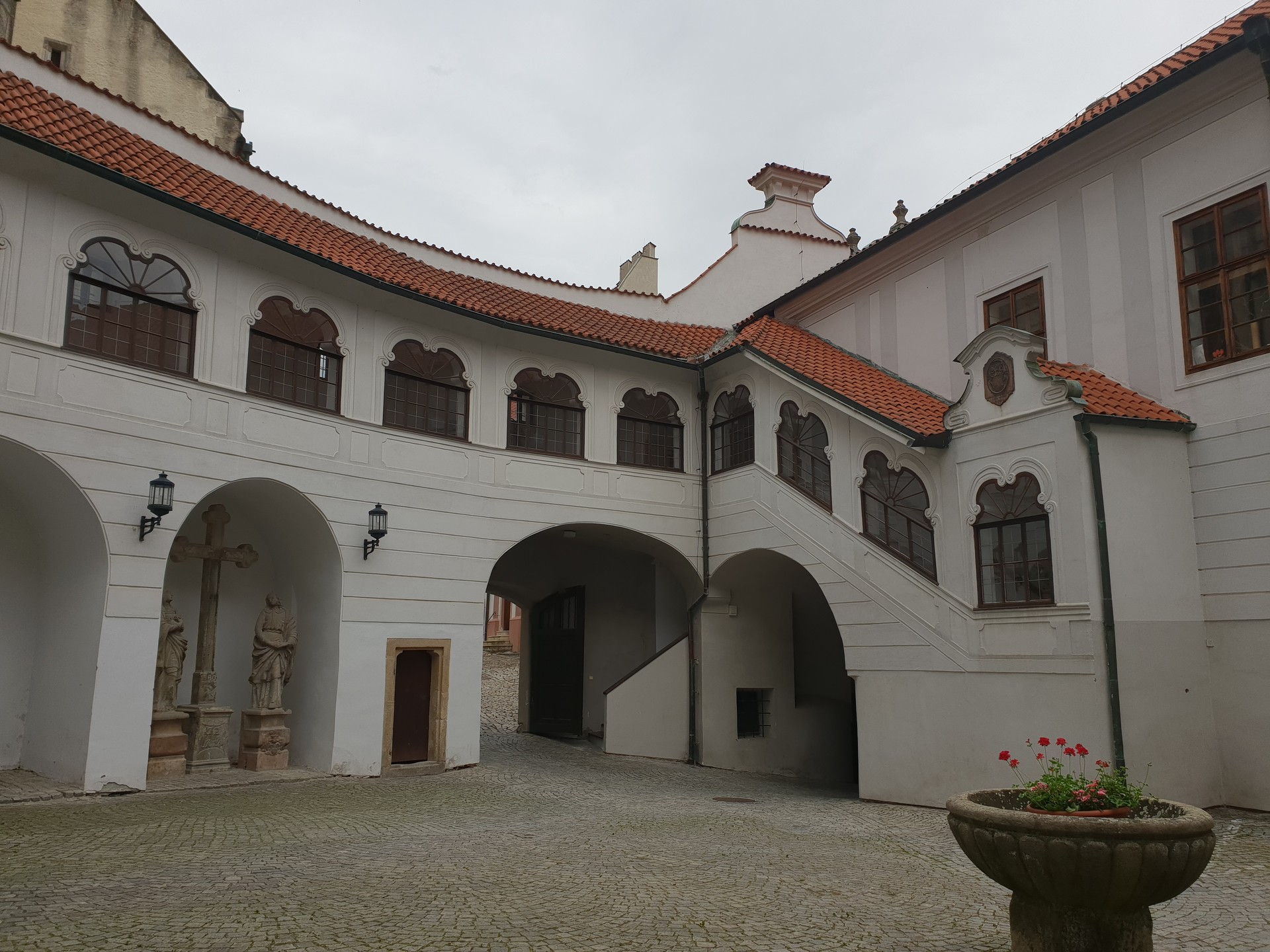 Not far from the park, we found a library that was unfortunately closed because it was on weekend. However, there is a hidden exposition of lovely paintings in the basement of the library and we took time to enjoy it. It has a square garden in the middle and it look lovely with the white color of the library. 
Just by going straight the street we arrived at the city center "Námestí Svornosti" with a statue in the middle and pastel-colored buildings that mostly consist of café and bars squaring it. The scenery was like when I studied direction in A1 Czech language haha. We asked for a map in the tourist information center and started walking to the right part of the square.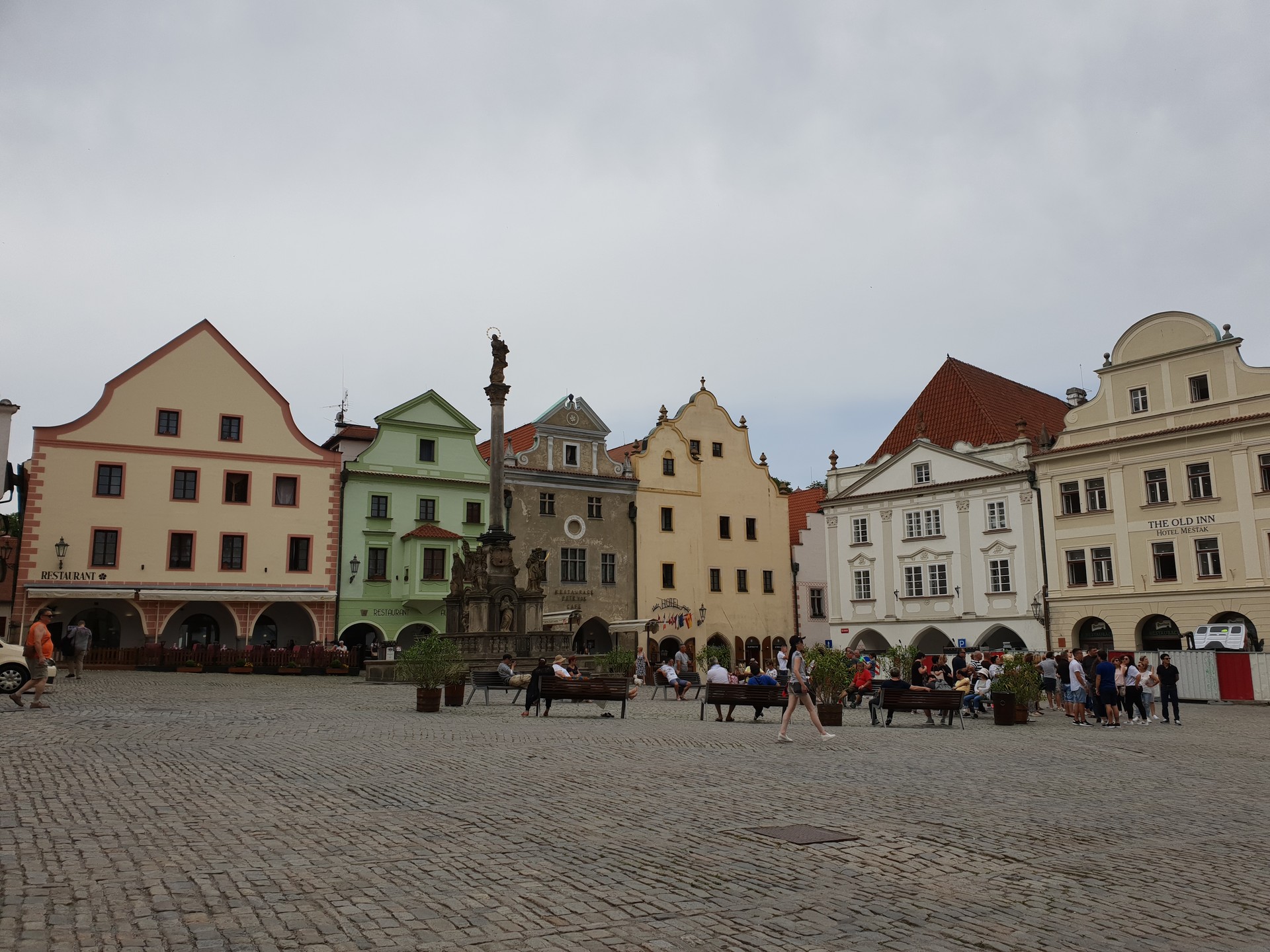 Across The Bridge
From now on, the view will be constantly remarkable. We walked across a bridge where street musicians were experimenting with unique instruments. In the river we could see people started doing rafting/canoeing. I regret not bringing swimsuit or just normal cloth to be able to rent a canoe. I really loved canoeing in the river instead of the beach.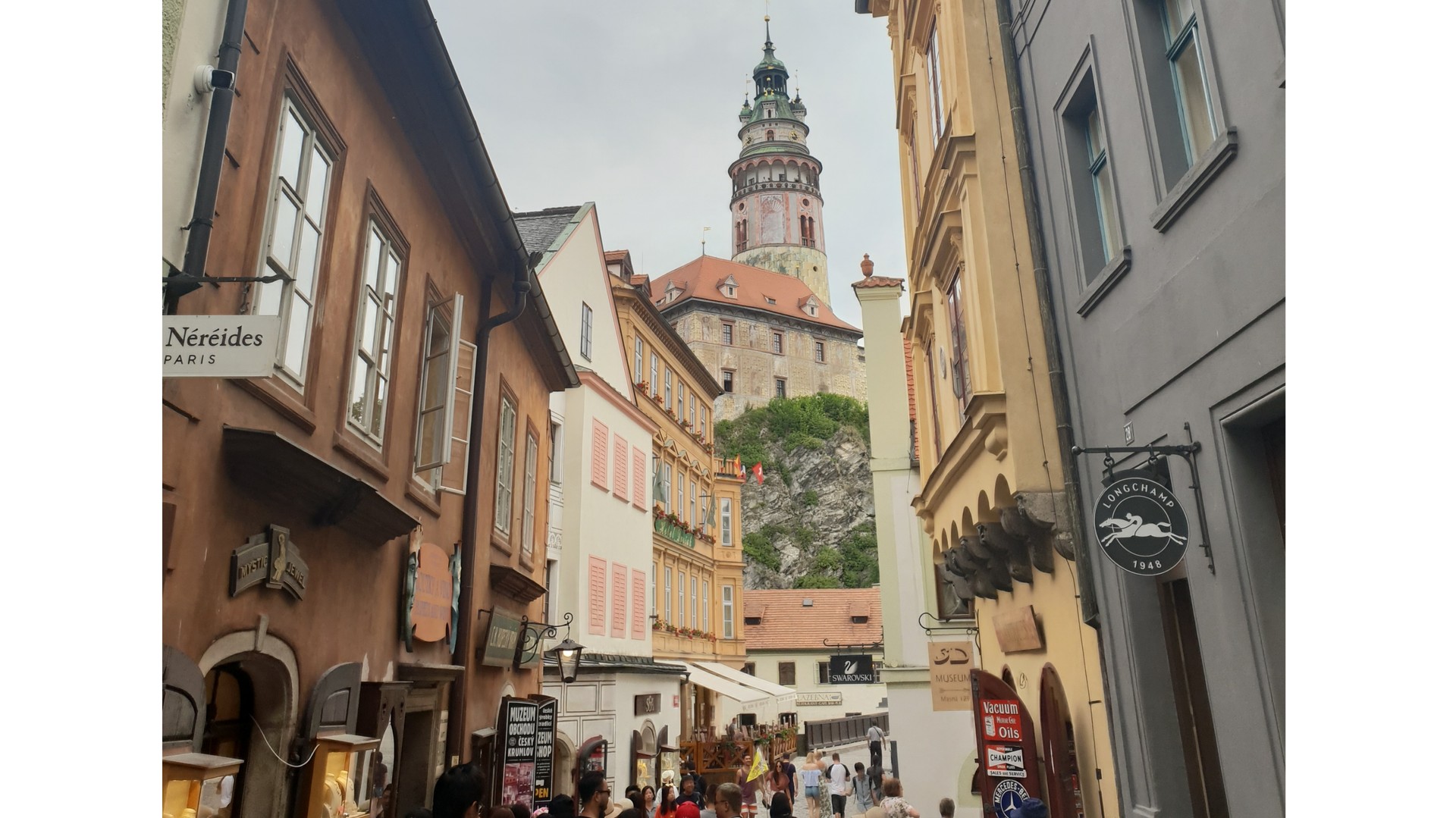 I accidentally found a very cute music shop. Recommended for music lovers and it is located just after the bridge. It sells CDs of various classical and operas also interesting merchandises. The way they managed the store is so cozy and beautiful.
Castle
Our first destination is the castle. To get there we had to do a little hike through its stairs and the weather was hot. There is a sweet little park before the entrance where we sat and ate our brunch. 
Just following the way, you will find this beautiful fountain with the view of castle tower! This is where you buy tickets. We wanted to go for the caste but at that day, there was no tickets but guided tour and we didn't want to. So we decided just to walk through until the castle garden.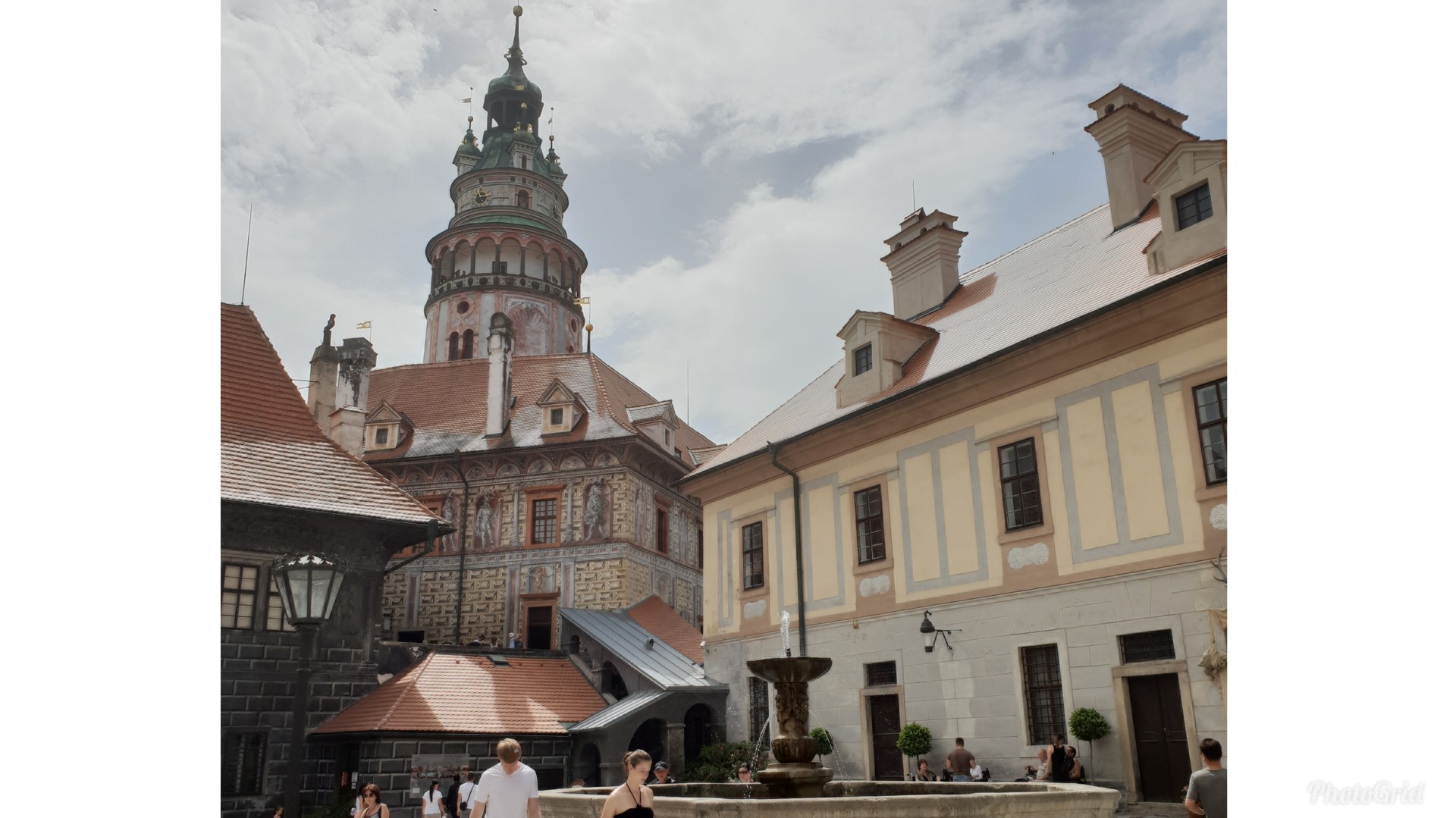 We went up through kind of tunnel gate but don't go to fast through the stairs tunnel, because there is this door which is a very good spot to take photo with amazing view of the river and the city. It was breathtaking and I could stay there for hours if there is no queue behind me to take photos!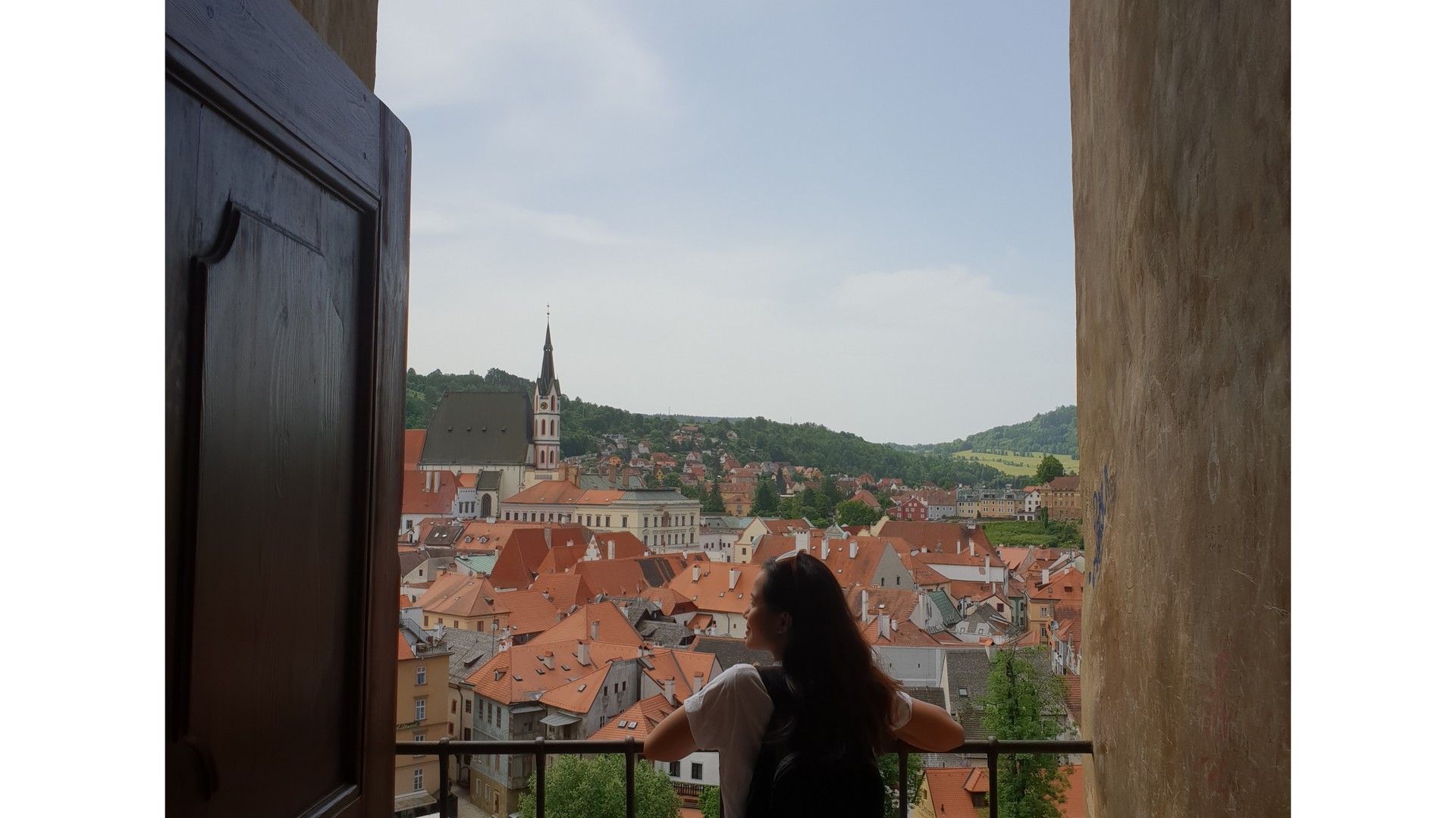 There is this square in the middle of your tunnel way where you could find souvenir shops and crowds taking photo. Then, you will find also a museum underground with interesting name called something like the city underground. It was so dark and interesting, a lot of people stopped by because of their curiosity. Two of my friends went down and saw interesting sculpture exhibition. This gallery is Miroslav Paral Art Gallery.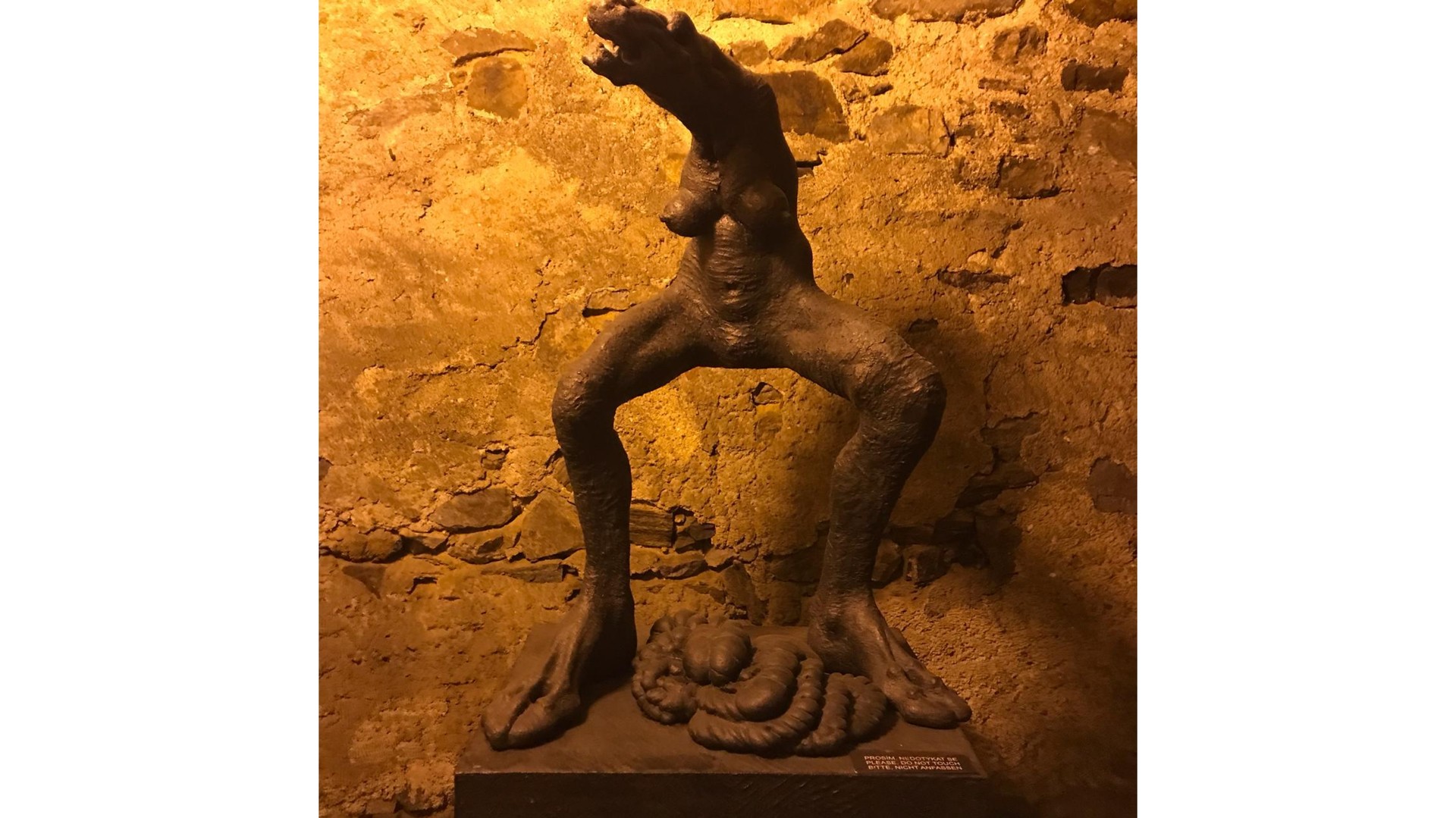 And… the best part is yet to come! It is the white bridge where you can see breathtaking view of Cesky Krumlov.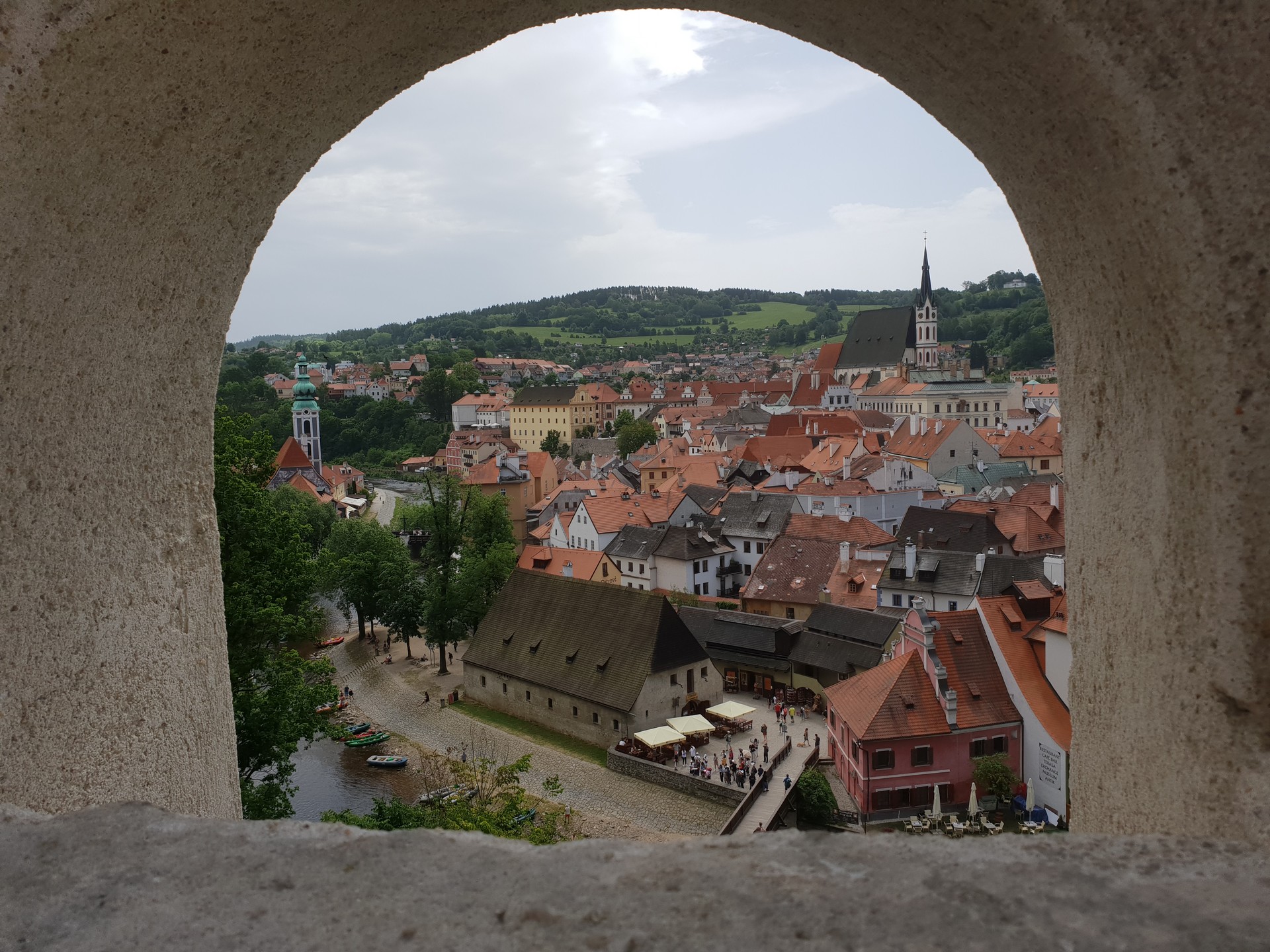 The far far away castle.....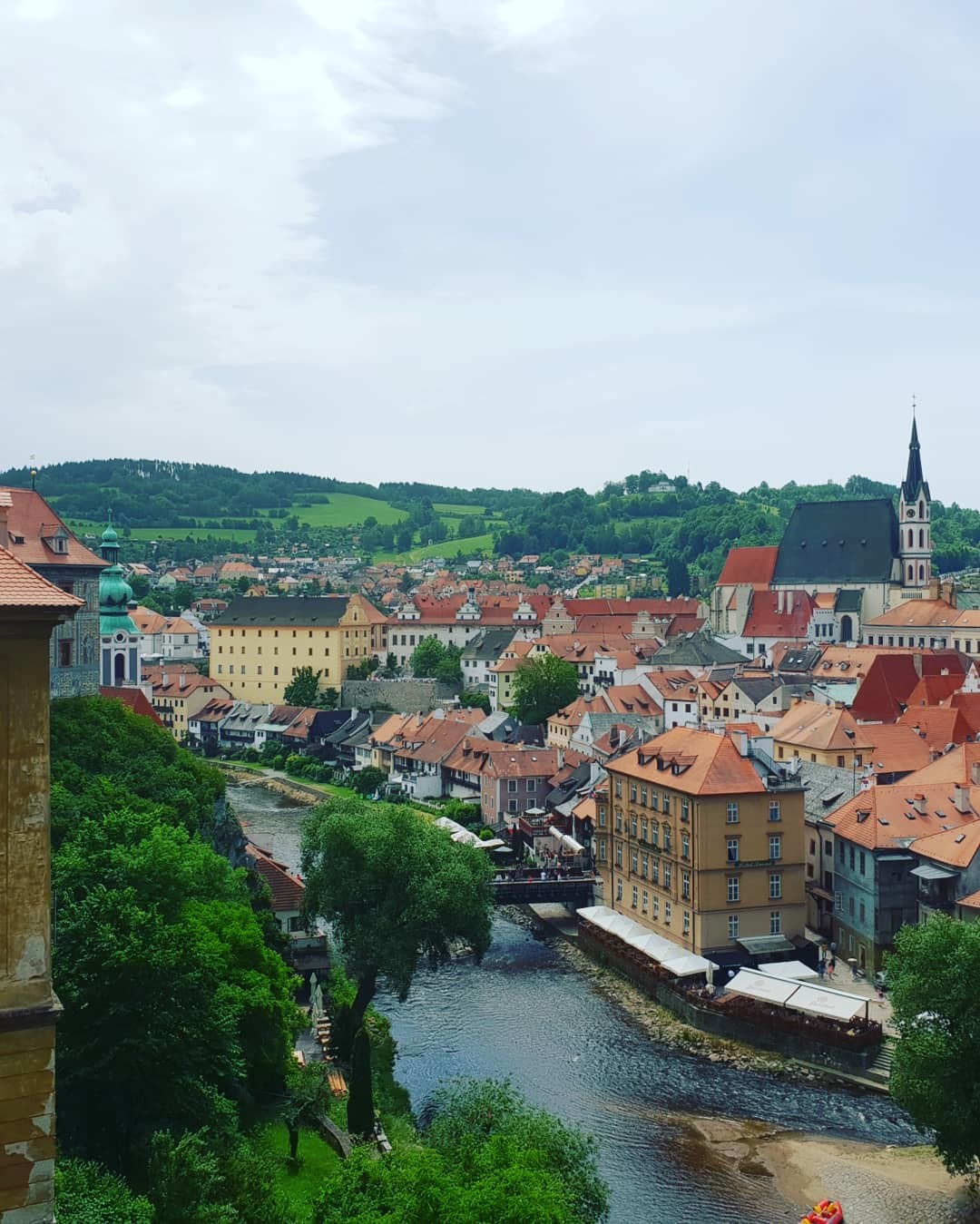 There was also a lovely bar after the bridge with amazing view also! 
Castle Garden 
We needed to walk for around 10 minutes to find the castle garden. It was a typical European maze garden but not with very complicated maze. The weird thing is, it was besides a place called rotating amphitheatre where I could hear people singing crazily possibly because they are drunk. So yes, between the serenity of the maze park, you suddenly could see this huge contrast of lunatic bar with huge stage that can rotate, plus a T-rex replica in its garden. Amazing. 
The garden also had this pond full of lotus. I know it is because of denitrification but I don't know why everything in Europe looks beautiful, I know, blind love.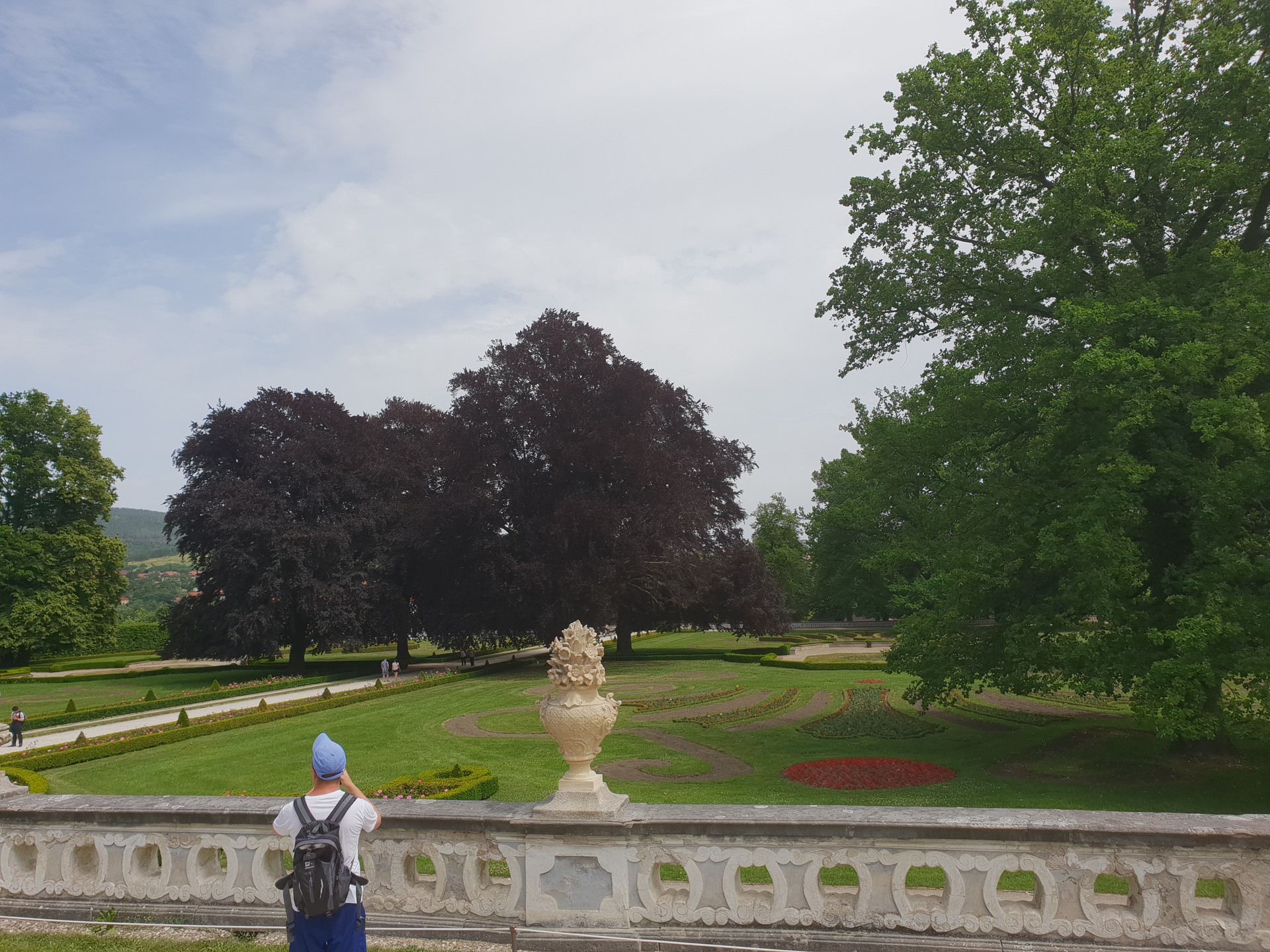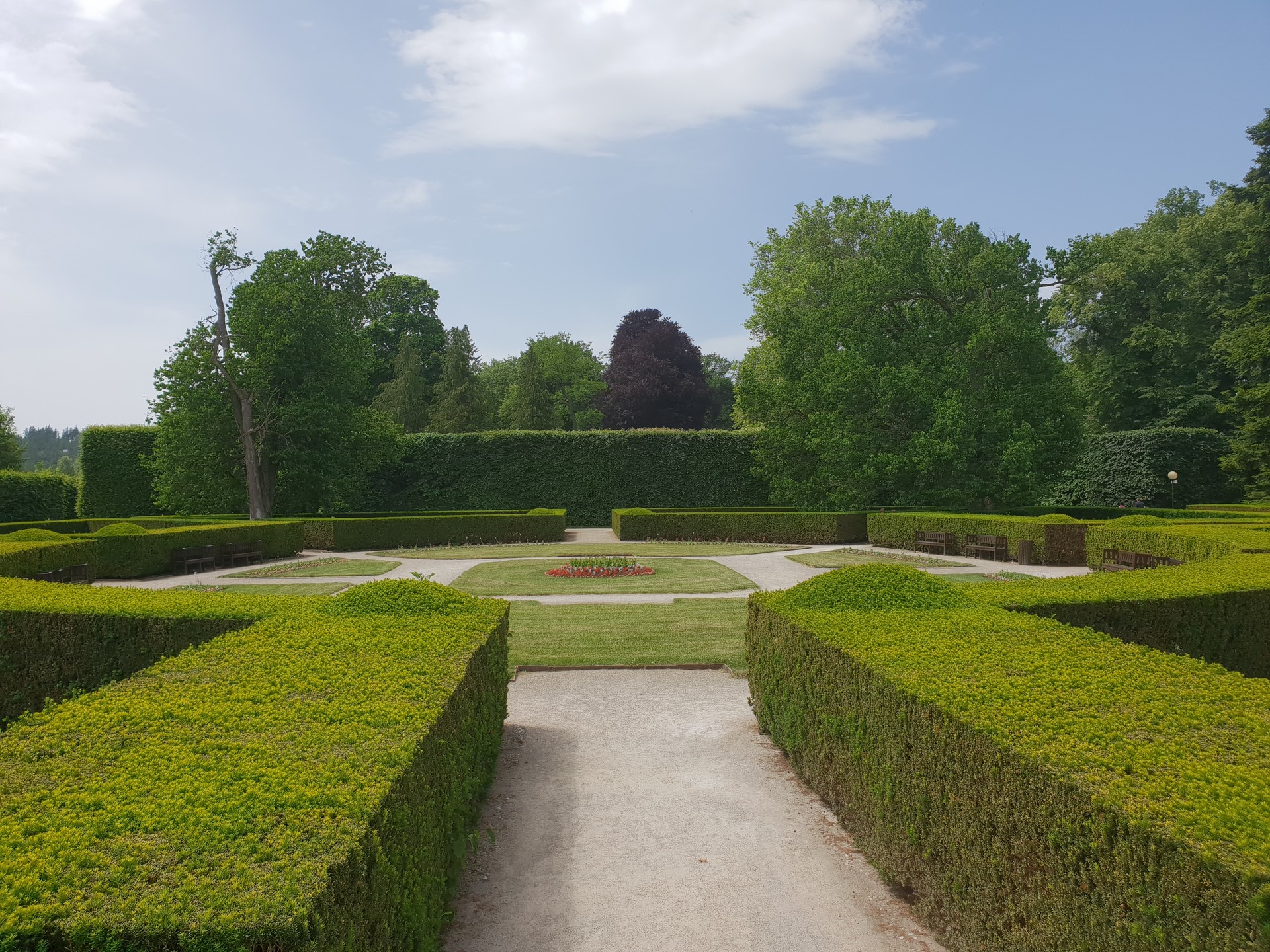 We were starving after walking through this huge castle complex then found an Asian restaurant to eat. Yeah, we could see a lot of Asian tourists (including us haha) all over the city so that is why maybe there are many Asian restaurants to find. 
Monastery of the Minorities of the Poor Clares 
This place is a unique choice instead of the castle. We went here because the ticket is way cheaper and it is a mysterious place! It feels like there is no one around until I found this hidden ticket office. There are many parts of the building that we could see. First part is kind of infographic of the monastery in a corridor explaining about the historical timeline and the choir of the monastery, photos of the nuns, photos of the nuns' dormitory rooms, etc. 
It is like a journey to the past. The second part is more about the pastor and nuns' clothes, and the ceremonial tools used in the church, paintings of saints… but what made it special is there is no sound at all. If I were alone, I would never be brave enough to enter this place. 
I do not take any pics here because it was so serene and I forgot, sorry.
The third part is also photo exhibition mostly black and white, it is located next to the square area of the building. It gave me chill to be there. 
The most interesting part is the last one which includes the cathedral and chapel. We can see short film in the underground but really the fact that the cathedral is like inside another building is perplexing for me. We could not take photo in this part. And just in the square area next to the cathedral, it has a tiny chapel. I have never seen any layout like this. 
Even to just sit in the park outside is so serene and peaceful, I could imagine seeing the nuns walking all over the place. Little street around the monastery is also a nice place to stroll. 
Marionette Museum 
I was attracted to this tower with blue dome across the monastery. Surprisingly, it is a marionette museum and theater. It was only 50 czk for students. Marionette is kind of puppet doll and one of Czech tradition. Well, the way up is scary and the staff lady is just alone inside this tower of creepy dolls. 
And… the museum itself is inside the wooden attic. So scary yet interesting. You could find marionette from 1800s even maybe older, all still in their perfect shapes and clothings. Oh my god, even now while I am writing this, I could remember them one by one.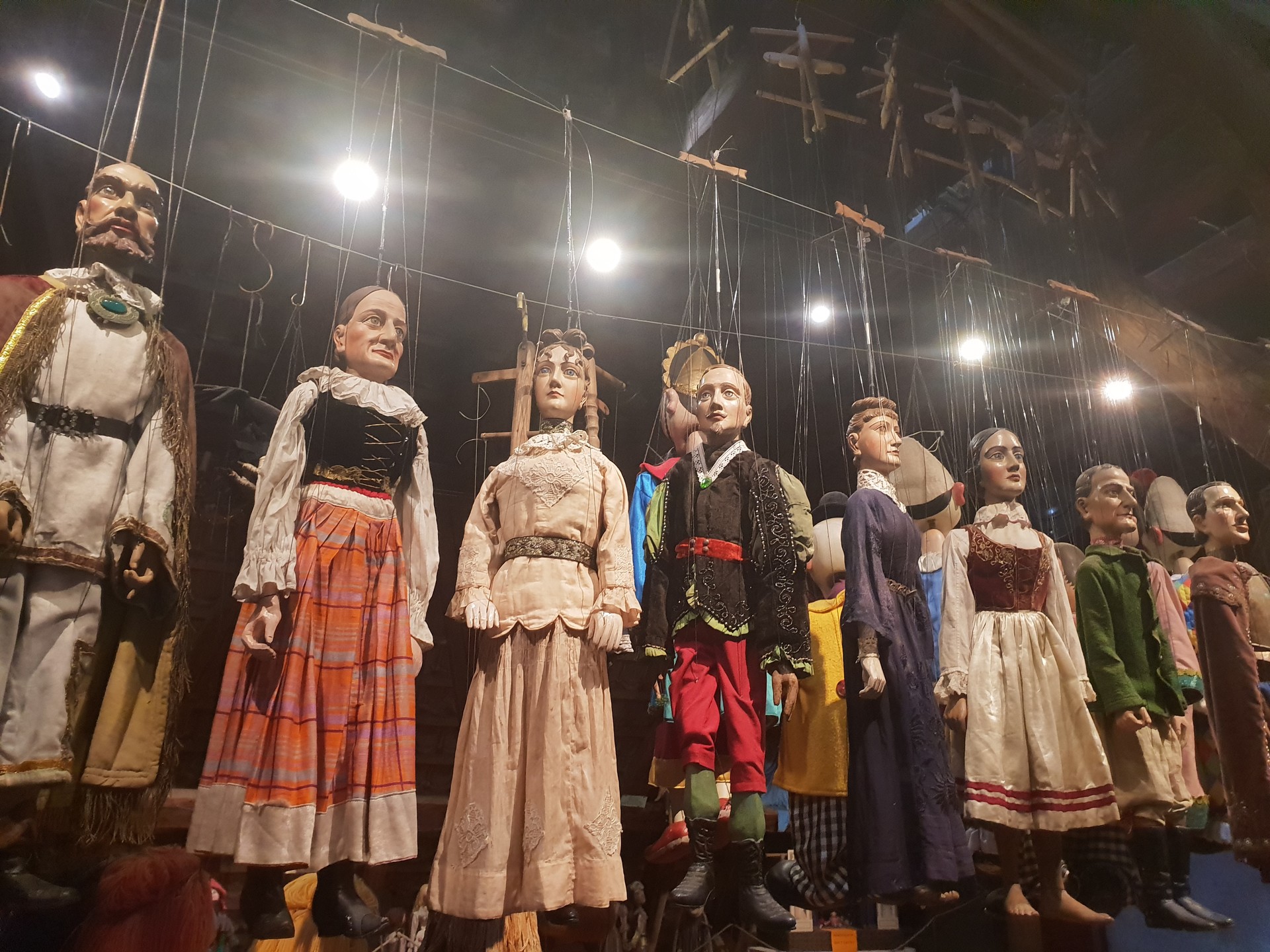 There is this big "Stage" to do their show but that day there was no show going on. I just could not imagine this place at night. But really, it is a very interesting place to visit, and hopefully you could catch a show.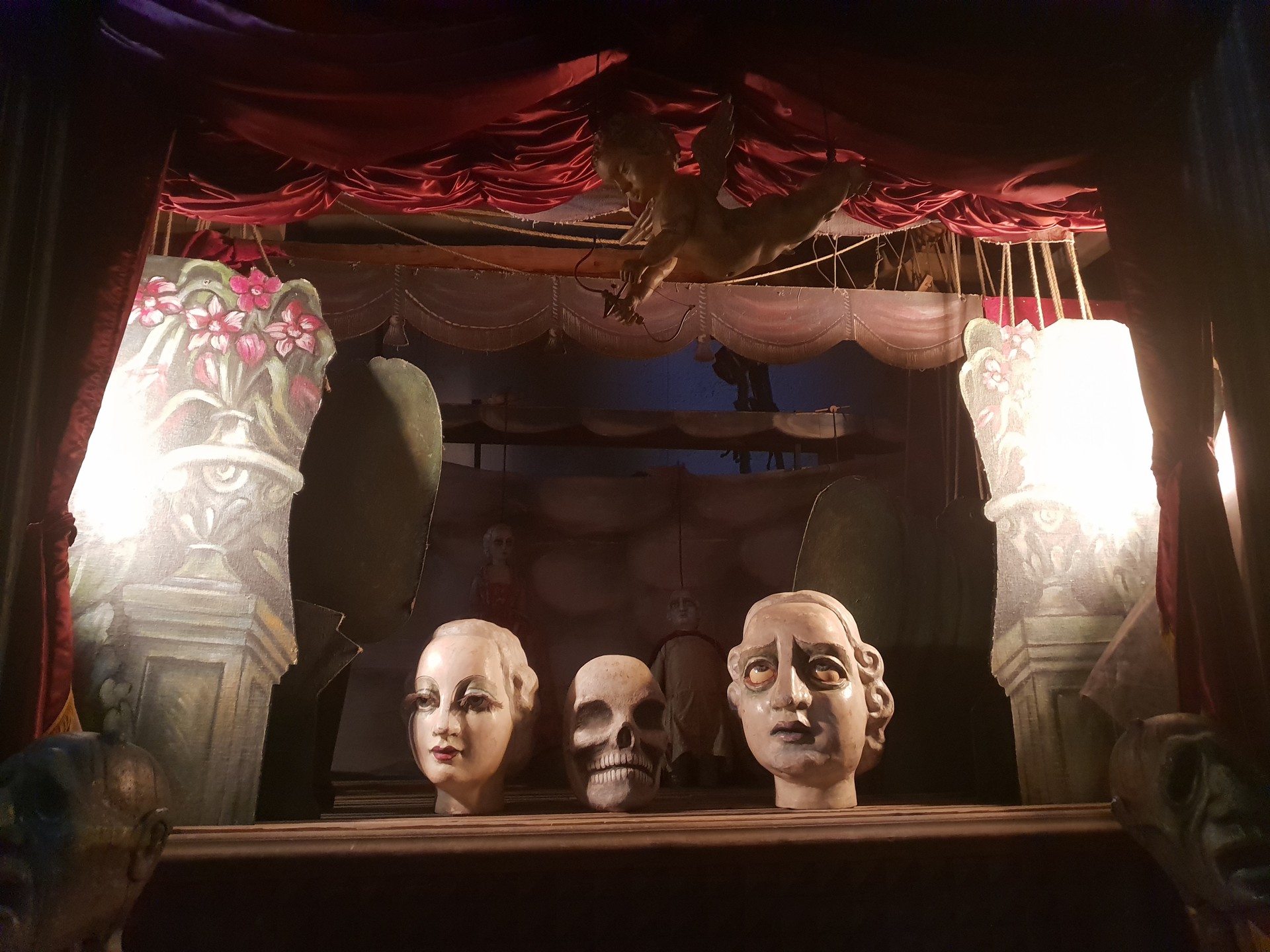 End of the Day 
Walk along the river banks and discover great bars to have a glass of beer with your dear friends.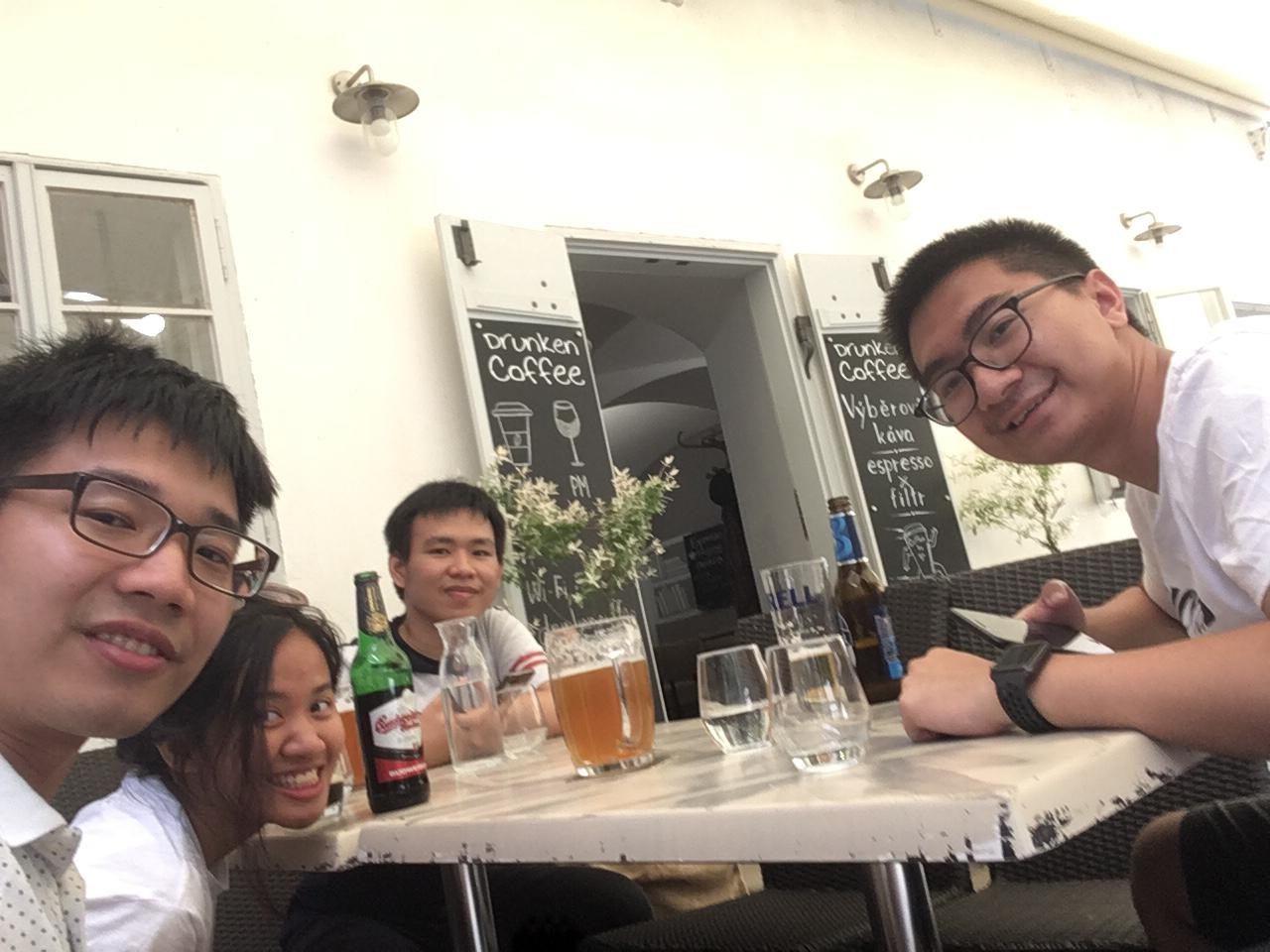 Yudha, Me, Albertus and Nuel: we are all Indonesians studying in Prague <3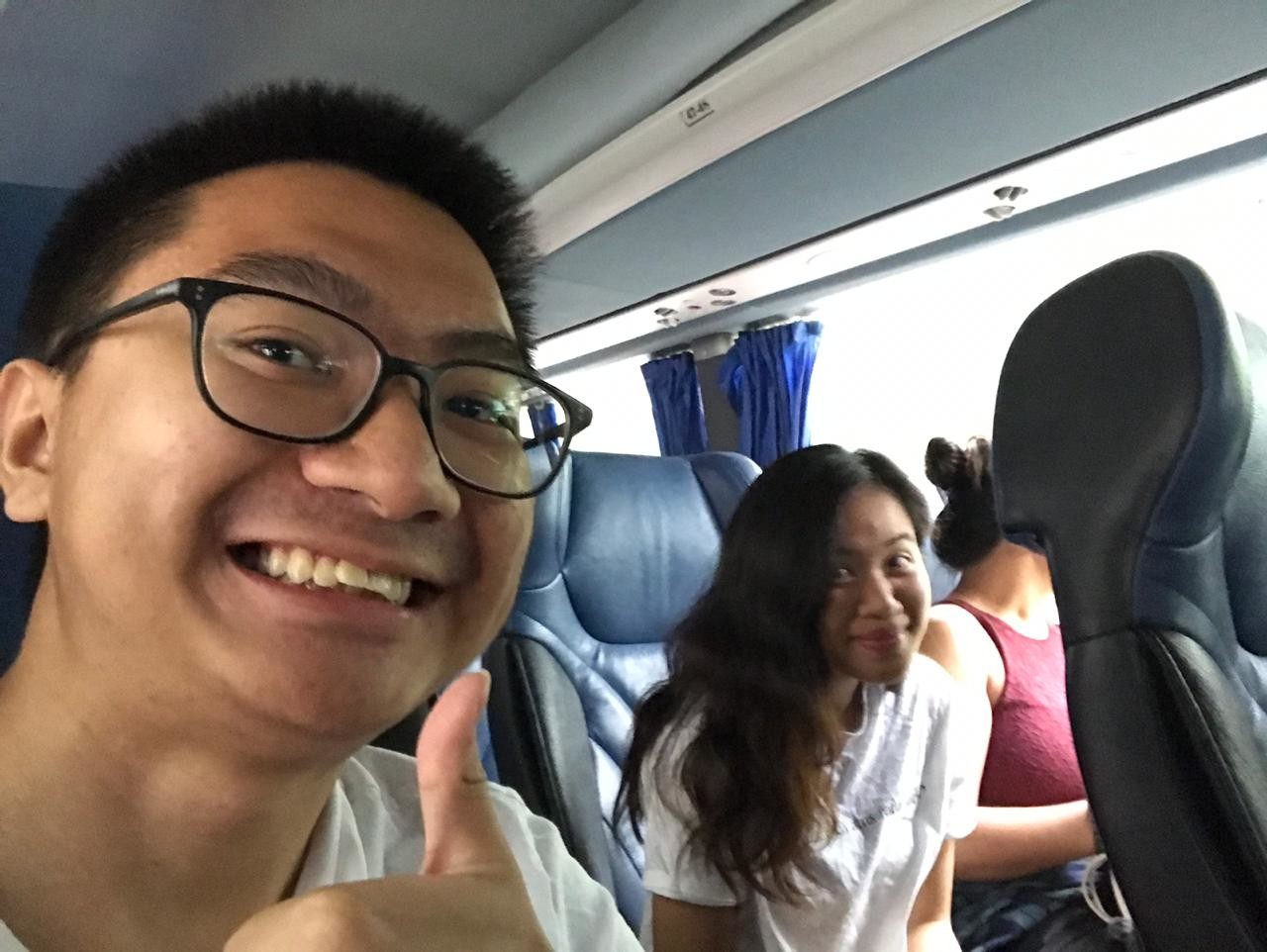 Above: Nuel and me, Nuel is studying film making in Prague and he is so cool! 
Nazdravi!
---
This content has been entered in the Erasmus Travellers Competition and have earned 1583 points.
7752 chars (775 points)
250 views (750 points)
20 photos (50 points)
This competition was made possible by: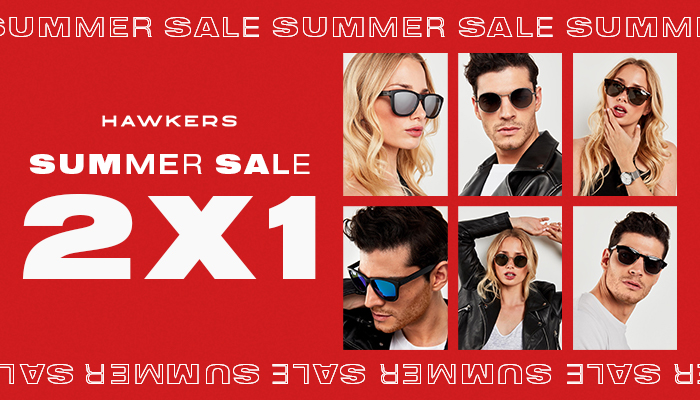 ---
Photo gallery
---
Want to have your own Erasmus blog?
If you are experiencing living abroad, you're an avid traveller or want to promote the city where you live... create your own blog and share your adventures!
I want to create my Erasmus blog! →