Behind the bones of Kutná Hora Ossuary
What an amazing week of being a jobless (read:holiday). I strolled around Prague and discovered new hidden places but mostly,busy going around to buy stuff for my Indonesian customers (yes, I am selling little stuffs from Prague haha). 
Actually since the beginning, we had this trip to Kutna Hora organized by Erasmus but I did not know about it so I just threw it for my last trip in Czech Republic. Of course, I know this place from @realhonestguide youtube channel. Honestly, the ossuary was making me kind of afraid to have the trip alone. Luckily in the last minute, Mariana and Yudha agreed to join me! This is the fruit of procrastination!
Not as usual, this time we chose the CD train instead of Regiojet bus which only cost us 56 czk return ticket per person thanks again to ISIC card and <26 years old. If you are more than 26, mostly you can not really benefit the discounts in Europe because 26 is considered as a workinh age already. Also, don't worry because to choose seat you do not to pay additional cost. So, I chose the seats for 3 in a chamber which is like Harry Potter train. I always wanted to try this kind of seat arrangement and found it in Poland, so happy :D 
It was only almost 1h of train but in CD they did not announce or even wrote it whenever we stop at the next station. None of the three of us realized that it was already at Kutna Hora.  But there was this man telling us to go, I don't know either because he wanted to kick us out soon because we were too noisy, but let's make this as my practice for positive thinking that he really meant to help us. 
Kostnice Sedlec (Church of Bones)
As we arrived, we went straight to the information center and it turned out that we needed to take a bus to the city center but the famous ossuary and a cathedral were just about 10 mins walk. I was so excited! 
We just walked following the sign until….
We arrived at a very quite valley and an empty playground at the back side of the Kostnice, we tried to open the gate and realized that we arrived just right in a cemetery. 
Well this experience is kind of unforgettable. It was not scary. It was just an odd experience in a cloudy morning, in the middle of nowhere.  
We bought the ticket and found out that actually we took the wrong way. Just following the ticket office was just a normal street for tourist, so we were apparently one block lost.
TIPS: I think it is better to buy the 3-pass ticket which includes already 3 main attraction of Kutna Hora especially if you are a student (Total 155czk) 
Kostnice Sedlec
Cathedral of Assumption of Our Lady and St. John the Baptist
Cathedral Santa Barbara 
To be honest, I was expecting the Kostnice was a lot bigger than it is, you know, expectation kills. So yeah, I missed its translation which is "chapel" = small. But yes, the smell was kind of something but bearable. I would say that it is more a humid place. In the entrance, you'd have this little souvenir counter then you went down through the stairs to a cave-like chapel.  
On our right we can se the first tower of bones and all gravitated to the center arrangement, the most interesting one. It contains the bones of approximately 60,000 people due to their death either in wars or Black Death era. In a glass boxes, we could also find the example of a skull destroyed by a war attack like stabbed by sword, hole by a bullet, etc. One of the tower is still under construction.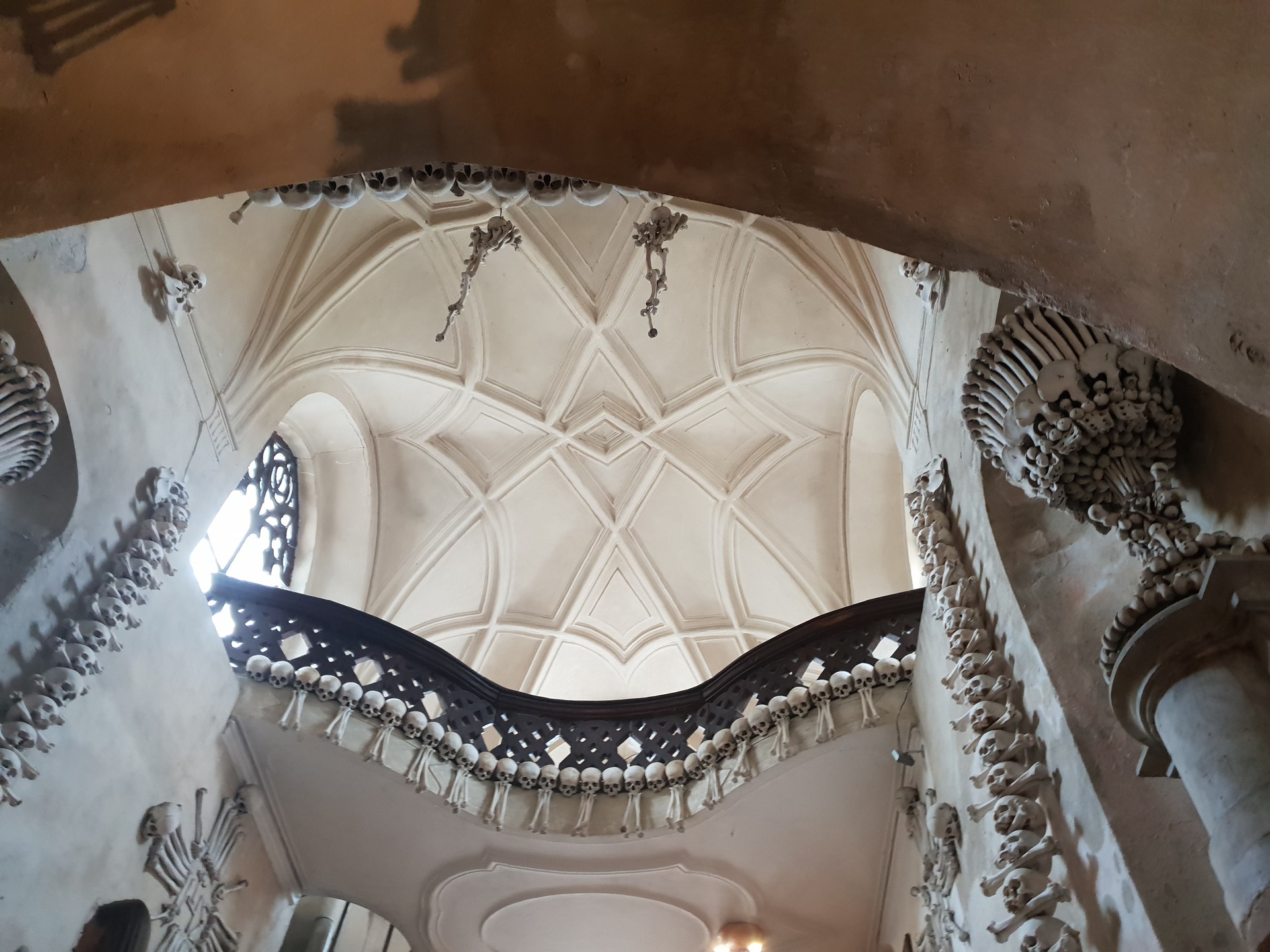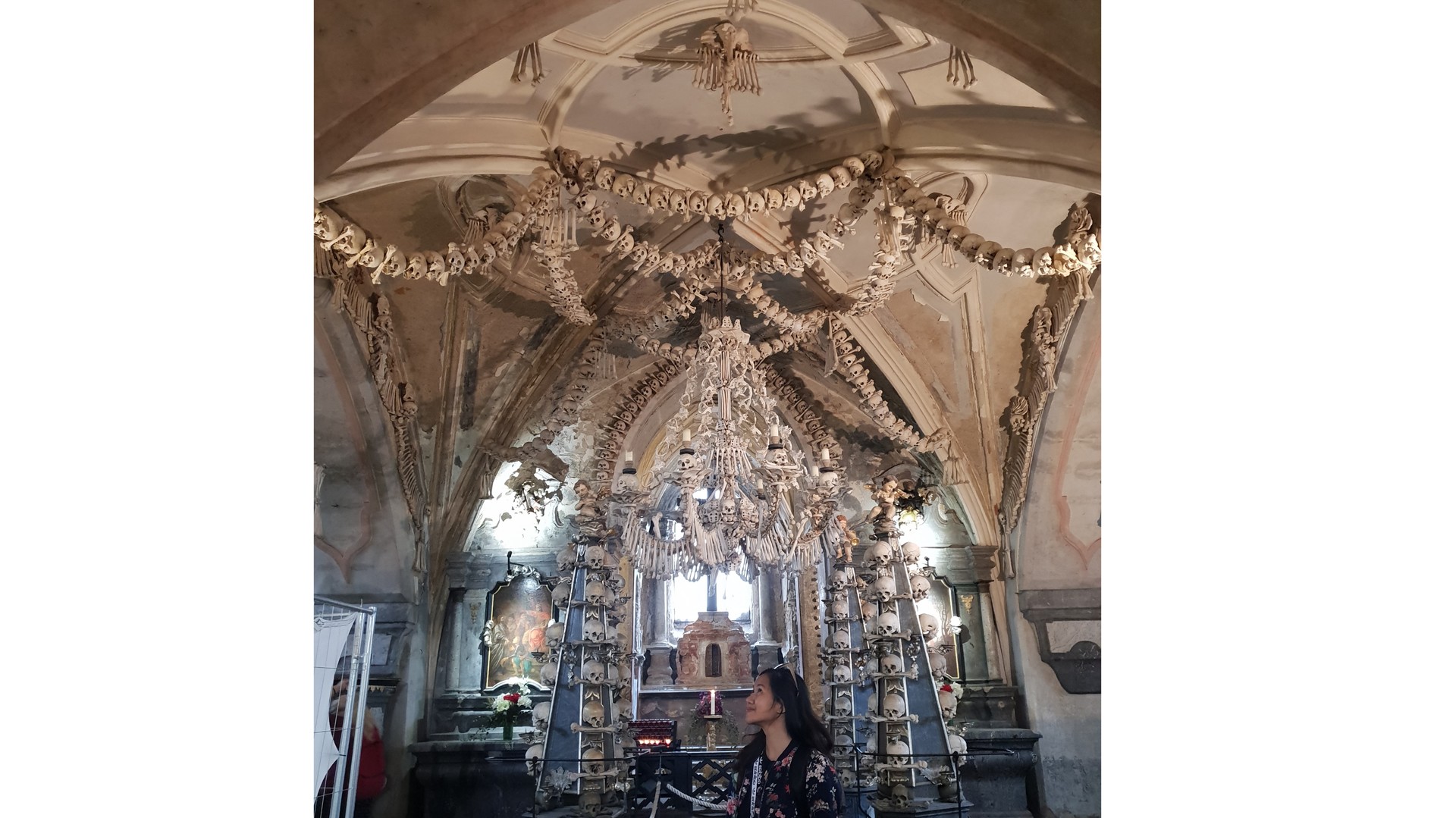 After we walked out, the air became fresh again and we can breathe normally again. Along the street we have a lot of souvenir shops of different kind of skeleton as a candle, pen, patch etc. I wanted the patch but I am not that rocky-rock kind of girl anymore haha.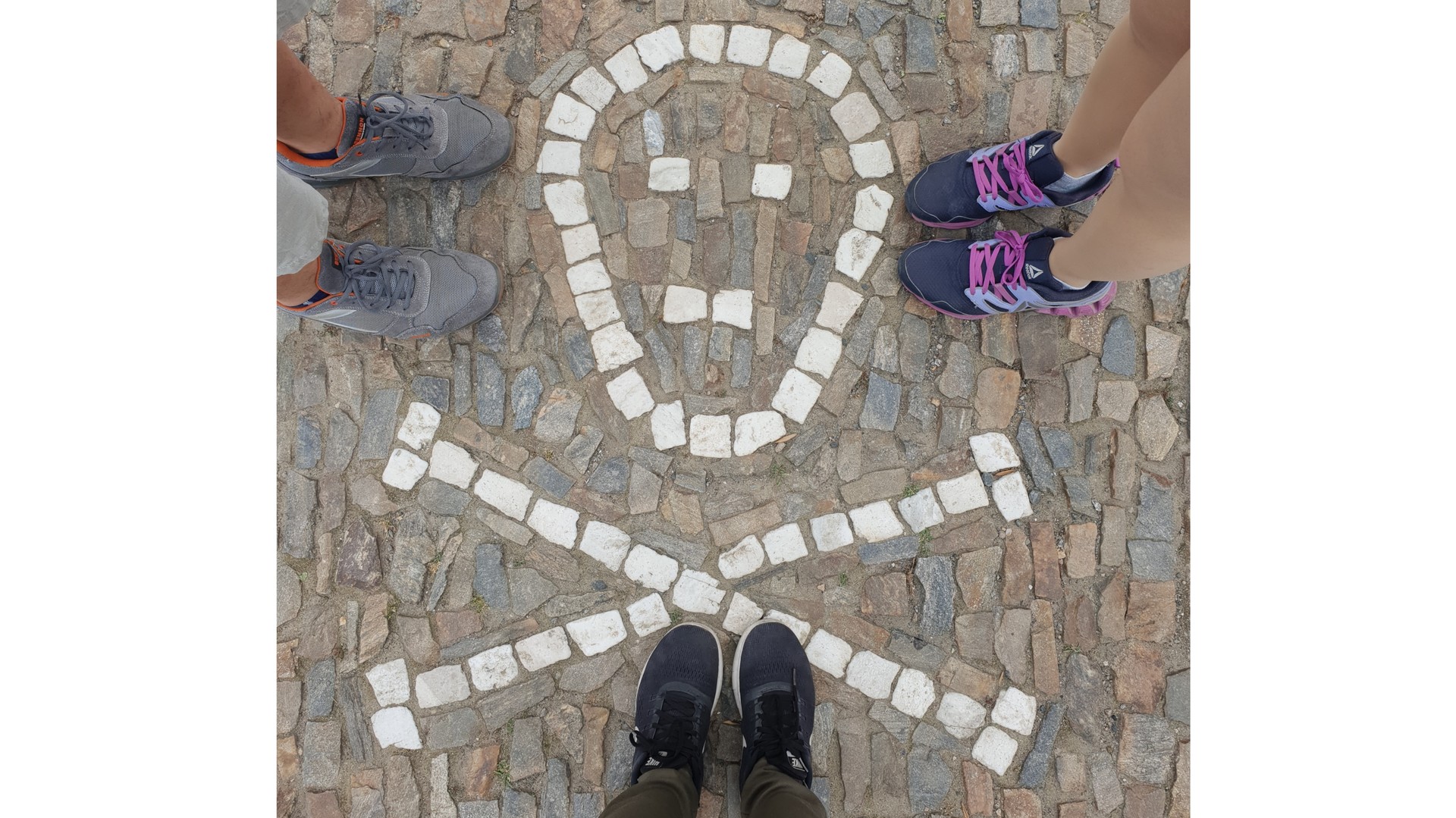 Cathedral of Assumption of Our Lady and St. John the Baptist
This one is in the contrary, beyond my expectation. After the entrance, you are welcomed by a very high ceiling church with a very warm yellow color. The seats are only at the first 20-ish row from the altar. I feel so peaceful and enlightened here. This church which is listed as UNESCO site, was formerly a monastery church of oldest former Cistercian abbey in Bohemia. 
This modestly beautiful masterpiece was built in 1290-1320 during the greatest economic period of Bohemia. It has special designed features as the side nave ceiling, spiral staircase and the painting of Assumption of the Virgin Mary by Josef Bergler.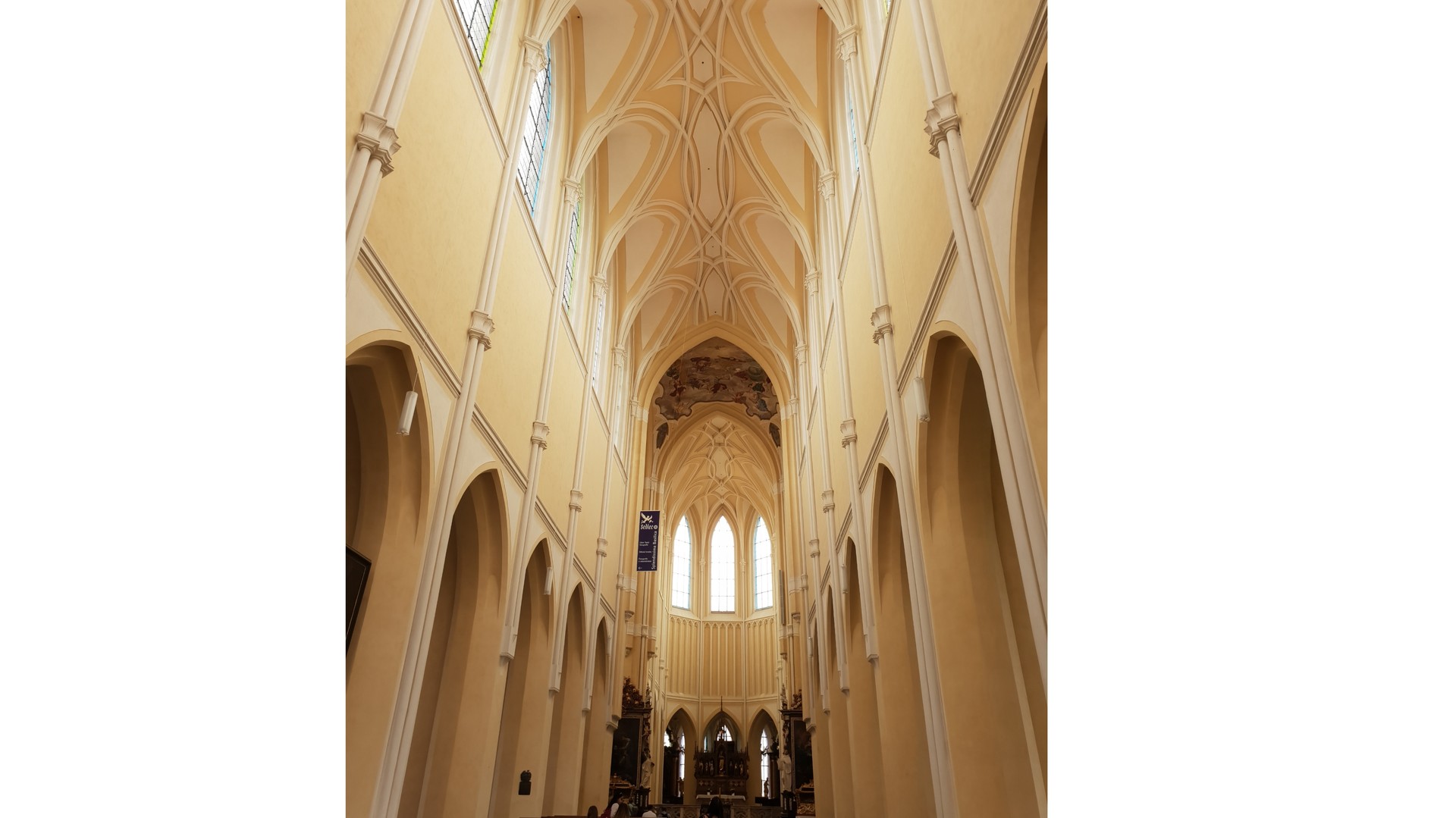 The actual color of this church was originally gray-stone, not a warm yellow one like now. Its reconstruction is also partly funded by Czech Ministry of Culture.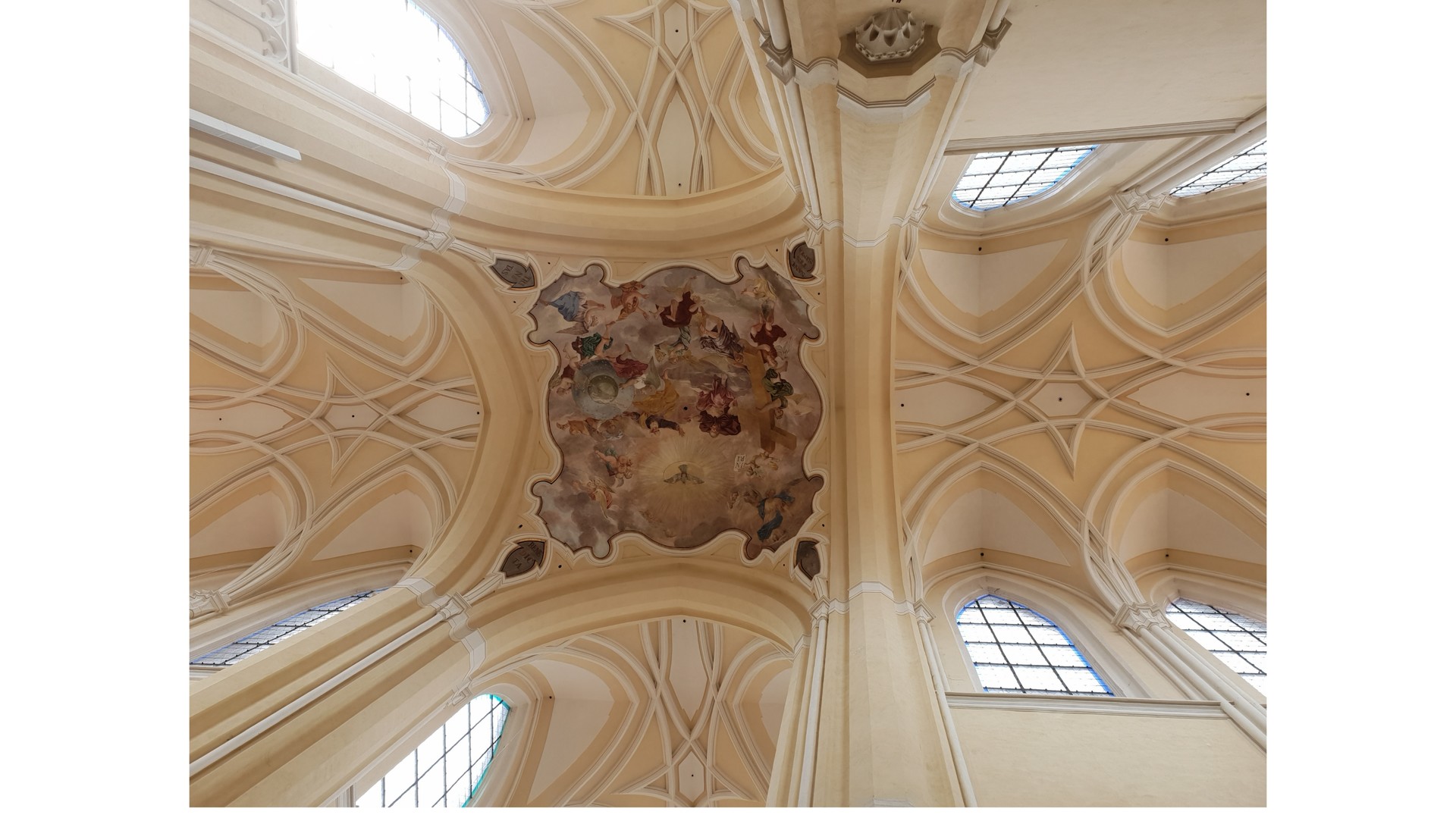 We climbed the very artsy spiral staircase to the attic, which surprisingly had a lot of photo exhibition, and indeed beautiful ones. Literally the photos I was always aiming to take but I had no skill on it. Not only architectural photograph, we also found 2 aisles with children's work art exposition which was super interesting. Imagine, here, elementary school kids are taught to draw, sketch or color the cathedral. Isn't it very complicated and rich of culture? I mean, compared to just coloring a stupid printed coloring book with the picture of a dog etc.?
I really admire the ideas of really appreciating the effort of the kids, and hey! They did a cool work!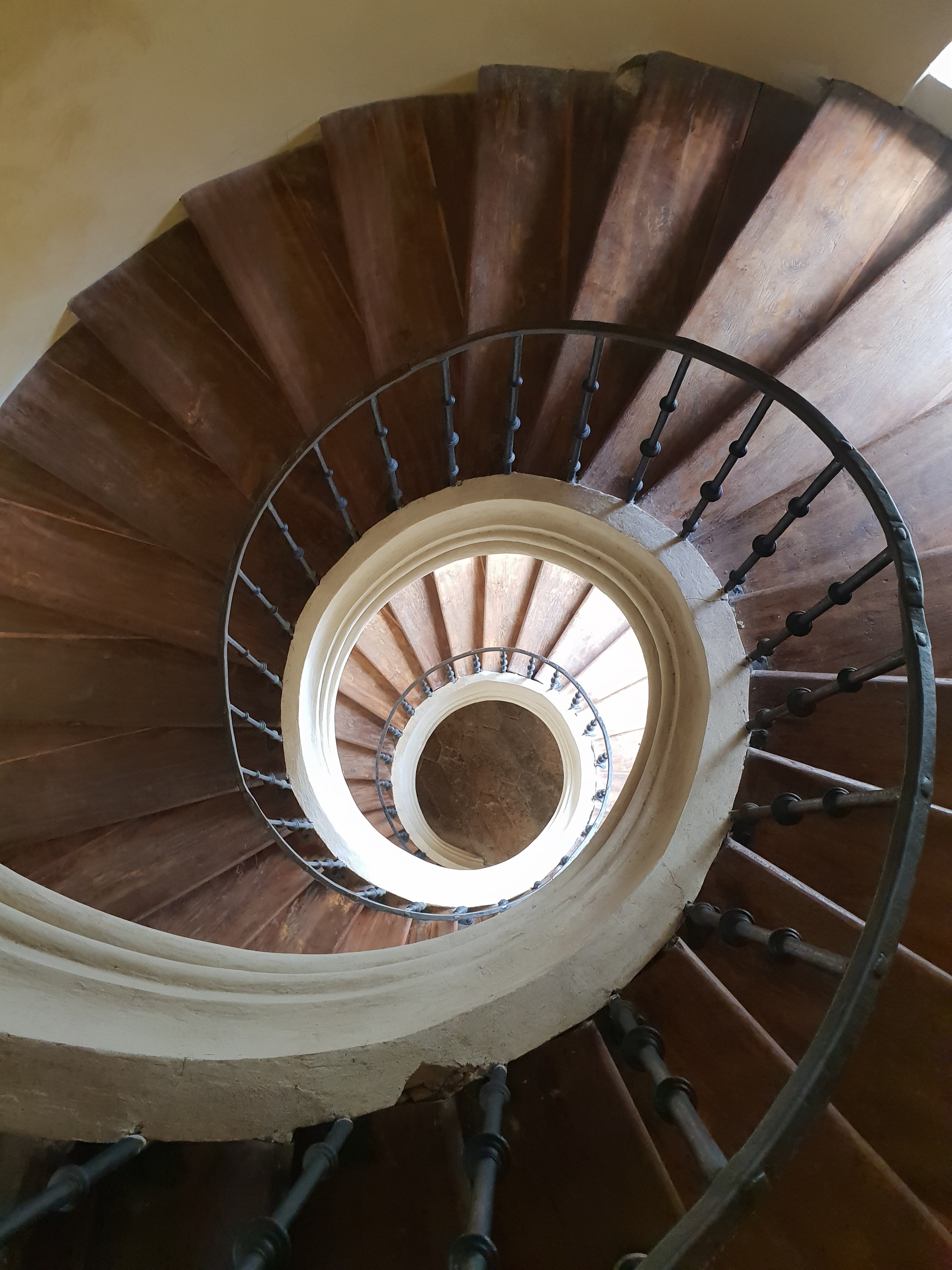 By the way, in the book section, they also sell a book about Islam. See, stop hating and let's unite peeps.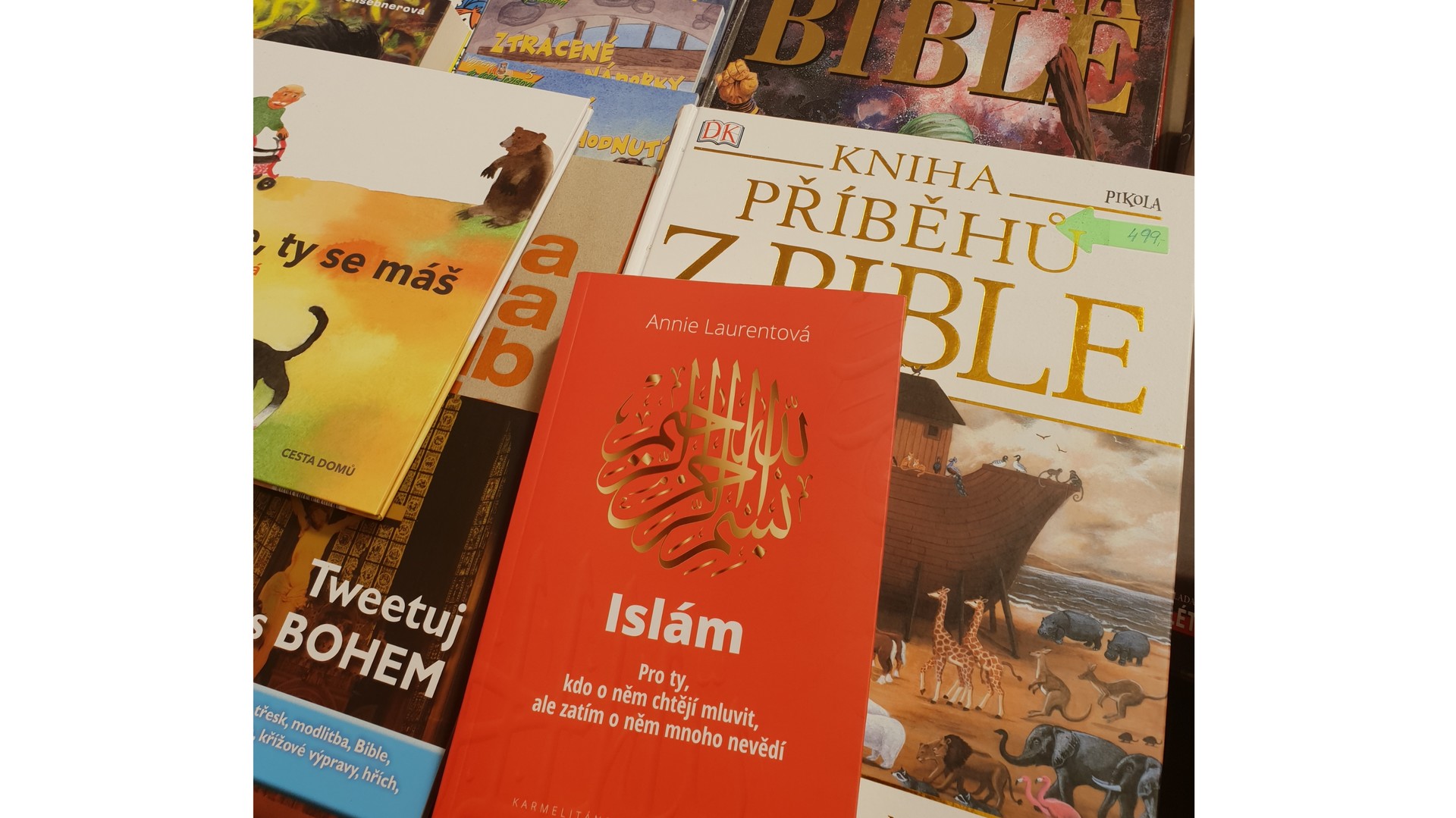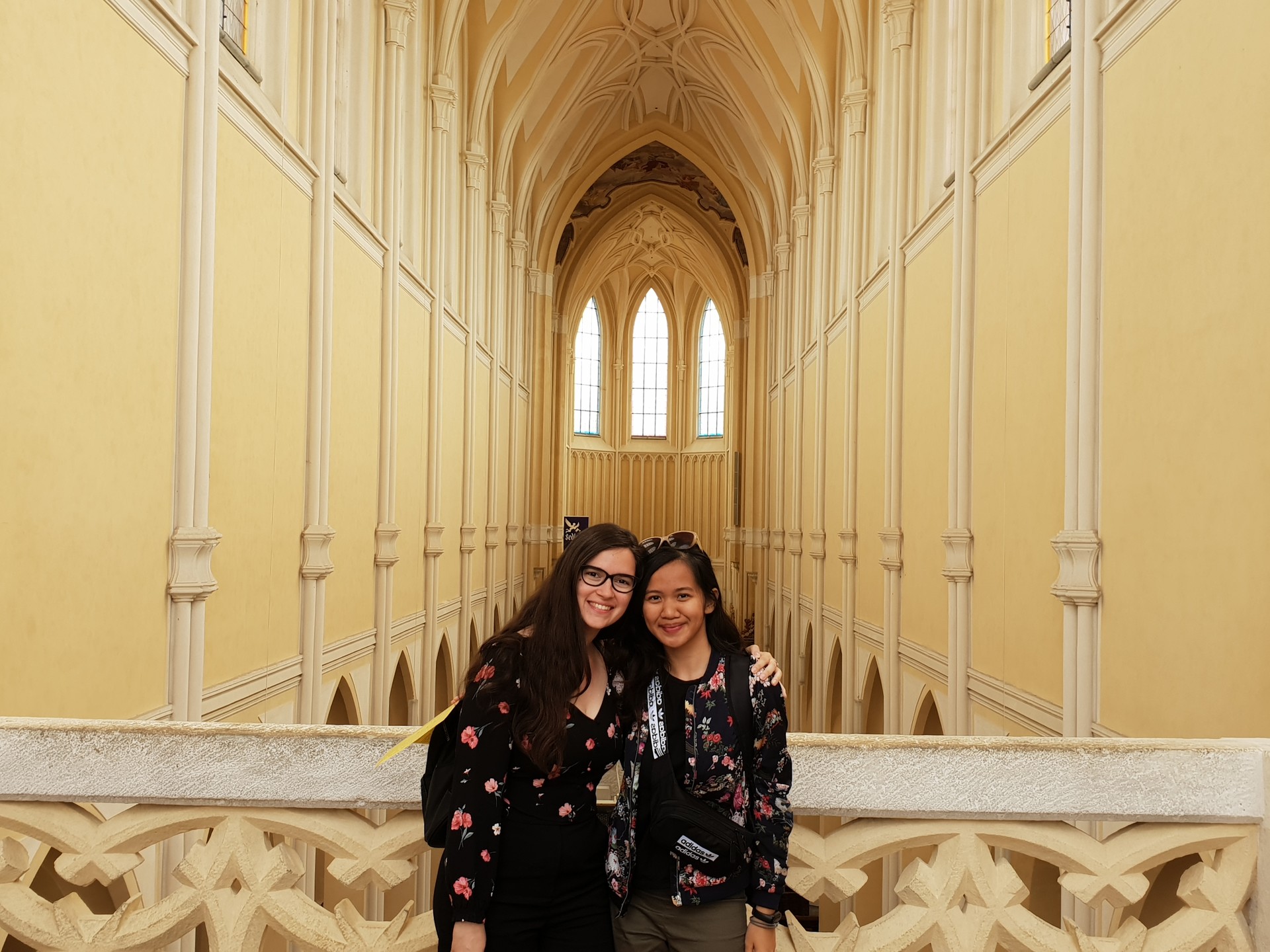 Tobacco Museum and the Monastery 
Well, there was not much to find here unless you book a guided tour to the monastery which is now a tobacco museum. Why? I am not certain, but probably because the buyer of the old monastery was the owner of tobacco industry. So, we just went quick inside and found an exhibition about old cigarettes of Czech Republic from time to time. This is like House of Sampoerna in Surabaya, Indonesia. Unfortunately, we could not find the way to continue to the monastery and based on the map, it should be with authorized guided, group tour. 
However, the whole building is interesting. As a usual monastery type building, it has empy square in the middle.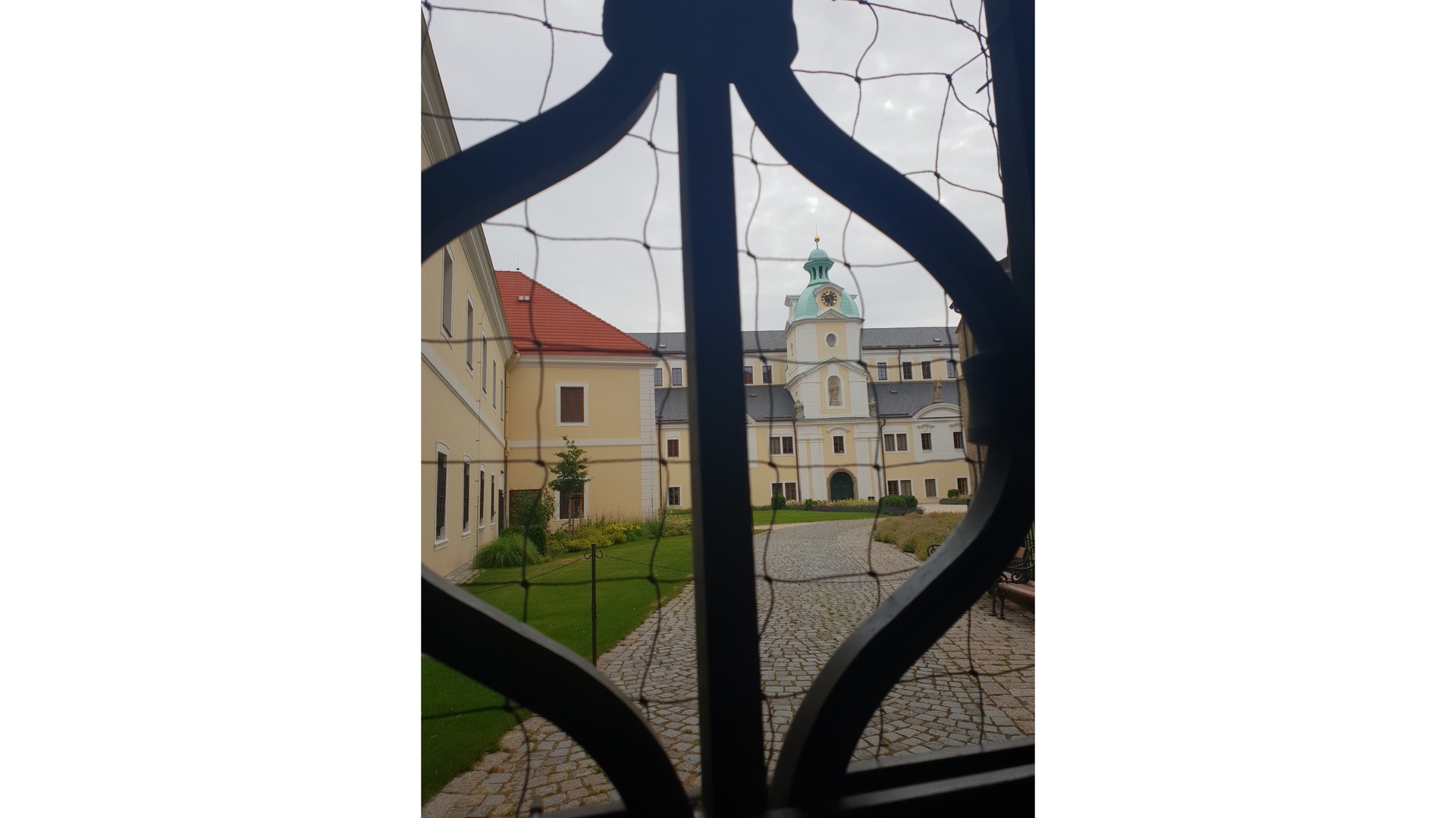 Kutna Hora City Center 
We failed to find the bus stop to city center from tobacco museum so we looked for the train station. It is so hard to find it because it was not an obvious station, but just a stop with a sign hidden within bushes. We almost gave up because of our hunger but Yudha unexpectedly found it and we laughed so hard of this moment. Finally, the little yellow train came and it was only 3 mins to the Kutna Hora mesto stop. We could have just walked haha.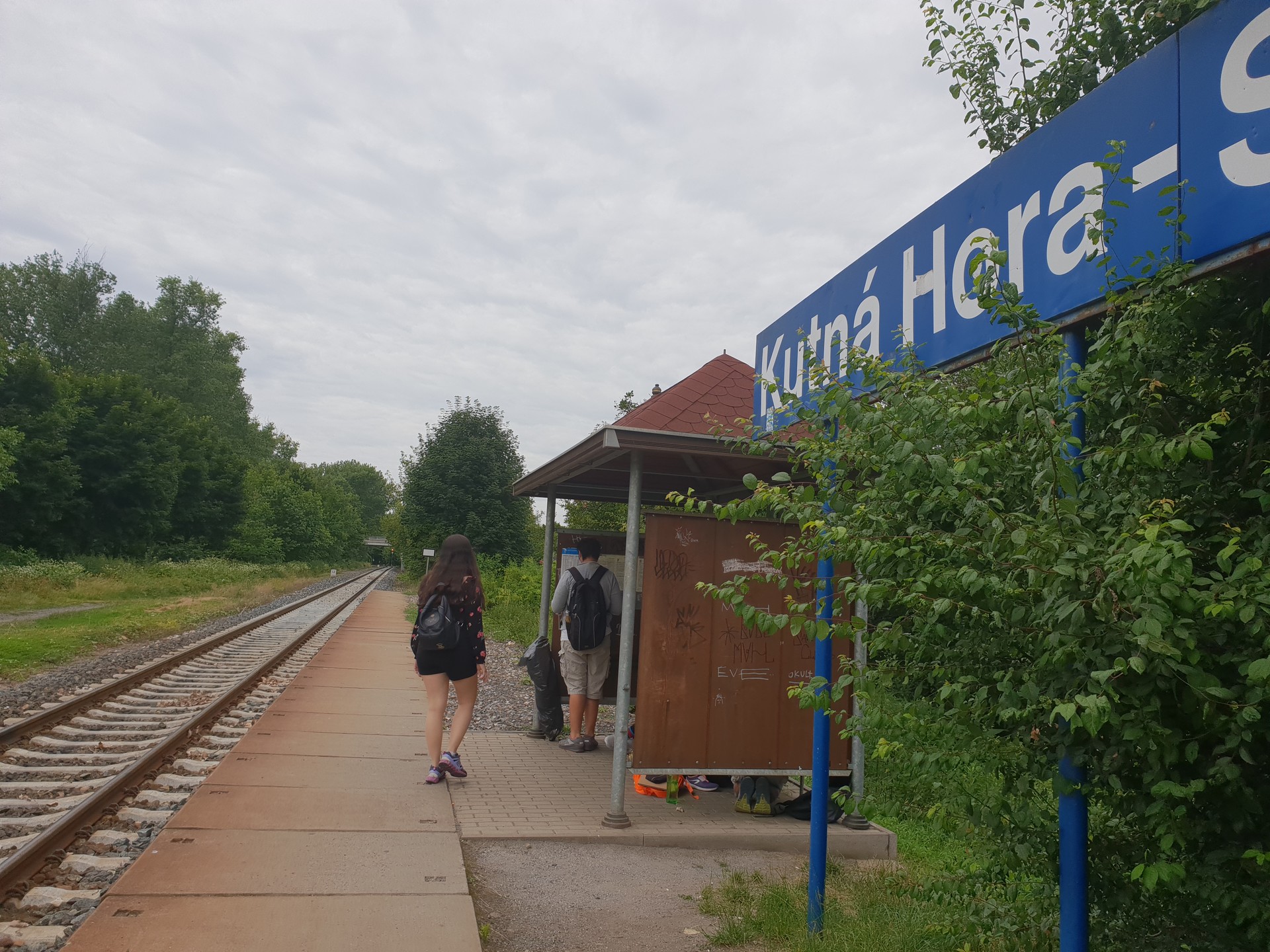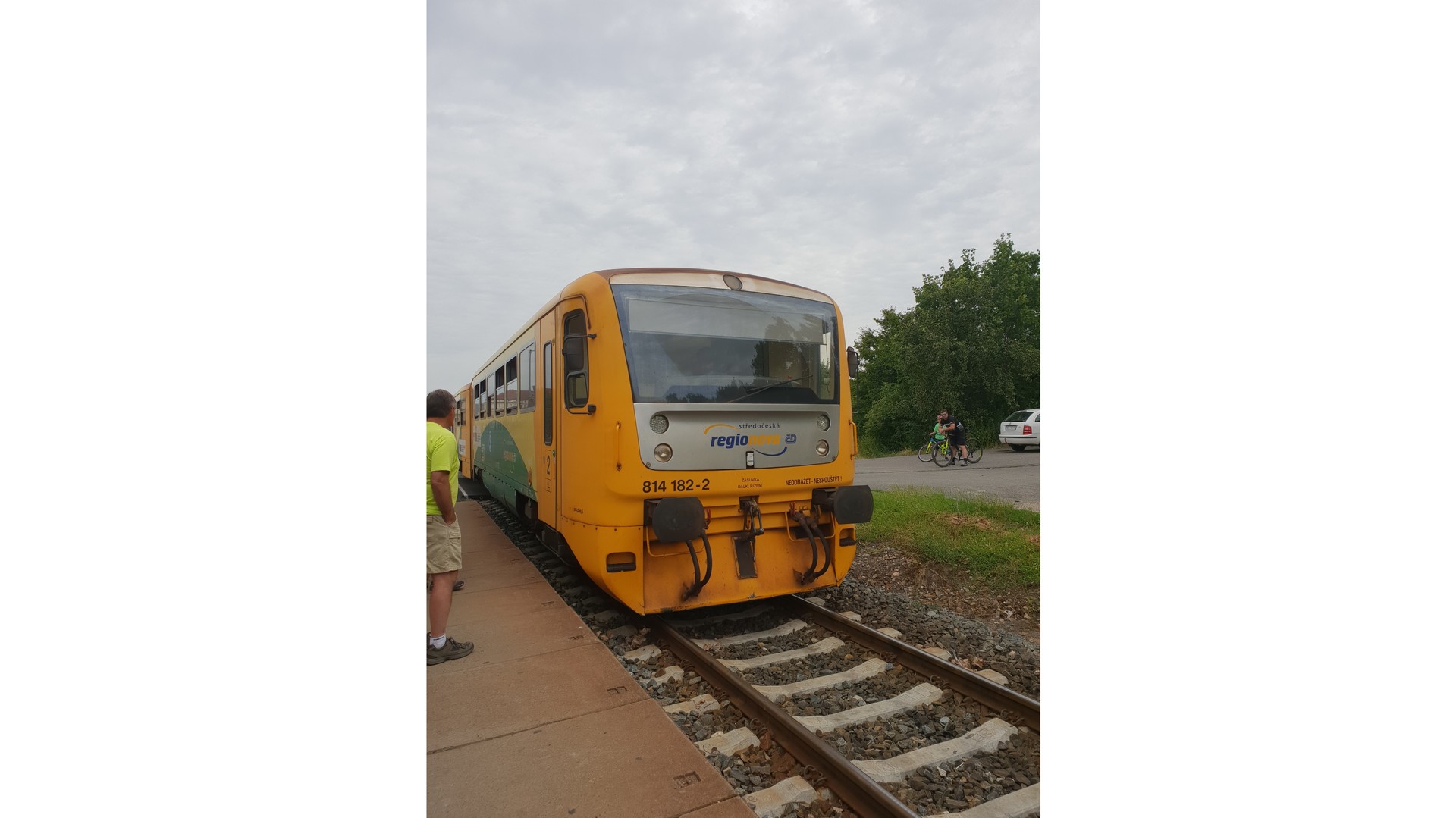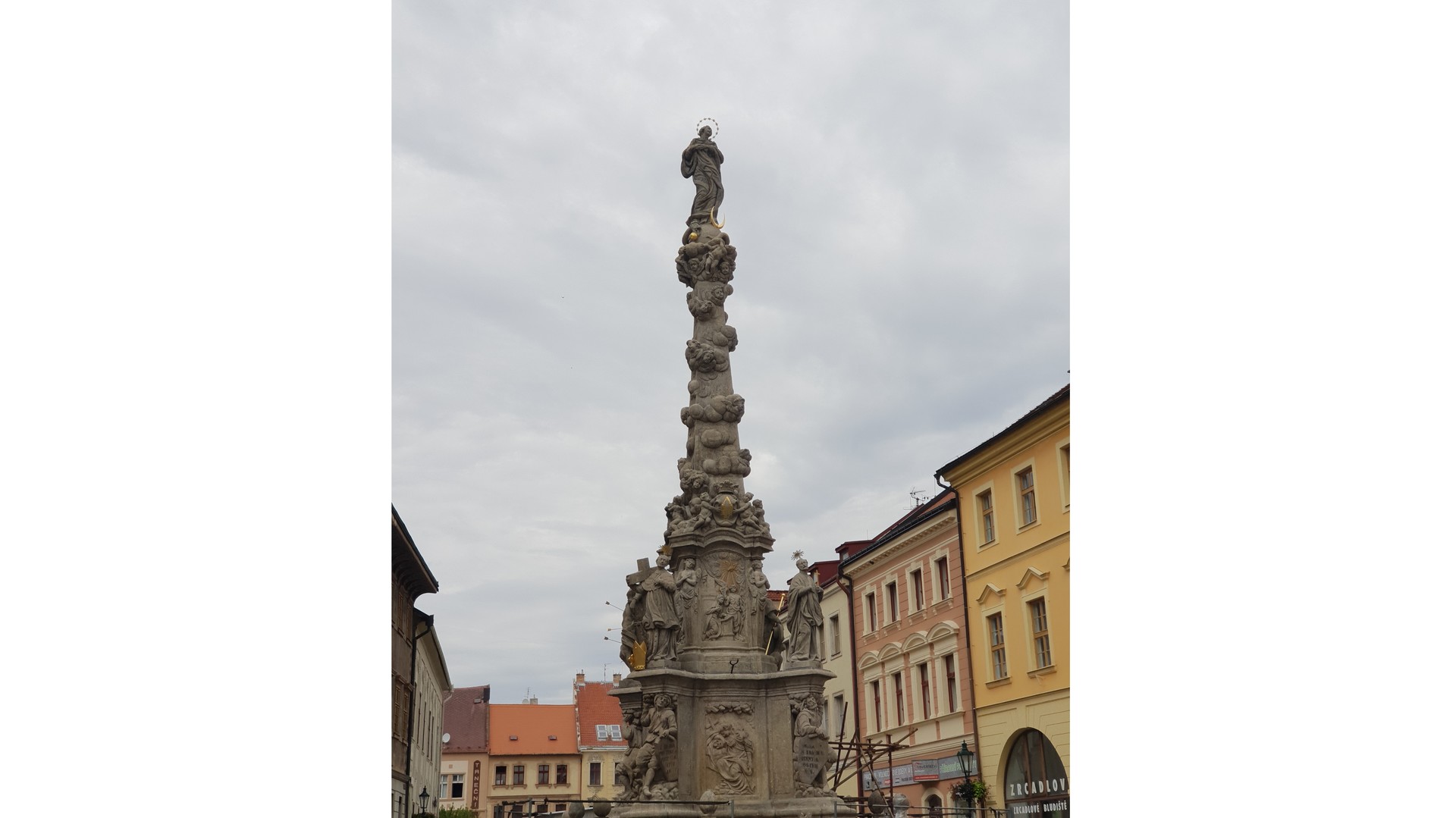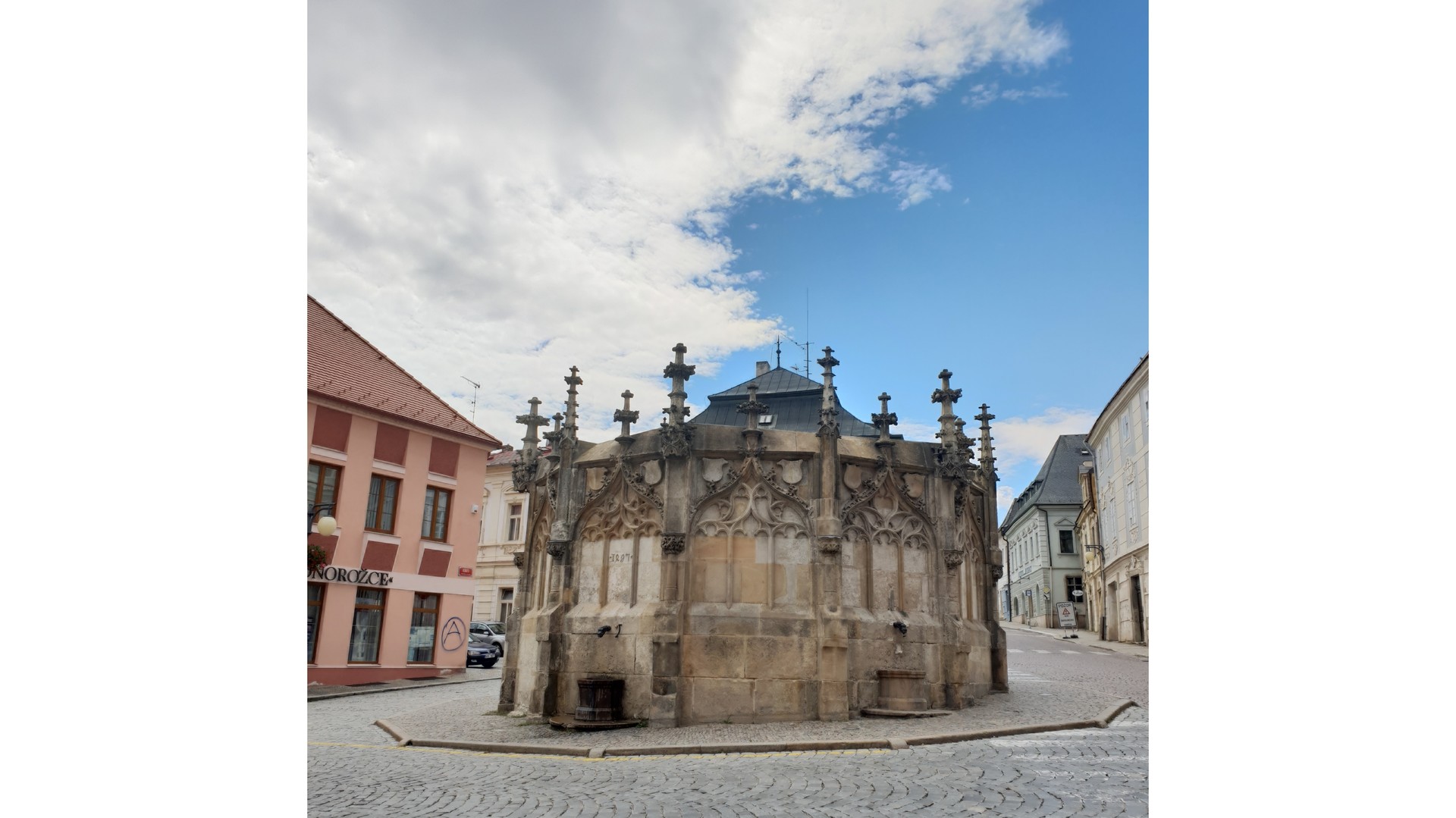 So, we looked for this restaurant also recommended by @realhonestguide : Dacicky! 
It was a beautiful walk to this restaurant and because I never tried pork knuckle so my friends just agreed to order one with side dishes. We also tried the local beer which was too strong for me.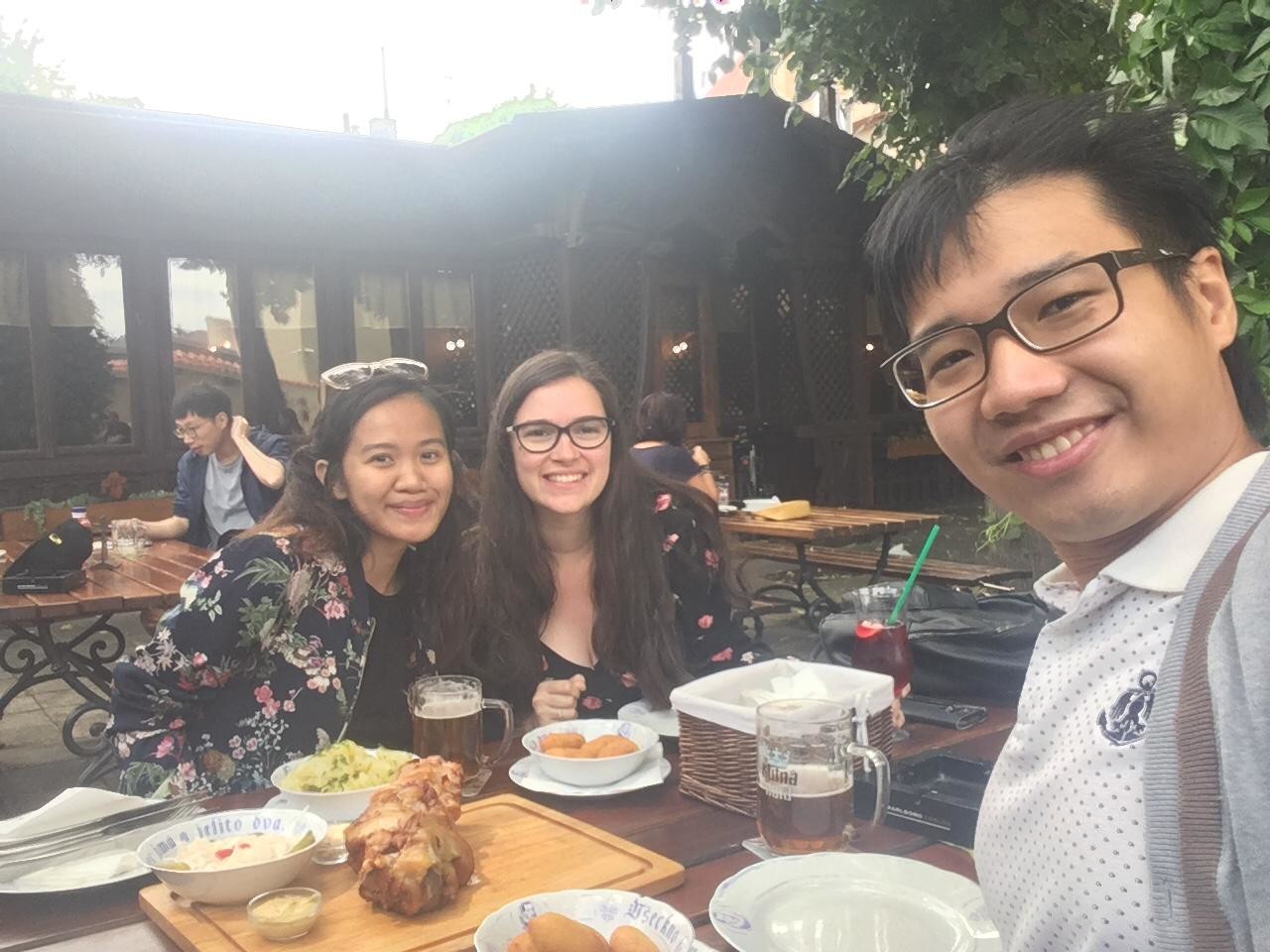 This lunch was the highlight of this day because the place is so hidden yet beautiful with an amazing views of towers. Moreover, the waitress also wore classical dresses and the interior was like an old medieval bar. We chose to sit at the garden side.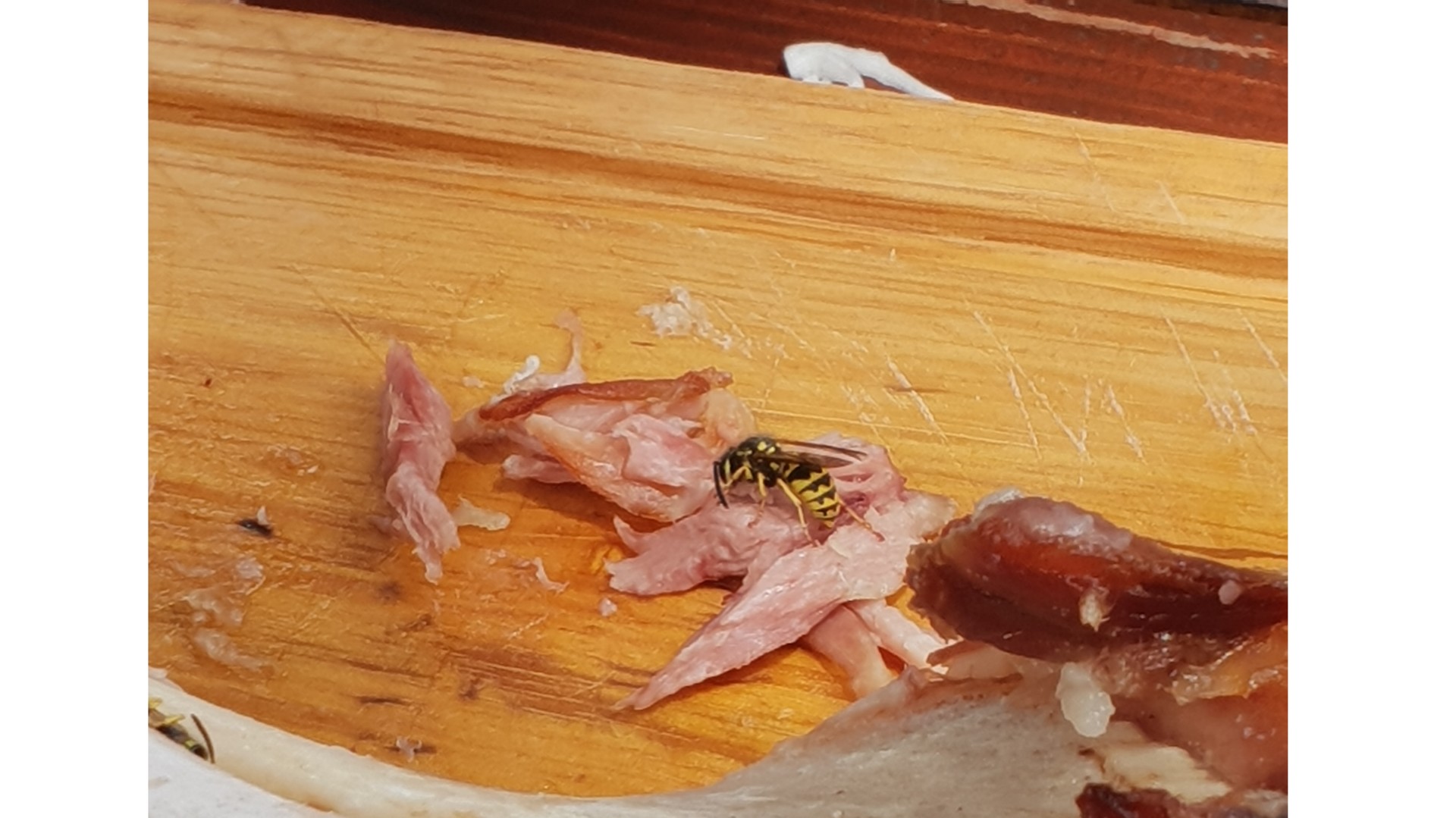 See the bee above ?
Despite the carnivore bees (YES THE BEES ARE LICKING THE BONES ONLY THE DO NOT CARE ABOUT THE JAM), everything was perfect and lovely. 
We spent perhaps 2 hours here and went quickly to the next spot. 
Cathedral Santa Barbara 
We were a little bit lost when trying to find this from Dacicky, but after finding the Jewish school block, really…. 
Cathedral Santa Barbara was our cherry on top!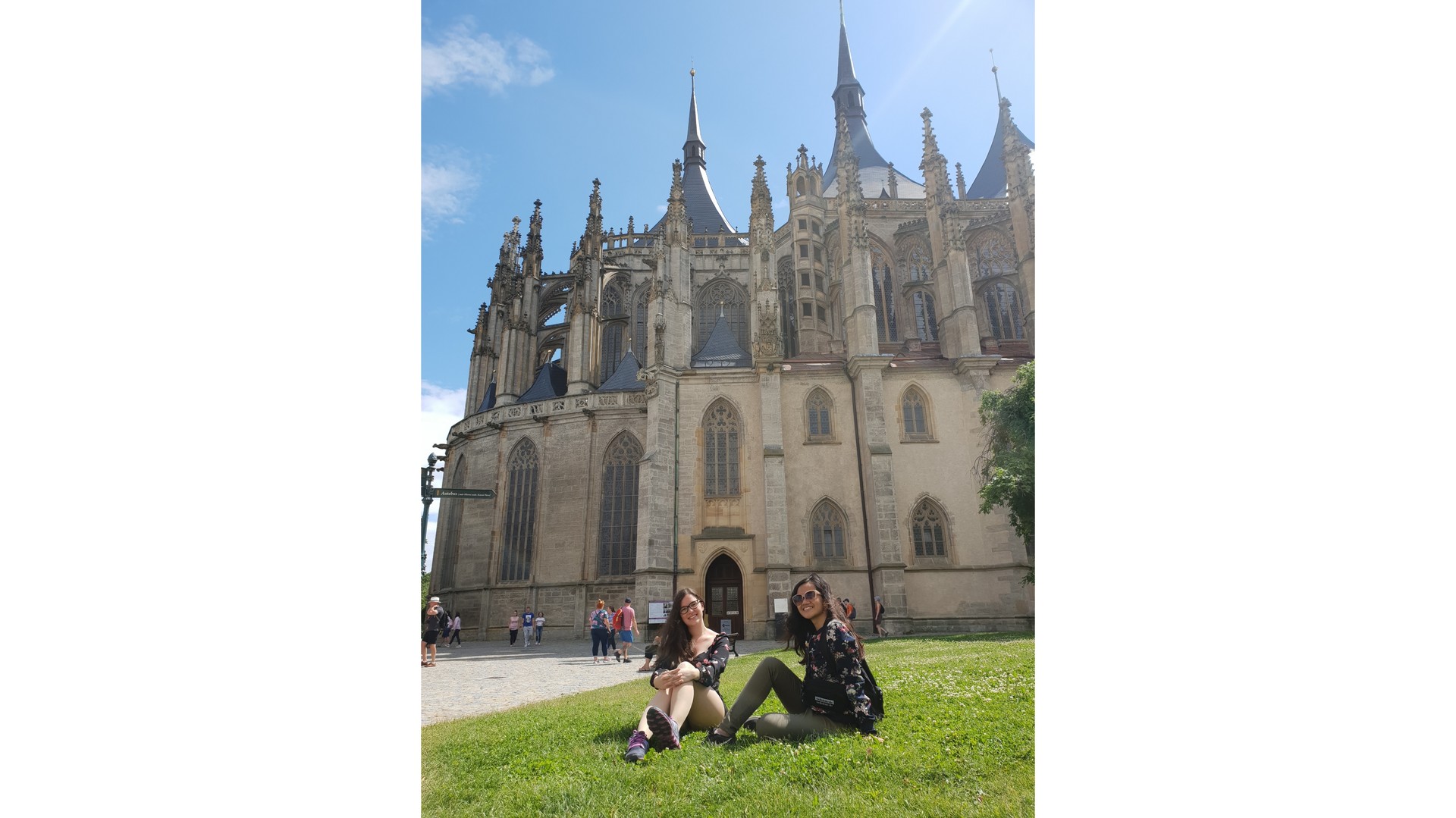 This roman-catholic cathedrale was more breathtaking than the one in youtube videos. 
After taking few photos in front of its meadow-like park, we went inside to this old gigantic beauty. At the beginning I thought, the upper part was like the one in St. Vitus cathedral, Prague. Then I figured out that the 1stdesigner was Jan Parlér, the son of Petr Parlér the designer of St. Vitus cathedral. I am always amazed by how parent and kid can be involved in the same matter of passion. After, the work is continued by other several architects.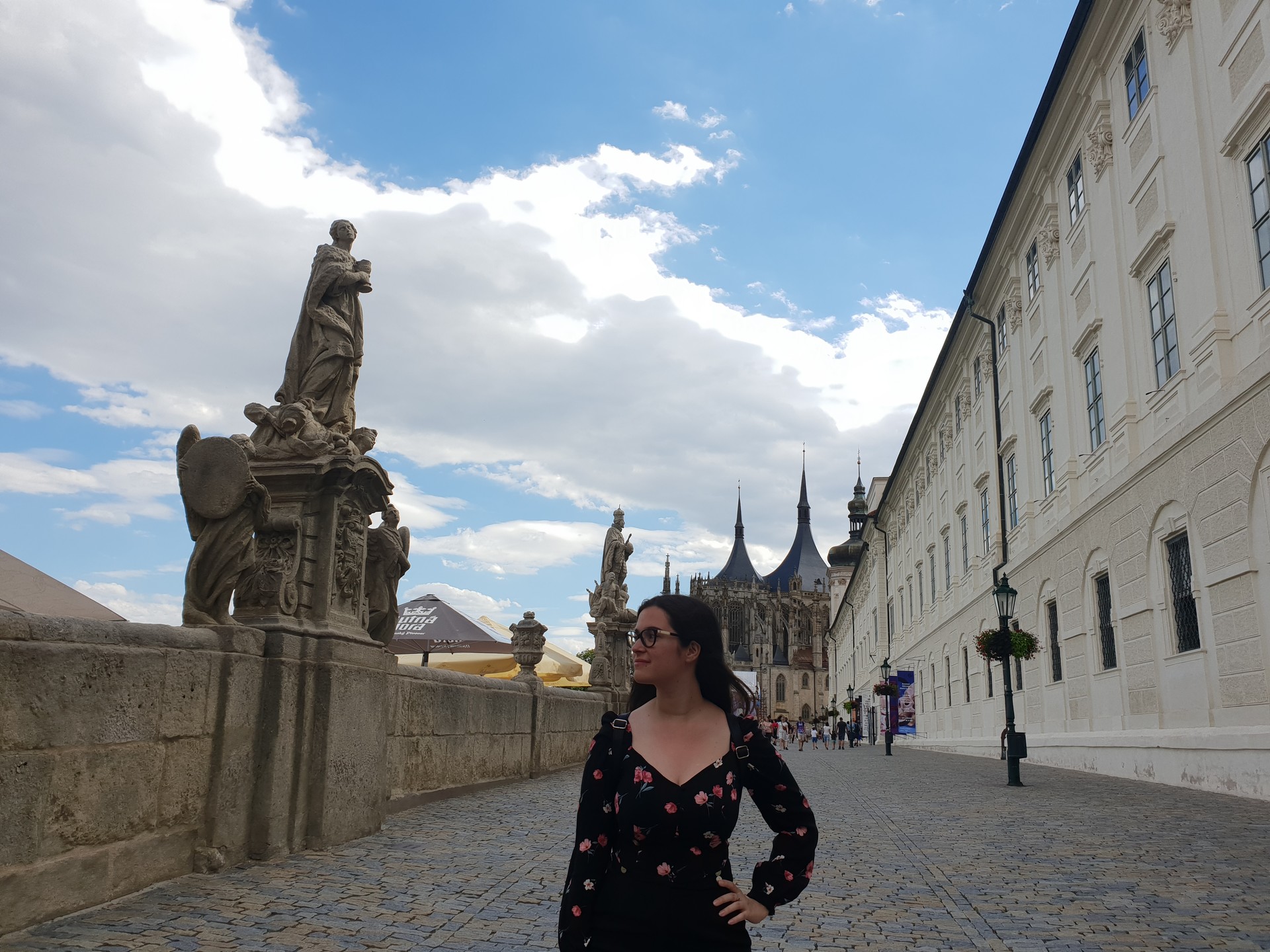 Originally, the cathedral has only 3 naves but then changed into 5-nave building. The stained-glass window paintings are impressive but one of them is exceptional, I forgot who painted that one but this special part was so distinguishable from the others. It was more raw, I would say.
The baroque altars are so high and stunning with different emblem of Czech republic areas I don't know what but they look like Hogwarts houses. We could also take the stairs to see the typical shaped park outside and several explanations about the construction history. Up there, we found out that the angles statue was not originally gold, but wooden painted in gold LI was a bit disappointed by this fact. 
From the window we can see the beautiful curve structure silhouette.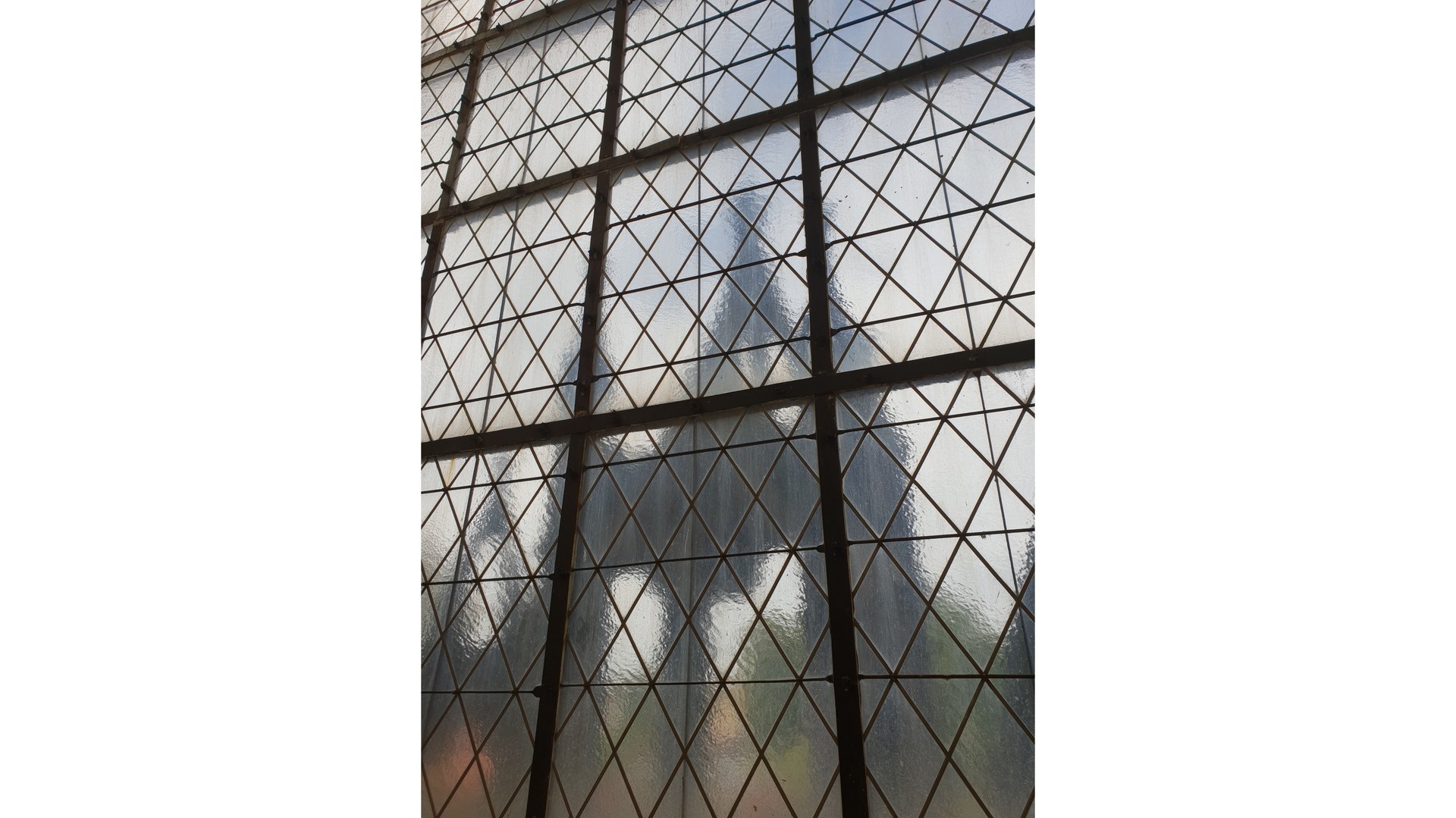 Chapel Boziho Tela
Just in front of the cathedral, there is this chapel (also included in the ticket type we bought). It was surprisingly empty. We needed to go down the stairs to feel and touch the damp atmosphere and natural light from the outside. Going out and climbing its stairs we have a beautiful view of Kutna Hora, the wine yard, the cathedral and the Jewish college. 
The wind breezed softly and the weather was just perfect, not striking hot yet not cloudy and this almost made us forget to go back to Prague.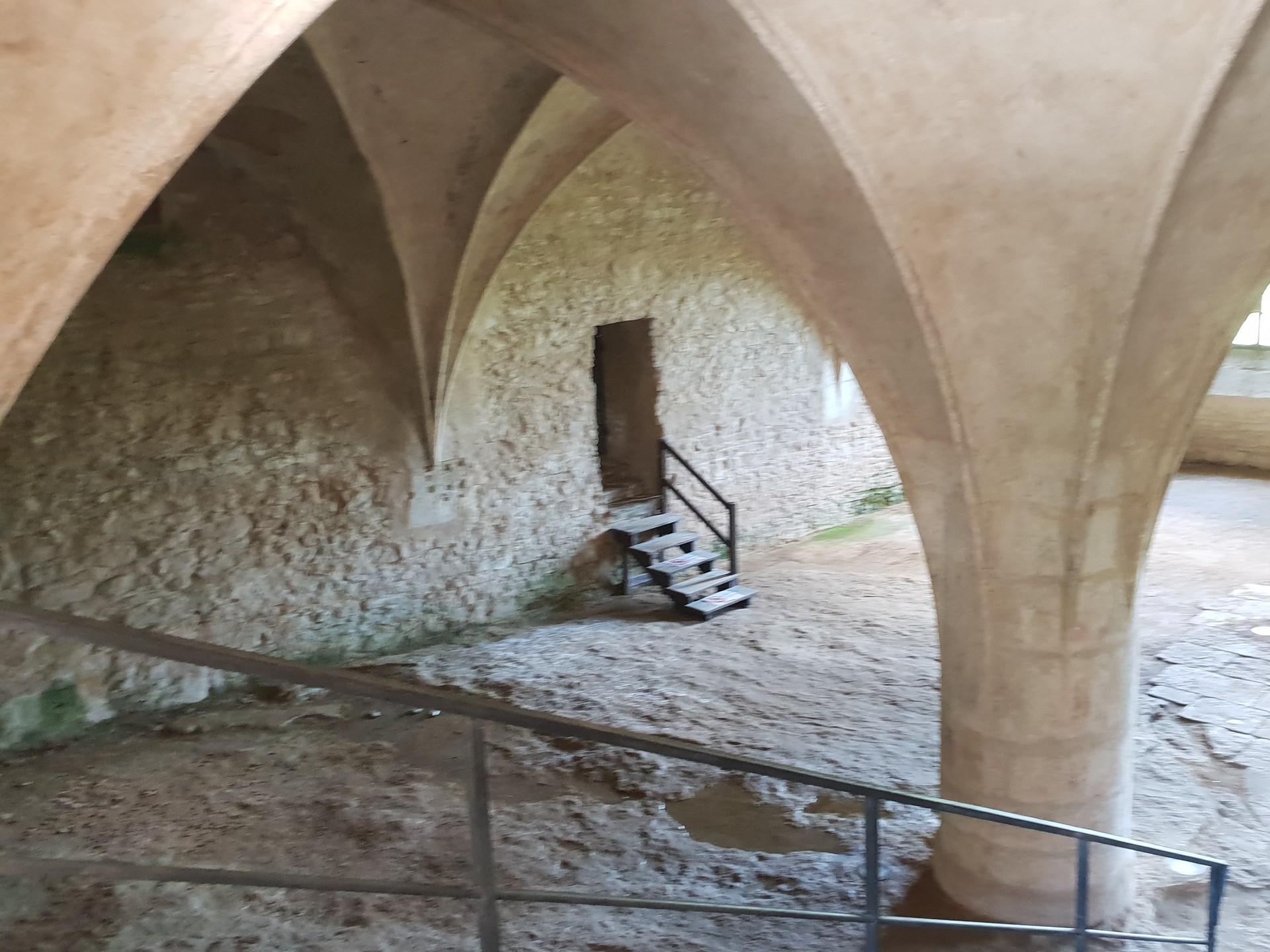 This time finding the bus stop was not difficult but the bus was super slow that we arrived just 2 minutes before the train arrived. We ran like crazy. This was my first sport in few passing months. It was raining in our way home to Prague. We were so lucky that it was not raining during our walk. And by the way, the train was super crowded until the point people started to stand up in the corridor. I mean, how come ? Maybe these people did not know if we can also book the seat numbers.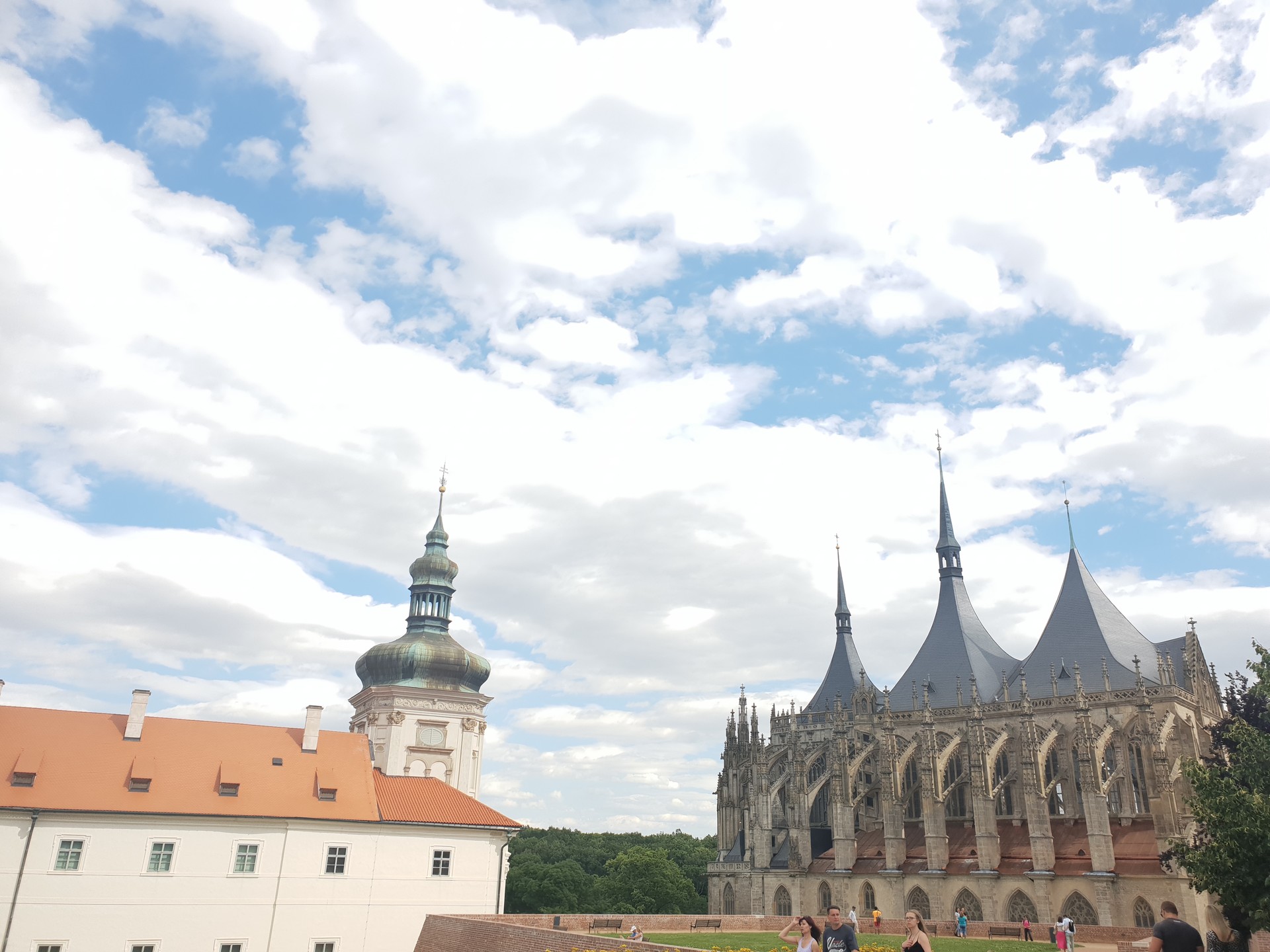 Dekujeme, Kutna Hora! It was a terrific cultural experience with favorite friends of mine: Mariana from Brazil and Yudha from Indonesia.
P.S. the beers are so cheap here! If you want to explore more than those 3 spots I mentioned, you need at least 2 days to do it! I am sure around the city center there are so many undiscovered places!
---
This content has been entered in the Erasmus Travellers Competition and have earned 1375 points.
10197 chars (1019 points)
100 views (300 points)
25 photos (50 points)
This competition was made possible by: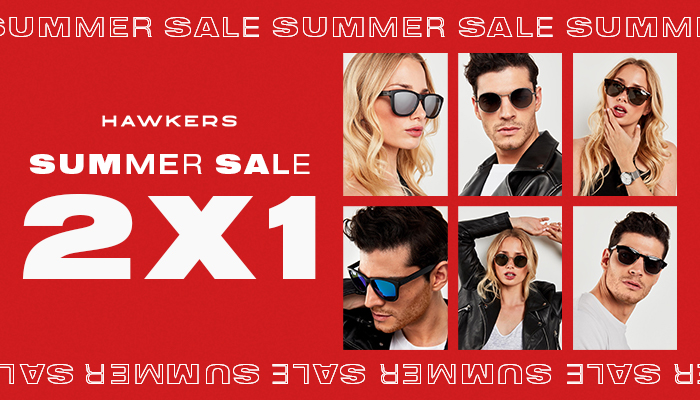 ---
Photo gallery
---
Want to have your own Erasmus blog?
If you are experiencing living abroad, you're an avid traveller or want to promote the city where you live... create your own blog and share your adventures!
I want to create my Erasmus blog! →