Japan part 1: Tokyo
Going to Japan was one of my main goals, at that time it was still very ambitious to go to Japan using my own savings. Why Japan ? One day my mom said Japan will really suit me and my life style which tends to be organized and kind of clean. Some friends and instagram influencers also seemed so happy there. 
At first, I was very ambitious to join this winter course where we had Japanese tutoring courses, but because my parents urged me to have a proper vacation together while there was an opportunity and to put aside academic impressions for once in a while, I finally withdrew the program (besides the fact that I did not pass the N5 exam with 6 points less, even though the lesson took a whole damn year). 
Day 1 
Surabaya-Hongkong-Tokyo
So at first I was nervous when I was about to leave because this was a self-tour. But  I found this super helpful website: http://www.japan-guide.com/e/e2164.html from which printed everything very neatly and complete with transport lines and maps, in case we get lost and there will be no internet (okay, I was overly anxious at that time, this was in 2017). I arranged the plan documents in order according to the day I want to go, so that time and energy are effective. 
When I arrived at the airport, it turned out that all my printed things were not carried by my dad... Luckily I still remembered the major outline. We flew with Cathay Pacific, got a ticket price of 650 USD PP per person.
Before Tokyo we had a transit in Hong Kong for two hours, I didn't remember we ate anything there, I think we immediately looked for the gate and had to take the shuttle train. The airport interior was nice, the ceiling was so well designed, and the waiting chairs were light purple with a modern Oriental style. 
As I remembered, the food on the plane was fine, I spent my hours watching movies which didn't remember and listened to Japanese music. The Surabaya-Hong Kong trip takes 4.5 hours. Hong Kong to Tokyo takes 4 hours.
We headed to Ginza by bus for about 1.5 hours. At that time it was 9 pm that night. Arriving at the bus stop we took a taxi looking for a hotel that had been booked. At that time, it's been 4 years since I felt the temperature below 5 degrees, the wind literally pierced my bones. Why did we choose Ginza? Because it is located in the middle of the city and is a famous shopping center area that could not be missed. Branded outlets in Ginza are tend to be upper-class ones. 
We stayed at the Monterey Ginza Hotel, not so modern and not so old school. I managed to speak Japanese to the taxi driver. 
"Koko desu" means here. 
Hotel accommodations for us was 2 million rupiah (180 eur) per night for 3 persons, if converted, at that time the class was like 4 stars. The cool thing is that all hotels in Japan always provide super complete and branded toiletries.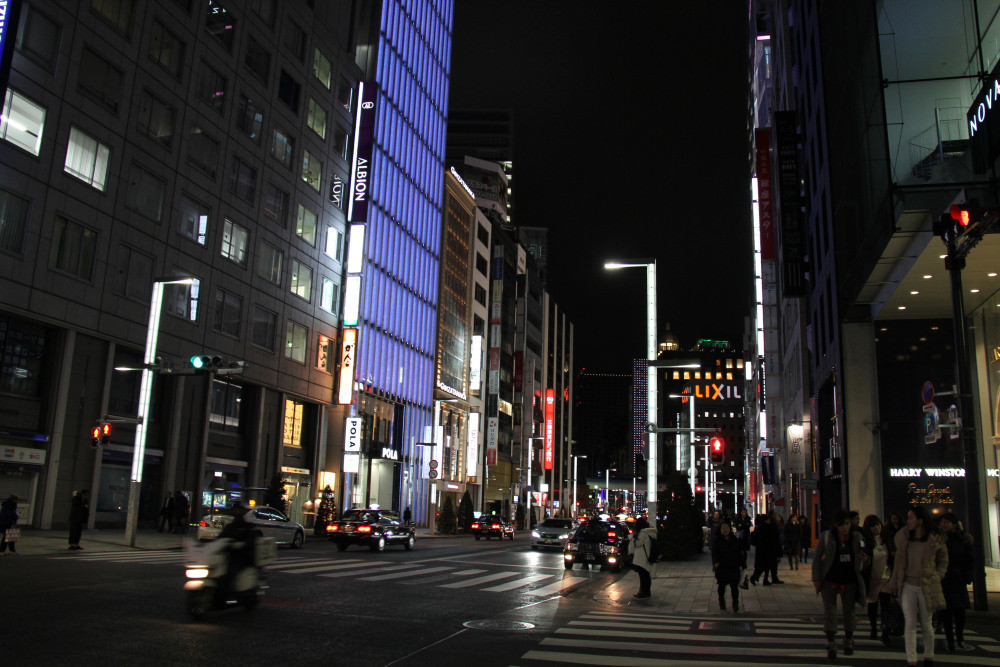 Day 2
Asakusa - Harajuku - Tokyo Cruise - Odaiba 
It only took 10 minutes to find the nearest subway station from our hotel. The lighting was really good that morning.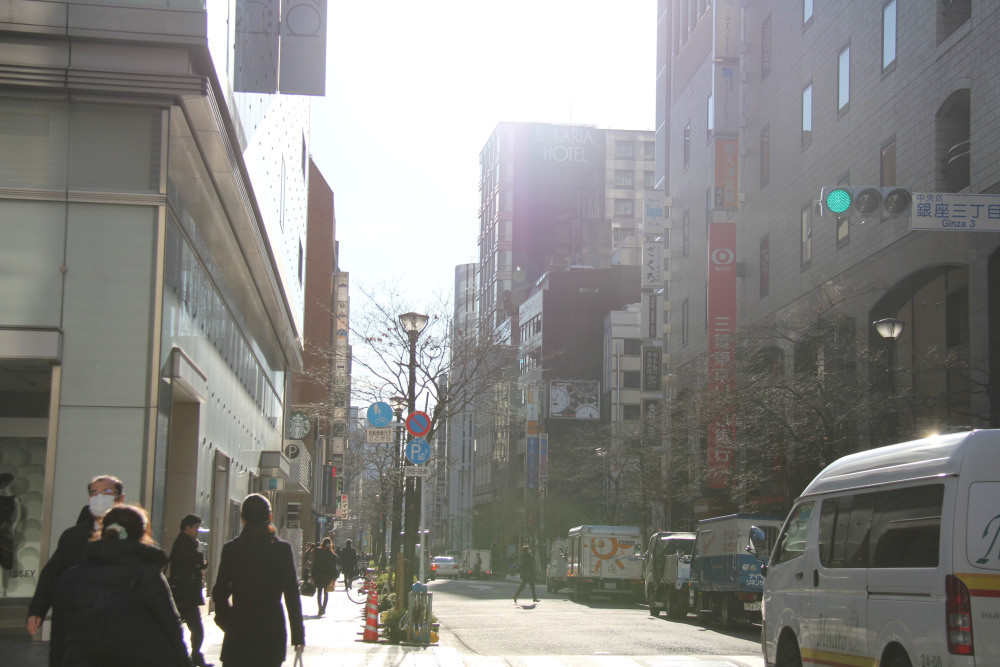 Here people do walk really fast. I learned the metro route that really looked massive and complicated yet at the end managed to find how to get to Asakusa. 
The subway was so clean and there were these radiators below the seats so it would warm your bottom part. People were mostly so quiet and busy reading books in the public transportation. 
Our first restaurant had this system that you need to choose your menu based on replicas in the window, see the price and number, then order it in a vending machine. It was an interesting way of ordering: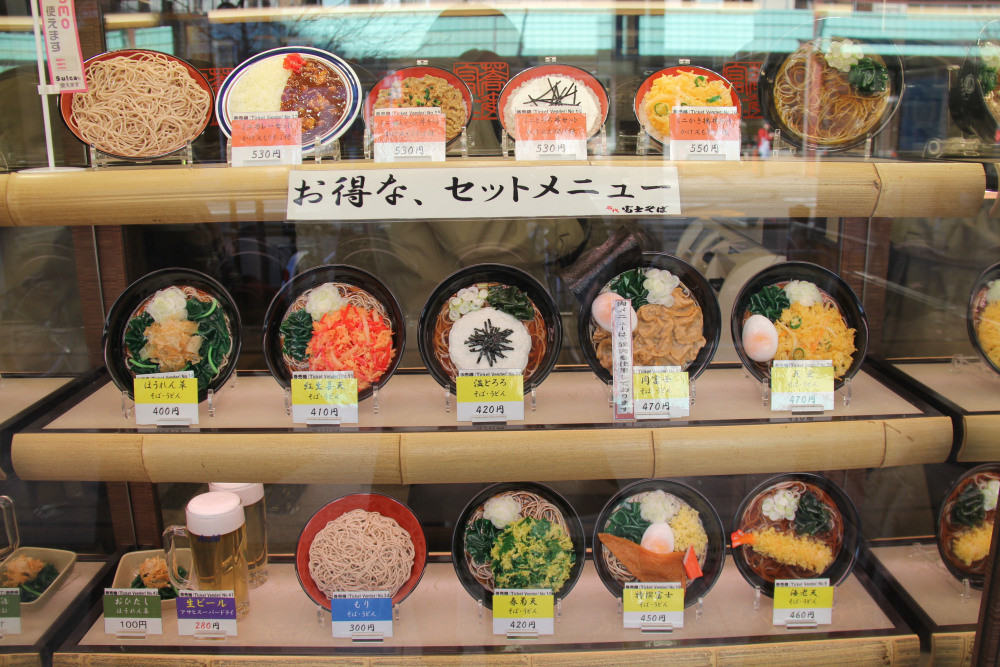 After eating, we follow the sign to Sensoji Temple and passed through interesting souvenir market. There were so many school children going on an excursion to Asakusa. Once we arrived we were welcomed with The Famous Kaminari Gate, took a photo several times and entered the Sensoji and Asakusa Temple that were built in the Edo period. The sun and the snow melt were really good at that time: a perfect time to have a great photo.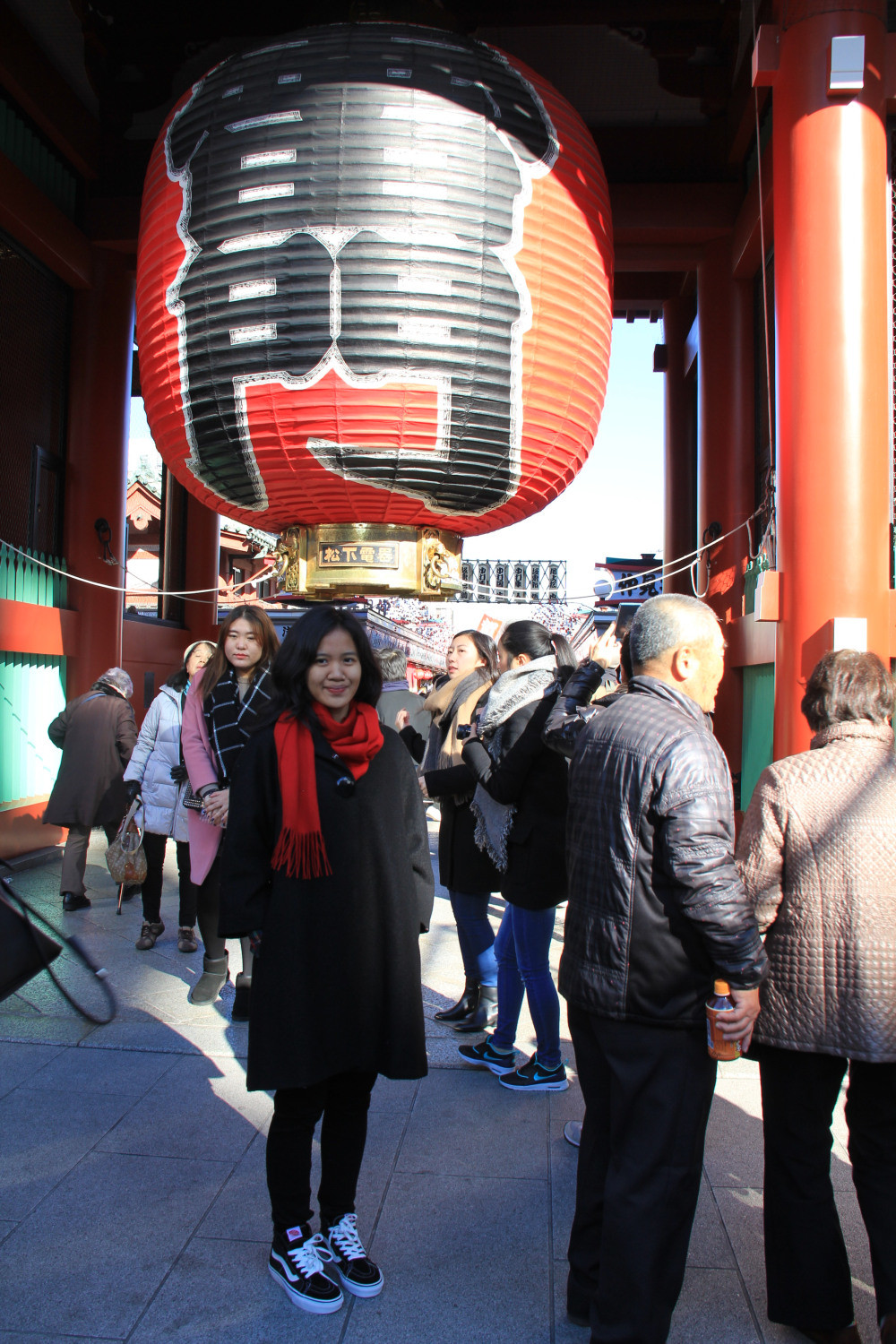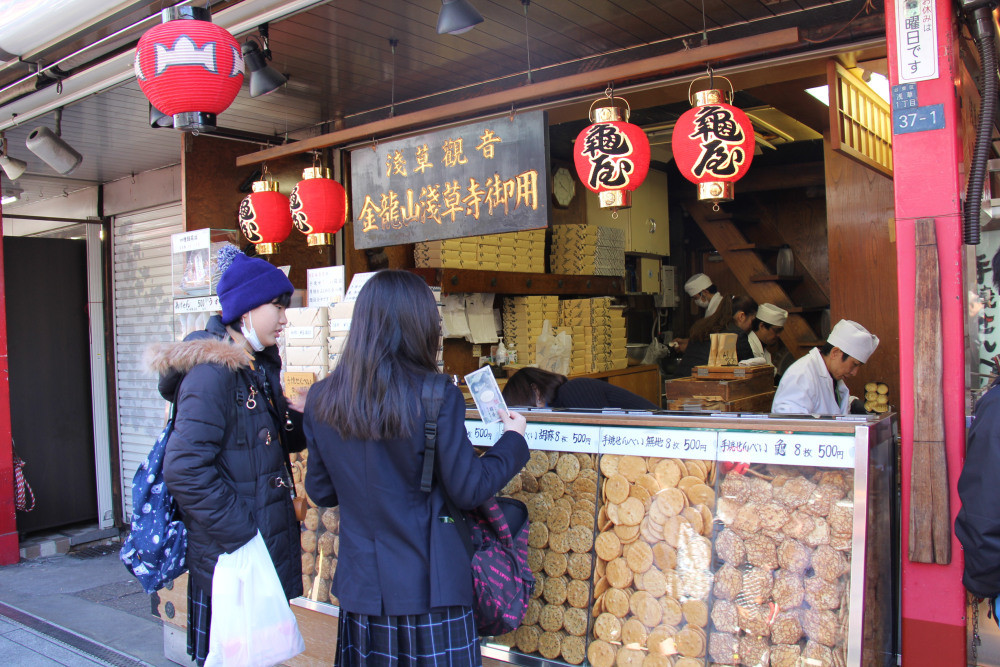 After Kaminari Gate we will go through a souvenir shop and street foods: Namikase Shopping Street. Nothing is too unique, so we did not buy anything and went straight to Temple.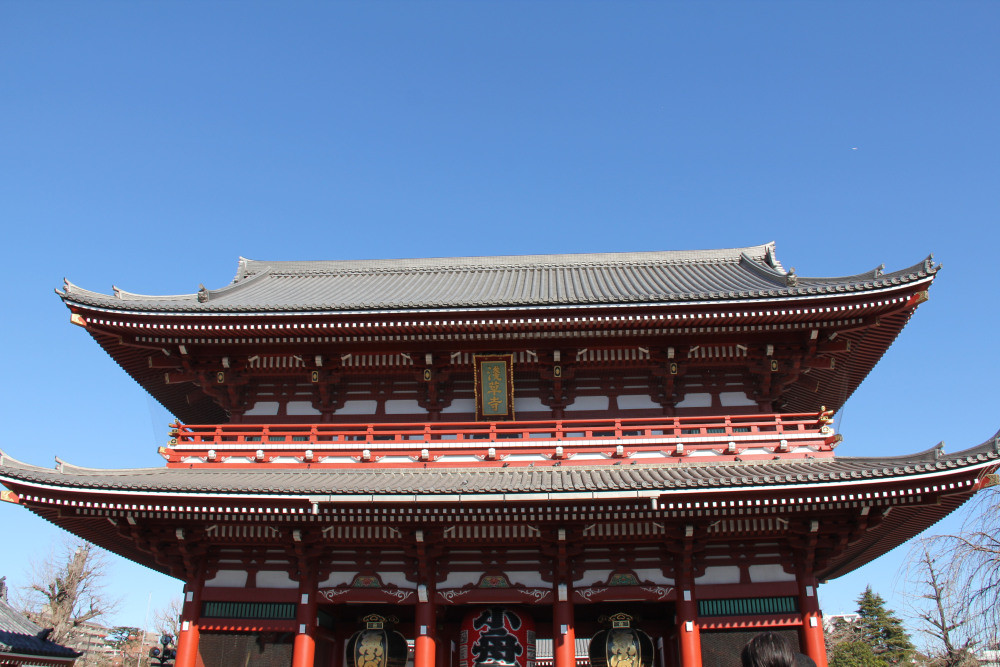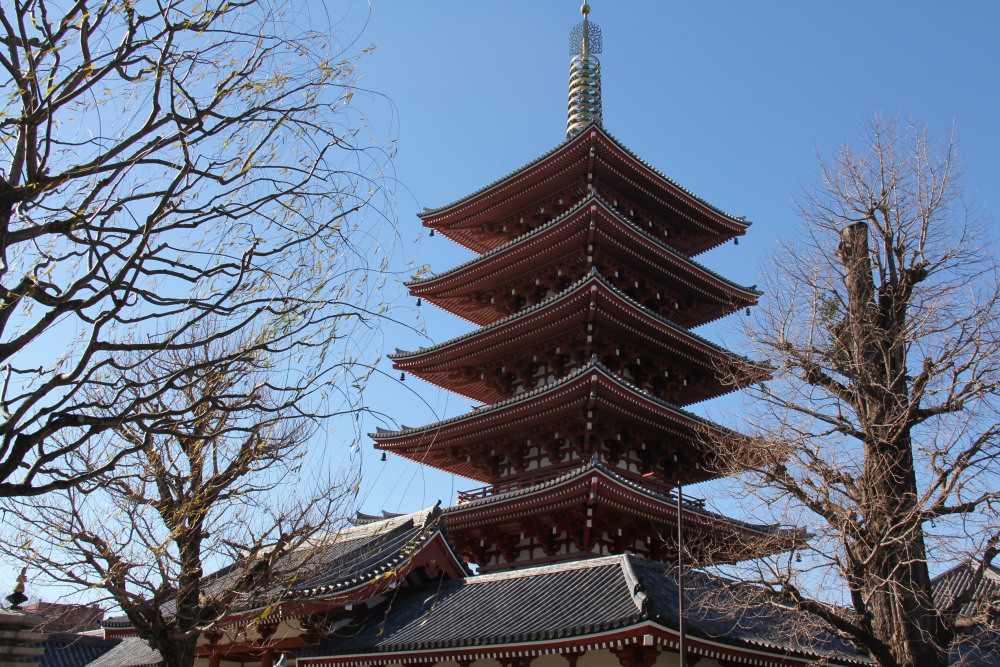 There were many junior high school students who are excited about buying street food. In the temple area, some people wrote prayers on paper at a price of 100 yen and put them in small drawers. After enjoying the scenery for about 20 minutes we followed the other side of the market and headed to Tokyo Cruise. We needed to wait for 2 hours so we went to Harajuku area first. 
We then went to the subway and headed to Harajuku. I've searched for some spots near Harajuku, and there was this Meiji Shrine and it seemed good. I was not really interested in Harajuku. A crowded alley it was, but there weren't many people who wore eccentric clothes like I expected. The Meiji Shrine was built for Emperor Meiji which is famous for the Meiji Restoration which brought modernization to Japan. At the entrance there was a traditional street magician which was really entertaining. It is true that the long struggle made us a lot happier when we found what was hidden inside it. In my opinion, Meiji is a good one with different aura and more mystical atmosphere. Maybe it's because the color of the wood is dark like the dominant Asakusa in red. Many rolls of paper and wood are hung on the prayer boards. There was also traditional wedding ceremony went on inside. 
We then rushed to the Tokyo Cruise and seriously, the river was very clean. The cruise had two floors. The main area is the seats along the window on the left and right side of the ship and several round chairs in the middle. There was a quite fancy bar too. The price was around 1500 yen per person, it's ok for 1 hour enjoying the river, skycrappers, Tokyo skytree, and seagulls flying on the way to Odaiba. Definetely a must-try cruise. 
When it ended, the crews made a line to said good bye to you. Their uniforms were nice like a pilot but completely white. The view at the port was really amazing. Along the river bank it had a lot of people playing with dogs. There was this Rainbow Bridge to have the best point of view of the river. We then went to Aqua City Mall and had a nice take-away dinner from Matsuya Ginza.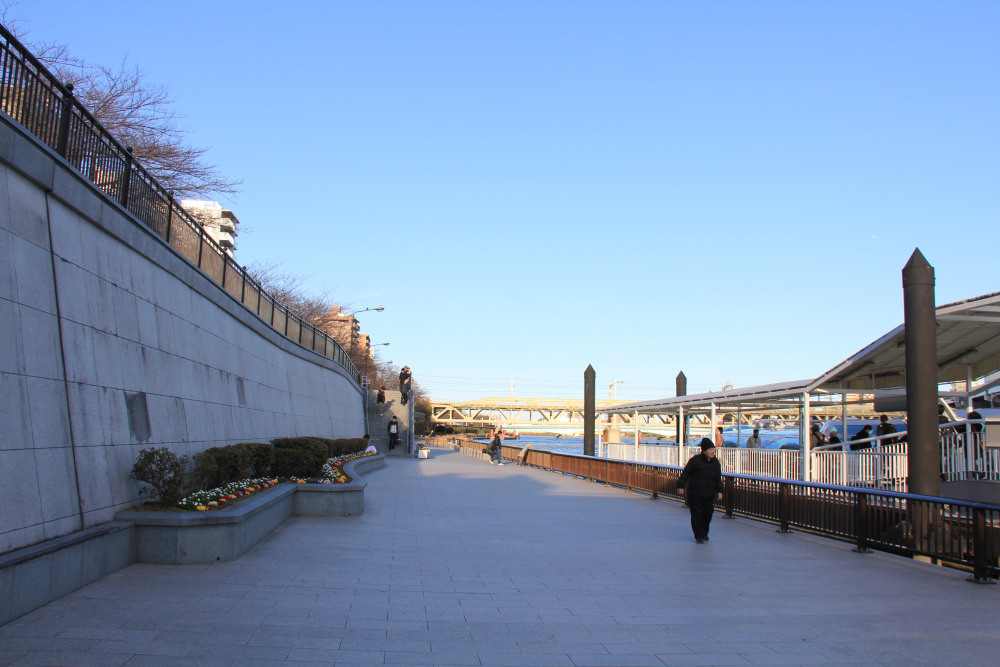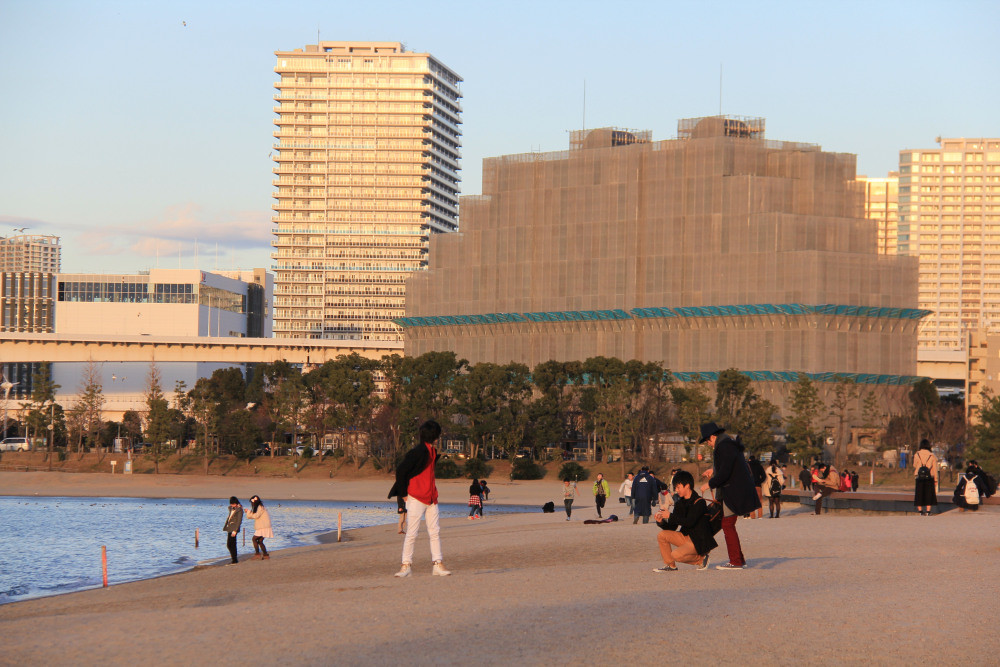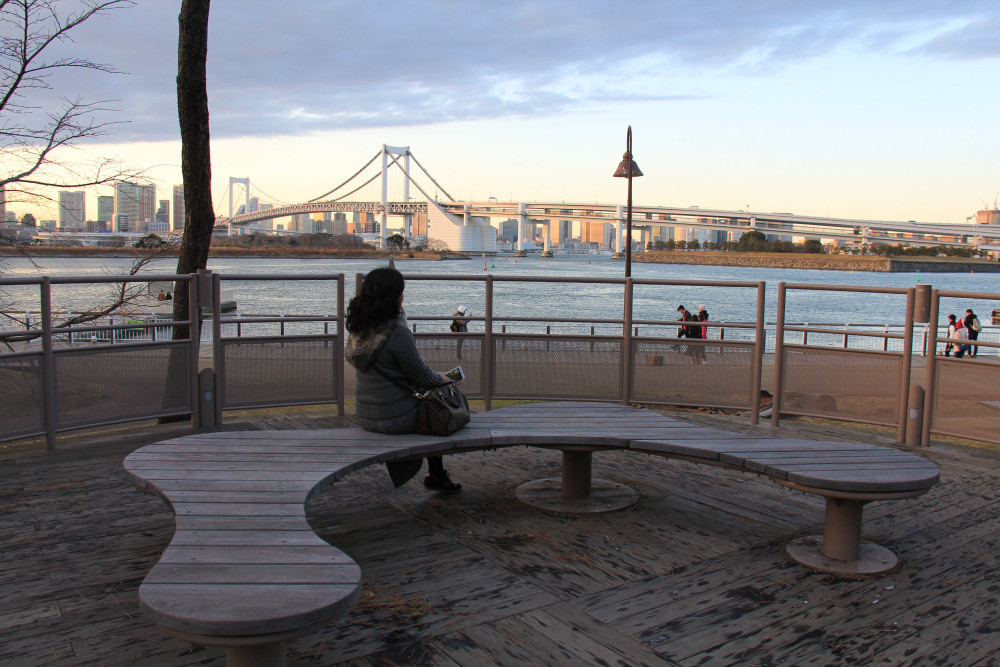 ---
Photo gallery
---
Want to have your own Erasmus blog?
If you are experiencing living abroad, you're an avid traveller or want to promote the city where you live... create your own blog and share your adventures!
I want to create my Erasmus blog! →