C'est bien Paris!
It was my third day in Paris and I felt only 20% better but the show must go on. I have planned to go to Sacre Cœur Cathedral because I regret not going there in 2012. I did not even know about this spot before seeing my friend's photograph. However, the track was easier if we go to Jardin de Luxembourg which means Garden od Luxembourg. I know this spot from indonesian selebgram post: Ruben Onsu. He took a wonderful family photo there, so I was suddenly ambitious to go here. I know it is such a lame reason. 
We took RER B simply to Luxembourg and walk like 10 minutes to the backside of the garden. Lots of people went jogging, walking their dogs or baby's chariot. I even found people meditate and reciting mantra between the trees. This Garden is basically a palace, with a huge flowerbed and of course the famous circular basin. I thought it was all, but they have this amazing tree-line promenades with super proportional trimmed giant trees as its column.
You can feel the atmosphere is super contrast with its outer surroundings. Even the air is different. It has the aura of Eden garden eventhough I has never been into the Bible. Forgive my jokes, please. I remember the book Monk that sells his ferari about our mind depicted as garden, I would be happy to choose Jardin de Luxembourg as my garden of mind.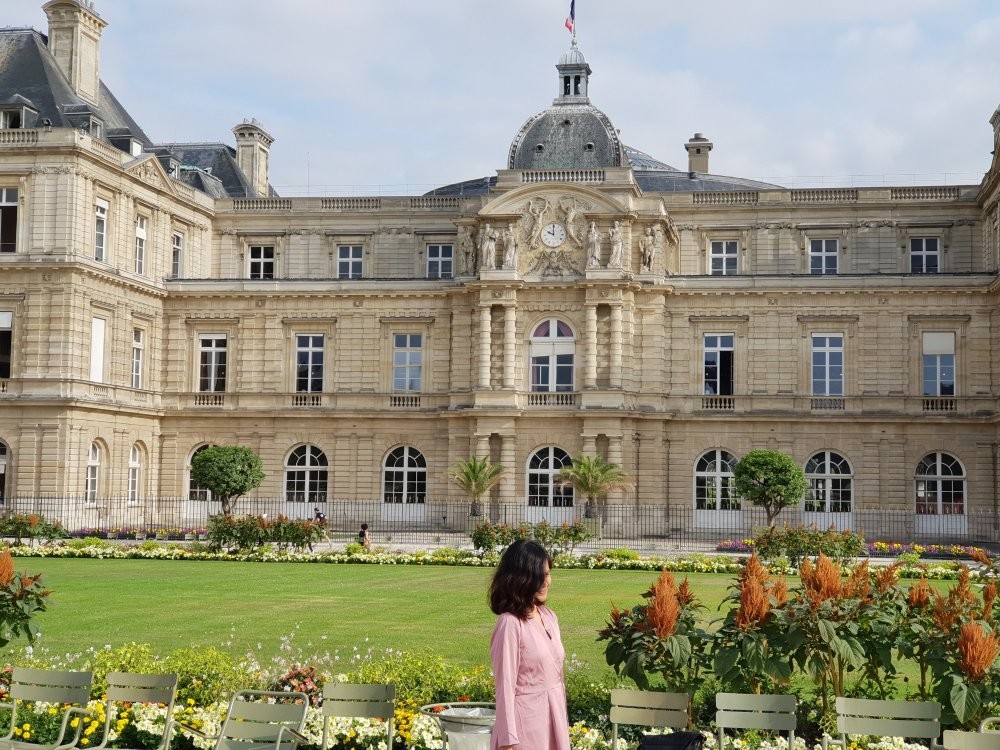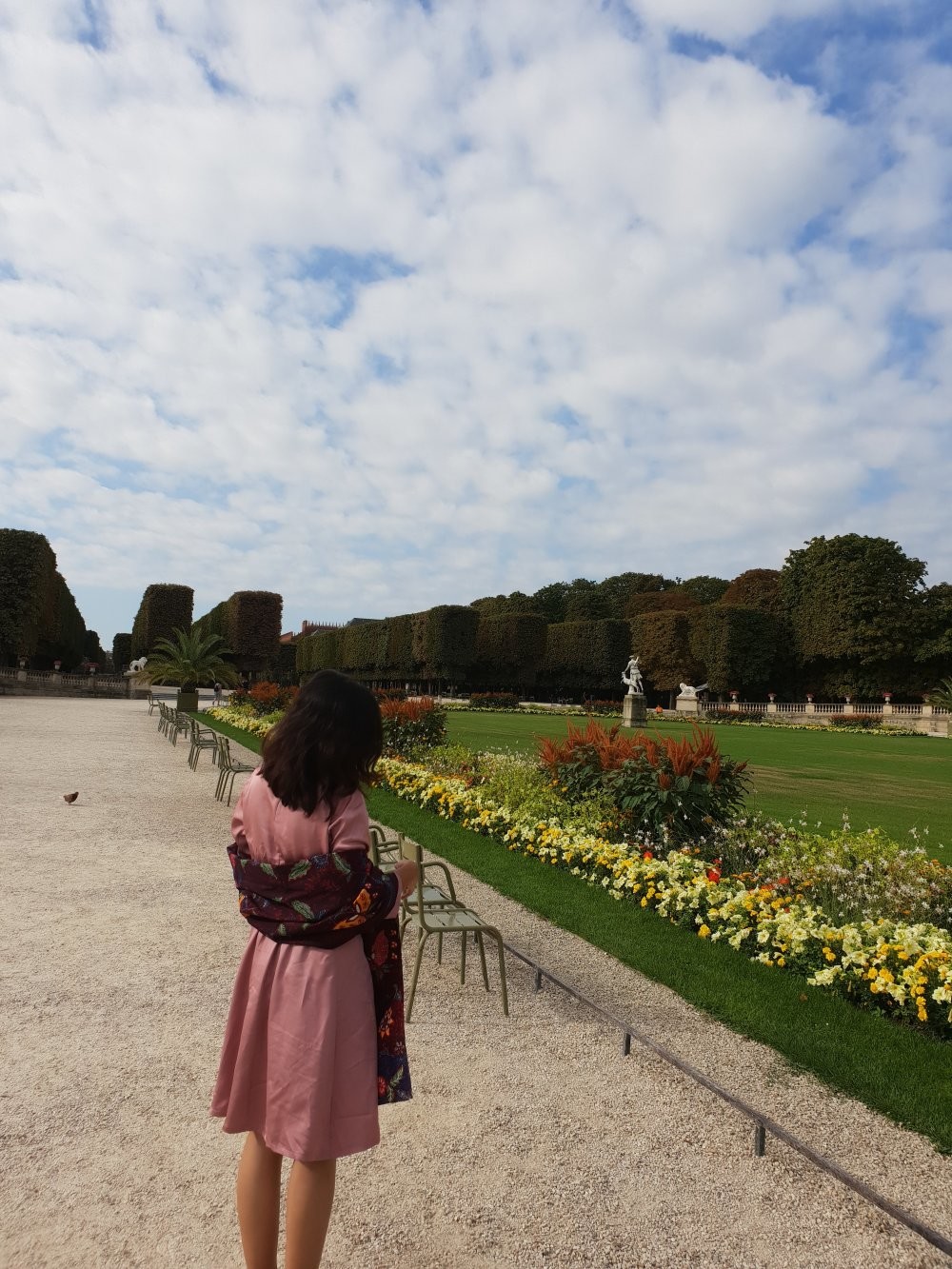 Sorry that I did not take the octagonal basin photo, I was so focused taking photo of my bridesmaid dress from a best friend and also batik scarf from Dewi Saraswati. Batik is a special pattern from Indonesia made by hand painting. I could not imagine being a selebgram (a person who is famous because of their instagram then got a lot of endorsement projects) where they have to travel yet take care of their looks and taking photos of all the endorsed products they carry. 
By the way, it wass prohibited to step on all the green grasses. But all the chairs are enough to have a munch and books to read.I didnt go inside the museum, but from all I know, this garden was made by Henry IV's wife in the 1600s. At the beginning she bought a hotel complex and renovate it as her new palace. She wanted to imitate gardens from Florence, as the one she spends her childhood memory into. Of course, lots of renovation was done after her passing and french revolutions. But I can tell she must have been a woman of taste, seeing her standard of this garden. I missed the fontain area too. With the era of kings and queens, the love to sculptures became serious, so we can find many statues along our walking track.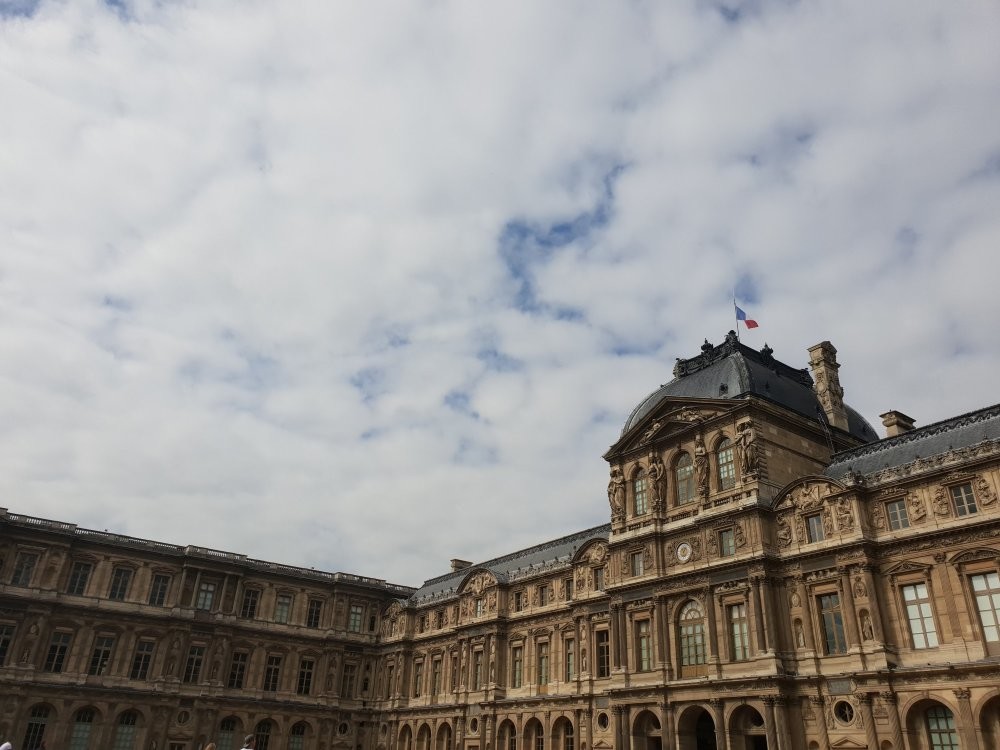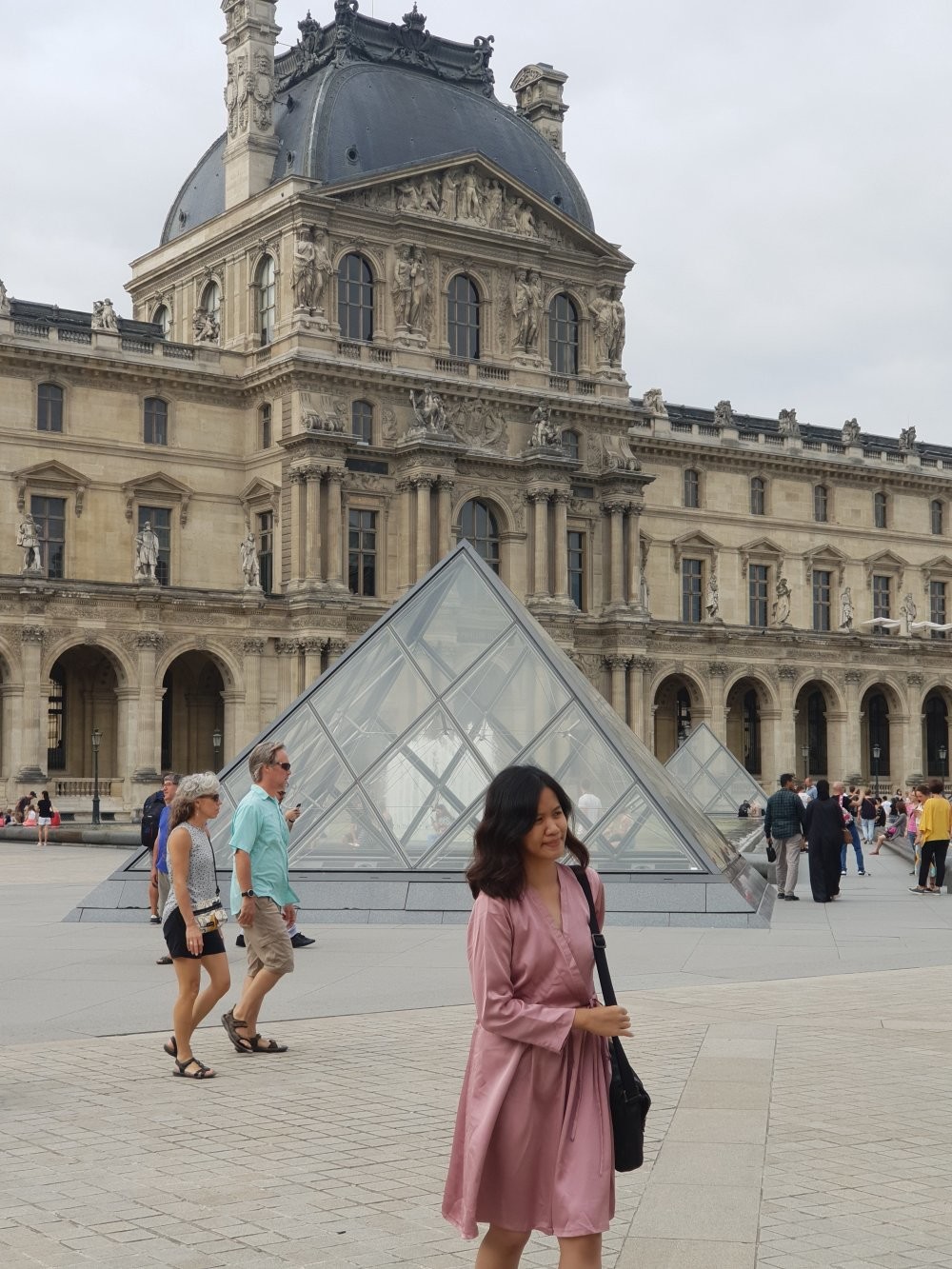 I doubted going back to Musée du Louvre but while we are here, why not? The easiest way to be here is by Metro, not RER. Because we took RER, we needed to walk a bit far to the Louvre. Actually, this museum was originally a fortress in the reign of Philip I. Then it lost its function and become Louvre Palace, started to complete its masterpieces. As I remembered, it wont enough to walk around all the collections even in years. It is HUGE. The queue was long so I thought I wont be there. Monalisa is here and also all important Greek, Egyptian sculpture. 
About the pyramids, actually it was a solution for Louvre's most aestethic yet efficient entrance. I remembered to go downstairs after going inside this pyramid. I visited Louvre back in 2012 and now looking at the queue I do not think you can go inside if you did not book your tickets online. The weather was super hot. And the pretty thing is you can have a view of Seine River not far from this. So it is indeed majestic. By the way, this pyramid was made by an american-chinese architect and was contoversial before its construction.  I do think it is awesome to have this form in the middle of the majestic fortress.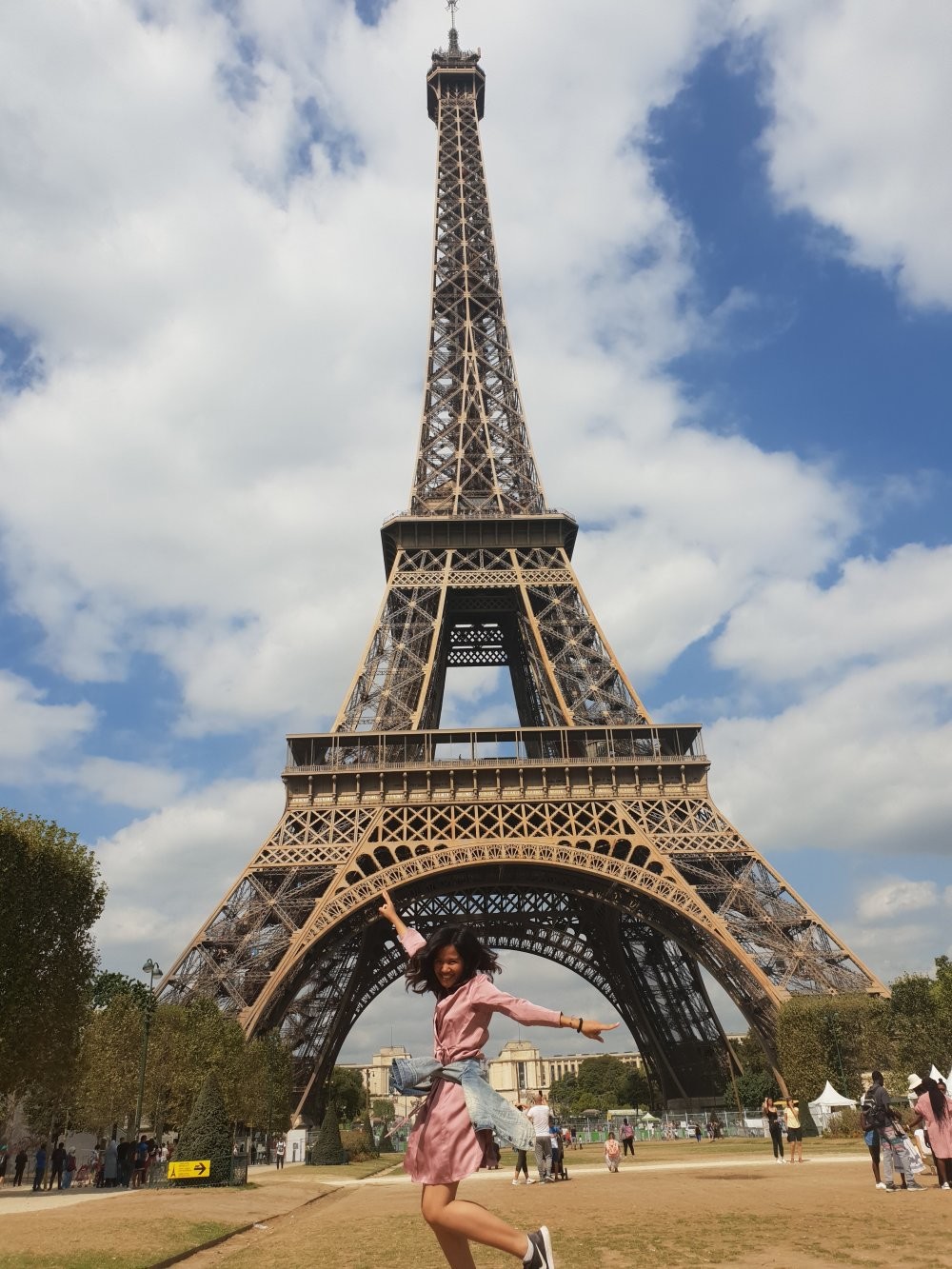 Changing from metro 2 to metro 6 from Louvre, we were about to see this lady tour. It was quiet far from the nearby metro station. It was a striking hot day and lots of renovation was done. I was here at 2012 midnight so that is why I am curious to see it in the clear of the day. It was frustrating to look for the green area. Apparently, this area with stairs and green park is a lot far outside the tower complex. The security check was kind of strict and there were very long lines to go in. I didn't know whether it is the north south or west part. After being deceived to go inside, we needed to go out again to walk to the green. So, do not go inside the tour if you wanna see the grass. It was tempting to climb, but the waiting list was insane. This tour was made as an entrance of World's expo around 1700s. It brought lots of controversy also in terms of design and function. But now, who could resist its role as French's face ?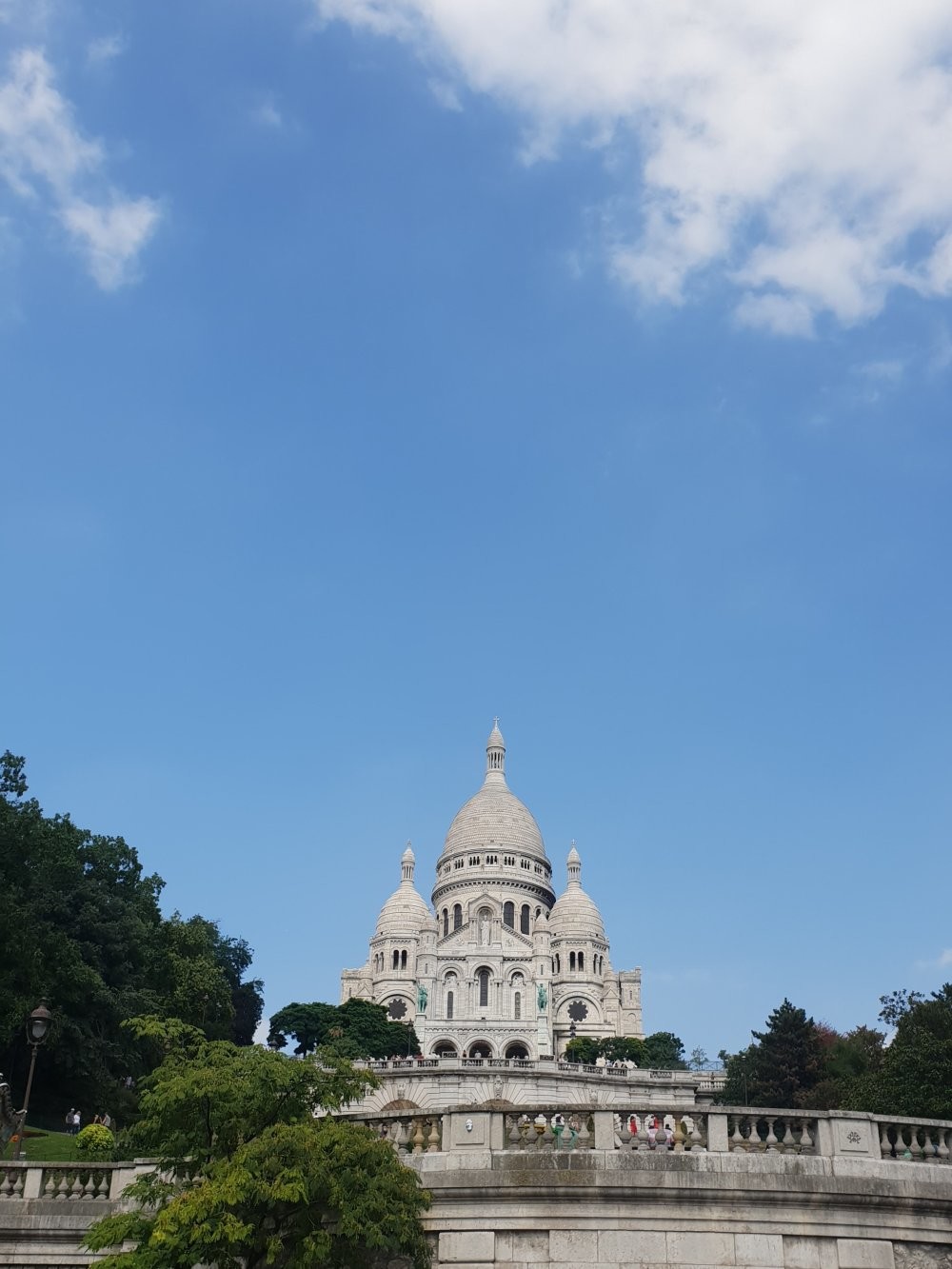 Finally: Sacré cœur it is. It means sacred heart of Jesus. This cathedral stands up at the highest point of the city, Montmartre. To be able to reach it, we need to climb up the 3000ish stairs. So, nope, thanks. I had no energy left at that time. I would just enjoy its beauty from the ground floor. Before we walked up to the entrance, we ate at an organic café with quite good sandwich. This boulevard of shops accidentally serves as a beautiful long gate to the entrance. There ia a caroussel in this entrance. I dont know why french loves caroussel this much. This cathedral was made as an honour to the war victims in the 1800s. I don't know which war precisely. I was super excited to see this cathedral. It is like you went to the mall to buy list of things and forgot to buy one. And that your chance to go back is now.
Unlike the Jardin du Luxembourg, here, we are free to roll ourselves on the grass and get tanned. Besides its contour, this cathedrale is famous of its pipe organs and bells. One bad thing was just there are this bracelet seller that insisted you to buy it. So I suggest you not to take the main entrance stair, but take the one with less people (the downstairs on the left). You can go up and down from both sides.
The green statue is the Joan Arc statue riding a horse. He is a roman catholic saint. The architecture style is Roman-Byzantium. That is why it looks like more italian than french. I am happy that finally I can witness the symbol of the Loving Heart of Jesus. I remembered being so close to Jesus during my whole elementary years. He was really a good friend to me.
After another long day of walking, we went back to Gare du nord to take our baggages from the hotel and went to the CDG TGV station, heading for Montpellier, my new home. TGV means Trains à Grand Vitesse, train with high speed, like shinkansen. However, I prefer the interior of Shinkansen. The ticket was scanned twice, before we went to the gate, and during our way in the train. It was 60 euros but because we rescheduled it, now it is 85 euros. It took 5 hours to Montpellier and the worst thing is I got the seat with the opposite direction of the train. I was heading to Montpellier, my new home for 1st semester (please visit my older post to read about Montpellier).
Bon, à bientôt!
---
Photo gallery
---
Want to have your own Erasmus blog?
If you are experiencing living abroad, you're an avid traveller or want to promote the city where you live... create your own blog and share your adventures!
I want to create my Erasmus blog! →