My first days in Italy
Suitcases lost in the airport and a night in Bologna
Hello everybody! this is my first post and I hope that you like it. I think more than giving information, I want to share my experience and feelings in my first days that I arrived in Italy. Without further introduction, let's start:
I left from Lima, Peru on the 13th of September 2015 on a direct flight from Lima to Amsterdam with the airline KLM. The journey cost me approximately 1200 dollars (one way). I bought the ticket two weeks before the date through a travel agency. I did this because I had to wait for my visa and I did not want to run the risk of buying the tickets without having the visa. Although, I knew that they would give me it so that I could be able to follow a masters degree in tourism in the oldest university in the western world: the University of Bologna in Italy, for two years.
Italy was a country that always grabbed my attention and although I have always intended on travelling, I never imagined that this destination would end up being Italy. A very beautiful country with a lot of art, a great history and with diversity that surprises me every day.
In Amsterdam airport, I had to wait for three hours to get to my following destination: the Italian city of Bologna. The airport in Amsterdam is the biggest airport in Europe and I was lucky to find free wifi there to contact my family while I was waiting for the next journey (unlike in Lima where you have to pay for wifi).
Luckily, I met an Italian friend (a friend of a friend) before arriving in Italy who offered to collect me from Bologna airport and bring me to my hostel in the city so that the next day I could go to Rimini, my final destination.
This is a blurry photo in Amsterdam, that I took on my old mobile phone which later broke down. It is the first photo that I took in Europe (yes I know there is nothing nice about it, but I just got it back off my memory card. I wanted to make it immortal on the internet so you can see it too).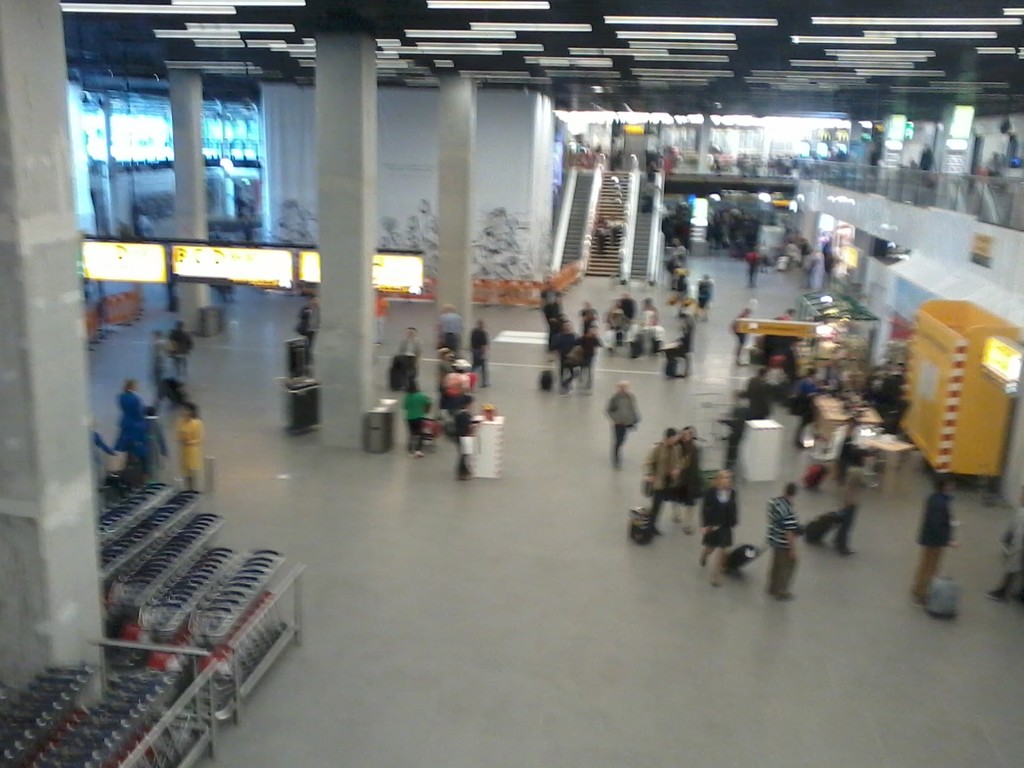 When I arrived at Bologna airport, I decided to start speaking Italian so I could see what I was doing and really I had to do it because I lost my suitcases. Also I left my house in a hurry so I could not put my clothes in the backpack I had with me. So when I got off the plane, I had two options: to go back the following day for my bags, or for them to send the bags to Rimini in three days. Honestly I didn't know what to do and I finally decided to ask them to send my bags to the hostel where I would stay in Rimini.
This hostel was called Jammin' and someone from my university recommended it to me days before I left. The only bad thing about the hostel was that despite the fact that it said on my reservation that my credit card was only to guarantee a room, they already charged me to my credit card which was in Peru. I then had to make a bank transfer and my family helped me make the payment from Peru. Luckily, the issue was solved and it is now just an experience.
When I arrived at Bologna airport, despite it being quite small, I couldn't find my way around. Then I seen some men at the entrance and asked them a few questions on how to get to the roundabout where my Italian friend would be waiting on me. Since I knew that he had a little dog called Luna, I brought her a little suit from Peru and I brought him a little bag with Peruvian designs that I found in the centre of Lima. Luckily the presents where in my backpack and not in my lost luggage.
I stayed in a hostel called We love Bologna which was located on the street 'Via dè Carracci, 69/14' and it cost me around 32 euros for the first night, in a shared room with a breakfast buffet included in the price. This hostel was not in the centre of the city but it was close to the train station, approximately a 15 minute walk, which was good.
Here is a view of the street from the window of my room. This hostel was the cheapest option that I found online and I only stayed for one night. I can't say much about the hostel because the next day I left early, just had my breakfast and went to see the city, but I can say that it had a nice, tidy and pleasant atmosphere.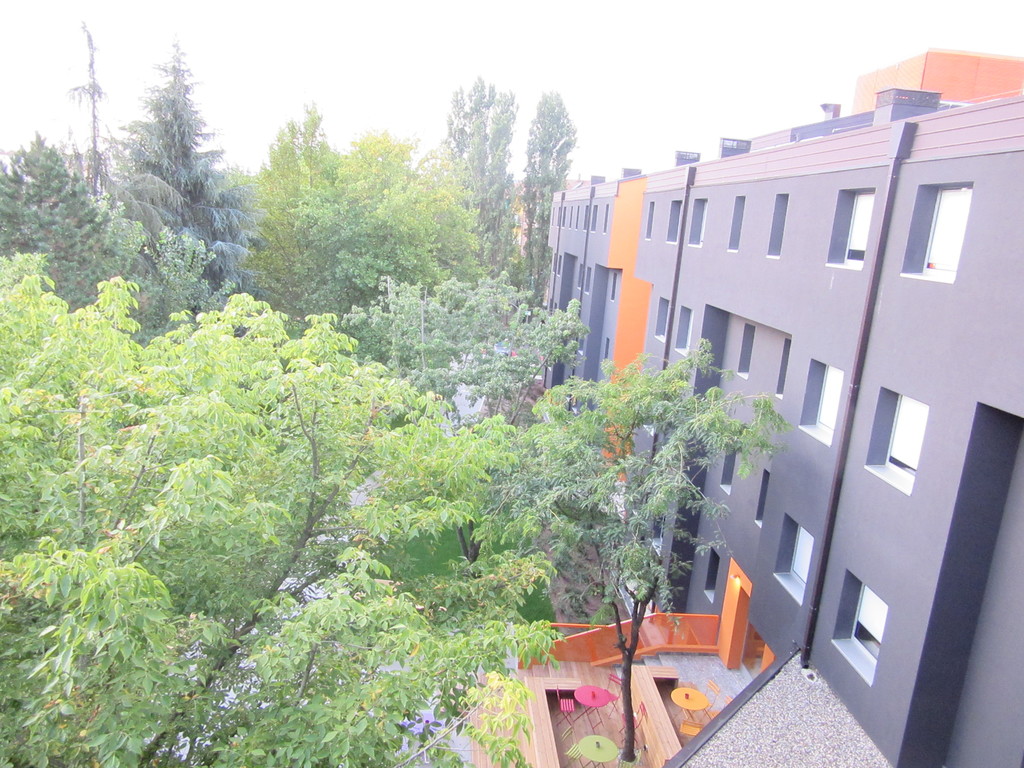 What I do remember is that when I wanted to pay them with a 100 euro note, they didn't have an easy way to give me change, so I had to pay at the time of my check out the next day (they made an exception to the rule for me).
When I arrived in Bologna, I felt so much nostalgia and sadness from leaving my city and my family. Honestly, my first days there were very difficult for me but in the coming days I did everything I could to change this. Despite the tiredness from the flight, I had jet lag and didn't sleep well :( I also think there were mosquito's in Bologna but luckily I didn't get stung :)
Here is a photo of my family, my last night before I left my house in Lima. My mummy likes to make desserts and this is the cake that she made me as a goodbye :) I didn't acknowledge that I was going away for two years until the day of my flight.
You know that there is nothing more important than family, however it is also good to take the time to be independent because it makes you mature a lot more and creates a good balance in your life. When you travel you don't have your mum to make your food, or the sounds of your family at home. It is all something that I think you need to experience at some point in your life and if you are reading this and have not travelled yet, I encourage you to do it since it is an enriching experience full of good things. I will not lie to you there are difficult moments but that is a story for another post.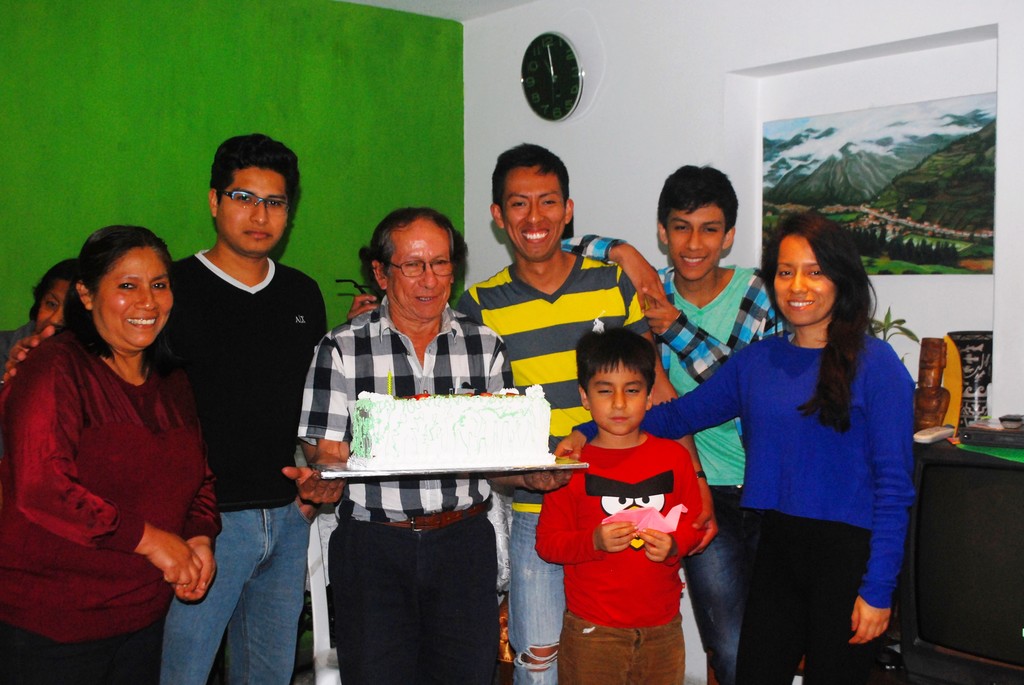 Before coming to Italy, I studied Italian in Peru for around a year and a half in the language centre CIVIME, my teacher called Claudía Vanini and she taught me a lot of things about the language of love (some say it is French but I think it is Italian haha). CIVIME is on the street Av. Arequipa, on the 10th block. I paid 150 soles per month and went three times per week after work and there were only 5 of us in the class. The teacher Claudia is one of the best people that I have met. Undoubtedly she has an incredible dedication and it amazed me everyday while learning this language that would be so useful to me right around the corner.
Let's say I am almost at an intermediate level of Italian, which helped me get by in my first few days while I sorted out my paperwork for my student residency. Also shopping in the market, looking for accommodation and simply starting to immerse myself into a different culture in Italy, a truly charming country.
I will tell you that in Italy, most people don't speak English, so if you haven't started learning to be able to do all the paperwork in Italian, 'la Questura' and walking through the streets of Rimini. (I will give you the details of how to get that Permesso di Soggiorno in Rimini in another part of my blog. I don't think it is always the case but that was a real headache for me. When I had it in my hands after two months of trying to do it, I felt like I had finally graduated hehe)
As I told you, the time difference made me like a zombie at the start, but then I became adjusted to the fact that it is 7 hours ahead of my Lima, being 12 hours away by flight. I hold Lima so dearly in my heart and I alway read the news. Even though it is not the most unbiased newspaper, I read 'el Comercio'. I think it just depends on the person while you re getting used to a new life.
As I was telling you, I had some bad luck when I arrived at the airport in Bologna and lost my two suitcases so I had to wear the same clothes for four days. The good thing was that I didn't have to carry my suitcases from Bologna to Rimini and in less that an hour I was in the city where I would be living for the next two years. I have barely been here for six months now and I want to go back to Peru soon to work on my goals and dreams, being human can be contradictory, can't it? When you are in one place, and miss the other. I don't know how I will feel when I get back to Peru, but I have almost a year and a half left here so in the meantime I will carry on here.
Walking through Bologna, thinking of my future
In my first day in Italy I walked around by myself, with my backpack that has travelled with me for almost 8 years. I bought it in the United States before going back to Lima and even thought it is almost ready to be thrown away, I always bring it with me. This backpack has accompanied me on my travels in Argentina, Bolivia and Cuzco, etc. It is small but I always make magic happen and fit everything in there.
While walking through the streets of Bologna, I thought to myself, "Is this what I want?" I didn't know why I was so sad considering I had reached my goal that I had planned for a year in advance (to study a masters degree in Tourism in the University of Bologna in the Rimini campus for two years). I think that I am a contradiction hehe and I don't know if that's how everyone will be, but I have that characteristic and it reminds me a lot of one of my favourite books, "Demian" by Hernan Hesse.
While walking through the centre of Bologna, I took this photo which was the first photo that I took in Italy :) I am wearing my headphones which I later ruined by leaving them in my trousers and putting them in the washing machine. You can see one of Bologna's arches in the background.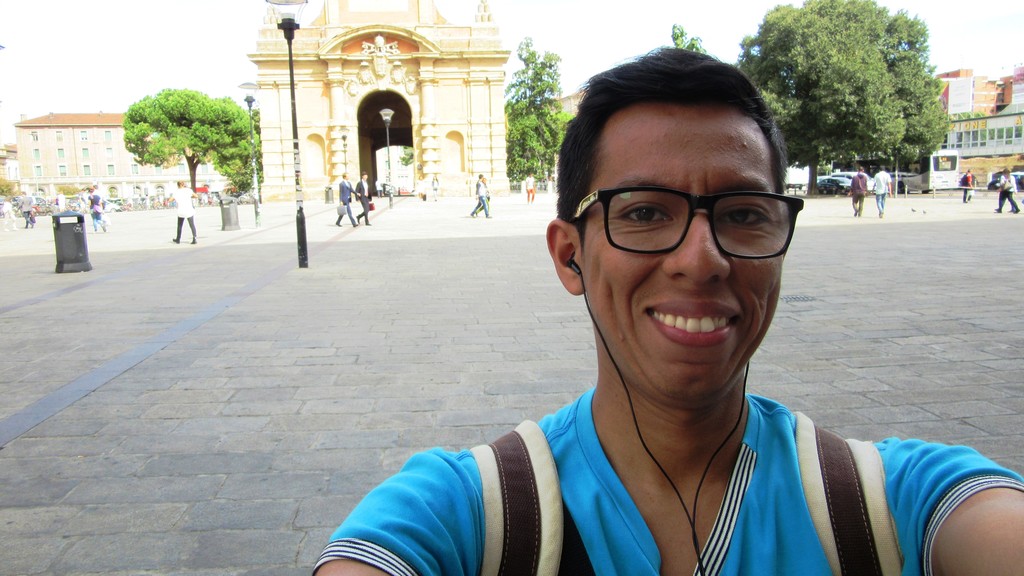 I was able to travel around part of Bologna but I had no internet and my phone was about to die :( I didn't know what I was looking at, I just remember reading about them before coming to Italy and that Bologna was known as "la rossa" because of is colour and for being a city with medieval columns and towers. However, you will be able to find information in some tourist spots if the same thing happens to you. Also I'll tell you that I did have a map that I asked for in the hostel so I could get my bearings. I think that Bologna is like a ring, it has a beautiful historic centre and I had a good impression of its street. there are many columns with roofs that sheltered people when it rained in this Italian region.
Here is a picture of a fountain that I took on my walk, it is known as the Fountain of Neptune of Bologna: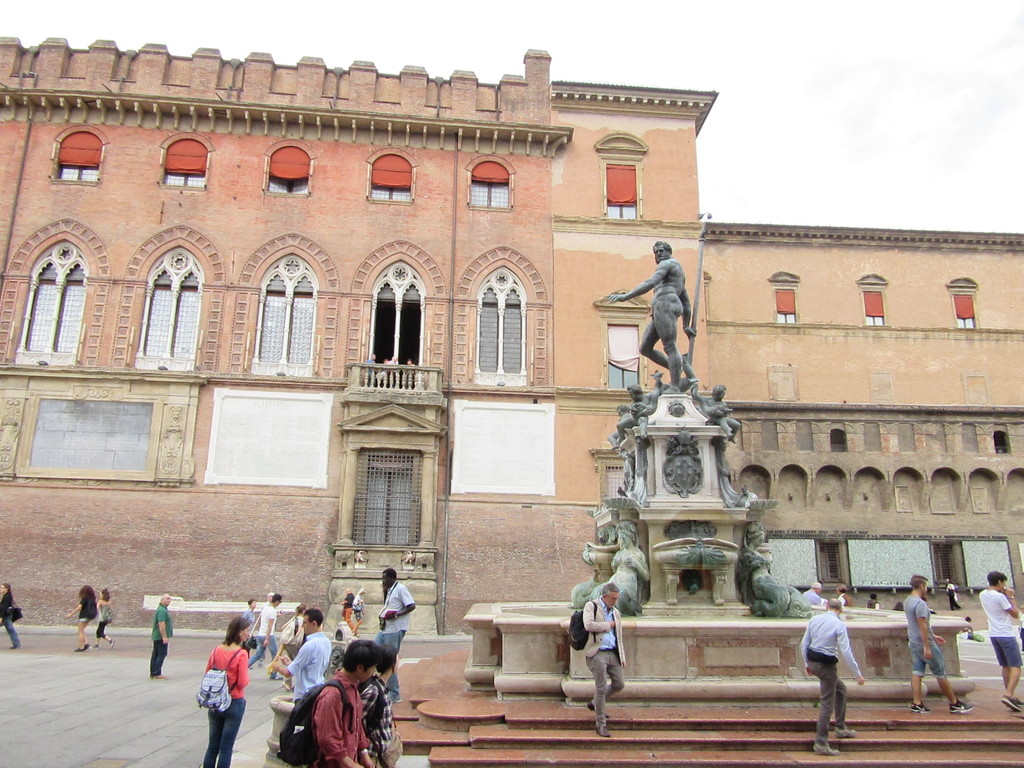 Additionally, while walking through its streets I found many medieval towers like the one in the next picture. There are even some that seemed like they were a little bit tilted, depending on where you are. Bologna has a lot of towers like this one in the centre. It is a beautiful city that I would recommend to you, even though I didn't completely travel around it because I was still thinking of all the thing that I could do without spending a single euro yet.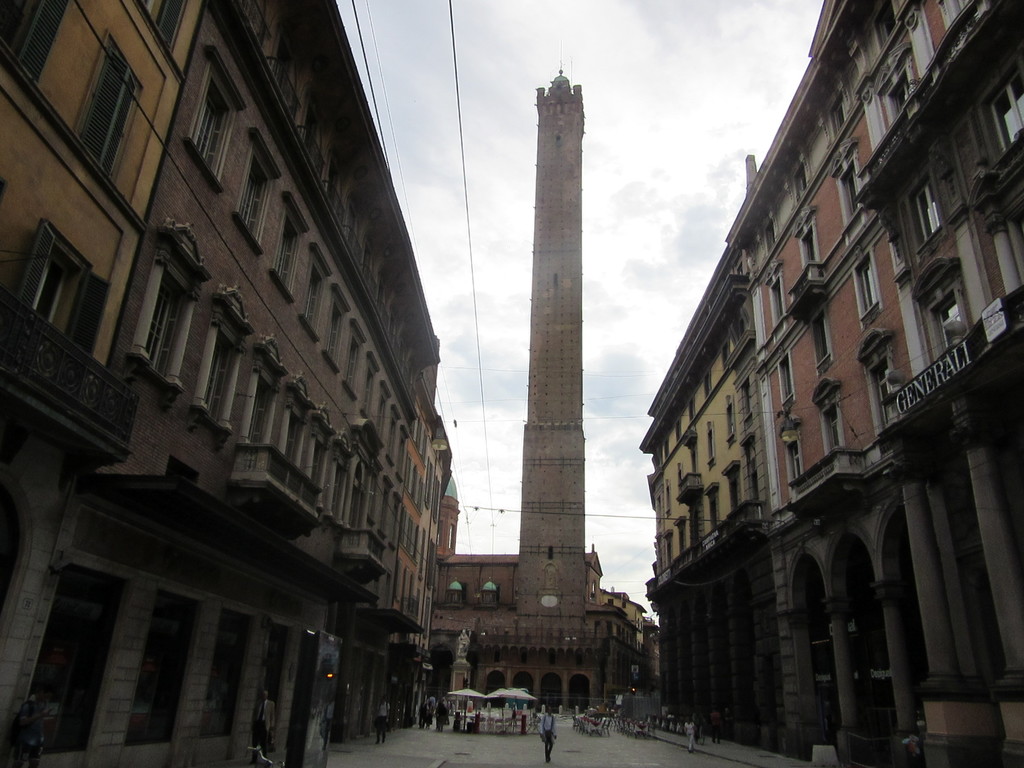 On the other hand, to be honest, I was under a lot of stress when I was doing my paperwork with the Italian Fiscal Code, the Permesso di Soggiorno (the residence permit) and all those things that I thought I would never finish but fortunately I finished them. Then I was starting my classes in Macro Economics, Managerial Accounting and Mathematics, for my masters in Rimini. I didn't like these courses as much as I thought that I would, especially Macro Economics, which I just about passed :S but I enjoyed Managerial Accounting and learned a lot, despite more or less being the teachers and studying on my own to finish the course.
I remember walking through Bologna, it was encouraging when I saw the message saying "Chi porta un amico, porta un tesoro" (Who finds a friend, finds a treasure). This gave me energy because I felt like I wasn't alone, I had my family, I had my friends and I had new experiences to come. So, after reading that little message, I decided to go to the train station to get to Rimini, my final destination.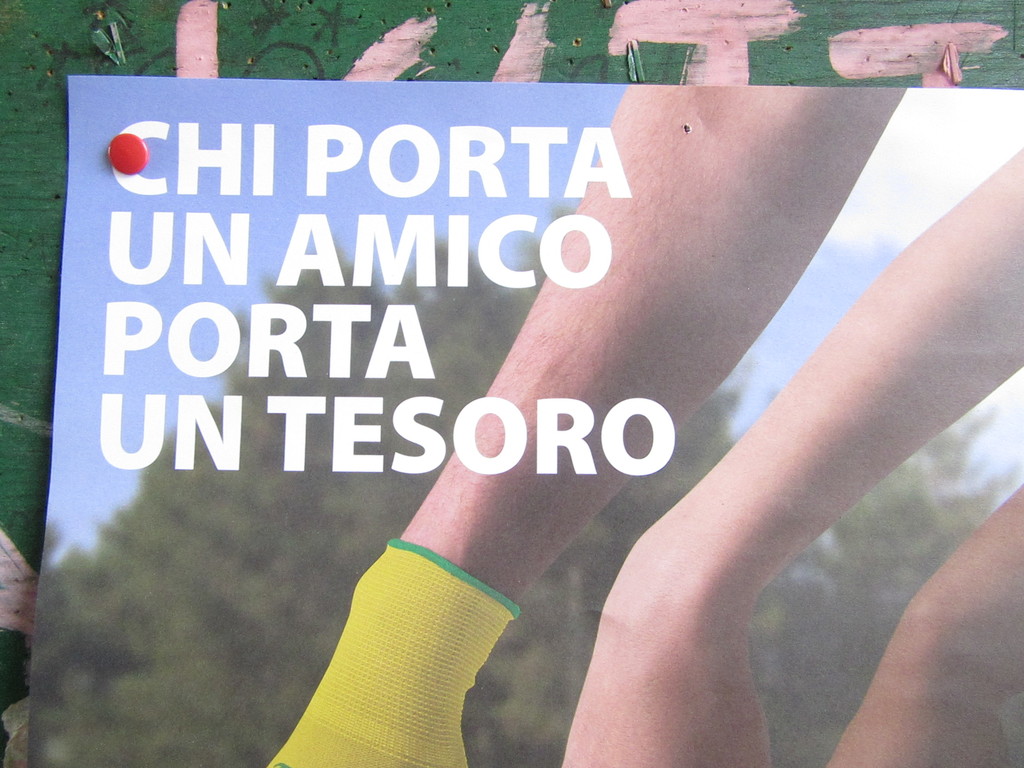 Taking the train from Bologna to Rimini
The Italian friend that I knew, taught me how to use the trains and luckily I didn't have any problems getting to my destination. Basically in the stations in Italy there are ticket machines where you choose where you want to travel. You can also select your language of preference and when you have the date and destination you want, it will tell you how much it costs and then it will print. Now if you are still afraid to use it, there will be some staff from the train company that can help you buy the tickets.
The journey lasts almost an hour and honestly I almost sleep through my stop and there were also people around me. I was curious and started listening to Italian radio stations on my mp3 player to see if I understood anything. I think that I understand the radio more than people talking face to face, although I am getting better now, of course! I have been speaking Italian for six months now.
I took a photo of my tickets to keep as a memory. Before getting on the train you have to validate your ticket so that the train staff can check it on board and if you don't do this, you could run the risk of paying a fine so keep this in mind when coming to these European places.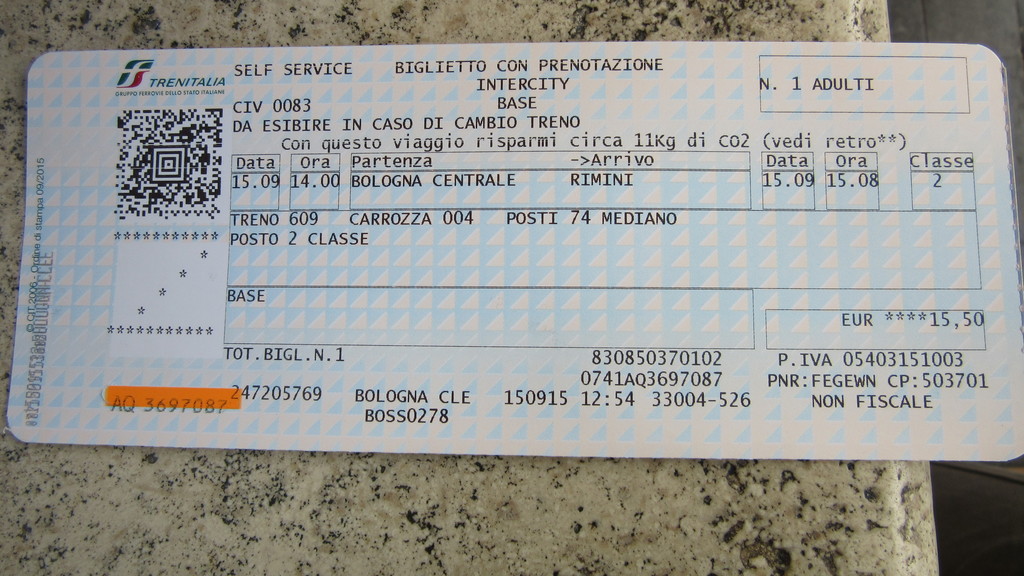 Here in Italy, the transport system seemed more developed than in Peru. If Lima was connected by trains it would be another story and I wouldn't have to spend so much time getting from one place to another.
Arriving in Rimini...
When I arrived in Rimini, I found a tourist information office on the left hand side of the train station, where I asked for help to find out where the Jammin' Hostel was (it's near the beach). They gave me a map and pointed out the street that the hostel was on, so I started walking through Rimini.
One the first photos that I took in Rimini was of the train station I will show you so you can get to know it. Facing here there are some bus stations and a taxi stand (don't use them they are expensive, please walk) and a burger bar.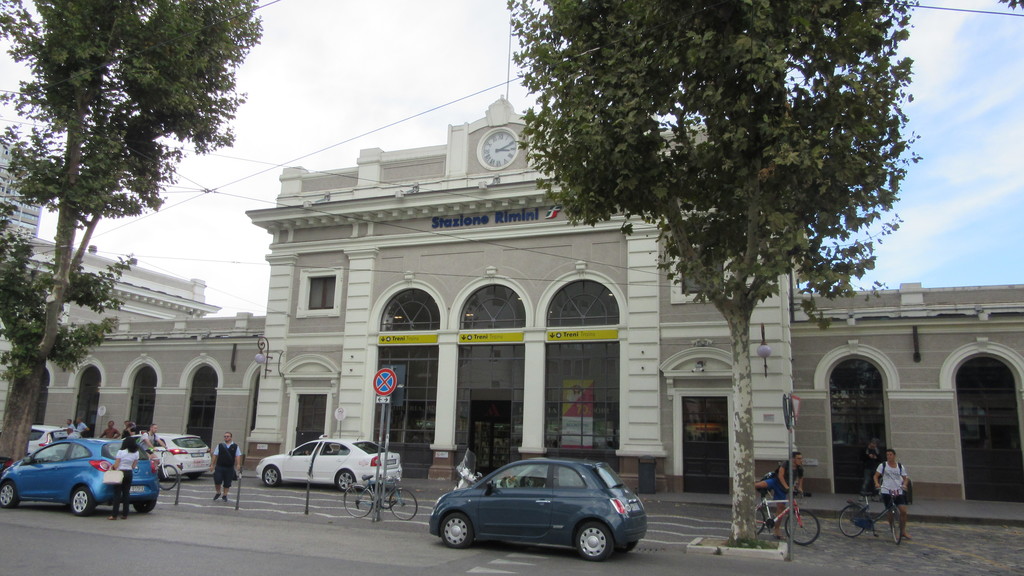 After walking for almost 15 minutes arrived at the Jammin' hostel. In the room I met a boy from Malaysia and we went to the beach together to see the Adriatic Sea for the first time. We walked a little bit along the coast of Rimini and I took this picture of the roulette wheel that turns on the side of the boardwalk.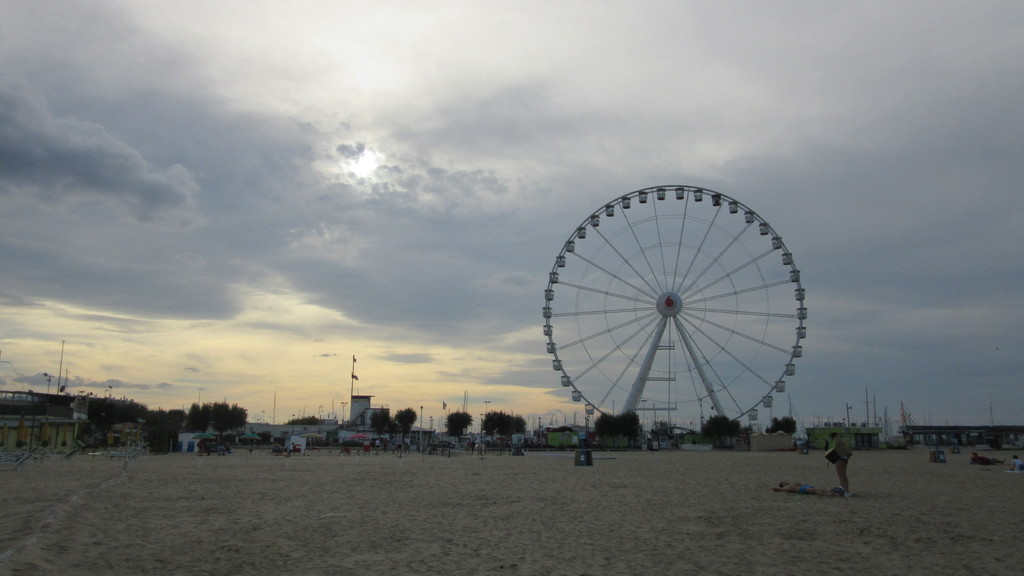 After that we went back to the hostel and walked to the centre of Rimini again, this time for dinner (well I hadn't even had lunch that day) and as I didn't know anything about the city and the boy I met knew a place. He told me to go to a Chinese restaurant and that was my first Italian culinary experience :) (nothing to do with Italy). This place is in one of the little streets that we saw in the centre with a Chinese ornament at its entrance. Here is a picture of part of what I ate that day, I don't remember the name but I was very curious to know if it tastes the same as the Peruvian Chinese restaurants. I don't think that it was similar but it was delicious and I only spent around 10 euros for food and a drink.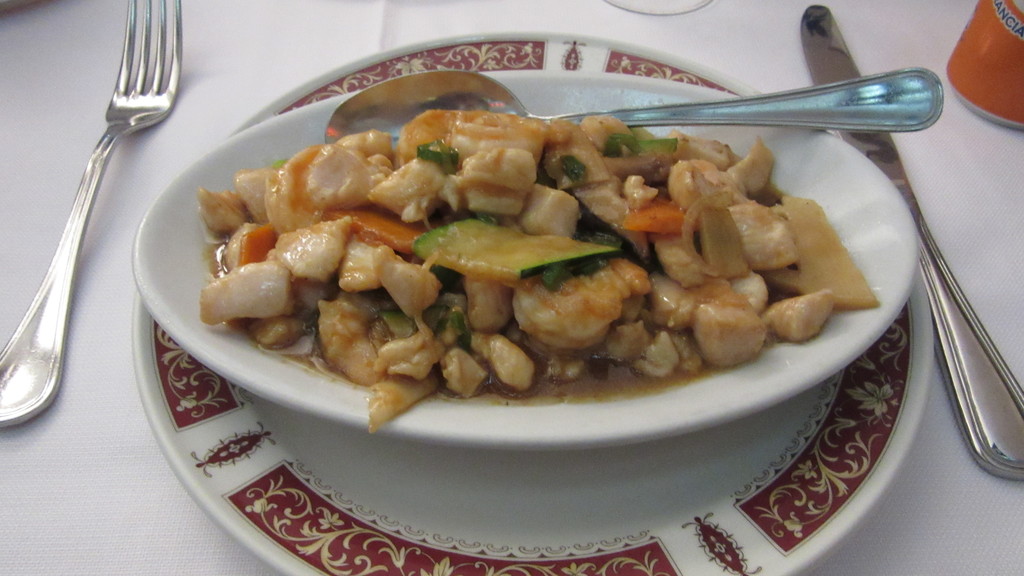 During my days in the hostel, I met a lot of Erasmus students and a boy in my masters class so I didn't feel so alone. There were days with a lot of fun and sadness to say the least. One of my favourite characters that I met was a cat called Romeo. He was a large cat that lived in the hostel and he let me pet him so I took this photo: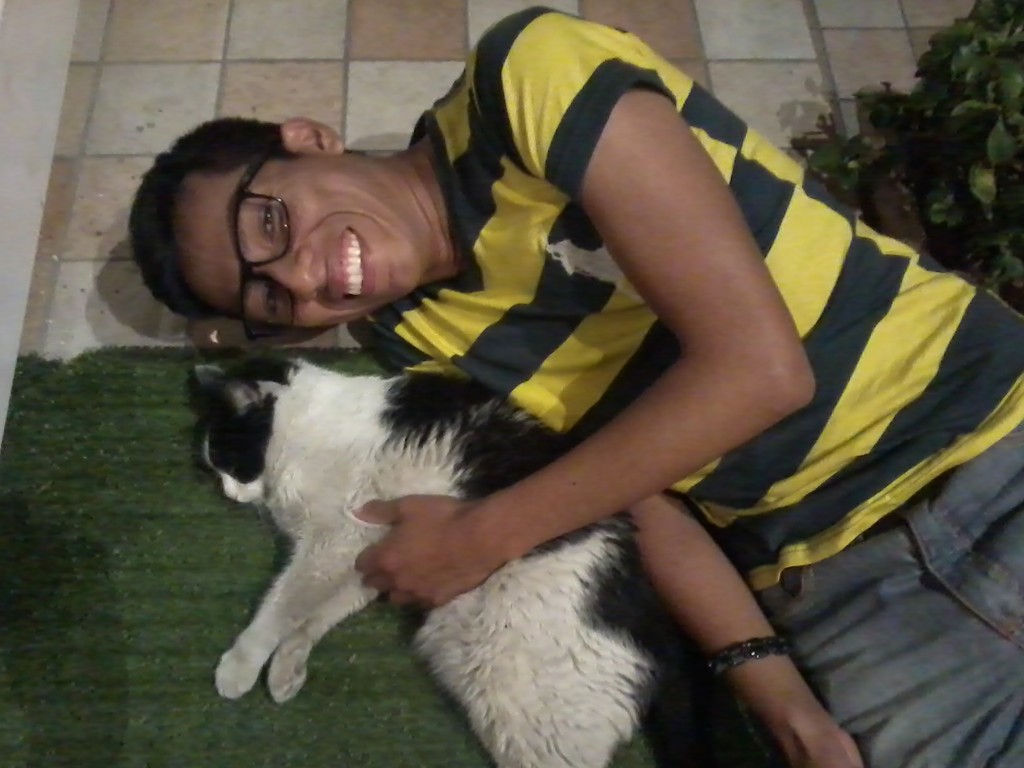 That's how I spent my first two weeks in Italy, doing my residency papers, going to the international student offices at the university, looking for a place to live, going to the supermarkets to buy food and eating in some restaurants. As well as going out to see the sea, buying my sim card to get credit, talking to my family and friends, meeting people in my class and so on. Before I knew it, I was already in my first classes.
To conclude, my first week was difficult but I always tried to keep my goals, my family and what I wanted in mind. So my days went by quickly and in a more resilient way.
I will keep telling you more useful details in other blog posts to help you get to know this side of Europe.
I hope that you have enjoyed this post that I have just finished. See you soon!
Ciao!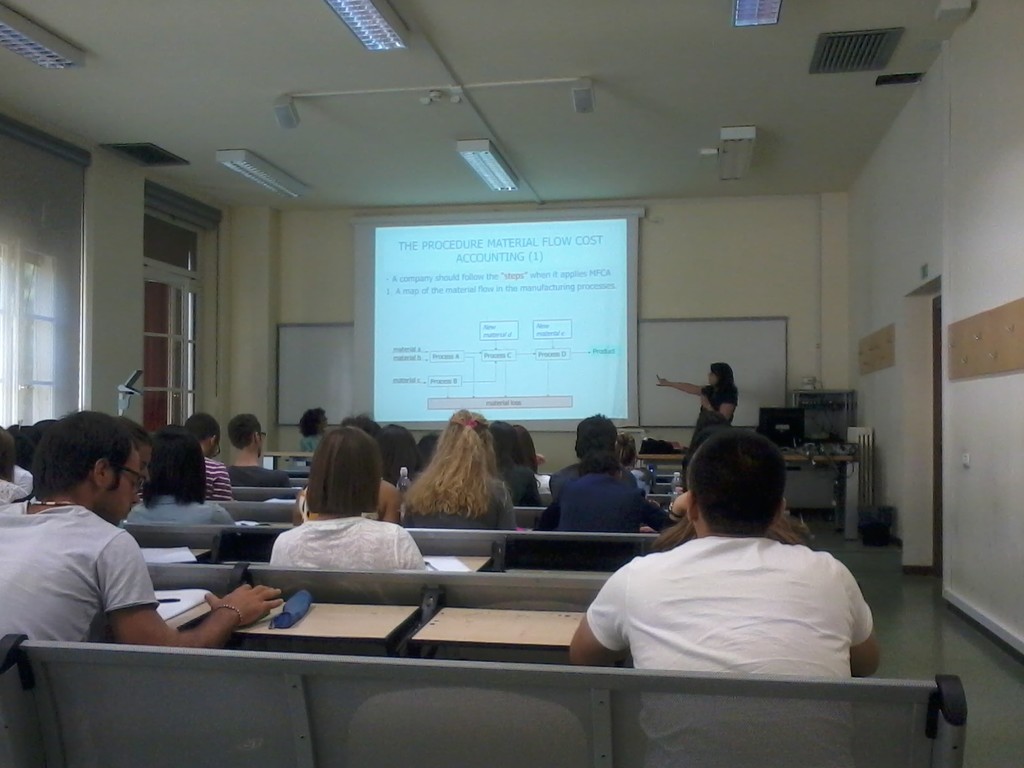 ---
Photo gallery
---
---
Content available in other languages
Want to have your own Erasmus blog?
If you are experiencing living abroad, you're an avid traveller or want to promote the city where you live... create your own blog and share your adventures!
I want to create my Erasmus blog! →