6 places to get to know near to Rimini
Hello everyone! I hope that you are all well. Coming to a city is not just about getting to know what's within that city, but also the nearby places that we can go to whilst there, for example: I've been living in Rimini for a year now, and I've been able to get to know a few places that have given me a lot of satisfaction because they have been amazing and gorgeous.
I was recently thinking about recommending six points that you should get to know whilst being in Rimini and, because they are close, you can get to these places in whichever way you desire, for example you can go by train, bicycle and also by bus, whichever way is most convenient for you!
Without further ado, we start with these six sites that I would recommend you visit during your stay in Rimini, get your pen and paper as this information will make you want to travel.
1. Santarcangelo di Romagna
One of the places I would come to again and again – the truth is that I would never tire of coming here – as Santarcangelo one of the most beautiful towns that I have seen in my experience here in Rimini, I truly recommend that you try to get to know it's square that's surrounded with bars, furthermore you can get here by train, bus or bike. For example, the first time I came here I came by bike, and thanks to that adventure I can tell you that I was able to learn two interesting points.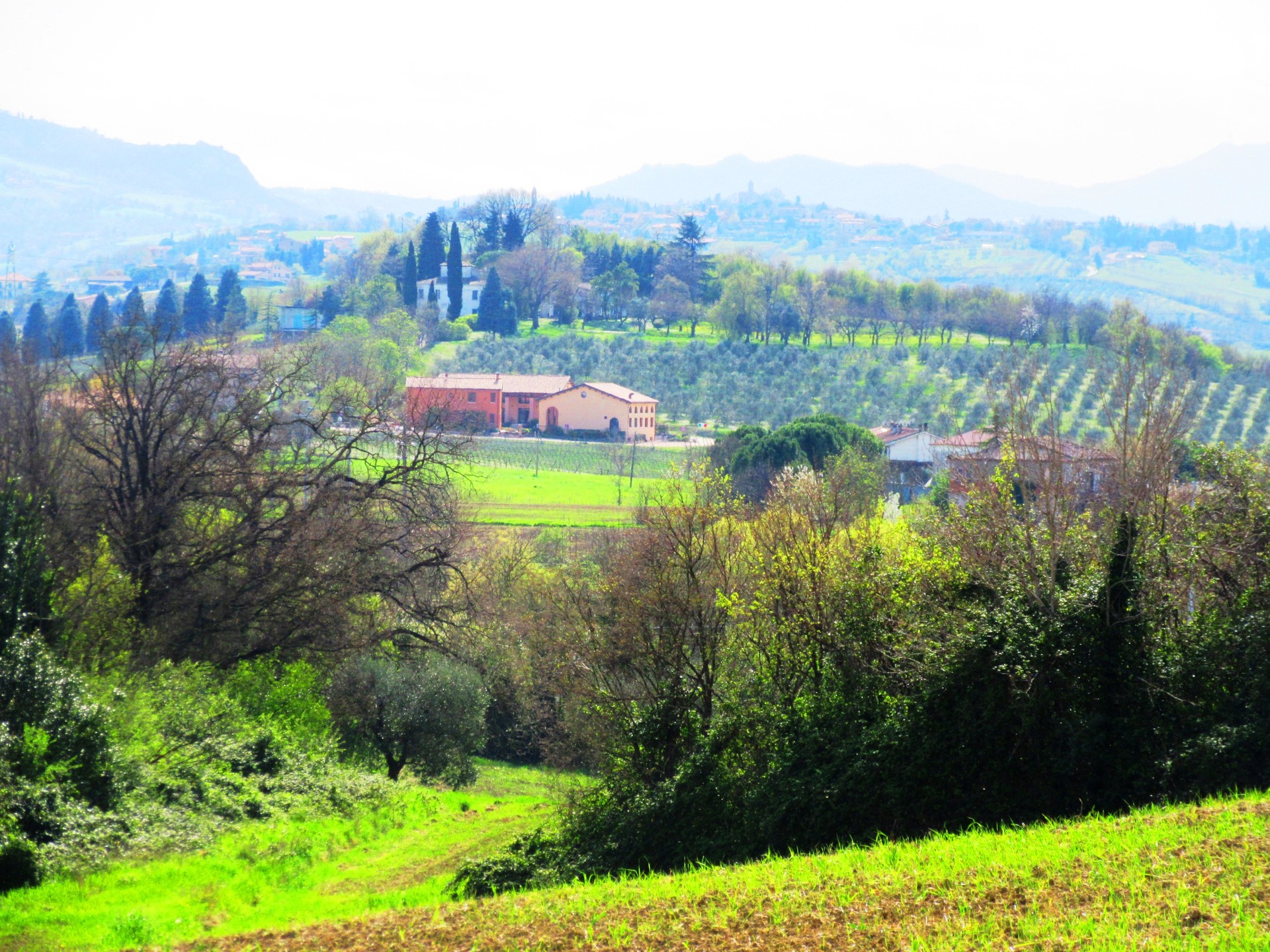 In my first visit to Santarcangelo, I was able to visit the Button Museum, which is a small but interesting free museum here, with a collection of a variety of buttons made by a man that is a button fan, and who has maintained his passion throughout the years. I would really recommend coming here because I am sure you will have a very nice time.
The second point is also found in Santarcangelo, a few metres from the previous. I'm referring to the Tonino Guerra Museum, this man was a multi-faceted artist and here you will be able to find an interesting display of each of his works such as sculptures, film, paintings and many other things.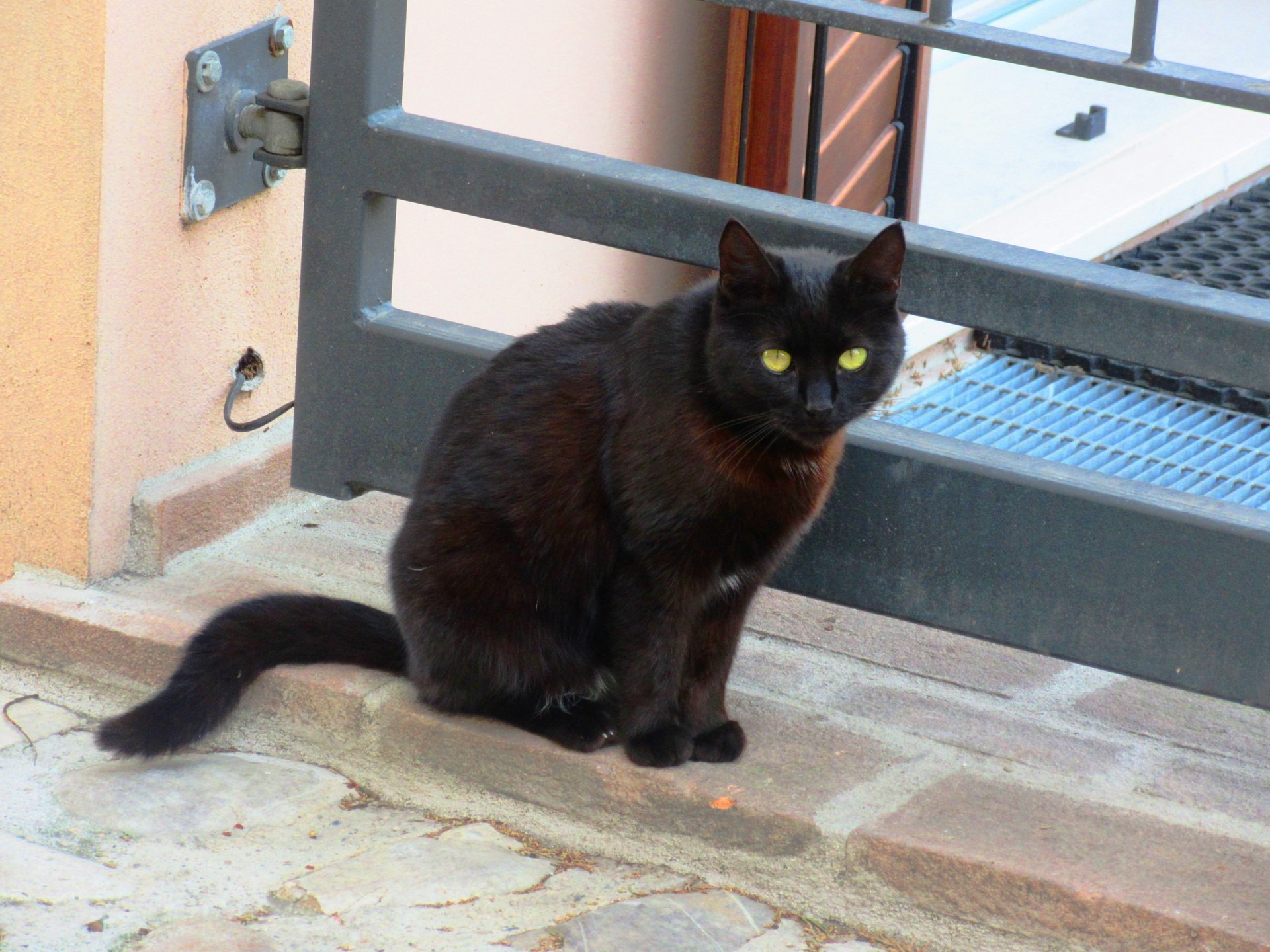 Additionally, I would recommend that you walk through the streets of Santarcangelo, where you are going to be able to fall as in love as I have with the small streets and their incredible view of the fields and their interesting features such as, for example, the tower that you'll find at the top, whilst you are walking up, you will familiarise yourself with the cats that are in the houses, in truth I can now say, after visiting all the towns, that Santarcangelo has been the place with the most cats that I have found. So, if you are a cat-lover, this should be your meeting point.
In addition, in Santarcangelo you will find different vantage points throughout your walk up, where you can see from above incredible views such as the sea and the mountains, without doubt, I would come back here just to have this view again, and furthermore, the houses are one of the main attractions of Santarcangelo, in my opinion.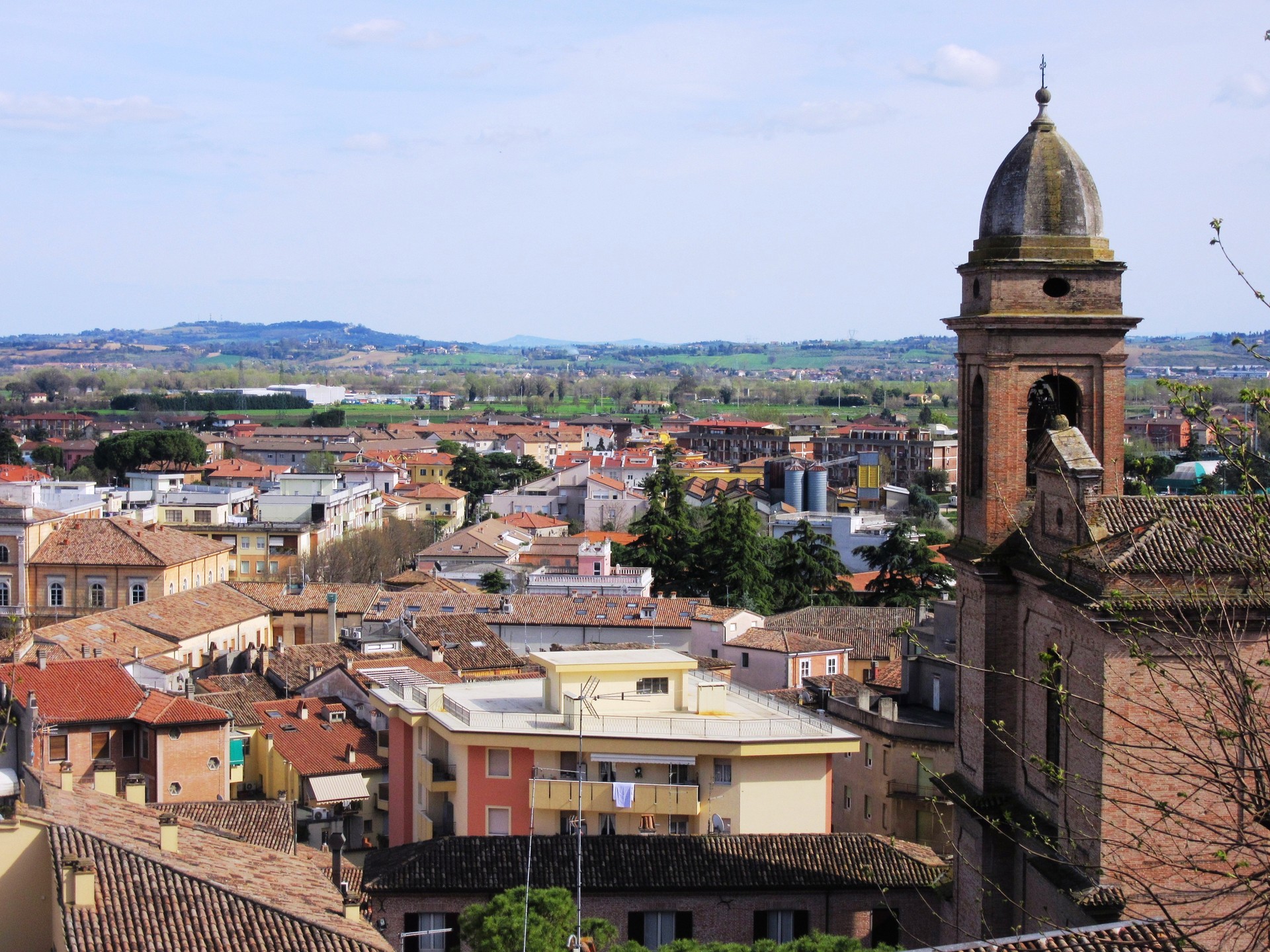 Another experience that I would advise you to do in Santarcangelo is to have a picnic in the high region. In the middle of the mountains you will find a grass area where I once went with my friends to have a picnic. There are a multitude of ways to get to Santarcangelo, and if you want to save money you can go by bike as it's less than 10 kilometres from Rimini. You can come and take advantage of the artistic activities found in their cultural calendar, so take advantage of knowing it, for example, I went to an outdoors concert with a group of friends, and I had a phenomenal time.
Furthermore, and to finish this part on Santarcangelo, I will tell you that inside the city there are also some underground passages that functioned as an escape point during the Second World War. I still have yet to visit this place of interest, but I am waiting to go again to get to know this part and therefore share with you my evaluation of the place. So, as you will already know, dear friends, come to Santarcangelo! I am sure you won't regret it.
2. Cesena
The next point that I would recommend you go to is Cesena; I have had the opportunity to visit this interesting place twice, and both times were different and special.
Furthermore, I will tell you that in Cesena you will also find a head office for the University of Bologna, so you should not miss it, Cesena also has a vantage point in the city where you can see an incredible view of the sunset and the grape fields found here.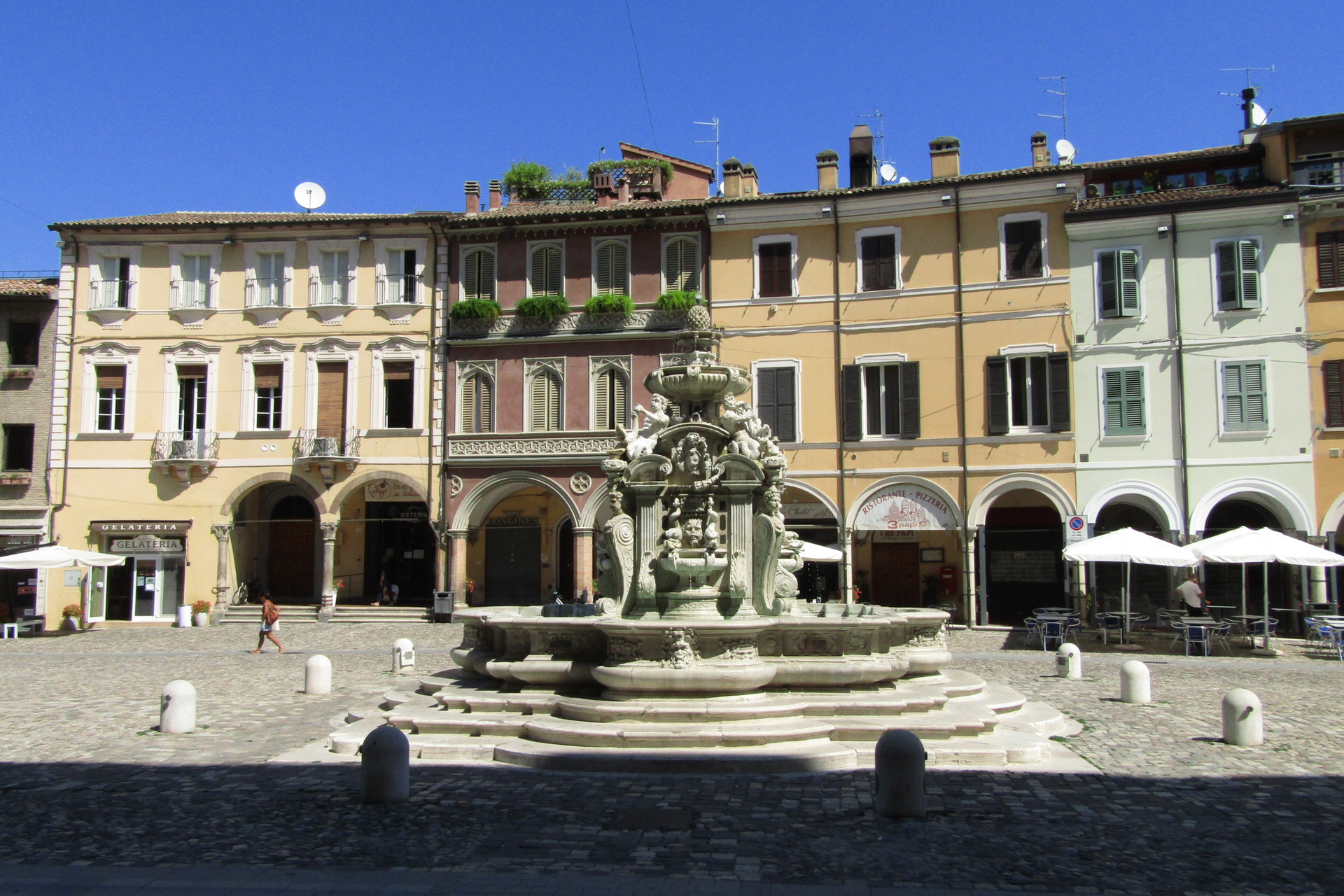 If you are the people who like to meet more local people, this would also be a good opportunity as in Cesena there is a group of people who have a language exchange that meet weekly to share experiences and do activities. Cesena is small but also has a lot of interesting things to see and do.
When you come here, I recommend you visit the cathedral and, in fact, the main square where you will find, in my opinion, the most beautiful fountain near to Rimini: it's magnificent! I am sure that when you see it you will understand what I mean, as it is so well-made and has so many adornments and decorations that it is a true work of art.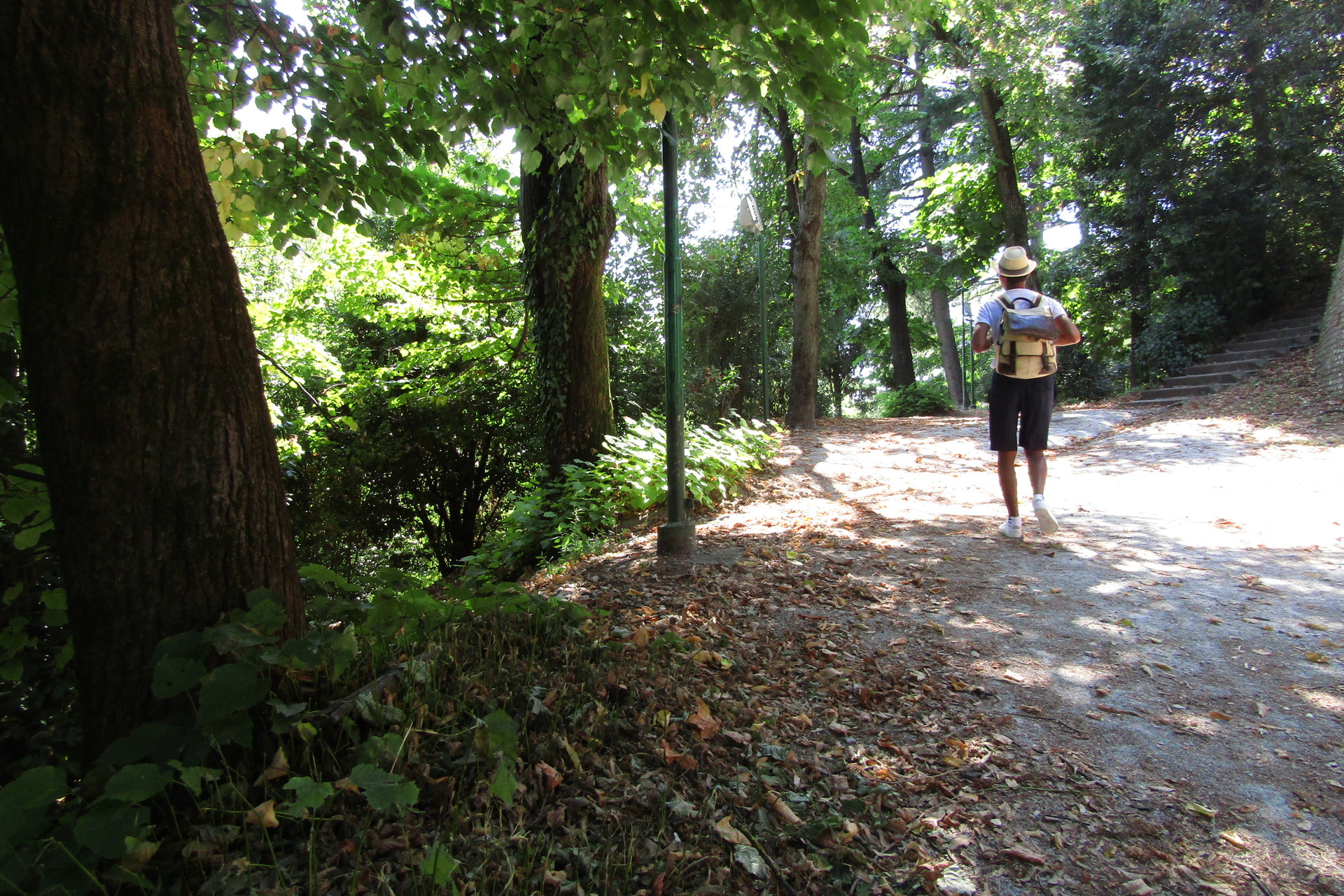 And if you really like to walk, come in the morning or just after lunch to go to the Rocca de Cesena, which is practically right next to the main square of the city. This route will take you on natural walks, without having left the city, and you will be able to listen to the sound of the lizards that are running over fallen leaves from the trees, and if you continue upwards, you will appreciate the marvellous scenery of the city, and also within the same rocks you will be able to find a fortress that takes the shape of a castle (Rocca Malatestiana), here you can simply connect with nature and breath pure, fresh air.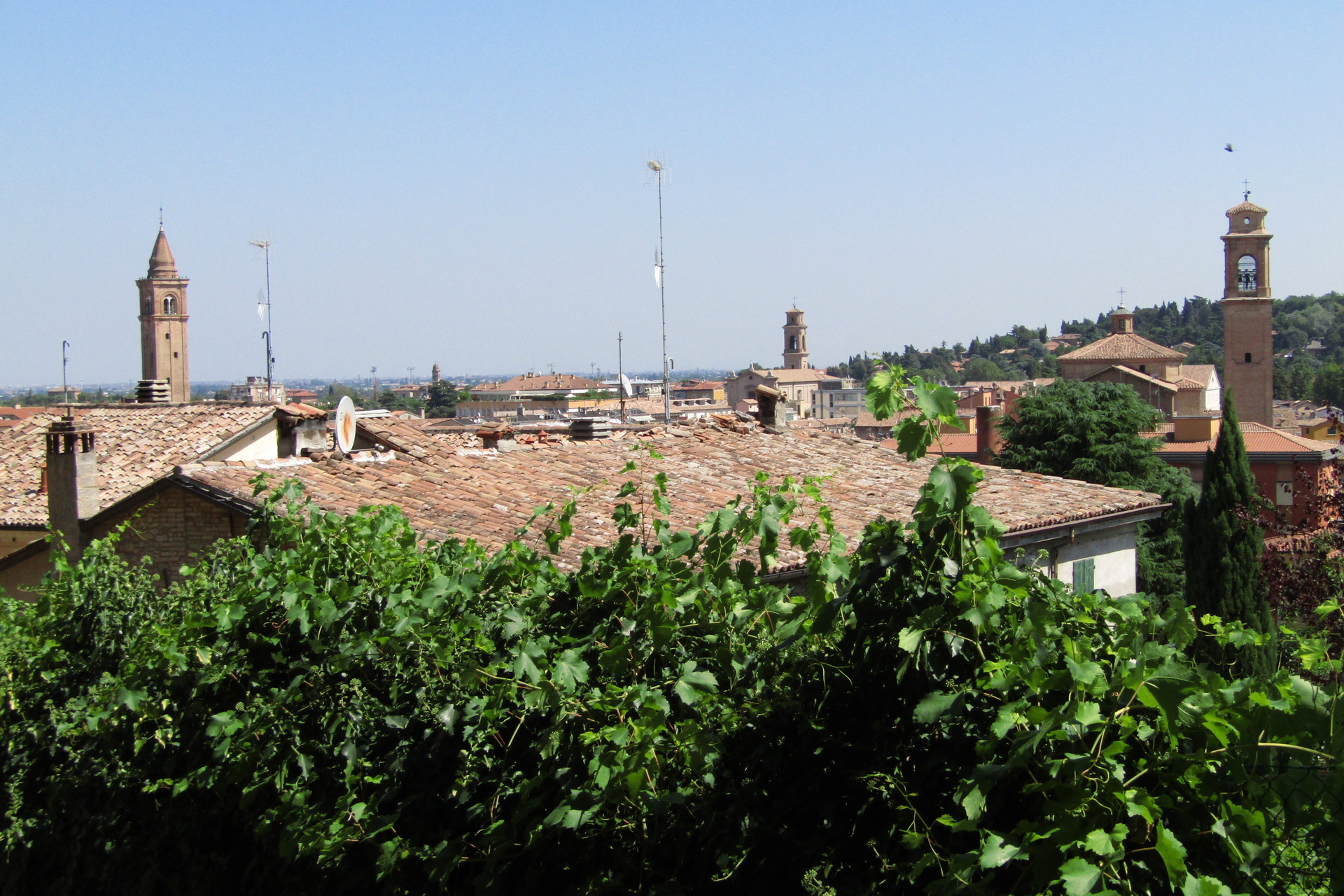 Additionally, don't believe these are the only things to discover in Cesena, as here there are also interesting museums such as its own library, which is one of the oldest in Emilia Romagna. I would also recommend you pass through each of the streets and get a sense of the vitality of the city. If you come at night, you will find Cesena illuminated and it will leave you more than satisfied. Come to see it!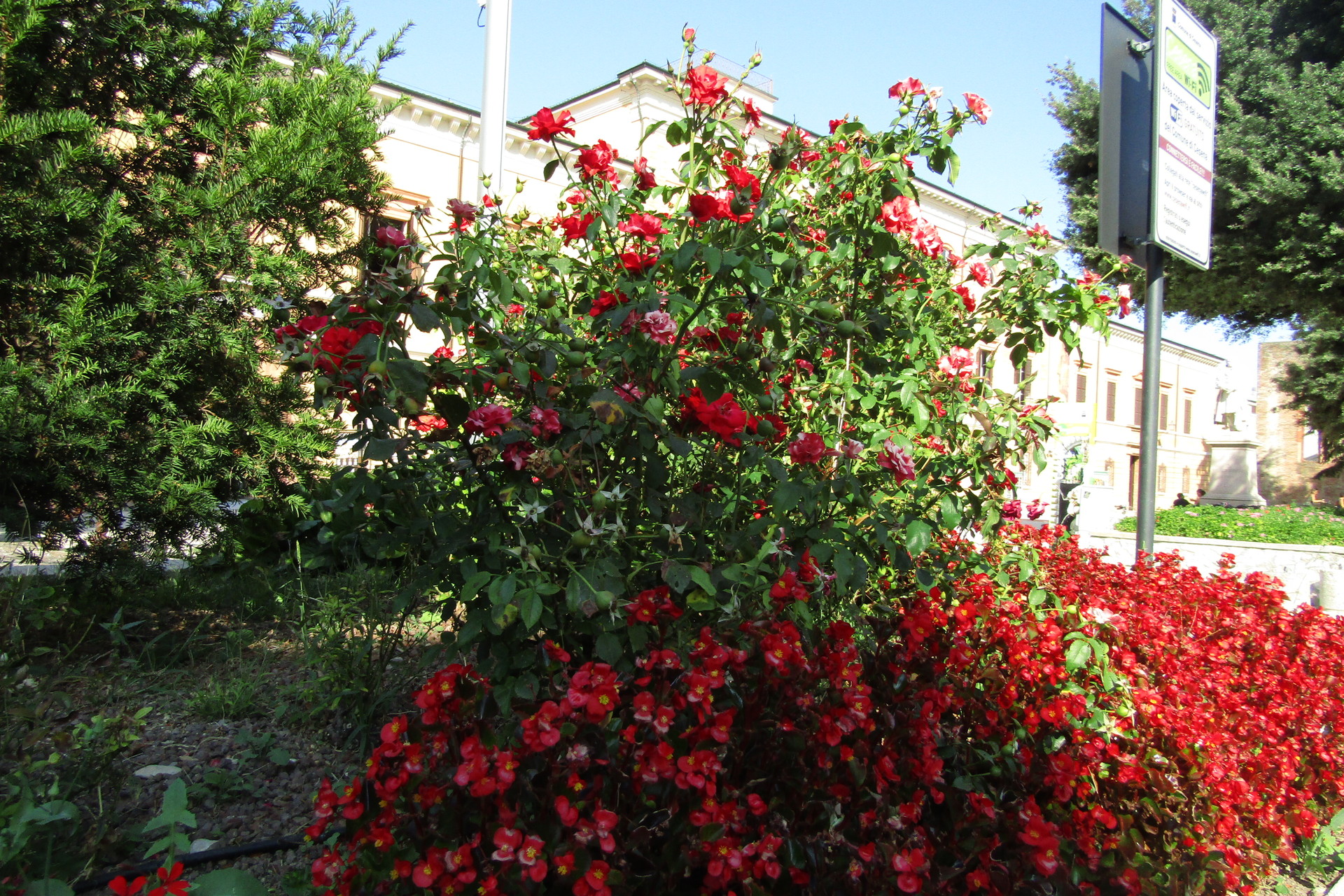 Cesena is approximately 35 kilometres from Rimini, so in this case I would recommend you come by regional train, which takes less than 15 minutes to bring you to this city that has as much history and interesting points to appreciate as Rimini. You won't need a huge budget, as you won't need to buy much other than the train ticket, especially if you come after lunch to not have to spend money on food, and taking a stroll through this area is 100% recommended.
3. Ravenna
The next destination that I want to recommend, which is found near to Rimini, is Ravenna. This city is around 62 kilometres from Rimini, and you can take advantage of it by looking around every one of its churches, museums and its historical centre.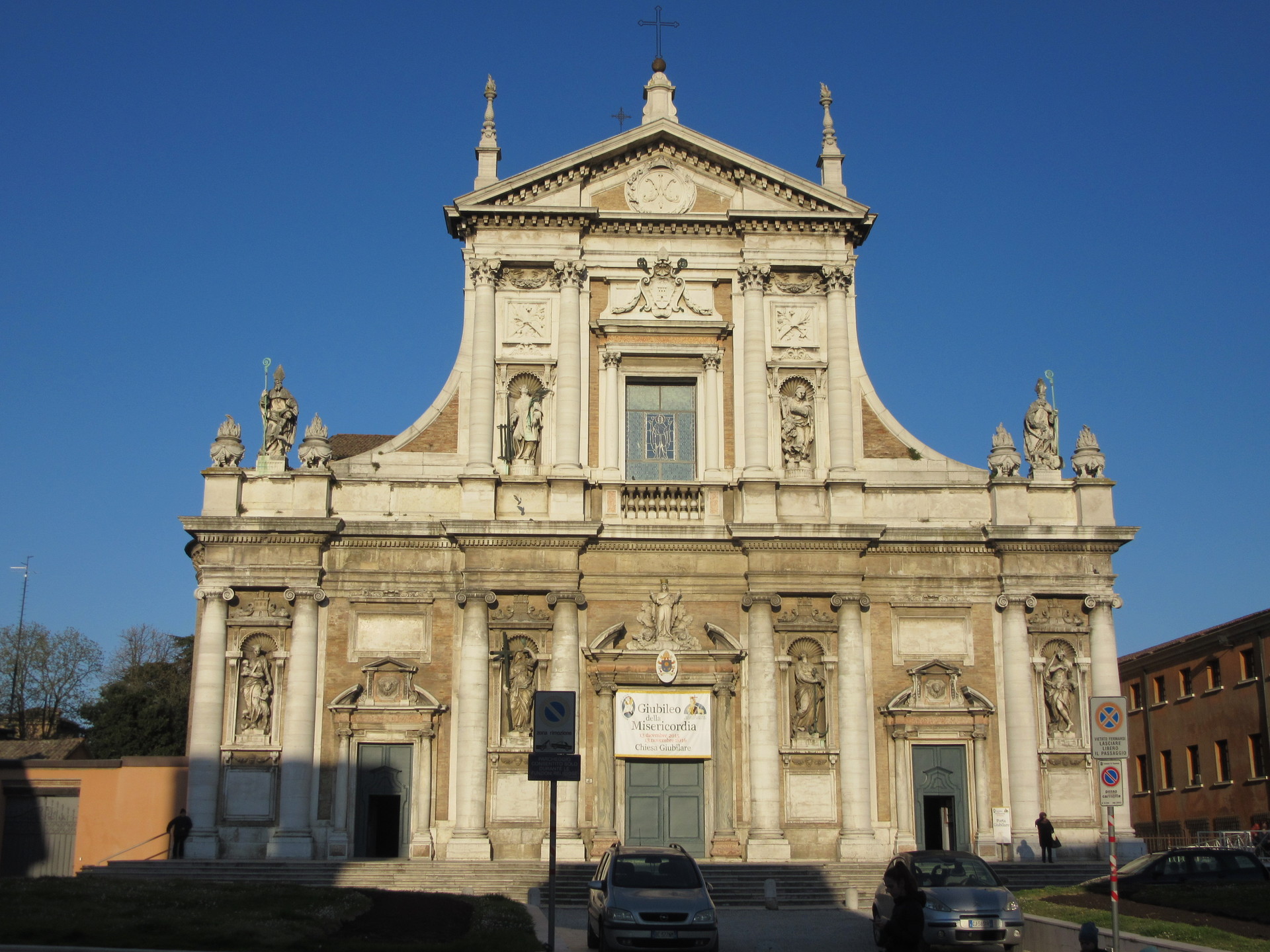 In this instance, to come to Ravenna it's necessary to take a train, unless you want to take a long journey on your bicycle, suitable only for residents! Truthfully, I still haven't gone by bike but by train, Ravenna is a city that for a time was a capital of the empire, like Rome, therefore if you come here you are going to find many interesting things and more than a museum to visit.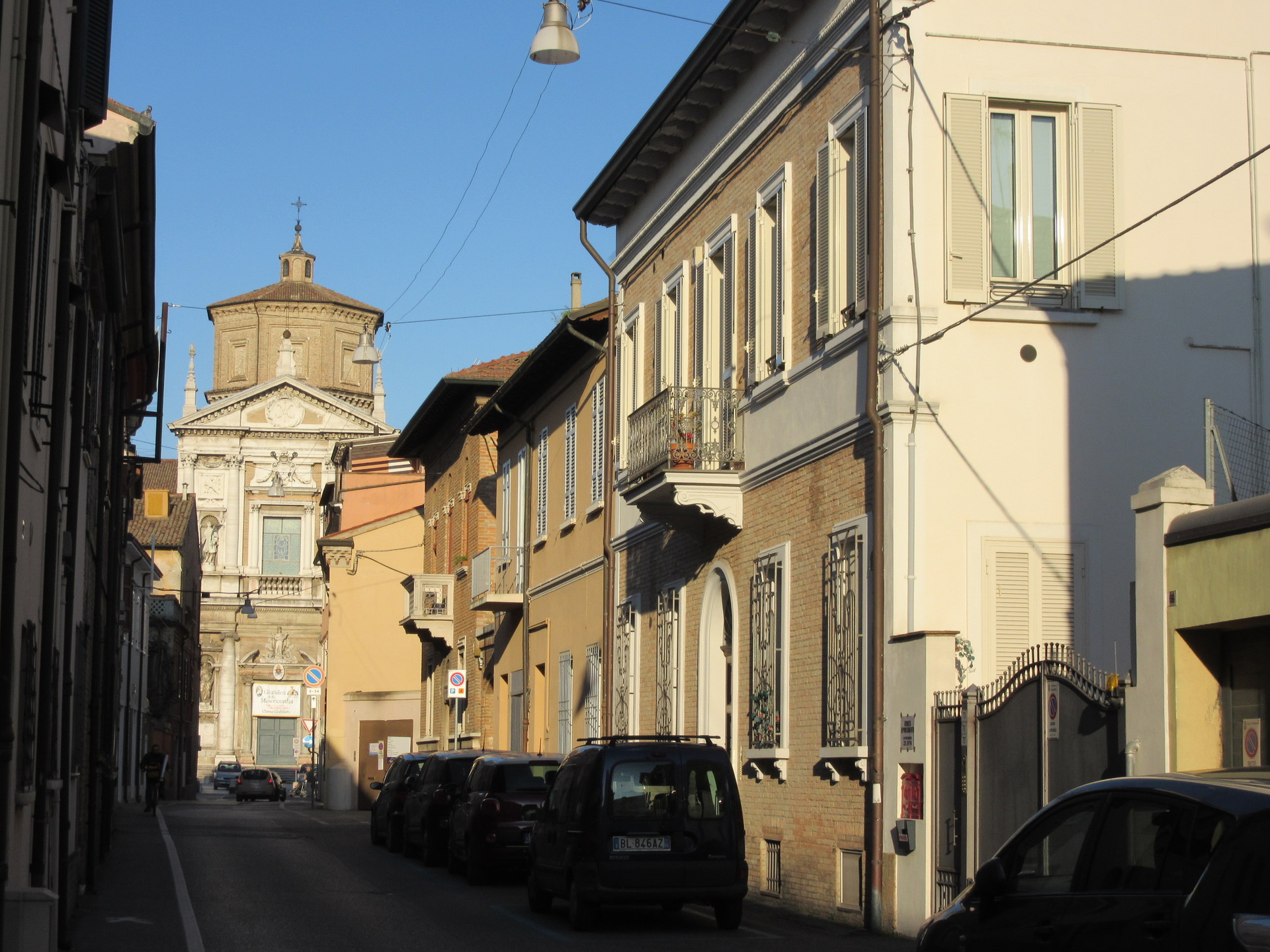 For example, I really recommend going into the museum of Dante Alighieri, which is known as the Dante museum due to Dante Alighieri spending his last years in Ravenna and furthermore, you will be able to see, right next to this museum, the mausoleum where the remains of the creator of 'Divine Comedy' rest.
The city of Ravenna, furthermore, is also considered a World Heritage Site by UNESCO, and when you pass through each of its streets you will realise that it deserves it simply for its architecture and its churches that are true works of art.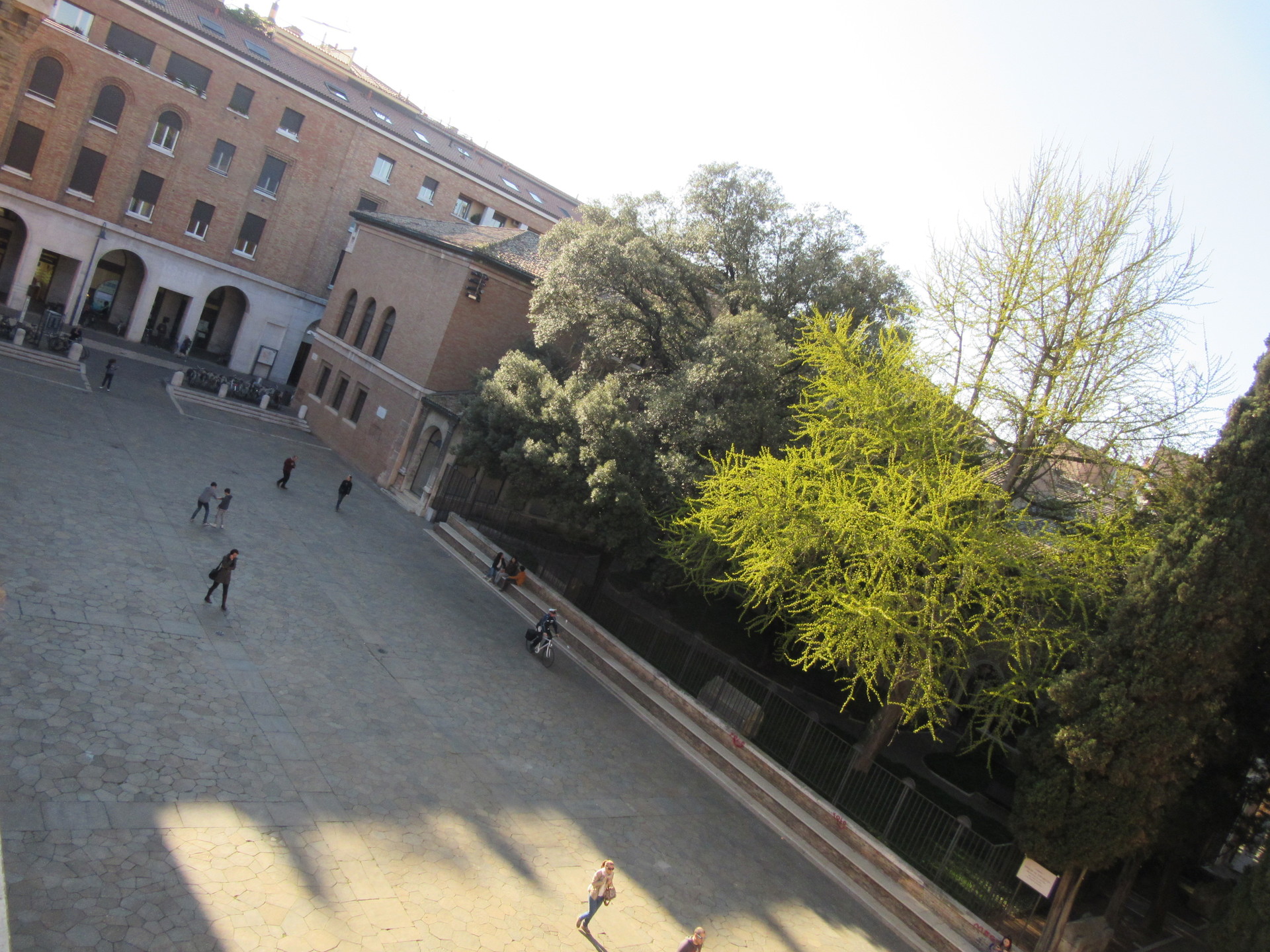 From the moment you leave the Ravenna train station, you will find yourself walking towards the oldest church in Ravenna, where I once said has more qualities of a museum than a church, and here you will find different mosaics that give you a warm welcome.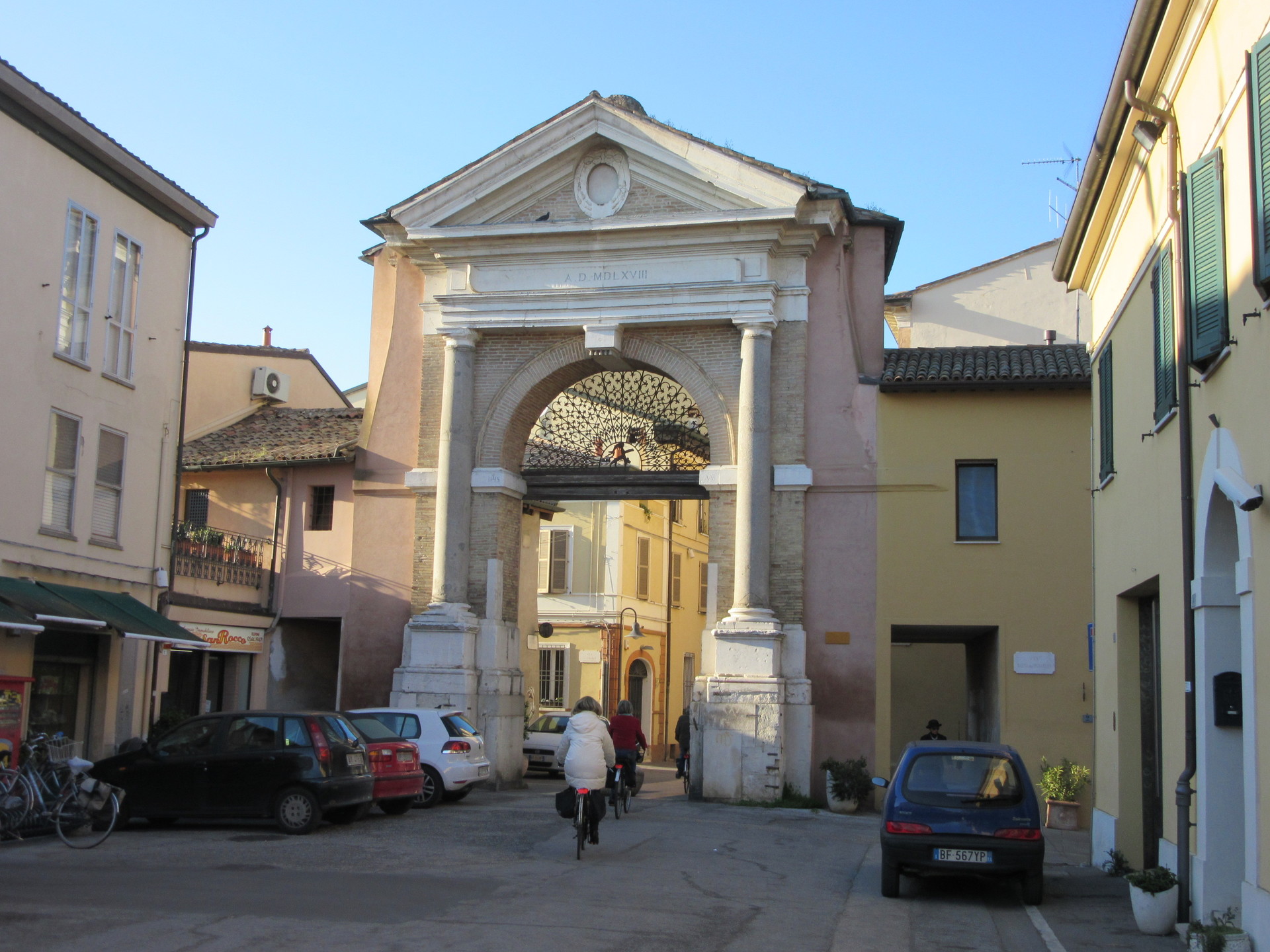 In Ravenna you will be able to find different arches that protect the centre, or rather they welcome us to it, you will be able to see many churches and many people walking through the streets and, in addition to riding a bike like in Rimini, in this part of Italy, riding a bike is practically a necessity to be in contact with nature and with the city itself.
As you will already know, dear friends, come to get to know the city of mosaics, the regional trains don't cost a lot and I am more than sure that you will have a great time, bring yourself to come here!
4. The Republic of San Marino
When I was in Lima, I realised that very close to Rimini you can find the Republic of San Marino, and I didn't doubt for a moment that this would be one of the first places that I would go to see and enjoy. San Marino is a one of the microstates that can be found in Europe and it is found within Italy.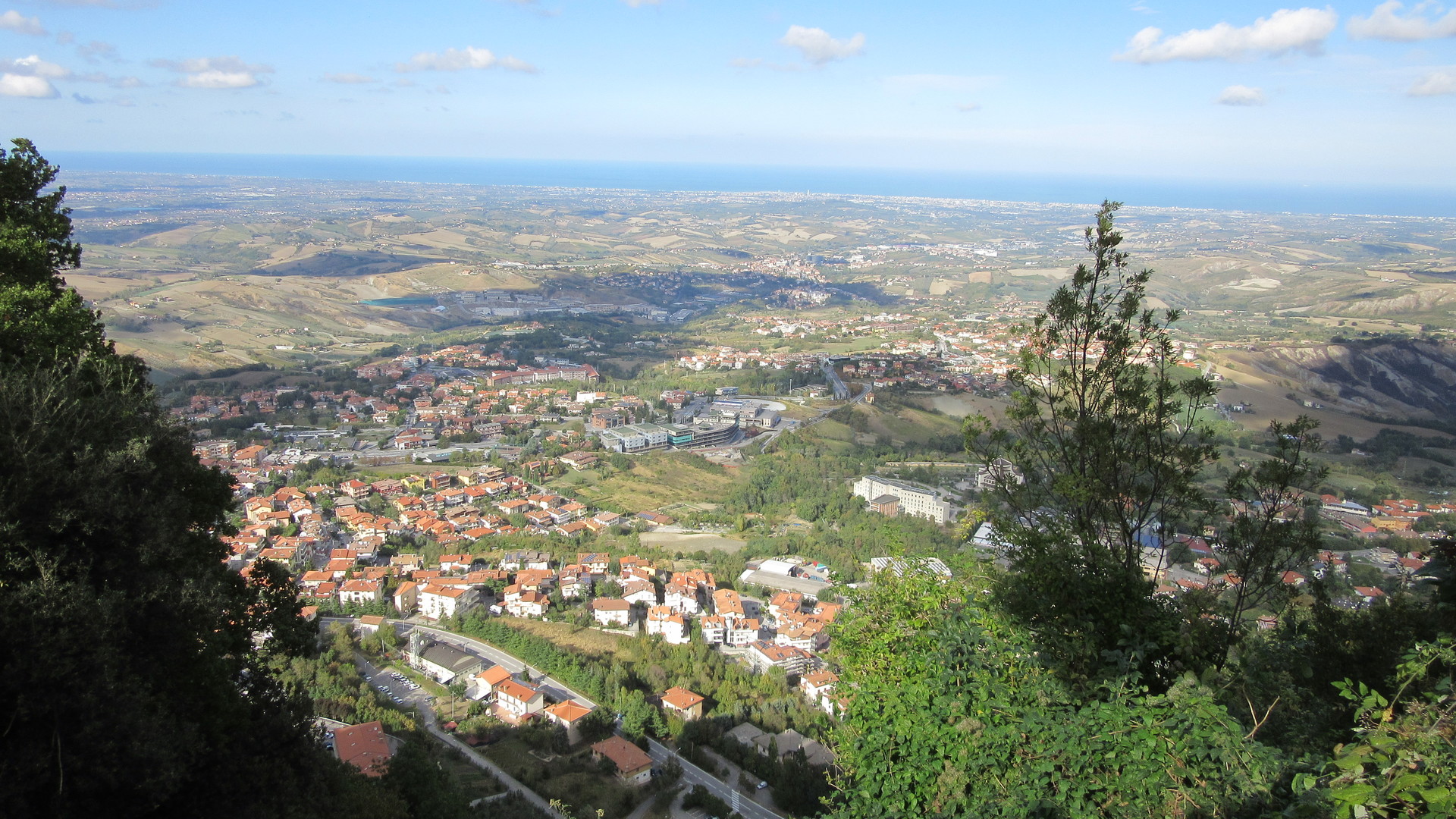 I have twice had the opportunity to get to know San Marino. The first time I went was less than a week after having arrived in Italy (almost a year ago), and in that opportunity I went with my friends from the university and with a group of people from Erasmus. I have to tell you that there are no train connections from Rimini to this area of San Marino, therefore one of the ways to come here is via the buses that you can take from nearby Rimini train station, which take around 40 minutes to complete the journey.
Moreover, I want to tell you that San Marino is not only a microstate, but it is also considered to be the oldest nation in the world, and its historical centre, where the predominating colours of cement are clear and white, is considered a World Heritage Site, there you can, for example, walk through the square called Piazza della Libertà, and you can also take some short walks through the city where you will find some excellent vantage points to see the fields that surround this microstate.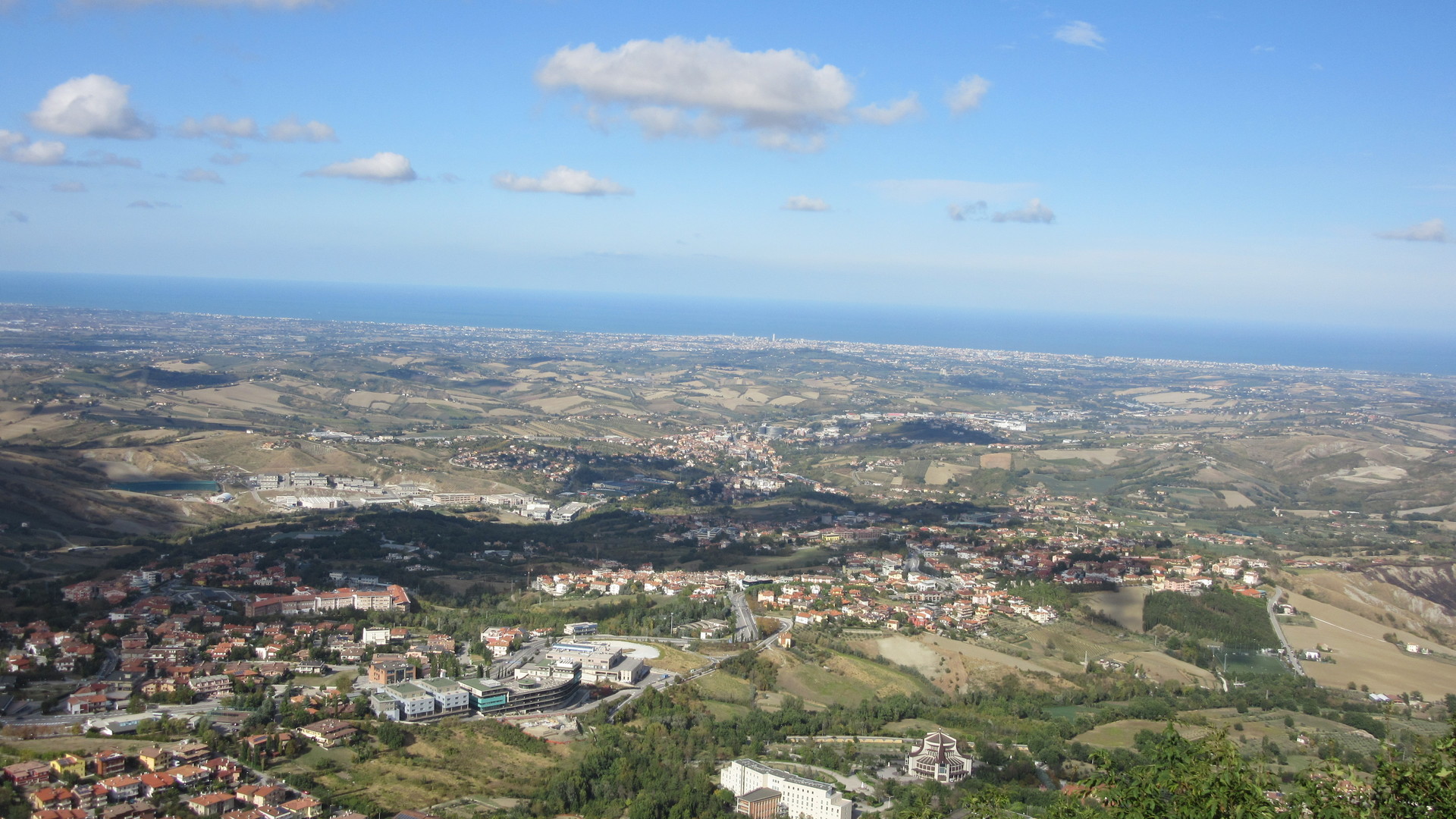 In addition, I'd like to comment that if you are one of the people who want to come and venture by bicycle, as I once did, this is the place for you. In the beginning, the path is simple, but then it will become more difficult as you will be on an incline, and if you want to reach the tallest part of the city, you will have to walk whilst holding the bicycle in your hands, however all this effort won't be left without its recompense as you will then feel glorious and you will then be able to take an amazing descent where you won't need to peddle. This path is the most pleasant I have seen! Come to cycle here and you will not regret it.
I also want to say to you, dear friends, that if you come by bike you will be able to take a route of dreams, as you can stop along the way to see a cemetery belonging to wartime and where you will feel connected to history, as well as an aviation museum, which you have to pay an entrance fee for but, if you like planes, you won't regret coming here. In any case, I will tell you a little secret: in the lower part there is a park on the side of the road where you will find a good view of the aeronautical park, which is the only theme park in Italy.
5. Cesenatico
The next place I would like to recommend is found some 23 kilometres from Rimini, a simple option would be to go by train, but I will say that the best way to come here is by bike as the journey is one of the most interesting that you can take, because to reach this area you have to pass through communes that were previously within Rimini such as, for example: Bellaria, San Giuliano, as well as other places much closer to the sea.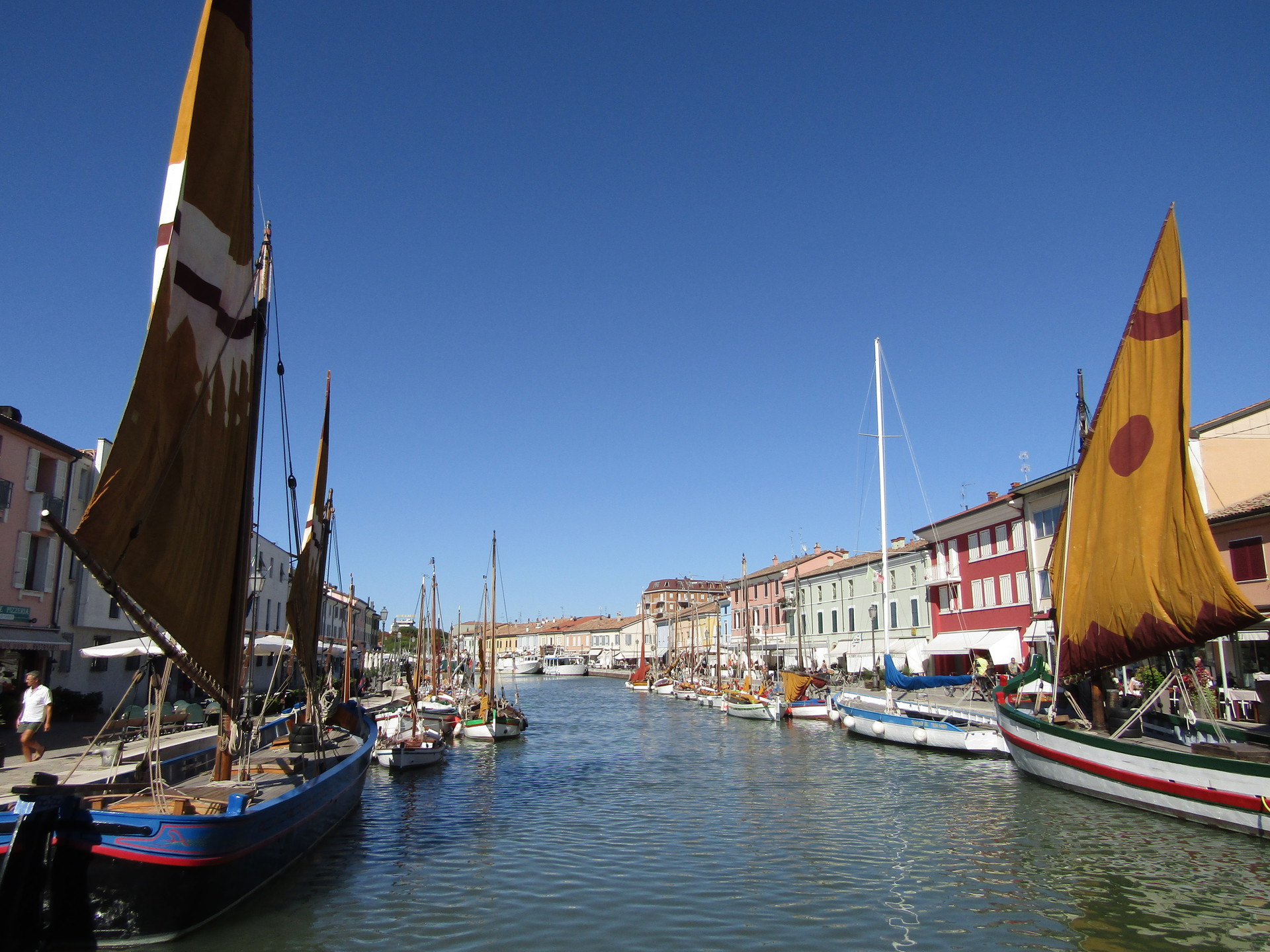 This journey I was able to take with one of my university friends, and the truth is it was one of the most impressive adventures that I could have taken in Rimini, not only due to the good company, but also due to passing over many bridges before arriving at Cesenatico, where you can see where the river joins the sea, and I would also recommend taking a few breaks so, just like me, I am sure that you will also find a free beach, where you won't have to pay to stay, to relax for a moment on the sand, or eat your lunch as I did, in my case I brought my food – which was fruit – with me to be able to give me some more energy for this adrenaline-filled day.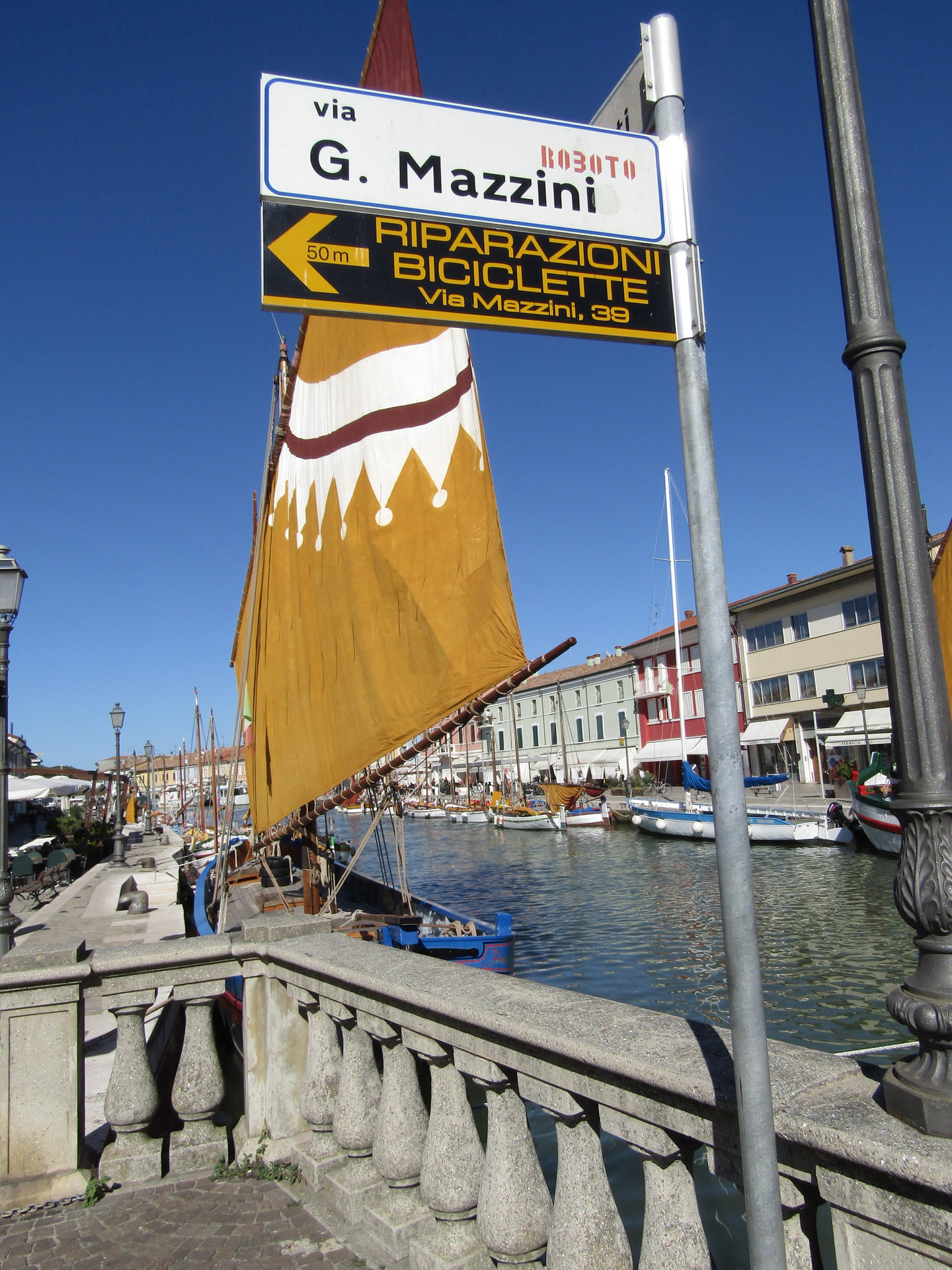 Something interesting about Cesenatico is its incredible bridge, which was designed by the great Leonardo Da Vinci, and whose canals have such a special touch that, to tell the truth, I confess are much more beautiful than what you can find in Rimini, and not just for the canal in itself, but also for the old ships that are anchored in this canal.
In this place, you will realise that there was a tall building, like one we have in Rimini, that is known as the Cesenatico Skyscraper. To tell the truth, this skyscraper is much nicer than the one we have in Rimini, apologies for the sincerity!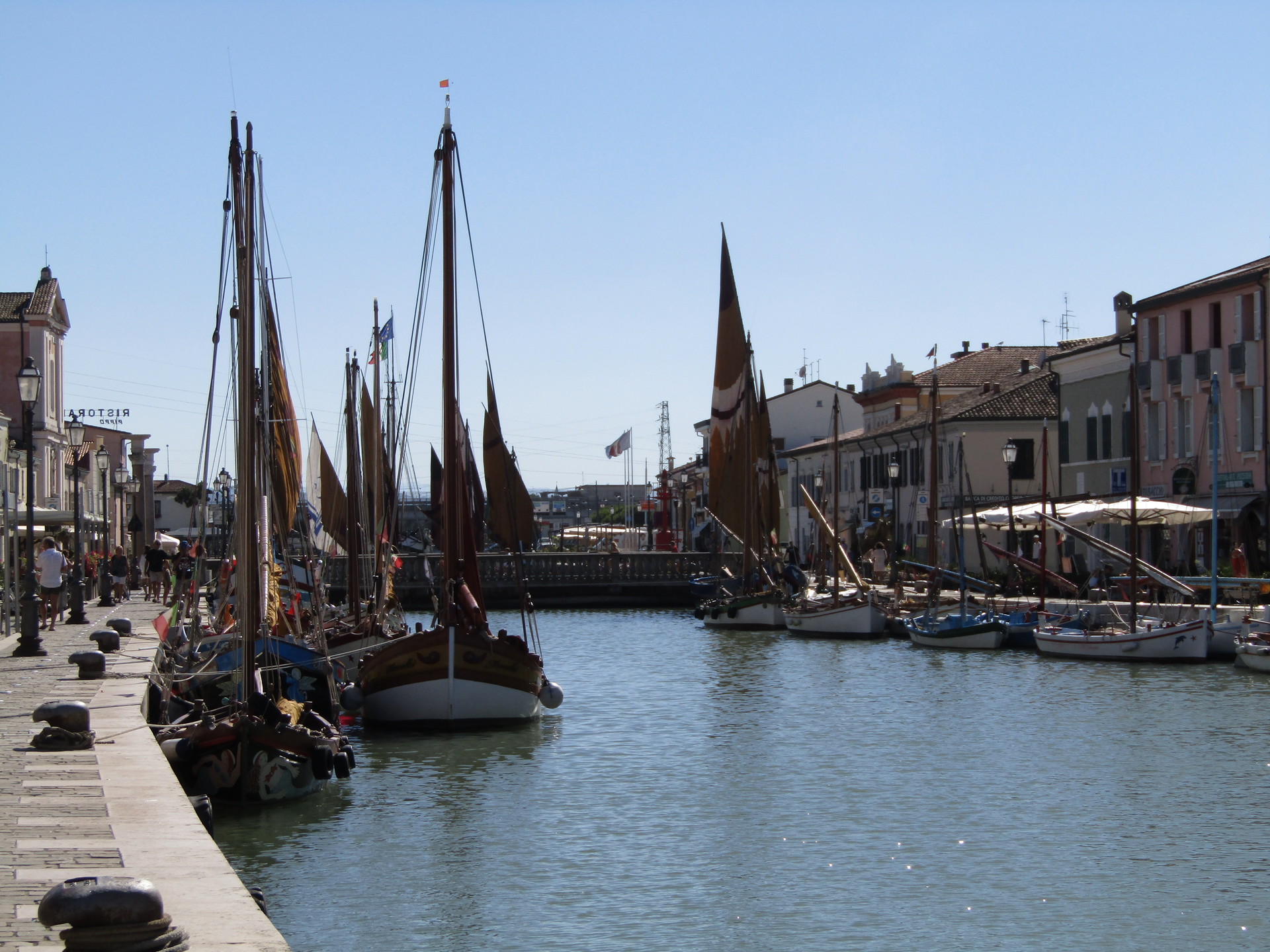 Finally, I will tell you about how, in Cesenatico, you can also find different museums about the sea. In my case, I did not go to visit them, but I did go to take a break in the beaches that really relaxed me, and I found there to be much fewer people than there are usually in the summertime in Rimini.
As you will already know, dear friends, come to Cesenatico, whether by regional train or by bike, you will have a marvellous time! I assure you.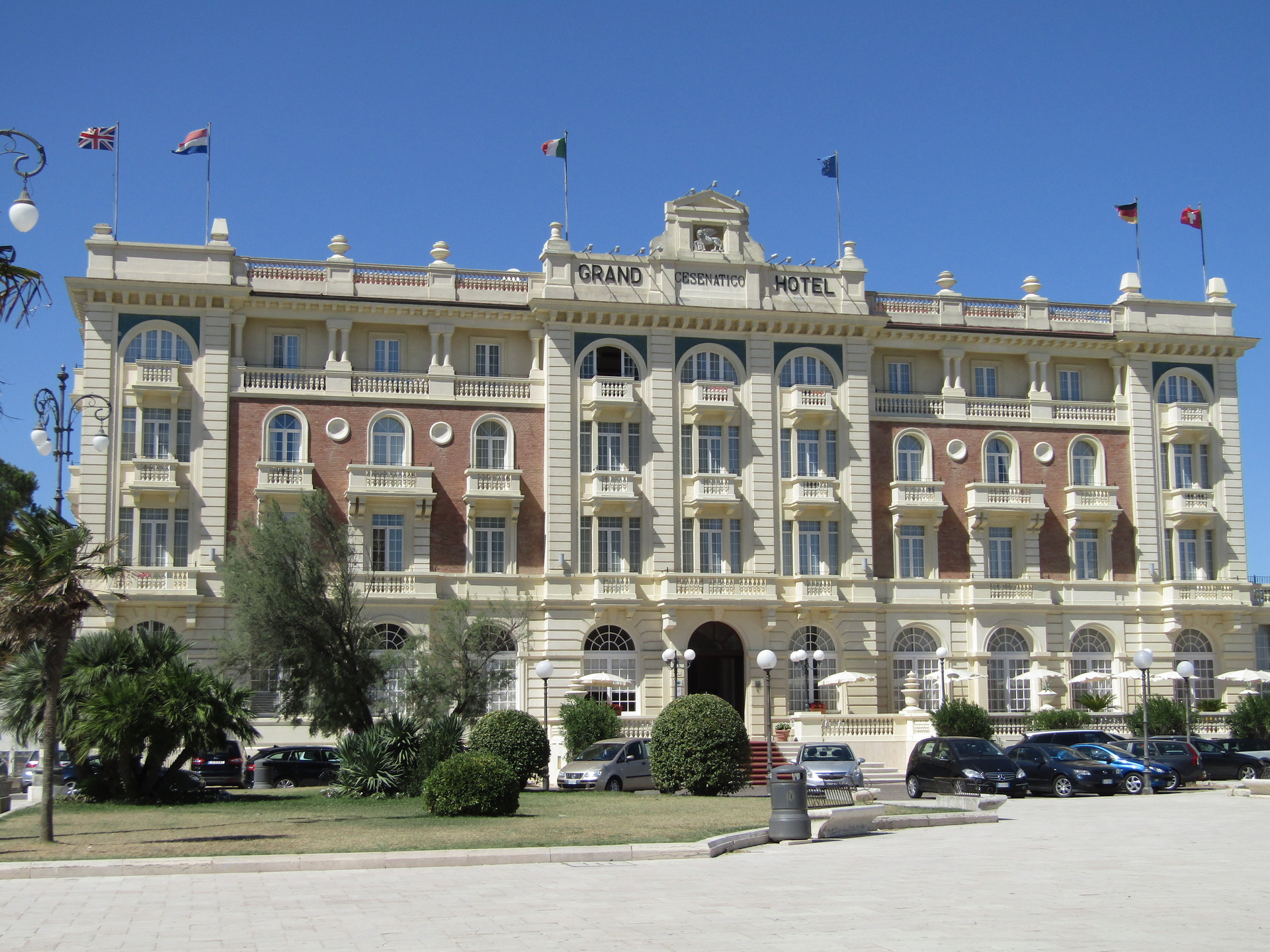 6. Bologna
The capital of the Emilia Romagna region is some 117 kilometres from Rimini and, despite being more than 100 kilometres away, do not fear because it is very close, less than an hour on the train and you will have already arrived here, or maybe many of you have had to pass through Bologna to get to Rimini.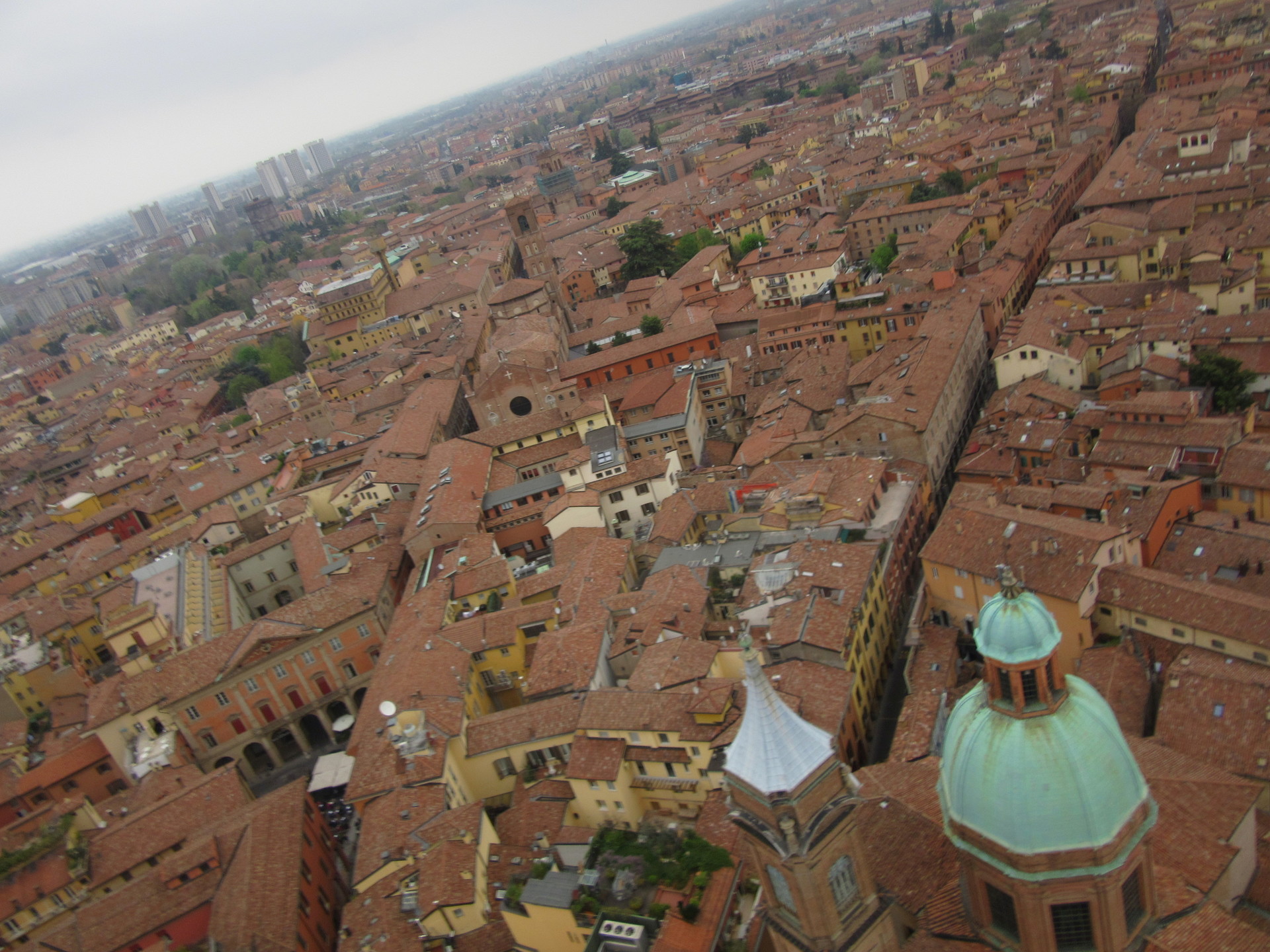 Bologna was the first Italian city that I got to know, and here, without thinking or wanting to, I have come more than three times. Of all the options I am giving to you, this is the largest city and where you will find the most people.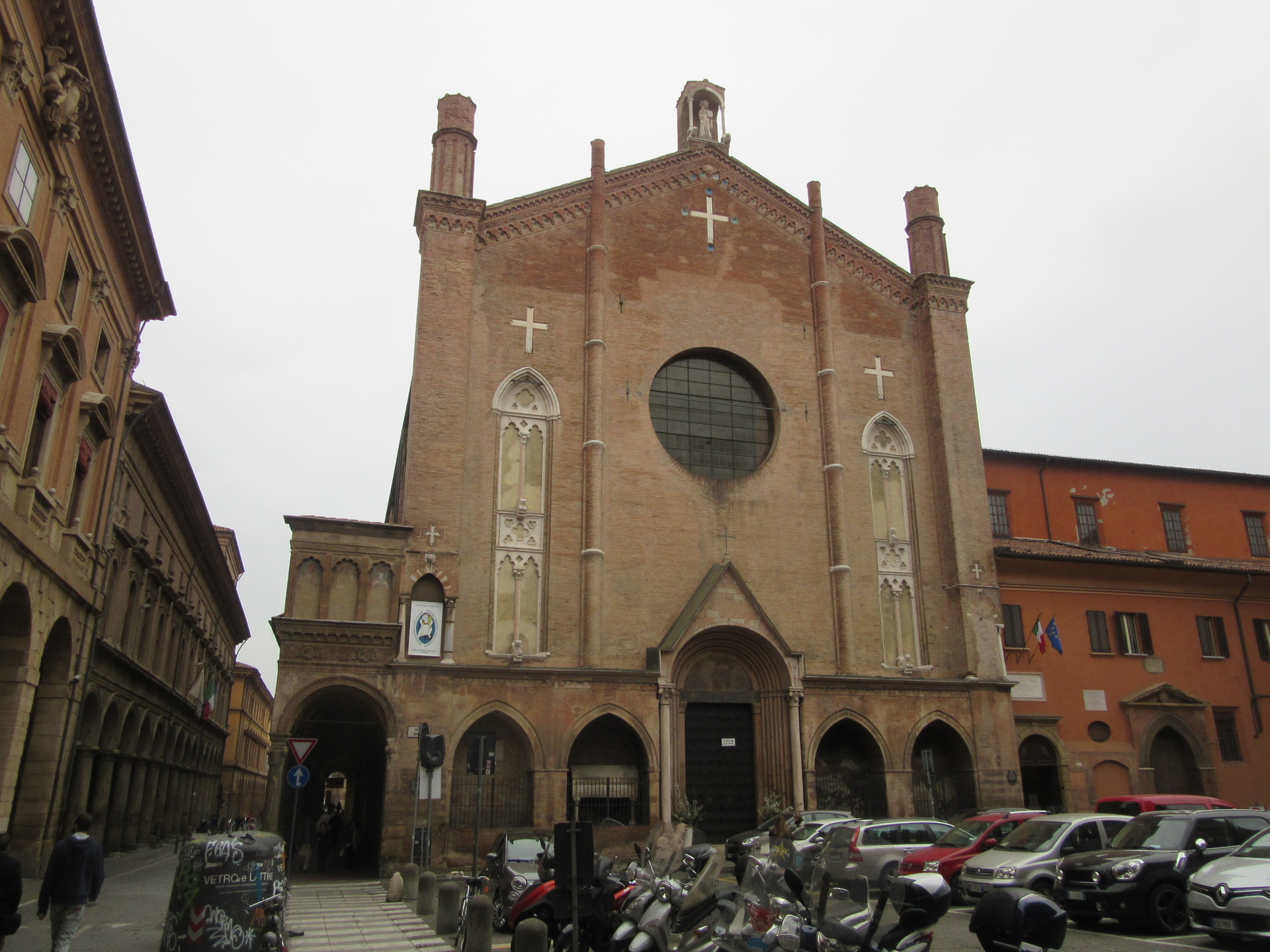 Bologna has a lot of history and has especially good food, and here is also where, year after year, many students come to do an Erasmus. I recommend you go to the part of the head office of the university and therefore get to know the oldest university in the west better. In this area you can find a library and a museum that, just by showing your student card, you can enter without a fee: its free!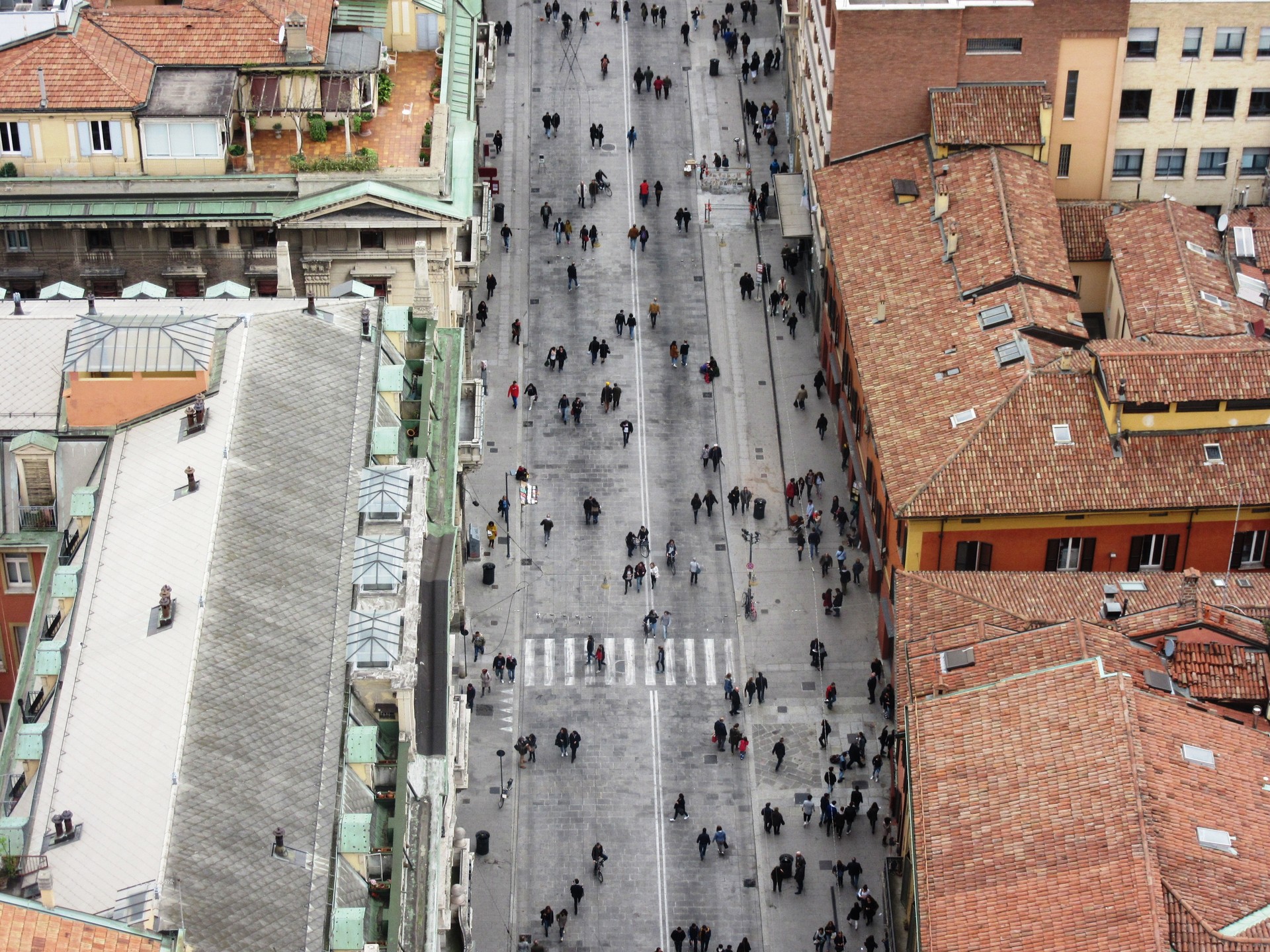 In this Italian city you are going to uncover different secrets that will amaze you such as, for example, the Little Venice that I am sure when you see it you will feel magically transported to the Venetian canals and its gondolas, but this is not all that you will find in Bologna; here you will find many medieval towers that you can climb up to have an incredible view of the city, although they say that it is bad luck for students, as those who climb the tower won't graduate, although I have to say I did it without knowing this! So, I can tell you if it's true or not!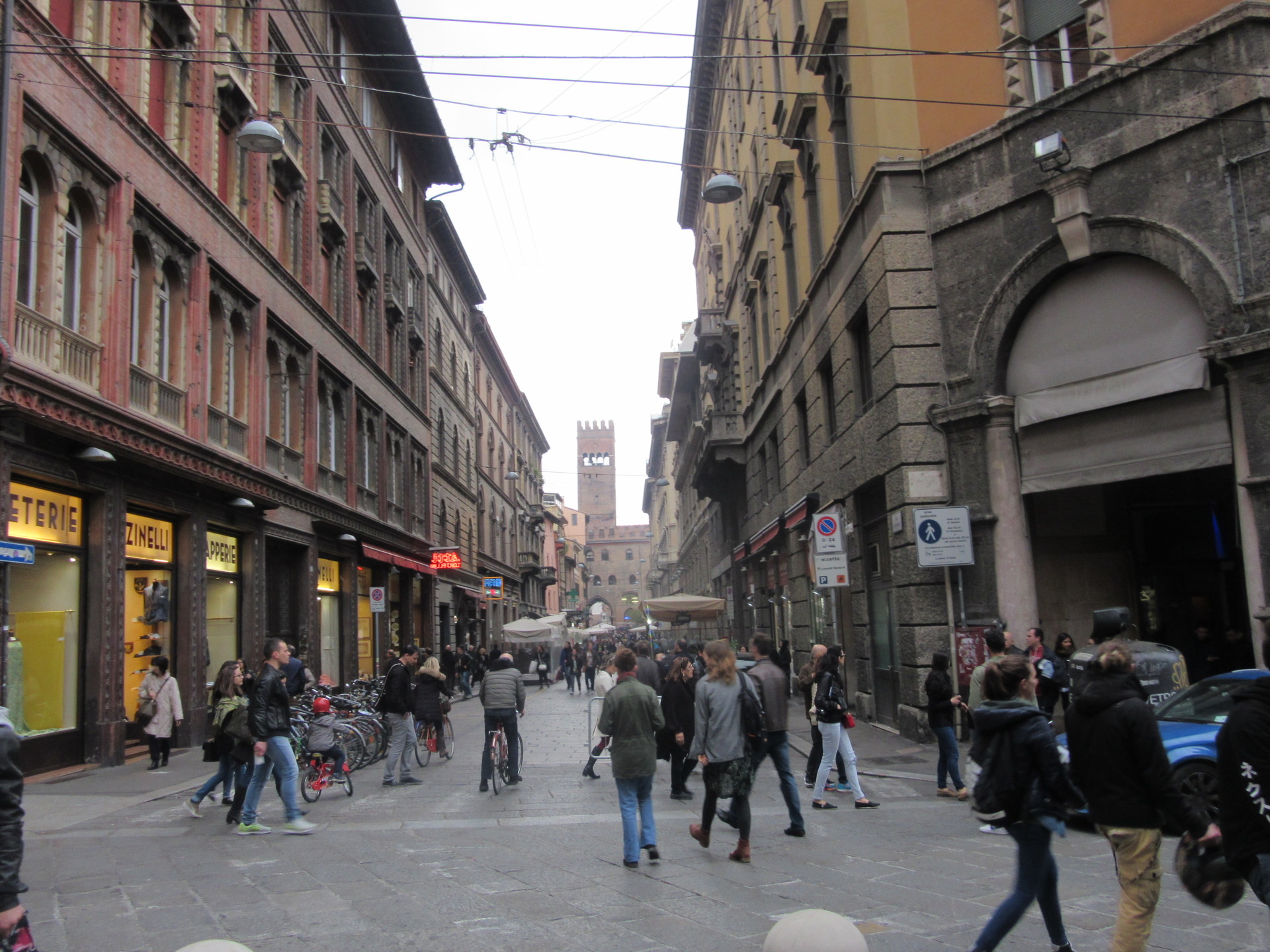 As you already know, dear friends, it is a moral sin to come to Bologna and not pass through its historic centre and see its important monuments such as the Fountain of Neptune. Bologna is also the place where you will find the Guglielmo Marconi International Airport, so I am even more sure that you will, in any case, pass through here if you are coming to Rimini.
Conclusion
Many thanks for having read these recommendations! I hope that they have been useful and, in truth, if I had continued writing I could have done so extensively, as, truthfully, there are many other places near to Rimini that you could go to and I still haven't been able to visit such as, for example, Montebello and Verucchio, where I have wanted to go to for a long time.
I hope that you will soon visit all of these places and that you also discover new things, other than these points, that you can share with us. I hope you have a marvellous day! We shall see each other another time.
Have a great day, all of you, and continue to get to know each part of this beautiful country that has so many things to offer. Hugs to all :)
---
Photo gallery
---
---
Content available in other languages
Want to have your own Erasmus blog?
If you are experiencing living abroad, you're an avid traveller or want to promote the city where you live... create your own blog and share your adventures!
I want to create my Erasmus blog! →