Study at Royal Holloway University of London
Facilities

10 / 10 points

Quality of the college

6 / 10 points

Is it easy to pass?

10 / 10 points

Activities

10 / 10 points

Tuition fees

4 / 10 points

Faculty

10 / 10 points
---

My personal experience
Here we are in my last year of college. 4 years of my life are almost over and I feel good but also a little bit nostalgic, as many of my actual friends are people that I met at university and it's sad to think that I might not see anymore some of them. I say some of them because I am sure that I will keep seeing real friends once all of this will be over. I had yesterday my last class ever and we are now on Easter break until the last week of April, which is when the madness and craziness will start. Exams' period! Graduations will take place in July, but before that we will have our summer ball, our last chance to shine and have fun all together! Can't wait really. It usually takes place in one of the Founder's quad and it has a disco and who knows what. Also, as far as I know Example is going to play at this year summer ball. Excited. You can see in the picture below the Founders' Building with its two quads inside and the wood behind the main building, which is basically the all campus that you can see. There are buildings inside the wood, which makes the university's environment a very fresh air place to breathe.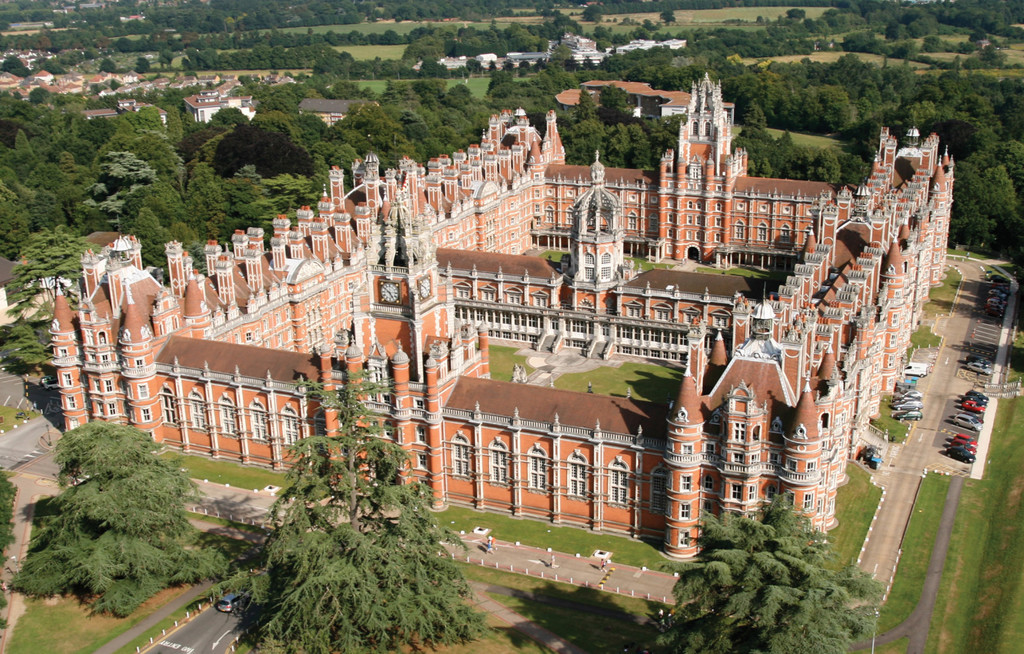 The overall experience has been cool and I wouldn't change anything about it really, apart, maybe some courses... just joking. Let's talk a little bit more about the university, though. I am super proud of being a Royal Holloway University of London student, because, at the end of all, many of the students coming from my university have amazing jobs and also, I mean look how beautiful, she is. How gorgeous she looks!
University quality
The Royal Holloway University of London, just because it has the name of University of London after Royal Holloway, it is classified as one of the best university in England, and I believe that I read once an article that classified it in the 60th place among the 100 best universities in the world. They usually say it is an excellent university because of its international look and not really because of the way classes are thought. I must admit that being Italian, I had an experience in the Italian's university which seems to me, to be a lot harder than the English one. However, the quality of the university is average and not bad at all. Classes are either lectures where you can be between 20 and 40 people (depending from the course) in the same room (rooms are huge by the way) or they could be seminars which include a small number of students in order for them to discuss topics all together with the tutor. They are for us to practice what we learn during lectures. However, not all the courses held seminars.
Buildings
Esthetically, I believe it to be one of the gorgeous university I have ever seen in my entire life. Imagine that people come to visit the place because of its history. Build by Queen Victoria was before an only girl school. The main building is a castle located in a huge green space, which the campus appealing and absolutely amazing to live. There are of course more modern buildings such as Windsor Building and Bedford library, where we all like to go to study. It is a place where to meet as well, as there is a café as well as few seats, where you can take a break and refresh between an essay and another. There are more cafes on campus, and pubs; and discos. Yes, that is correct we have it all at the Royal Holloway University of London. We have a huge gym, with a nice field where to train outdoor, the dining hall and the hub where to eat and an old library, which is located in the main building, Founder's, called Founders' library, for those of view that like to study in a Harry Potter style library. And also, we have an amazing chapel, absolutely beautiful. Oh, we have a picture gallery, that you can visit of course! I know we have it all.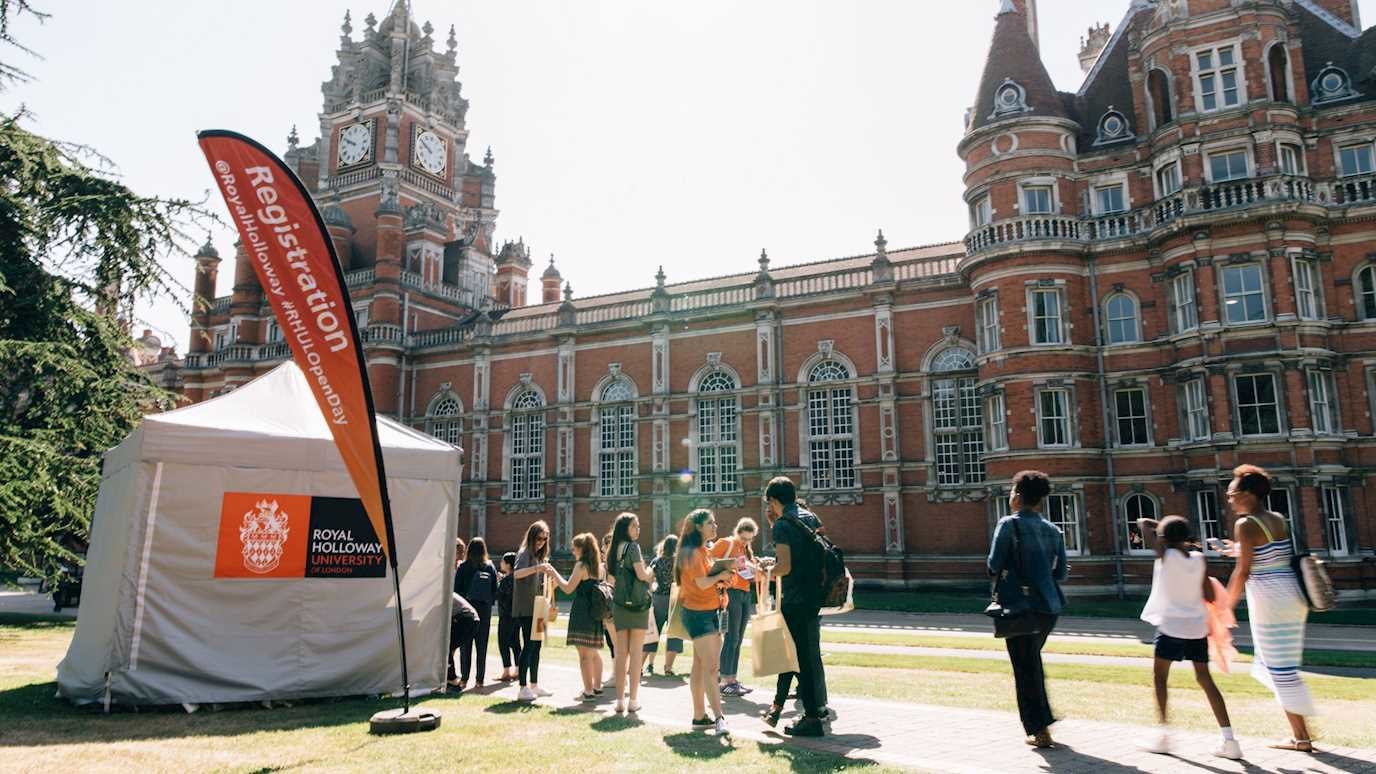 Activities
The Royal Holloway University is situated, unfortunately, in a little village where there is not too much to do, Egham. It is about 40 minutes away from London, therefore, it is not possible to have a social life on a daily basis. However, the university does offer multiple options of activities you can choose from, there are societies you can take part in such societies as a member or else you could create your own society. And the university also does offer places where you can organize your own activities, for example, you can go and have a coffee in one of the many coffee places on campus, you could go eat with friends, or have a drink in Medicine, where you can also play pool. They organize salsa classes and many other activities, which make your time spent at the university less monotone. Finally, Wednesdays and weekends always have cool activities organized by the university for you to enjoy your night either in the SU (Student union) or in Medicine, both discos at night, bars during the day. Also, every Tuesdays there is a market where fresh food is sold at a very cheap price, there is definitely something to do almost every day.
Student fees
I would prefer to not go over the topic, but you know when you go to a very good university, the price it will always be higher than when you go to a normal university. The price is impossible to be paid by a student, that is why you can ask for the government to give you a loan, you need to give them the money back after few years. The university costs about 9, 000 pounds per year, yes lot of money! Expensive, but I think it is worth it to pay the price, seen that the service offered is quite good. Surely it could have been better or else the fee could have been a little bit less expensive.
Accommodation
Well, if you are thinking to go for your year abroad, as an Erasmus you don't need to pay such price, therefore, I highly recommend you to choose Egham, even if it is a small village, just because of the good university you will be attending. The Royal Holloway University of London in your curriculum will definitely look good and you will surely enjoy your experience studying with international students from all over the world.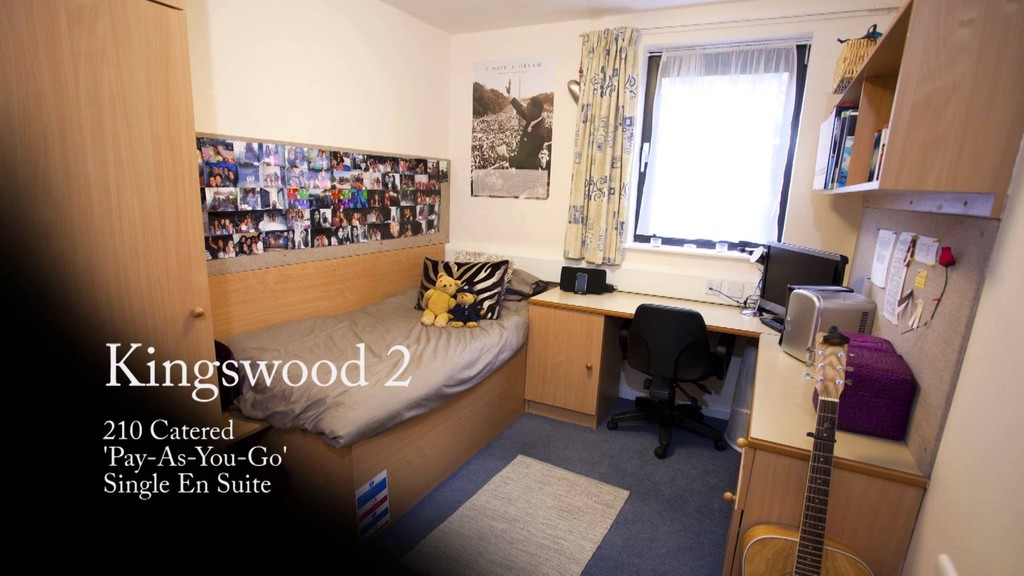 Ultimately, before finishing my post I wanted to suggest you to experience the campus life at his best by living on campus, the rent is a little bit expensive but a house in the village center would cost about the same price, you will need to walk daily to the university, so maybe it is worth it, if you have the economic possibility, to live on campus.
---
Photo gallery
---
---
Content available in other languages
Share your Erasmus Experience in Royal Holloway, University of London!
If you know Royal Holloway, University of London as native, traveler or as exchange student... share your opinion on Royal Holloway, University of London! Rate different characteristics and share your experience.
Add experience →