Where to eat and go out partying in Pula
Hi, everyone! I am once again going to give you some information about Pula, but this time I am going to recommend you the best restaurants to have a good meal in the city and also some places to go out partying.
Where to eat
These are the restaurants which I have liked the most in the city and the ones that I have most definitely visited the most.
Hey, Croatia (and most European countries) are not like Spain, so going after 9.30 pm for dinner at a restaurant is never a good idea. It happened to us more than once to go to one and for them to tell us that the kitchen was closed and we would have to go home, since no other restaurant was open. The best time to go is around 8 pm, 9pm at the latest.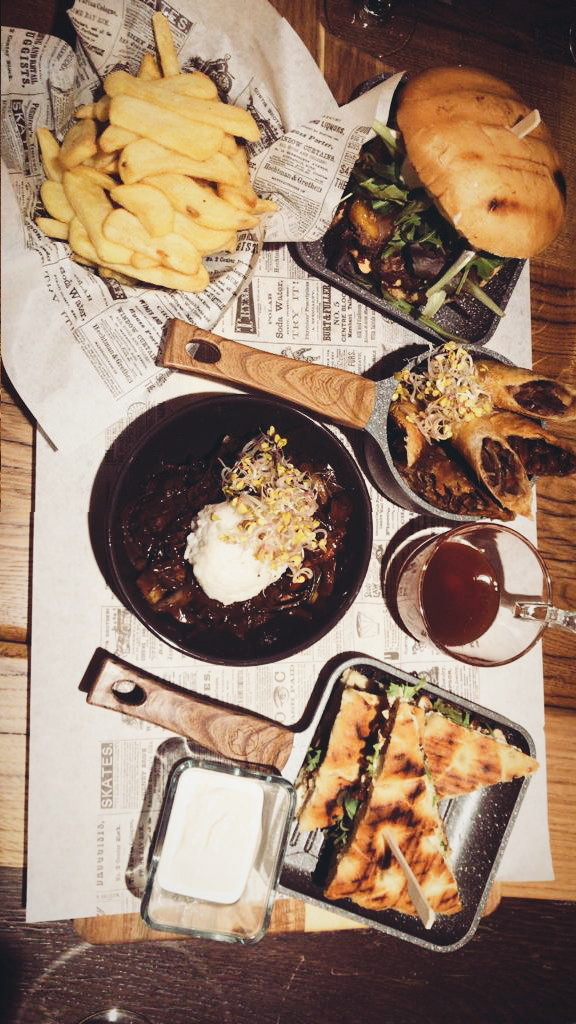 Kantina
This is my favourite restaurant in the city. It is quite central and it is also very close to the university.
There are a big variety of meats and fishes, as well as salads. But what I opted for in the restaurant was the two vegetarian dishes on the menu (and the only ones that I tried) vegetable risotto and gnocchi with mushrooms. They were both really delicious, honestly. Anyway don't worry, because for non-vegetarians the food is also incredible. My friends usually went for the tuna.
Whatever dish you order, they also give you a free starter of cheese with truffle, which is a typical dish. The truth is that I was never that convinced by the flavour and I ended up offering it to a friend since all of the other Erasmus students loved it.
The truth is that it is one of the most expensive restaurants, the price of the dishes was around 8 to 10 euros as a minimum. However, if you go for the seafood or the tuna, for example, the price will be even higher. I also remember that they charge for cutlery, it is one of the few restaurants where this happened to me in PUla.
The desserts were also incredible. We always ordered the cheese tart and oh my god, how amazing it was with its hint of lemon!
As well as being a restaurant, it also operated as a bar and it had a big terrace where we often went for a drink. To eat, you could go on the terrace or go down to a quite cosy basement where they had tables.
El Pulari Mexican
This is another one of the restaurants which I liked the most in the city. Well, it is true that it is not the best option for trying typical Pula cuisine, but for those who miss Mexican restaurants, this restaurant will not leave you disappointed.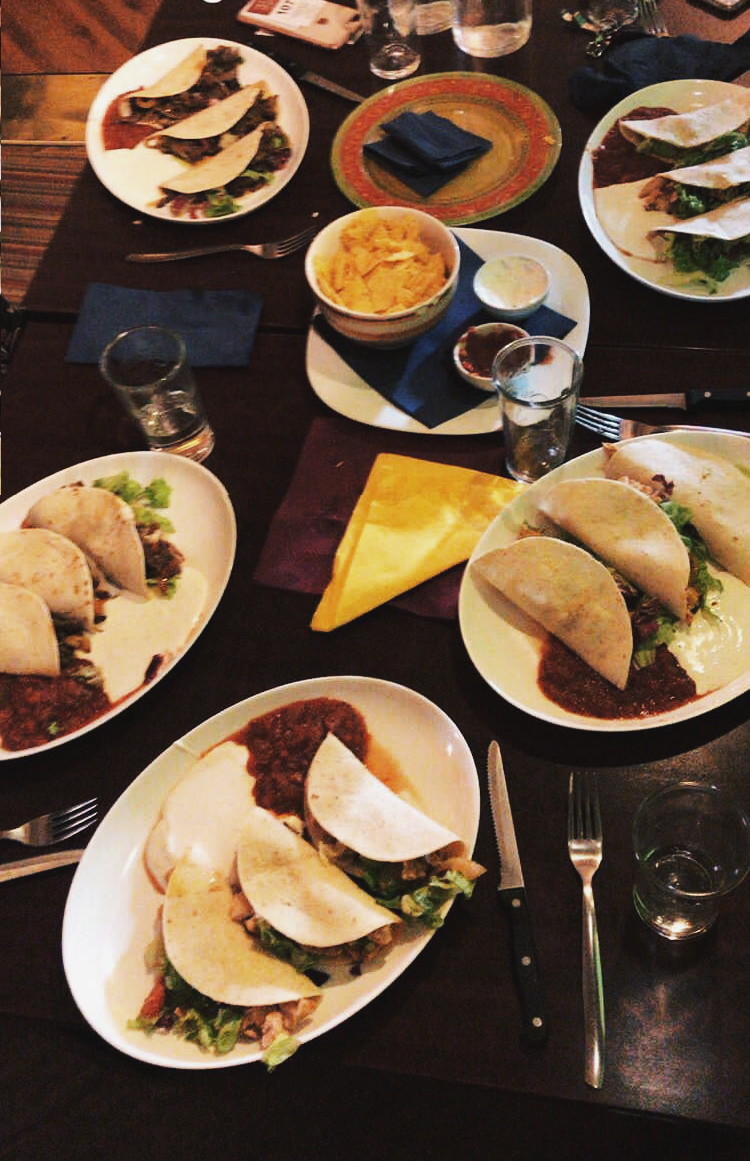 It isn't as central as the last one, in fact, the best thing to do is to go by car and park just in front of the restaurant where there is quite a big car park. You can go by foot but from the centre it will take you at least 30 minutes.
It is usually quite full, in fact sometimes we had to reserve a table since we had gone more than once and they had told us that it was completely full. I can't imagine what it would be like during the summer.
If you order nachos with cheese as a starter, you will find a bean salsa at the bottom which is delicious. They offer, of course, quesadillas, tacos, tortillas, burritos... And for all of them there is a vegetarian option which is great.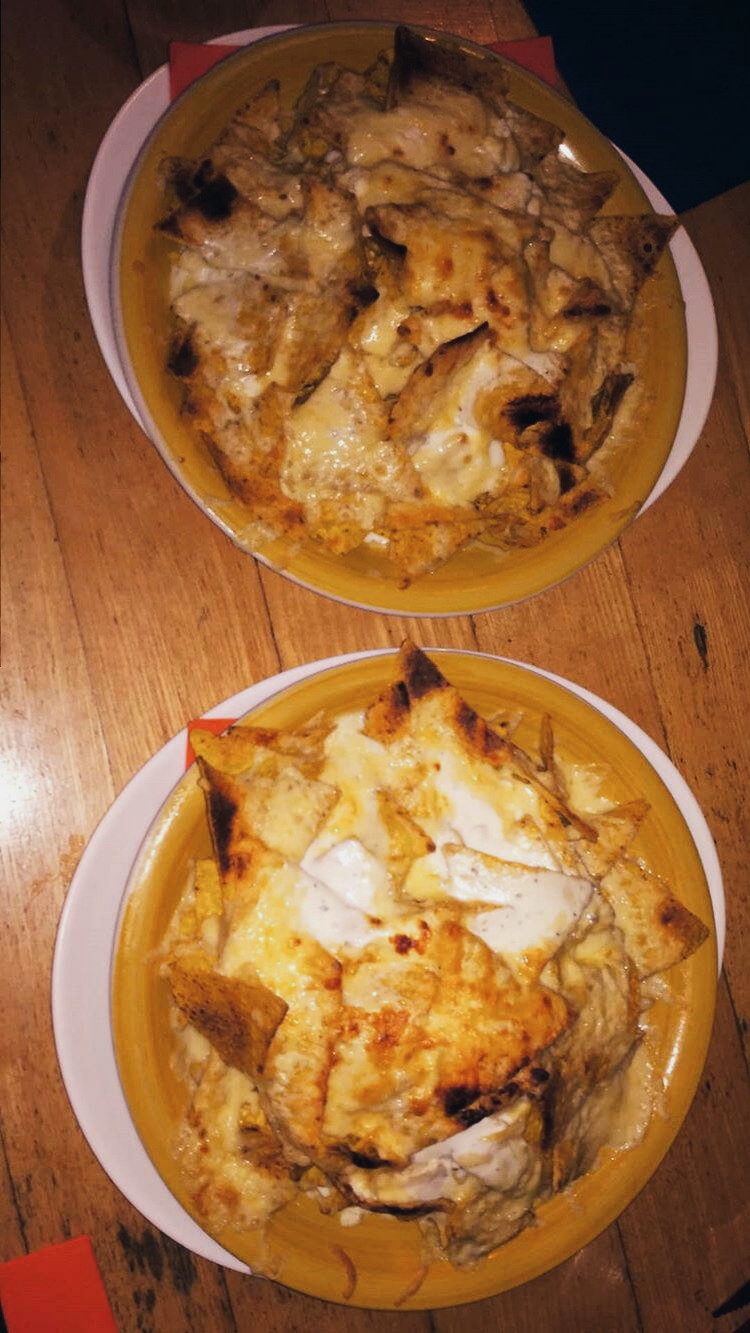 Kavana & tapas Bar Corso
This restaurant mainly offers burgers and tacos, as well as a variety of tapas.
This was the only restaurant where the menu wasn't translated into English so it was always a hassle to order. We usually asked the waiter and they were honestly always very friendly and explained what was in each meal to us.
In my case, when I asked them if they had any vegetarian dishes they told me that they didn't, but that they could adapt some dishes from the menu so that they didn't come with fish or meat, so there was no problem. I tried the vegetarian tacos and they were really great.
Otherwise, if you are a fan of burgers, you will love this restaurant.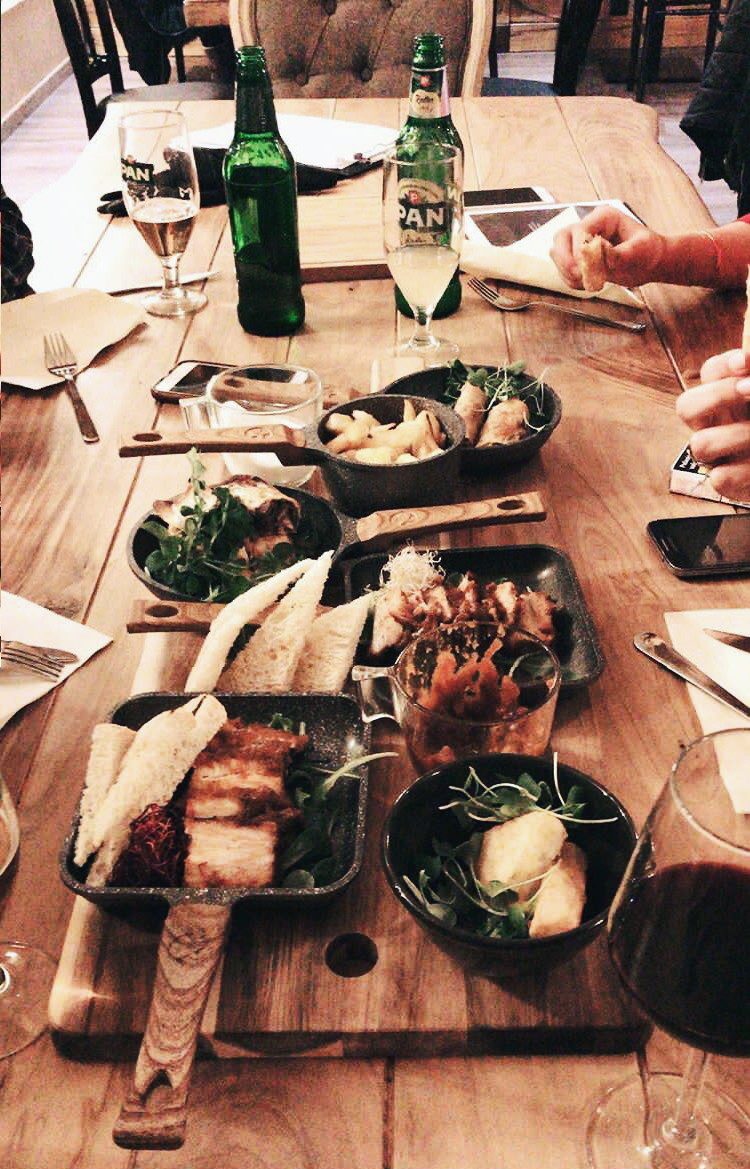 This restaurant also has desserts, and again my favourite was the cheese tart. Maybe it is because I am a big fan of this tart, but it was one of the places where I had the most delicious one.
Its location is unbeatable, a stone's throw away from the Sergio Arc.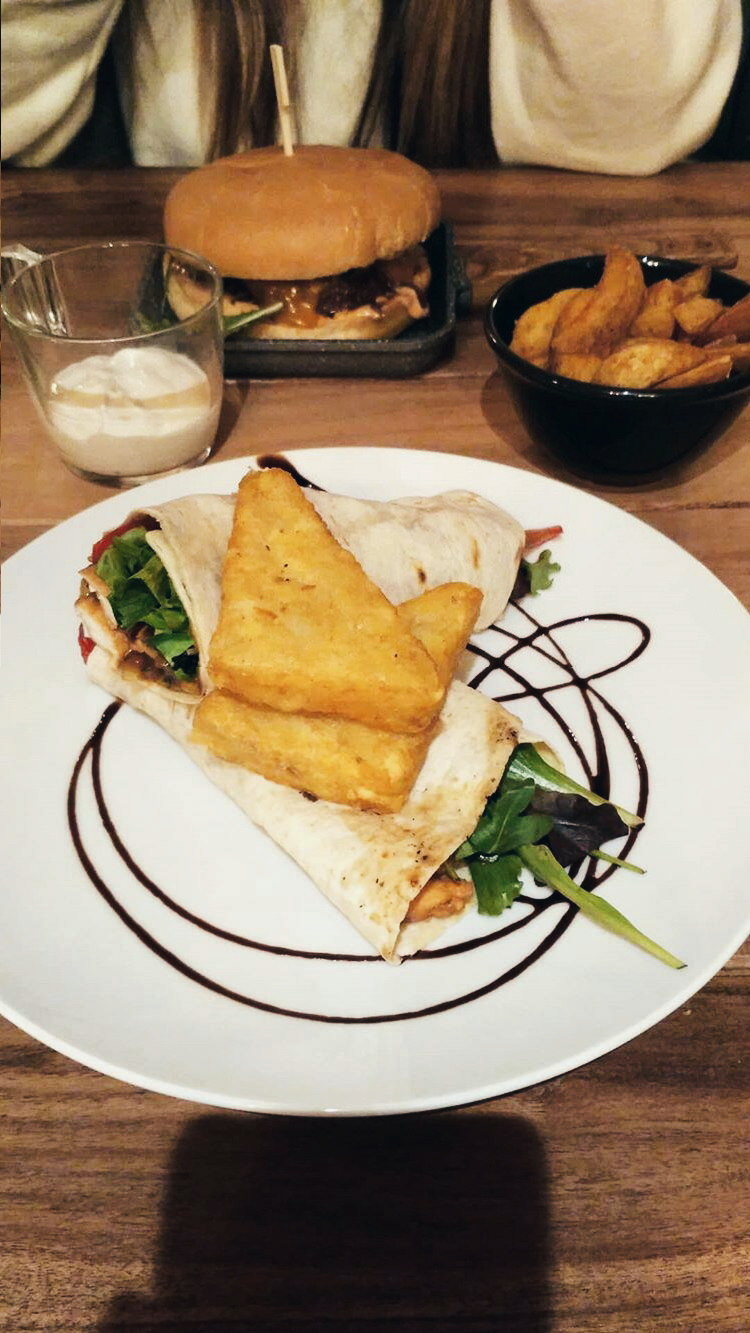 Caffe & Food Q Time
This bar is situated in the final flat of one of the buildings to the side of the incredible Sergio Arc. Therefore, in terms of its location, it is probably the best out of all of those that I have mentioned since you have unbeatable views from its terrace of the Sergio Arc and of the square.
The inside is quite big and we usually went there more often for breakfast since they made marmalade or chocolate creps which were delicious. We also went some other times to have lunch or dinner and I equally recommend it. They mainly offer salads, pasta, meat and fish.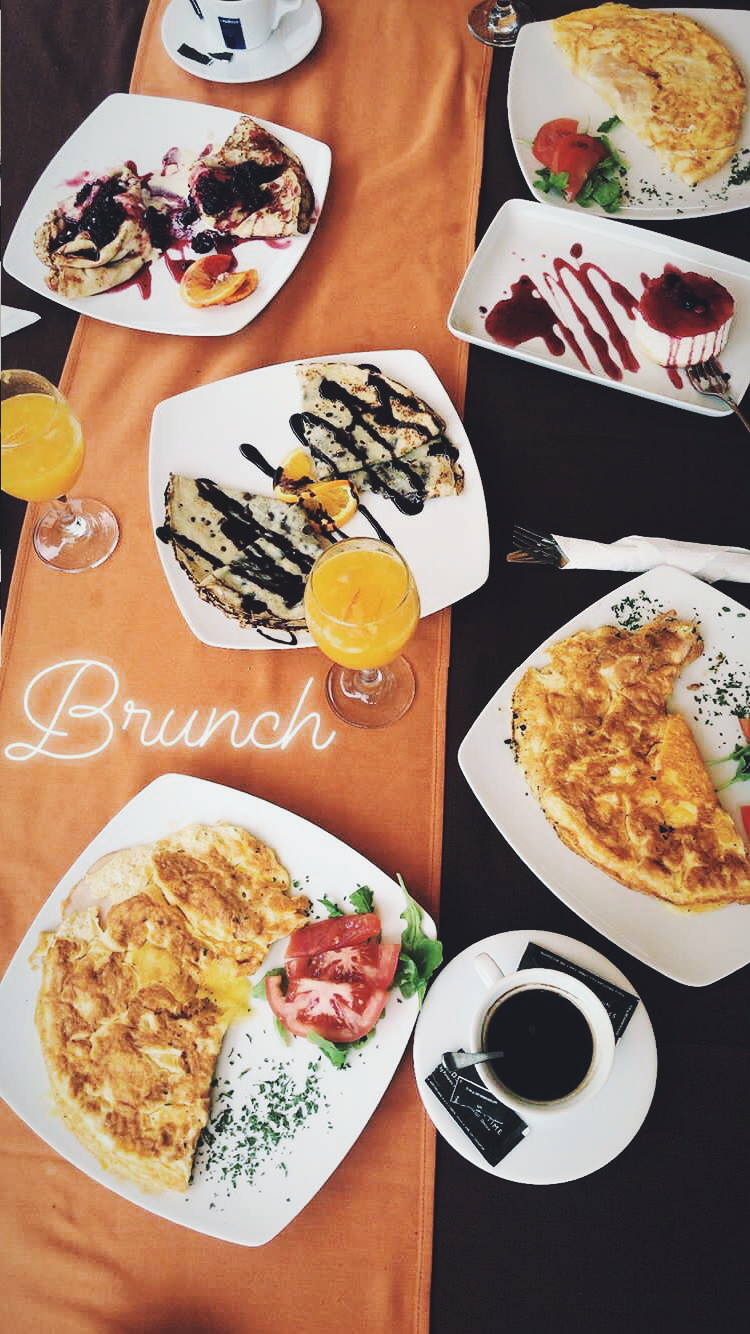 Hook & Cook
This is another quite well-known restaurant. The truth is that I had never been to eat there because it hardly had any vegetarian options that took my fancy, it only had quite simple salads, so I preferred to eat at other restaurants. However, a lot of my friends went there a lot as it is one of the most renowned places for fish and seafood. The prices are quite high.
Flaviani Desserts
This one is not a restaurant, in fact, it is a small place which is not very far from the Sergio Arc (as you can see, almost all the eateries are concentrated in this area) with only a few chairs to sit at a small table.
It is better to takeaway, but it has one of the best pancakes that I have ever tried, no exaggeration. As you can see in the photo, you can top it with everything from fruit to oreos, smarties, etc. There are also other desserts such as a cold cheese tart, three-chocolate tart... But if you have the chance to go, don't think twice and try the pancakes.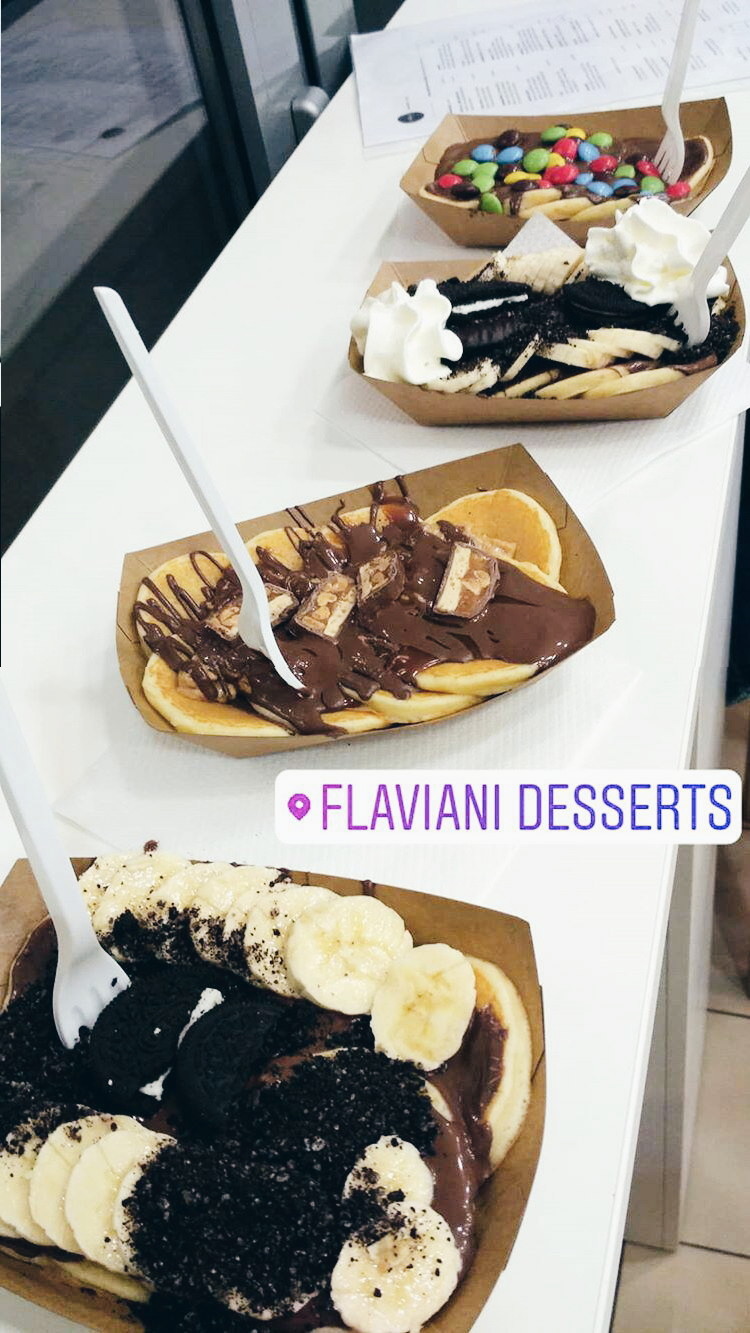 As well as these restaurants which I have spoken to you abut, in the Danteov square you will find lots of very good bars and restaurants, most of which are Italian, perfect for enjoying some delicious pizza or pasta. I have also tried most of these and they are really good, as well as having very reasonable prices.
Where to head out in the night
It is true that Pula is not one of those cities with a big student atmosphere, in fact during the winter, places generally don't get too busy. Saying that there are some bars which have a really good atmosphere some days of the week. Anyway, for those of you who read my blog and are thinking of going to Pula, don't worry, because at least in my case, we didn't need too many of us to have a good night. At the end of the day, just with the Eramsus students, we had already formed a good group.
And Pula is a city with the soul of a town, which I love. We were able to go in practically all of the places for free, there were discounts on drinks for being students and so we were able to go on nights out very cheaply.
I am going to tell you about the places that we went to most often and that I recommend the most.
Uljanik
This was the place which welcomed us the most for sure. It was quite central, only a few metres from the famous Sergio Arc.
When you go in the toilets are in front and then there are two doors: to the left there is a smaller room with quite a big bar, where people usually go to have a drink and chat, although they also put some rock and roll kind of music on. However, the room to the right is the one which is more of a club and is quite a lot bigger. It also has bars where you can get a drink and a stage where the DJ usually is and which you can get up on and dance. There are also some stairs which go up to the VIP area.
We had a really good time there, all kinds of people went and the music was great to dance to since they usually put on reggateon or international pop music, unlike the rest of the places in Pula. Once a week they usually had some kind of night out with different themes such as a carnival, student party, a special DJ appearance, etc. We usually didn't care what was on as we had a great time amongst ourselves.
As I said, the drinks were quite cheap, and they also usually didn't have any kind of control over what time you could enter, etc. Not like those clubs where they look you up and down and let you enter depending on what kind of clothes you're wearing (which I hate), in Uljanik basically anyone who wants to can enter.
Pietas
This is the other nightclub in the city which is situated a bit further away from the centre and the university since it is located at the end of the promenade along the maritime port. This is one of the reasons why we went to it quite a lot less than we did to the other one, Uljanik. We had to walk around 30 minutes from our houses to get there, so we were always too lazy.
But the main reason that we barely went there was because most of the nights they played Balkan music, in fact, it was quite common that at 2 or 3am they would have a concert there in this style of music since it is typical of Croatia and of the Balkan area in general. Each to their own, but for us, it wasn't our favourite kind of music for going out and dancing to.
On the other hand, it was also usually full of older people. Basically, we preferred the atmosphere and music in Uljanik more.
However, the place was quite big and it had a big bar in the centre.
Also right at the entrance they had a stall which sold pizza slices, and it was honestly great to have one on the way back home.
Old city bar
The last place which I am going to talk to you about is a bar that we went to every week. Sometimes for an afternoon drink (and even sometimes for lunch since they also had a kitchen) or for the nights out because every day of the week it usually had a good atmosphere.
Very often you will be able to enjoy performances. Once a week there is always a pianist playing at the bar, other times there were karaoke nights and the strangest one, the night where the bar was full of locals who were playing a Croatian game which must have been quite famous. We never got involved because it was quite difficult to understand something in Croatian, but they had a great time. Anyway, after a certain time they would always put on music and it would turn into a kind of club.
In addition to all of that, we loved going to this bar because we were very good friends with all of the employees there and even with the owner. From the start, they were very nice to us and over the months we turned into regular customers, so they knew us all and we loved going there. They even put on karaoke a lot of times for us if we asked for it or they would already know the songs that we liked (as much Spanish music as Portuguese and French, etc) and they would put them on to get us hyped.
In short, if you fancy going to a cosy place to have a drink or to enjoy their terrace in the beautiful Danteov square, this bar is perfect. And also if you fancy going to a lively place in the evening if you fancy some beers as well. They always close at 2 am.
And that is all for today! And as always, thanks for reading.
---
Photo gallery
---
---
Content available in other languages
Want to have your own Erasmus blog?
If you are experiencing living abroad, you're an avid traveller or want to promote the city where you live... create your own blog and share your adventures!
I want to create my Erasmus blog! →