My Erasmus experience during my internship in Prague
Architecture and landscape

10 / 10 points

Entertainment

8 / 10 points

Culture and customs

6 / 10 points

Transport

10 / 10 points

Gastronomy

6 / 10 points

Prices

10 / 10 points

Party

6 / 10 points

Weather

8 / 10 points
---
Why did you choose to go to Prague, Czech Republic?
It is very close to home, not too far away and therefore there is a possibility for my family to come, and that is one of the most important things for me. I also like the look of the city, this also played a role.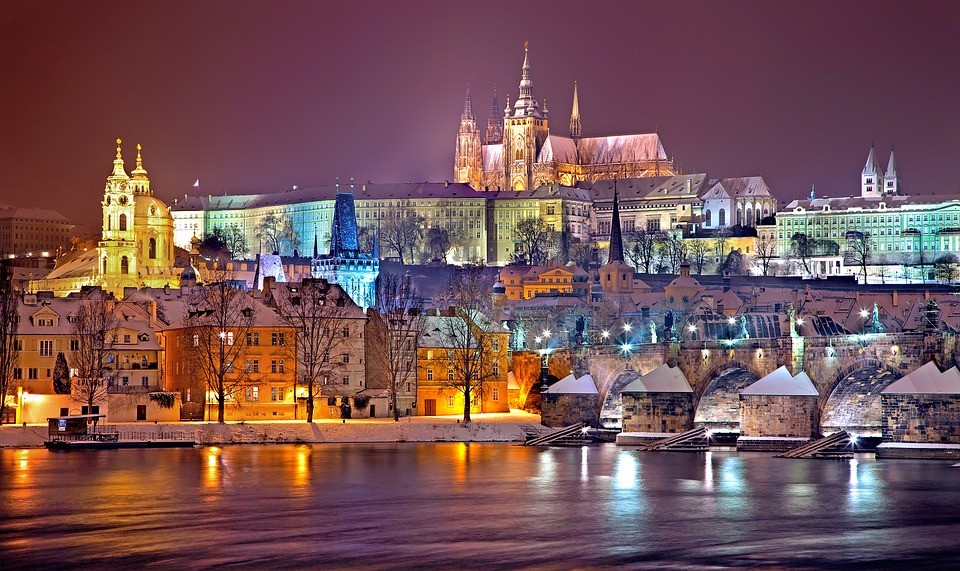 How high is the scholarship? How long does the scholarship last?
The scholarship differs in terms of price; mine is 350 euros a month and I stay here for 5 months.
How is student life in Prague?
Personally, I'm not really into going out, but I've heard that it's a lot of fun here, and it's also very cheap.
Would you recommend the city of Prague to other students?
Yes and no, yes because it is a beautiful city with certainly lots of potential and possibilities. I am sure that it would be easier if you would study Czech. And no because not all people here are equally helpful. If you are by yourself, buying groceries can be really tricky since all products in the shop are written in Czech. There are no labels in English or even German, so that makes it a bit difficult.
How is the food?
The food is very cheap, but there are nice and new things to try out. Some food needs getting used to, such as the cauliflower soup or garlic soup they serve in the hotel where I do my internship. There are also tasty things that I didn't know at all, for example; some sort of block from mozerella which they fry and eat with some potatoes or something similar. They usually serve a lot of meat, so there are not a lot of vegetarian options, vegetarian dishes are not varied.
How long did it take you to find a room in Prague?
Personally, it did not take me very long, since I booked a room for 5 months on: www. student-room-flat.com The booking experience was very clear and organized. I took about a week to discuss everything with the agency, while passing on all the information that was needed to arrange my stay before I arrived in Prague.
How much does it cost to live in Prague?
Living in Prague is certainly not expensive. I paid 440 euros per month for a fully furnished apartment, including gas and water. This is obviously a big money saver. When looking at the cost of traveling, it can be said that it is quite a lot cheaper than traveling in the Netherlands. I paid about 55 euros for the entire 5 months, traveling by tram, metro, and bus. Buying food or drinks in the supermarket is also quite cheap. They have various stores here, but usually I do my shopping at the Albert or at the Tesco. The albert has a number of products from the Dutch Albert Heijn shop, so that is very convenient and that made me feel at home more quickly. The Tesco supermarket chain comes from England and also offers a lot of familiar brands besides their privately labeled products.
Was is the cheapest way to travel to Prague from your place of residence?
I actually always fly since this saves a lot of time. You actually only pay extra for your hold baggage. The flight takes about 1, 5 hours, costing you somewhere between 75 and 125 euros. The ticket prices are highely elastic. If you would travel by train it would take you 16 hours on the road, costing you about the same.
Are there any cultural sights?
Yes, there are many sights and many churches. The astronomical clock and of course the Charles Bridge! Another thing that is fun and tasty to try is a TRELK; a kind of dough that is wrapped around a stick and then baked, coated with cinnamon sugar. You can even fill your snack with vanilla ice cream or hot apple pieces with whipped cream, tasting somewhat like apple pie. Super tasty and typically Czech!
---
Photo gallery

---
---
Content available in other languages
Share your Erasmus Experience in Prague!
If you know Prague as native, traveler or as exchange student... share your opinion on Prague! Rate different characteristics and share your experience.
Add experience →