Where to sleep in Perugia
Hello dear readers, I hope you are all ready and set to start planning you trip to come and visit Perugia beacuse this time around I want to tell something about the first (and the last) hostel I stayed in here in Perugia, since the first time I came in this beautiful Etruscan city. Nowadays hostels are widely spread in many European cities. At least in the few European countries I have visited finding a good hostel was the least of all worries. Often times the idea of a hostel or spending few nights in a hostel reminds the majority of people of a bunch of young people spending their summer vacations and comming back at the dormitories at 3am singing with a disturbingly pitchy voice. Well if this is also your perception of what staying at a hostel would look like then I suggest you continue reading this article because yes you might be confronted with a similar situation but what you have to know is that most importantly the hostel is a sociocultural-linguistic and culinary melting pot. So with this article I would like to write about the one and only hostel which makes me feel like home: Little Italy Hostel. Please continue reading and discover why this hostel is the place to stay at when in need of a hostel.
What about it ?
From the first moment you come in this hoste you find directly the front desk where there is a reception. When I stayed in Little Italy Hostel the guy on the reception was of so much help and provided me with so much information whit the things I needed to get done in the first few days of my arrival. I will never forget how this one afternoon I was all hyped-up to go and look for the city council but as I was saying good bye to the guy on reception he asked where I was headed and once I said city council he kindly informed that this office is closed on afternoons and that I should try tomorrow. This particular information was important for me because it saved me from taking the bus in a new city and looking for a place located on the other side of town. I still remember his smiling face saying...''you know what, I actually saved your afternoon''. What a nice guy he is and when you will decide to stay at this hostel I hope you find this guy who is at the reception of this leading hostel of Perugia.
Source This is a picture of the entrance to Little Italy Hostel
What can you find inside ?
Though you will see a wall which brings to mind the Medieval era with rough-shaped stones and an ambiguous symmetry on the facade of the building of Little Italy's Hostel, do not be fooled dear readers. This place has an impeccable modern interior design which includes glass doors, flat screen TV, clear cut and a choice of the wall painting which I would describe as edgy. Never the less the ceilings in the common are and in the entrance are structures created by intersections of vaults which I think is a clever way to keep a balance between the contemporary touch and the more historico-picturesque feel given by the undeniable fact that this hostel is found in Perugia(such city known to be as one of the emblematic example of a well preserved medieval town).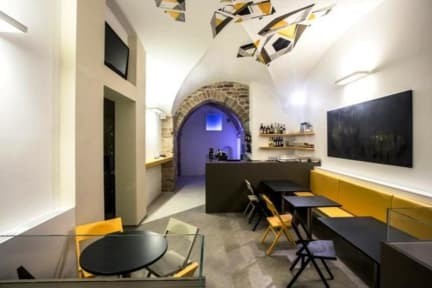 Source This is a picture of the common area where you can freely sit down and enjoy, why not, a nice talk with a fellow stranger (just jocking, actually a stranger is just a friend whom you have not met yet :)
The common area 
In the common area you will also find a DJ-set often used to play music on the background which in my opinion give a certain calmness and feel like home atmosphere to this hostel, which for me was the first 'roof over my head'. Apart the music, you will find a full-on bar service on the other side of this common area room. At the bar you can ask for a refreshing drink or just a simple cup of cappuccio. I have to say that each time there is a themed event or just a gathering in the common area of the hostel, the bar gets busy running to provide adequate service to all of the guest and incoming visitors. During my stay any of this events or social gatherings disturbed my sleeping hours. There is a pretty good sound isolation system which makes it easier to the guest who wants to go to bed when the others are still in the common area. Everything is done considering the need and desires of the guests, without leaving anyone uncomfortable.
But hey let us just say that you came around to visit Perugia in the hottest season, June-July-August. Then let me tell you that you are in for your money because there is an awesome hanging out spot just outside by the entrance of the hostel. It is exactly like you see it in the following picture, if not better.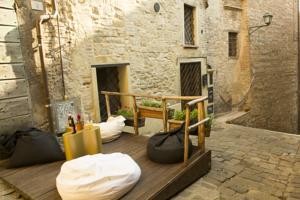 Source This is a picture of the outdoor common area. 
The coolest place to take some refuge from the hot and humid afternoons of Perugia. If by any chance you can grab a refreshing drink then do it and why not invite someone to sit down and have a nice chit-chat sitting on those comfy pillows. The location of this patio gives you also the chance to see the street where many people tend to use when walking to the old town or maybe coming back from the old town itself. 
Food glorious food !!
In this hostel, as part of the fact that we are in no other country than Italy, food is served and taken seriously. From what I know breakfast is available in the morning and it can be as simple as a cappuccino with a cornetto (italian word used to indicate a croissaint). But if you are into a heavier breakfast bacause on that day you have planned to do a lot walking around the city then this heavy breakfast option will certainly suite you. How ever if you where to wake up late (late as in almost lunch time) and there is no more breakfast food left, no need to worry. Just go out of the hostel and once you are done with the stairs, turn right your mouth will start watering because of the smell of the kebab corners. Only in this street you will find three of them one at a few meters distance from the other. The good thing is that they provide food for bot meat-eaters and vegetarians.
Down this same street you can find a small minimarket called Alimentari, a pub/bar spot, a dry-cleaner, a barber shop and a store.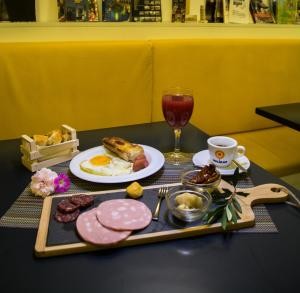 Source This is one of the many examples of breakfast in Little Italy Hostel
Discounts ... ?
Since the Erasmus generation is moving faster than ever and the travelling experience is changing the lives of so many having accomodation like Little Italy Hostel makes the whole travelling experience pleasent and enjoyable. So the information that I want to share is that to all of the Erasmus family holding an ESN card you have the right to ask for a 20% discount on the total ammount of money you spend to cover the accomodation costs. If this is not an additional reason to choose this hostel then I don't what is. Don't try to say that a 20% of discount is not much because think about it: if you ahppen to spend around   euros for your accomodation this means that you will have around 20 euros in return. Immagine what you can do with 20 euros as a t tourist in Perguia: for example you can get pizza for luch and ice-cream for two people.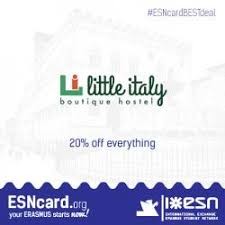 Source This is a picture of the promotion for ESN card holders.
Events and gatherings
If are thinking that this is just any ordinary hostel then I am afraid to tell you that you should have an open mind and expect the unexpected. From time to time different kinds of themed-night events take place in the common area. Given the fact that I was in good contact with the people working in this hostel, a couple of events have been organized where the main theme was Ethiopian cuisine. So there was plenty of typical Ethiopian food which in that night attracted many people and curios foodies. After everbody ate we put some Ethiopian music and danced the typical dance move called 'eskista' eventhough it was not a big hit among the crowd. Like these ones, there have been organized manu themed cultural nights. If you want to know before-hand about the various events look for the official facebook page of Litlle Italy Hostel.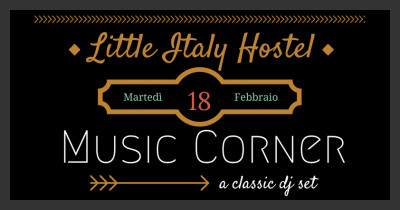 Dear reader if you happen to visit Perugia during one of its biggest and moft festive moments like for example during Umbria Jazz Festival or Eurochocolate then really consider booking your stay in this hostel. Trust me, you are going to thank me later because most if not all the avtivities and events take place in the old town of Perugia. Guess where this hostel is located: just two minutes walking distance from what it is considered the heart of theh old town (La Fontana Maggiore, The Big Fountain, symbolic importance to all the people leaving in Perugia). So as one famous Hollywood movie use to say: 'location, location, location'. Little Italy Hostel does exaclty this and much more.
I hope you liked this article and that found it interesting. Cheers to you all.
---
Photo gallery
---
Want to have your own Erasmus blog?
If you are experiencing living abroad, you're an avid traveller or want to promote the city where you live... create your own blog and share your adventures!
I want to create my Erasmus blog! →