Bangladino
Hello to y'all, I know it has been a while since I published some of my contents, well now it is time to get back to it. This time around I want to get you to be more familiar with a nice spot to chill out in the beautiful city of Perugia. I am talking about the place were the night life begins and ends in this Etruscan city: maybe it is the atmosphere or maybe the  special service provided by the staff working in this spot or simply the kind of things they serve. If you have been to Perugia and for some unexplainable reason you haven't visited this crazy-outta planet earth- spot then you owe Perugia a second visit. But if you belong to the other category of people who haven't been to Perugia (I don't know what you are waiting for... maybe the good weather!!) let me give a personal tour in this knock-out spot situated in the heart of the old town, on a spacious square called Piazza Cavallotti. Ready or not let's get it going and immerse ourselves into the one and only Bangla
What about Bangla, what about it ??
Bangla also known as Bangladino is the hub where students enjoy a drink or two while chit chatting with their fellow bangla fans. Originally the name Bangla came from the country of origin of the people who own/work in this place: they are from Bangladesh except maybe one of the bartenders who I think is Italian. Long story short: since 'I am going to Bangladesh' sound too long to say (and also ambiguous because it really sounds like you are travelling to Bangladesh!!) an abbreviation is used and it goes something like 'hey let's go to bangla' and come on I am sure you also feel that the word Bangla is much more catchy than Bangladesh. Let me show you what it looks like from the outside ...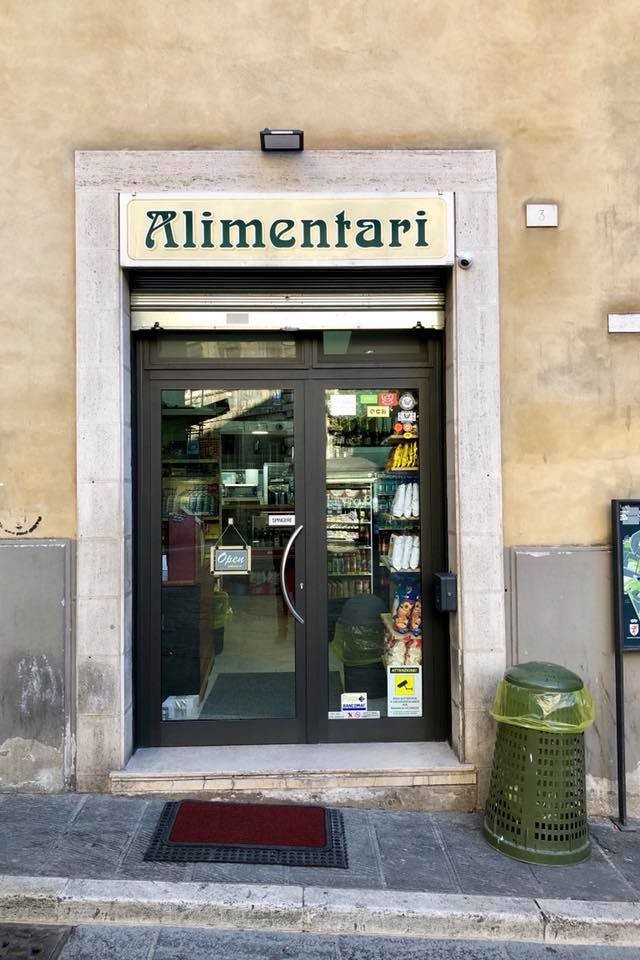 Source: entrance to the one and only Bangladino
Why Bangla 
Though this place was originally intended as a local store (alimentari in Italian) it continues to offer many items such as: snack, sandwiches, household items, cleaning agents, packed and canned food. But what makes it special is its alcohol assortments: shots, drinks, beer, wine and heavy alcoholics; you name it and the bangladino has it, ready to be served in no time. But what make this place special from the others ?? Let me give some of the strong points that will get you to check this place out:
price, this place offers beverages for very reasonable to a standard pocket of a student who wants to enjoy Friday night out with a group of friends. This place full of vitality and dynamics offers the similar if not identical beverages that would be offered by any other typical pub in the main streets of the Old Town of Perugia. So my suggestions to you (weather you are an Erasmus student, a future student planning to move to Perugia or simply a future tourist) is to at least give it a try and decide for youself if it is your kind of place or not. If you happen not to like this spot there are many other gathering corners at walking distance from where Bangladino is located.
location, it is located in the very center of the city of Perugia so there is no problem in reaching this place once you are in the old town. If you happen to be staying at one of the best hostels in the center of Perugia (the one called Little Italy Hostel, I have dedicated a whole article about this hostel so go check it out), this gathering corner, Bangladino, is the place to be at because it is located at a three minutes walking distance by foot. 
the charm, this spot is very eclectic with always a background music going that sets the proper Bangla ambience. Some are madly in love with the fact that it is always full off people getting something to drink, catching up with some of the weekly gossip that goes around or stand outside this place with a beverage and enjoy a heartfelt deep conversation.
the toilet, when late at night wondering in the old town of Perugia nature calls and you don't know where to do your business Bangla is the place to go and release in the free toilet service.
the staff, always smiling and glad to serve their faithful customers they enjoy what they do and they will make you feel welcome in the Bangla family.

Source: a corner inside of Bangla looks like this
Where is Bangladino at ???
In most Italian cities this phenomenon of a simple mini market, Bangladino, shop providing many items including beverages at an attractive price is widely spread. So just like the Bangladino in Perugia you might also find other Bangladino shops providing a similar service. In Perugia the one that I have gone too on various occasion is located in Piazza Cavallotti, 3. It is at a 2 minutes walking distance from the famous fountain of Perugia (located in the heart of Perugia) so it's easily identifiable. If you are not sure or can't find the spot just ask around and you will find someone that can show you the way. The best thing to do once you got what you want from the Bangladino is to chill out on the square or Piazza just outside this spot: usually on a Friday night it is crowded with a lot of people hanging out and enjoying good company.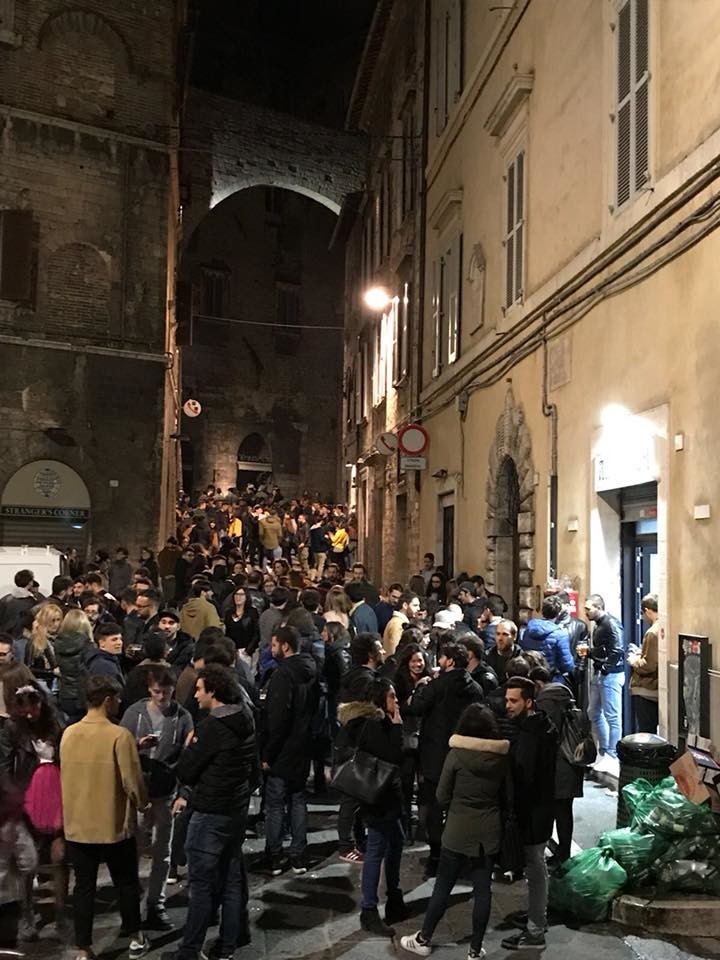 Source; a bunch of people chilling outside of Bangla
When to check out Bangla 
Again this knock out spot is open and I mean really open for the service of the public day and night, all the days of the week. I have never been to the Bangla very early in the morning but when I sometimes got to that area I see it open from around 10 in the morning unloading items to refill their shelves. But the best part about its opening hours is that it stays open until late at night: I am talking about like 1:30/2:00 am. This is perfect when for example most the hang out spots are closed and you can walk to the Bangla and get a refreshing drink, especially on one of those warm and humid nights of Perugia. Since it is a one of a kind place you should check it out regardless of the time period but of course my suggestion is to not miss the summer bangla season scenario; filled with beautiful and lively people with the one simple objective to hang out and have a good time, and when you have the summer on your side it just makes the occasional Bangla experience unforgettable.
Immagine yourself all hot and sweaty with nothing too drink and left with just two euros in your pocket. As put one foot in front of the other you feel heavier and heavier until you finally arrive at the entrance of the Bangladino. Here they offer options for both alcohol drinking and not, as they offer many juices and cool soda (I personally suggest you to get yourself just a nice big glass of fresh water, instead of drinking all of that sugary beverage). So yes you finally wait in the line and get you order in and you grab your drink and chug it all and feel the instant freshness going down through your throat. If in this moment you start feeling hungry and you start craving for some food, no worries beacause Bangladino has your back. You can just simply go to the side of the bartender and you will find in frint of you a wide assortment of ham, cheese, dried tomatoes and other kinds of fillings for your panino. All of the panini are freshly made on demand so there is nothing to worry about when it comes to cleanliness or the safety of the food. Prices range from two to four euros depending on the kinf of panino you choose, the filling and so on. The is an urban legend which says that the best panino is the one stuffed with provola and pomodori secchi (which stands for provola cheese and dried tomatoes). This panino idea is good when you are in a hurry or do not have enough time to sit down and enjoy a proper lunch or dinner. Again also the people working behind the food stand are friendly and loyal. Any doubts or questions you have they will be happy in trying to help you, if if you happen to be a non-italian speaker. The only thing I would like to point out is that sometimes it is harder to order a panino in the late night hours, especially on a saturday night because people tend to snack from the food stand and the place might run out of bread, so watch out the time.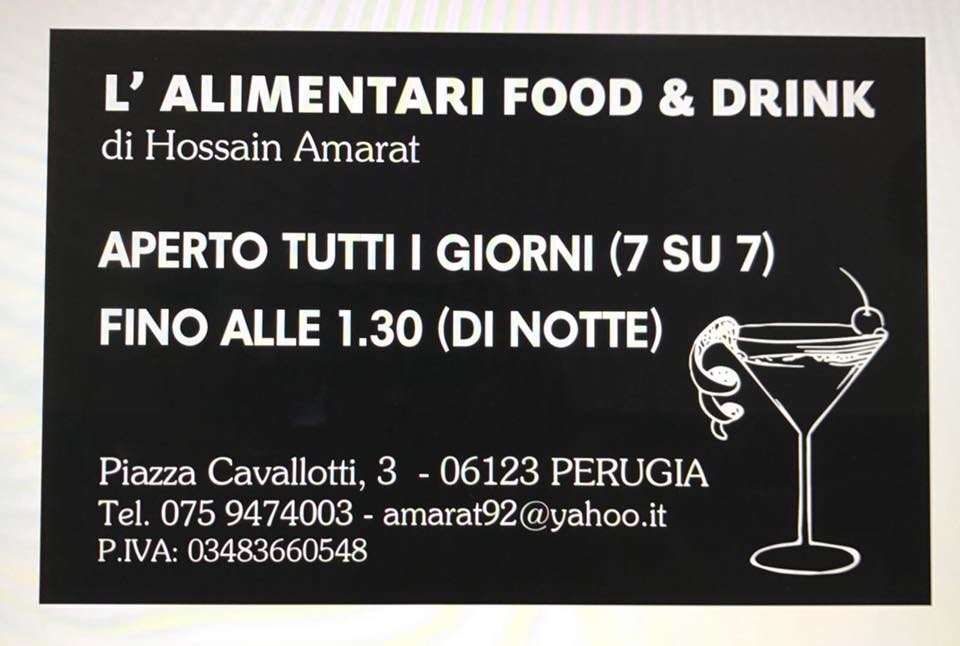 Source: a picture from their facebook page
Disclaimer !!!
By publishing this content I would like to make sure that I am not promoting the consumption of alcohol in any shape or form. This content is aimed at giving out information and sharing my experience about the things you can find if you happen one day to visit Perugia.
I would be happy if you would comment down below or maybe share your experience in the Bangla of Perugia or even other Banglas. Until next time, cheers to yo all.
---
Photo gallery
---
Want to have your own Erasmus blog?
If you are experiencing living abroad, you're an avid traveller or want to promote the city where you live... create your own blog and share your adventures!
I want to create my Erasmus blog! →