What to do in Paris, France (Part 1)
Another international trip for me this year! This one is kind of more "basic" to me since I was born in France and I have already been to Paris a few times before. But still, to me, going to Paris is always something special, no matter how many times I have seen it already. There are always new things to visit since there are literally SO MANY things to do in this city. I still haven't done everything (and I don't think you ever really do because there are always new things), but I am working on it and already planning to go back later this year to discover new stuff that I haven't done before! So, let me tell you in more details about my last trip there a few days ago, and I will give you ideas of things to do in Paris and tips!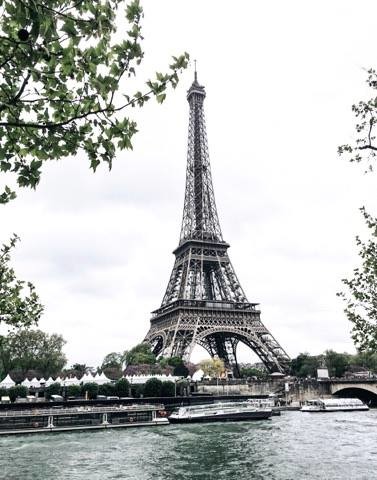 Arriving at the airport
I travelled from Milan by plane. The trip only takes less than 1 hour and a half, and the plane tickets can be really cheap if you use low-cost airlines and plan your trip and book them a few weeks or months before. If you arrive at the Paris-Beauvais airport (wihch is the low-cost airport where all the Ryanair flights for Paris go to), you can find some shuttles that you can use to get to one station closer to the center of Paris. The price of a ticket for these shuttles is of 17€, which I think is quite expensive but you don't really have any other choice than that since a taxi would be even more expensive. It's about a one hour drive to get there (if there is no trafic obviously, which is quite rare in Paris…)
All the other non-low-cost airports (such as Orly or Roissy-Charles de Gaulle) have integrated train stations, where you can directly catch trains to get to different other stations much closer to Paris.
The Eiffel Tower
When you arrive in Paris, the first thing you will probably want to see is the Eiffel Tower (am I right? ). This is the most famous of all the monuments of Paris (and there are a lot), and the symbol of France. And honestly, from somebody who has already seen it many times, you really never get tired of it. I always get so excited when I see it and can never refrain from taking pictures of it under every angle possible. I honestly find it really pretty and impressive. It is also kind of funny and amazing to see such a big monument right in the middle of the city. Like, one moment you are walking in the streets, and then when you get at the corner of it, you see the Tower appearing just a few meters before you. It's really amazing, and I think an unforgettable and strong memory of a trip to Paris.
If you want to get a more global view of the Tower, you can go to "Le Trocadéro". You have to cross the Seine river (with the bridge right in front of the Eiffel Tower) to get to it. You will walk by a carousel (which also appears really often on pictures), and it's really just right after it. This place enables you to get a little higher and have a view from a different angle of the Eiffel Tower, and more of an overall view. You can also see all the Champ de Mars behind it, which is kind of a very long park. Many many people take photos from Le Trocadéro (including wedding pictures for reasons that become obvious when you see the view), so you probably already know this view, maybe without being fully aware of it! Anyway, if you go to Paris, you really need to go there and have this view over the city.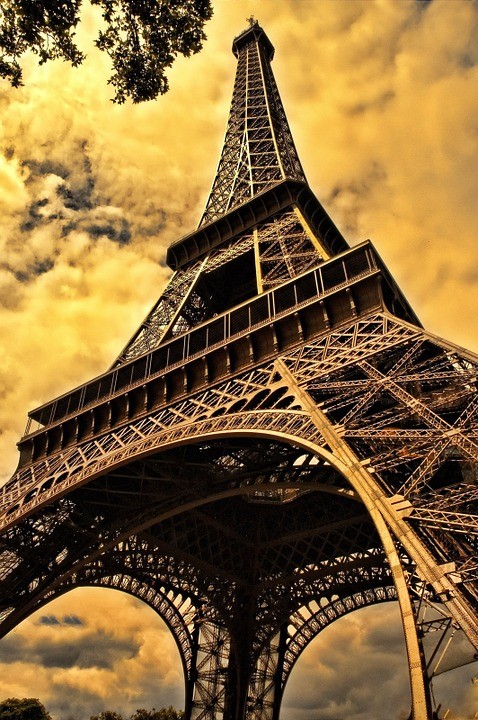 It is also possible to go up in the Eiffel Tower. There are elevators for that, don't worry, you don't need to climb hundreds of steps (but you also can if you want to). There are 3 different levels where you can stop, which are two floors where you can walk to have a view, and the very top of the Eiffel Tower. One of them also has a restaurant, and you can guess that this restaurant is a VERY expensive one. You need to book a table months before if you want to go, and it's always full months before for events like New Year's Eve. But I guess having lunch in the Eiffel Tower while overlooking Paris must be very impressive.
If you want to go up in the Eiffel Tower, I suggest going there early in the morning, since the waiting line gets really long (it's no surprise that this is something all the tourists want to do). I advise you to avoid as much as possible going there in the afternoon as you will probably waste your time waiting hours and it will be crowded when you get up there. The price of the tickets to climb this historical monument depends on where you want to stop, and if you want to go with the elevator or with the stairs. There is still a reduced-price ticket, but only for children between 4 and 11 years old. To have all the details, you should check the Eiffel tower website, which you can find by clicking here. You can visit the Eiffel Tower until late at night, so you can also see the sunset and Paris by night if you ever manage to make it there on time!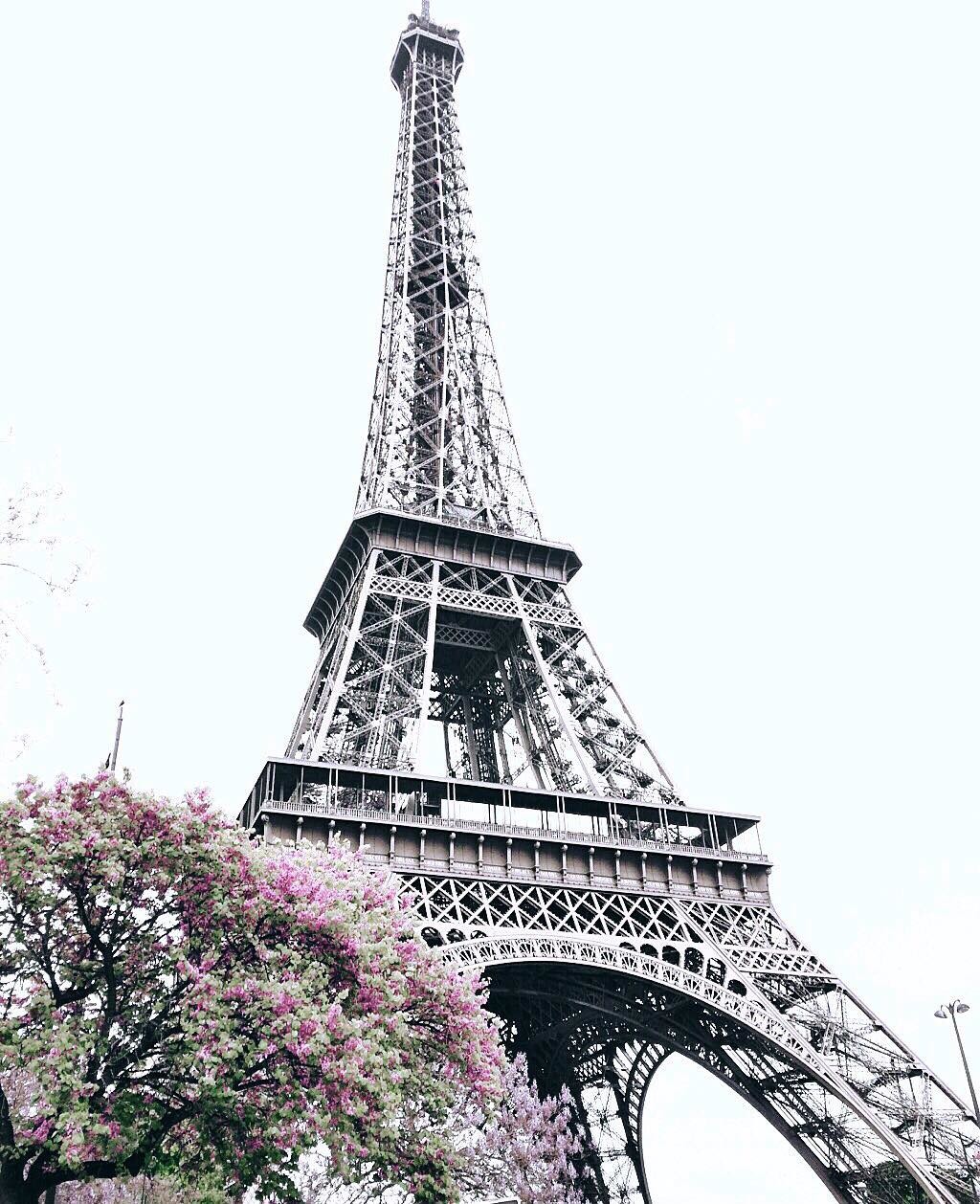 Arc de Triomphe
I think this must be the second most famous monument in Paris, also very recognizable and good-looking. Just like the Eiffel Tower, it is also impressively big, right in the middle of the messiest roundabout in the world. Honestly, you never know what getting stressed while driving is until you have to drive through this traffic circle. It's seriously the worst, so for you own safety make sure you don't need to drive when you are in Paris. This roundabout is the biggest and the main one in Paris, the one pretty much every driver uses when in Paris. It's called "le Rond-Point de l'Étoile" which literally translated into "the star roundabout", (or also "Place Charles de Gaulle"), because of all the streets that are connected to it (12 in total). One of them is the very famous Champs-Élysées avenue that everybody around the world knows, the apparently "prettiest avenue in the world".
You can admire the Arc de Triomphe from across the roundabout, and by that I mean from a little far from it to have an overall view. You can also get closer to it and even walk under it by using the underground passage to get to the center of the roundabout. DO NOT EVER try and cross the roundabout without using the underground passage, like I saw a couple doing the last day I was here. They were crossing right in the middle of all the cars, which they are not supposed to do, and it was very dangerous for them and all the cars around. There are no pedestrian crossing around the roundabout anyway, so you can notice that it is not the right path to use and there is another, safer way.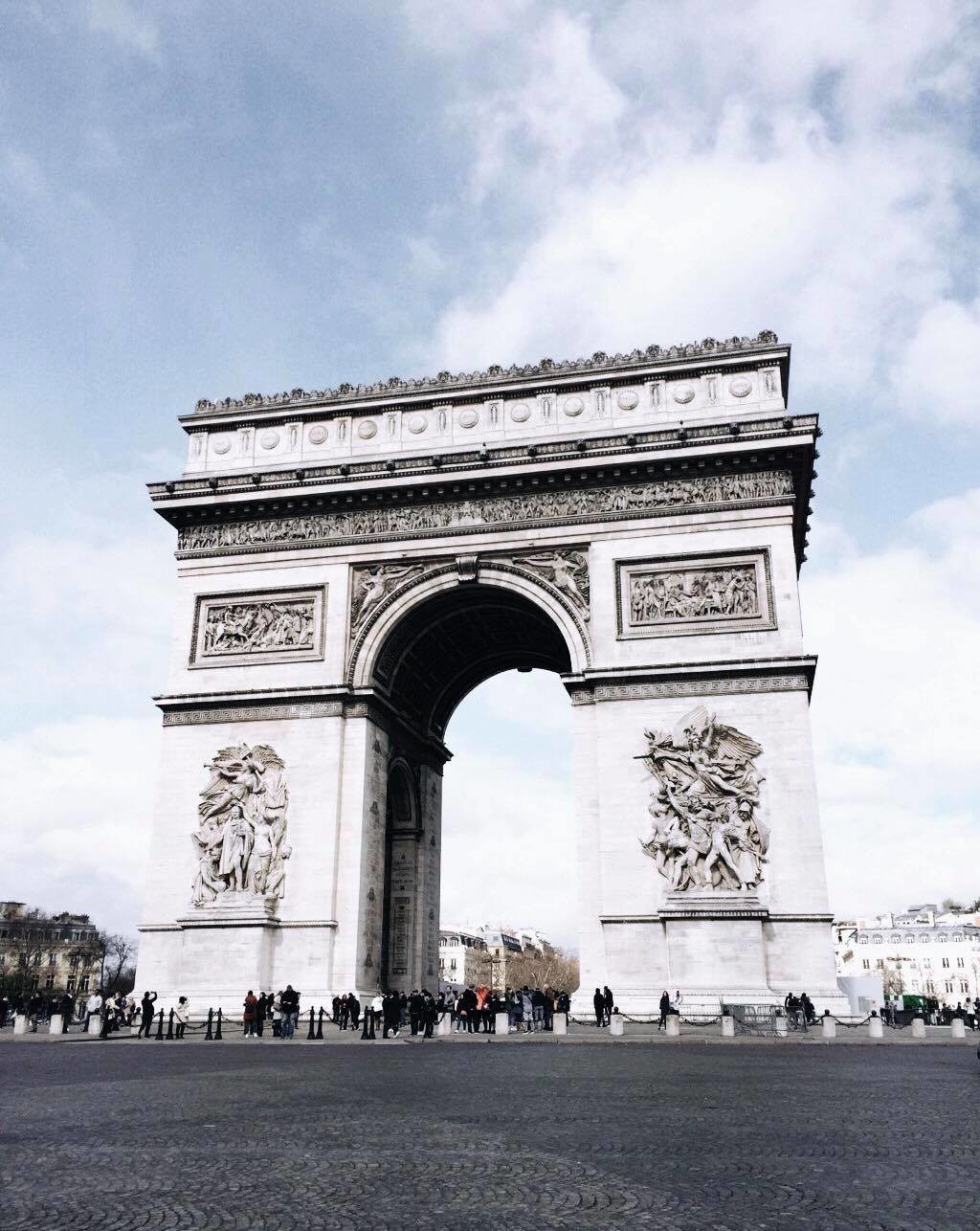 This underground passage is also where you can find the ticket office which you need to go to if you want to go up on the terraces of the Arc de Triomphe, because it is possible! The ticket costs €12 for the adults, and it is free for all UE citizens between 18 and 25 years old (you need to show your ID). The visit is not limited in time, so you can spend as much time as you want enjoying the view from up there (it's a really nice one). In this monument there are no elevators, so you need to use the stairs to go up there. There are around 350 steps. On your way up, you can find a floor with some activities, including a touch-screen that shows you pictures of the different "Arc de Triomphe" in Europe, which I found to be a very good idea, really interesting and interactive! When you are up there on the terrace, you get an overall view of all Paris with very recognizable monuments and areas, like Montmartre, the Eiffel Tower and even the business area, La Défense.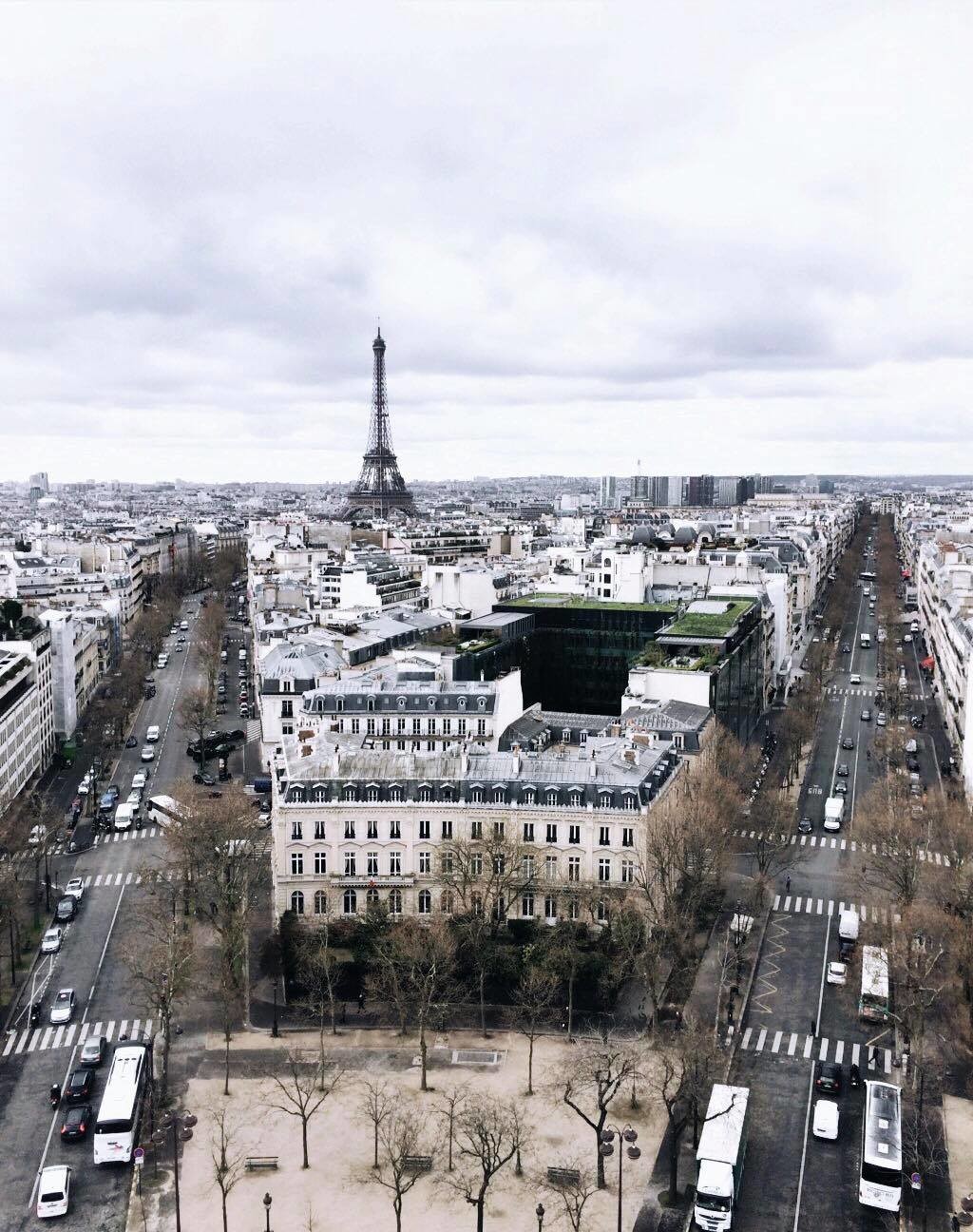 Champs-Élysées avenue
As I told you before, the Champs-Élysées are one of the most famous avenue in the world, right next to the Arc de Triomphe. It goes from the "Place de l'Etoile" to the "Place de la Concorde". I really like walking around there, imagine the feeling of thinking that you are walking on what is considered as the prettiest avenue in the world, and that so many people wish to see for themselves. There are also so many things to see with all the amazing buildings all around and all the shops. All the major brands have a store there, so it's also a great place for shopping.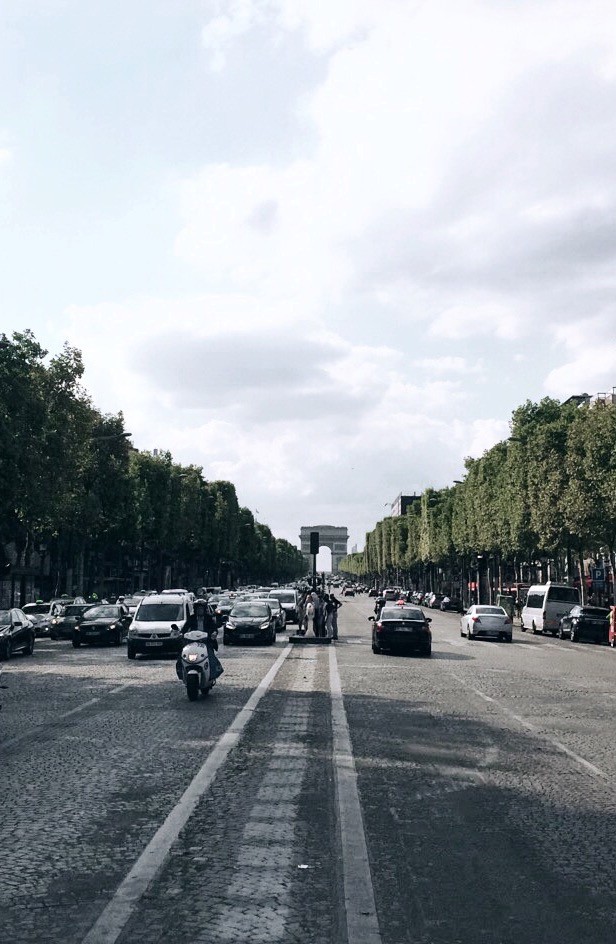 The Louvre Museum
Another very popular monument located in Paris and known in the whole world. I think the popularity of the Louvre is due to its iconic pyramid made of glass on the one hand, and on the other hand because of all the masterpieces that are exhibited inside of it. Rumor has it that if you want to visit all the rooms of the Louvre, you would need 5 whole days. Of course, people usually don't have that much time to spend in a museum, so they choose which part they want to visit. Most of the time, people go there to see the very famous Mona Lisa by Leonardo da Vinci. It is exhibited and accessible to visitors in one room of the Louvre, although it is protected so you can't get really close to it. When I went there, there were also a lot of people so I could see it but not from very close, with some people in front of me. It also looks surprisingly small when you see it for the first time, I noticed that many people who saw it thought the same as me about that.
Other than that, there are also many other famous paintings that you can see, like the ones about the French Revolution. Some of them are really huge and impressive.
When I went there, we spent a whole afternoon walking and admiring the masterpieces, which was amazing but also exhausting. You can't really do more because at some point you get really tired of standing and walking, and it gets hard. So, make sure you select the rooms and art pieces that you really want to see beforehand and buy the right ticket! Also don't be disappointed to not be able to see everything, you will see the other rooms when you come back another time!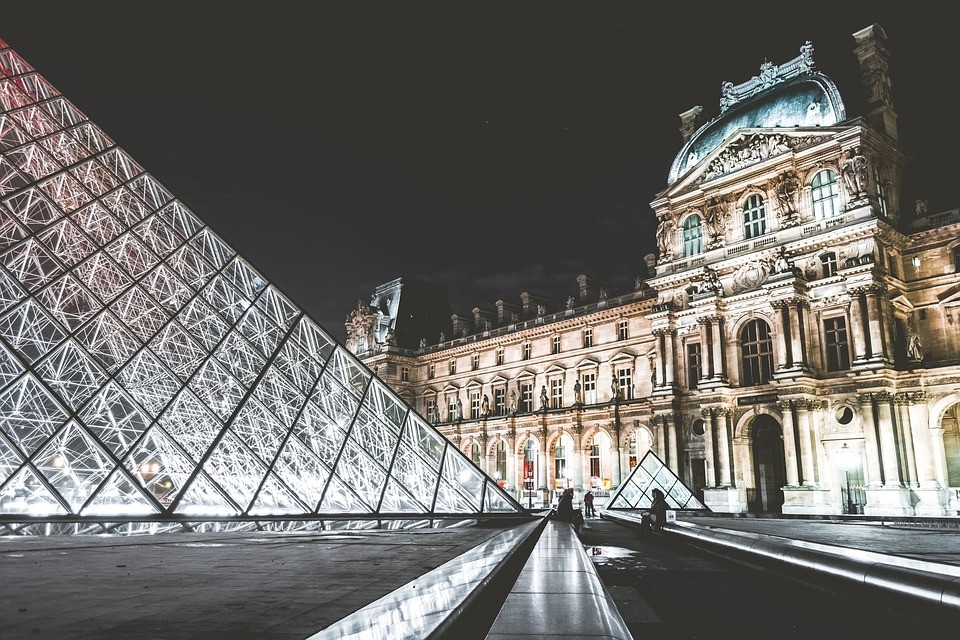 The museum is closed every Tuesday. It is also possible to buy your ticket online to avoid the waiting line at the museum, it will enable you to get inside in less than 30 minutes! This is really not much when you see how long the waiting line can get at the entrance of the museum. The online ticket costs 17€, which is 2€ more than if you buy it at the ticket office. Buying your ticket at the museum costs 15€, but if you do go to the ticket office you can spend hours waiting before getting inside, so I think paying 2€ more is not so crazy to avoid all the lines. Here is the link to the museum's website.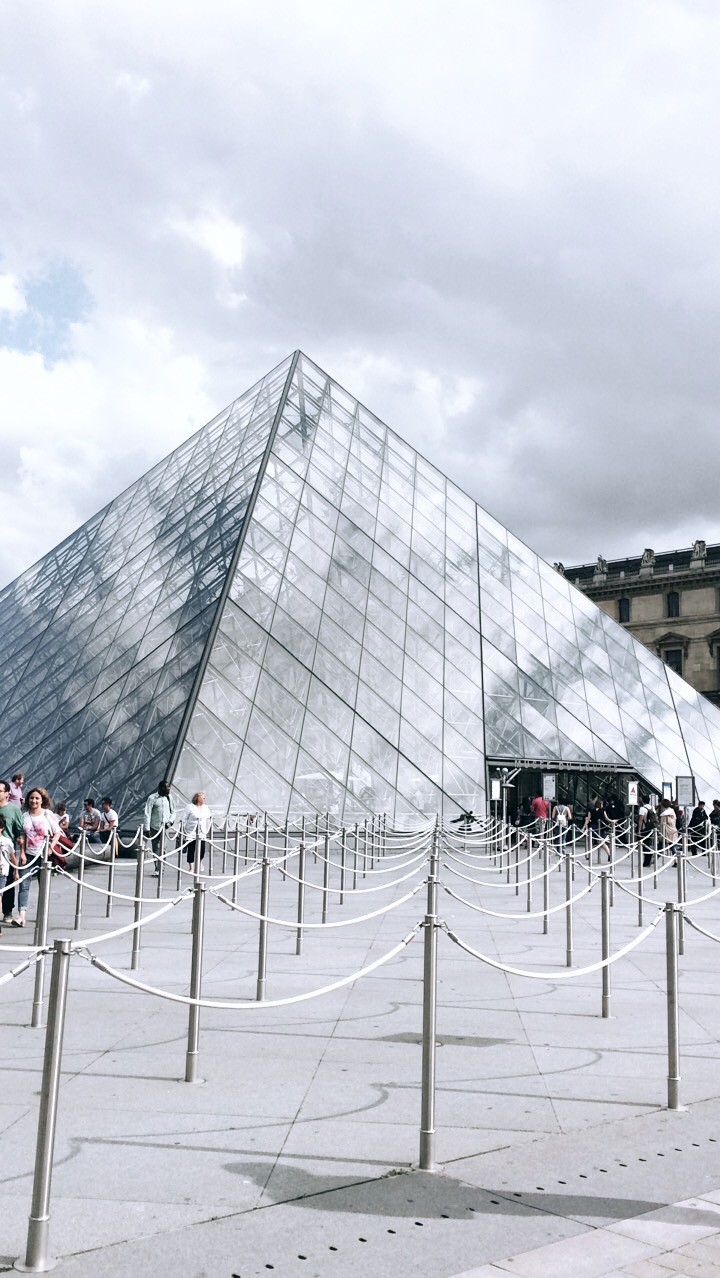 That's it for the first part of my trip to Paris! You already have a few things to do if you are planning to go to Paris soon! The next posts are coming very soon, when I get more time to write about it and share it with you all!
---
Photo gallery
---
---
Content available in other languages
Want to have your own Erasmus blog?
If you are experiencing living abroad, you're an avid traveller or want to promote the city where you live... create your own blog and share your adventures!
I want to create my Erasmus blog! →