Disneyland Paris: Main Park
Getting there
Early, a few mates and I have been checking out Disneyland Studio and all its different attractions. You can find this more information on our adventures in my Disneyland blog found in my profile. Regardless, lets get back to the knitty gritty. Getting there is pretty straightforward. As you leave behind the Studio with its massive water tank structure with Mickey ears designed on to it you will need to walk straight. While on your way you will spot what you're looking for on your left. This grand entrance, dubbed the Park entrance to Main street USA will take you onto a world of splendour that seems to be divided into different continents as each section glorifies a different part of Disney's diversity with different types of themes to enjoy. The four main themes boil down to: Frontierland, Adventureland, Fantasyland and Discoverland. These are all connected by the central plaza.
Main street USA
Upon entering the park entrance you will be showcased with a beautifully designed village on Main Street USA. The first thing that you'll spot is the elegantly designed Disneyland Railroad Main Street Station. You can enter inside and see the beautifully designed station inside with figures and strikingly engraved entrances. Right next to the station you'll have a section where you are able to feel like a princess or a nobleman through the horse-drawn carriage service. This service will take you around different parts of the park. They can fit quite a few people and the people on them usually look like they're having a blast. The carriages are served by two coachmen or coachwomen with a permanent smile.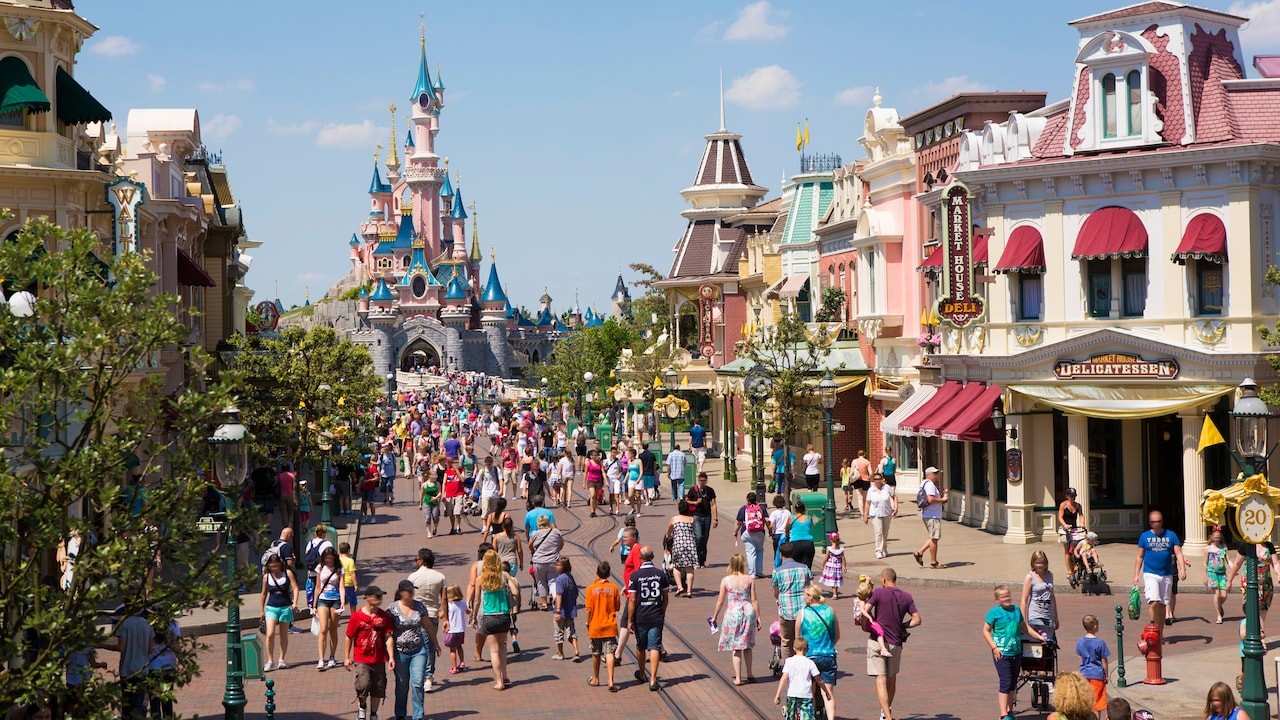 If you're looking for something with horsepower rather than horse-powered then you're in luck! Nearby the horse carriage area you can check out many different designed cars that look strikingly like their ancestors. These early nineteenth century cars are a marvel to look it. It felt like taking a time machine to when these elegantly but efficient type of vehicle roamed the streets of America. Like the horse carriages you could be driven around in one of these beauties.
Opposite of the horse carriage area you'll have the Disneyland city hall. This elegantly designed structure is equalled only by its well furnished interior. Here you can find the administrative branch of the park. If you would like to make restaurant reservations, find the lost and found, exchange foreign currency into euros and need any help of any sort then here is the place to look for help. We had an issue earlier concerning a ride technical problem (which I'll get to later on) and they gave us a Mickey Mouse toy valued at twenty or thirty euros (can't recall) as compensation.
You also have two different arcade areas to explore. The Discovery arcade is designed to showcase inventions from the nineteenth century. The area is lit with a golden hue. Here you have showcased the innovative nature of man. You can find many shops and restaurants to grab a snack, trinket or full meal here. The liberty arcade is a more American-esque type of area. You can find many different designs and interior architecture of america of old. It's a pretty interesting place to look around and also a place to grab a snack or a hot drink. Both arcades were pretty fill with many people walking by whether to buy a souvenir or enjoy a quick coffee or tea.
Lastly, if you're in need of a haircut then look no further. Dapper Dan's Hair cuts offers haircuts for a decent price. The inside of the barbershop is designed with a late nineteenth century designed style.. The place itself is pretty charming and I highly recommend that you check out this place for a minute if you're a fan of retro design. Now, besides looking at the rest of the architecture, then that concludes the Main street. The only thing worth adding is that close to Christmas time they put up a massive Christmas tree in the centre of the town. It was up early November and it was a beautiful sight to see. The music that they played as you walked down the streets added to the whole experience.
Frontierland
Phantom Manor
Now, let's check out one of the four amazing places you can check out: Frontierland. The first thing that you would probably spot in the wild west style area with its rocky and dusty like surfaces is a large mansion to your left. This mansion is the Phantom Manor attraction. It's basically a terror house with ghosts. The brother and I managed to convince his girlfriend and sister to check it out. Luckily it wasn't too full at the time. We went inside and it was pretty dark. This was until the spookiness kicked in. Overall it's a very fun experience. My mate and I were laughing for quite a bit of it while the sister and girlfriend were very jumpy and half scared to death. We got a coupe of slaps when we teased them about it outside. I would recommend you check it out as it was an enjoyable experience.
The ferry
As you keep walking northwards you might spot the riverboat making its tour. This Wild West style ferry is an absolutely gorgeous boat. It has three different levels of platforms for you to enjoy crossing the waters ahead. The steamboat will allow you to take a very scenic look around the whole Frontierland area. You can spot all the cabins and amusements through this boat. We unfortunately didn't have time as we wanted to hit the attraction. Although, if I ever end up in Disneyland Paris, this will definitely be one of the first things I'd do in Frontierland. I later found out that there are two different boats. That really puts into perspective how huge this park is.
My impressions at this point was that they did an amazing job bringing out the American Wild West spirit out of the area. From the architecture to the way employees dressed down to the color of the red dirt. It really felt like being in another world. They don't go cheap when it comes to finding and implementing every possible detail to make the place come to life.
Opposite of the landing area for the steamboats you could find a few different eateries. Here you have, logically, Wild West-esque restaurants with primarily stick to the more popular American dishes such as steaks and hamburgers. There's also a cafe called Last Chance Cafe. It's a pretty charming place. We ended up going to a Wild West style eatery for lunch. Although, thats a story for later on in this guide.
Along the way to one of the amusement parks we also spotted a shooting gallery for you to enjoy and possibly win some prizes for the kids, your date or your bedroom. To the right of this you will find the 'Legends of the Wild West'. This is a pseudo-museum that pays homage for the miners and others dubbed 'heroes' for making the Wild West a safer place. We did a quick rush through this tour as the line wasn't too long at the time. The tour took as through different scenes of the gold rush with many characters on display. This place is pretty good if you'd like to learn more about the Wild West. I learned my fair share of new things from here. I liked it. I enjoy learning things by accident. I didn't expect there to be much historical information in Disneyland Paris. Although, I wasn't complaining.
One thing I hadn't mentioned. At the time we were there, there were many different well dressed skeletons on display. All smiling or striking a pose. They dressed up in traditional Mexican attire. I found it a bit strange until later on in the day I spotted one of Disney's new movies which was based on said skeletons. I reckon it added a bit of charm to the place. When we were exiting the Legends of the Wild West we then spotted a parade of dancers and singers. They were all dressed in colorful attire and moving around erratically. The parade had about two dozen performers smiling and singing with music blasting on loud. It added quite a bit of magic into it. I started to feel quite immersed in the whole experience. This would be one of a few parades we would spot that day. Make sure to whip out your cameras when you hear music pick up.
Big thunder mountain railroad
At this point it unfortunately began to rain. Keep in mind that if you're visiting or staying in northern France, then bring an umbrella with you. The north tends to get rainy quite often. Regardless, we made our way to Big Thunder Mountain Railroad. We didn't have a fastpass so we had to wait roughly forty minutes simply to get in. The time passes pretty fast if you don't keep an eye on the clock. After going up and down some Wild West style staircases we ended up in front of the ride. These mine cart style rides will take you on a pretty enjoyable ride with a wet surprise at the end. The amusement ride is located right in the middle of the body of water. Going through it allowed for some spectacular views of the surrounding area. As always, at the very end of it you could head to the tv area and possibly buy the picture taken of you.
There are a couple of other things to check out. There is the Pocahontas Village which is basically a playground in North American 'Indian style'. That wasn't exactly our type of entertainment so we made our way to the next area of the park: Adventureland.
Adventureland
This area is by far my favourite ones due to the movies portrayed and the whole design of the place. Upon entering from the Frontierland you could check out the first amusement park if you walk to your left. On the way there is (a life saving) bathroom close to a pizzeria. As you walk down the path for a bit you will reach the Indiana Jones themed ride.
Indiana Jones and the Temple of Doom
Indiana Jones and the Temple of Doom is another wild rollercoaster ride. We had to wait almost forty minutes simply to get into this ride. If you don't plan strategically then you might not be able to see that many attractions. So plan accordingly. The whole place was designed as a ruin temple with statues and all. This fast car will take you on a crazy adventure through dark and exciting areas of the temple. Its very fast paced so hold on tight. I reckon this was one of my top favourites when it comes to design. The native jungle trees added quite a bit to the theme of the ruined and abandoned temple taken on by the adventurer Indiana Jones. My mate explained to me how when she first went on this ride it had been quite dark. The whole area was illuminated with strategically placed lights that shown the majesty of the 'sculptures'. There is even live fire incorporated into the ride to further immerse users into the theme.
Robinsons Cabin
After checking this spot out we ended up walking to the heart of Adventureland. Located opposite of the Indiana Jones ride, you will find quite a few attractions clumped together. This is where it gets exciting. The theme of the area changes. As you pass the narrow tracks on wooden planks you will reach the Pirate themed section. As you walk on by you'll hear Pirates of the Caribbean soundtracks which is sure to inspire nostalgia for those that enjoy the film.
The first thing you'll be able to access is the Robinsons Cabin. This cabin is actually a treehouse. You can walk up a rising wooden ramp to get to it. Here, you will be able to access what is simply put as a proper house inside a tree. You can find bedrooms, kitchen a library and much more. The detail within each room is pretty intense. The best part about this treehouse is the viewing platform up above. At the top of the tree you can access a viewpoint that even has a telescope. You could use this to view the nearby Pirate island. This is the stuff that would excite any treehouse enthusiast regardless of age.
Adventure Isle
The next place to check out is Adventure Isle. Within it there's a shipwreck which you could pass by. From there we headed into some dark caverns and tunnels. It felt like being in a pirate's cove. From here you can also access the 'Jolly Roger'. This pirate Galleon is accessible by walking up a ramp. The docked ship will give you the experience of being in a small pirate ship. There are usually between two to three crewmen stationed here and fully dressed in pirate gear. They really sold the look. They were a bit too clean shaven, although what are you to expect from modern pirates. If you take in the Jolly Roger along with the beach, cabins and river then you would feel like you're in another world. Like something out of a Pirates of the Caribbean movie scene. I thoroughly enjoyed it here. From the ship you'll also have an elevated view of the surrounding area.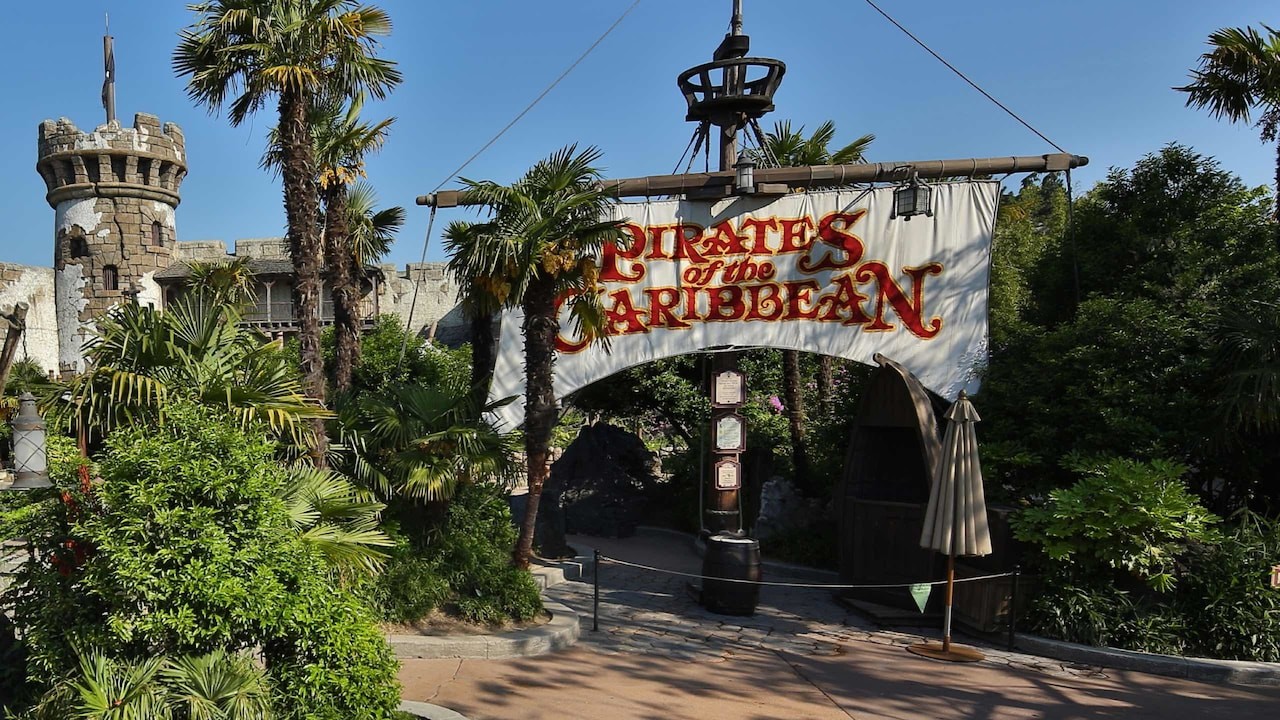 My mate told me that sometimes Captain Hook would make an appearance and entertain the guests of the ship. There's never a boring moment in Disneyland. The main attraction of this area was located beneath some caverns at the northernmost point of the island. As you cross past the stone grown with tropical trees around you then you will reach the entrance to the ride. Along the way expect to see quite a few pirates running around. Now, we did not have a fastpass for this ride (I didn't ask to see if there even was one) so we had to wait in line. I reckon this was the longest we've waited so far. Roughly over an hour.
Captain Jack Sparrow
After leaving the open skies and entering the humid caverns, we made our way deeper into the complex. At some points we were stuck waiting for several moments before being able to move simply a couple of meters. I recommend you prepare entertainment and such for the lines here. Whether its earphones or chit chatter with mates. To pass the time one of my mates had the great idea of doing a singing competition. The way it worked was that we were divided into two teams of two. One of us would sing a few lines of lyrics. By the end of it the very last letter of the last word used would have to be the first letter of the first word of the opponent team's song. We spent roughly thirty minutes passing time with this game. We even had a family from the UK to join us. You can find the most random form of entertainment with almost anybody. Always keep an open mind to these sort of things. It especially removed any queue-waiting boredom we had left in us.
This ride had us placed in one of several boats that drifted with each other. The trip would take you through villages being pillaged. You'll spot all the pirates, the sound of battle and scenes of the invasion. Initially you will enter a march lit solely by lanterns (keep in mind we were in an enclosed area so there was no sky). As you float on you'll pass by many trees and tropical plants that will further immerse you into the experience. Music will be playing softly in the background as you make your way further and further into the mysterious caves.
Deeper into the cove you will be taken up a steep wet ramp with sombering music playing. You will get a warning from a sinister pirate as you make it to the top. Your heart stops for a moment before you're sent hurtling down a waterfall. The first scene we were faced with was a golden trove. Here you can spot many pirate skeletons and treasures of all kind. You will also spot Captain Jack Sparrow upon a throne admiring all the booty. It felt like being in a proper pirate's den. You'll have sea shanties playing as you pass this treasure trove until you reach the village being pillaged.
Also, you will have pirates and Spaniards fighting over control of a town. You will be able to spot the infamous Captain Barbossa calling for the surrender of the Spaniards and the hidden Jack Sparrow running around. As the battle ensues you can hear the clinking of sabers and cutlases. Cannonballs explode in the distance against the towns defences. From this scene you can tell how Pirates would cruelly take whatever they want and return nothing. In one scene we are showed Captain Jack Sparrow attempting to escape nefarious fellow pirates. He is looking for a treasure map to find all the hidden gold. Funnily enough he is trying to escape while protecting his beloved drink. One thing that is worth noting is that the pirates here speak in French. Luckily I understood most of it and my mate translated the rest. However, it is pretty straightforward to understand the gist of it.
We were brought up a ramp until suddenly, disaster stuck. Right when we were facing the three caged pirates attempting to entice a dog with set of keys in its mouth, that is when the ride got stuck. At first we couldn't tell for a moment as there was a drop ahead of us enveloped in darkness and we assumed it was simply a suspense building pause. Although after a short while we were told in French and English that the ride had suffered a malfunction. We were waiting five minutes before technicians came in. Apparently one of the boats in the front had been dislodged from the tracks.
After several minutes of the two employees fully dressed in Pirate garb debated what to do with their superiors, they then decided to get us off. You'll have to watch your step. One wrong move and you'll be plunged into the perilous knee deep water! We were then sent through the skeleton of the area. After taking several flights of stairs we finally made it to the ground floor. Here, we were greeted with a manager of this ride. He apologised profusely for the issue and gave us fast-track passes for a couple of rides. We took it with decent spirits. These types of things tend to happen once in awhile. We continued our way back into the main part of Adventureland. We were right outside when we realised there was a large souvenir shop next to the Pirates of the Caribbean ride. This one is more charming than the previous one. It followed the theme of a Pirate's cove and sold all sorts of knick knacks including pirate hats. This seemed to be their most popular product as quite a few kids were running around with one on their heads. Regardless of how the ride turned out this was one of my top attractions in Disneyland and highly recommend you try it out. From thise amusement ride it is pretty easy to get to the next area: Fantasyland.
Fantasyland
Fantasy land is the largest and most concentrated areas of Disneyland park. We spent quite a bit of time here due to the amount of different things we could spot. The first thing we checked out was the 'Peter Pan's flight'. This pseudo tour immerses you into the story of Peter pan. As you go through this attraction you will find multiple scenes that are defined as iconic in the Peter Pan film. You will also be able to spot notable characters such as Tinkerbell, Wendy and many others.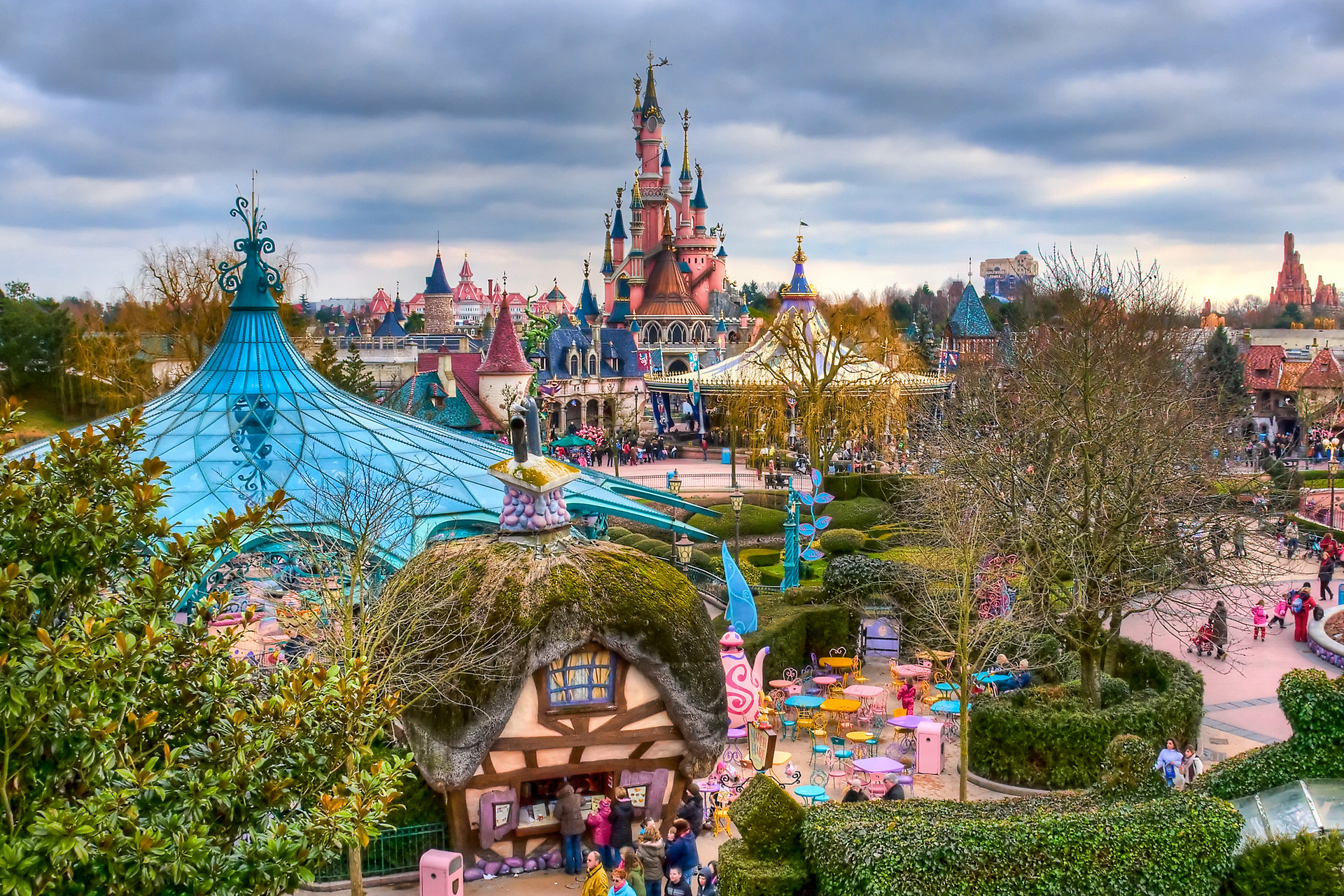 Peter Pan tour
At one point you will reach the nursery of the wealthy manner of Wendy and the children. From there you can spot the iconic scene where Peter pan introduces himself and takes the children on an adventure over the beautiful night sky. After their flight you will be put into another scene which introduced you into Neverland. From here we were able to walk through to find the Lost Boys cave with Skull Rock later down the tour. You will even be able to get inside to the pirate cove where Captain Hook and his nefarious crew are situated with his pirate ship. By the end of the tour we were returned back to the city of London where Wendy and the kids lived. It was all pretty magical. I watched Peter Pan a few times when I was a child and enjoyed it. I would recommend doing a quick tour of this area. The next place we checked out aws the Fantasy Festival stage.
Fantasy festival stage
This bit is an indoor performance attraction. It's a small entertainment stage where they would put on many different shows. My mate read up on the history of the place. Apparently it used to be a Christmas theme performance starring Mickey Mouse. However, recently it had become more centered around Winnie the Pooh and his group of friends. By the time we passed by they were not performing. They went on in a schedule which you would have to keep an eye on if you were keen to check it out. We were in a bit of a rush so we couldn't watch it even if it were going on live. Nearby there is the Disneyland railroad fantasyland station. Recall when we previously talked about the station in Main street USA? Well, from there there is a railroad that circles on the periphery of the whole park. From there you can catch the train to get to any of the four sections of the park. The reason they put this up is due to the fact that the distances were actually pretty long. This especially helps those who are unable to walk long distances. You'll also be afforded a scenic view as you take this route.
Dumbo's attraction
As you walk opposite of this station you will reach 'Dumbo the Flying Elephant' attraction. This splendid attraction is surrounded by a body of water like a moat. You can ride on one of the flying Dumbo elephants as the ride takes you back to the 1940s classic. You will be flying up and down and around similar to the carpet ride in the Studio area of the park. What's fun about this flight is that you get to control how high Dumbo will fly. The higher you go, the more spectacular the views of the surrounding area. While you enjoy the ride you will be blasted with carnival music that harkens back to the circus scene of Dumbo. Although, this is done much more lively. This amusement ride seemed to be a family favourite and I highly recommend taking your children to this ride. Opposite of the Dumbo attraction we have our next ride.
Le Pays de contes de fées
Dubbed Le Pays de Contes de Fées, this ride is one of tranquility and serenity. This attraction centres around floating around with a colourfully designed boat. Here, you will be travelling through the different Disney story lands from different types of films. A sure nostalgia inducer. The waters are pretty clear and clean looking which helped showcase the beauty of the area. Coursing through the river you will be presented with different music themes playing. You will be able to see many different scenes such as the dwarf house of Snow white and the seven dwarfs. Rapunzel's high hanging tower, an Aladdin themed scene, a Greek temple from the film Fantasy and many different scenes. I reckon we saw just about a dozen different scenes by the end of it. The detail invested into each scene makes this place worth the visit. By the end of the trip you will be deposited back into the main walking area of Fantasyland. Nearby you'll have the ''It's a small world' attraction.
It truly is a small world
This one is a little bit less Disney-esque. Its based on the idea that we should live in peace and harmony. It's a short boat ride that takes you through different colourful and well designed scenes. The atmosphere is pretty vibrat. You will find a couple of hundred dolls that are dressed depending on which part of the world they're from. They'll be singing in their mother tongue a song about harmony and peace. There is a bit of dancing involved and all seven continents will be showcased.
I find this attraction very charming. It's a good thing to teach children when they're young that the world is a better place when you live in harmony without any ill will towards your neighbours. The different languages concept was my favourite part as it emphasises that people are different and come from a versatile background. It also showcases how easy it is to be in any part of the world. It really is a small world.
Lancelot's carrousel
If you walk opposite of 'It's a small world' then you will eventually break into a mostly closed off village of different attractions with the magnificent sleeping beauty castle ahead of you. Lets first check out the attraction from nearest to farthest.
The closest piece you will find is the Carrousel of Lancelot. For those who aren't aware, Lancelot is one of the mythical King Arthur's knights of the round table. The carrousel is decently large and designed in medieval style with armored up horses. It wasn't exactly the most adult enticing ride so we skipped on ahead till we turnt the corner to the main area. To your right there will be the 'Pinocchio's travels' attraction.
Pinocchio's travels
This charmingly designed cottage next to some cone shaped houses will take you on a little adventure. You will be taken on a beautifully designed wooden car that will take you through a Marionette show with Pinocchio dancing as the star. Two puppets will sing a duet for you on your travels. As the car took as through they introduced Jiminy Cricket and soon after Pinocchio's adventure begins. The story goes on with foes of different types until Pinocchio turns into a real boy with nostalgic music playing in the background. The whole scene is very elegant and the props are very well designed. Disney surely does not shirk any tiny detail.
Sleeping beauty's castle
In front of you there will be the massive Sleeping beauty castle. This iconic castle is featured in almost any Disneyland representative image out there. This castle also holds a magical surprise for many later on in the day. We'll get back to this point at the very end of our trip. We snapped our photos of the beautiful area and went straight to an elegantly designed small castle that glowed blue in the quickly darkening sky. This castle housed Snow White and the seven dwarfs. This area you'll be able to check out different scenes from Snow white which includes the Seven dwarves' cottage, the enchanted forest and the evil witch's mirror. This is a pretty short tour but holds quite a few things to see with all the details of the different movie scenes.
We quickly made our way down to the dungeon attraction nearby of sleeping Beauty Castle. This is an area that is better reserved for those who enjoy a more spookier and grimy experience. Within the green misty dungeon and torture track you will have a predator lurking about. The chained dragon calls this place its home with its sharp fangs and long pointed snout This place sent goosebumps due to how well it was designed. With stalagmites and stalactites sticking from different surface. This cave-like dungeon is very well made and should definitely be checked out. After we spent a fair bit of time in this area, we then decided to make our way to our next attraction. You could easily spend more time in most attractions I had been to, although we were keen to check out as many of them as possible.
Mad hatter's tea cups
Another amusement ride that is totally looney is the Mad Hatter's Tea Cups. This area is well designed with large elegantly designed tea cups as the main attraction. The surrounding area has a well maintained garden surrounded by sculptures of different types. Here you will be able to find some characters of Alice in Wonderland such as the Mad hatter himself. The cups would spin around from direction to direction haphazardly. You'll never guess which way they'll go in this mad ride. It's a ride filled with screaming and dizziness. At the centre of each cup you have circular bar that allows you to turn yourself around faster and faster if you dared. The petal shaped cups are beautifully designed along with the strangely Japanese lamps hanging from the ceiling. We passed this place when they were lit against the darkening sky. It was a very beautifully designed area. I would highly recommend checking this place out.
Le théâtre du château
The last thing we checked out before breaking for lunch was Le Théâtre du Château. This stage. This beautiful stage was designed for many performances to be done. Its prime location with the charming backdrop of Sleeping Beauty's castle makes it the perfect place to grab your main Disney protagonists for a dance and show. At the time it was empty as we weren't paying attention to the performance schedule. Before we continued on to our last adventure we decided to grab a late lunch as all the walking was demanding on the stomach.
Labyrinth
Nearby you'll have an Alice in Wonderland inspired Labyrinth. Here you'll cross through a scenic forest where you'll spot many different scenes and characters from Alice in Wonderland. From the magical Cheshire cat to the Queen of Heart's who's soldiers are ready to have you beheaded. This beautifully designed area is filled with the nostalgic wonders of Alice and her adventures. The area was especially beautiful due to the illuminating lights that gripped the area. At the end of the Labyrinth you will reach the castle of sleeping beauty.
Cowboy Cookout Barbecue
We ended up going to the Cowboy Cookout Barbecue restaurant found on Frontierland. My mate recommended this place due to their great burgers and steaks. This barn looking restaurant was nothing but dark brown wood in the interior. It felt like being in another world. Upon entering you will find a stage to your right. At the time there had been an elderly cowboy jamming some great blues and cowboy related tunes on his electric guitar. He was actually pretty good.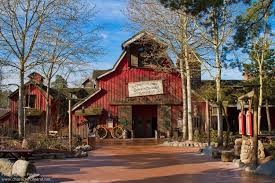 If you're kind enough you could also ask him for a Happy Birthday song request. My mate asked him to do it for the sister in the group. It was pretty kind of him and quite a few people sung along. We then sat down on our wooden chairs before ordering our meals. I had a spectacular burger and fries along with a chocolate mousse dessert. My mates had a salad and steaks. It was an overall tasty experience. I can't recommend you the steak since I hadn't tried it although the burgers are pretty good and the price is reasonable, all things considered. The restaurant has bathrooms for your usage.
Discoveryland
Buzz Lightyear
After enjoying our lunch we decided to explore the very last of the four sections of the park: Discoveryland. From the western entrance we entered into a different world. One more marked with sci-fi and space themed rides. The very first striking attraction we spotted was one based on Buzz Lightyear. We didn't enter this attraction although I had seen this attraction plenty of times on television advertisements. The whole idea behind it is that Buzz lightyear 'recruits' you on a mission to save different toys from the evil emperor antagonist. You will be given laser shooters where you'll blast away all the different foes that approach you with vigour. It's an 'all age' friendly type of ride. Across it you can find the Orbitron Flying Machines.
Orbitron Flying Machines
This one is one of my most aesthetically pleasing favourite rides in the park. With the golden rotating balls turning around a futuristic looking spire. You will be placed on a spaceship and spun around vigorously. You can spot some pretty sweet views from up here. The ride also looks especially beautiful in the night time while its illuminated. Something straight out of a sci-fi book.
Autopia
To your right you'll be able to spot a massive amusement area dedicated to riding cars. Dubbed Autopia, this amusement attraction allows you to try what people from the mid 20th century imagined future cars would look like. You could choose whether to take a casual stroll through the area or take a sweet ride. You'll be able to see some spectacular views from around as the well designed area has much to offer. This place was particularly full with long lines by the time we passed by. It must've been a really good ride if it were attracting such a large crowd. We decided to give it a skip as we did not have time to wait for a long period of time.
Star Wars: Hyperspace Mountain
This next attraction is definitely my favourite one of Discoveryland. Star Wars: Hyperspace Mountain is an adventurous coaster ride that takes you into the fictional heart of space. The lines for this one were also quite long. However, we did have the last of our fast track passes from earlier that day. We were allowed into the back area which got us into the ride much quicker. Once we got into the ride, we were moved forward a couple of meters before Admiral Ackbar gives us a 'mission' to spy on an Imperial Star Destroyer (I'm a geek for star wars, this was exciting as). Evidently, we were part of the Rebel Alliance.
As we are shot in we find out that it was a trap and you will be shot at. The area lights up with green and red lasers as projector screens show your allied and enemy ships engaging in battle. The soundtrack is absolutely amazing and of premier quality. It felt as though we were actually in a space battle. I wished this ride had lasted for longer. It was an amazing experience and highly recommend it.
Captain Nemo
Nearby this attraction of the submarine of Captain Nemo. Here, you will go through a tour of the ship and be plunged into the undersea world. You will be able to witness all types of sea creatures and eventually be faced by the one and only, the great kraken. This theme ride is perfect for those that enjoy anything deep sea related or want to experience a unique experience. This place gets a thumbs up from me.
Ratatouille
We didn't have much time to explore anything before the main event of the night except for one last ride. This was the Ratatouille experience which was actually a bit of a walk away. We were able to use our fastpasses to get through the line to the Ratatouille ride. Here, you will be given 3D glasses and placed onto your very own mechanical mouse. Here you will be taken around many different areas with projector screens showcasing you a story of cooking, pressure, fun and panic. The area was designed to look like an oversized kitchen. With the projectors and the amazing sound effects we felt as though we were part of the ride itself. It was truly an amazing experience to have. The 3D glasses made it the perfect blend of excitement and immersion.
Straight after this we rushed back to the main road of Disneyland. The main attraction of the day will commence soon. However, this conclude the adventure for now. The four different lands of Disneyland are all worth looking at in detail. There are many spectacular rides in each area with their own themed restaurants, food and Disney characters. Hopefully this guide will help you pick your favourite spots to visit for a long and fun day ahead of you. I will continue with the main event in a later piece. Happy travelling!
---
Photo gallery
---
---
Content available in other languages
Want to have your own Erasmus blog?
If you are experiencing living abroad, you're an avid traveller or want to promote the city where you live... create your own blog and share your adventures!
I want to create my Erasmus blog! →