Milan Fashion Week
Architecture and landscape

10 / 10 points

Entertainment

10 / 10 points

Culture and customs

10 / 10 points

Transport

8 / 10 points

Gastronomy

10 / 10 points

Prices

8 / 10 points

Party

8 / 10 points

Weather

8 / 10 points
---
If there is one thing that Milan is known in the world for, it's the Fashion Week. Milan is one of the four main cities in which the Fashion Week takes part, along with New York, London and Paris. They take place in that order, so Milan is always the third city in which all the creators, models and influencers / bloggers go. Before I moved here for my Erasmus, I was thinking things like "wow, amazing, I am going to be in a city where the fashion week happens for a year, I'll see it twice! ". Although it is cool to know that for a week, some important people, models and bloggers will be all around you in the city, the truth is that if you are not part of the fashion world, or have enough money to buy tickets to the shows, you don't see much of the fashion week.
During that week, it's like almost all of the city lives for fashion. There are some decorations that are put up in the streets, like the ones you can see in my picture below, which was a roof of umbrellas in a street of Brera, made by Elle.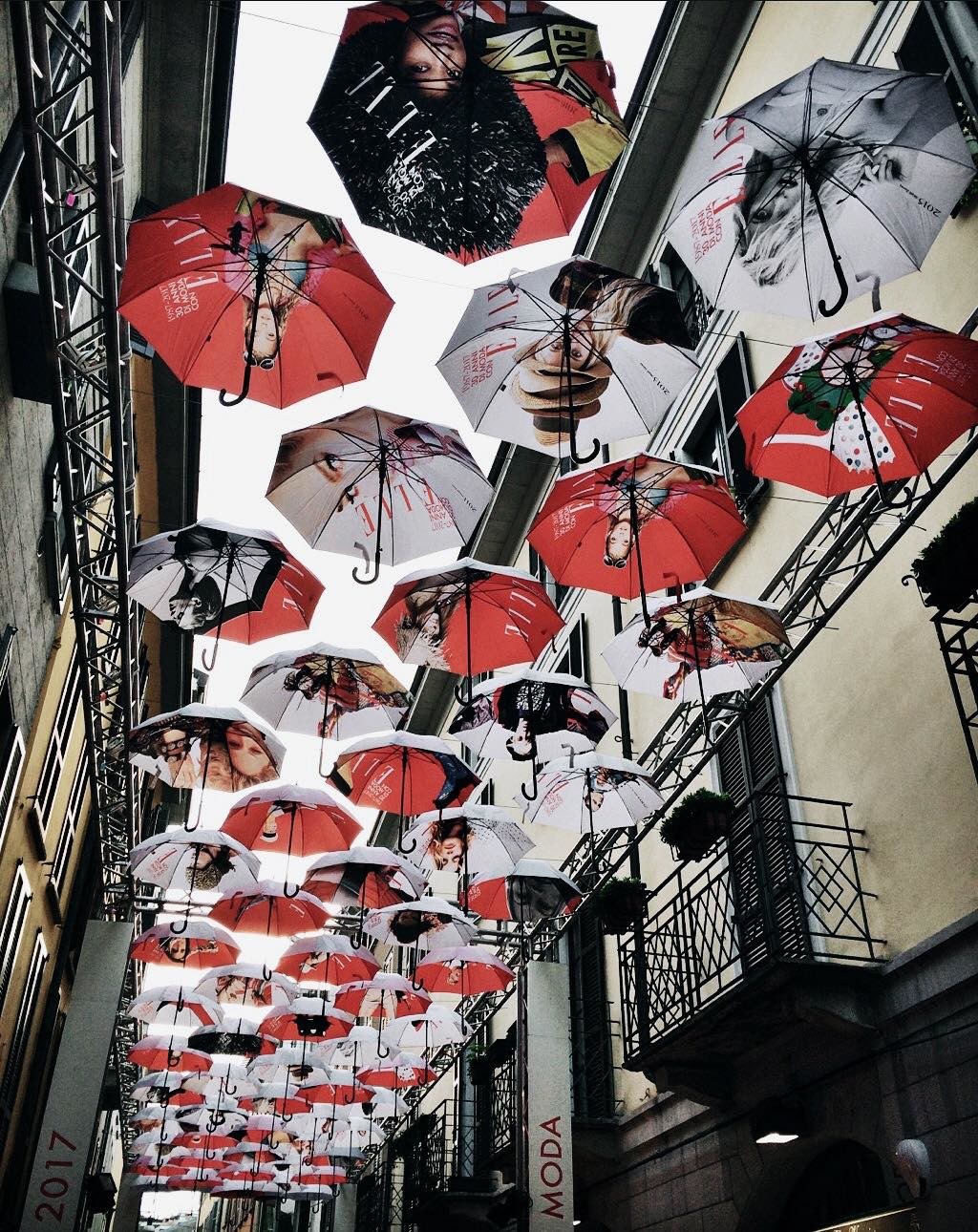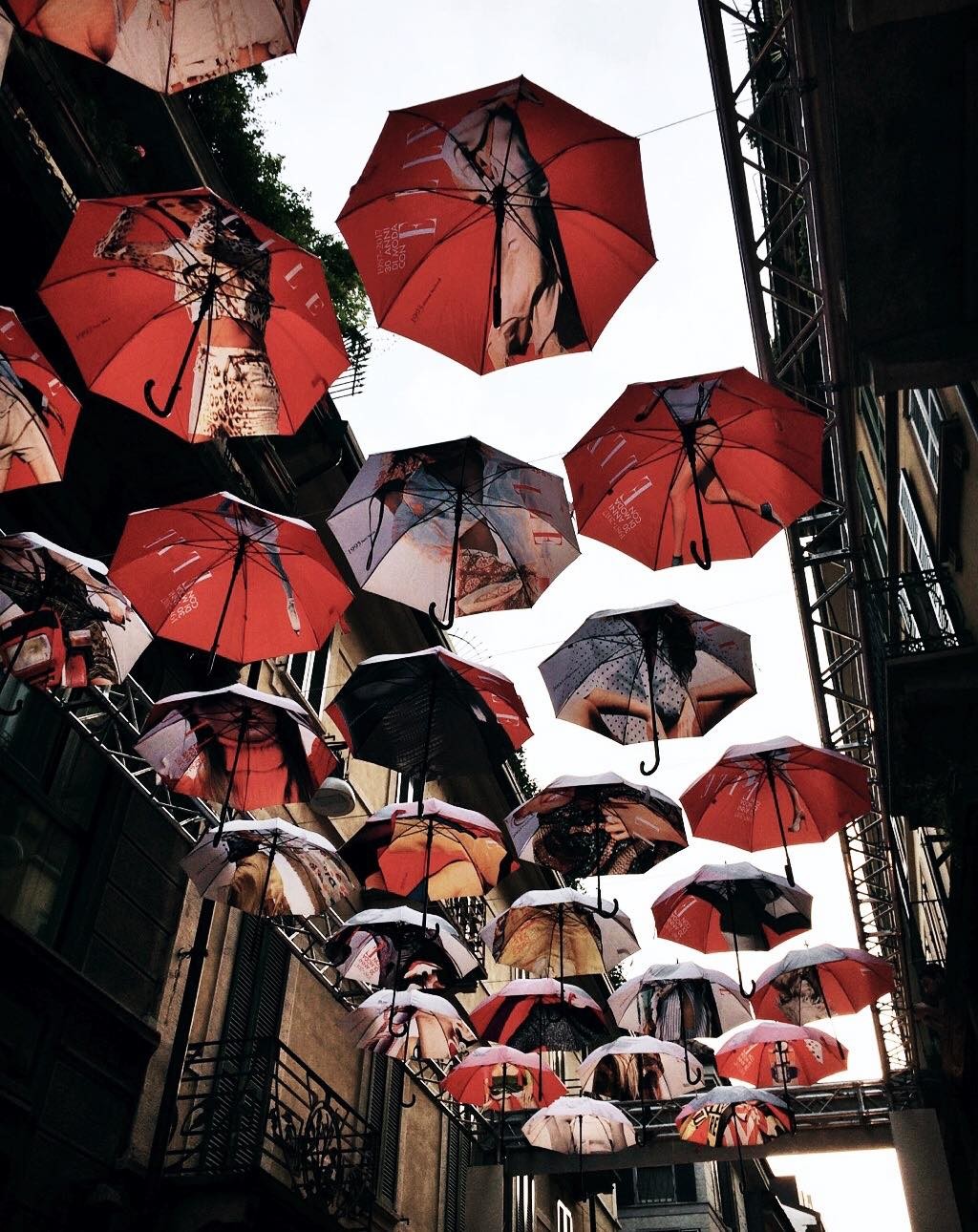 Some more accessible events are also organized, so that "normal" people can also attend some events and see more of the fashion world. In September there was the Vogue Fashion Night Out, during which many stores were open until late and some of them had events where creators, designers or representatives of a brand would come and tell people more about the brand, its creations and its future orientations. The goal of this night was to make people feel more concerned and integrated in the life of brands, let them know more about what the brand is doing and what it's going to do and make it feel accessible in general. To know which stores were taking part in it, you could check the Vogue Fashion Night Out website or Facebook page, where you could find programs and the list of stores that would stay open until late. This night took place in the very few days before the Fashion Week officially started.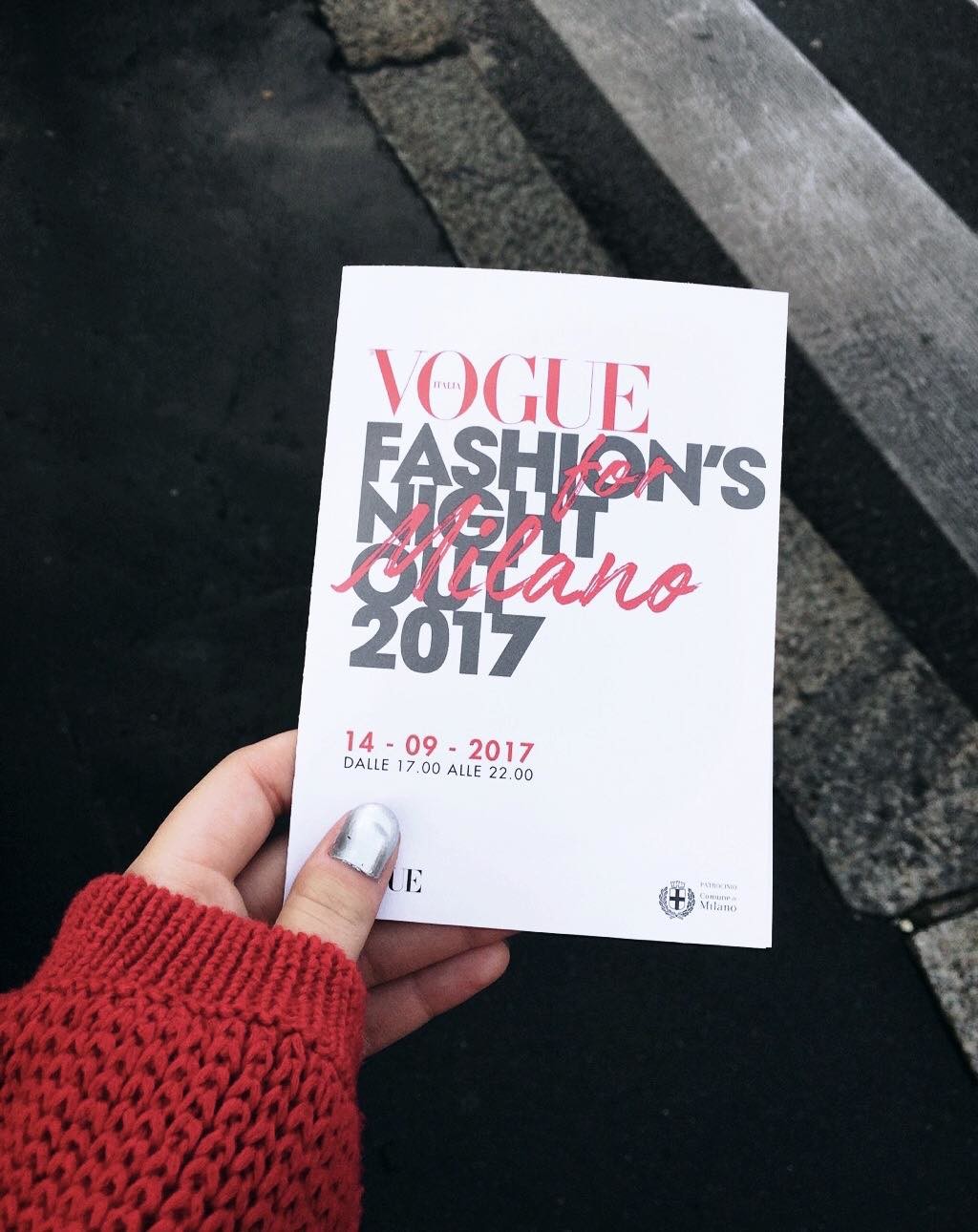 Then it's the official first day of the fashion. It lasts for 5 days more or less, with shows and catwalks taking place in many various locations all around the city. What is great in Milan is that there are many different sorts of locations available with totally different set-ups that give a lot of possibilities to the creators, such as the Piazza Duomo, the Castello Sforzesco, museums like Palazzo Reale and many other unsuspected locations. To know where the shows are taking place, which brands will be shown and at what time, you can check this website. Once again, let me remind you that if you were not invited or didn't buy a ticket, there are very few chances that you will be able to attend the shows. But the rumor has it that if you are dressed in a "fashion way" that the organizers like and are in line for the show they might let you in. But again, that's really not for sure!
Even though you may not be able to access the live shows and see the catwalks, some shows sometimes have what they call the "Fashion Hub Market" which are like some sort of stores in which other collections or brands are exhibited and that you can look at and purchase if you are interested. It's not quite like seeing the shows but it's still really nice and you can take part in it even if you're not from the fashion world or anything, becuse it's open to everybody and it's free.
There are also some music shows organized, also more accessible to public, to celebrate this week. In September, the singer Madison Beer made a show on the Piazza Duomo, so it was like an open-air concert where everybody could go. This week is kind of a big event for the city because people from the whole world are looking at it, so many things are organized to make it cooler and make people want to come here!
Apart from that, it's nice to be in such a dynamic city, especially at this time of the year that everybody is here. There is still something in your mind that says that you could be walking in the streets and randomly bump into somebody more or less famous you know and like, or basically also just see a crowd of people around somebody that you have no clue who they are. You can see pictures of many people, bloggers, models that you follow on social media and see where they are in the city and all the content they create with monuments and streets that you are used to see and it's usually nice to see what they do with it!
To summarize, the Fashion Week is something many of us want to experience but for "normal random people", you don't see much of it. Yet it is still good to know that you're in the city where it all happens in my opinion. So enjoy everything about it but don't expect too much from it!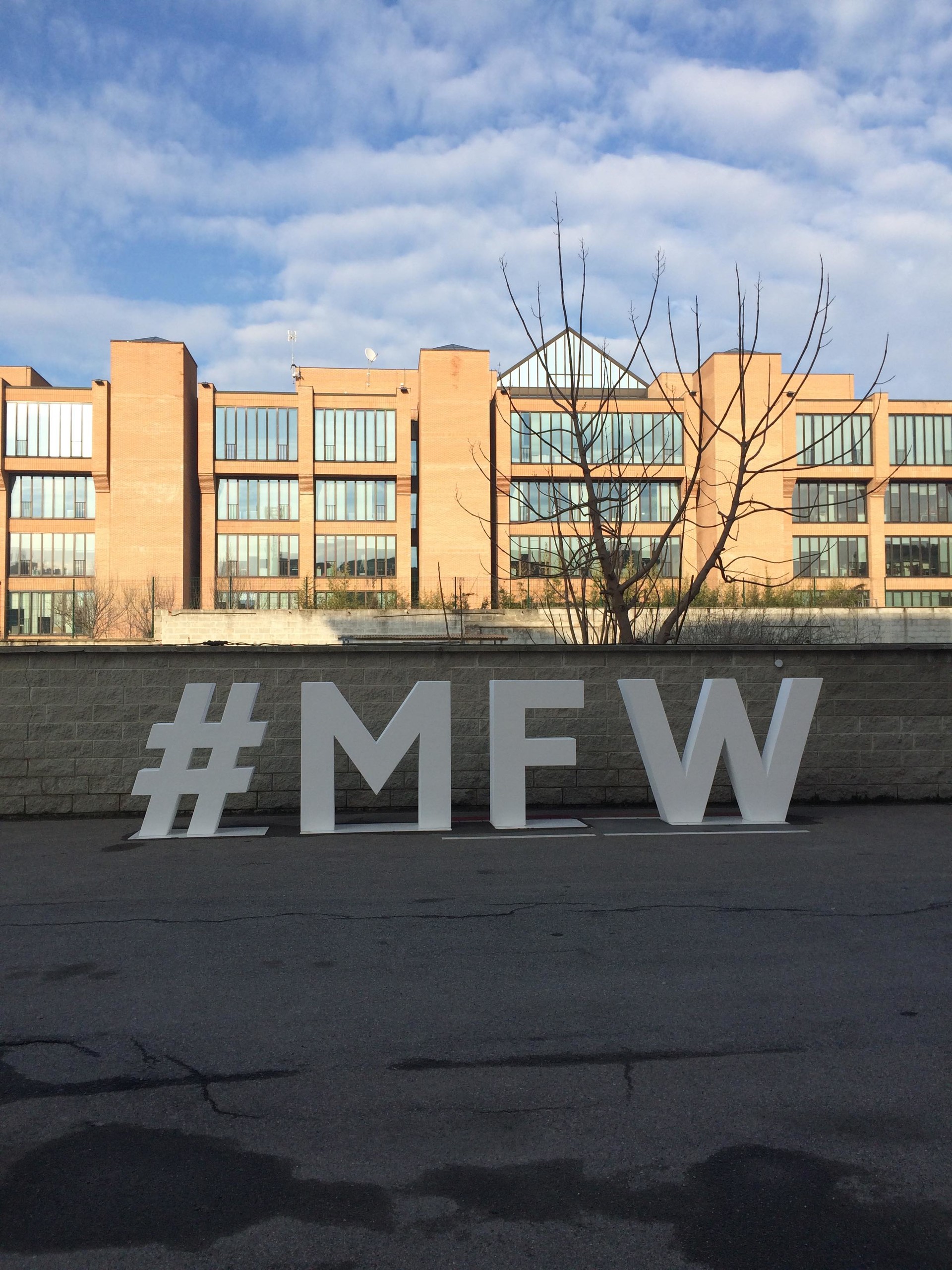 ---
Photo gallery
---
---
Content available in other languages
Share your Erasmus Experience in Milan!
If you know Milan as native, traveler or as exchange student... share your opinion on Milan! Rate different characteristics and share your experience.
Add experience →