A dive into the word of museums - Castello Sforzesco
The Castello Sforzesco is a popular tourist attraction in Milan, with hundreds of tourists visiting daily. What you might fail to notice is that the castle structure homes a real collection of museums. And it's specifically these museums that I'd like to talk about in this post.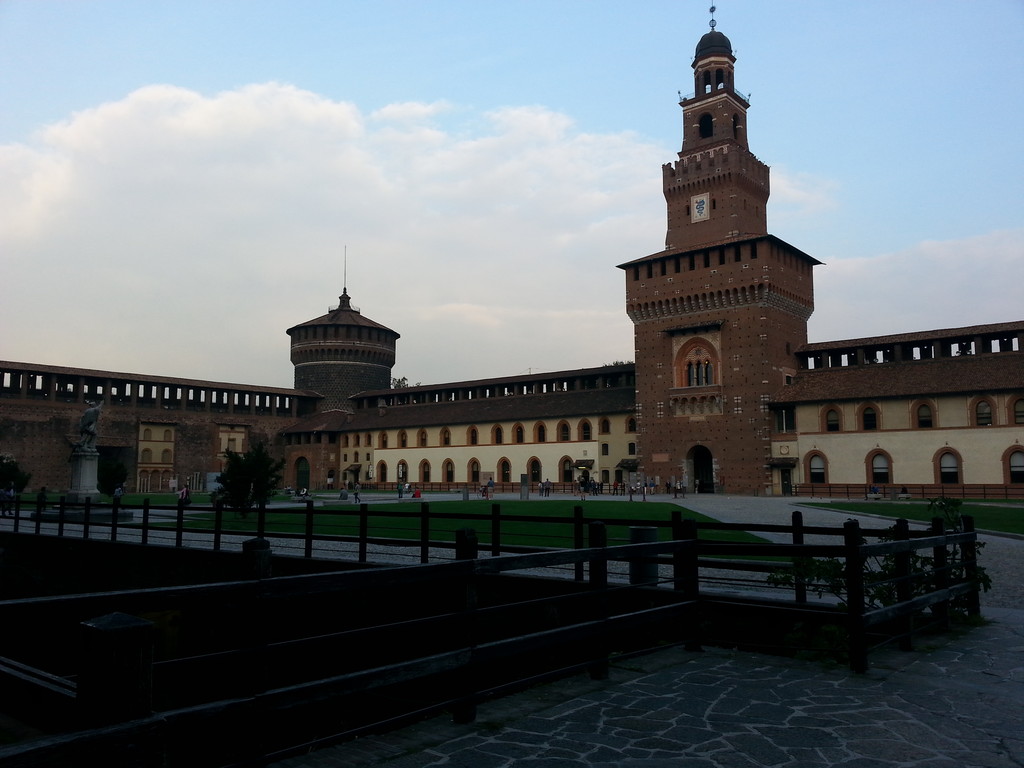 Firstly, an introduction.
History
The castle was built by Francesco Sforza in the XV century, where there remained wrecks of a XIV century fortress, called Castello di Porta Giovia. It's had many different uses throughout time, including being an important military fort in Europe between the XVI and XVII centuries. Moreover, it housed the great political leader and soldier, Napoleon Bonaparte, on one of his trips to Italy. In the XX century, the castle was hit by a bomb and was reconstructed with the aim of turning it into a museum, after the end of the Second World War.
In case you'd like to develop your knowledge on its history:
http://www.milanocastello.it/ing/menuStoriaLunga.html
http://www.milanocastello.it/ing/visitaEdificio.html
Useful information on the castle
It's open every day with free entry (except for the museums);
Open from 07:00 to 18:00 in the winter and from 07:00 to 19:00 in the summer.
Useful information on the museums
Open from Tuesday to Sunday.
Open from 09:00 to 17:30 (possible to get in until 17:00).
Closed on: 25 December, 1 January and Easter Sunday.
Price of a ticket
Full Ticket: 3. 00 euros.
Reduced Ticket: 1. 50 euros.
Annual Full Ticket: 15. 00 euros.
Annual reduced ticket: 7. 50 euros.
Free Entry
Under 18s.
Guides and interpreters who are accompanying people with disabilities.
Journalists.
People with special permission from the Direction of the Museum.
State or regional employees, directors of municipal museums.
Reduced Entry
University and Academy of Arts students.
Adults over 65
Employees of city government.
Free Access
Fridays from 14:00 to 17:30.
Tuesdays, Wednesdays, Thursdays, Saturdays and Sundays from 16:30 to 17:30.
* The ticket office closes at 16:30.
* A ticket gives access to all the museums in Castello Sforzesco.
A summary of what you'll find
Museum of Ancient Art (Museo D'Arte Antica)
This starts with a passage through a portal of the XIV century called Pusterla dei Fabbri (or Postern gate of the Smiths), a secondary medieval gate from the walls of the city of Milan, which introduces us to the Milanese history and the history of this region. The Museum of Ancient Art contains approximately 2000 items related to the end of the Ancient Age, Medieval Age and the Renaissance. This collection is considered the most important in the region of the Lombardia.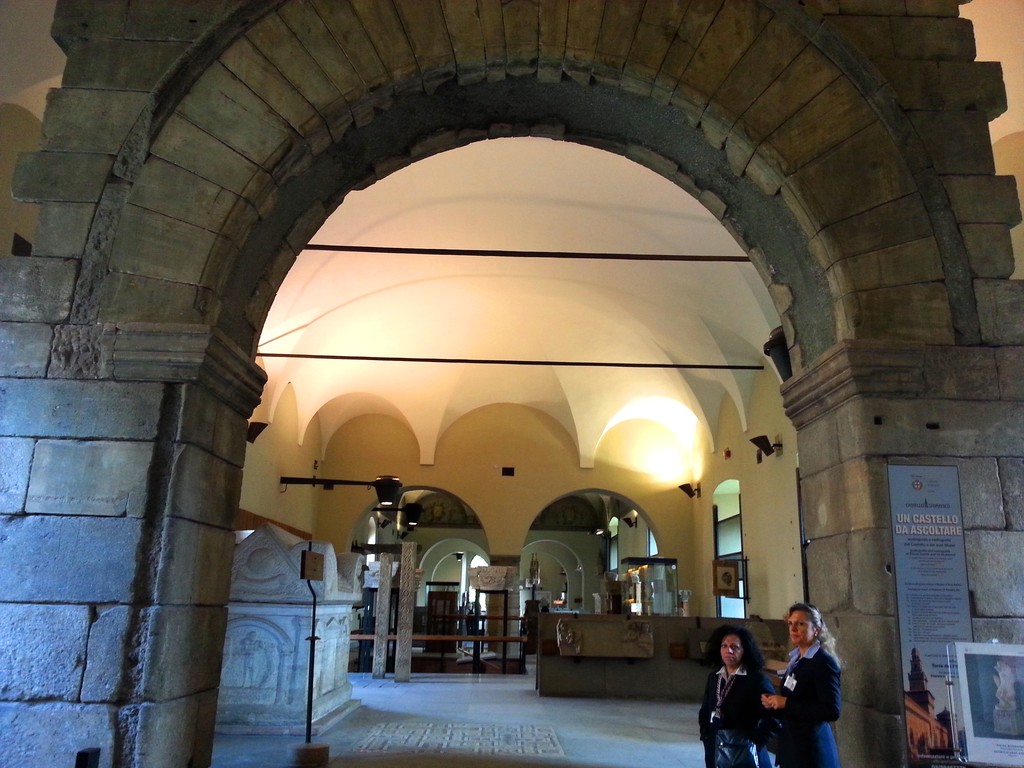 Pusterla dei Fabbri.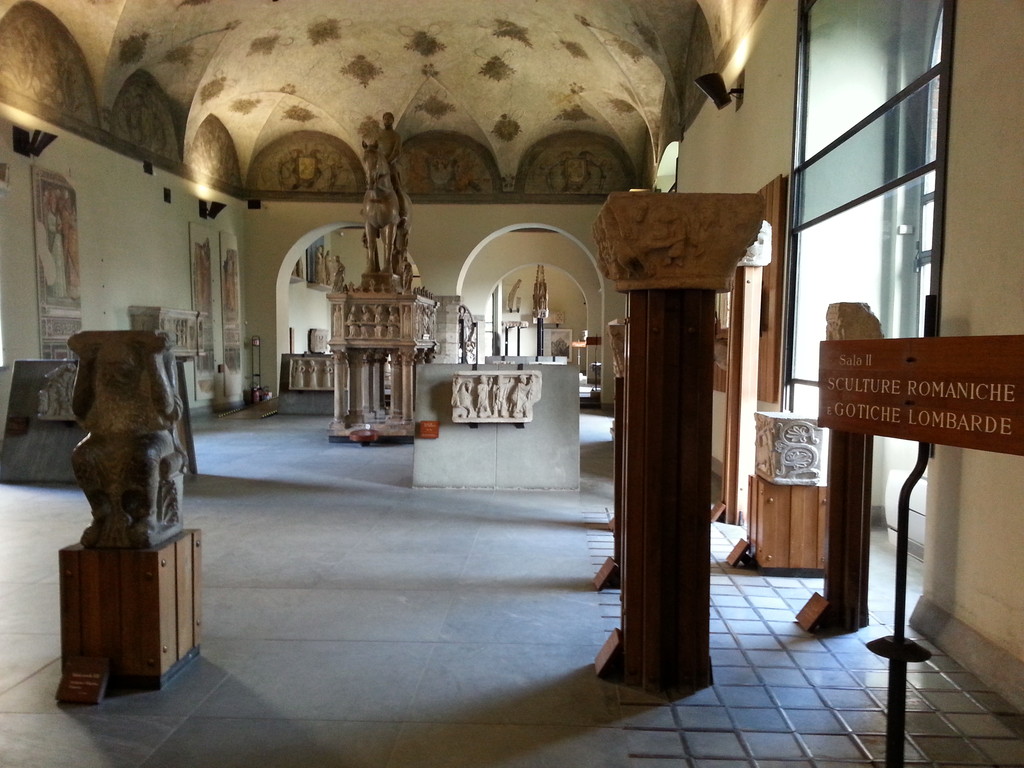 At the depths there is the funeral monument of the Duke of Milan, Bernabò Visconti (or Barnabé Visconti), immortalised on top of him favourite horse. It was sculpted by Bonino da Campione in 1363.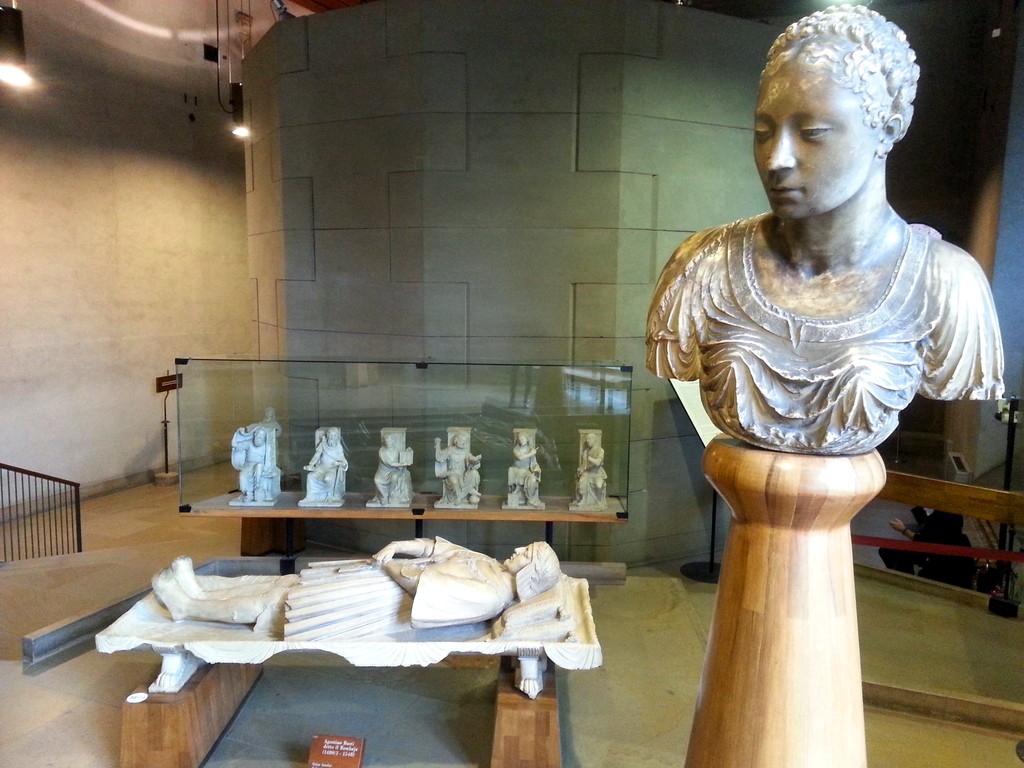 At the bottom, lid of the funeral monument of Gaston de Foix.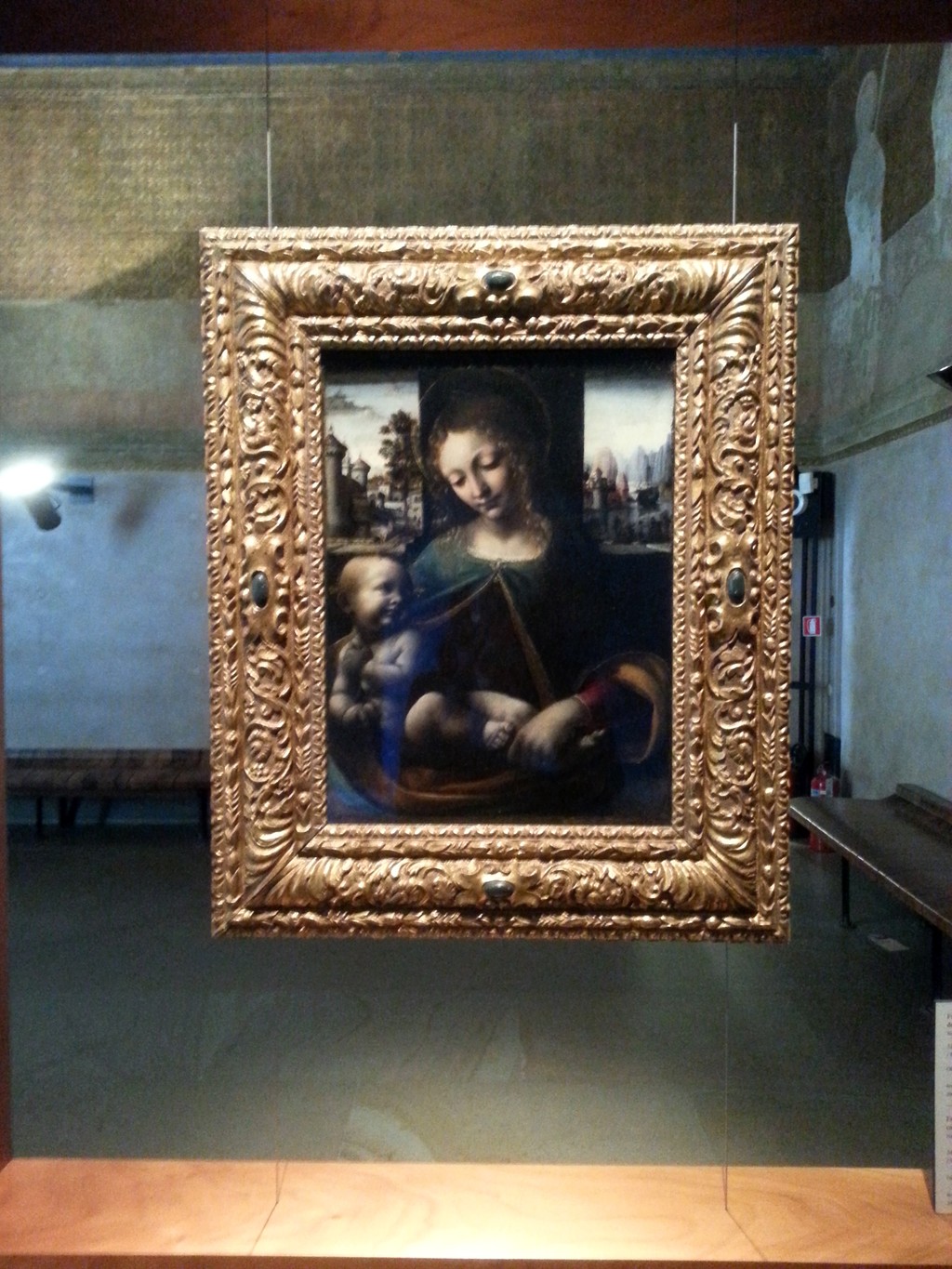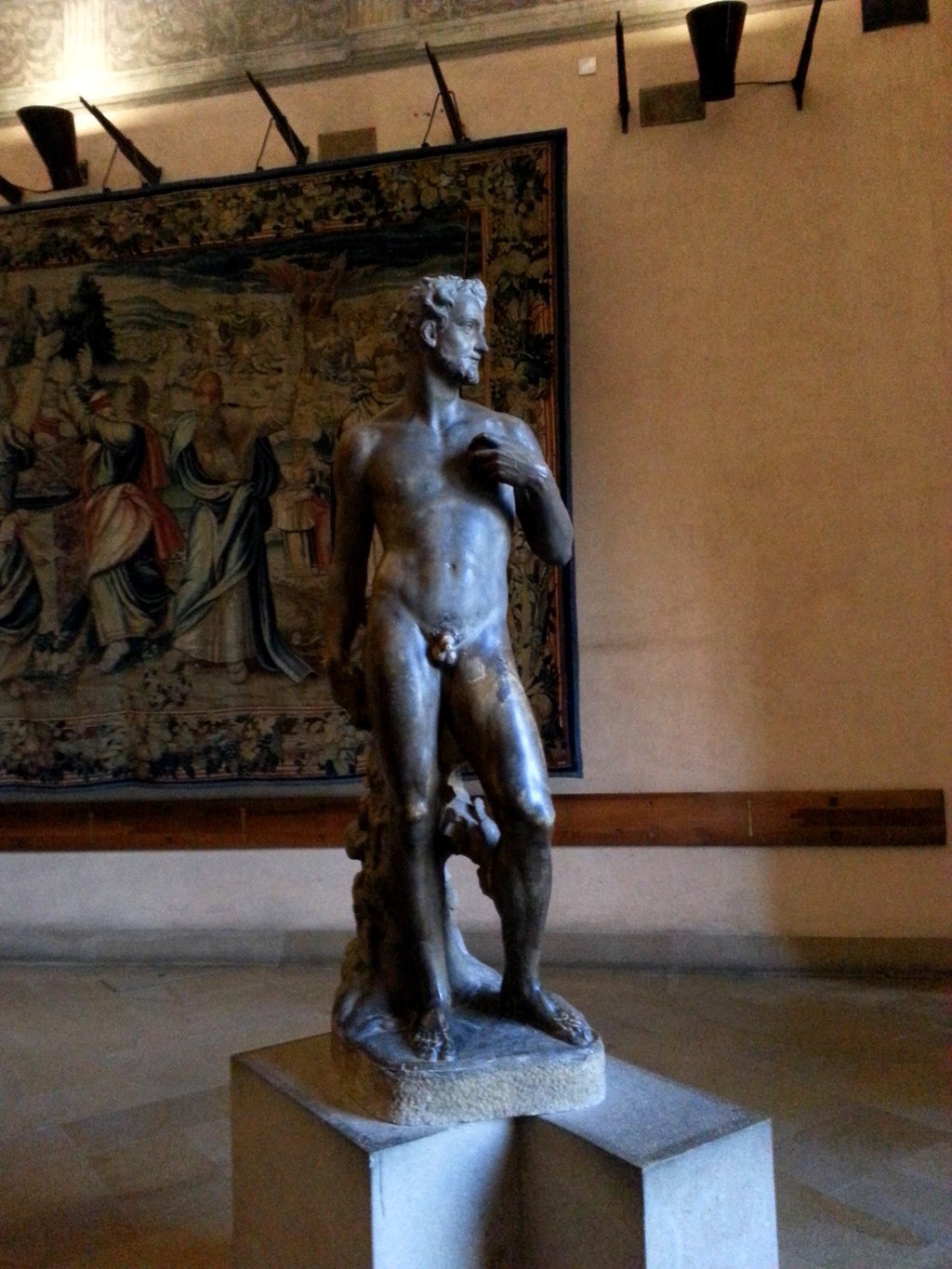 Statua di Adamo, by Stoldo Lorenzi in 1577.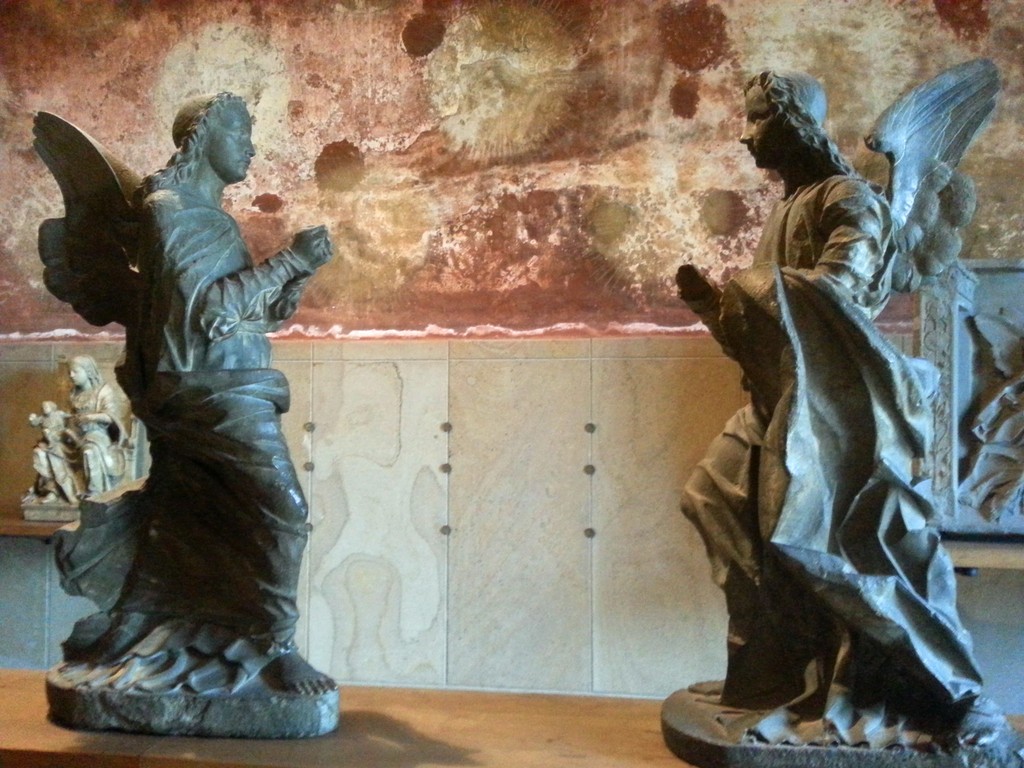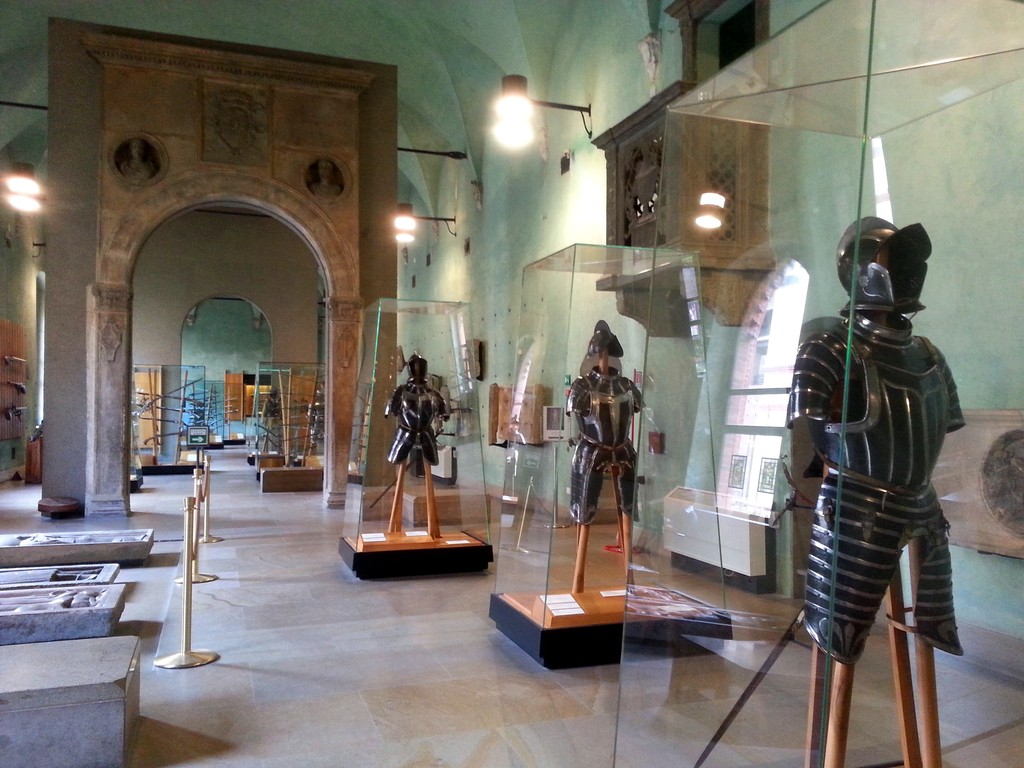 Collection of armour and arms used in battle.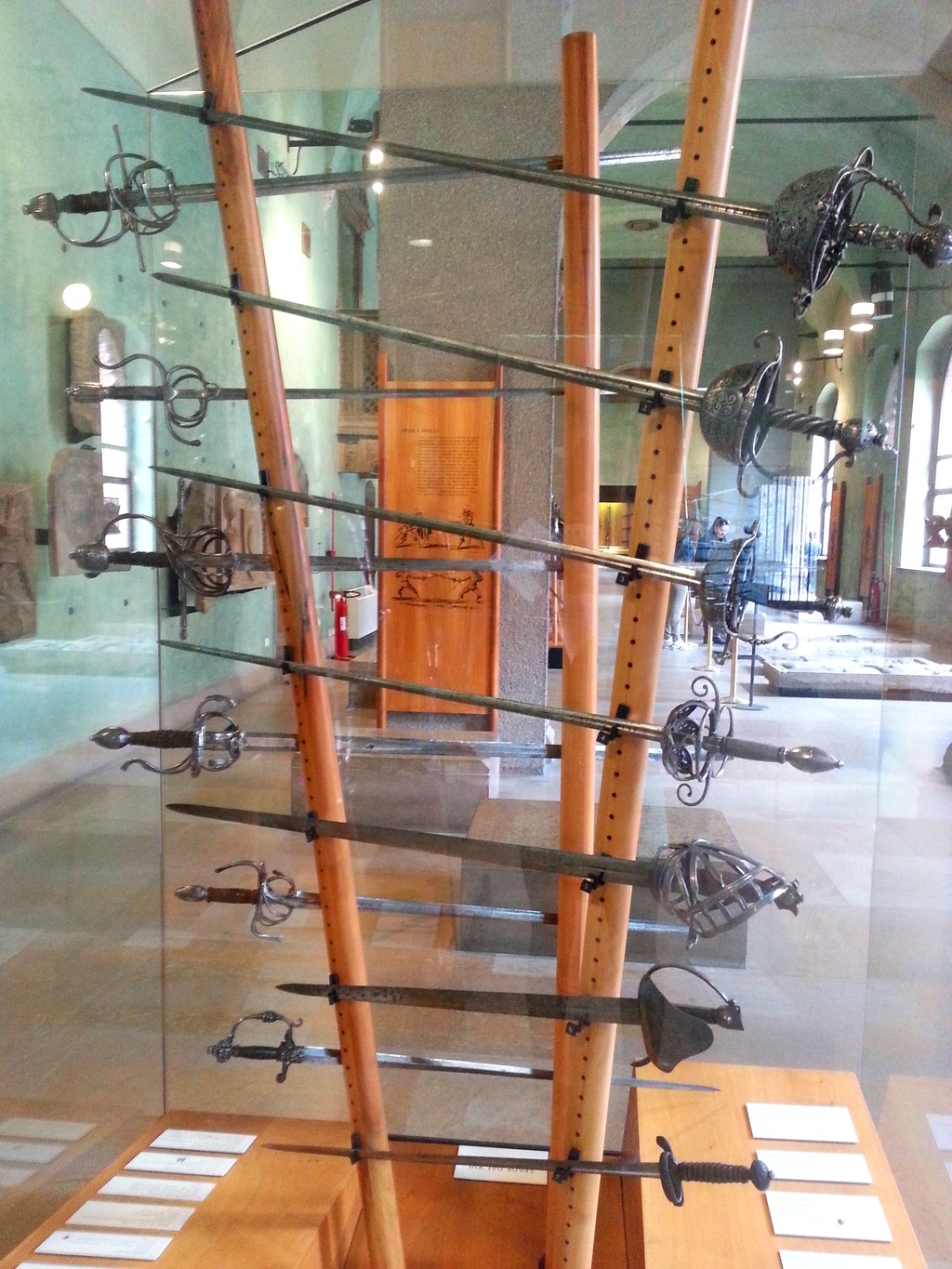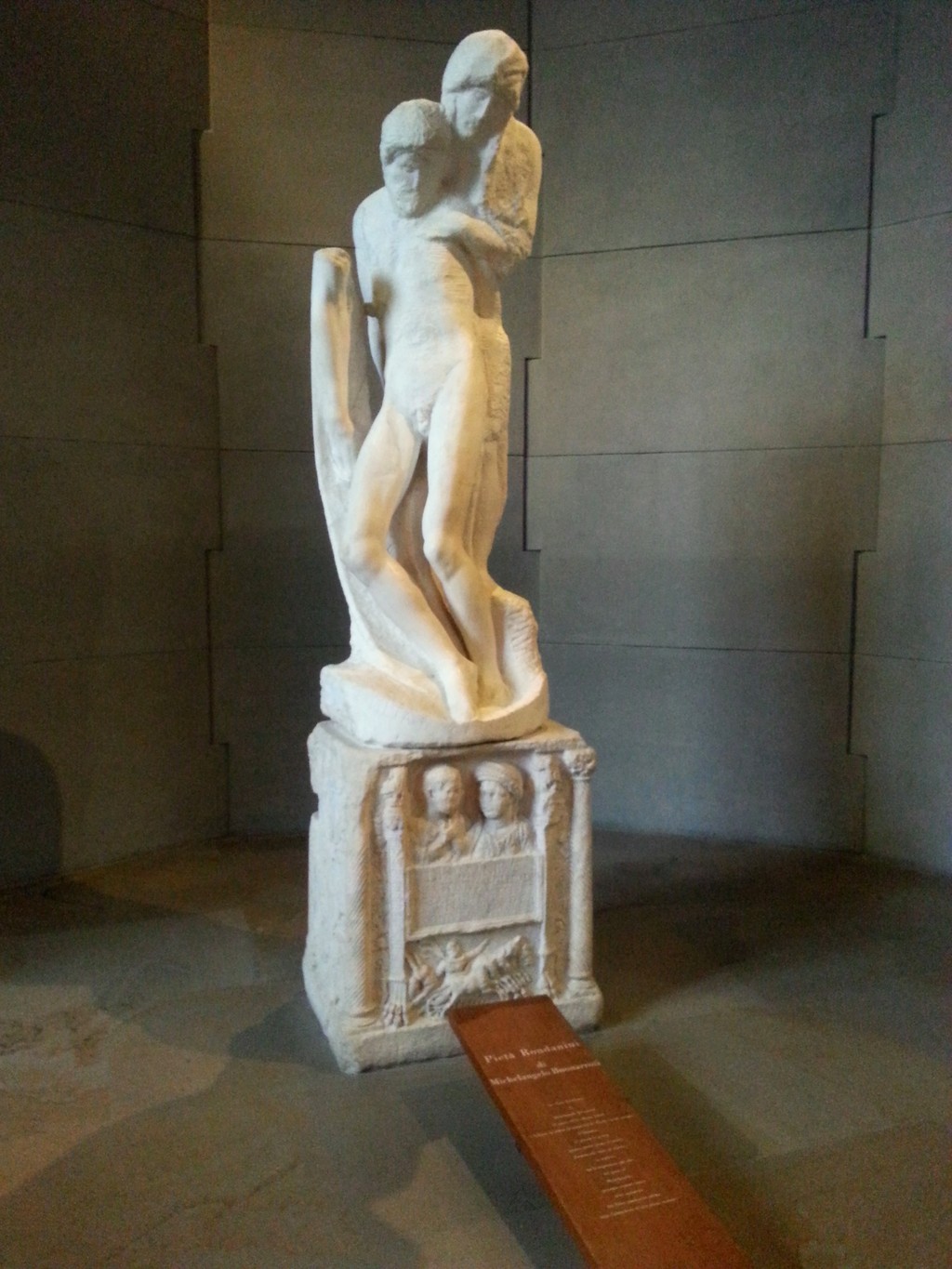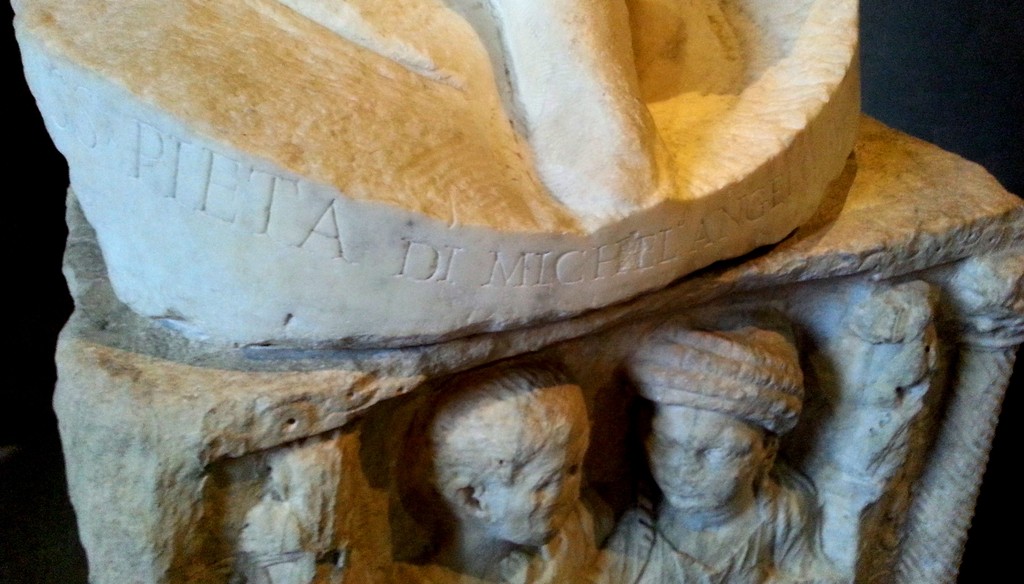 La Pietà Rondanini, final work of Michelangelo. It's said that he sculpted it in such a way that it's not possible to say whether Mary is holding the dead body of Jesus, or if it's Jesus himself who is rising up. Michelangelo worked on the sculpture from 1550 until the last few days of his life in 1564.
Collection of furniture (Raccolta dei mobili)
This extremely interesting collection characterises six centuries of the history of furniture design. You can find precious items created between the XV and XX century here. Beyond this, the exhibition was set up in a way that characterises the style and mode of living in each era, making the spectator feel as if they are walking through time.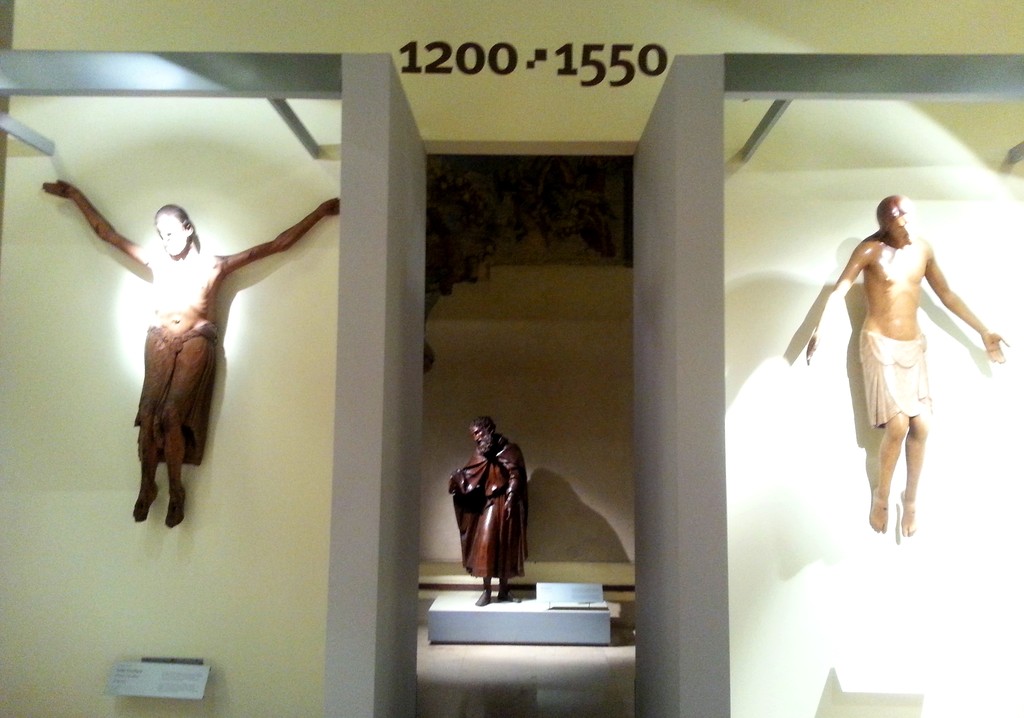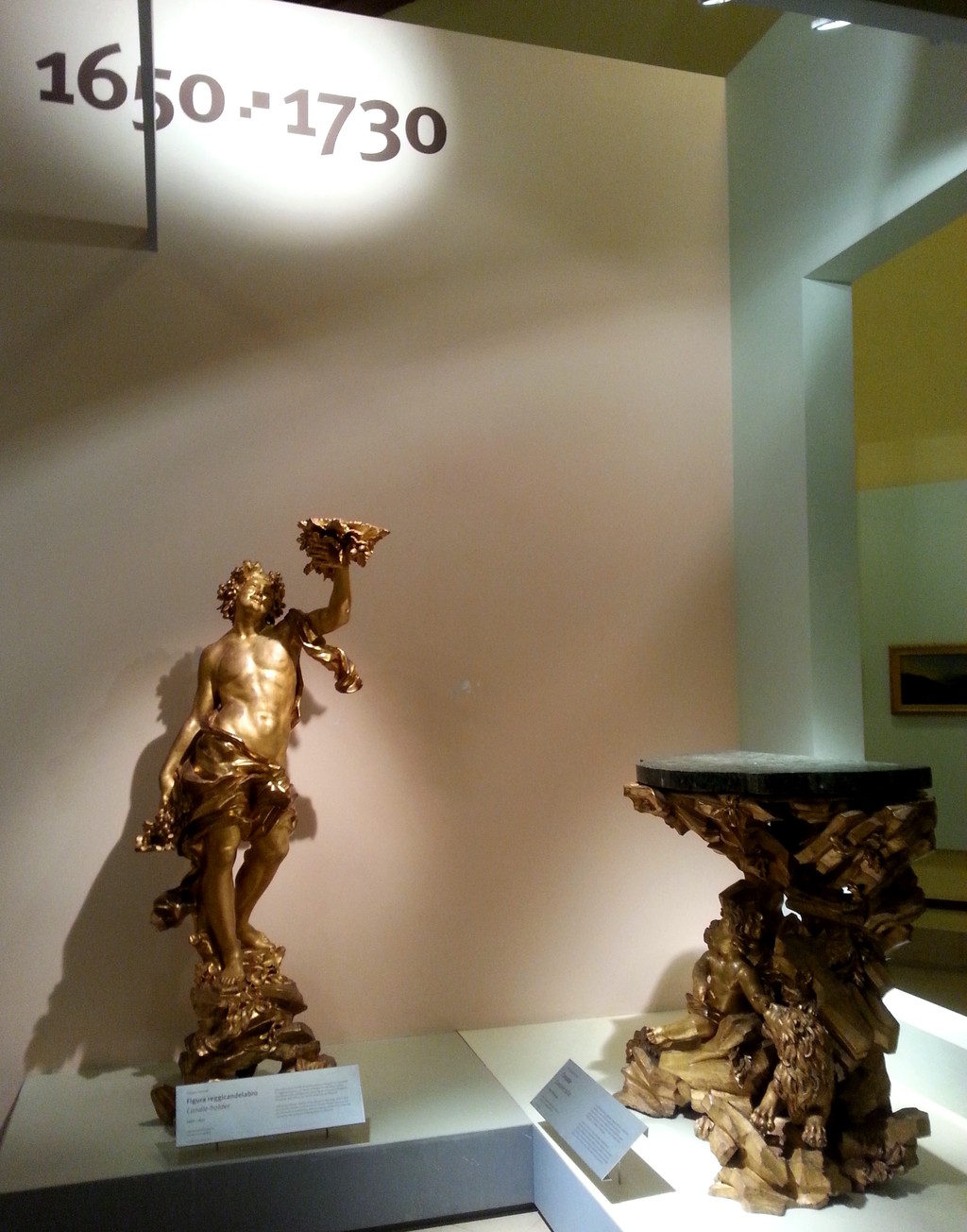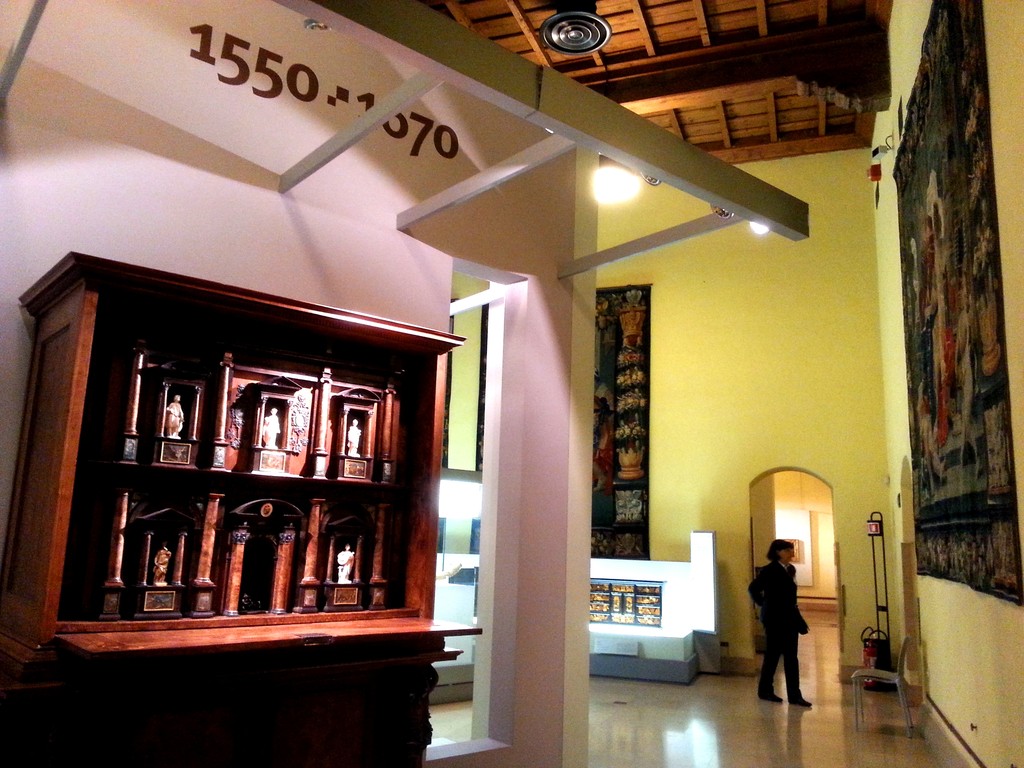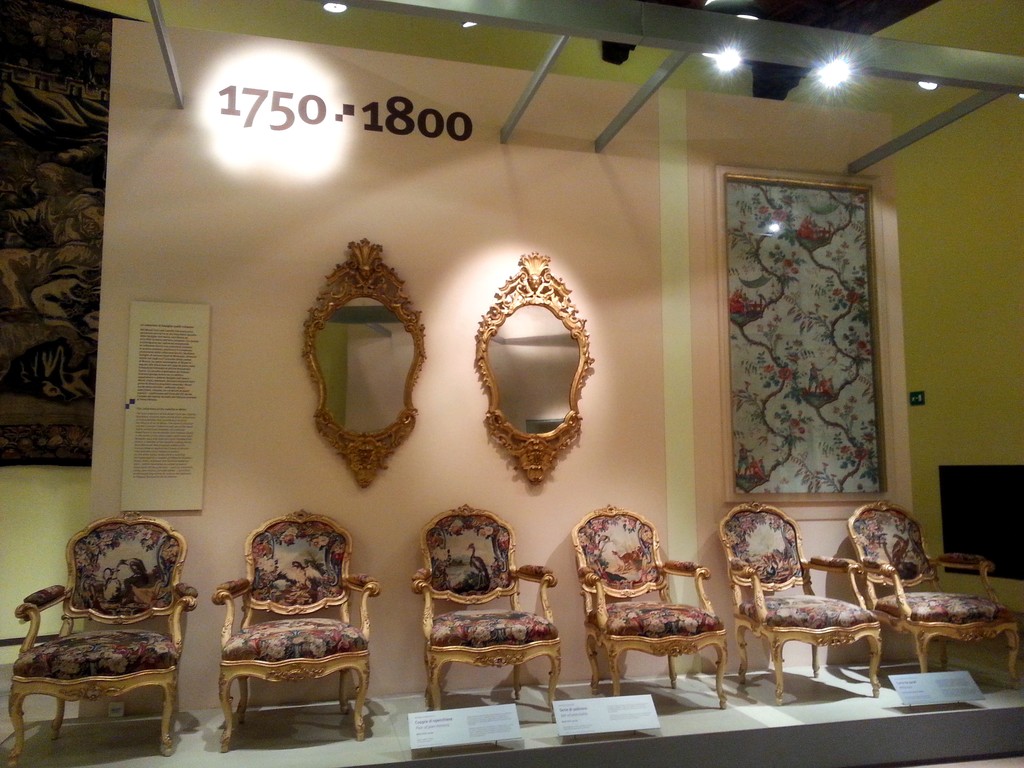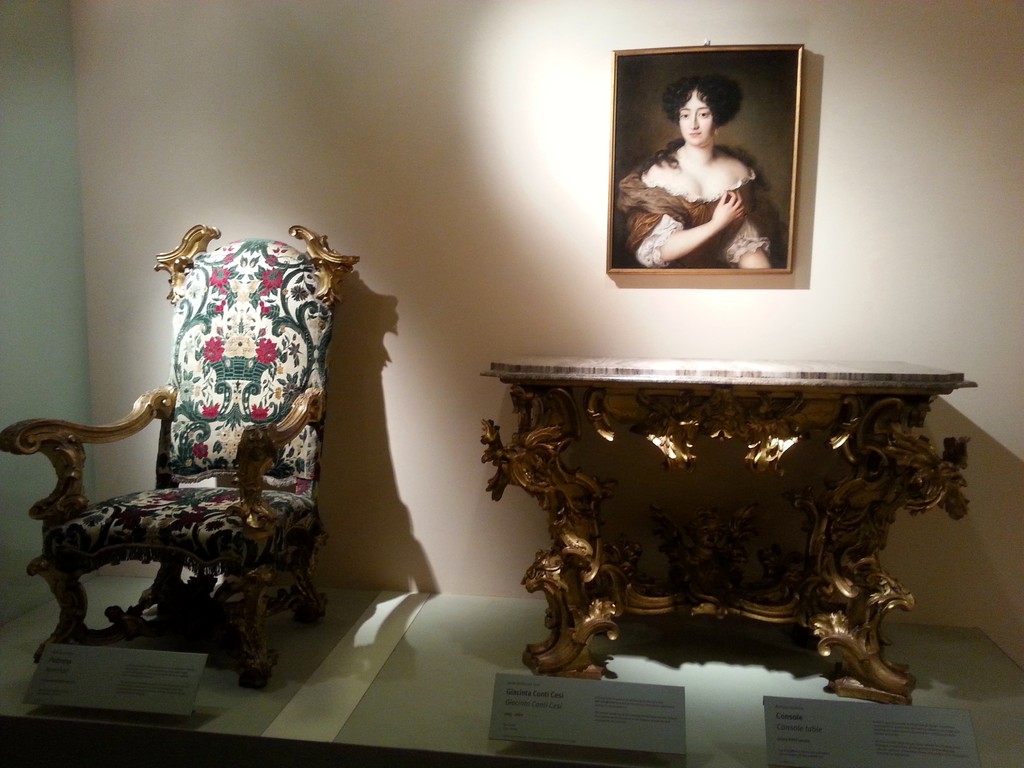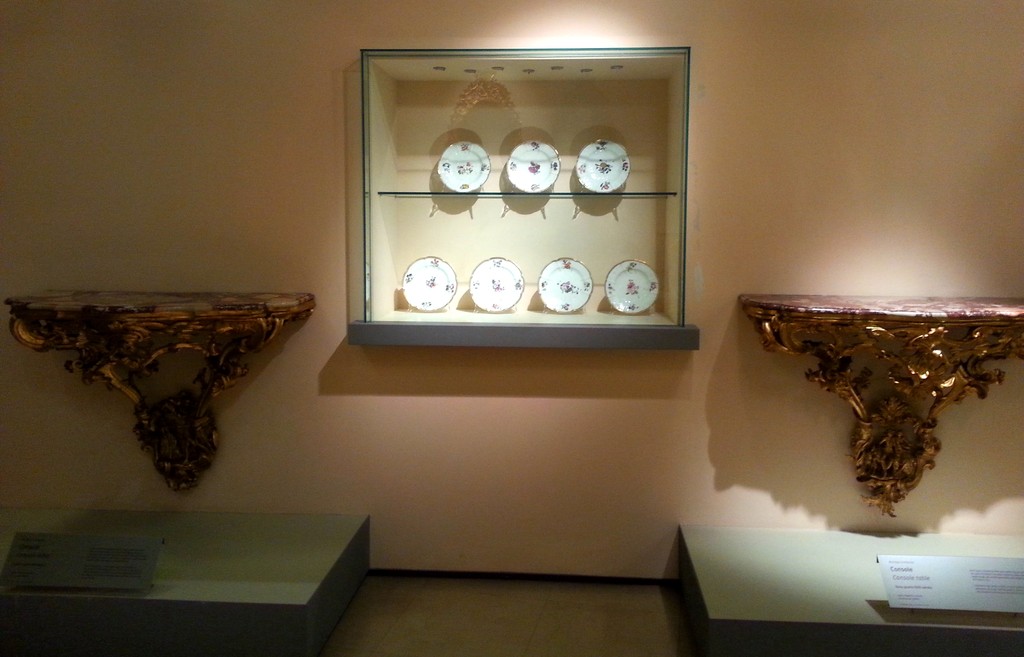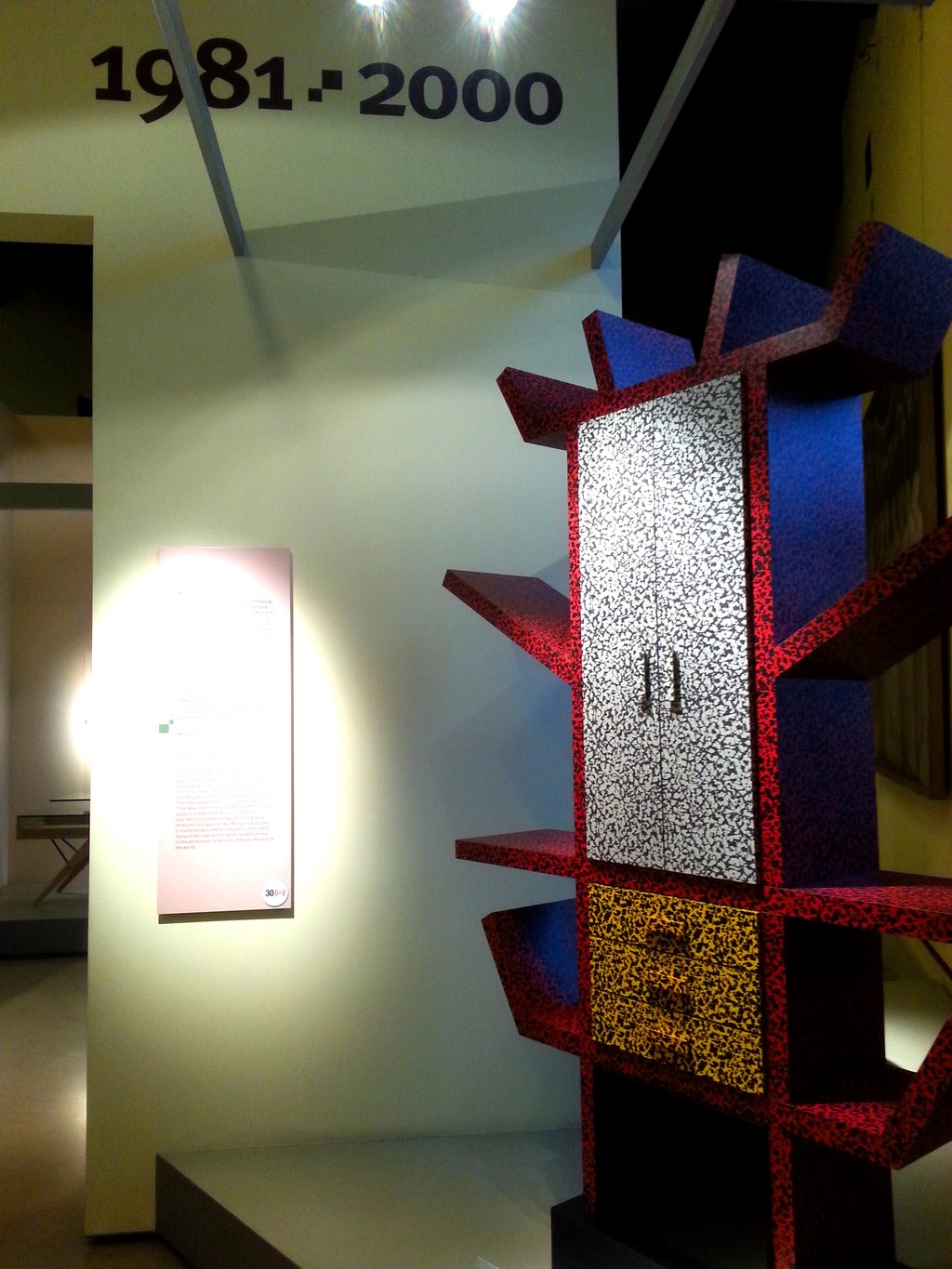 In this gallery you'll find approximately 1500 works of art. It's one of the most important collections of the city. The route goes from works from the Neo-gothic style of Lombardia up to paintings from the XVIII century, with a vision of Venice by Canaletto.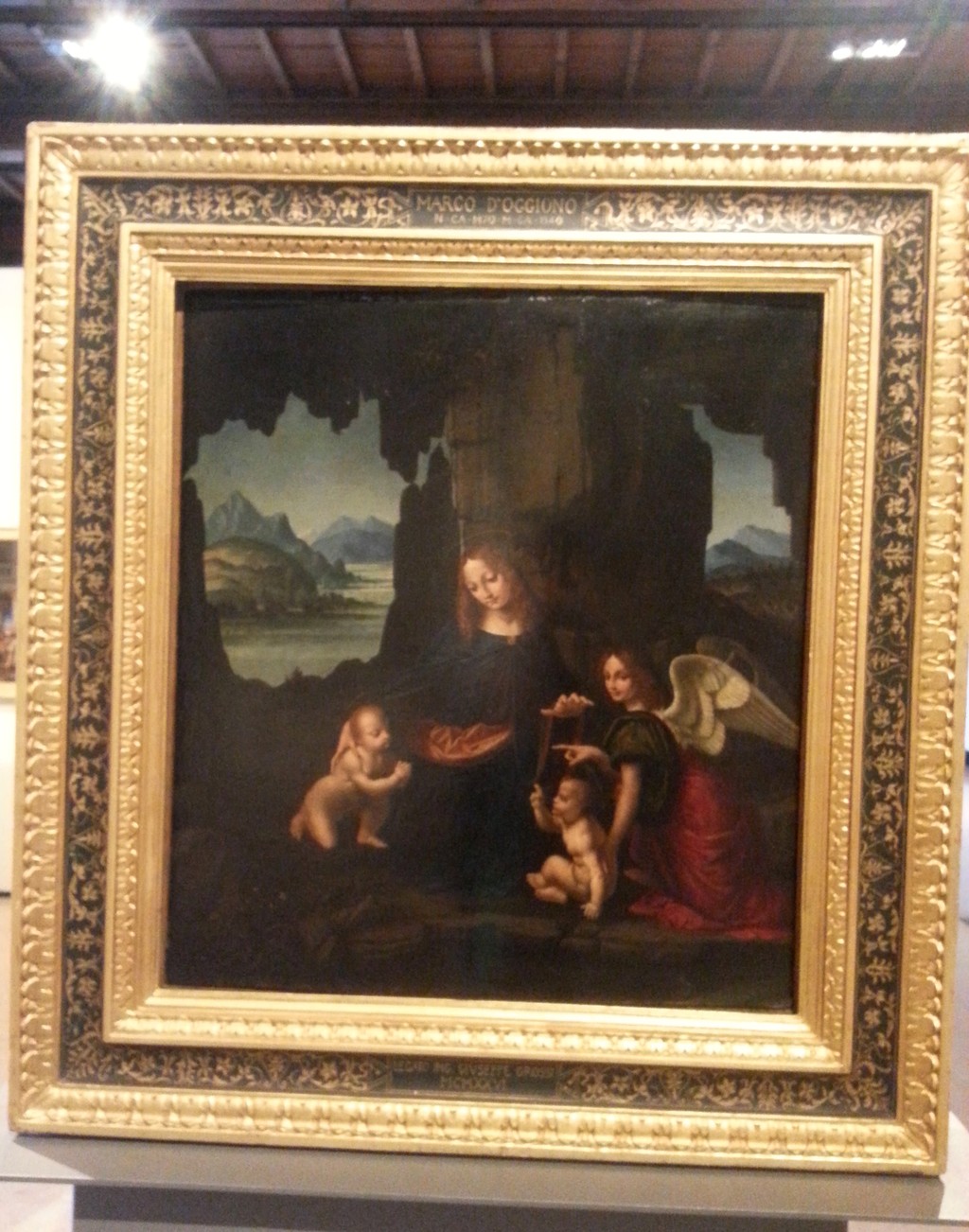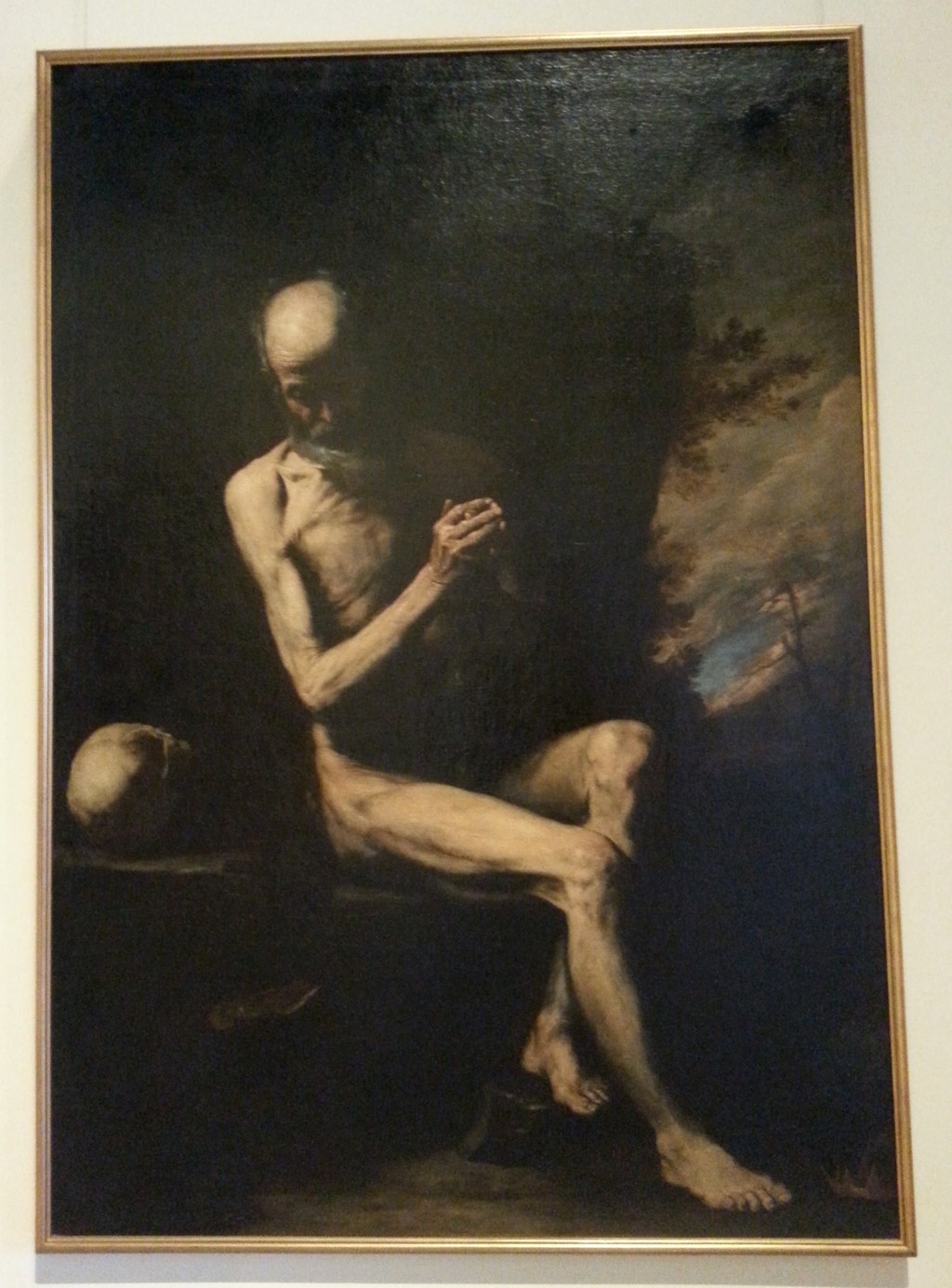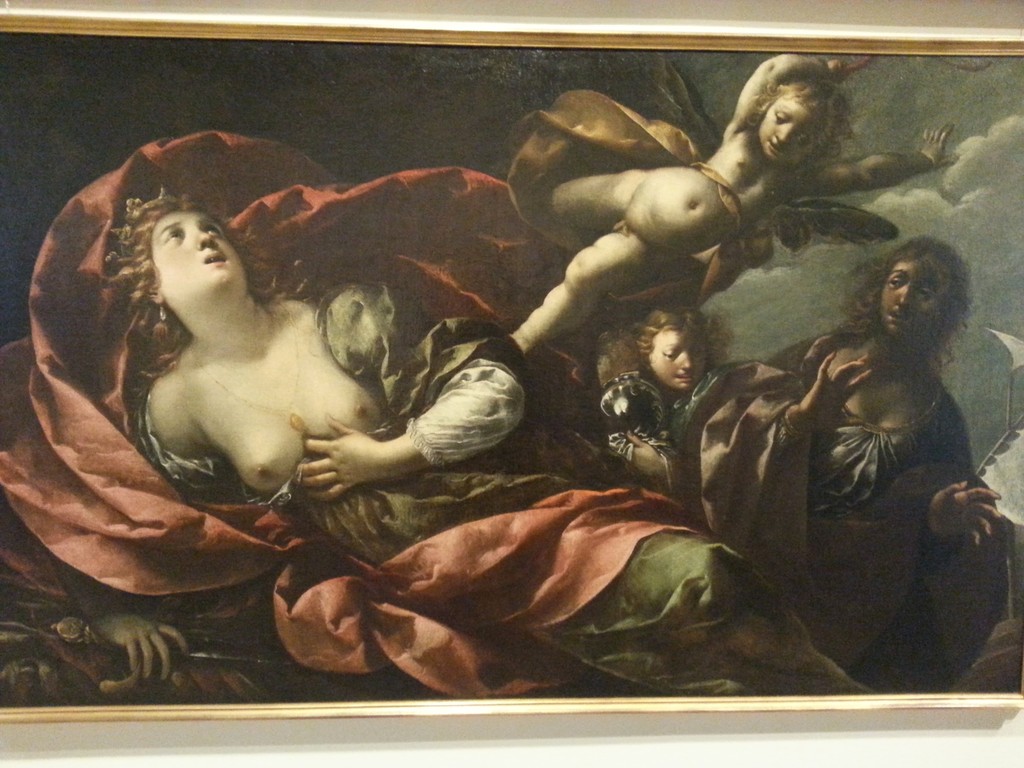 Even for mere laymen like me, the paintings exposed have such depth that it's impossible to leave indifferent.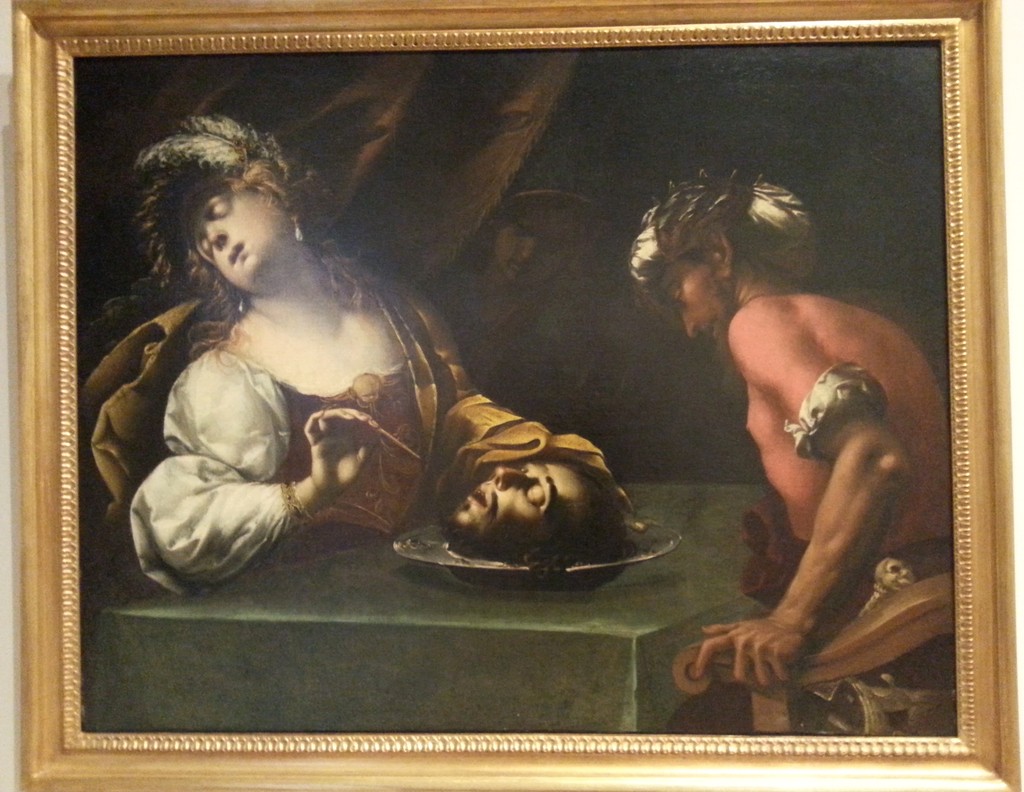 Erodiade Presenta la Testa del Battista a Erode, 1635, by Giovanni Stefano Doneda (or Danedi).
The work refers to the biblical passage
At that time Herod, the tetrarch, heard reports regarding Jesus and said to his servants: "This is John the Baptist; he resurrects the dead! So you are working with his miraculous powers".
So Herod had John arrested and tied down, putting him in prison because of Herodias, wife of Philip, his brother, while John said to him "You are not allowed to live with her".
Herod wanted to kill him, but he feared the reaction from the people, because John was considered a prophet.
On Herod's birthday, Herodias' daughter danced before everyone, and delighted Herod so much that he promised, to give her whatever she asked for.
Influenced by her mother, she dais "Give me here, on a plate, the head of John the Baptist".
The king was torn, but because of the oath and his guests, he ordered that her desire be fulfilled and that John be decapitated in prison.
His head was delivered to the young girl on a plate, who took it to her mother.
Ou: Marcos 6:14-29, Lucas 9:7-9.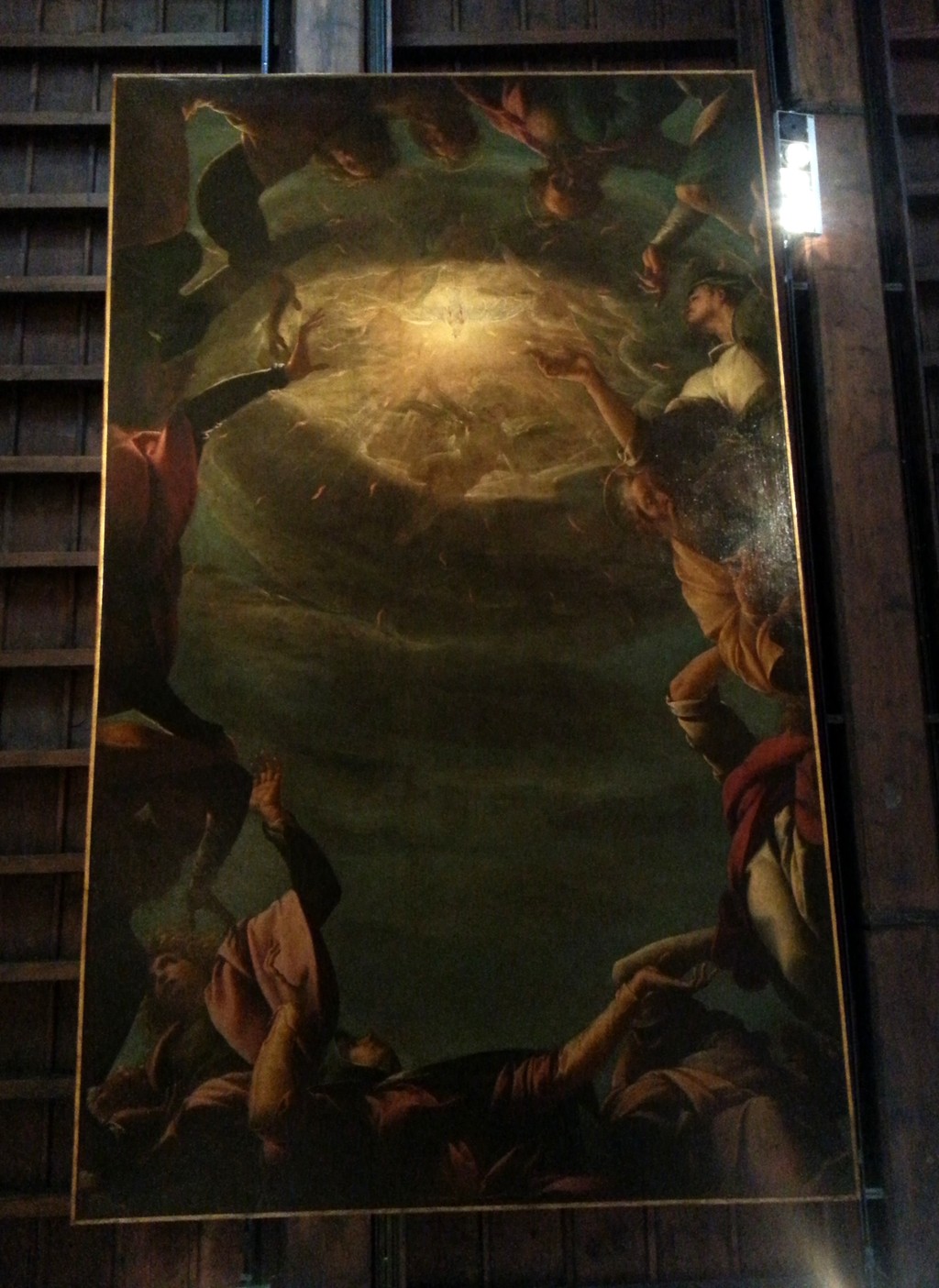 Work placed in the ceiling of the gallery, to give the impression that the sky is opening onto our heads, very cool.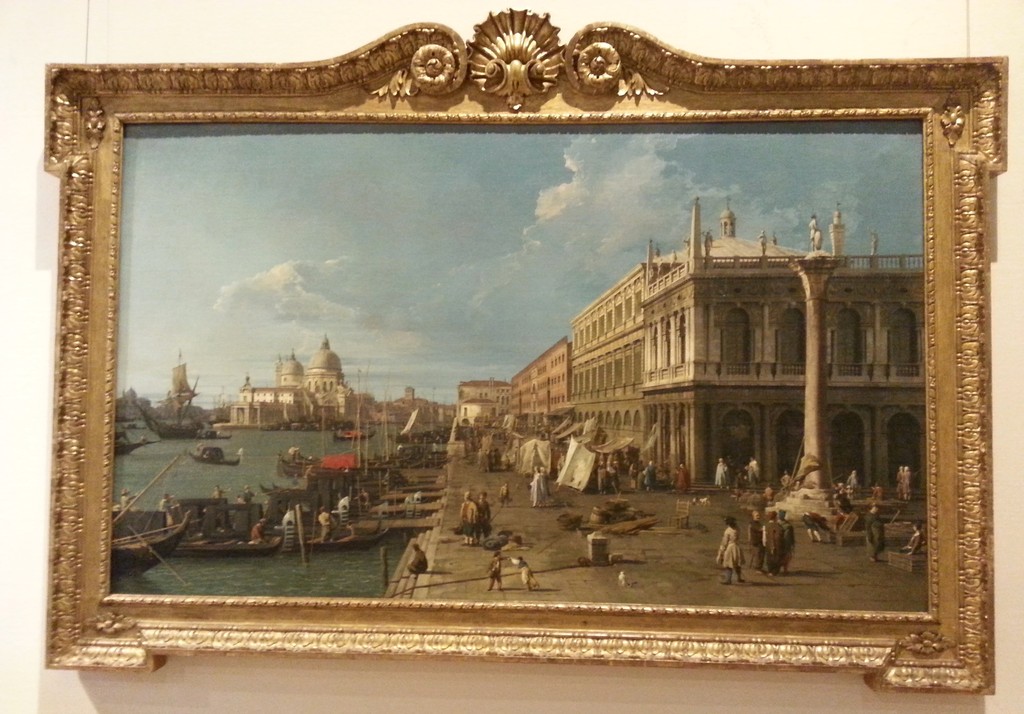 City of Venice.
Museum of Pre-history (Sezione Preistoria e Protostoria)
In this museum there are pieces from the Neolithic era (6 - 4 AD) up to the Period of Romanisation (3 - 1AD). Informative signs contextualise the items and show their function and how they were made.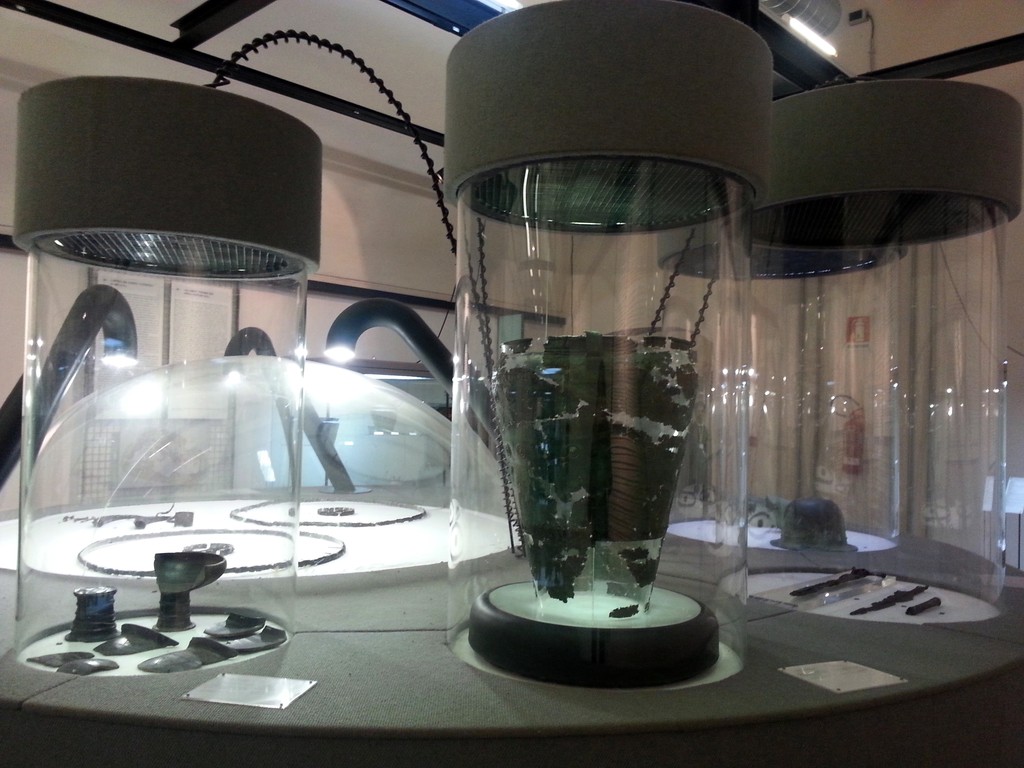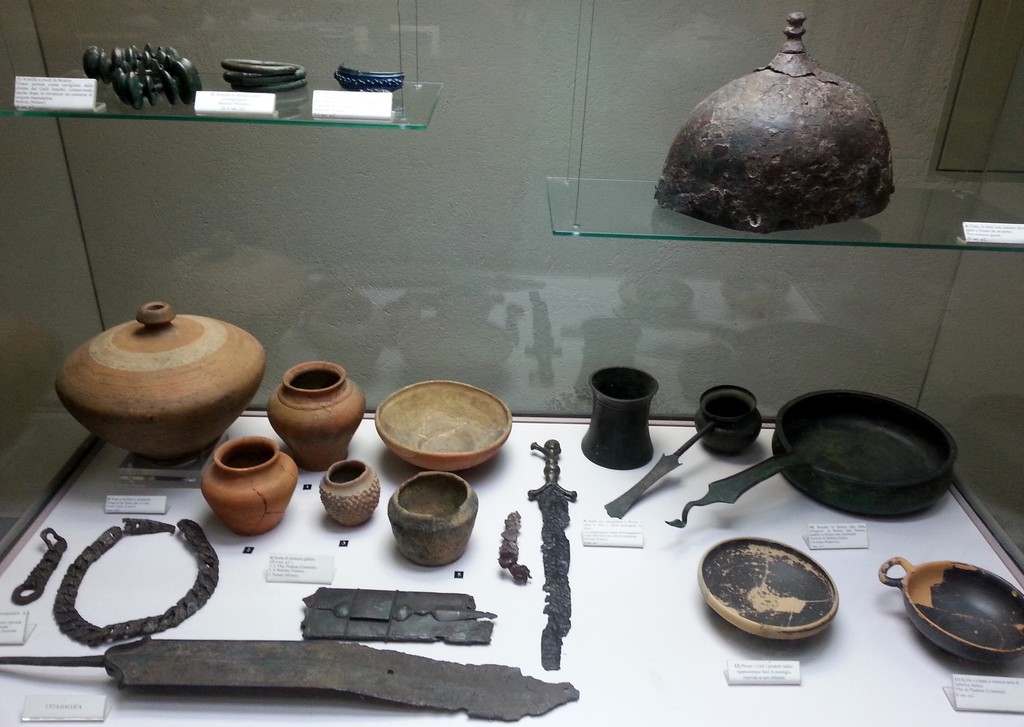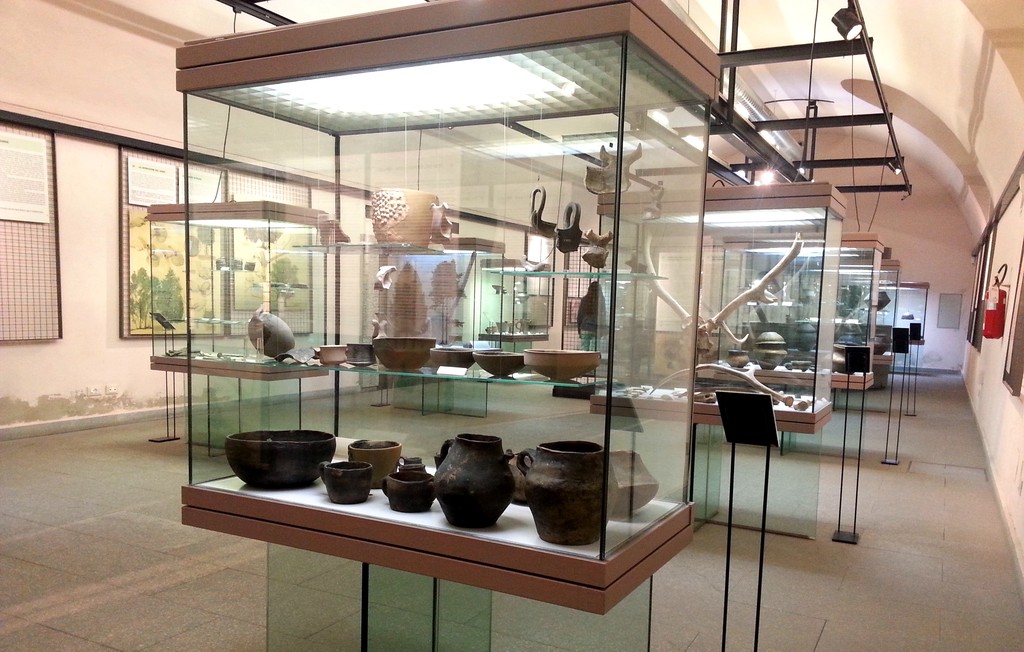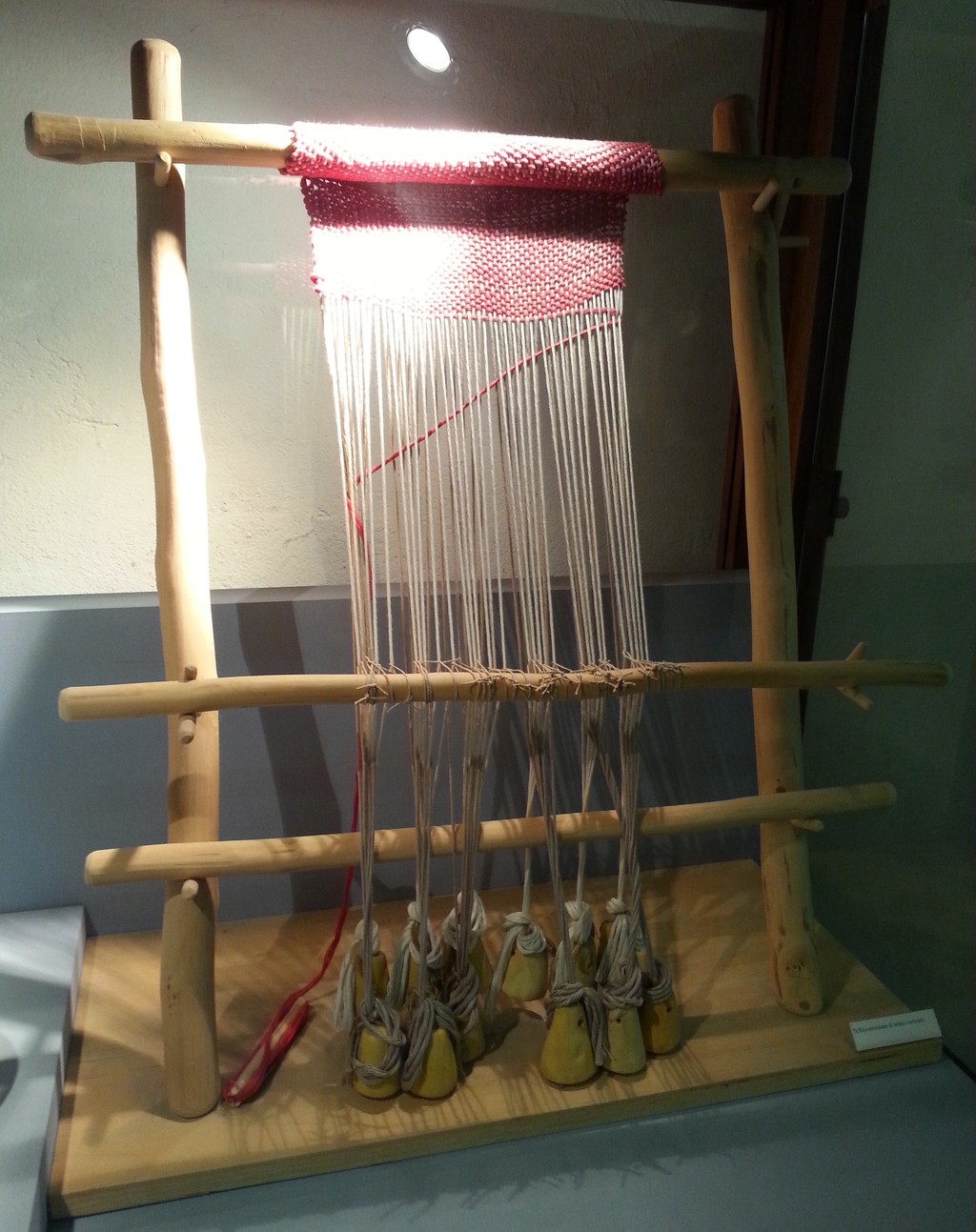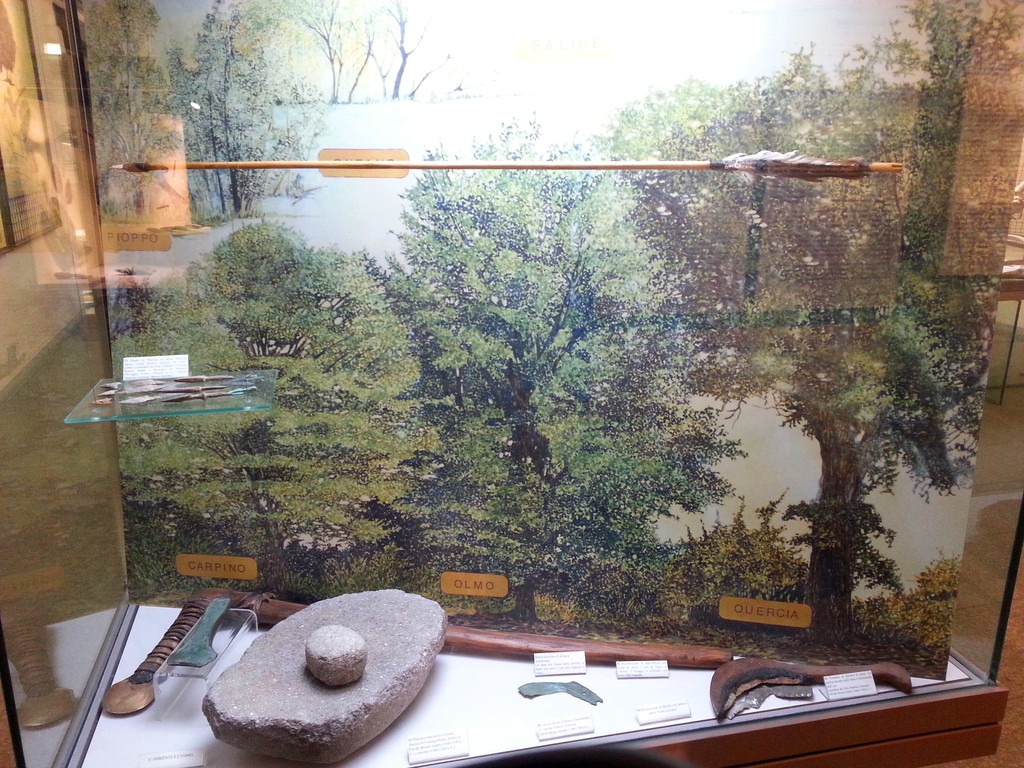 Egyptian Museum (Sezione Egizia)
A museum which seeks to illustrates the fundamental aspects of the Egyptian civilisation, including their art and instruments.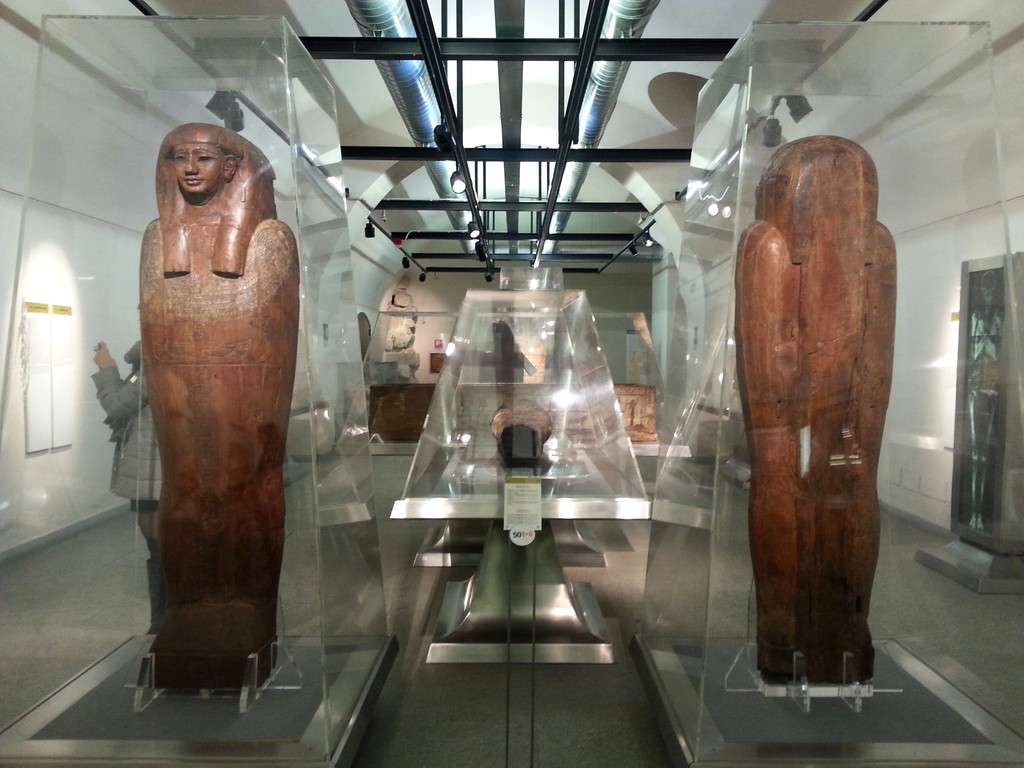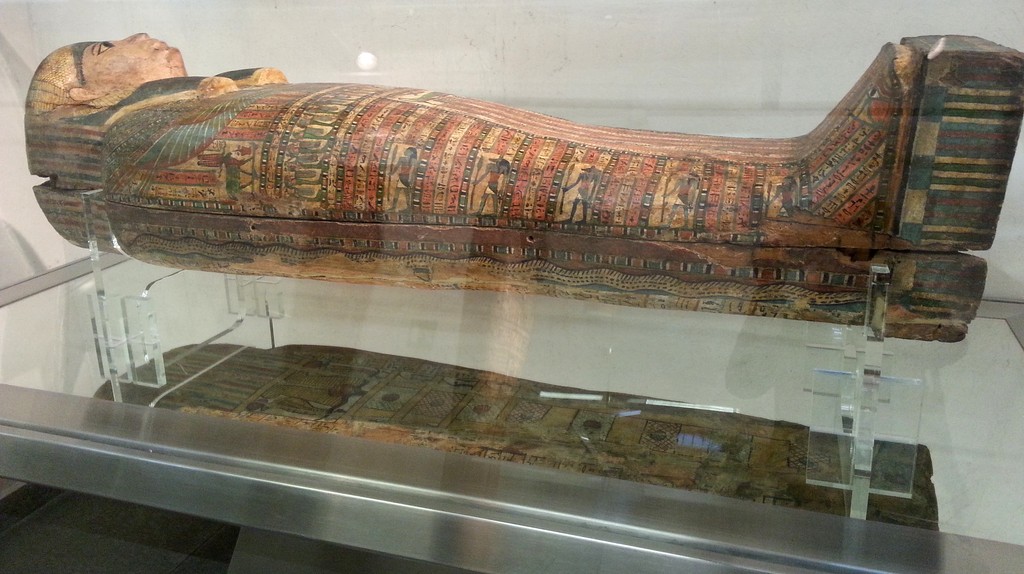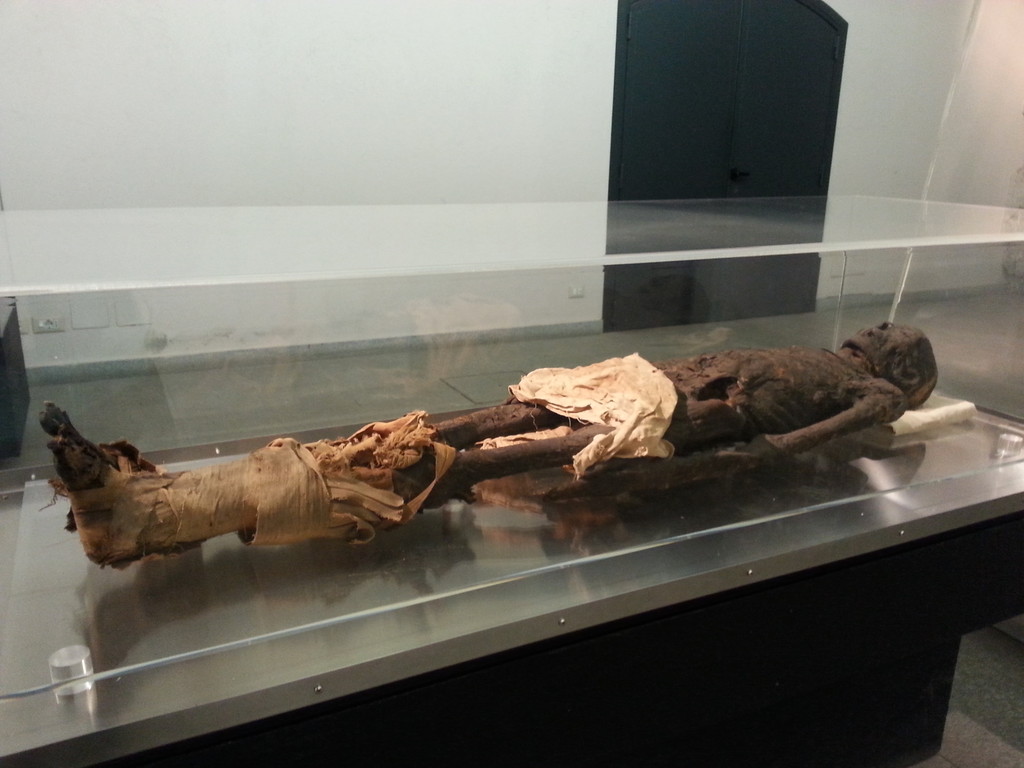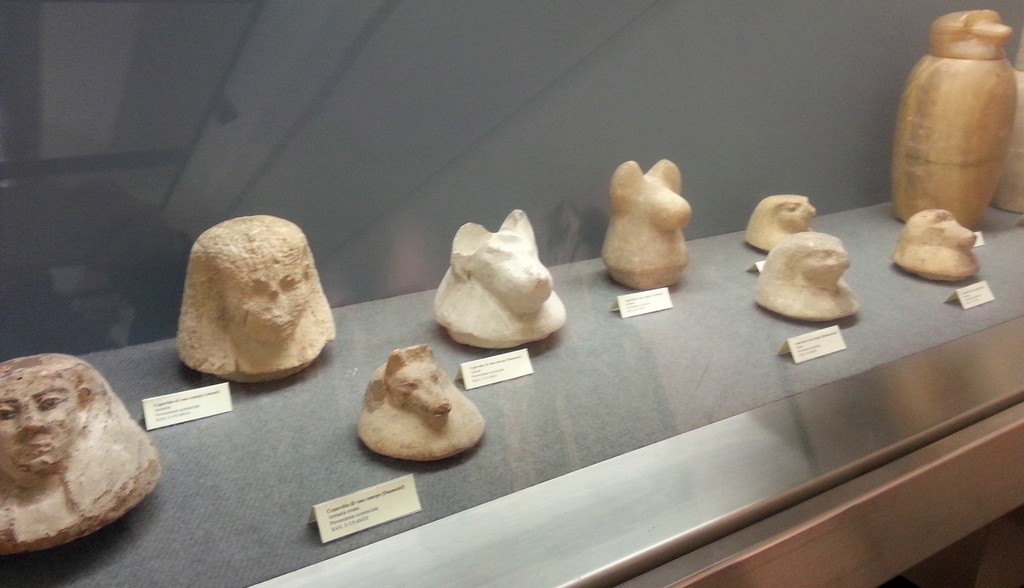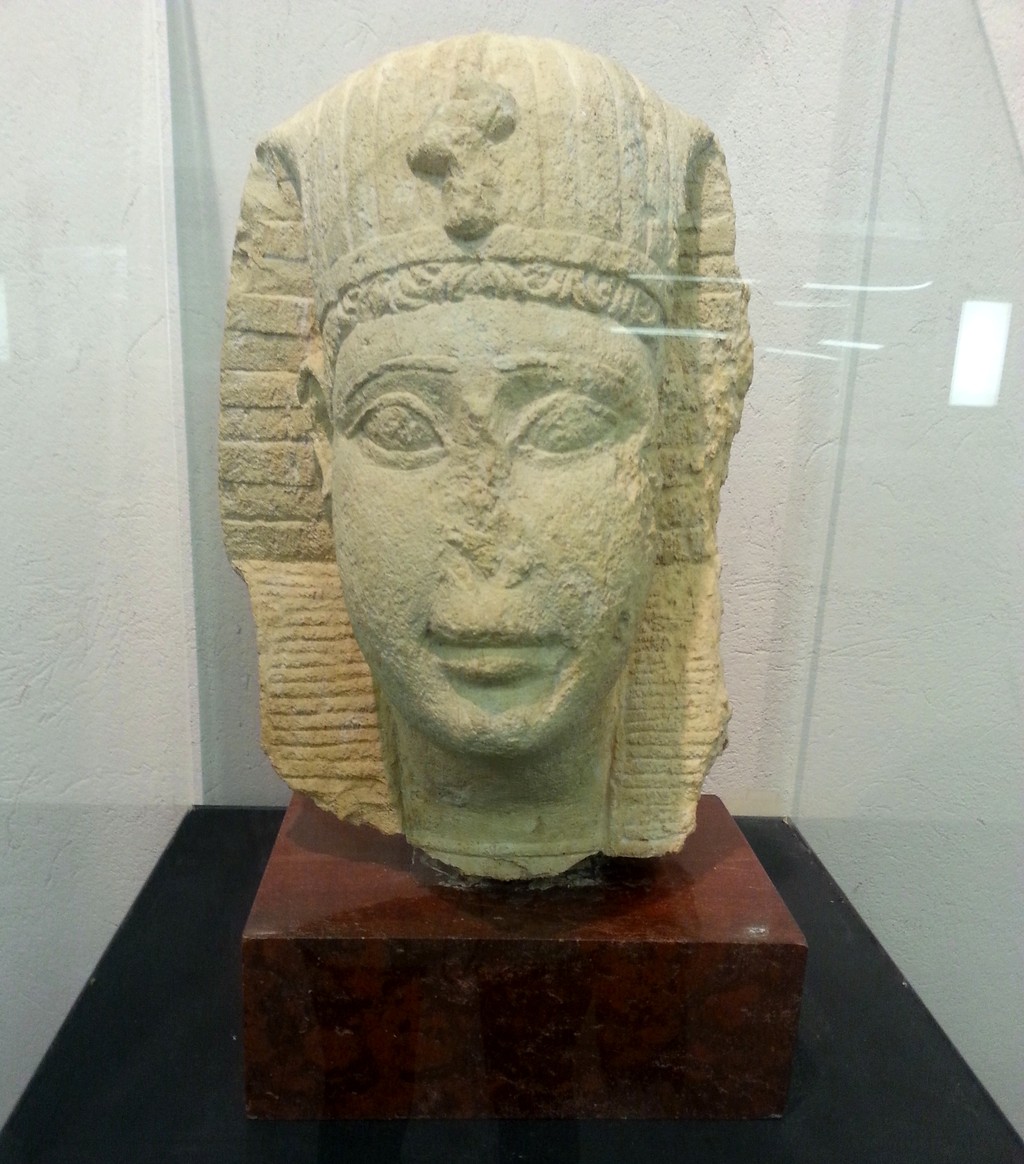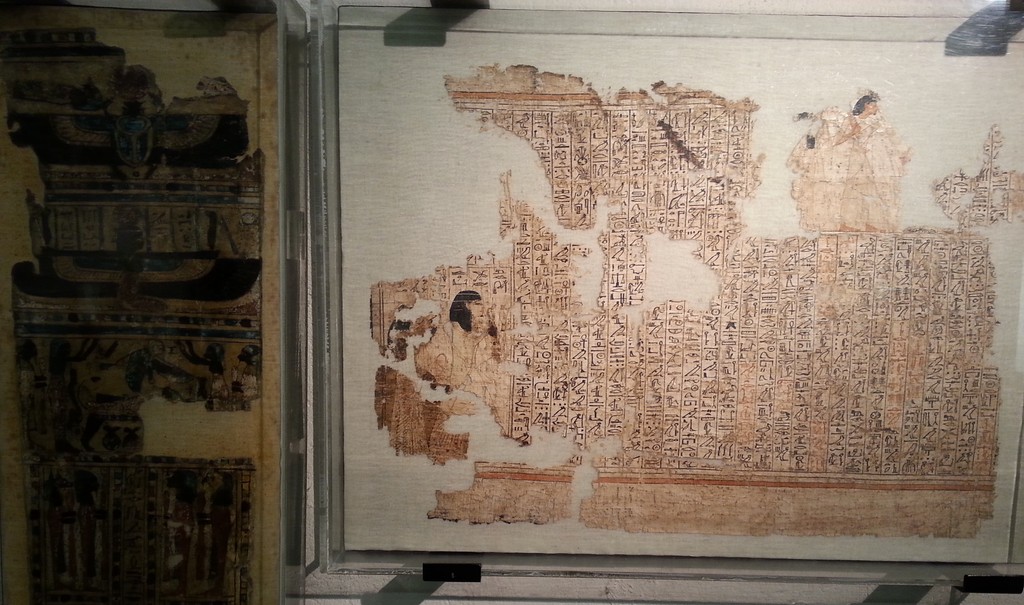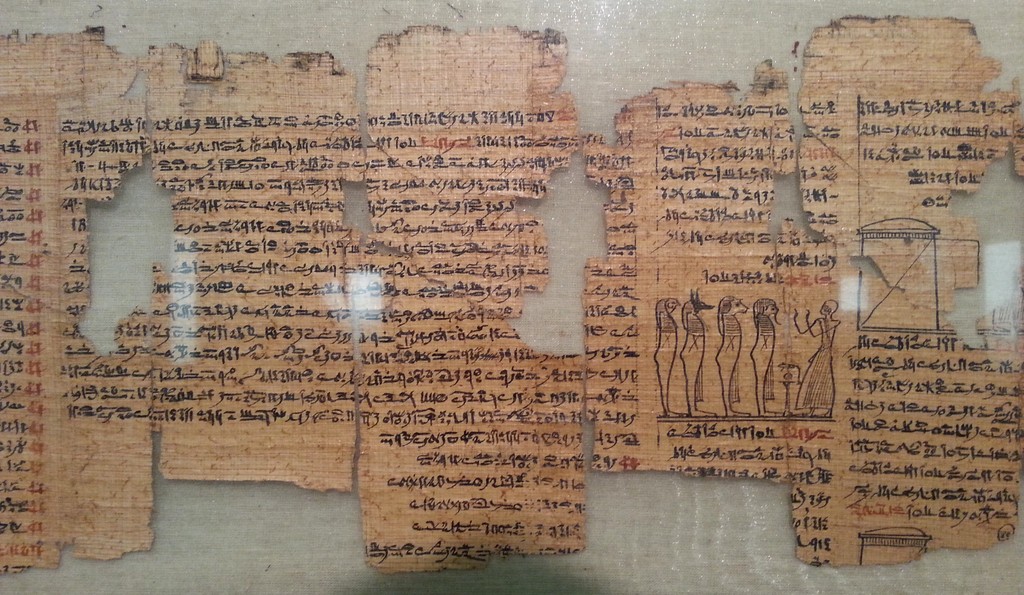 Book of the Dead, name given to the roll of papyrus put up in the tombs of mummies. In these were written spells, magic formulas, speeches and hymns which could help the dead in their passage, avoiding some dangers which they could meet on the way.
END of the museums
Final Word
This is a visit that must by done during your stay in Milan. However, you need to reserve lots of time and effort, because the number of things to see is enormous!
If you are the type of person who likes to take lots of photos on your smartphone, I would suggest that you come with plenty of battery. BUT, if you're unlucky and you run out half way through... the sockets of Pinacoteca don't work (and I think that those in the other museums don't either)! Buut, they must have forgotten to switch off the sockets at the Egyptian and Pre-History Museum, because those were very useful to me...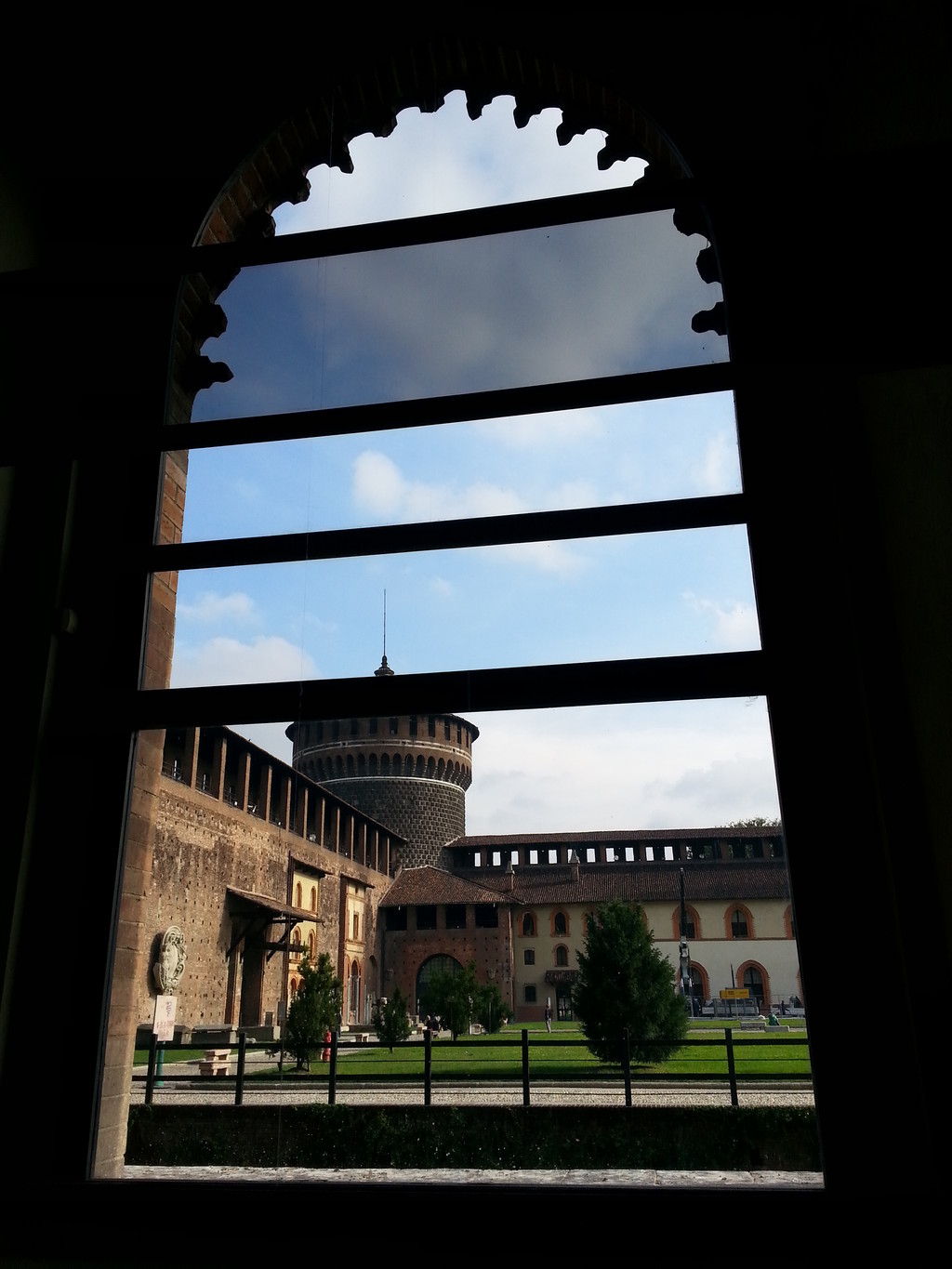 Castello Sforzesco, view from the window of the Museum of Ancient Art
On the Museum's sight you can find more information about each exhibition and you can even do a Virtual Visit.
http://www.milanocastello.it/ita/permanenti.html
---
Photo gallery
---
---
Content available in other languages
Want to have your own Erasmus blog?
If you are experiencing living abroad, you're an avid traveller or want to promote the city where you live... create your own blog and share your adventures!
I want to create my Erasmus blog! →