What to visit in London in 5 days
What to see in London in five days?
A month ago I was in London, visiting and enjoying the city for five days and four nights.
I was very lucky (considering that the other times I've visited London it never stopped raining), because the weather was very good this trip, it was extremely sunny and very hot so I can't complain.
Where to sleep?
First of all, an apartment. London is very expensive and there are various options for where to spend the night, even though the majority cost a bit too much. I looked on Airbnb for a whole apartment that wasn't too expensive. I saw that there was the possibility to rent a room in the house of some Londoners during these days that was a good price, but in this case, I preferred a whole apartment.
Finally, I got one through this platform and it all worked out great. The apartment was small but it had everything necessary: a bathroom, a kitchen, wifi, a room... the only problem was that the area where the apartment was (Tottenham Hale) was quite problematic. Once I got there I understood why the apartment was so cheap. It's true that it was located next to the station so I had no problems since I barely stepped foot in said area, but for future travellers, it's something to keep in mind.
I had breakfast and dinner in the apartment every day and I would usually prepare a sandwich to eat. That way, there were fewer expenses.
I didn't contemplate the option to go to a hotel because in general, they were quite expensive and overall, I would have been obligated to eat out for breakfast, lunch and dinner, every day, which would have been very expensive.
Transport
Transport in London is also very expensive and also doesn't provide any discounts for students. If you're going to stay for less than a week, like in my case, everyone recommends, and it's true that it's the best, to get an Oyster Card as soon as you arrive in London.
This card works in the following way:
Firstly, buy the Oyster which costs about 4 or 5 euros, and when you're going to leave you can return it and they will return this money to you as well as the amount which is left over on the card that you didn't use.
Once you have the Oyster, you need to put money on the card. In most, if not all, tube stations you can top up your card and it won't be too difficult to find a place to do this.
Furthermore, every time that you use a mode of transport, whether it be the tube or the famous red buses, you need to tap your card on a reader that will take some money off it.
This money will be take off your card once you get off the tube, then depending on which zones you travel to it, the trip will cost more or less money.
The price of easy trips is approximately half if you pay with this method of the Oyster card than if you buy simple tickets. Also, you save some pennies if you also travel at off-peak times (rush hour is from Monday to Friday at 6:30-9:30 and 16:00-19:00).
Finally, every card has a maximum price every day. This way, if you end up spending this money, the next trips will be free.
I was staying in zone 3 and every day I reached the maximum price of 6 euros because with two or three trips I had already paid this amount. Keep this in mind when moving around.
If you're going to stay in London for more than a week it's better the buy the Travel card.
This card works in a different way because in this case, you pay a fixed price depending on the zone that you're going to and you can then travel as much as you want, for free.
Next, we will see what to visit in the city of London.
London Eye and Big Ben
The first day I went to the most tourist zone to see the London Eye and Big Ben.
The first is a big wheel which you can find next to the River Thames. From what I could see in this trip, the ticket to be able to go on this wheel is like other attractions that are in front of the wheel, such as the aquarium of a Shrek attraction for children. This makes the price quite expensive (around 30 euros if I remember correctly) and in my opinion, it's not really worth it. Nevertheless, I didn't buy it so I can't speak from personal experience.
In the following photo, you can see the London Eye next to the River Thames.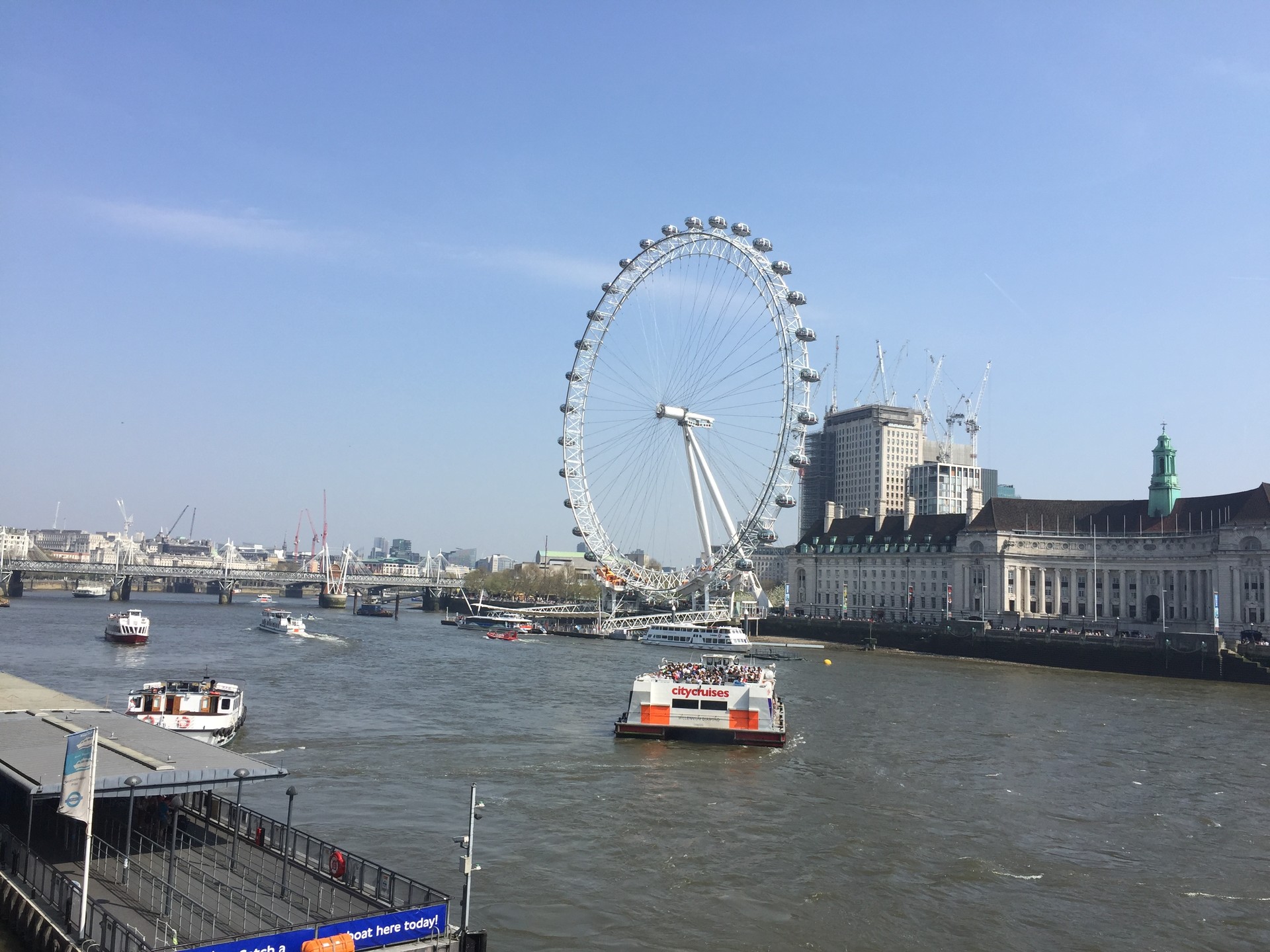 By my surprise, because until now I didn't know, the Big Ben was closed for construction for a few years for repairs and to include a lift and improvements of this style, of which you couldn't see anything. The scaffolding which was in front of it prevented any sight of it. The only thing that could be appreciated was one of the clocks at the top of the tower (the one facing the river) because they left it out so it can be seen.
An interesting fact is that on a free tour (which I recommended doing because they tell you many interesting things about the city), they said that the Big Ben is actually bell of the tower, not the tower itself.
The Palace of Westminster is the building right next to the Big Ben tower and the abbey is a building right next to that.
In London, there's a law that says that you can't die in the British Parliament in the House of Lords or the House of Commons (Palace of Westminster) because if you do they will have to give you an official funeral.
Trafalgar Square
Walking from the area of the London Eye and the Big Ben you can easily get to Trafalgar Square. This big square is one of the most important ones in the city and in it, you can find The National Gallery.
I went into this museum as well as the British Museum and I was surprised that all of them had free entry, not only for students but for everyone.
In the centre of the square, you can see the big and famous lions.
Picadilly Circus
This is the other famous square, which I find much prettier at night time than during the day.
The square has big and bright posters, which is why going at night is a better option than going during the day because you don't appreciate it as much.
China Town
Walking around this same area, you can find China Town. I recommend that you visit this big door on a road in this area because the postcards with it on are very interesting.
Right next to this entrance you can find big M&Ms and Lego shops. You can go inside and when you look around you'll be amazed by the number of flavours, presents and decorative objects... and much more that can be found in these stores.
In the following photo, you can a street in the famous area of China Town.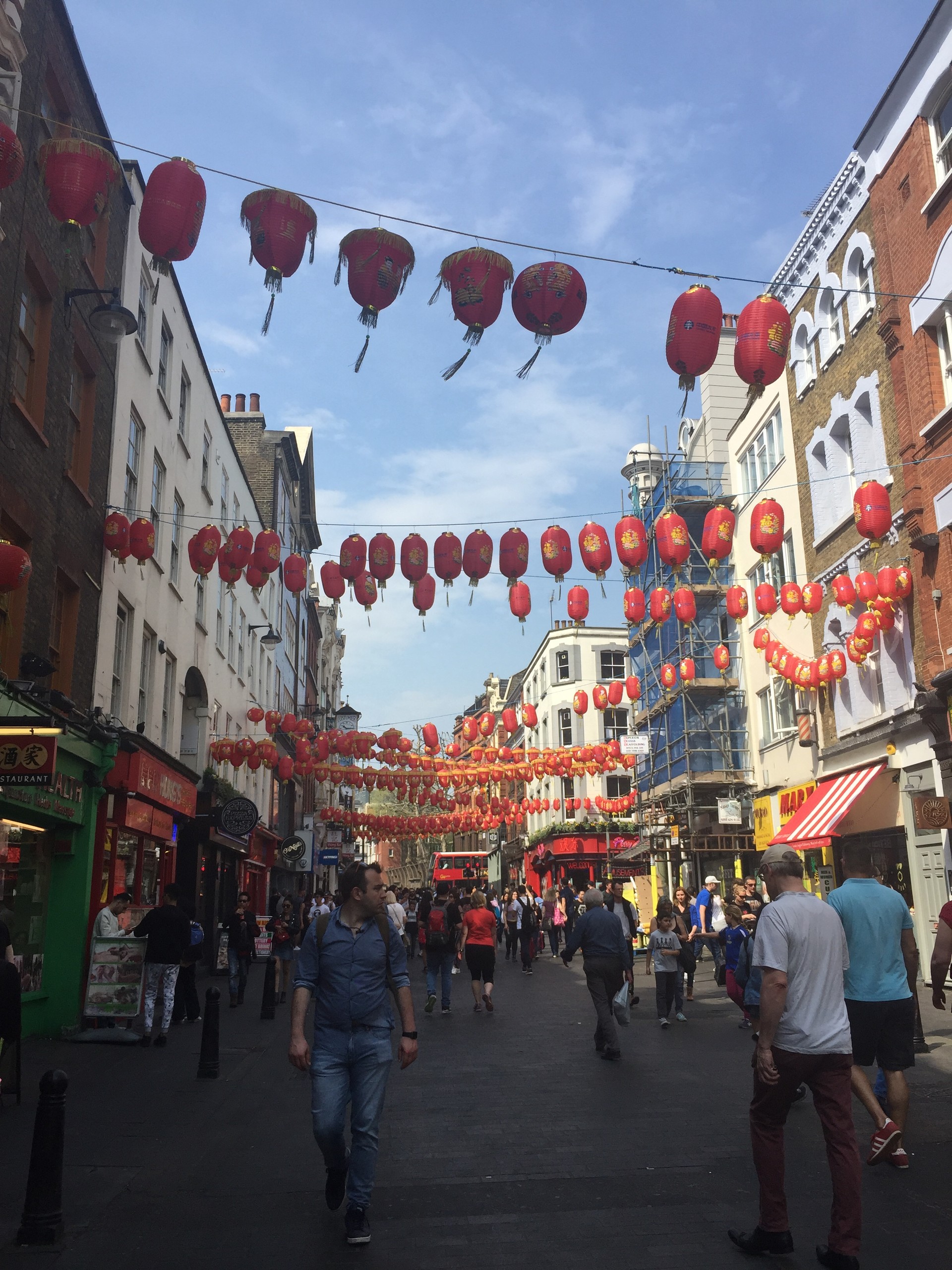 Covent Garden
If you carry on exploring this zone you can find a beautiful area called Covent Garden. I highly recommend walking through the streets because the fronts of the buildings are beautiful.
Without a doubt, one of the prettiest places in this area is its stunning market.
If you go to London you have to visit this market. It's really worth it!
Tower Bridge
Walking by the river bank and getting closer to the most tourist zone we can found Tower Bridge.
If you find that it's a bit too far you can opt to go by public transport and in a few minutes, you'll arrive at your destination.
This bridge is very impressive and beautiful to look at. Before arriving at the river bank you can enjoy a beautiful walk, with typical English buildings. I recommend passing this area on foot.
The architecture of this bridge is the most characteristic part about it because the part in the middle is elevated (so that boats can pass), even on the side it looks like a hanging bridge.
In the following photo, you can Tower Bridge.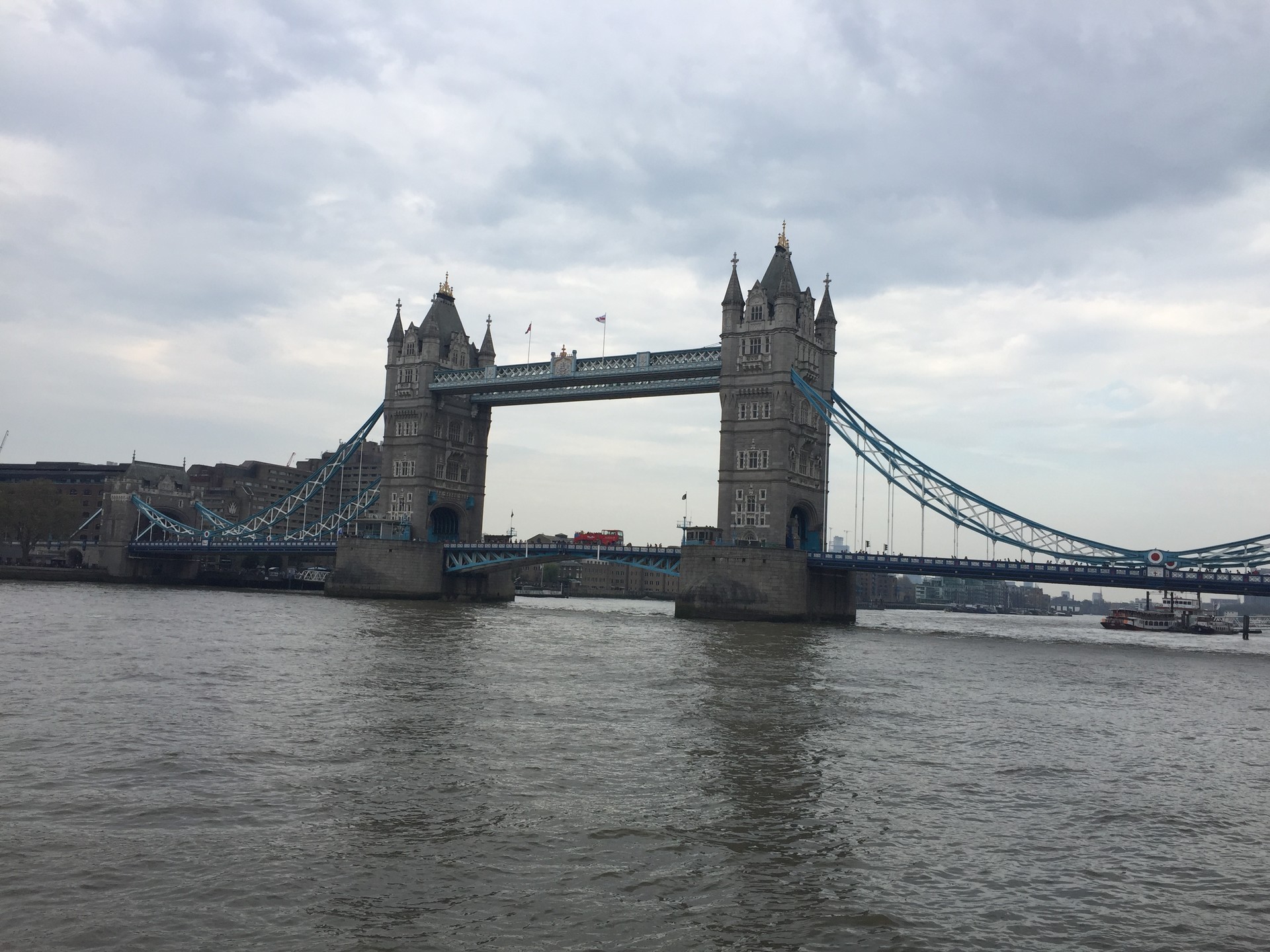 This bridge owes its name to the castle which is right in front of it where the crown jewels are kept.
At night time there's an event in this castle where they do a representation of the olden days for tourists.
St Pauls Cathedral
On the walk from Tower Bridge you can (and you must) visit St Pauls Cathedral. It's huge and beautiful from the outside. The entrance to go inside seemed very expensive so I didn't visit it.
In the following photo, you can see the main entrance of St Pauls Cathedral.
The Shard
If on the way to Tower Bridge you notice a very tall building that seems never-ending, it's the Shard.
It's a skyscraper with a hotel and restaurants inside, even some financial offices too.
The views from the top must be beautiful.
Candem Town
It's time for my favourite visit!
If you go to London you have to visit this market, no matter what.
You can find it a little further north of the tourist zone so you will definitely have to take public transport but it's really worth it.
It's a huge alternative market in which you can find everything for prices which go from very affordable to very expensive, but it also depends on what you bargain for and what they let you bargain for.
It's very surprising because of its buildings, its atmosphere, for the places where you can buy fast food... everything in this area is charming and it's a completely different area to what anyone is used to.
In the following photo, you can see one of the typical buildings.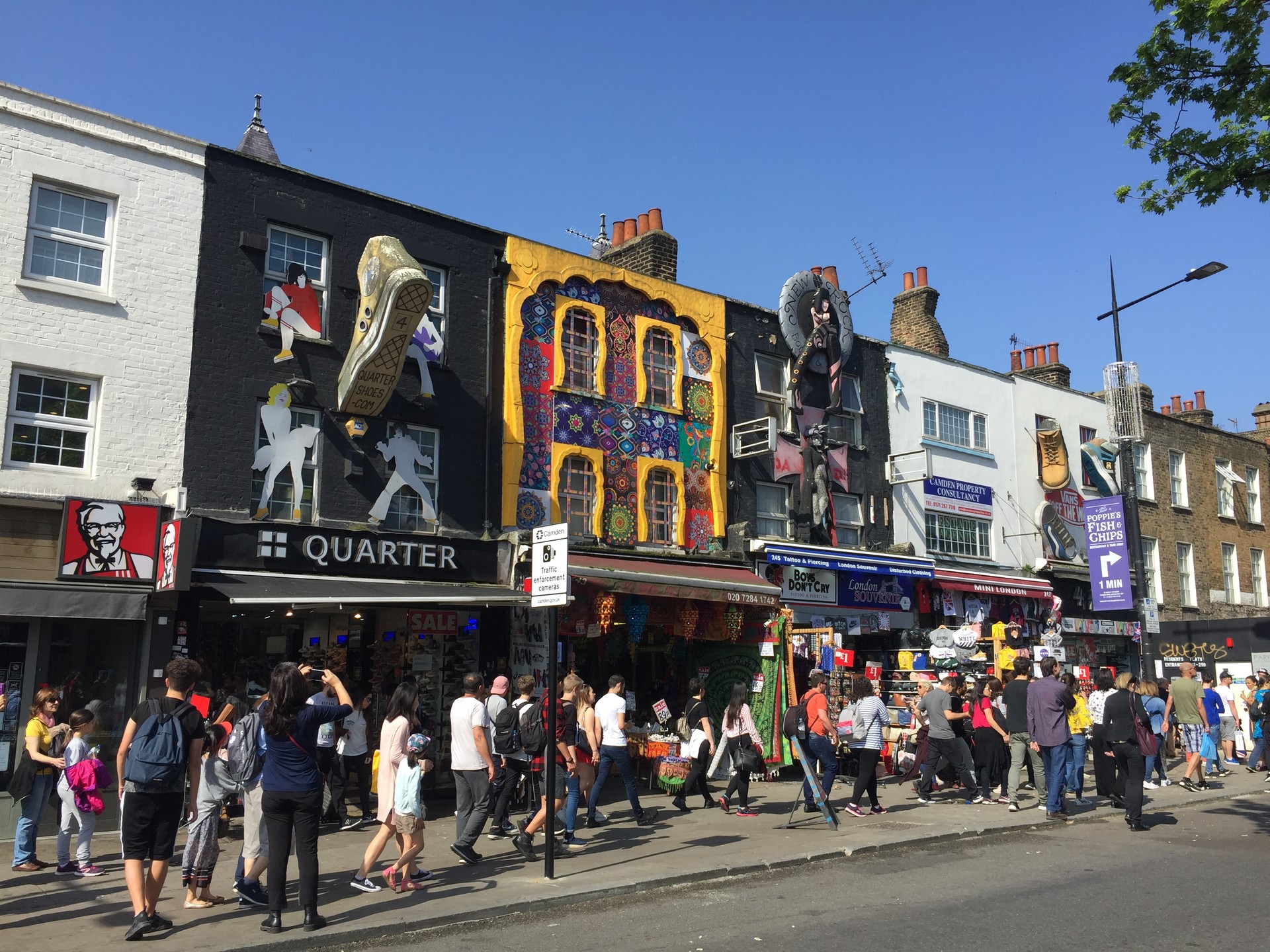 It's a very famous market and gets very full. On Sundays, there's the largest amount of people. There's usually queues in almost all the little shops and it's so full that sometimes it's almost difficult to go from place to place.
If this large amount of people overwhelms you then I recommend that you come on another day, even though it's possible that some stores will be closed.
Oxford Street
This is a huge street with shops on both sides. If you want to treat yourself, this is your area.
Harrods
Harrods is a luxurious shopping centre in London. It's a big building in which you can go in and walk around the very expensive shops.
In my point of view it's worth a visit at night because the number of lights that illuminate it makes it beautiful.
In the following photo, you can see Harrods at night. Stunning.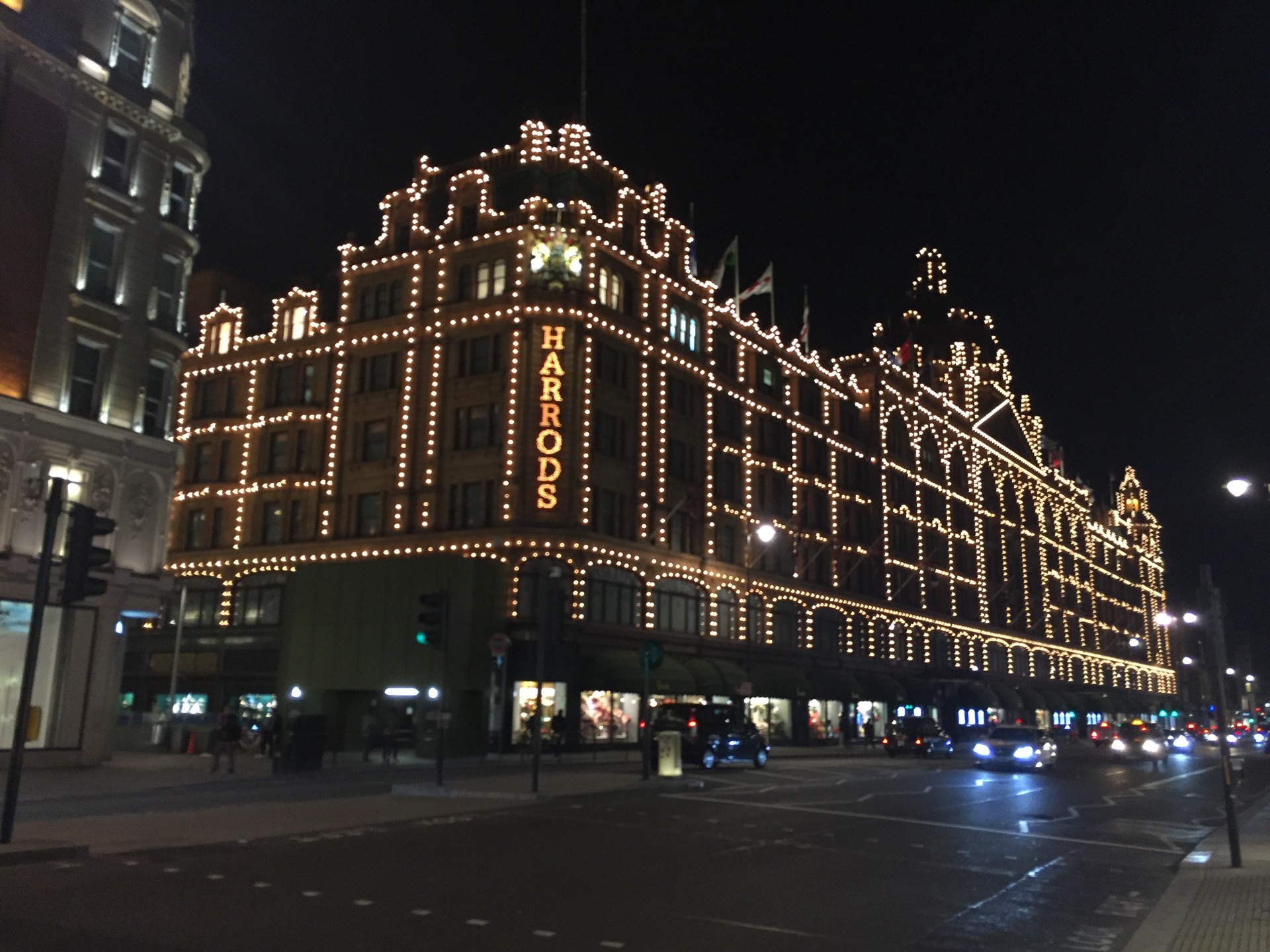 Hyde Park
Near Harrods, you can go to Hyde Park. This park is huge and beautiful. If you're as lucky as I was and the weather is good then I recommend walking calmly through it. You can enjoy the big lake, the ducks, the swans... and at the end of the park there's Kensington Palace.
In the following photo, you can see the big lake that divides Hyde Park in two.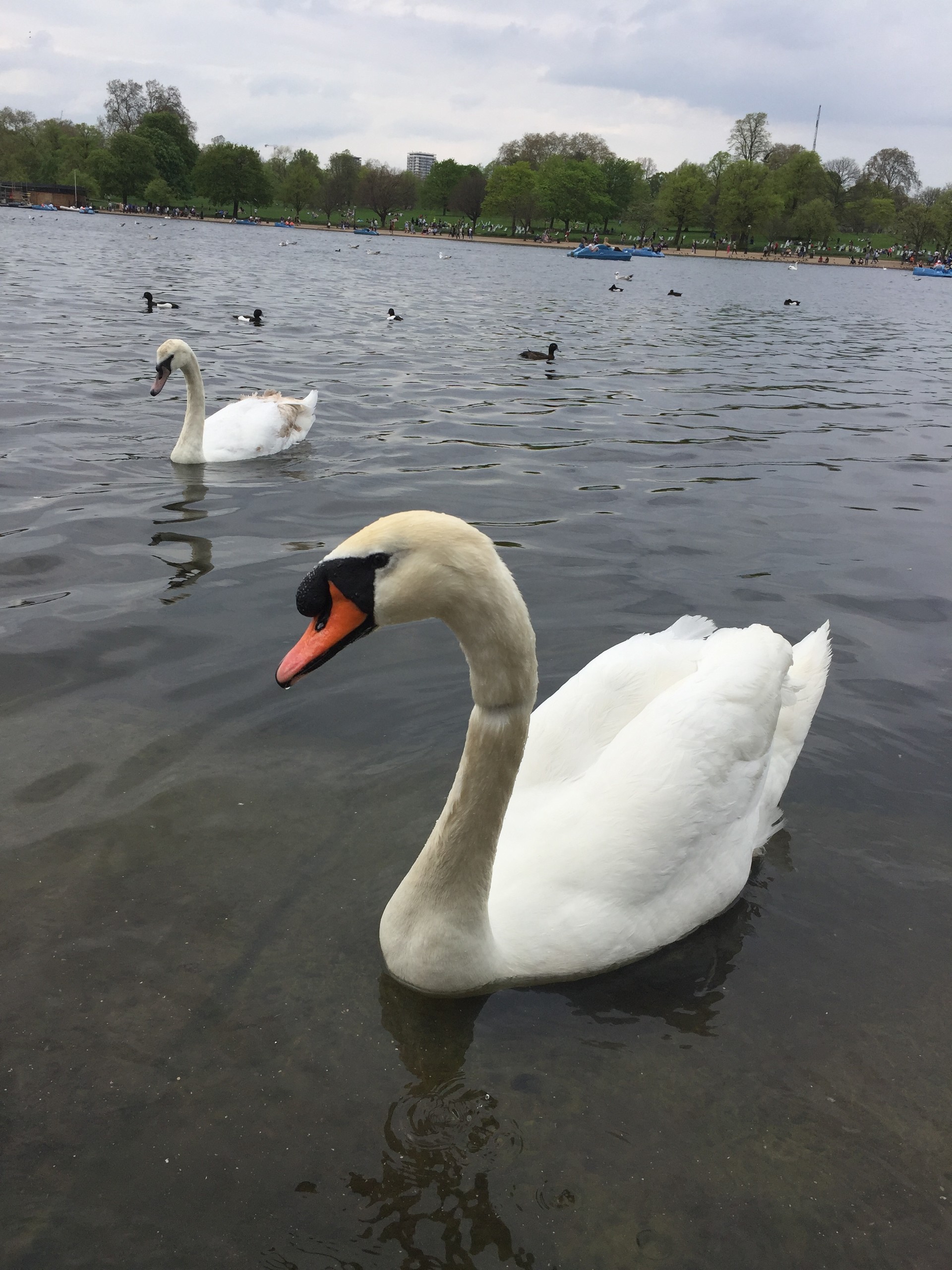 In this park, you can also find a memorial, in the form of a fountain, for Princess Diana.
Buckingham Palace and the changing of the guard
This palace is probably the most famous. Not just for its beautiful floor, which is huge, and the impressive front of the building, but also for the famous changing of the guards that takes place.
In the following photo, you can see the palace at the moment that the guard changes. You can appreciate that it's full to the brim with people. Also by the flag, you know that the Queen isn't inside.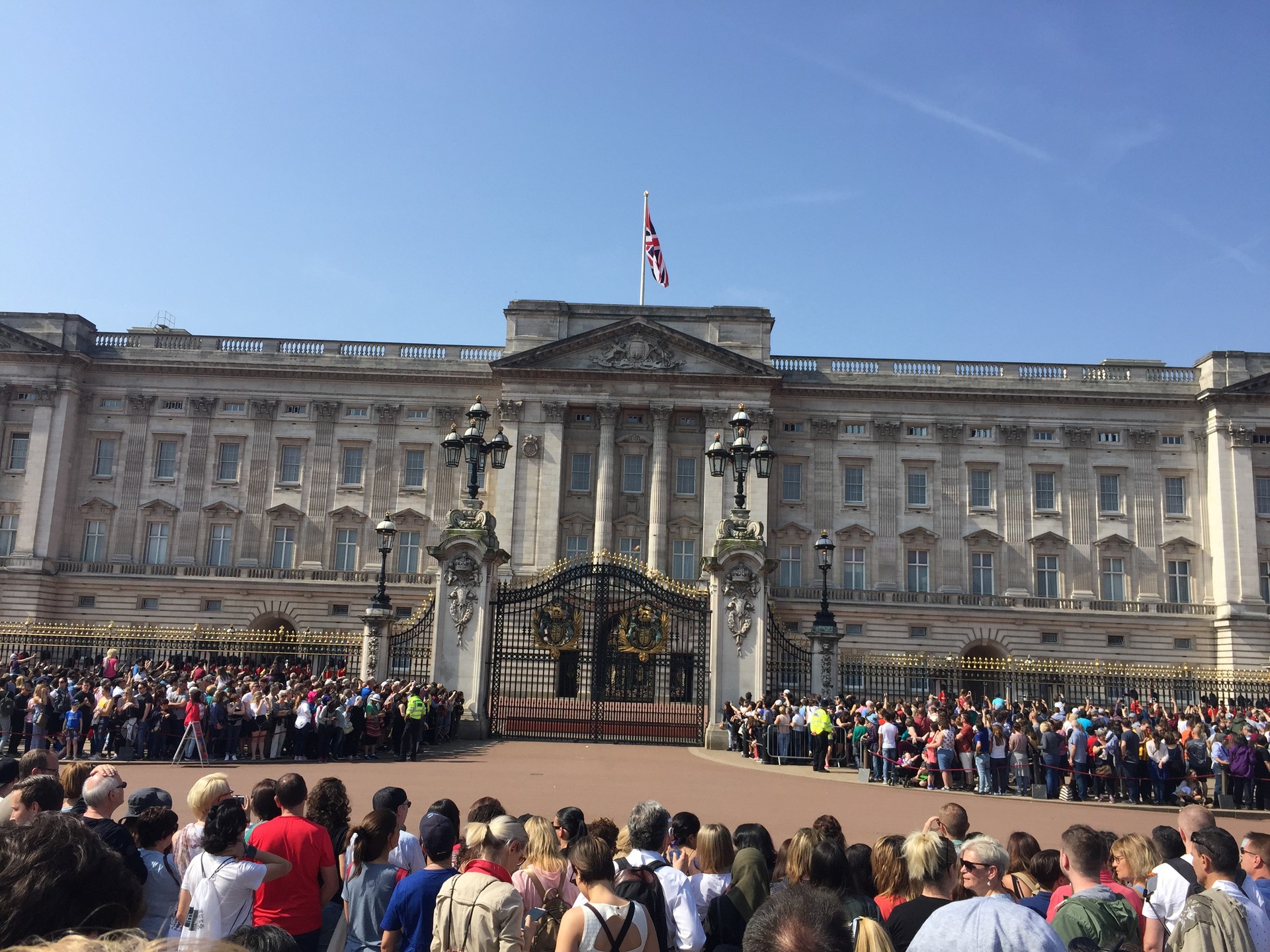 In summer you can enjoy the daily change and in winter almost every day. However, it only happens once a day, around 11 am.
A privileged place to see the changing of the guard a bit (because the guards pass by there when they're finalising the change) is St James' palace.
You can enjoy a close up of the guards without people cramped everywhere.
At the top of Buckingham Palace, you can find a flag that indicates whether the Queen is in the Palace or not. If this flag is the Union Jack, it means that the Queen is not inside. If the flag is divided into four sections then the Queen is indoors.
In the past, if the Queen wasn't indoors then there was no flag. However, since the death of Princess Diana, the Union Jack is put up when the Queen isn't in.
Next to the palace, you can find two parks that you can walk through called Green Park and St James' Park.
Platform 9 and ¾
To finish up, for those who are passionate about Harry Potter, you must know about the platform 9 and ¾ from the famous film can be found in the train station Kings Cross. There you can find a replica where people go and take photos and a shop with little gifts about Harry Potter. However, to get the photo you have to wait in a queue of several hours at nearly any time of day. At night there take away the little cart to avoid vandalism, so you can't go early in the morning to take the famous photo.
In the following photo, you can see the cart that imitates Harry Potters one, that you take a photo with (after waiting in the queue).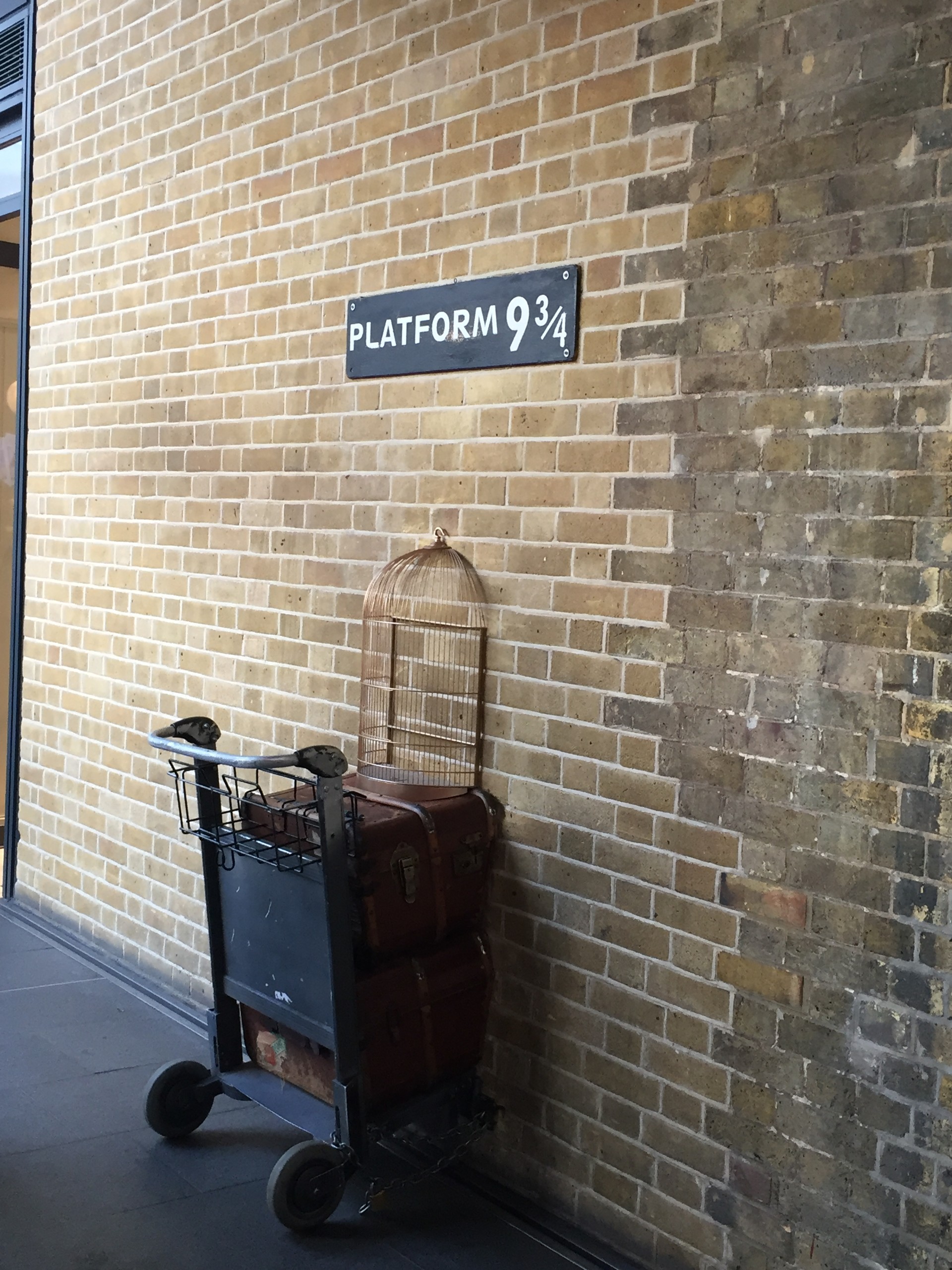 I hope that all these comments have helped you organise your next trip to London. Until next time!
---
Photo gallery
---
---
Content available in other languages
Want to have your own Erasmus blog?
If you are experiencing living abroad, you're an avid traveller or want to promote the city where you live... create your own blog and share your adventures!
I want to create my Erasmus blog! →