Erasmus in Lille
Architecture and landscape

8 / 10 points

Entertainment

10 / 10 points

Culture and customs

10 / 10 points

Transport

10 / 10 points

Gastronomy

8 / 10 points

Prices

6 / 10 points

Party

8 / 10 points

Weather

6 / 10 points
---
What is it like to live in Lille? Would you recommend it? What is the city like?
Lille is an excellent city to do your Erasmus in, there are always things to do and there is a great atmosphere. The city is also accessible, you can get to anywhere by foot or use the V'Lille, which are city bikes to rent. In addition to that, the metro and tram are also quite good, you can get everywhere using them and they run regularly. The city has lots of different neighbourhoods, and it all depends on where you live as in each one you can do very different things! I definitely recommend it because the people are really kind, I have never had any kind of problem with a French person, and it is a city in which you will never find yourself bored! Also, it it is located in the heart of Europe, it is really well connected: Paris, London, Brussels, Amsterdam, Frankfurt... Whether it be through train, bus or the Brussels-Charleroi airport, which is 1.5 hours away, and with buses at practically 24/7... However, the airport Brussels-Zaventem is badly connected. Lille has its own airport but the flights are expensive and it doesn't fly to many destinations. To visit the rest of France, I recommend buses like Flixbus, Isilines etc, or Ouigo, the low-cost TGV line.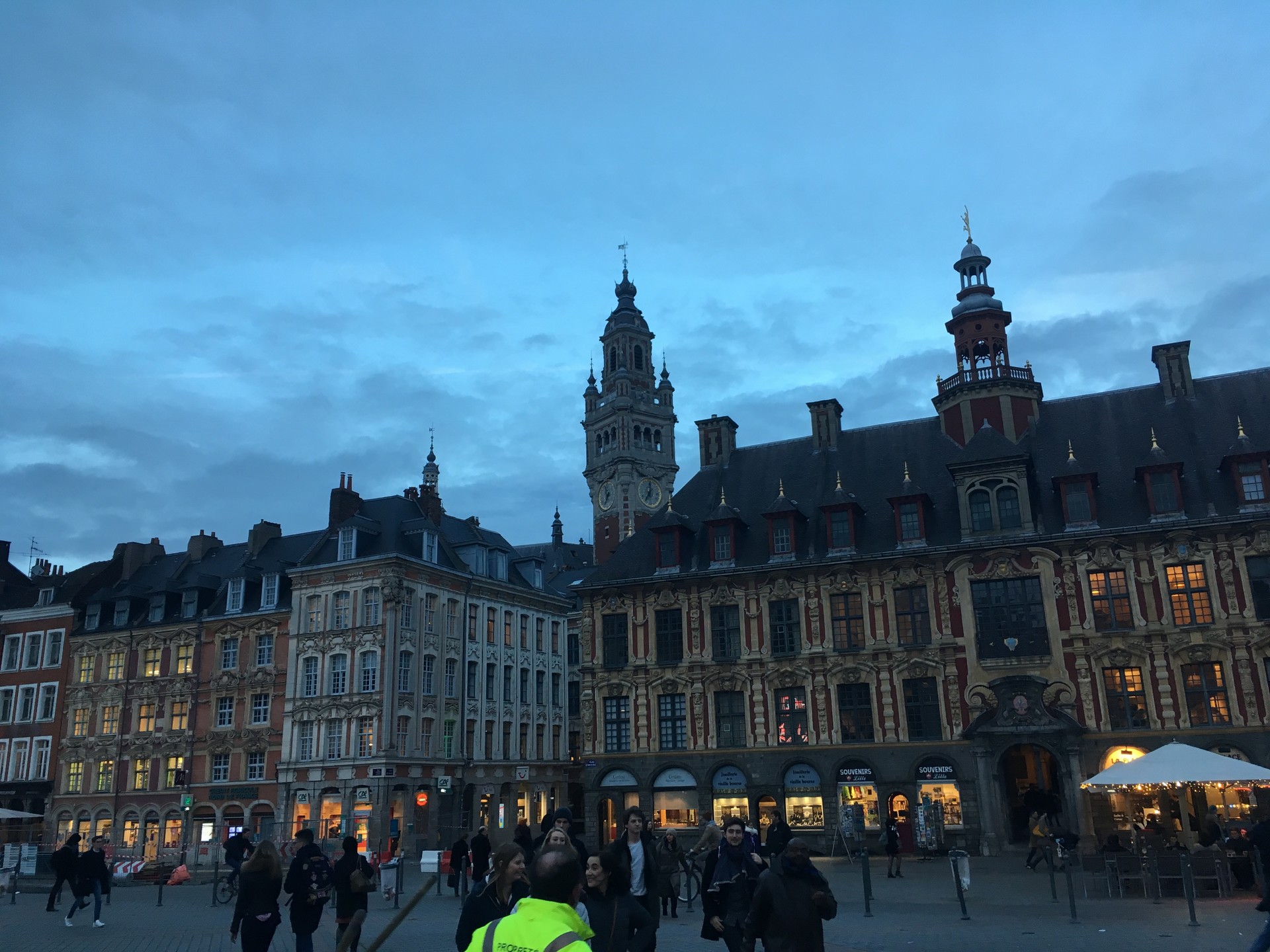 View of the Grand Place of Lille in the winter.
How long is the scholarship? How much money do you receive to help you with living costs?
I went there for the second semester, my grant was for 5 months. I received 300 euros from the Erasmus grant. Also, it is very important to apply for the CAF which is the help which the French government offers towards accommodation. I recommend applying for it well in advance and to not lose your patience. The organisation is quite chaotic and they ask for lots of documents, but don't lose your head, give them everything that they ask for because in the end, it is worthwhile. I paid 450 euros per month for the halls and they gave me 150 euros per month which was quite good.
How much does it cost to live in Lille?
600-800 euros. In general, it is a lot more expensive than in Spain, but don't be alarmed, because with planning it is doable. This is most evident when doing a food shop and definitely when going out. A half-pint of beer will cost 5 euros if you're lucky... however, most of the pubs for going out are free to get in. The metro is also quite a lot more expensive. The subscription for 10 trips costs 14 euros. Going out for dinner will cost at least 10-12 euros... in the end, the thing that works out expensive are the leisure activities.
Is it difficult to find accommodation in Lille? Is there any advice you can give?
I stayed in halls for my whole Erasmus and honestly, at the start it was difficult to find a place because my university didn't offer me any help. If you want to live in halls, I applied for one through the AEU (Association d'Entraide Universitaire), an organisation which is part of the Catholic University of Lille, but students from any university can stay there. They have around 10 residences, and to apply for a place you have to do it as soon as possible through their webpage. You have to make a list of your preferences (whatever you prefer, I searched for the ones closest to the university) and the prices can range from 250-460 euros, depending on the size of the room. At the start, I had to pay around 1,500 euros for the deposit, administration, etc. Don't worry, it is a lot, but they give you most of it back when you leave. These AEU halls aren't great, but they have a good atmosphere and you get to know lots of people. There are more residences outside of the AEU, such as Campusea, I have never used them so I can't give my opinion but I know that they are quite new, but they are quite far from the university area and for me, it was paramount to live there; and in fact, I was very glad to be living right next to the university and the nightlife area. I heard that it is quite hard to find a flat and that they are quite expensive. There are lots of people who stay in halls and then later from there find a flat, it is an option that you can definitely do if you meet people. I would recommend that you go to the halls because you can get to know people from all over the world, learn lots of things and live in a community that is always great, in the end you will all form a giant family.
What is the food like? What are your favourite dishes?
The food is quite normal, to be honest, I didn't go to eat out much, although I am in love with the Welsh... melted cheese and beer with ham, egg and bread at the bottom of the dish. It's incredible! There are also several creperies with all the different combinations imaginable. Something that I have really missed has been the classic Spanish tapas and sandwiches, but well, it is a city that you can eat well in. There are also restaurants from all over the world so there is no lack of choice! With respect to the most typical dish of the North, the mussels and chips, I have to say no more than... if you like mussels, and if you like chips, you'll like the moules frites! Chips in this area are like a religion. I also recommend that you try all the different cheeses that you can... In Carrefour, there is an infinite choice and they are all different!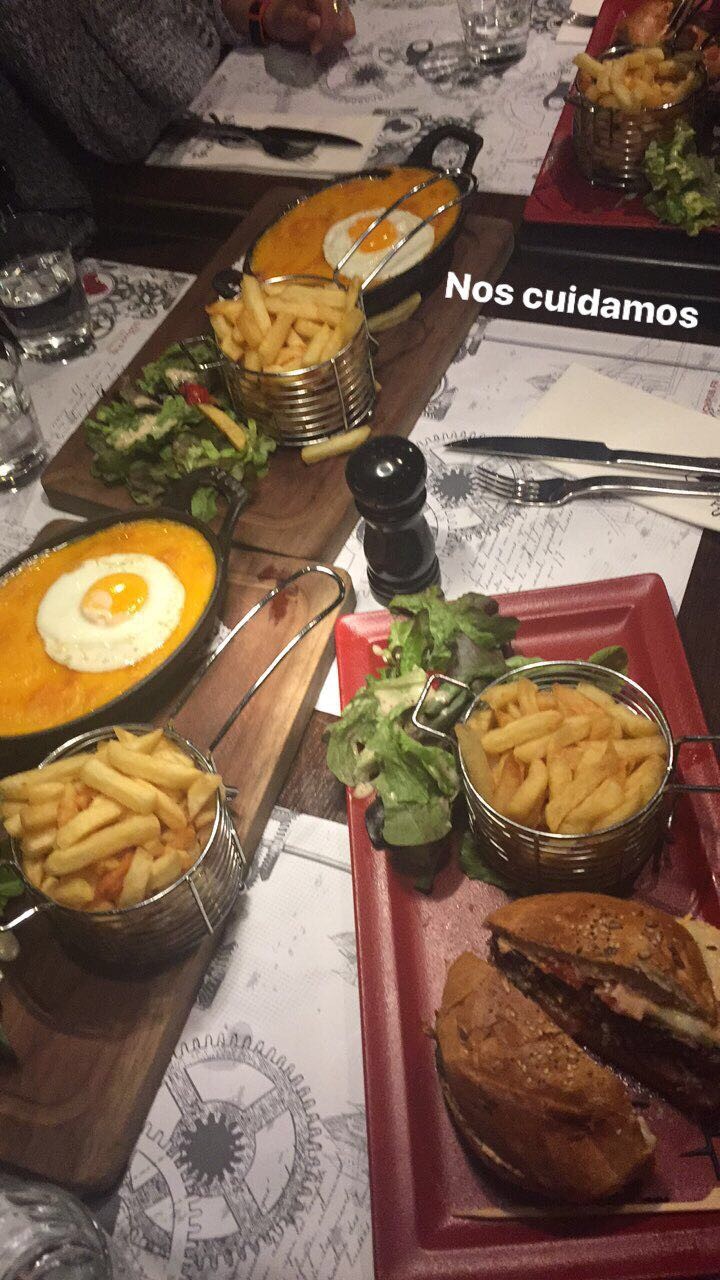 Welsh in the Sherlock pub.
What places would you recommend visiting in Lille?
There are not a lot of monuments to visit, but Old Lille (the historic quarter) is very pretty to walk around and discover new bars and little shops. After that, there is the Grand Place with the Bourse to buy antiques, the Notre Dame de la Treille Cathedral or the Porte de Paris (an Arc de Triumph). As some "non-touristy" sites, I recommend Gare Saint Sauveur, which is an old train station which has now been converted into a massive bar-pub, which has events which welcome hundreds of people. There is also Wazemmes, the most alternative area, where they have a market on several days of the week, as well as having lots of bars which hold live concerts. In Lille, there are also events like La Braderie, which I wasn't able to experience since it was in September and I arrived in January, or the Fete de la Musique, a party which is celebrated in the whole of France to celebrate the arrival of summer; with the streets full of people and there are people drinking in bars and on the street, it is amazing.
As for the outskirts of Lille, I recommend going to Dunkirk to discover the strange carnivals in the North, and in the summer the beach there is enormous and so nice. Finally, in Roubaix there is the pool museum, it is a nice place to spend an afternoon and it is cheap.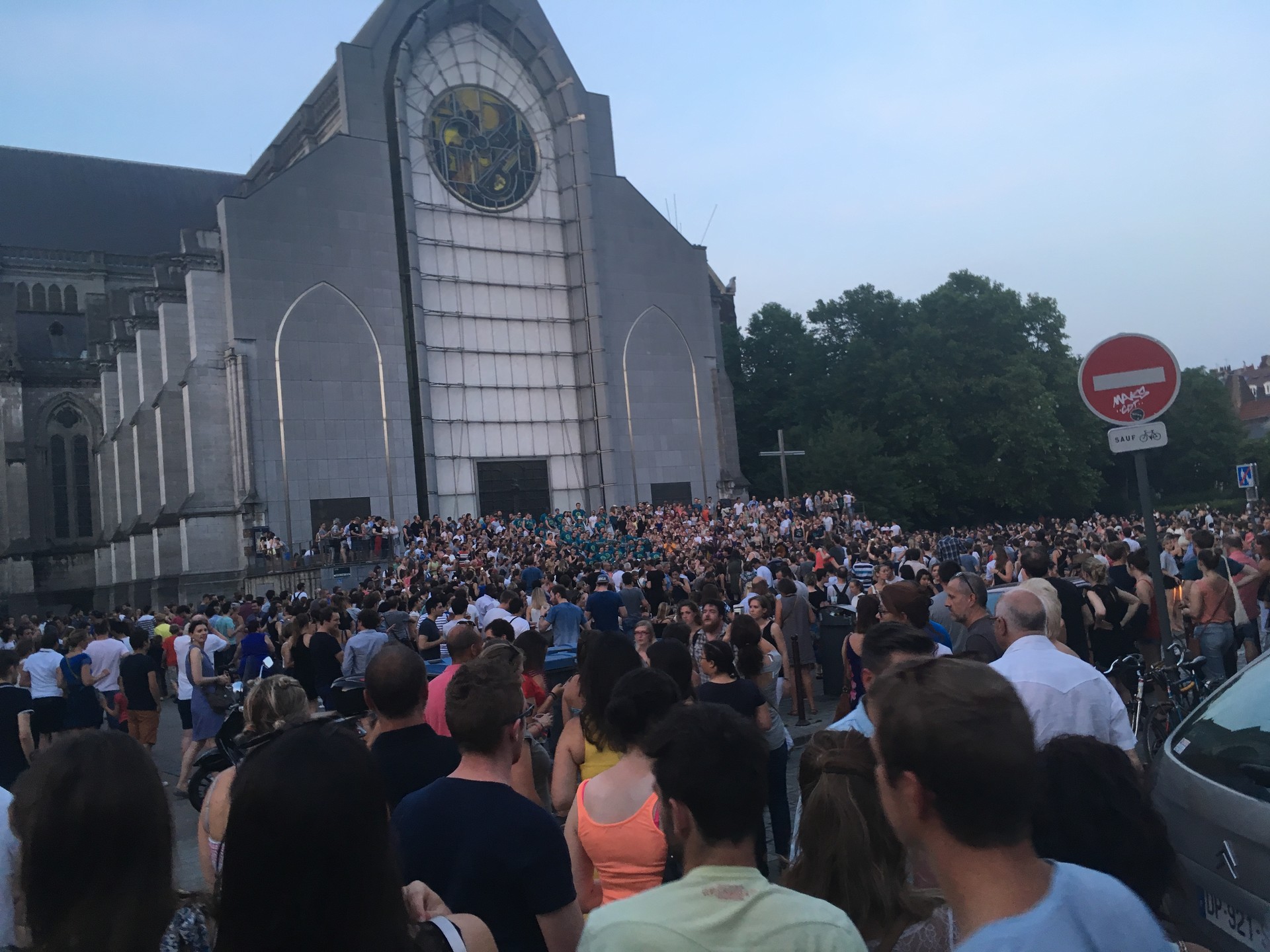 Cathedral Notre Dame de la Treille, on the day of the Fête de la Musique.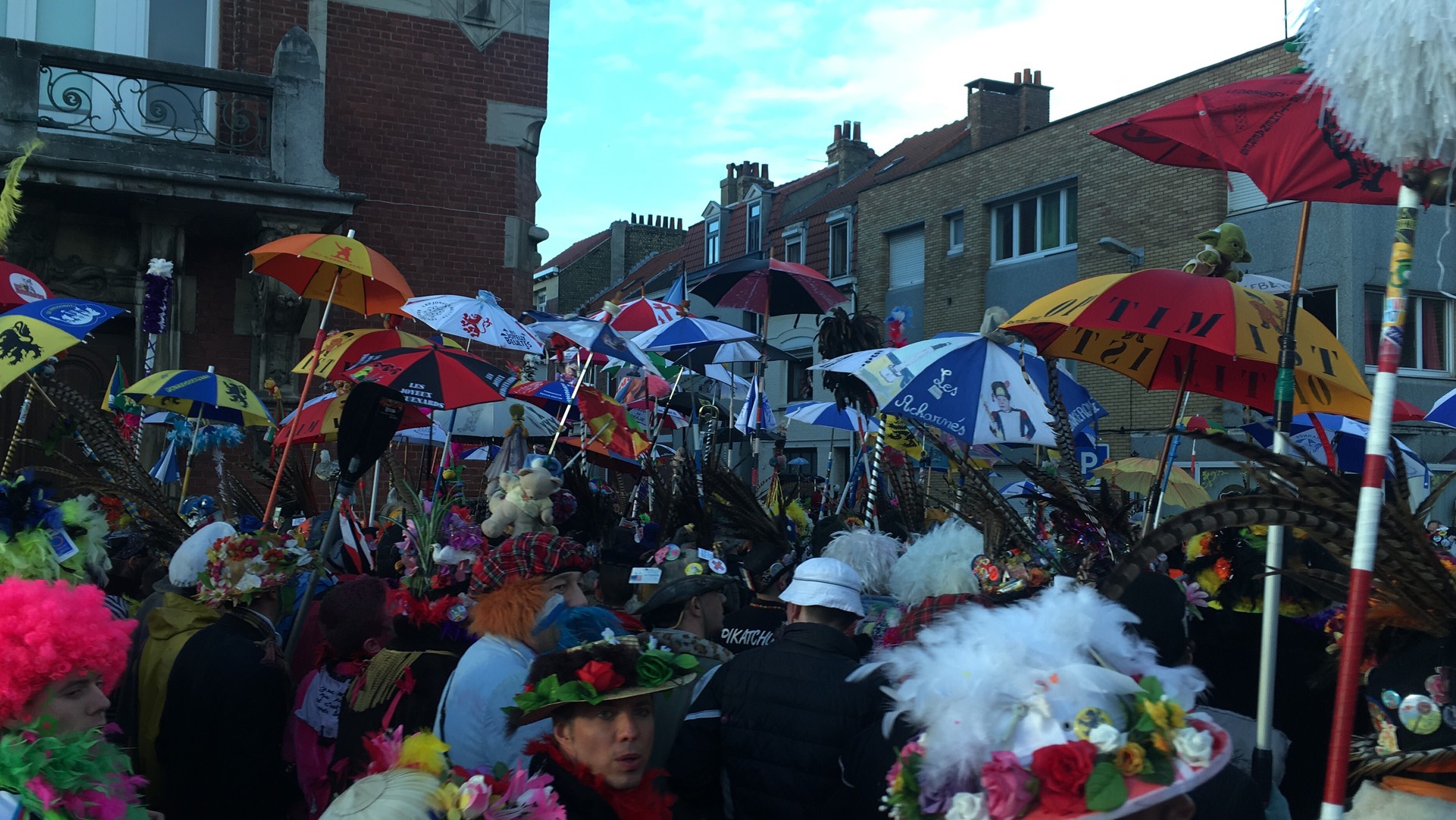 Carnaval de Dunkerque
Is it good to eat out in Lille? Can you tell us some of your favourite sites?
Compared with Spain it is a bit more expensive, honestly, I didn't go out to eat half as much as I usually do. However, as I said before, there is a lot of choice and you can eat for 10-12 euros if you order the "Carafe d'eau", which is the typical jug of water that is free, but here people order it as if it is normal. As for my favourite places, I live the Beaurepaire creperie, which is a small local place to the side of the Grand Place which has a big variety of crepes, and the Sherlock pub, which is a local place on Rue Solferino which has a really varied menu with pizzas, burgers, salads, etc, and above all the famous Welsh! If there is something that Lille has a lot of, it is bars and restaurants. There is a special bar, which is called La Luck, where there are lots of games and experts who explain to you how to play, it costs 5 euros but it is definitely worth it to spend a bit of a different evening.
Bar La Luck.
Is the nightlife good in Lille? What places do you recommend to go out?
The nightlife is definitely one of Lille's strong points. There are several zones where you can go out, Old Lille, Wazemmes to start of the night, or Rue Solferino-Massena. Most of the local sites are pubs, there aren't many big clubs, but they are basically all packed and the streets are always full of people. I normally go out on Rue Massena because it is nearby and there are quite a few different pubs, even though sometimes the atmosphere can be a bit worse. I have to say that here, the people who stay out after 4 am aren't very trustworthy people, it isn't like in Spain where at 4 am practically everyone is still out partying. As for specific sites, I would like to talk about La Latina, which as its name implies it is a pub with Latin music, which is visited as much by Spain as by the French. After that, there is Smile, where they play more "older" music or Magazine, which is an electronic music club. I have to say that sometimes the bouncers are a bit horrible with foreigners, but if you go there with a calm attitude and with discretion they won't say anything.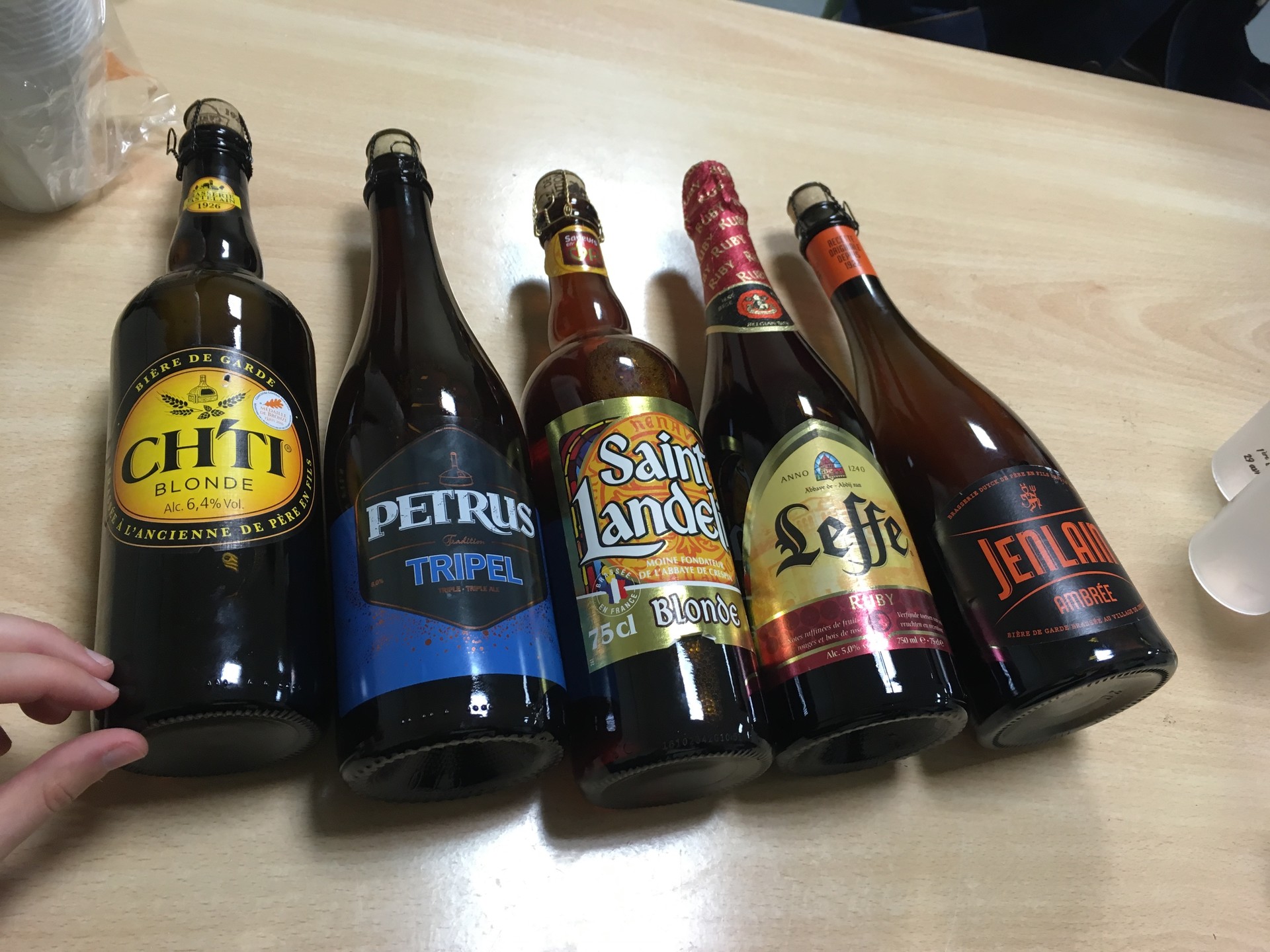 Belgian beers or those from the North are the most popular ones in Lille.
What advice would you give to future students heading to Lille?
To enjoy yourself! I finished off my Erasmus and I stayed there for almost a month longer. Lille is a city which offers you the chance to meet people, everyone is very kind and friendly. I definitely recommend that you don't fall into the trap of just hanging out with fellow English people... it is really a shame to go to France and not learn Spanish, you have to make the effort and it is not always easy, but talking to people from there should be part of the Erasmus experience. I would also recommend that you don't stop doing things, that you go out and discover things, to drink beers even though they are so expensive because it is worthwhile and the time flies by. You also should travel because the location of Lille makes it very easy, Europe will be yours! As for the weather, you will be fed up of seeing the grey sky, but the cold is tolerable with a good coat, and even though it might seem like it's not, in summer it is warm and I ended up sunbathing and everything! Above everything, don't get caught up with laziness and make the most of every moment.
---
Photo gallery
---
---
Content available in other languages
Share your Erasmus Experience in Lille!
If you know Lille as native, traveler or as exchange student... share your opinion on Lille! Rate different characteristics and share your experience.
Add experience →