More than a university
Hey, what's up?!
After remembering some of my best moments in Leeds, I decided to make a small list of the things that I can't forget to share in this little blogging adventure. Today I am going to talk about the powerhouse of this city, the university.

The truth is that when you tell your friends and family that you are going to do Erasmus, the first thought that pops into their heads is partying, partying and partying (I don't know why... ). But boys/girls, bad luck, as at the University of Leeds you have to study. In terms of academics, it's not a chilled out place to be. But hey! Don't let this get you down, as there is also a fair share of partying. For those who are thinking about going there, don't worry because there is time for everything (and you'll always have the last week of exams to be like an olden-days monk: locked in your room with a cup of coffee, a crate of Redbulls and a mountain of notes and text books, that no matter how much you give them a sideways glance, you will have to study them. For those that will come here, if you haven't already found this out... you will soon. Apparently, it is one of the best universities in the United Kingdom in almost every way. I'm not saying it's in the same league as Oxford and Cambridge... these are in a whole other ballpark. People who study their whole degree here have an average of a 2:1 (an average of an 8 in Spanish terms) and they take their studies quite seriously (except for the Freshers, of course). But aside from the purely academic stuff, the university is INCREDIBLE. And it has a life that you couldn't even begin to imagine. The campus is enormous. It has more than 100 buildings and some of them are old churches, such as the Business School (you will soon find out that the English use former churches for practically anything).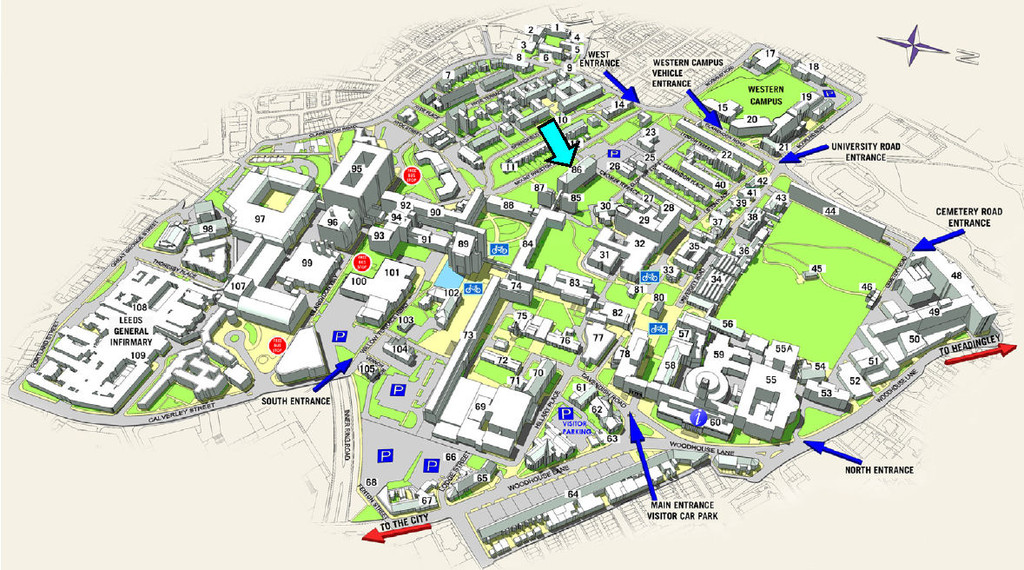 The most important building is the Parkinson Building. It is the emblematic building of the University of Leeds, and an excellent way to pin-point its location. If you are lost, the Parkinson building is the equivalent of the Kilómetro Cero landmark in Madrid. Also, it is massive inside too. There have lots of classes and a library which is the same size.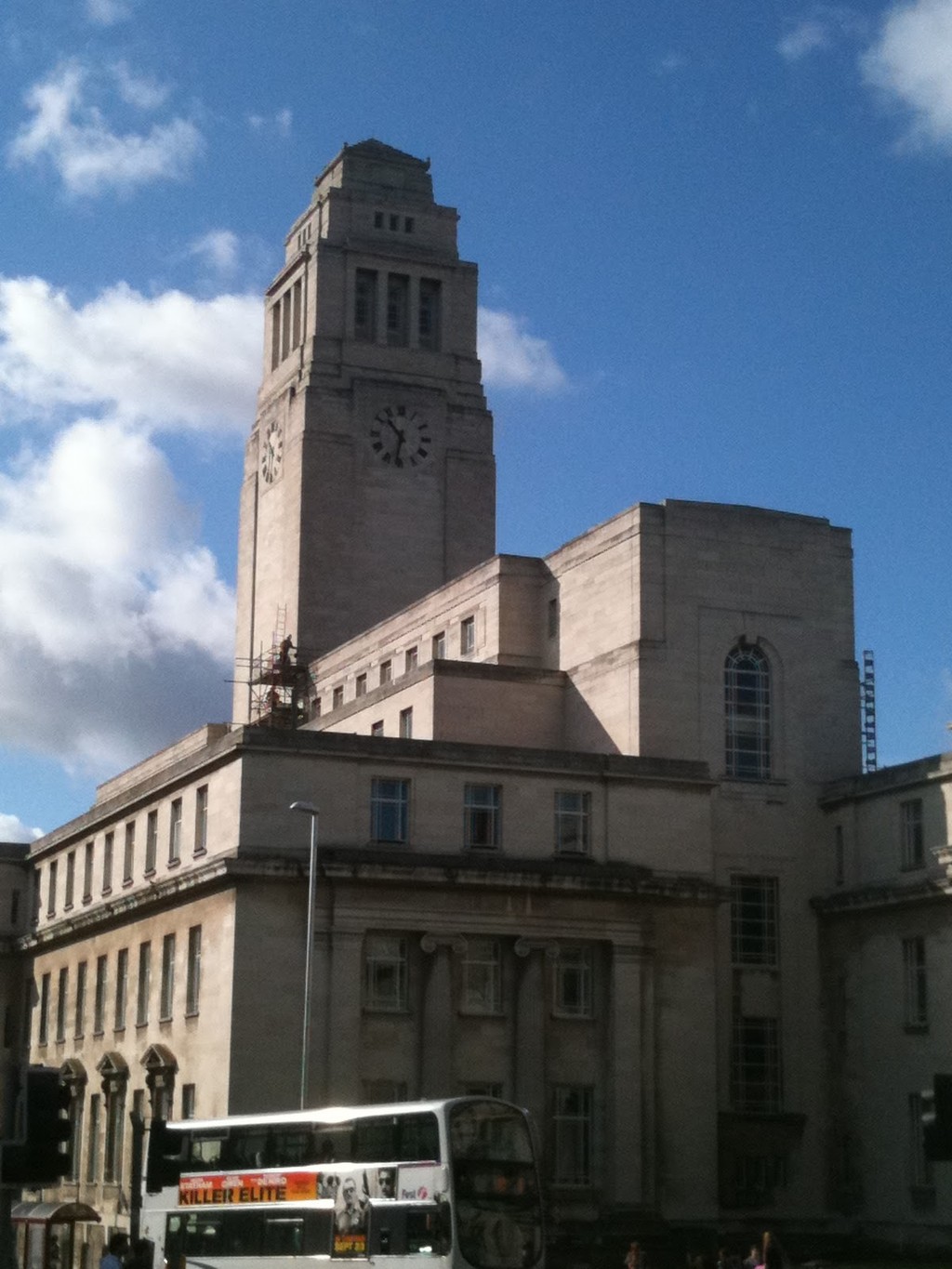 They also have other stand out buildings such as Roger Stevens, the Edward Boyle library or the Ziff building. This last one, although its full name is the Marjorie and Arnold Ziff Building, I had two other ways of referring to it. The first one is what I referred to it as first (just Ziff) or the document building. If you need any university documents, you have administrative problems, or if you're even visiting the Erasmus Office (Study Abroad office) you have to go there.
Another building that I can't leave off this list is the Student's Union, but I am going to save that for a separate blog entry as there's a lot to talk about. But to give you a bit of information, many students decide to go to the University of Leeds for its Student Union as in my opinion, so therefore in m opinion it deserves more than just a couple of lines.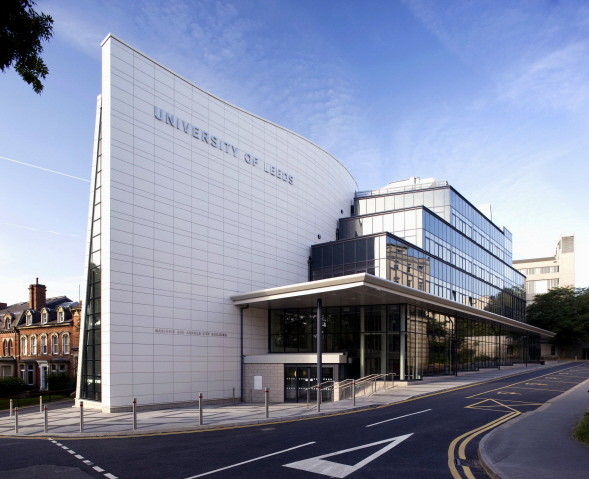 Saying this, I have to add that there are more universities situated in Leeds. The second most famous one is the Leeds Metropolitan University (now called Leeds Beckett University) from which the students from there and the University of Leeds have an American-style rivalry, especially in sports. From what I've heard, the University of Leeds, in football terms, is Real Madrid and Leeds Beckett University is Atlético Madrid. There are even some parties where students from the Unidress in one way or one colour, and Beckett Students dress in the other. Beckett University has its buildings scattered around, rather than on one campus. Many are in the city centre, and others are in Headingly, it depends on what you study whether you will be on one side or the other of the city.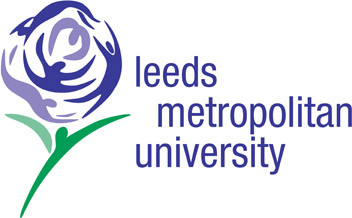 There is also another university, which is quite a lot smaller, but worth mentioning: Leeds Trinity University College. Last year I had a partner in crime that went to this university so I think I should mention it. The campus is big and like everything in England, full of grass. If you want to visit it you have to take a train (renfe) which takes around 10 or 15 minutes. There is not much going on in the surrounding areas, but they have a fair few pubs to grab a pint and more than anything I mentioned it in case it interested you.

The university is an important feature of the city. When it isn't term time, Leeds is a deserted city. Bear in mind that a lot of the students there don't come from Leeds and the majority of them aren't even English. This makes Leeds a truly multicultural city with lots of atmosphere during term time.
I hope that you have been entertained by this blog post and as always, feel free to comment as I love reading your opinions.
Enjoy and behave yourselves!
---
Photo gallery
---
---
Content available in other languages
Want to have your own Erasmus blog?
If you are experiencing living abroad, you're an avid traveller or want to promote the city where you live... create your own blog and share your adventures!
I want to create my Erasmus blog! →