Does the oasis really exist in the desert? What does the desert and seal have in common? You'd be surprised!
Welcome to the desert of Peru.
One of the most famous desert areas in Peru is called Ica. I never thought I would experience the desert and enjoy it so much that I would return three more times! The tourism here has really captured and advanced on all the elements that they can wrap into the desert experience and make sure the tourist is never bored.
You would be surprised by all the different activities you can do in the Ica region and I am therefore, now writing about them to share my own experiences. I hope this encourages you to explore the desert side to South America as I am sure Ica is not the only desert that has created insane experiences for their tourists that come to explore.
What must do's if your going to the Ica region:
-          Huacachina (sand boarding, buggy ride & partying)
-          Las Islas de Ballestas (national reserve island with animals)
-          Pisco farms (taste and production methods)
-          NAZCA lines (apparently can be seen from outer space)
-          The Forgotten Canyon (Cañón de los Perdidos)
To be honest, when you arrive to Ica, you would want to head over to Huacachina straight away and check into one of their many hostels around the oasis. And yes, the oasis exists and no, it is not naturally made, it is however well preserved. Huacachina is a beautiful place as your base where you can access sand boarding and buggy riding. This is something I did more than once, and it was never boring and always ended up with sand in places where it shouldn't be. The buggy ride is also the perfect way to get far into the desert to witness an unforgettable sunset.
We arrived at Ica after taking the bus from Lima. At our arrival we were tired and were bombarded with locals trying to sell us their 'best deal'. We were a big group and I guess we looked like a good profit to be made. We ended up joining a guy that offered us a good deal where accommodation, activities and transport was included for a cheap buck. We were sold.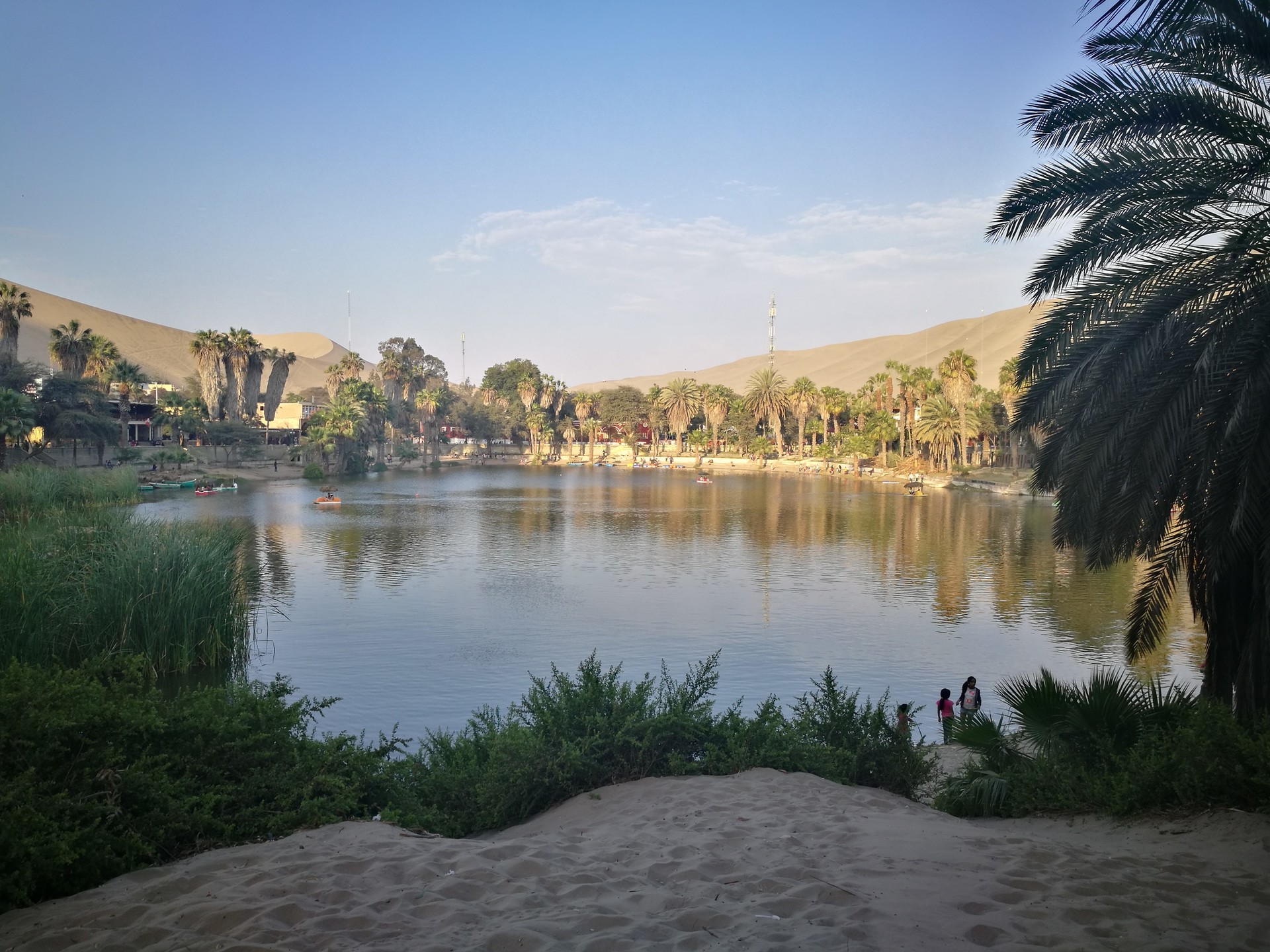 We arrived at the hostel which had a pool, which was perfect in the desert heat, it was also right next to the highest sand dune where we would later explore. We were now all set for our desert adventure to begin. We were told that we would be picked up the next day and taken to 'Las Islas de Ballestas' which we had very little knowledge about. The rest of the day was then spent by the pool and climbing the exhausting sand due to witness the cool night taking over. It was beautiful.
View the gallery to see a night photo from the top.
Las Islas de Ballestas
We woke up early, some of us a bit hungover (ops), which later proved to not work very well with the boat ride. I think my friends face was nearly green. It was hilarious. We took these little tourist boats out to this national preserve which was the home to the seals and large number of birds, I don't think I have ever seen that many birds in my life. They are totally left alone which was nice to see, we only drove around observing, nobody boarded the island. We also seen a large dolphin pod swimming past us, which seemed very surreal at the time. We also had a massive flock of birds flying over us at a the time which ended in it raining poop, it was quite hilarious. I guess a lot of us were lucky that day. We also observed families of seals, they seemed to not even care that we were there. The guides on the boat informed us of the history and one of them even talked English.
It was impressive set up for a very cheap price.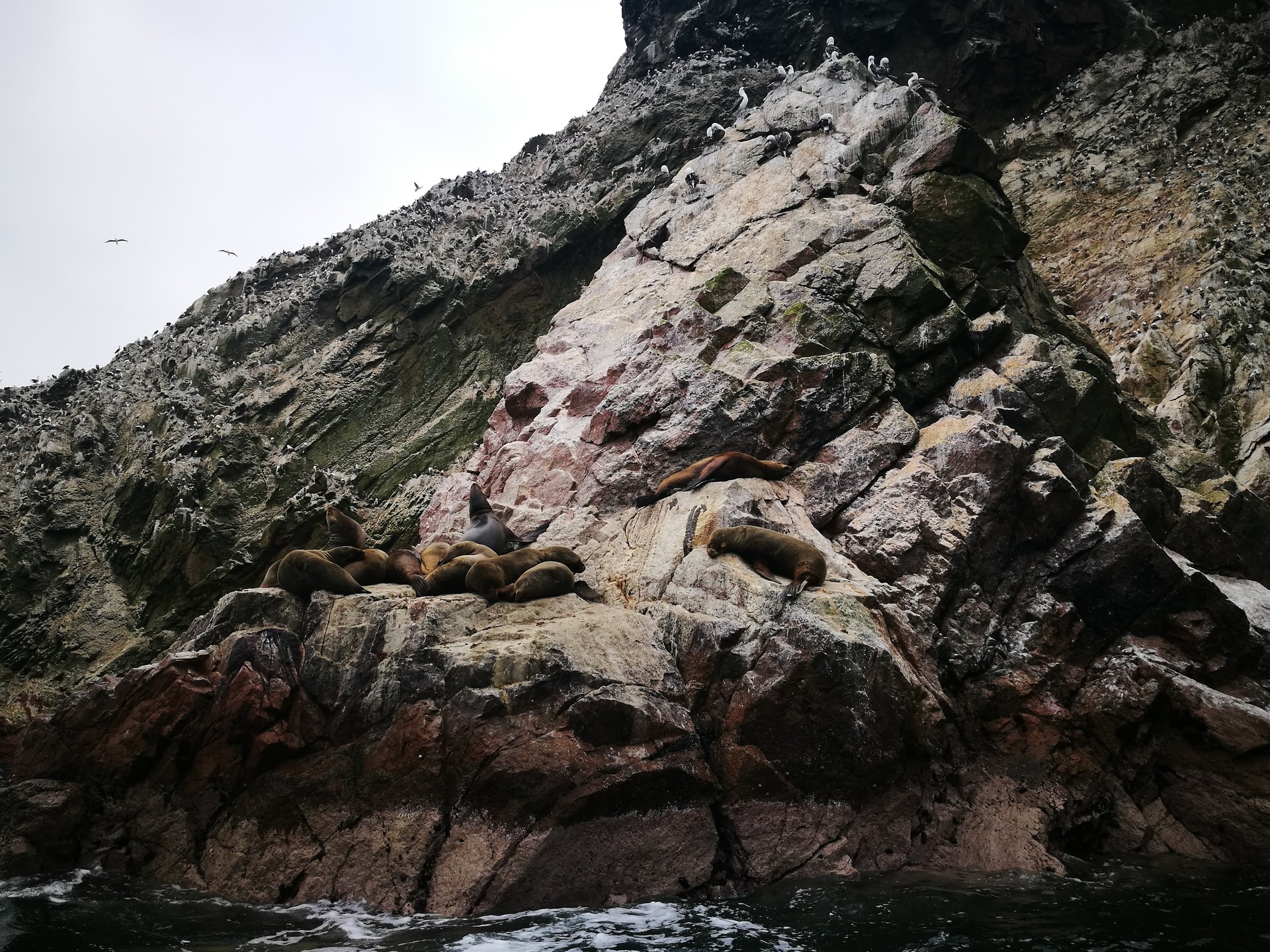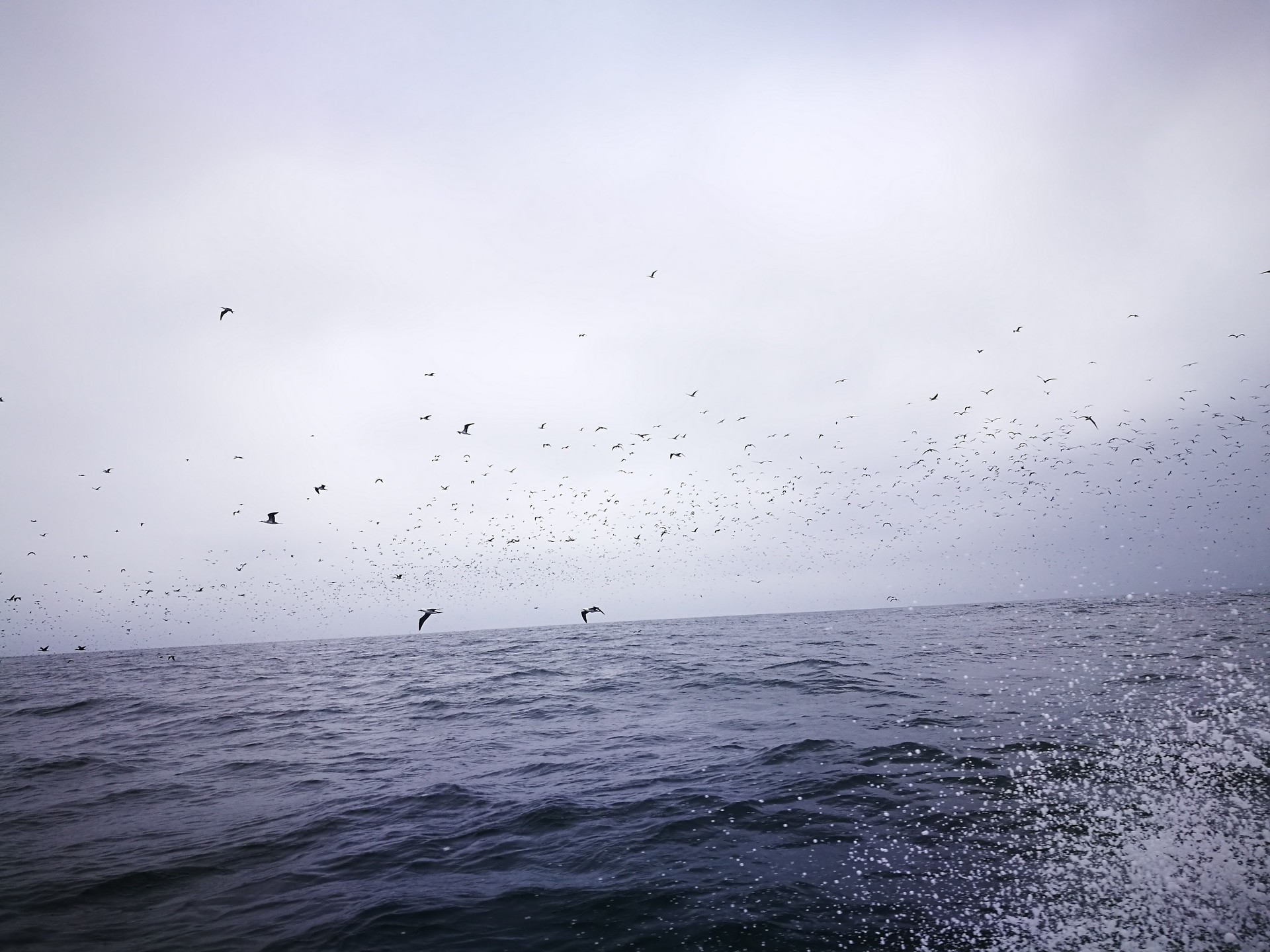 Sand boarding & Buggy ride
Buggy ride
This part was probably the most exhilarating and fun part of the whole desert experience. We were told we would go riding on the sand dunes with this racing buggy that made an ear wrenching noise when the motor was turned on. I am not sure if I would rate this as 100% safe, but it was extremely fun and the drivers were experienced, however there were moments where I could definitely imagine something going wrong, but that could also just be a personal defect called over thinking.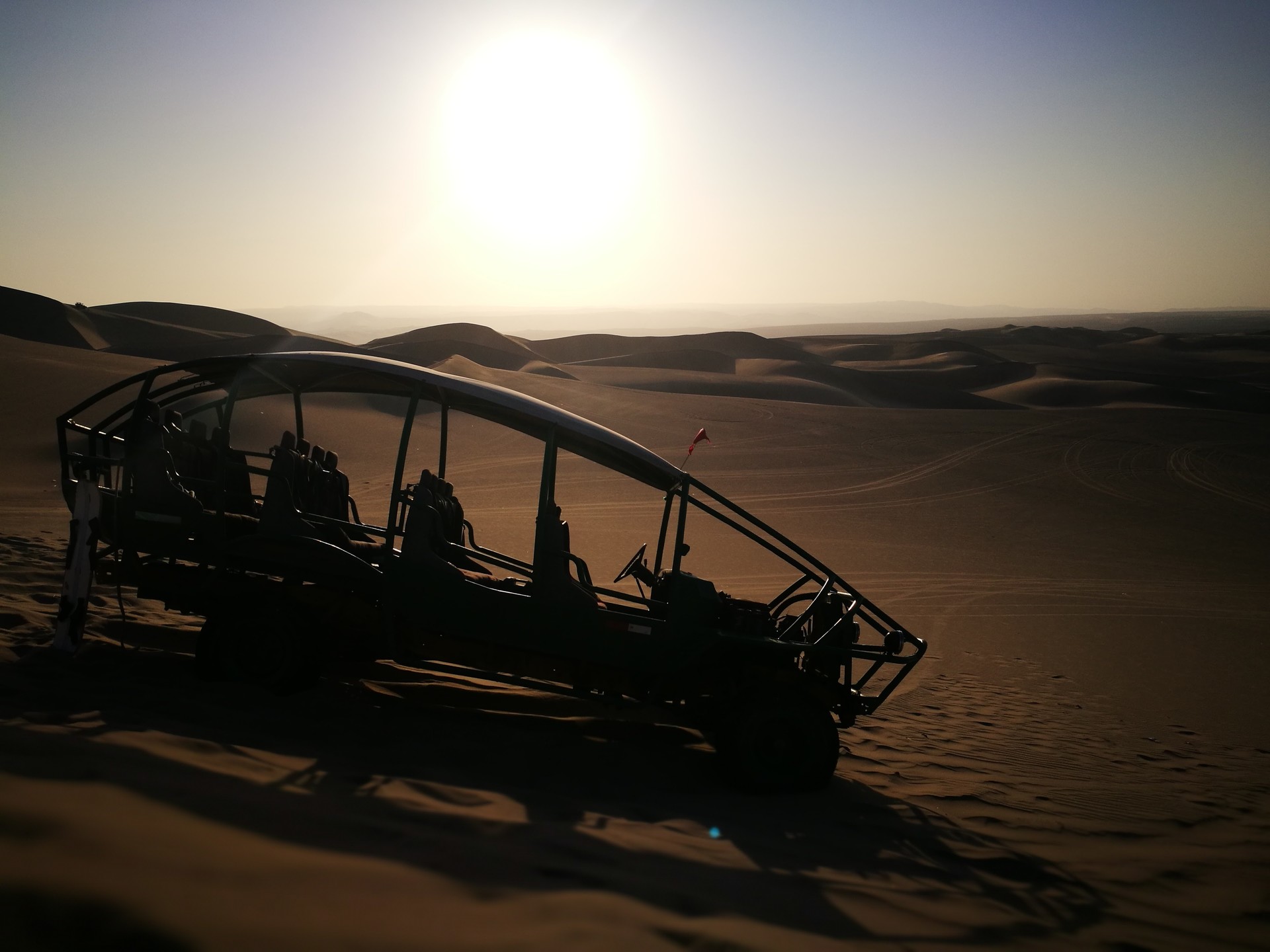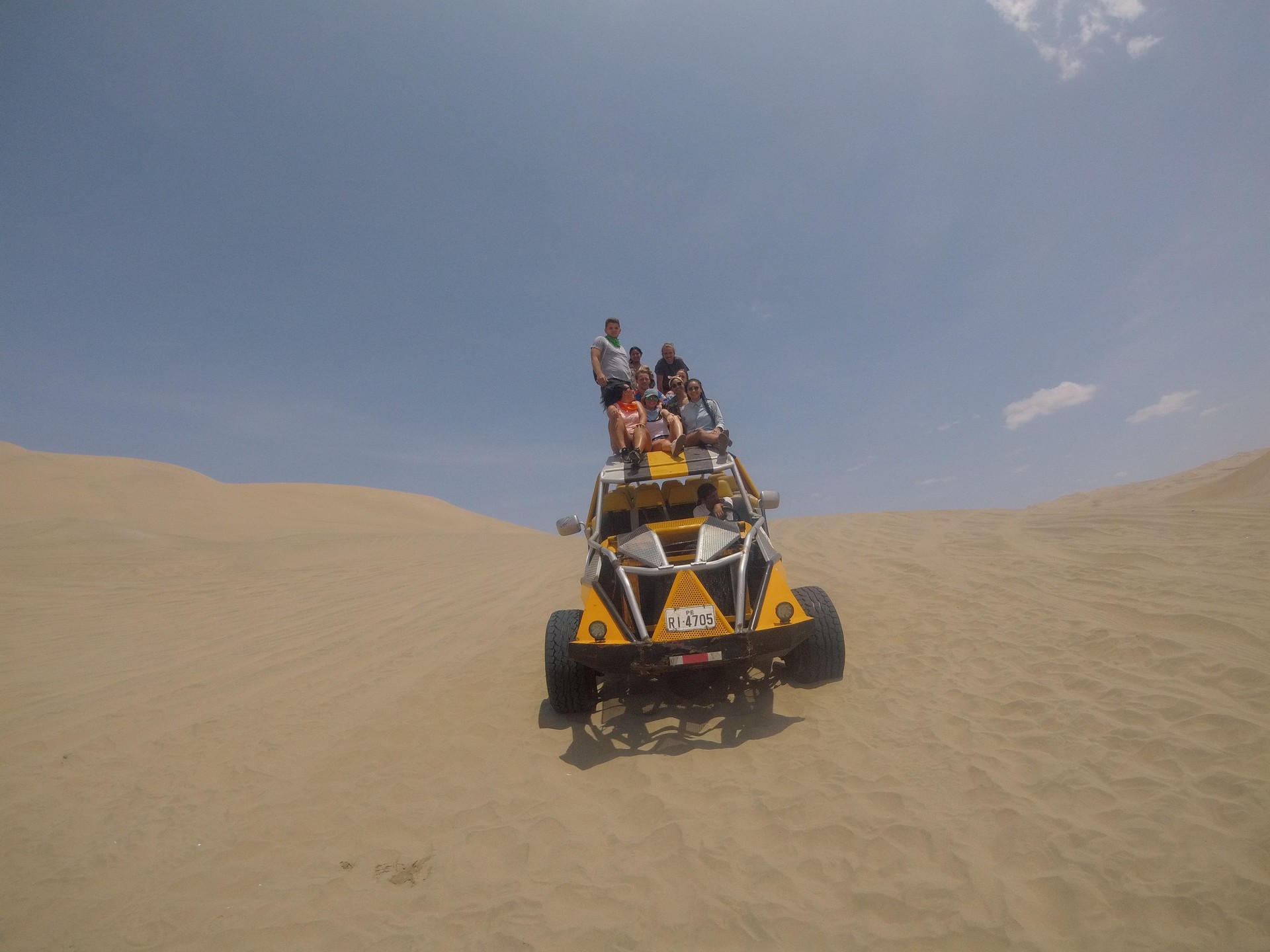 Sand Boarding
After riding the crazy sand dunes, we got out of the buggy and ready to test our sand boarding skills. I found out very soon that I owned no skills whatsoever in this activity, so on my butt or stomach it was. It was fun either way. I think the funniest part was when someone tried to stand and would lose balance and you could just see everything going in slow motion and soon would turn into this sand ball rolling down the hill.
We also ended up going to the biggest sand hill that they had in the area, we were the only buggy ride that went there, so it was like a special treat. I soon found out that one of the guys was a pro and most likely wanted to show off in front of the 'gringa girls'. And that is exactly what happened. The guy flew down this insane sand hill without any hesitation. It was crazy high, and I was terrified. After nearly half of us had done it I built up my last brave nerves and got down flat on the board and I slid down this crazy hill. Insane, but I survived!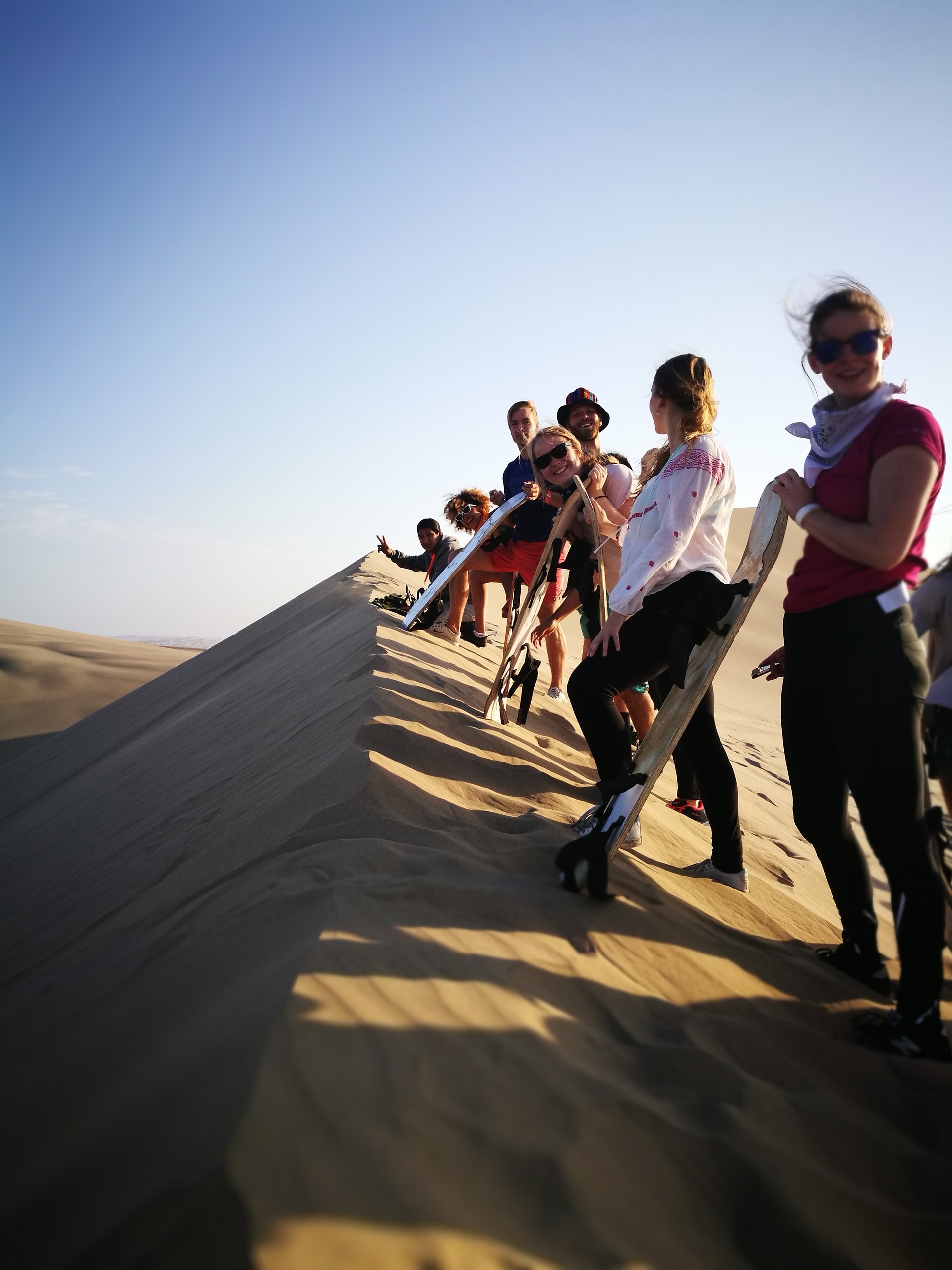 If you're ever making the journey to Ica region this is a must!


Pisco tour
Unless you have been to Peru, you might not know what pisco is, but we were officially in the region of where pisco is made. It was therefore a must to go on a pisco tour where we could taste all the delicious pisco. I am joking, pisco is hard core alcohol, a type of brandy which I tried to avoid unless I wanted a bad hangover. It has a very peculiar taste and therefore you like it, or you don't. I think the only pisco drink/mix I could enjoy was pisco sour (if made correct), pisco maracuja and the bailey ones they made. Obviously, this is a personal taste that I have made. It was very normal to go to parties and the locals always brought some pisco. It's always a party with pisco.
The tour included the information of how pisco is made and preserved, we later were then able to test many different types of pisco's. It was many interesting flavours and due to the heat, I could even feel myself getting a bit light headed. The information was also given in English or Spanish which was really nice for us who didn't have this as our first language. We had a really nice time and the location of these breweries had very good standards. It's obvious that business was blooming there.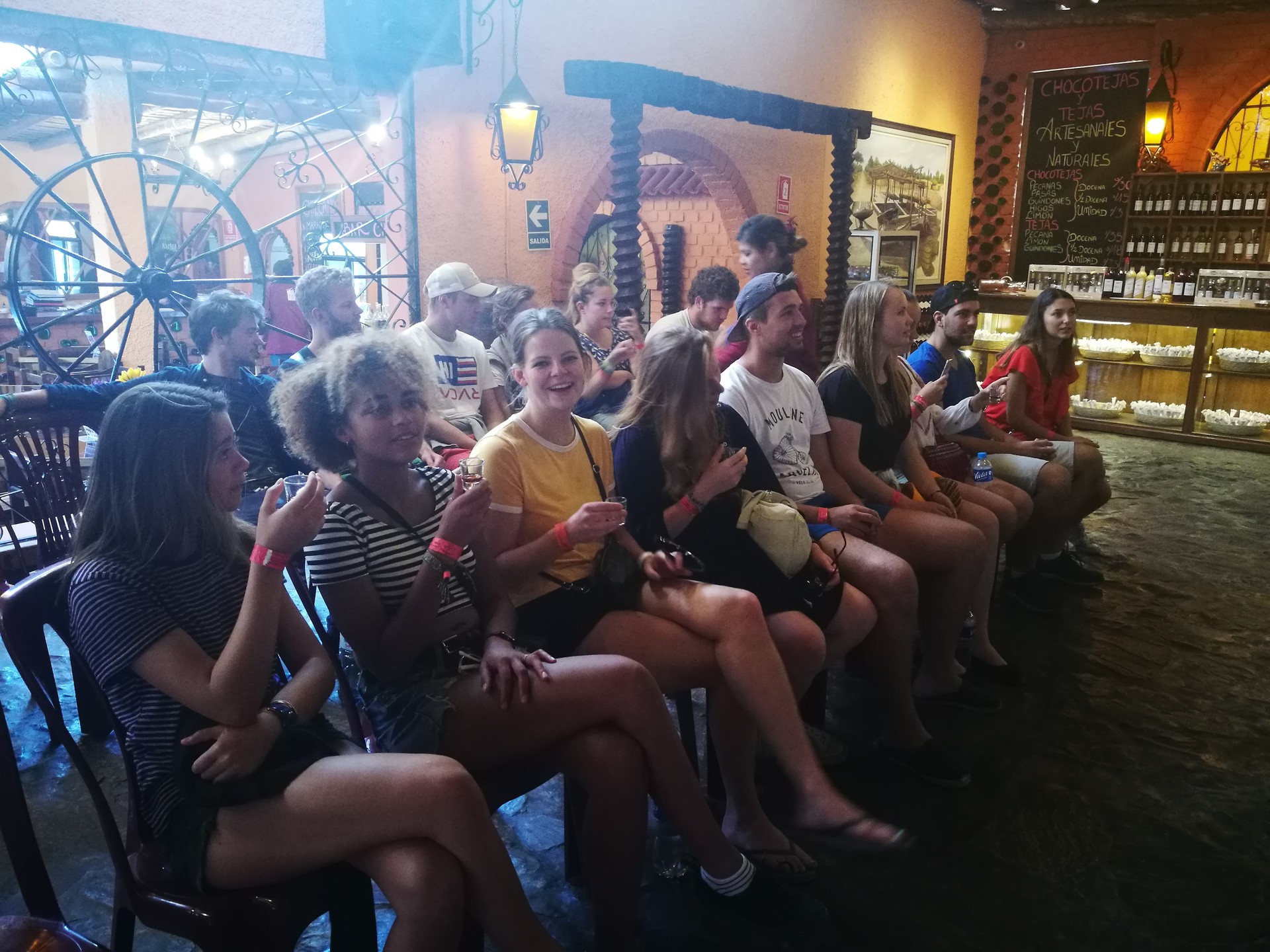 NAZCA LINES
Have you ever wondered why the logo for Peru has this weird swirl on their P, well that is generated from the famous NAZCA lines which can be found near Ica. Some of us took the day trip further south, we paid a driver to spend the whole day with us and show us the lines. He was super nice and showed us on top of the lines this amazing pottery business, and how they make the colours and their ancient ways. He also showed us this fabric/jewellery shop which was super beautiful. I bought what is now my favourite ear rings, with the symbols of the ancient Inca calendar.
We later made our way to the NAZCA lines and observed the lines from this look out post, it was a bit shady but a must anyway. We were only able to see the 'hand' and the 'tree'. The most famous one is the monkey which is where the P swirl comes from. We were also informed by the guide that there are over 70 zoomorphic designs of animals, some of the most known are the spider, monkey, llama, hummingbird, dog and human. These can be seen by flying, which we were informed was a bit shady regarding quality of the aircraft. We were satisfied with observing the 2 and hearing stories and researching the rest later.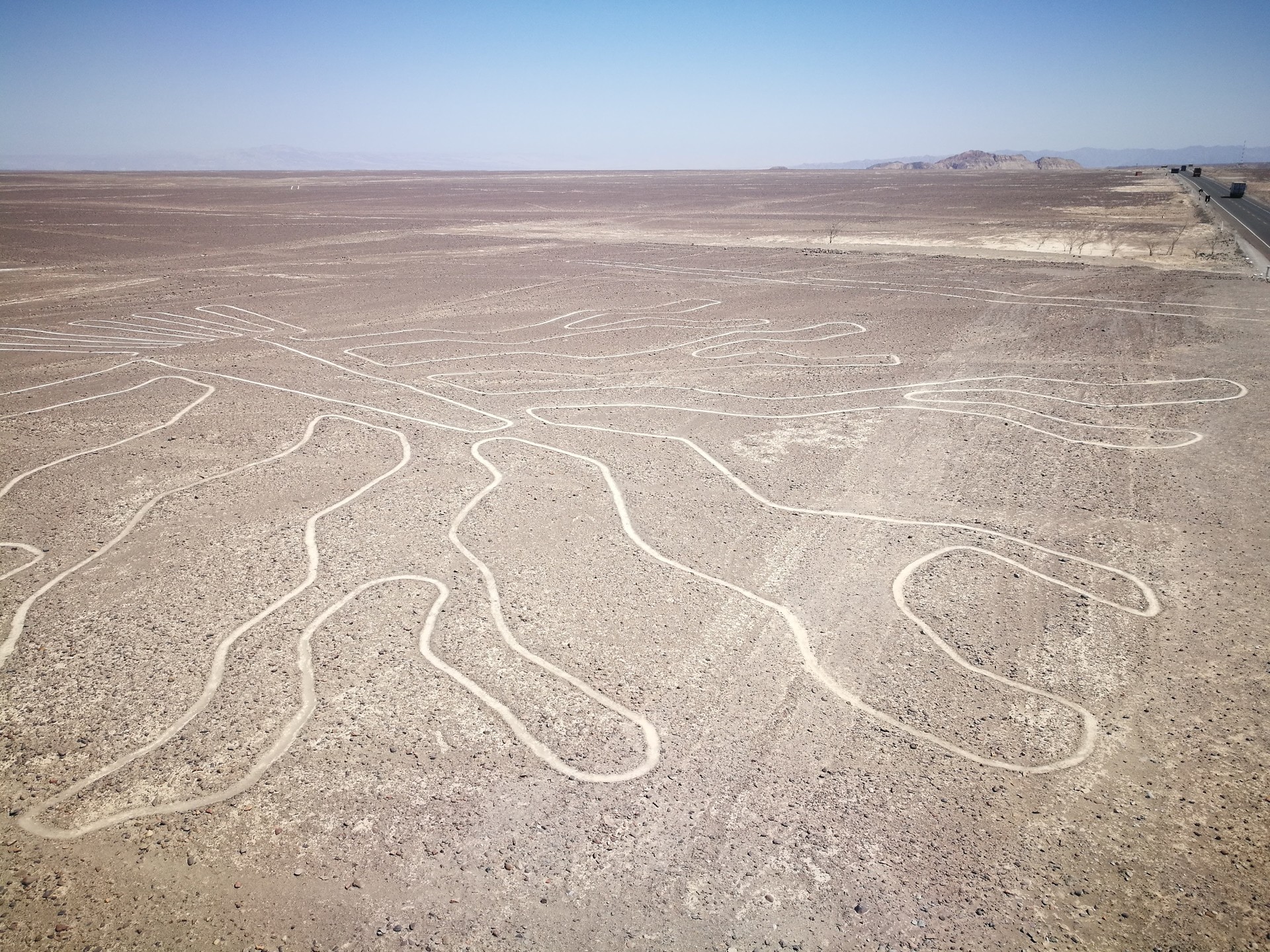 I also later found out that these lines were also added to the UNESCO World Heritage Site in 1994, just as so many other awesome areas that Peru has to offer. I would really like to test if these lines are visible from outer space, I am still a bit unsure about that.
Cañón de los Perdidos a.k.a. The Forgotten Canyon
This trip was actually done with the photography class I was enrolled with in school. We grabbed our cameras and made the longest day trip from Lima to Ica and back I have ever had. We arrived in Ica and was then informed that we will now be driving 3 hours more into the desert without anything but sand. It was a car trip that I'll never forget. It felt like I was on the moon, nothing but dunes and dunes of sands. We finally arrived at the famous forgotten canyon, it was very unique looking. If you want a closer look of the photos taken you can just press on this link:
https://kristinatoender.wixsite.com/nextstopplease/
Not only were we taking photos of the canyon but we were told we were going to entre the canyon, which meant a lot of walking and dying in the heat. It was worth it though, being in the canyon was beautiful and different to anything I've witnessed before. It was shaped beautifully and in the centre of the canyon was a random water hole. Made no sense, none the less it was perfect. Sadly, even 3 hours into nothingness I found garbage in the water hole, like how is that even possible? Humans sucks.
Thats it :)
So, this was my trip to Ica region, it was fun, different and a time ill never forget. I hope I shared some good moments, and for those who have been here can now imagine it all again. One part of writing these blogs that I love, is that I am re-living all these amazing moments that I had whilst travelling and now I finally have time to share it all with you! 
There are more photos added in the gallary.

Hope you enjoyed the post!
What's next?
Ever wondered what altitude sickness is and why its so god damn hard to go hiking at 5200 meters?
Well I'll be writing my next post on our tiring but breath taking trip to Huaraz, which we also survived - somehow.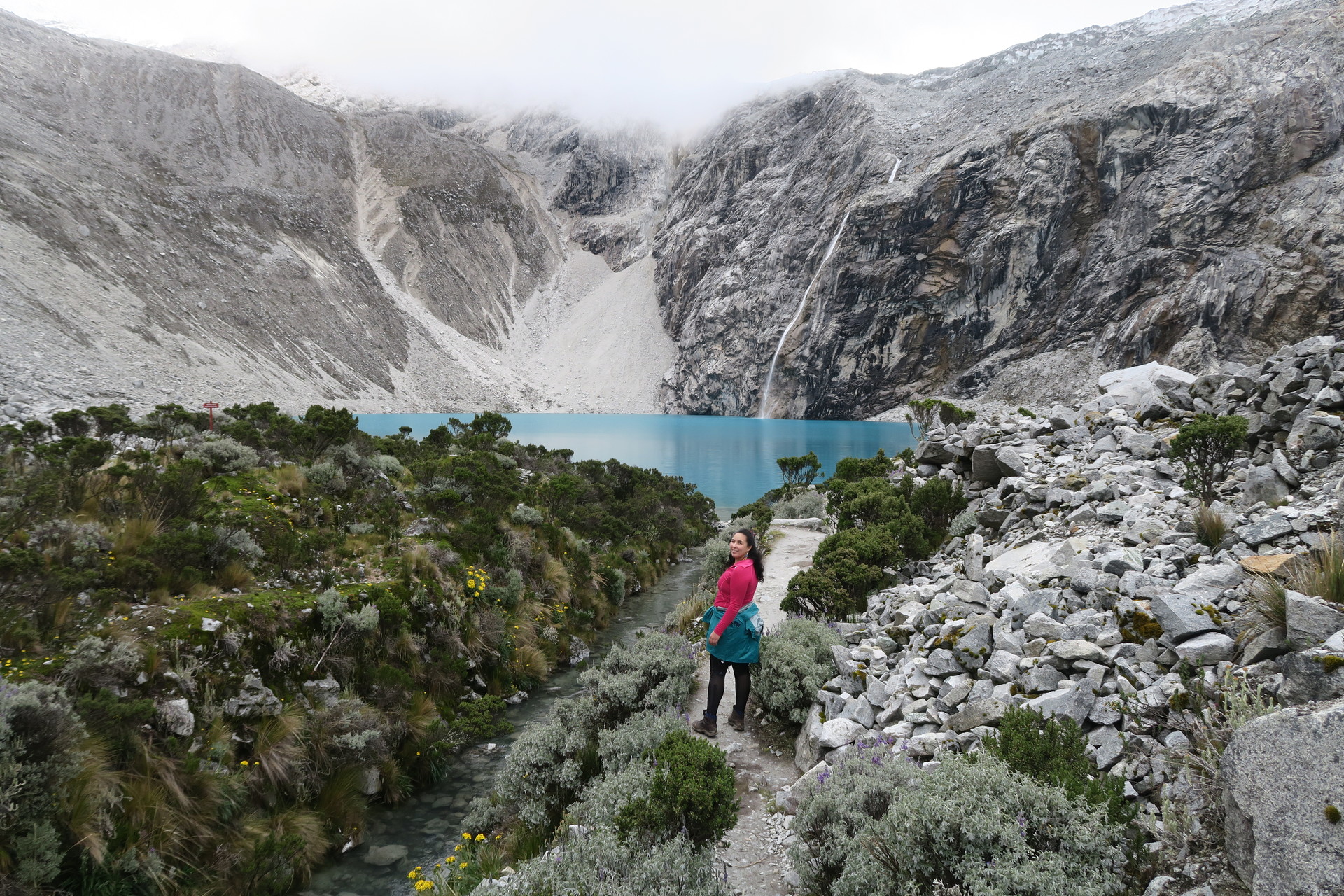 ---
Photo gallery
---
Want to have your own Erasmus blog?
If you are experiencing living abroad, you're an avid traveller or want to promote the city where you live... create your own blog and share your adventures!
I want to create my Erasmus blog! →