Falling in love with Sardinia
Architecture and landscape

10 / 10 points

Entertainment

6 / 10 points

Culture and customs

10 / 10 points

Transport

6 / 10 points

Gastronomy

10 / 10 points

Prices

6 / 10 points

Party

8 / 10 points

Weather

10 / 10 points
---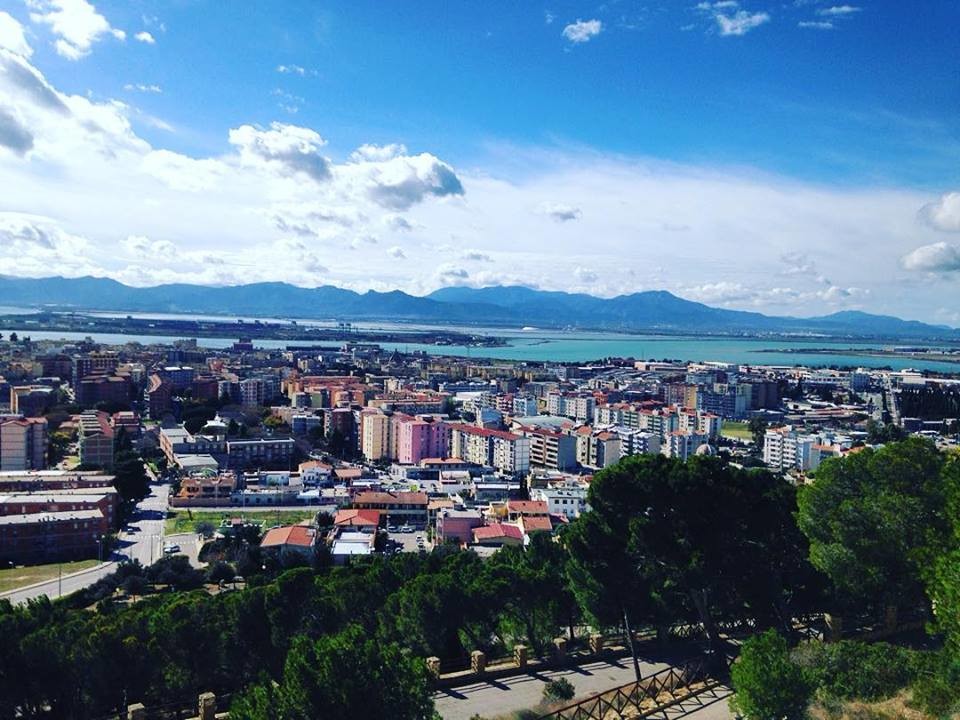 Cagliari
Why Cagliari?
Well, I have to admit that when they assigned me my Erasmus destination I didn't even know where the city was, apart from that it was in Italy. As soon as I knew the destination, I went straight to Google Maps and discovered that I would be completing my Erasmus on an island! In Sardinia to be exact, and the only thing I knew was the typical thing they teach you in college, the islands of Italy: Corsica, Sardinia and Sicily. The end.
The second thing that I did was to look at photos and that was when I thought I couldn't have been given a better location; I was looking at the best beaches I had seen in my life. And I hadn't even arrived yet.
What did you do when you arrives and how did you find accommodation?
Well, many people that I had spoked to before going and that I was going to do an Erasmus with in the same city looked for a flat before arriving. But the truth is that I, and many other Erasmus people, do not trust finding and booking a house in another country without having first seen it.
Mostly, what we did was the following: reserve a room in the Hostel Marina for three nights. It's a hostel for young people found in the centre of Cagliari and it's quite affordable, depending on if you book a single or shared room. The hostel was very good, to be honest, as it had Wi-Fi and included breakfast, and it was full of young people, Erasmus people or people that were travelling, but at the end of the day it was the best way to start the Erasmus and to start meeting people from all over the world.
(By the way, if you're not wholly comfortable with arriving to an unknown country and you have to get to the hostel by your own means, you could let the ESN group for Cagliari know. For us, they came to pick us up from the airport and took us to the hostel :))
During the three days in the hostel I threw myself into looking for a flat and, although the ESN group did help us, the truth is that the best places I saw I found myself. At last I found a flat that was quite nice for €230/ month with two girls also doing an Erasmus that I met in the hostel. We found it on a wedpage called Subito (http://www.subito.it/), which is a page that they often use in Italy to rent flats and rooms. And, well, in respect of time, I personally think that three days is sufficient for finding a flat in Cagliari.
In respect to the area, the majority of people find flats in the area San Benedetto, which is near to the centre and tends to be cheaper. Although in the centre there are also quite nice flats, the majority cost around 200-300 euros.
An important thing: your mobile phone
It could be that some of you don't already have roaming, but for those that do, as I did when I arrived, here is some advice.
Looking for a mobile company was, in fact, the first thing I did upon arriving in Italy. I was in a new country without a phone, my family was going crazy and I needed one to communicate with them and, something even more important, to use Google Maps to be able to get around.
In contrast to Spain (or England), in Italy there are many cheap phone companies such as TIM, WIND, TRE and Vodafone. I personally used TIM, and found an offer for €10 for 3GB, 3, 000 minutes and 3, 000 texts. Although I must admit that I almost never topped up my mobile, it continued to work for a few months before it cut me off. In total, I think that I topped up my phone three times the whole year, that is to say I paid €30. Which isn't to bad…
I also knew people with the company TRE who received 1GB, 800 minutes and 800 texts weekly for a month and a free cinema ticket every week for only €12 a month. Incredible, right?...
How much does it cost to live in Cagliari?
Living costs always depends on what you buy. Obviously, if you come from cities such as Madrid or Barcelona (or London), Cagliari for you will seem quite cheap. For me, for example, coming from Murcia, living costs seemed the same if not slightly higher. Nevertheless, independent from this, Cagliari is one of the cheapest cities in Italy.
I spent, including my flat, expenses, parties, food, around 400-500 euros a month. It also depends on the standard of living that you want to have, but with this amount of money you can live perfectly well.
Food
The food is generally more expensive than that in Spain, especially the meat and fish. And, unfortunately, there isn't a Mercadona, but you always have to try to go to the cheapest place. I always went to the LD supermarket, which seemed the one of the cheapest to me, and Carrefour, which is always more or less the same everywhere.
Transport
I don't know if you've been to Italy but, if you have, you will know that the public transport in Italy is 'a bit of a joke'.
The first day that I took a bus in Cagliari I went to pay the driver and saw that there wasn't a box for the change and that the people passed on through without paying or doing anything, so I was stood there, a bit unsure of what to do. A bit later I understood that you can buy tickets or passes in some machines (there are very few in the city) or, where the majority of people buy them, from places called 'Tabacchino'. Shops for all things.
But to be honest, the majority of Italians and almost all Erasmus people do not buy tickets for the bus. And why? Well, simply because the driver isn't a ticket inspector, which there aren't many of, and, well, when you count the euros for travelling or for possibly going to parties, because you could save something, let's be honest, you'd do it too.
But, if you're one of the people who worry about getting caught, I often had a ticket in my purse (they cost €1. 25 each) and would stamp it quickly if I ever saw an inspector.
It is true that I was once caught and they gave me a fine (there they are €25) but I gave Spanish address and a wrong ID number and never paid it… :))
With this, I do not mean to incite delinquency, I'm only saying what 90% of the people there do, then it's every man for themselves; )
Accommodation
I have already mentioned this before, that rent is normally around 200-300 euros. And the invoices 'le volete' were, to the majority of people, the same that they would pay in Spain, but you have to be careful because there were Erasmus people that were ripped off with bills of €500, and they could only eat potatoes after that. Many landlords see us foreigners and young people and think they can rip us off, but don't let them cheat you! Because nobody rips us off!
Travelling
If you're somebody who likes to travel, and if you're on Erasmus, and I am sure that you are, I have good and bad news for you.
The good news is that for between Italian cities there are very cheap flights, great for a quick get-away (I caught a flight from Cagliari to Rome for €9. 99 with Ryanair). There is also a bus company, called Flixbus, that have bus routes between Italian cities that are super cheap, and then in each city there's the monkey business with public transport…; ) It is also easy to find journeys to other countries, sometimes for even cheaper than to the cities!
The bad news, my friend, is that you're on a gorgeous island, but the islands are not very well connected and it will cost you more to travel than those found in 'the boot'… but let's not be dramatic, an Erasmus person is an expert in finding the cheapest flights on Ryanair. And I personally travelled to and between Florence, Bologna and Milan for only €40 including return!
The language
When I arrived in Italy, I knew practically no Italian. I had done an online course for A1 in Aula Fácil, which, by the way, is very good, because my university asked me to take an exam and pass with at least this level of Italian. But, when I arrived, I knew next to nothing, so I decided to sign myself up to a course provided by the university for B1. If you want to sign up here is the link: http://www.cla.unifi.it/. The course cost €80 and lasted 2-3 months, three times a week for two hours a session. It's quite reasonably priced and it helped me, but I honestly believe that if you truly want to learn Italian then you need to get together with Italians and make yourself learn by force, as this is definitely the fastest and most efficient way.
So, if your question is whether or not you can skip the course, in my opinion, you can, it's nothing essential.
Furthermore, Italian is very similar to Spanish, and, although it does depend on your language capabilities, I assure you that if you speak it every day you will end up learning it quite well and quite quickly! I would advise you to not just go out with people from your own country, because you are spending your year in Italy, and you'll have missed the opportunity to have learned a new language!
When the year was over, I signed up for an exam for B2 Italian, the PLIDA, that I think, after a year, is quite accessible. The exam for B2 cost me €95. The good thing about this exam is that, if you don't pass part of the exam, you can resit and pay for only this part!
Here is the official website for PLIDA: http://plida.it/
But… what is the night life like?
Now we're moving onto one of the most important matters for an Erasmus. Like all Erasmus people that boast, I know and trust that you will find a party, even if it's hidden under a rock. But, just in case you find yourself a bit lost, I can give you some indication to the party life in Cagliari.
As well, if you arrive in September, you will find that all the clubs along the beach are still open and, of course, the ESN group organise various nights out to here. In Poetto, Cagliari's main beach, there are quite a few clubs, but the ones I liked the most were Frontemare, LIDO and SaxBeach. They are all clubs on the beach in the sand, and we did a botellón (binge-drinking in a group of friends in Spain) here on the beach because it's more comfortable than in a bush (you should know that in Italy they don't sell ice, and though you can make your own, in the end you get used to drinking it hot; ) ). The music changes depending on the day and on the party, but normally it's Pachanga. To get to the clubs on the beach you can take a bus from Via Roma, the main street, which takes 15-20 minutes, or, if you have the money, you can take a taxi and, if you are sneaky you can become friends with people with a car; )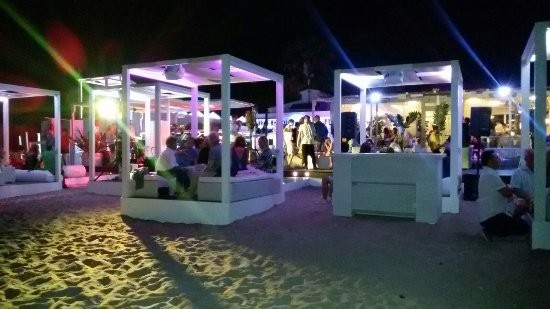 (Frontemare (photo from Google Images)
From October to May, these clubs are closed and the ones in the centre open. The central clubs that Erasmus people most frequented were: JKO, LineaNotturna and Cocó. The first is one of the largest and we liked to go there on Fridays because they had a 'Night of Mischief', although it was also quite good on Saturdays. The second we went to every Thursday (obligatory) and the third was, personally, my least favourite because you often had to pay and it was a bit further to get to, but it was quite good on Saturdays.
Also, in June a club opens in a small bay (Calamosca) called La Paillote, it's a club that people go to on Sundays in the afternoon and it's out of this world! It ends around 11pm/ 12pm and when you leave you go to Poetto to eat a sandwich typical of this area, the cadozzoni!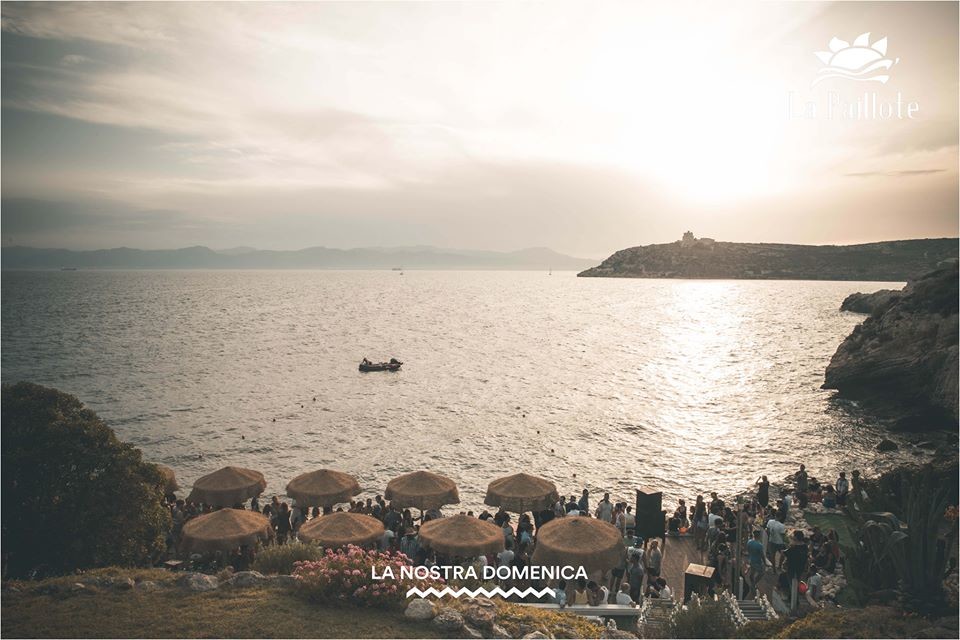 La Paillote (photo from Facebook: https://www.facebook.com/pg/clubuscagliari/photos/?tab=album&album_id=1513815335311392)
As for the entrance fee, it tends to be free entry for everyone until 1:30pm, after which it tends to be between 5-10 euros.
As well as this, the ESN group always organise themed events, renting places with open bars and things like that. So, you don't have to worry because you'll never be short of a party!
If one day, strange as you may think it to be, you fancy something calmer, in Piazza Yenne, which is in the centre of Cagliari, there are lots of bars for drinking or for having a typical Italian 'aperitivo' at eight in the afternoon (a buffet with a drink for only 5-8 euros! ). Furthermore, on Tuesdays we often went with the Erasmus group to Foghorns, which is a small pub, but it has a free bar of beer for only €10, and when we left there we would go straight to a bar to drink some shots to finish the night!
In any case, if you want to party or to plan something a bit calmer, you will always find something!
And, if that weren't enough, there are two National Events. One tends to be in Rome around November and costs around €50 including events, t-shirts and everything else (apart from accommodation and food), but it is great to see Rome, which is incredible, and to hit up some huge parties. And the other, which is more well-known, the National Event in May, costing between 150-200 euros (but it depends on the ESN group that you're with). Every year it's an enormous party in a place with parties on the beach in the morning and afternoon, and parties in the clubs for the night time. It often includes accommodation, the parties, transport there and back and two meals. And it is totally worth it!
The university
The University of Cagliari is not one of the best in Italy, but I had quite a good experience and, in general, it was the same for everyone there. I'm not going to say that you'll study absolutely nothing, because you have to do something despite being Erasmus…; ) But you'll study much less compared to when you're at your home university, and you tend to receive quite good grades! And the language doesn't have to be an impediment! It's quick and easy to learn (at least, it was for me) and the professors will help you a fair bit.
In Italy, almost all the exams are oral, which might seem quite intimidating if you haven't ever done an oral exam, just as I hadn't… but, in the end, you will see that they're much better! They're shorter, the professors help you more and they give you better grades!
There are usually quite a few 'appelli' (resits or other opportunities to sit the exam) for each exam during the year, so if you find yourself rushing revision or overwhelmed by the busy Erasmus life… you can always postpone the exam for the next exam date! But, be careful to not run out of time!; )
Weather and scenery
This is, without doubt, what made me fall in love with Cagliari. If you like the sun and incredible beaches, you are in luck.
Cagliari is called the 'Città del Sole' (City of Sun), because it has great weather almost all year round and loots of sun. Although, this doesn't mean that there's aren't some days of rain in the winter, or that you won't ever need a jacket, but it's never too cold.
If I were to name all of the innumerable beaches of paradise that there are in Sardinia, I would surely never end, but I can name some of the ones that it's obligatory to go to.
To start, in Cagliari there is the Poetto beach, which although is lovely it's more average compared to the gorgeous beaches in Sardinia, but it is the closest to the city and if you want to go quickly one day, or go to a beach bar, or go canoeing (it's quite cheap) it is the best place to go to!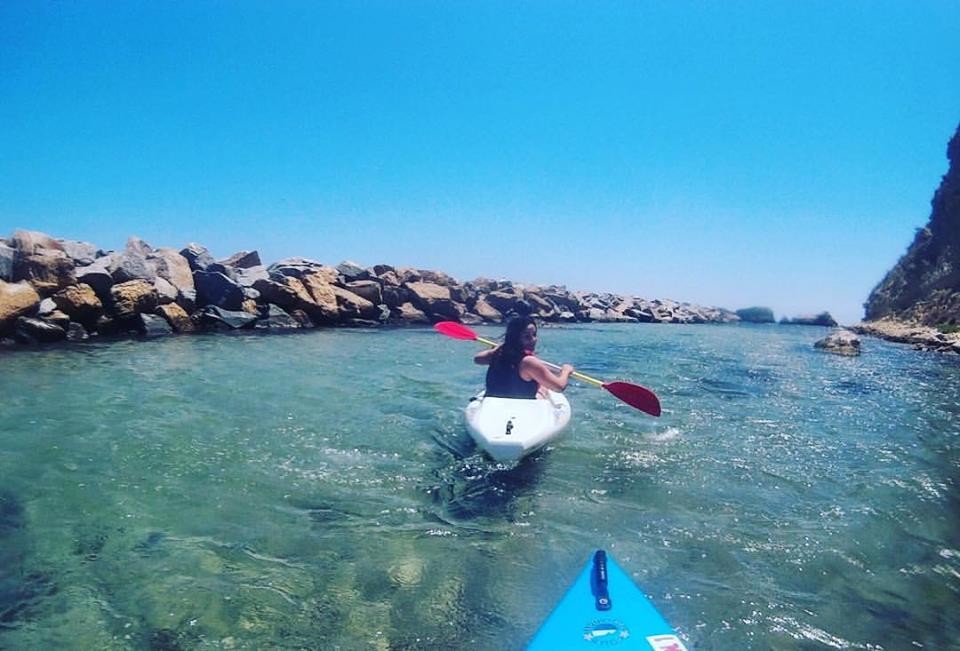 Canoeing in Poetto beach.
Then there are, for example, the beaches of Chia or Villasimius which have crystal clear waters and gorgeous blues. To go to them you'd have to take a bus that take around an hour, but is totally worth it. Chia is more of a paradise, in my opinion, because it's a natural space with dunes of white sand and everything is well looked-after. Villasimius is very pretty, but it is more touristic and it's next to the city.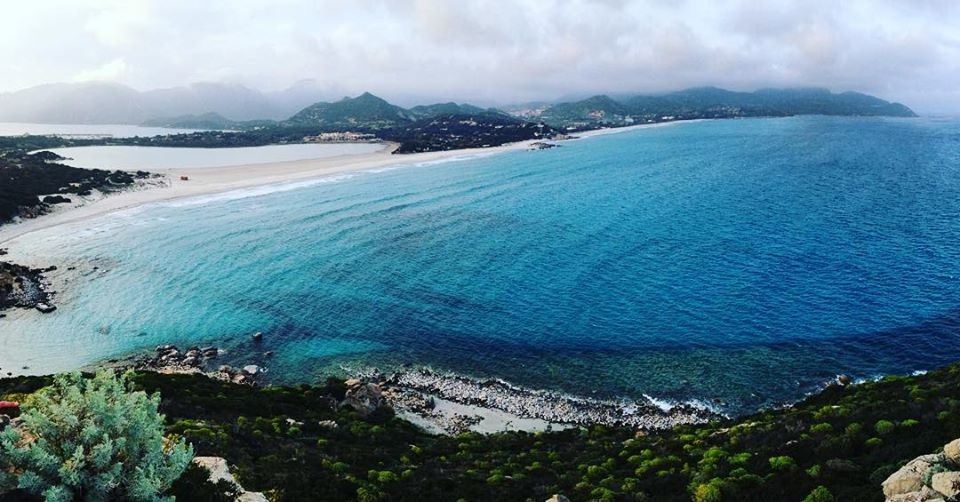 Villasimius in winter.
Then there are beautiful small bays like Cala Luna, Cala Mariolu or Cala Goloritzè, which are absolutely incredible. You can go by car and do a walking excursion, or rent what they call a 'gomone', a boat with a motor to move between coves.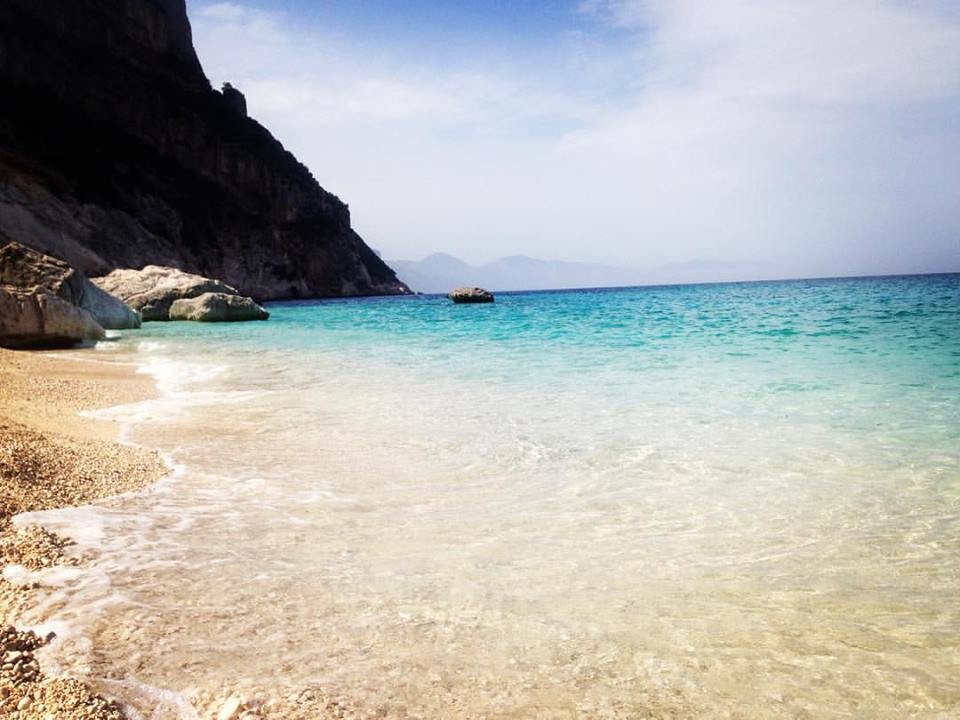 Cala Golortizè.
In the north of the island there is the Emerald Coast, which also has gorgeous beaches and, if you go in summer, there are many great clubs and parties; ) We rented a car to go there for three days and to go there, including fuel, it cost only €30/ person for three days!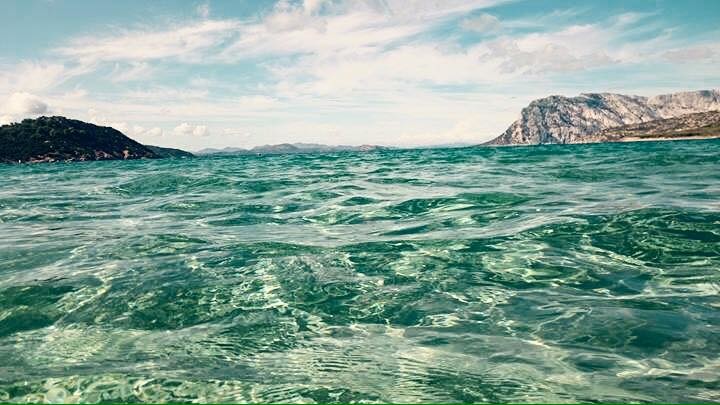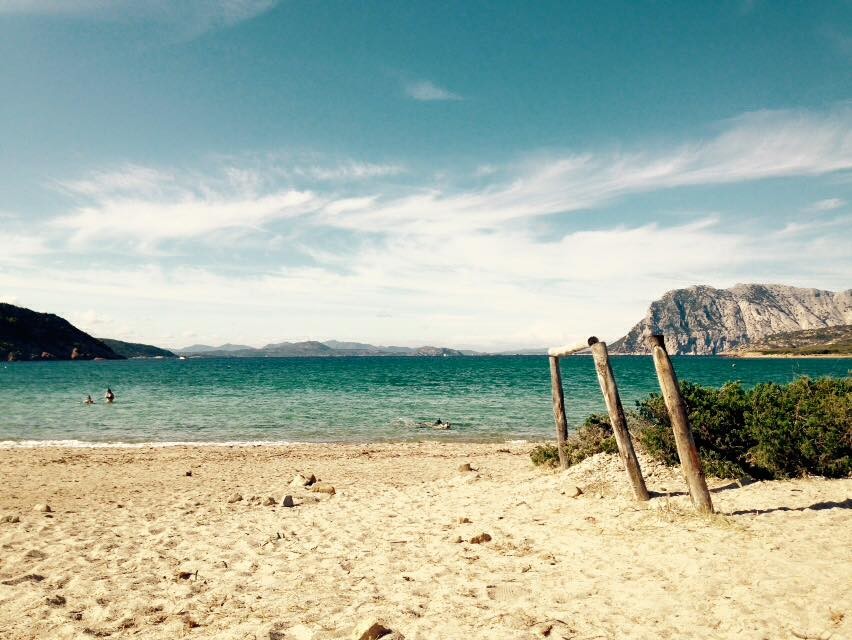 Emerald Coast.
Further north is the Maddalena Island, and, well, there are no words!
If you want to visit a city I recommend Alghero or a small town in the centre of Sardinia.
Here is an Instagram link so you can see how incredible Sardinia is: https://www.instagram.com/sardegna.geographic_official/?hl=es
Gastronomy
It's a well-known fact that Italian food is incredible, but until you try it yourself you cannot even begin to truly imagine how good it is. I love gastronomic tourism and I would return to Sardinia just to go back and take a tour of the places I tried there. Furthermore, Sardinians love to eat and it is likely that if you go out on a Friday or Saturday at night to eat, you will find the majority of places are full if you haven't reserved a table.
There, every pizzeria or restaurant cooks amazing food but, as always, I have my preferences.
When it comes to pizza, you cannot go to Cagliari without going to Pepe Rosa (I recommend 'la parmigiana'), this is a restaurant and it's a bit more expensive than average but a pizza won't cost more than €10. The Pizzetta d'oro is a very small place that only sells take-away, but it makes the best pizza slices that I have ever tried. Both Pepe Rosa and Pizzeta d'oro are close to an ice-cream shop called Fresca Voglia, where I tried some of the best ice-cream in Cagliari so, of course, it's a mandatory dessert.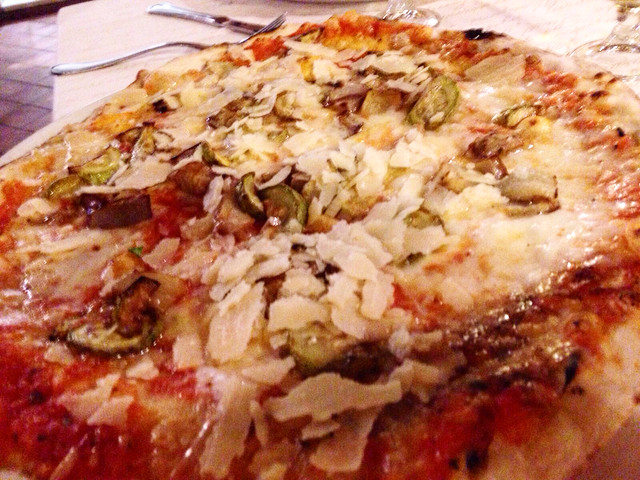 Parmigiana from Pepe Rossa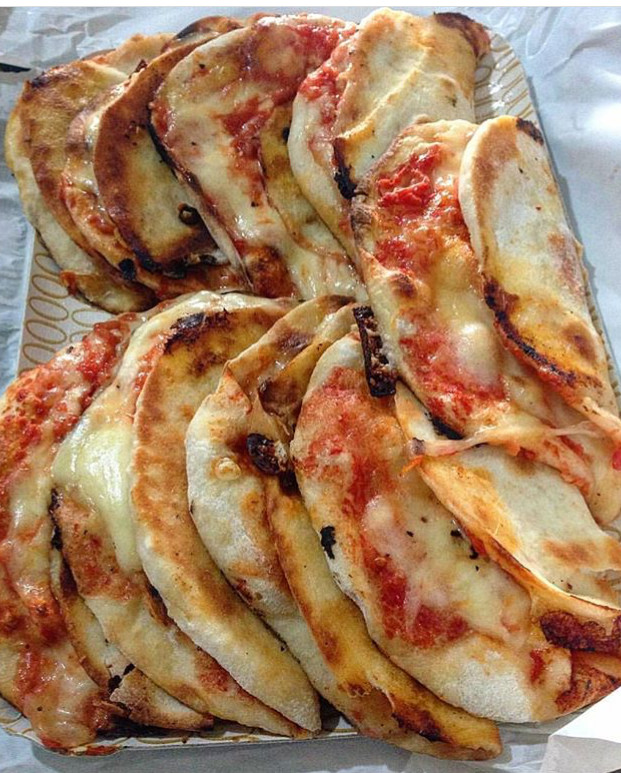 Pizzetta d'oro (image from Instagram: https://www.instagram.com/cagliarifood/?hl=es)
When it comes to hamburgers, in Cagliari there are loads and each one better than the last! My favourite is Polpa, which is also in Spain, but there are others like Bombas, Picanhitos or Retroburguer, which are also incredible!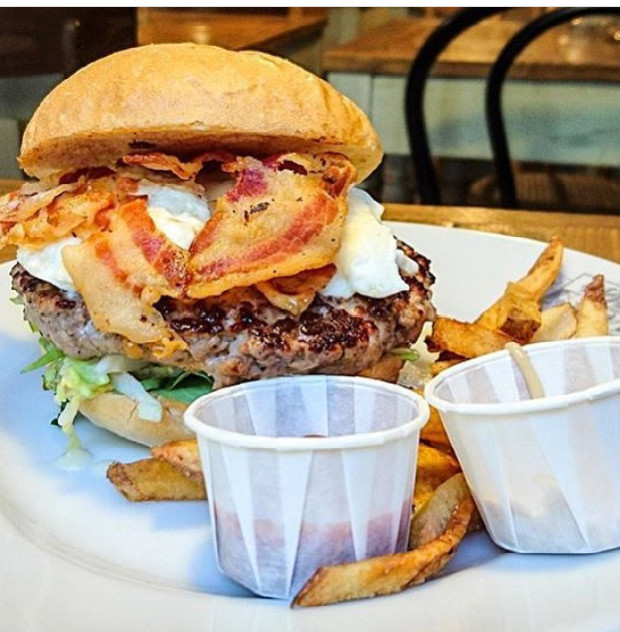 Polpa burger (image from Instagram: https://www.instagram.com/polpaburgertrattoria/?hl=es)
For those with more of a sweet-tooth… you can't not go to Black Sun, which makes the best crepes, waffles, croissants and cakes that I have tried in my life! And if you're one of those who get an attack of hunger at six in the morning when coming back from a party (I'd be amazed if you're not), there is a bakery that is open aaallll night long and sells whatever you want, stuffed with whatever you want, warm and cheap, called Manuel. There is also a place that is open until quite late that makes incredible croissants filled with whatever you like, called Cornelio. Continuing on the topic of sweet food, near to Piazza Yenne (in the centre of Cagliari) there is an ice-cream shop called Cremoso, and, well, I think the name says it all!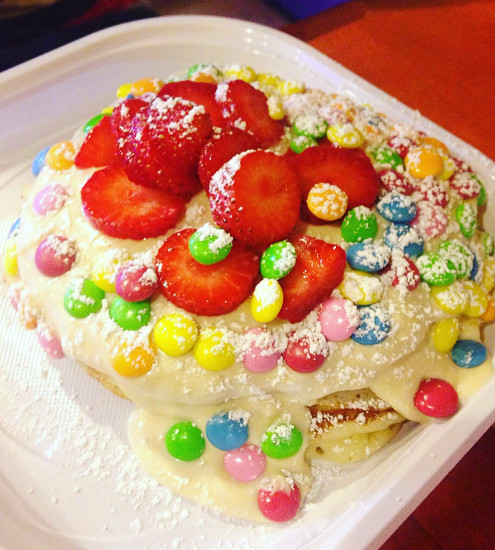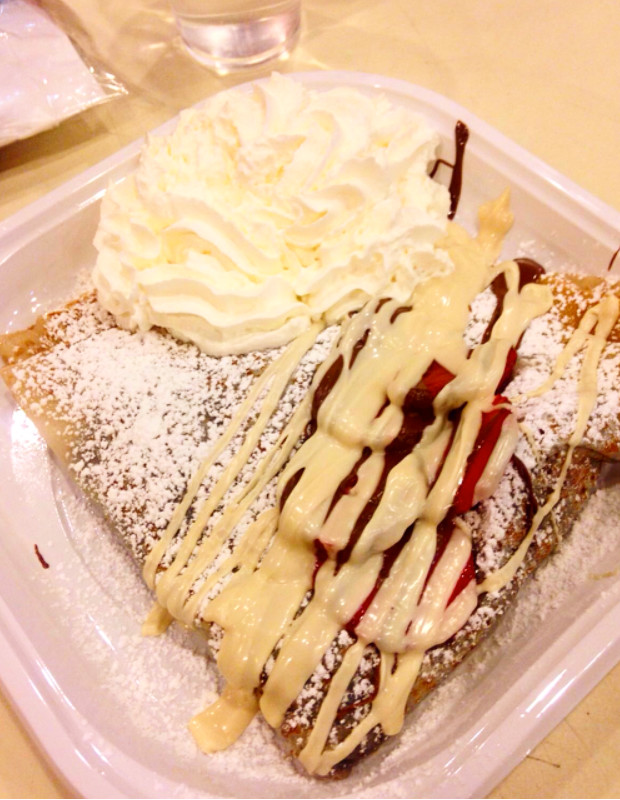 Black Sun.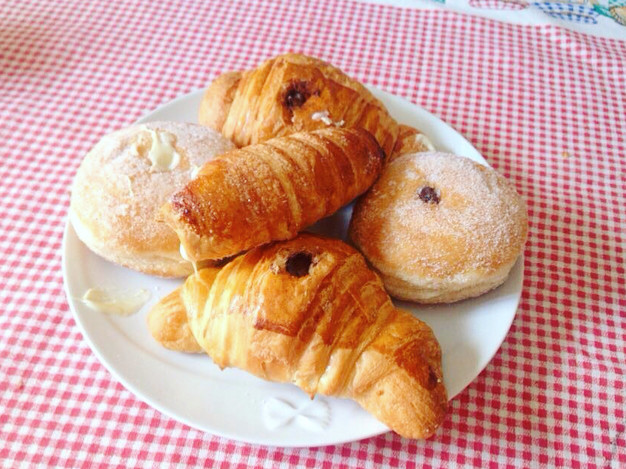 Manuel bakery.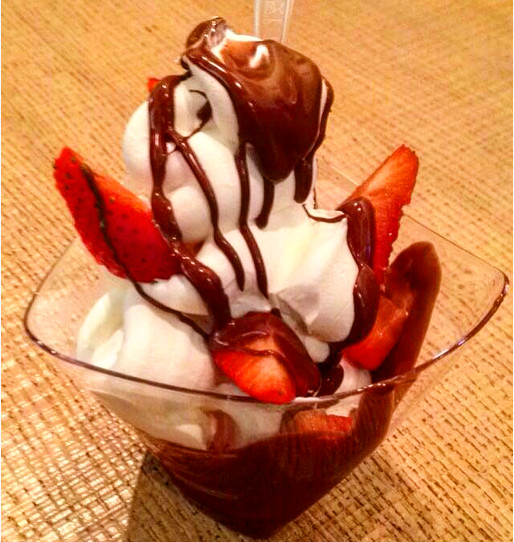 Cremoso.
There is also a great place to share with you that is called Piadina & Co, phenomenal!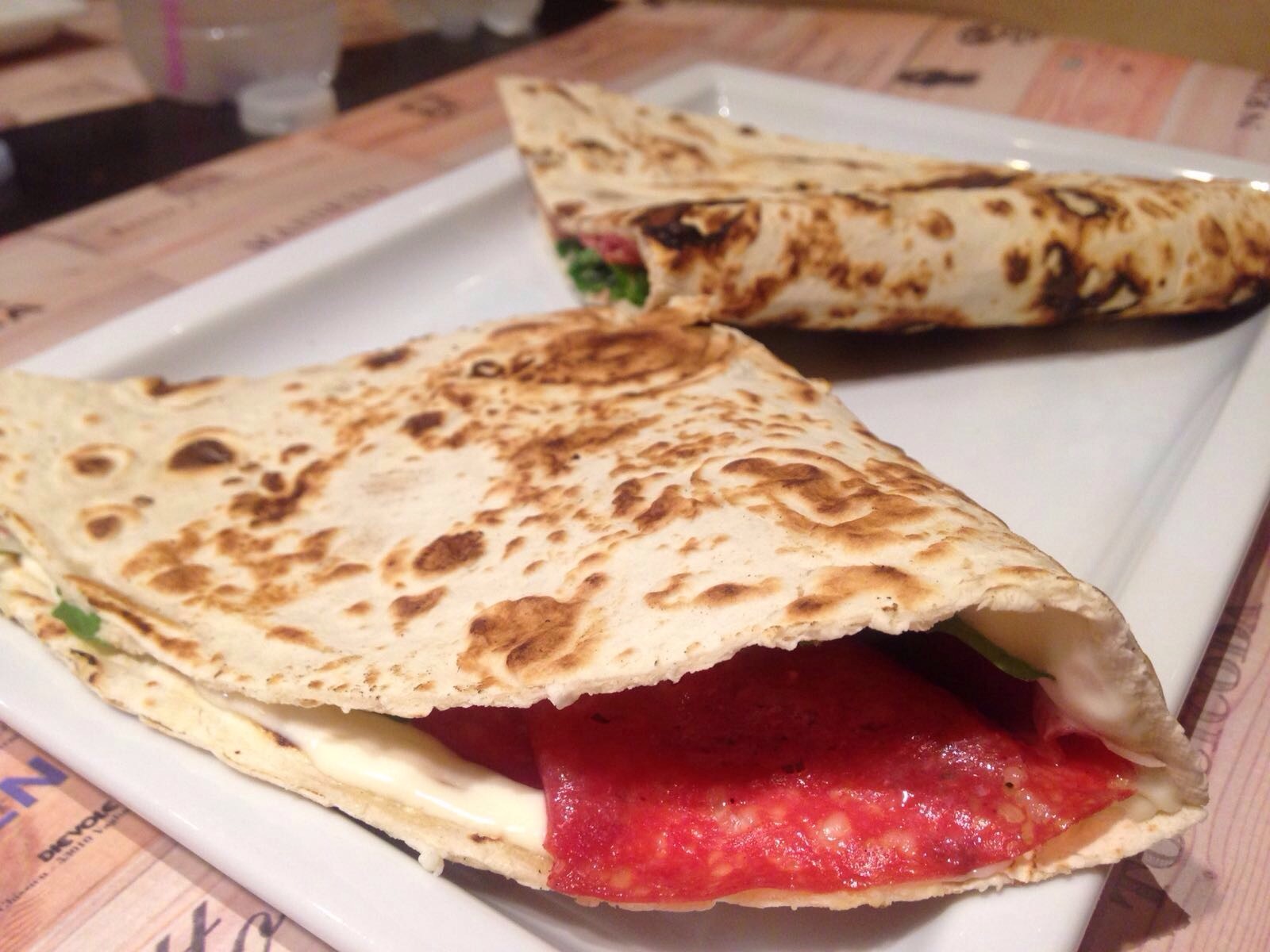 Piadina & Co
And so, it's obvious that you cannot go to Italy without having a typical 'aperitivo' at eight in the evening. I have to say that I don't particularly like the typical aperitivo drink, a Spritz, but you have to try everything! And, if you are one of the people who doesn't like it, you can always ask for a Ichnusa (excellent Sardinian beer).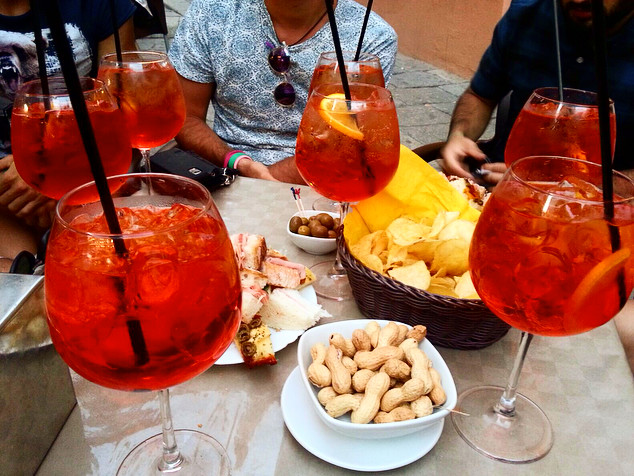 Aperitivo with Spritz.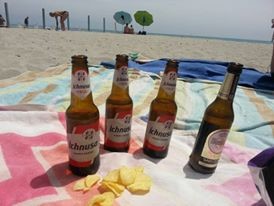 Ichnusas in Poetto.
If you're more into fast food, don't expect to find too much here. There are two McDonalds and that's it! But, if you are truly a lover of gastronomy, I assure you that you won't miss it!
Well, as I could continue talking about food all day long, here I leave you an Instagram account of food places in Sardinia, each one better than the last: https://www.instagram.com/cagliarifood/?hl=es.
And, importantly: What will I miss whilst in Italy?
During long stays in a different country it's normal to feel a bit homesick every now and again, missing your family, your friends, your dog… but there are a few things that every Spaniard will miss whilst in Italy:
Ham and cold cut meats: there they are expensive and, in my opinion, it is nothing compared to our serrano ham.
Fried tomato: in Spain we often buy fried tomatoes but unfortunately this does not exist in Italy, where you will find natural grated tomato, but not the fried tomato as such. And I really missed it!
Cola-Cao: they also do not sell this in Italy, but for this there are more Italian alternatives that also work.
Sunflower seeds: yes, in Italy there are no typical bags of sunflower seeds.
Send a box, receive a box
You will surely want to have things sent to your given destination and to send things back to your home address even more. And, furthermore, to have things sent to you that you miss whilst in Italy. Practically everyone sends boxes or suitcase through the webpage: https://www.packlink.es/
I tended to send the largest box I was able to send, measuring: 50 x 40 x 60 and weighing 20kg, although I always sent larger, heavier boxes than this, but they never checked; ) And it cost me around 30-35 euros. Much cheaper and easier than checking in suitcases on the airplane!
The health service in Italy
Not to say that the health service in Spain is anything to shout about, but we all know that it's much better than in other countries and yes, it is better than that in Italy. Like any Erasmus, it's not abnormal to end the night with somebody having broken their arm… and when you go to the emergency room, you'll find it takes an age and a half for somebody to attend to you, and they attend to you quickly and in a rush, and sometimes the diagnosis of the Italian doctors doesn't correspond to that of Spanish doctors. Don't ask me why.
So, if you have to go to the emergency room or to the doctor in general, as you surely will at least once, have patience! If you don't, find some medical friends that will take care of you! And, of course, do not forget your EHIC; )
Sport
This is not the most popular among Erasmus, but everyone wants to look good for the National Event. So, if you want to cheat by going to the gym the month before and forget how fattening alcohol is… you should know that in Cagliari you can easily try this.
There are cool and expensive gyms throughout the city, but the university has a gym available for €4/ year, CUS, that is quite small but, hey, it does the job!
If you want to save those €4 for a cheap bottle of gin, there are quite a few parks where you can go to train and there are groups of people that go there to train in the open air. Furthermore, I used to run around the harbour, where there is a perfect route, and it has beautiful views!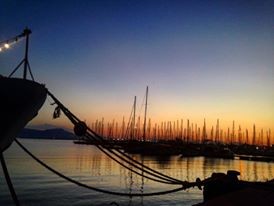 Cagliari Harbour
Culture and customs
Italian culture is quite similar to that of Spanish culture, and even more so in the south! Generally speaking, the people are friendly and welcoming and will always help you if you need! Although, I have to say that they are a bit more reserves, but not drastically.
The customs are also quite similar, the only difference is that the meals and dinners tend to be eaten a bit earlier than in Spain and they're larger… so I am sure it won't be difficult for you to adapt to life in Italy!
And, after all this… What would you recommend?
Well, I think the answer is obvious, but in case anybody decided to skip straight to this part… I can only say that I could not have gone to a better location to live my best life, doing an Erasmus; the sun, the beaches, the people, the atmosphere, the parties, the food… EVERYTHING!
So, if you are having doubts about whether or not to come here, or if you do not know what destination to choose, I can't tell you much more than: without a doubt, come here!
I hope that my experience has been useful!
Best wishes to all :)
Sara Sánchez.
---
Photo gallery
---
---
Content available in other languages
Share your Erasmus Experience in Cagliari!
If you know Cagliari as native, traveler or as exchange student... share your opinion on Cagliari! Rate different characteristics and share your experience.
Add experience →