Tips for traveling to Budapest
Whether you're coming for holidays or you're moving here permanently, there are certain things that you should keep in mind. I have tried to compile them all into one article for the sake of simplicity.
When I first moved here, I didn't know any of this and I wish someone had told me all that before hand. So here's my two cents on this matter.
Do not change money in the airport

If yo are coming here via the airport then do yourself a favor and do not change money in the airport. Yes this sounds pretty simple and everyone knows that airports have really bad exchange rates. But Budapest's airport is on another level, you can't imagine. Hungary's currency is called forints, one euro is about 300 forints and one US dollar is about 270 forints. I changed 100 US dollars, which is an equivalent of 25, 000 forints but in the airport they gave me 20, 000 in exchange for 100 US dollars. JUST imagine. 5, 000 forints is a lot of money, you can buy a sweater in Bershka or have a meal for two in an inexpensive restaurant with 5, 000. A better alternative is to change some money before coming to Hungary, buy the currency from your local money exchanger.

Well technically given I changed money in the airport last year, those were the exchange rates. This summer forint has lost a bit of it's value and so the exchange rates are something like one Euro is 320 Forints and one Dollar is 270 Forints. That's good news for travellers I guess then.

I know majority of us traveling to Budapest don't have Forints with us so I'd suggest using your Credit card to pay for the transport tickets and then changing money when you're in the city.

I'm going to introduce one of my favorite spots to change money. This money exchanger is right in the city center and they are highly well-known for having fair rates. In fact if you go there, you'll need to wait in line for about half an hour or so but it is worth it as they don't charge commission either.

There is this small shop at Deak Ferenc ter, I literally know that you all are thinking oh my god Deak again, don't you guys have any other areas in Budapest and truth is that Deak is one of the most accessible areas in all of Budapest and it's one of the most touristic areas so get used to me mentioning this area allllll the time. And I mean all the time. So, anyways, this money exchanger has a great location so you can reach it anytime by any transport medium. Just get on the metro line M3 (the blue line) and get off in Deak or get on Metro line M2 (the red line) and get off at Deak Ferenc ter. Basically anywhere you are in Budapest, there is a way to get to Deak. Once you reach there take the Karoly Korut exit, this is literally the only place where it might get a little tricky because there are so many exits but just follow the sign boards and get out only at this exit. Once out, you will need to either cross the street or just walk to the money exchanger. The owners as far as I know are Persian and hence it's called "Kiani Sarafi" or Kiani money exchanger

Don't shop at the airport

Don't buy anything in the airport. Okay it sounds like a whole lot of warning and it's not that there is anything wrong with buying stuff in the airport. It's just that it's so much more expensive than the city. This specially holds true for food and drinks. I went into the supermarket in the airport to buy some mineral water and a small bottle of water cost about 450 forints, now the same small bottle of water costs around 70 forints in the city. How many times more expensive is that? That's math I can't even do. So yea if you weren't really thirsty or hungry avoid buying too much food in the airport. Think about your bank account balance.

Buy a transport pass, don't keep using single tickets

If you're in the city for more than 24 hours, then buy one of the transport passes. Okay so let me explain how it works. You would need a transport pass for using the public transport. If you are caught without a pass, you would be fined 8000 forints if you pay on the spot and 16, 000 forints if they write you a ticket.

Now that we understand the consequences let's take a look at the options that you have.

List of ticket types:
Single ticket – 350 forints
Single ticket bought inside a tram or bus: 450 forints
If you are only in town for a day or two, you can purchase the 24 hour or the 72 hour tickets. These allow you to use your pass as much as you need in the allocated time.

A 24 hour card costs 1650 forints which is pretty reasonable, you even have the option of purchasing it for a group of 2 to 5 people. The 72 hours card costs 4, 150 Forints which is about 13 Euros or so.

You have the option of purchasing a "Budapest Card", which is basically a card that includes discounts to various attractions; I have never purchased this card and so I can't tell you whether or not to buy this. When you purchase the Budapest card, you can use the public transportation for free and get discounts for up to 21 attractions.

The tickets cost 6, 490 Forints for 25 hours and 12, 990 for 72 hours. The prices are quite high but if you plan on going to majority of these attractions they could be worth it.
For more information check out: the Budapest Cards website.
If you are staying in Budapest a little longer than a couple of days, then the monthly passes might be a good choice for you.
If you are not a student, you will need to purchase the normal monthly pass for about 9, 500 forints. That is a lot of money. When I first moved here, I purchased this one because I didn't have my student card yet. In comparison to Western European countries, it's really not that much but for someone living here that can be quite pricey.
The student pass is very affordable. I used to think that it is only for students studying in Hungary but last night when I was reading up on the BKK website I saw that it's apparently available for students within the European Union, if that's the case, then you are in luck. The price of the monthly pass for students is 3450 forints, which is one third of the normal price.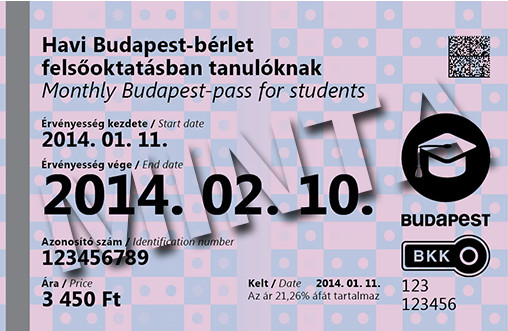 I think if you're staying here for a couple of days buy one of the transport passes as it will turn out to be cheaper than buying single tickets all the time.
Stay in Pest!
As we all know Budapest is made up of two areas called Buda and Pest which are separated by the river Danube. Back in the days they used to be separate cities each on their own and later on they united as one. During the Second World War, majority of the bridges were blown up and so communication between Buda and Pest was nearly impossible. Anyways nowadays Pest is the more metropolitan side of the city whereas Buda is the cleaner, safer and more expensive neighborhood. I would describe Buda as the uptown and Pest as the central hub. I live in Pest because my university is around here and majority of other students like me live in Pest.
I think if you are visiting Budapest as a tourist, don't stay in Buda. As beautiful as it is, it's not as well connected to the city center. Majority of the sights are in Pest and Buda generally tends to be too quiet. If you're in town to party then stay in Pest. I'm sure you won't regret it. And pretty sure the accomodation in Buda is pricier.
Changing money via ATMs
If you've got a credit/debit card and want to change some money to the local currency you can. There are these HUF-EUR ATMs that you can change money in but they charge you quite a bit. They are blue. I would advise you to use the bank ATMs. Banks like OTP have quite a few ATMs all across the city.
I will include more tips as we go on. Hope you find this useful.
Cheers!
---
Photo gallery
---
---
Content available in other languages
Want to have your own Erasmus blog?
If you are experiencing living abroad, you're an avid traveller or want to promote the city where you live... create your own blog and share your adventures!
I want to create my Erasmus blog! →