The first strudel house of Pest
The first Strudel house of Pest
Address: 1051 Budapest, Oktober 6 street, number 22
Opening hours are every day from 9 am to 11 pm
I have this obsession with trying unique things. Like if I want to go to a café, I need to know what makes this café unique and outstanding. I'm always up for trying new but most importantly unique things on the daily. So when my friend asked to meet up in the afternoon and to find a nice place to do so, I knew I had to try to find something good enough. So the search began, I talk as if I spent hours on the street looking for the perfect café when in fact all it took was a 10 minute internet surf. I had seen this place on the internet before, every time I searched for a café near me, this popped up. I checked their reviews and the majority of the people were raving about the place. Plus I'm a sweet tooth and there's nothing like sweets in the world that would motivate me. I texted my friend the address and told her to meet me there.
The place isn't so far from me, it's really nearby the city center. It is in fact in the city center. It's really nearby Deak Ferenc Ter and the Basilica church. So if you're nearby sightseeing and want to sit down for some fine strudels, you know where to go.
The restaurant is really large and has got a lot of sitting space, of course given that it's summer we decided to sit outside. I mean we don't get a lot of these beautiful and sunny summer days, so we might as well make use of it.
The staffs were kind and well-mannered. This of course shouldn't come as a surprise but the truth is chances of encountering a not so kind staffs are pretty high here in Hungary. This happens a lot less during the tourist season and summer time but there have been times that I felt like a restaurant, café or even a cashier could do better and be more kind. Anyhow that's a topic for another day. The really cool thing about the menu was that it as written in SO many languages; I mean they had in English, Hungarian, German, Russian and a few more languages, which was really cool. The place is a restaurant and so it had a lot of different food, I didn't check out the food but the prices were moderate. This place was definitely not cheap.
We looked over the strudels, I ordered an apple strudel with cinnamon sauce and vanilla ice cream (yea I know my mouth is watering even while typing this) and my friend ordered some berry something strudel. I really don't remember I wasn't paying attention to her strudel. There were two medium sized strudel on the plate, they strudels were so soft, juicy and creamy. I think it was the best strudel I ever had, but to be honest I don't know how many strudels I've even had. All I'm saying is that this is pretty good and it tastes even better. I guess given they're the first strudel house; they have managed to keep up their quality. The price wasn't cheap, we paid 1800 forints for each of our strudels and paid another 12. 5% for the service. I'd still say it was worth it.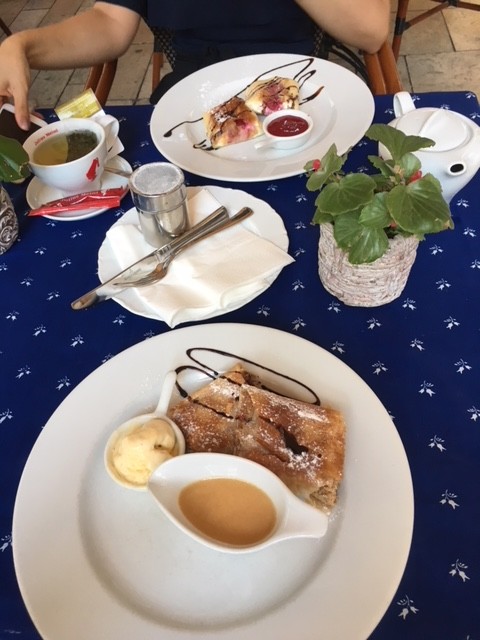 These are the Strudels we had.
Apparently they were opened in 2007; the actual building is quite historic and was built in 1812. The restaurant aimed to preserve both the building and the original quality of the strudels ever since it opened up.
If you're in the mood for trying some firsts and something sweet, you know where to go.
Cheers
---
Photo gallery
---
---
Content available in other languages
Want to have your own Erasmus blog?
If you are experiencing living abroad, you're an avid traveller or want to promote the city where you live... create your own blog and share your adventures!
I want to create my Erasmus blog! →