Explore Bordeaux: Rue Notre-Dame
Ten weeks have passed in Bordeaux and what surprised me today was that I felt a sense of friendly comfort when I stood in front of Place de la Bourse at sunset time. Actually I was feeling like I was being an outsider when I first came to the place on the first day I arrived because all those buildings, people and culture were completely different from the ones in my country. The reason why I could feel like home right now is, of course thanks to my friends or people who accepted me or welcomed me but simultaneously, I think it's because I explored around the city and experienced its culture a lot by myself.
There are many favorite places around the city but what I want to introduce you today is the best street I found in Bordeaux.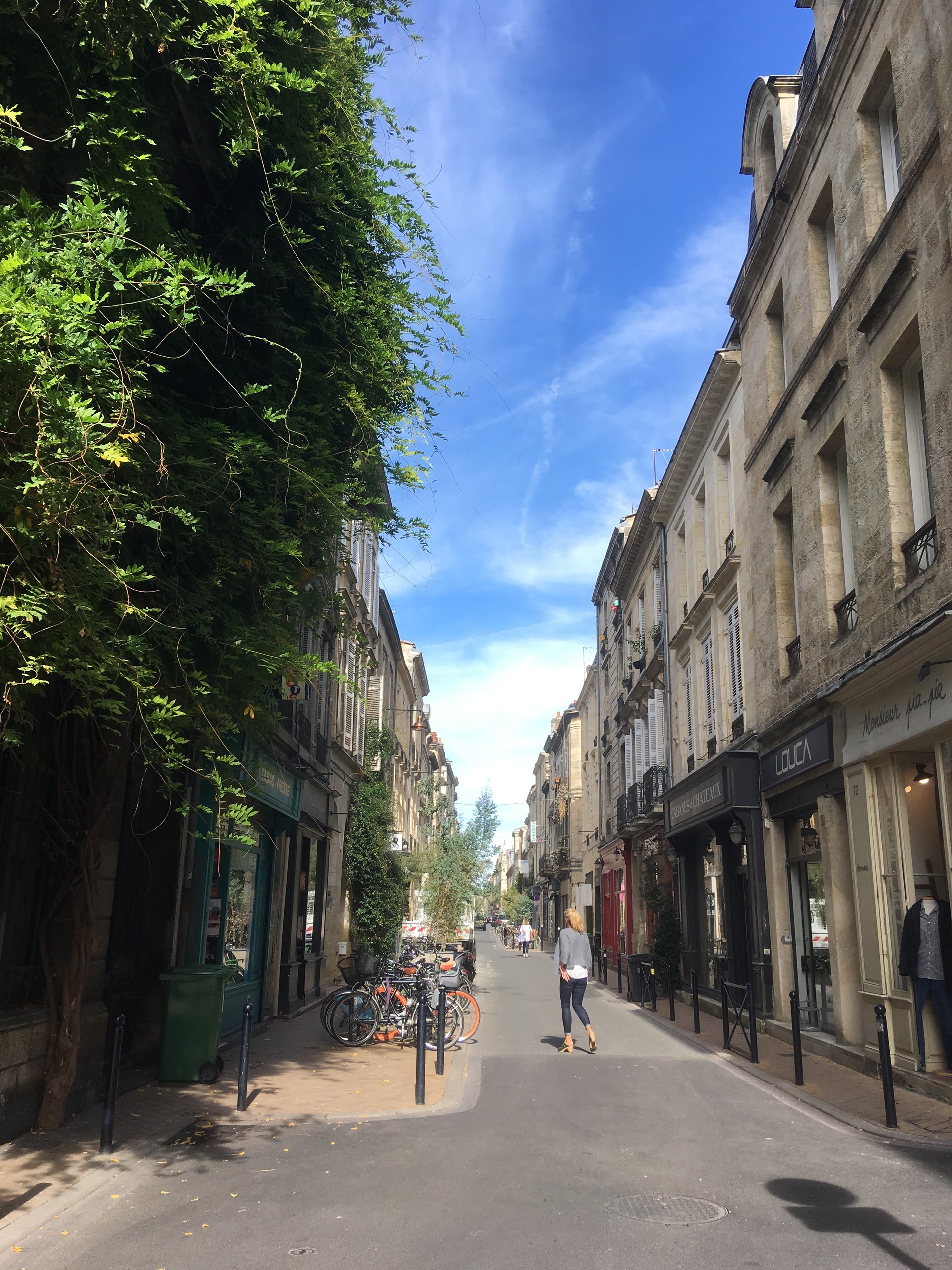 Rue Notre-Dame is a street which is between two tram station, CAPC Museum of Contemporary Art and Chartrons.
I didn't google the place but I accidentally found it when I was looking for ATM after taking off the tram at CAPC Museum of Contemporary Art. (Getting lost is always a good way to find something new! )
This street is beautiful and surrounded by historical buildings just like other streets in Bordeaux but what I liked was that this street is not noisy or busy like the city center and instead, there are unique places to see here.
Antiques

This street is particular with a number of antique shops. They are mainly home accessories and they are arranged beautifully. According to Village Notre-Dame website, the Village Notre-Dame, which is right next to Église Saint-Louis-des-Chartrons on Rue Notre-Dame, is the first antique gallery in southwest of France. I bet you can enjoy window shopping along the street if you like antiques and its art.

Made in France concept store

You are not interested in antiques? It's not a problem because Rue Notre-Dame has a modern boutique too. It is called "Do you speak Français? ". What a cute name! (Yes, I'm trying to speak Français everyday here! ) I love this store because all the goods and clothes in the store are made in France and they are all fascinating. It deals various products for men, women, for all ages so if you are looking for a handmade or local gifts for your friends or your family, this is the best place to shop!

Église Saint-Louis-des-Chartrons

When you walk along the street you can find a noble church, which is Église Saint-Louis-des-Chartrons. This church was built in late 19c. You can sit down for a while and look around the beautiful stained glass windows and feel its peaceful atmosphere.

Bakeries

I introduced antique shops, French concept store and a beautiful church but actually, they were not the main reasons why I wanted to write about the street on this blog. To tell the truth I found a small bakery in the area and it was literally amazing. The name of the bakery is "Au Pétrin Moissagais" and it is around the corner of the end of Rue Notre-Dame. The bakery started in 1765 and that was the age of Louis XV. (Can you believe it? 250 year-old Boulangerie! ) It uses traditional bread-baking oven and you can see it from the entrance. When I first went there I got just a baguette and second time I bought a croissant and an apple pie and they were all pretty delicious. I think of this bakery in the afternoon on weekend and sometimes I take a tram just to go there because I know it is really worth it. The price is not high and clerks are sweet so I bet you like it!

There is also another bakery on Rue Notre Dame, which is La P'tite Boulangerie Notre Dame. This one is very new in contrast opening in November 2017. I didn't eat bread a lot here but I can recommend this place too if you prefer BIO bread.

My favorite way of exploring Rue Notre Dame is taking off the tram at Chartrons and get a bread at Au Pétrin Moissagais and then walk to Rue Notre Dame eating it. (Because I always cannot wait until I find a good place to sit when I have a bread in my hand! ) When you finish the first bread, you can find Do you speak français and some antique shops. After doing some shopping, let's enter Église Saint-Louis-des-Chartrons. Then if you still have some space in your stomach, you can get another bread at La P'tite Boulangerie Notre Dame (because I love both bakeries! ) and go to the tram station, CAPC Museum of Contemporary Art or Chartrons, walking along the beautiful tree-lined street called Cours Xavier Arnozan.
Well, I hope this blog helps a little when you want to explore more in Bordeaux! I'm happy if you like my recommended places and share your experience with your friends! Alors, bonne journée!
---
Photo gallery
---
---
Content available in other languages
Want to have your own Erasmus blog?
If you are experiencing living abroad, you're an avid traveller or want to promote the city where you live... create your own blog and share your adventures!
I want to create my Erasmus blog! →