Barcelona and EL CLASICO - Live!
Arrival in BCN!
CATALANS EVERYWHERE.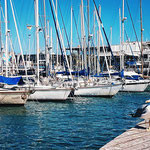 Off we go! Another weekend we will not spend in Valencia.
Quickly booked our outward journey on Blablacar.
Costs: 24€ per person
Duration of the journey: about 3 1/2 hours
The driver dropped us off right in front of the hotel, meaning we could check in straight away.
Just like in Madrid, we had already decided what to visit and where to go.
However, one problem are the hotels, museums and sights that are often already fully booked by tourists. That is why we couldn't visit the Sagrada Familia for example. There were simply no tickets for the following two days. Meaning, you should already buy tickets online about a week prior to your travels if you want to visit Barcelona for only 2-3 days. Our hotel we had booked in advance.
We went to discover the city. The port, La Rambla, the cathedrals. Then we took a bus tour through the city. The architecture is very robust and old! There are sculptures, fountains, cathedrals and museums everywhere. In our opinion, Madrid can't compete with Barcelona in this respect. There are souvenir shops on every corner. You can get football items everywhere, of FC Barcelona and Real Madrid. Much less of Espanyol Barcelona, though. The reason for that lies in history and politics. FC Barcelona is pro-Catalan, while Espanyol Barcelona is pro-Spanish, as the name already suggests. Since the majority (around 75%) of inhabitants of Barcelona is pro-Catalan, you rarely see items of RCD Espanyol. Additionally, Barça is obviously more popular than RCD.
Tickets
T10 OR RATHER HOLA BCN!?
Tickets for public transport are pretty much as expensive as in Madrid.
A single trip with the metro or the bus is priced at 2,10€!
This means that as a tourist in Barcelona, you have two options. You can either buy a T10 ticket for ten trips (transferable) or an Hola BCN ticket (non-transferable) for two, three, four or five days. For two days (48 hours), a BCN ticket is priced at 14,50€. With this ticket, you can travel throughout the city as much as you want, plus one trip to the airport and back. The duration for which the ticket is valid is calculated in hours and begins with the first validation.
We thought about either buying two Hola BCN tickets for two days (29€) or buying two T10 tickets (20€). In case the T10 tickets wouldn't be enough, we would buy another one for the both of us. This would come to 30€ overall, the same price we would have payed for two BCN tickets. My wife and I decided to buy two T10 tickets for 10€ each, since we would stay in Barcelona for more than 48 hours and if we had bought BCN tickets, we would have had to buy additional tickets on Monday around noon.
And the two T10 tickets actually lasted from our arrival on Saturday until our departure on Monday at 10 pm! We used up exactly 20 trips. The calculation was tight, but we did save 10€ for some small souvenirs.
The prices
PURE RIP-OFF FOR TOURISTS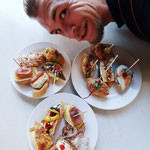 Tapas for 2€ each
The prices in Barcelona are very high! In the city centre, you pay three times the regular price. As soon as the shop assistants in a corner shop see that you are a tourist, they will increase the price of their items - items that already cost three times the regular price. That's why you rarely find price tags on anything. If there are any, they are already overpriced. Example: An FC Barcelona football scarf has a price tag of 20€. In the end, they offer it to you for 8-10€. Supposedly you make a good deal, but the price in the official store is almost the same as the final price that the Pakistani guy in the souvenir shop sold you the scarf for. So, remember: look around first to get an idea of the prices, then haggle for the price. Works almost every time :)
Museums, cathedrals and exhibitions also charge very high admission, two or three times as much as in Valencia or Madrid. Many have no discounts for students or pensioners. 7€ here, 12€ over there, 16€ over there... Anything that should cost no more than 3€, if it is not free, costs 7-10€. Wherever you go, they charge admission. Okay, the Sagrada Familia is an exception. 15-25€ are valid since the construction is funded through admission fees. But charging 7€ admission for a less popular cathedral is bold. But the people pay and don't seem to mind queueing in the sun in 40° degree weather for an hour, just because something looks beautiful from the outside, without knowing what it is exactly that they are waiting for. Tourists pay for everything! We were not able to visit everything. Time was short and our budget was low.
Tourists
NOT FOR THE FAINT-HEARTED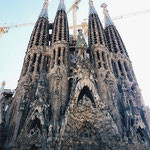 The city is bursting with tourists. That is what bothered us most. And wow, did it bother us. There are crowds everywhere, literally everywhere. Hundreds, thousands of tourists. Most of them are either in a hurry and overrun each other, or they stop and stand in the middle of the pavement blocking your way. It is loud, and, although it is only dirty in some parts, there are many homeless people. If that doesn't bother you, good for you. We had a little problem with all of that. It is simply almost impossible to take the time to take a nice photo. You had to wait for ages until no was blocking your view, until everyone was done with their family photos or "selfies" or until you had finally taken a nice photo that didn't have a ton of other people in it. Many of them simply stand in the background of the picture taking selfies or push through the crowd like blind animals. A relaxed and less pricey cultural journey is impossible to find here, at least in the summer.
EL CLASICO - SUPERCOPA 2017
FC BARCELONA VS. REAL MADRID CF
And now, it begins!
Everyone who is passionate about football, surely has a dream of attending "El Clasico" one day. "El Clasico" refers to the meeting between FC Barcelona and Real Madrid. Two of the best clubs in the world meet at least twice a year in La Liga. These meetings are always accompanied by complete chaos. Tickets for "El Clasico" are either impossible to come by or available on the black market for six or ten times the original price!
Real Madrid won the Spanish championship in the season 2016/2017. FC Barcelona won the Spanish cup. That meant that "El Clasico" would see the two football giants compete for the Spanish super cup (SUPERCOPA)!
When we planned our trip to Barcelona and booked our hotel room weeks ago, the date for the match was not yet public. Shortly before our trip, they set the match for the exact day we would be in Barcelona! That sealed it for me: I had to attend the match at all costs. I fought to get a ticket for two weeks. Finally, I was successful and secured the cheapest ticket! All that mattered was that I would be there! At Camp Nou! For "El Clasico"!
Overwhelming! This was something I'd dreamt of for 20 years. And by complete coincidence, I got the chance to attend this match. I thought to myself, it would be a huge mistake to miss it.
I bought a scarf and a beer, I grabbed my SLR camera, and I drove to the stadium...
Camp Nou is gigantic. 3 tiers, built with a steep rise to the top, and no running track for athletes. A pure football stadium with a capacity of 90,000. 80,000 fans attended the game. It looked like the stadium was sold out and the atmosphere was spectacular. Before the match started, the staff at Camp Nou gave out Barcelona flags. Everything that usually happens in an "El Clasico" happened. Messi and Ronaldo each scored a goal. There were penalties, and a red card for Ronaldo's goal celebration. He took off his jersey, which means a yellow card in football. Since it was his second yellow card in the match, he was sent off 10 minutes after his substitution and goal! There were also many tourists at the match. Next to me were fans from Colombia and France.
The match ended 1-3. Away victory for Real Madrid. Barça had few opportunities. Same as in the second leg (2-0) three days later.
After the end of the match, it was difficult to take the metro. People were queueing. Two guys from Marseille that I met at the stadium and I simply walked one or two stations further where we managed to catch the last metro of the night.
A little Spanish boy was crying on the metro because Barcelona lost and his parents couldn't do anything to comfort him. It reminded me of my childhood, when I used to have the same reaction to my team losing. He was from Düsseldorf. Upon the question whether he was a fan of 1. FC Köln, he cheered up.
By the way, Real also won the second leg in Madrid and with that, the SUPERCOPA 2017.
---
Photo gallery
---
---
Content available in other languages
Want to have your own Erasmus blog?
If you are experiencing living abroad, you're an avid traveller or want to promote the city where you live... create your own blog and share your adventures!
I want to create my Erasmus blog! →