Flinders Ranges hike
Architecture and landscape

10 / 10 points

Entertainment

8 / 10 points

Culture and customs

10 / 10 points

Transport

2 / 10 points

Gastronomy

6 / 10 points

Prices

6 / 10 points

Party

2 / 10 points

Weather

8 / 10 points
---
Planning the trip
If you find yourself in Adelaide, you must check out Flinders ranges. One thing thing that Australia is known for besides its wild accent, kangaroos and meat pies is the outback. As many of you may not know the majority of Australia's population live along the massive shoreline of the country. The reason for this is due to the fact of how hot and dry the centre is. While it may not be the best place to build cities, the outback is one of the best places to explore. In this piece we will not be going too far into the outback although we will be experiencing a great adventure. This experience is the easiest to enjoy if you are staying in Adelaide. However, if you are road tripping through Australia it is quite easy to access the ranges if you're going through South Australia. It is one of the most common camping/hiking adventures that Erasmus students take while spending a semester or year in Australia. I have recently done this trip, so I would like to give off all the details and tips while the information is still fresh. I ended up travelling with two exchangers and two locals in one of the local's car.
The gear
To start off, it goes without saying that if you're going on a camping and hiking adventure then you would need camping gear. There are a few ways to get your hands on the camping equipment. Before we get into it I would like to state what you would need first. Equipment-wise you will need to grab a tent, a sleeping bag and a sleeping mat. This holy trinity is the most important bits for the trip. Cooking equipment is also pretty important as you are not always allowed to make fires as at times we are in the fire season. This means that there are days where absolutely no fires are allowed in the area. If you need to use fire for construction work or any of the sort you would need special permission from the local council. However, this should probably not be an option for those on exchange in Australia. You will also need good hiking boots and copious amounts of water. You should assume that each person travelling will need five litres of water each as you would also need water to cook and wash up. If you're not going to pay for a proper campsite and don't have access to utilities, then you would need water to brush your teeth and other necessities. We will get into accommodation further down into the article.
We will focus now on how to obtain all this equipment. Food, water and good shoes should be pretty straightforward. When it comes to the rest of the camping equipment then you have three prime options. The first and easiest is simply to outright buy them. It is not the most economical option although you would be able to sell the equipment later on. I would not really recommend this option unless you plan to do some more travelling during the summer/winter breaks which lasts for quite some time. If not, then I would definitely look for other options as the costs for this would get out of control. What makes Flinders ranges so good is that since it's so accessible (and beautiful) it is quite cheap. So, let us look at another alternative that doesn't look towards spending hundreds of dollars.
Another thing you could do is rent it from a few different establishments. The only one I have ever rented equipment from is the Adelaide University Mountain climbing club. You could access their details or outright contact them either through their Facebook page or their website. I usually post on their Facebook page as it is the fastest way to get into contact with them. However, their website is the best way to look at their prices for merchandise and renting equipment. From their equipment page you could rent three different types of tents, cooking equipment, mats, (even) hiking boots and many more. There pretty much is everything you would ever need on a hiking trip. It's also quite cheap to rent. They rent it by the week and a deposit has to be made. Although, the amount they charge has always surprised me as to how cheap it is. I highly recommend you take this option as it is the easiest one to do as an exchanger which is still budget friendly.
The final option is simply borrowing. You could borrow the equipment from one of many students or individuals who enjoy camping. It is quite hard borrowing from strangers. It doesn't help that exchangers basically come to a new country with barely any old friends, let alone locals who have what they want. So, what you could do is post your requests on the University website or on Adelaide University hiking and camping clubs. You could increase your chances by offering financial incentive to allow you to rent their equipment. The main issue with renting from the mountain hiking club in Adelaide University is the fact that stocks do tend to run out. They are a relatively small club in the sense of stock. So, if you can't rent them from them then you might have to rent them from other people as well. Of course, if people offer to give it to you simply for free then you are in luck. It really depends on the situation, so we'll have to see
Transportation
Once you secure your equipment you will have to move on to another important step. Finding a form of transportation to get there. This could be either very cheap or relatively expensive. Now, the way I got there involved using a mate's car. This is by far the easiest option. We were able to simply pack all of our stuff in his car and drive off straight there. Only fuel was the main concern. However, if you do not have a mate with a car or your own car then I recommend you look into cheap rental car services. They are cheaper the earlier you book them. There are also things to note. Firstly, you should probably make sure that you have the required license to drive in Australia. That is to say, make sure it is translated if you would like to drive here (this one's a bit of a no brainer). Secondly, your age is a factor to the price. I recall how if we wanted to rent a car it would have cost us more the younger the registrar was. They start charging an additional fee if you are under 25 years of age. I recall how when one of our oldest travel mates, who was 24, tried to book it under her name she was asked to pay an extra 70 dollars. This price varies by website and it definitely gets more expensive the younger you are.
They main reason behind this is that they are worried that less experienced drivers would have a likelier chance to cause damage to the car. Insurance is also a bit pricier if you're quite young. So, make sure to keep that in mind when planning and budgeting a trip. There are many websites to book cars from. Usually, you will have to pick up the car from the Adelaide airport. Luckily, the airport is not too far from the city, so it is pretty accessible. When renting the car, you also can't have anybody but the actual person who registered the car under their name riding it. The last way to travel to Flinders is simply ask others to see if somebody is already going and has an extra seat for you. This is more like a last resort type of situation and would not recommend it.
Accommodation
Last but not least we have to look into accommodation. You could choose to look out for a free accommodation which basically means a large area filled with dirt and hopefully a bathroom. However, I recommend you take some form of accommodation. From as luxurious as a resort to a regular unpowered campsite. You could book accommodations either online, by phone or in person. The latter option highly depends on whether it's a busy period or not. Accommodation places also charge more or less depending if its low, high or mid-season. I ended up calling the Wilpena Pound resort to get an unpowered site. Apparently, we were told that there were not that many people there at the time as we were arriving the day after the Easter break. So, we did not end up booking it by phone but rather booking it when we got there.
We started off our journey by leaving Adelaide city around 9:30 AM. We wanted to see a couple of places before sundown. The next day would be spent on Wilpena Pound alone. We were going for three days and two nights. You could go for longer although that was the amount of time we ended up spending there. We first stopped in a few towns. While the outback is vast and empty there are quite a few towns in between that are worth visiting for a pit stop to either stretch your legs or grab a snack. Keep in mind that it will take roughly five and a half hours to get from Adelaide all the way to the place we were going to spend the two nights at.
Getting there
Lake Bumbunga
The first destination we stopped on the way was one of the few pink lakes located around South Australia, Lake Bumbunga. This lake is basically a large Salt Lake that has a hue of pink on its surface. Getting there it seemed very surreal. It is not completely pink and has different colours such as green and blue (due to water). Although, it's predominantly pink and white. My mates and I decided to make a quick thirty-minute stop to inspect this beauty. It felt surreal standing on all that salt. While you probably aren't supposed to the salt is pretty good. There is not much bacteria on the salt itself as it acts well to kill them off. But I would not recommend stuffing handfuls of salt into your mouth. As we went during the Easter time there were not too many other tourists in the area. We snapped some amazing pictures before getting on our way. I highly you don't miss out on going to this landmark. It is located right next to a pretty town. It also is not very obvious as to which way you will need to get to the lake. Since the lake is massive there is theoretically many ways to get in. In actuality, there is mainly one spot to get in from. We ended up going to the southernmost road that stretched along the lake. We did not find any proper entrances to the lake. We were following google maps at the time.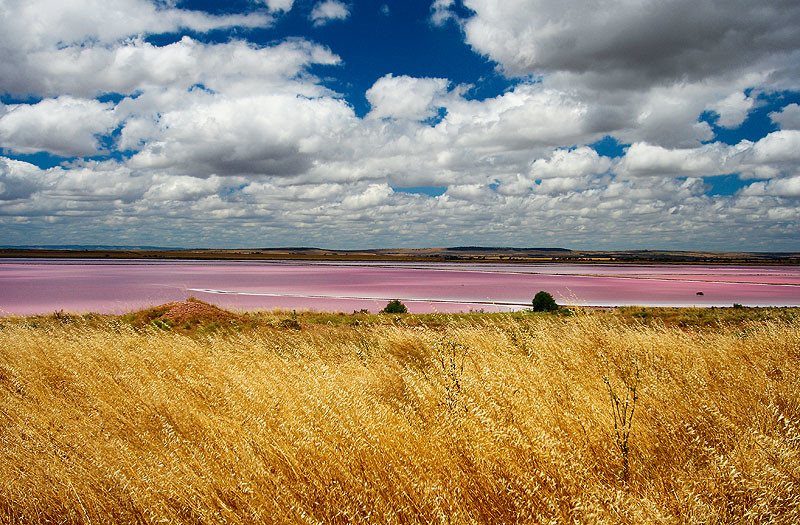 (Source: https://www.australiantraveller.com/sa/lake-bumbunga-another-world/)
On google maps if you search the lake then you would be sent to where we were which did not have an actual entrance to the lake. There is a road that stretches into the lake on this side, but it is gated and has signs describing it as a private property. So, it really isn't worth getting a fine. After a while we ended up going around from the left side and ended up on the north-eastern side of the lake. There, there is many places for you to access the Lake from. It coincidently is on the road to which we would have to use to get to our next destination. If you need to restock on food or water (as in, you aren't sure you have enough) then make sure to check out the town to the west of the lake. It's hard to miss as it is on the western part of the lake.
Here is where things might get a bit confusing. You may ask, why didn't you simply go straight to Flinders ranges from the get-go and spend your whole time there rather than going to different places in the way. Basically, there are many things to see in Flinders ranges. You could go there from the very beginning. Although, the great thing about Australia is that there are many things to see on the way. We decided that we simply do Wilpena Pound (which is almost eight hours of hiking) and all our camping there while we check out all the great things on the way. The next place we were heading to be a recommendation by one of my Australian friends. He suggested we check out Alligator Gorge. I haven't hiked or explored a Gorge in quite some time, so I thought it was the perfect idea to do. The people travelling with me were quite excited. It's good to have a spread out itinerary. To do different things rather than doing a lot of the same thing. This would mean that rather than doing multiple hikes up mountains and hills in Flinders we check out flat lakes, low-lying Gorges and high-rising mountain hikes.
Alligator Gorge
Alligator Gorge is a perfect place to visit as it is on the way to Flinders ranges. You may need to do a slight detour, but it will get you on a road that leads you straight to Flinders ranges although it will be on a road that still takes you to both Alligator Gorge and Flinders ranges. One bit of warning, when you enter the beautiful Alligator's Gorge in Mount Remarkable national park (Yes, we have a very remarkably named mountain) you will most likely lose phone signal at one point. So, make sure, if necessary, to take screenshots of the way in. I recall at some points I ended up getting data access although it mostly meant I did not have any data at all. Just make sure you know where to stop. When you get to the area right before the many different hikes make sure to prepare with sunscreen as some of the hikes will have high-exposure to the sun. Although, if you go through the Gorge then it's mostly fine and you won't get much of a burn.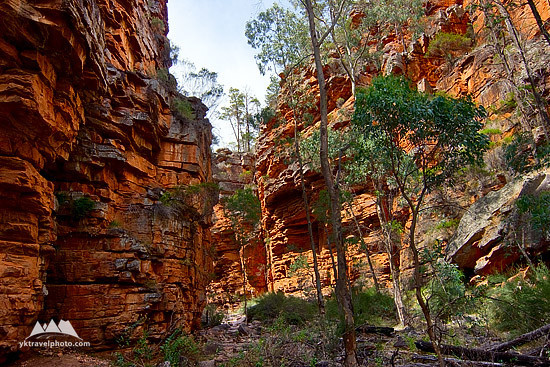 (Source: https://www.yktravelphoto.com/places/alligator-gorge-mt-remarkable-np/418)
There is also a bathroom in the starting area, so you should have the very basics. Now, to pick one of the many routes then you would have to get to the billboard with all the different routes, recommendations and tips. If you are short of time (as in you want to check the gist of it out although you also want to get to camp set-up before its pitch black) then you could do two short trails. One is located to the left of the billboard through the path that passes the bathroom (you may want to cover your nose as these bathrooms do not use running water but a septic tank). This will take you to the viewing platform after a five-ten-minute walk. Although, the trail would recommend it's a fifteen-minute walk. On the billboard, these two routes will look like two claws side by side to each other. So, it is pretty hard to miss out as they are the two shortest routes as well.
After much doubting from my mates that we were on the right track to the viewing platform we finally spotted it and made our way to the beautiful scenery it would provide. The story of the Gorge is a short one in this paper although it's a bit more detailed when you read about it at the Gorge. The Gorges story is basically about an Aboriginal individual named Ali (I can't recall if that was his full name). He would sit down on this very platform (before it was built as it was simply a beautiful look-out area). Here, he would look after two-thousands of his sheep located in the valley below. They also said on the signs that they were not sure as to why the Gorge was called Alligator Gorge as these animals did not live in the area. One explanation they provided is that it was possible that it was actually named after Ali. I was in awe learning about this. It's pretty crazy how far into the future we are standing exactly where this man would consistently sit to look after his sheep. The view was also quite spectacular as you could see all the corners of this Gorge opening. It was very green and there were many trees and colourful plants I had never seen before.
After some time of viewing and taking photos we decided to check the next short route.
We climbed up and ending back in the start area. From there, we took a steep path that's found to the right of the billboard gate. On the way down, we found some fellow explorers going back up the stairs after their little adventure. We kept on going down. After what felt like an eternity I finally made it to the bottom with my mates. It felt like being in another world. A slight bit colder and wetter world with a lot more to see. We explored the area and the beautiful stone-faces located above and around us. It really felt truly untouched by man. We explored the area around. This was basically where the short route led although it also led to one of the main routes.
We saw a sign that led further into the Gorge that stated that it was 600 metres deeper into the Gorge. We set off on the hike. Dodging fallen trees and massive rocks. There are some spectacular places to get some great photos. The stone-faces were also remarkably smooth in some of these areas. As we went further into the Gorge it began to get narrower. Although, it never got to the point of being claustrophobic. It's easy to imagine how there used to be a large river in the very area we were in before it ended up drying out. We kept on marching until we finally got to a large fallen tree. It was a huge eucalyptus tree. What's interesting to note is the many initials that have been inscribed onto the tree. These types of things usually annoy me although it was on a dead tree, so I reckoned that there was not much harm in it. We stayed in the area looking about for a few moments as it was much larger than the narrow areas we had passed. We decided that we walked a sufficient amount into the Gorge and made our way back. We had not planned to go deep into the Gorge, so this would lead us to arrive at our campsite past the sunset.
The walk back was a bit intense as we had to go up the narrow stairs. It took quite a bit of time and a lot of gasping for air. By the end of it we decided to sit down and catch our breath by a large fallen tree that had marked the entrance to the stairs that would lead down below. After a short relaxation period we got back into our car and made out way outside the national park. Two things I had forgotten to mention earlier was the fee and the view. Once you enter Alligator Gorge and you're almost five minutes to your stop to get off you will spot an opening. It's pretty hard to miss it. On the way in it should be located on your right. From here you will have a spectacular view far into the surrounding area. Although, from this vantage point you will have access only to one side of it as the surrounding area is covered by trees except for a large but limited opening.
Here, you can take some spectacular photos and selfies to send back home or to your friends. We had a bit of fun here and it's a good place to get a breath of fresh air and some relaxation. The second thing that work noting is that you have to pay a fee to get into the national park. This fee is to be used for maintenance work and its charged by car rather than per person. The fee ranges from ten dollars for a regular fare and eight dollars for concession. You will be seeing signs warning you about the entrance fee. To pay this you will have to go online to the Alligator Gorge website where you will have to put in your details and pay for the fee. If you have five people with you it would simply cost two dollars per person. You will then be sent the permit/receipt needed to enter the park. There isn't anybody there to check whether you paid for it or not. Although, if you get caught by a park-warden then you would probably have to pay a fee. I recommend you simply pay for it. Its next to nothing when you split it and it helps maintain the park. So, it basically ends up being a donation in some respects.
On our way to Flinders Ranges
After that we made our way back on the road and all the way towards Flinders ranges. On the way you should find some towns here and there that are located on the way. We stopped by a couple to use the bathroom and another to buy some more food as we were unsure whether we had enough or not. I recall how we ended up stopping by this town (called Laura) which had an open IGA. We were very pleased as we were travelling during Easter Monday. It was also a great time to go (even though most shops are closed) because we passed a massive caravan of cars that were heading back into Adelaide city. It even made the news when we got back as a helicopter gave us a bird's eye view of the long stretching travelling caravan of large jeeps and family cars going out for the Easter weekend,
Returning back to our story, while most supermarkets were closed the IGA wasn't. I recalled how I paid 75 cents for almost a kilogram of ripe bananas. My mates were a bit sceptical, but they seemed to not understand that the stage of ripeness that the bananas were at had been perfect. Ripe enough to bring out its full flavour but still solid enough to not be annoyingly mushy. Their loss I reckon. We also ended up buying several one-minute noodle cups. This was to serve as our emergency food in case we overate and did not want to pay exorbitant prices from the resort's own supermarket.
There is also a public bathroom located about a two minutes' walk up the road from the IGA. It is well maintained although it closes after six in the afternoon. The reason for this is that there was quite a bit of vandalism caused in this bathroom. So, they decided to close it in the night hours so as not to keep paying for repairs and replacements. Luckily, when I got there it was very clean. Most public bathrooms are really not so clean. Not even close. I recalled how the town was practically dead. Many of the towns we passed were very quiet due to the holiday. It felt like being back in Spain during siesta hours where there are barely any individuals out in the heat as they were either eating, napping of spending time with the family. We got back into our car and continued making our way towards the resort. After a couple of hours more of driving it got almost pitch black. Luckily, by then we had almost reached the national park itself. There was also quite a bit of data connection, so we were able to use GPS to make sure we made it even in the dark.
First night
One thing that you will notice almost immediately is the stars in the night sky. The surrounding area was jet black with no signs of light or life except for the very last rays of sun in the horizon which were not bright enough to illuminate the surrounding area. After a bit of driving we made it to the resort. It had a couple of lights on but was also mostly dark. We were right in front of the visitor's area which had its own petrol station. The visitors centre along with the small convenience store they ran was closed with lights shut off. After a while of deliberating we decided to head on over to the unpowered campsite. There were not too many people out although all of them were awake. It was about seven in the evening. We made the short drive from the entrance all the way to the back of the camp where we decided it was a great place to set up camp. The Wilpena Pound resort had a resort area and the camping area. The camping area also provided very clean showers and toilets. There is also a vending machine, washing machine and dryer to use if you are staying for a longer amount of time in the camp. There are also several tables under roofs that have sinks of their own. Besides each one of these areas there is a barbecue that you could use to heat up your food. We decided to set up camp between two trees at the camp. It took us quite some time as it was pitch black although luckily, we had a few torches with us to make the process easier. So, that's another important thing to take with you, a torch.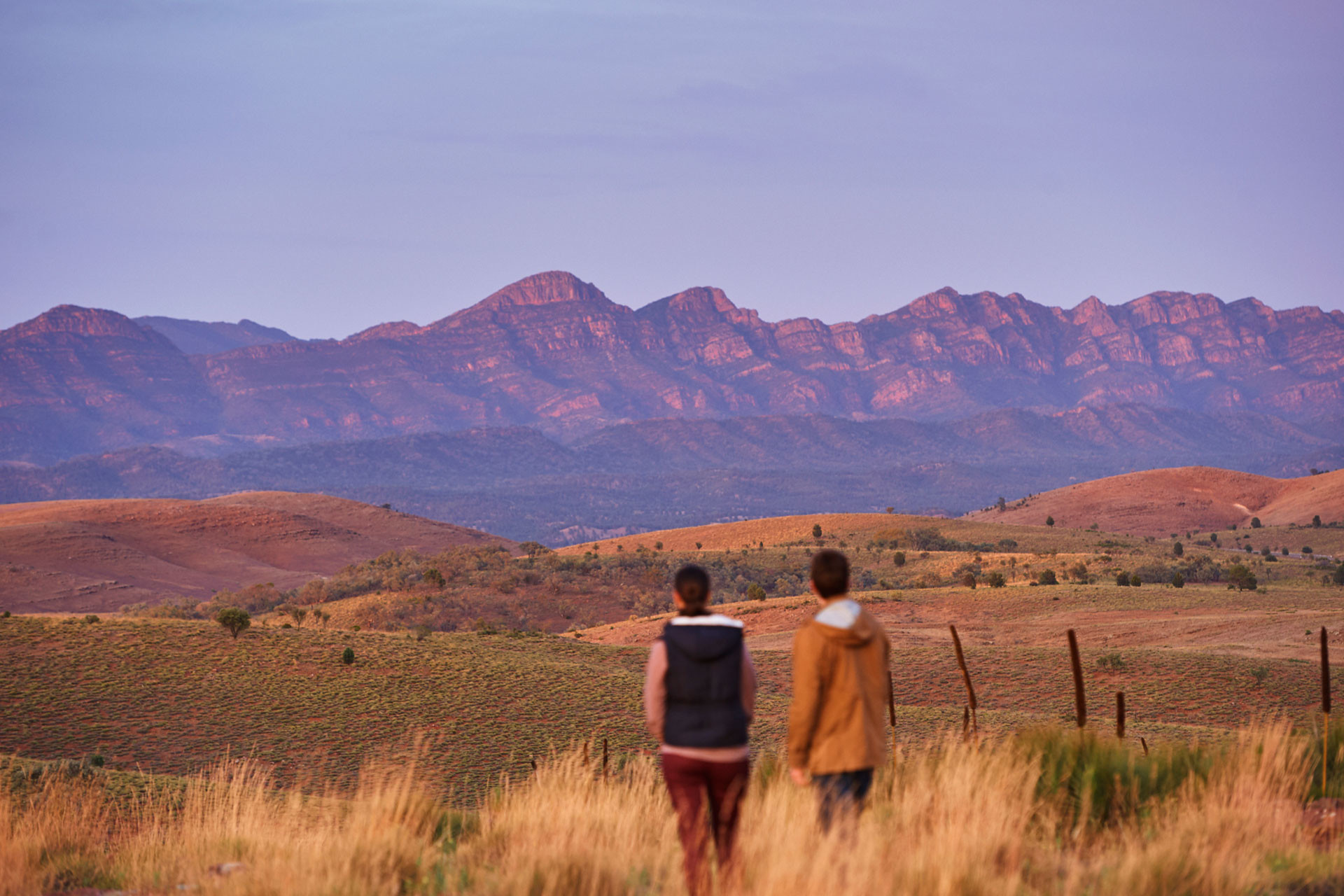 (Source: http://southaustralia.com/places-to-go/flinders-ranges-and-outback)
After quite a bit of scrambling we set up our tents and put out our sleeping bags and mats. It's important to make sure not to set up your camp on relatively rocky ground as it would make your sleep pretty awful. Also, be wary of your surroundings. Apparently, we had placed our camp under a small beehive that was high above the tree next to us. However, that was not an issue throughout the trip. We only realised it at the very end of the trip. From there we decided to make a fire in one of the allocated pits and heat up our food. Usually in these camps you are not allowed to actually use the firewood within the borders. So, we had to go right outside the camp and grab a bag full of fallen bark and tree branches. After that we made the ten-minute walk back to our campsite and set out to make a fire. I highly recommend you keep matchsticks with you as it is an overall useful thing to have. Although, I also recommend that you are very careful as South Australia tends to have large raging forest fires.
We then set about making our dinner. When the fire died down I decided to use an empty cleaned out can of beans with water to heat up my instant noodles. It worked for a bit although it takes quite some time for it to heat up in the embers. Feel free to make potato in aluminium foil or even roast some marshmallows in the fire. It is quite fun and adds to the overall experience. Many of us were knackered quite early so we decided to head in for an early nap as we were to wake up quite early in the morning to set out for the hike. Make sure you are wrapped up warmly in the tent. Most people underestimate how cold it could get in the tent. The area gets quite windy and chilly. A couple of my fellow camping mates told me that they were awoken by how cold it was. I personally do not mind it too much as I am used to very humid cold. So, this was not too bad.
Also, I highly advise that you make sure the embers of the fire are fully extinguished. Often, the embers would reignite, and a fire would start up again. If you have access to water taps, then I recommend that you fill up an empty bottle and thoroughly wet the fire-pit. The risk of fire tends to get pretty high in certain parts of the year. Regardless, we planned to wake up about seven in the morning. I woke up about forty minutes earlier than my mates since we had all gone to bed quite early which meant we had about 9-10 hours of sleep. I don't enjoy sleeping for more than eight hours as I would feel very unproductive. So, I decided to go for a bit of a walk. Keep in mind that around 4 in the morning is the coldest part of the day. Even when the sun rises it would take a couple of hours for warmness to return to the area. I was in shorts at the time, so I picked up my pullover. I then decided to walk towards the edge of the camp where a gate could be found. At this gate there is a large sign warning you not to feed the animals.
The sign also explains that there are different hikes that could be done from here. There are two ways to take the legendary Heysen trail which extends very far away. I ended up climbing the hill right next to the gate to get a spectacular view of the surrounding area. Much of the area that can be seen from up there shows flatlands although the tent area and some other spots were covered in healthy green forests. The view from up there also allows you to see the surrounding mountainside. It's pretty impressive and looked even more majestic when it shone with an orange hue from the rising sun. It was a slight bit windy although it was not too bad during this part of the year. After soaking in the view and fresh air I decided to make it back down to the camp as it was fast approaching seven in the morning.
One thing worth noting while camping with others at night is that most people go to bed early as there is not much to do when the sun sets. So, try not to be too loud when hanging out with mates. This can especially be difficult if you decide to bring alcohol along with you on the trip.
Wilpena pound
Getting ready
Regardless, we packed the essentials for the trip before heading to the starting point. This includes large amounts of water (roughly at least 4 litres per person although more is recommended. High energy snacks, lunch and sun cream. The hike was quite warm during the time we did it. Especially since we would be constantly on the move. Hats and sunglasses are also two important objects to have although I did without. After grabbing our essentials, we left our tents out and locked the car. From this campsite you could walk straight to Wilpena Pound. Luckily, we did not have to drive anywhere far off. After that we went straight to the visitor's centre. We wanted to make sure we had everything ready. We also had to actually book to stay there. We were charged and then made our way to the starting point located a two-minute walk from the visitor centre. Before you start, there'll be a large billboard that showcases many different types of hikes you could take. Before you head off to any one of them make sure to sign yourself in.
There is a book located in the billboard area that is quite hard to miss. Here, simply write your details and any other information it asks. It's pretty straightforward and could save your life if you get stranded. Also, make sure to sign out by the very end of it. If they notice you had not signed out, then they may get a rescue party going to look for you. It's not a very great situation to be in so I would not tempt fate. We signed our names in and then went on to apply copious amounts of sun cream to our body. Keep in mind that the ozone layer is quite weak in Australia. Meaning, we have a large almost completely exposed area in the ozone above us, so the sun is much harsher down under. So, apply accordingly and often.
We went through a quick check-list of things we needed and then set out on our way. By the end of the trip we realised we did the trip on reverse. It actually turned out really well and I much preferred it this way. We started off with the calm incline that went on for some time. Along the way you could spot many kangaroos. We even spotted an old kangaroo carcass. It really felt like being in Australia walking through this area. We passed by forests and dry areas. Many of the rivers and creeks were completely dry. It certainly was not the season for them.
We barely saw any people at the time although it was probably due to the fact that most left at the end of Easter. We walked for about three hours before we got to the base of St Mary's Peak (the main area we were climbing around). We marched on above until it was about noon (we left camp around 9). We had a decent view of the area around us and decided to have lunch. We ate a combination of different things. I ate a banana and a can of lentils that was mixed with John West's olive oil tuna. This was originally the idea of one of my travel mates on that trip who came up with it on the go. I also had a few rice crackers and the rest of the hummus I had not finished. It was truly a lunch of champions. An old couple passed us by at the beginning of the lunch break and promptly returned almost by the end of our trip. There was still five hours' worth of hiking left. There was no way they were going to make it with hiking sticks as certain areas get quite narrow and steep. We marched on after packing up our stuff. Make sure you don't forget to bring a bag simply for rubbish. We tied up our rubbish bag to one of our bags and continued on for several hours of walking.
Throughout the trip we found some amazing and breath-taking views. After a long while of walking we finally made it more than halfway just close to Saint Mary's peak. The peak (as seen by photos) have some spectacular views. However, it is seen as a very sacred place for the Indigenous tribe of the area. We were not in a rush to reach the peak as it would have been wholly disrespectful. Similar to people climbing up Uluru. This part of the trip gets really steep. We were also able to find some spectacular views in the surrounding area of the crater. It's crazy how you could see how smooth some areas are until the mountain ranges with an outwards direction. Basically, a meteor crashed in the area and flattened the centre although it created these mountain ranges outwards. I'm not sure if a meteor had actually caused it to appear the way it did although it would be understandable to think so.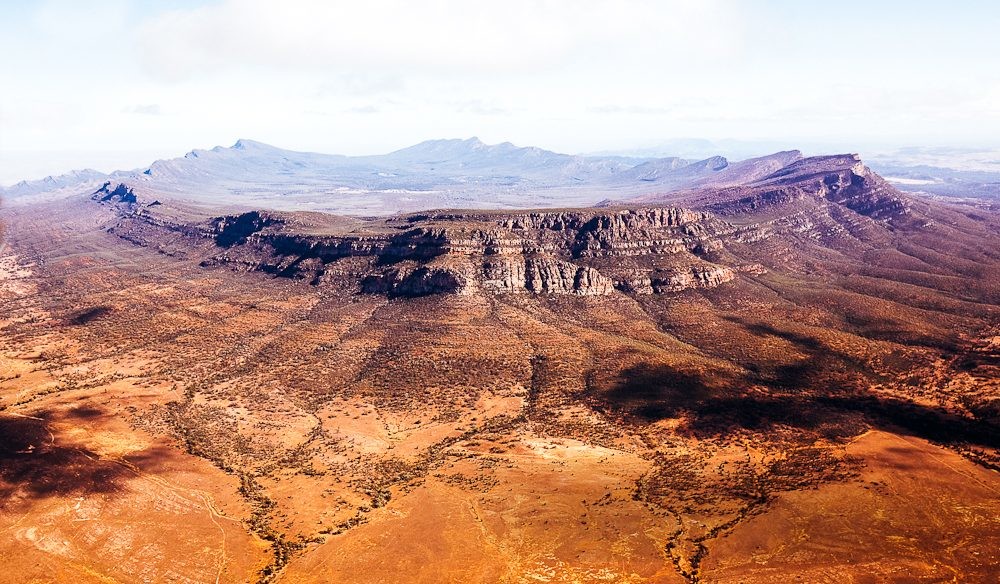 (Source:https://www.australiantraveller.com/sa/outback-sa/flinders-ranges/wilpena-pound-australias-unknown-icon/)
History
The Indigenous tribes of the past have a more dramatic story. The area is called Ikara (meeting point) and was created when two serpents intertwined together. Saint Mary's peak is the head of the mother serpent. Which makes it sacred. Regardless, we saw far off and many things in the distance. It was also very cool due to the win and we were able to relax and get rid of some of the heat we had built up climbing up here. Keep an eye out for blue markers and arrows to guide you through the path to avoid getting lost. After spending a decent amount of time looking around we decided to keep on going with our trip. We realised that we were making great time. The trip is said to take about nine hours to complete. We were between an hour and hour and a half earlier (by the time we finished) even though we had constant breaks. The way down was much more perilous than first expected.
Back on track
In actuality, the very steep way back should have been our initial way in. Although, I am glad we did it on reverse as it was more exciting to climb down rather than climb up. The views on the way were spectacular. I enjoyed every moment scaling down the mountain. It beat the monotonous uphill battle we had to fight heading towards the point we had reached. It is worth noting that you should be extra careful going down as it is quite easy to slip at some points and have momentum take you downwards quite fast. Some areas are safer than others. I reckon intuition should help you out.
After an intense scaling down that lasted about an hour or so we finally reached a tamer route.  From there we marched on back. We had roughly 5 or more kilometres of walking left so we were not exactly out of the woods yet (pun intended). We took a couple of breaks but mostly kept on going. You probably would spot a couple of creeks here and there. If you went during the time we did you will more likely than not find only dust and hints that there may have been water sometime in the past. Here it's more common to see people. We spotted two different groups of people hiking. The reason for this is that hiking trails converge around this area.
Along the way we spotted some kangaroos in the distance. It felt surreal thinking that by this point we had been hiking intensely for almost five or so hours. While I felt exhausted it didn't feel as though I was about to collapse. It's insane to imagine how well adapted our bodies are to long distance walking and hiking. It surely shows in situations such as these. I'll admit that at the last few kilometres I felt a bit bored. After the high of the climb up, peak and climb down it was a bit too calming to walk several kilometres in a gentle descent. Regardless, it passed by quickly enough if you don't keep track of how fast or how much time you're taking. By the end of it all we finally saw the camp and in an invigorated burst of energy marched straight towards there.
Finish line
We ended up back at the visitors centre with enough sunlight left out to relax and soak in the beauty of the area around us. The convenience store next to the visitor centre had some tables set out where we dropped off our stuff. We then took turns shopping while somebody kept an eye on the stuff. I rewarded myself with chocolate wagons (An Australian dessert chocolate with marshmallow and strawberry jam encased in chocolate), I had some beef jerky and some cheesy tomato baked beans in a can. My mates grabbed some bags of chips and chocolate mint ice-creams It was all incredibly delicious and definitely unhealthy. From later research I learnt we probably burnt more than two thousand calories. So, we basically burnt more than a days' worth of eating, this could be rewarded with a massive feast, skipping days at the gym or simply add it on as a massive milestone to your weight-loss plan. Either way, you're winning from all your hard work. After a while of relaxing we went back to our tents. We collected more firewood from outside the camp and made a nice fire with enough wood to make it last quite some time. We ended up playing some card games and chit chatted. We did not stay up too late as everyone was feeling sleepy as. Although, before we all went to bed we first headed off to the same spot I had went to earlier in the day to watch the sunrise.
It was quite crazy to witness the marvel that was the clear night sky at the time. There were many clear constellations such as the Southern Cross and the Big Dipper. I can't recall if I had seen the Southern cross properly before, but I definitely felt in awe. Nothing spelt Australia like being in the middle of nothing with a vast area around you and the Southern Cross high up above you. I was craving a meat pie at that time. We stayed up there for about fifteen minutes before everybody headed down. It was not too warm, and everybody was tired although I would have been keen to spend an hour or so here. Just grab our sleeping bags mats and chill here for a while. It's a great place to talk and chit chat. Although, some of our mates were way deep into sleep debt from nights before.
Leaving
We set off to bed to get an early rise tomorrow for a long drive back. It was pretty fortunate that Easter was over as there is not too much traffic and the supermarkets were open at the time. We packed up our tents and were careful to make sure nothing was left behind. I recommend you look carefully at the latter. These places depend to some extent that the people who leave keep the area clean. Make sure to help them out not simply out of respect for them but also respect for nature. There are gates surrounding the camp and often there would be kangaroos right by these fences. I recall how when we were cooking they were touching and pushing at the gates which was pretty low lying. They could easily have climbed over them as it barely reached their head in height. Also, there is a large population of birds ranging from crows to magpies. Make sure you don't leave anything behind as the camp would prefer to keep these animals wild. Also, they may get poisoned by many of our processed foods.
So, keep it clean and please make sure everything which belongs to you or your mates is removed. There are plenty of bins around for you to use. Another nice feature about this camp is that they have a refillable station for water. So, make sure you've got enough water to get back as the trip would be about 5-6 hours. One of the things worth noting as well is that there is no data connectivity in the area. So, you probably won't be able to contact any of your mates or upload any of your photos to social media until you're clear of Flinders ranges. Luckily, as Wilpena Pound is found in the Southernmost part of Flinders ranges it does not take too long to get out of the area. We drove for an hour before stopping by a town called Quorn. My mates bought some bakery goods and I grabbed a beef jerky bar. I've never tried anything like it before and it wasn't too bad. After that we kept on driving. I napped a few times on the trip which helped me pass the time. Everybody was more exhausted and less chatty than the way in. This is quite understandable.
Racing back
After a while we made it back to the area where we initially bought some minute noodles. I ended up buying something called a Pluto pup which is basically a corndog. It's a sausage wrapped in batter. It really isn't the healthiest of things to eat but I enjoyed it. At the time of our visit we had a large military convoy in the area. One soldier was harassed by a couple of seagulls that wanted to get his box of chicken and fries which he bought from a local petrol station. Here, we filled up our tank before making our way back to the city. The town's bakery has a few good foods and some coffees which I do recommend if you're feeling quite weary as you would be returning in the late afternoon which is not the best time to fall asleep.
After the long ride we finally made it back to the familiar sights of Northern Adelaide. The drive along the way is quite interesting and scenic just before you reach the city area. From here my mates and I stopped at North Adelaide. Two of our mates left off home while three of us ended up in Chuckwagons to eat a good burger. It was a pretty enjoyable time as the restaurant is pretty cool. I recommend their Burgernator with sweet potato fries as it is quite good. Not sure what else is good in the menu as I don't usually eat there.
After that we decided to keep splurging on the calories, so we went to McDonalds and grabbed a couple of ice-creams before saying our goodbyes. It felt strange being back to the busy hustle and bustle of city life when you were exploring the great outdoors with barely any people around. This pretty much concludes my Flinders Ranges experience. I definitely recommend that you check out this place for yourselves. It's a very pretty place to go and unbelievably beautiful with a lot of history backing it up. It's definitely not the easiest of places to hike about if you've never been outside the house although it's doable by pretty much everybody. Happy adventuring and safe travels!
---
Photo gallery
---
Share your Erasmus Experience in Adelaide!
If you know Adelaide as native, traveler or as exchange student... share your opinion on Adelaide! Rate different characteristics and share your experience.
Add experience →