Exploring Rundle Street Part 1
Getting started
Today I will be addressing one of the most popular streets in Adelaide: Rundle street. This street is known for being one of the most popular restaurant and bars streets in all of Adelaide. We have made some mention of the bars here and some of the restaurants, but we missed a huge amount and we did not go into detail concerning these places. This article will retouch some places we visited through my blogs a few months ago although it will serve as a better guide. By the end of this you should be extremely knowledgeable of all the good places to go for a drink, dance, meal and much more. It will definitely give you a step up over other exchangers and it will also allow you to make sure you do not miss any of the great things that there are to check out in this great city.
This knowledge is leveled out as native knowledge. So, you wouldn't even need to look up anything on the internet as this guide will provide you all you need to know about Rundle street. In this article we will be talking about all the great eateries there are on offer here from the cheapest to the most delicious. In further articles we will discuss all the bars located here and include clubs. So, stay tuned and strap yourself in for a knowledge friendly read.
As we have much to cover it would be more effective to do it in order. Let's first start off from the west side to the east side of this horizontal street.
Hungry Jacks
So, the very first thing you will spot is the large Hungry Jacks. This can be found on the corner of the street that leads into Rundle mall. For those that aren't aware, Hungry Jacks is what we call our Burger King. down in Australia. The reason for this is the fact that somebody within Australia had already registered their company with the name Burger King. As you could imagine this was a bit of an issue. The company didn't want to change its name, so Burger King were forced to have a different name for their brand back in Australia. This pretty much concludes the straightforward story of why we call then Hungry Jacks.
Now, what's special about this place is that it's open 24/7. This is a rarity in Adelaide as most things tend to close pretty early. We aren't exactly the largest city in Australia. So, this makes things a bit more difficult whenever you need a place to eat out when you're out late. Of course, it's worth mentioning that Hungry Jacks probably isn't the best place to eat out anyway. I reckon I've eaten a Burger here perhaps twice in the last two years. Although, it's pretty convenient to grab a quick snack or maybe some ice cream. Either way, it's the reliable friend that's always there even if you don't hang out often. It is worth noting that the inside area is pretty large.
So, it's a good place to also sit down and relax. I would recommend it on a night out but not on other days. The bathrooms tend to be locked at night. So, let's move on to our next nearby restaurant. It's located on the same side of the street as Hungry Jacks and it's also another popular chain. Subway sandwiches. This subway store isn't open 24/7 as the other restaurant but it is still a pretty good place to eat. It's a healthier alternative than Hungry Jacks. They also recently (recently as in within the last nine months. Although, I left for France for an exchange semester and it had just arrived when I left. So, it's still pretty new to me) added some toasties. They aren't exactly toasties but they're basically half of the bread. Avocados, garlic and cheese spreads are all over the place. The avocado ones are my favourite. You could ask for it to be toasted or not. There are also about four to five different breads to choose from. If you're looking for a decadent snack then ask for the Avocado toasty, salt and pepper and the garlic herb and cheese bread. It's a very simple group of ingredients but it's also very delicious.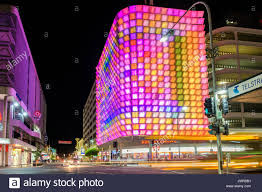 (Source:http://www.alamy.com/stock-photo-rundle-mall-with-upark-above-the-hungry-jacks-on-rundle-street-illuminated-150489893.htmlP
If you're looking for a healthy place that serves a decent meal for under thirteen dollars, then you should probably head on over to here. The only issue is that it's very limited in its choices. It's all about the sandwiches, as we all know. So, if you're looking for something more diverse than fear not. There is quite a bit left to check out. This next choice offers a much larger choice and diversity. It's only a minutes' walk away and on the same street. Welcome to Cafe Brunelli
Cafe Brunelli
Cafe Brunelli is known as an Italian restaurant. It really is more known as the most unitalian Italian restaurant that you could go to in Italy. They serve different types of pastas and dishes which are marks of an Italian restaurant. However, they're pretty processed and mostly made in a fast food style. Its redeeming feature is that it's pretty cheap. The venue is also quite large, so you could invite quite a few of your mates to enjoy a meal together. This place is pretty good if you want to eat quite a lot for cheap. It also has some good options on its menu that are actually pretty good and do not taste like they're processed. Well, besides my exaggerations the food here is actually not too bad. They serve some decent pizzas which a step is definitely better than Dominos and Pizza hut when it comes to quality. Although, by not that much. They also serve up some burgers and their own desserts called chocolate bombs. These are actually pretty good, and I recommend you check it out for yourself.
One thing I found out quite late, even though I had been here for almost three years, is that Brunelli is open 24/7. It's pretty crazy. So, if you want an alternative of fast food burgers then you can have fast food Italian food instead. They are also known for their cheap takeaways. This service isn't open 24/7 although that shouldn't be much of an issue as they're open till 11:30 PM which is pretty late anyway. Due to the success of this restaurant it became a chain. You could find a couple of other chains to find. However, they are all outside the city anyway. So now, let's look up to a more interesting place to eat burgers which is conveniently found next door: Grill' d.
Grill'd
This restaurant is a pretty good one to eat at. It's one of my favourite restaurants when it comes to burgers. It has a nearby competitor called Fancy burgers, but we will get into detail later on. For now, let's focus on Grill' d'. This is a chain restaurant. There are a few Grill' d around but this one is the most visited one due to its location within the city. It's a pretty interesting place to check out. As you enter the inside you will walk uphill into a sloped way. Then you will enter immediately into the restaurant. On your left you will have the major eating area. There are several tables fit for 4-6 people. It's a great place to eat with mates. The outside area is filled with a grass floor (plastic of course) although it does offer a different dining experience, so I quite enjoy the concept of it all. Then, you could find a large window area. Well, there really isn't a window there so it's more of a balcony. This will allow you a view of the outside. It's very natural feeling. I quite like it as it allows for natural light to course into the restaurant. Along with the grass and wooden interior it feels quite natural and even hipster-esque. Now, there are other things available that provide a unique experience to it all. As you go up to the counter to pay you are given a bottle headpiece. With This piece you could vote. Just at the entrance you would have passed three different large bottles. These large bottles (big enough to fill up 10+ litres).
What you could do is toss your bottle cap into one of the three bottles. While it might seem like a random activity there is a significant purpose to this. What you'll want to do is read up on the bulletin board right behind each of the bottles. Above each one there will be an explanation of what each bottle represents. The bottle that has the most chips filled will be the winner of the mini competition. By the end of it all the one with the most bottle caps will be donated over to the charity which it represents. It's quite interesting really and I love the initiative. It would help if more places did this. However, most simply keep a small box available for donations. So, the amount people donate or do not will have no effect on the company. While in this case they will donate.
This automatically gives the restaurant a 5/5 in my books when it comes to every aspect excluding food flavour. Now, the burgers range in the 10-18-dollar mark. However, they are pretty darn good. I recommend you check out the chicken, cranberry and brie burger. It's an absolute beauty of a meal. One I highly recommend you try out However, there are many different meals for you to try from. Their sides are also pretty ungodly good. They offer sliders with regular fries, sweet potatoes and even zucchini fries. The latter two are absolutely delicious and the sauces that come with them are pretty good as well. So, don't feel shy trying them out for yourself.
They do also offer beers and other drinks to enjoy your meal with. The breads with the burgers come in four different varieties of food. This makes a crazy combination of burger experiences and one that will take some time to get bored with. I recall how the first time I came here I was absolutely enthralled with the amazing taste of all the burgers. If you find that you cannot decide on which of the burgers to try out, then grab the Burger slider platter. This offers three different smaller burgers that give you a taste of the spectacular burgers they have on offer. Even if you aren't the biggest fan of burgers I do recommend you check this place out. So, make sure to visit this place for a great burger experience.
The Austral
The next place to check out is not only one of the most renowned pubs in all of Adelaide but is known for its food: The Austral. This place is located a minutes' walk from grilled in the Southern part of the street. If you walk on over there, then you will notice that it's probably full. In all seriousness this place is constantly filled with people in many parts of the day. It's one of the best places to go for a casual beer. I'll make mentions of this place in the bar searching article as well due to its significance. Although, allow me to go into detail of what you should expect from this premier bar.
Okay, let's be honest it's not really premier. Although it is a quite popular one. The outside area is almost permanently full. There are seats and tables set out all over the front area. There are even seats made of colourful pieces of rock smoothened out. It's pretty cool to look at. The first thing you will probably notice immediately is the large pride flag just outside the Bar. This one has been set up due to Australia's ongoing debate over legalising gay marriage or not. Many of the people want it finally legalised like other European countries while other fight against it for whatever reason. Let's not get too into it as it deviates too much of this article's goal.  The outside area is a pretty enjoyable area as the weather is usually good in Australia to enjoy a good meal with or drink with the mates.
Downstairs
Now, once you walk into the doors you will be greeted with the darker interior. The whole thing looks like it's made 100% out of wood. It's an impressive sight. To your right you'll have a line of tables for you to sit down with some mates. There is even a retro machine for you to enjoy a game or two. Next to the door which would also be to your direct right there is a large window. As with Grill'd it really isn't exactly a window but actually a large open area where people could enjoy a drink while looking out into the streets. To your left there will be long bar where you could grab your drinks. The drinks here are of decent quality and are some pretty good deals on. For example, if you're a student or you have the Pokitpal app then you could grab a lager jug or cider jug for as cheap as ten dollars. This makes this bar one of the most popular drinking sites for many students and is also one of the first destinations for many different pub crawls as it's an affordable place to get in some decent drinks before going to the more expensive bars. So, hope on over and grab yourself a traditional jug. Another thing worth noting concerning their alcohol is that they have a special drink on offer to those that request.
If you like a challenge, then there is the chili shot you could try out for about eight dollars. This shot is meant to see if you could survive the intensity of the spicy chili. I would warn you to be pretty careful. The reason for this is that they are pretty spicy. You may think it's in the name but it's actually true. I reckon that the majority of people I know that tried the shot have ended up puking soon after. I reckon I put the number at 2 out of thirteen people have actually not puked from drinking this within the groups of people I know. That's quite a sobering statistic. If you think that your body can truly take up the chili shot, then go for it. If not, I would recommend you stay a mile and a half away from this concoction. If I recall correctly it's about 20% vodka and the rest is all chili liquid. I never really understood what they did that although there must have been some malicious intent behind it.
It makes sense that they would've imagined that there will always be crazy people that would always be up for a challenge. Even if the challenge is simply bragging rights. Like imagine telling your mates: I won the chili challenge by not puking. Most people would think that you are criminally insane. Who would blame them really.
Anyway, moving back to it all. The area where the 'window' is actually is one of the main spots for performers. These performers are usually individual guitar players that sing. They have them weekly as a way to give the place it's atmosphere. They do give it some life. The music scene in Adelaide isn't exactly the biggest you could find. Melbourne is much better on a momentous scale. Regardless, that would be a story for another time. If you walk further into the Austral you will find a small stage at the end of the room. Often there would be DJ performances letting it all out on the small dancefloor. So, if you feel like busting a movie on a Saturday night after a few drinks then you could easily shimey over to there. It's not exactly the largest dancefloor so don't expect a rave session there. Although, it's pretty good if you want to simply let out some of that energy in you. The DJs also tend to be pretty chill. So, you could make some song requests whenever you want and more likely than not he will accommodate your request.
Now, to your direct left of the stage you will be enter a large open area. Within this area you will find large tables able to hold more than a dozen people in each one. It's the main drinking area and a spot where many trivia games are held. At the end of the room there is also billiards table. Here you can challenge your mates to a 1 v 1 or 2 v 2. It's a pretty cool room that is usually filled with life during the night as is also the busiest room in the bar. Which is concerning as the whole place gets crazy busy regardless.
Upstairs
If we backtrack a little bit, then we will find the stage again in front of us. To our left there are some stairs. Follow up the stairs and you should be able to find the bathrooms right in front of you. Also, to your left you will find some stairs. Go up the stairs for a couple of flights till you find a long hallway in front of you. If you follow the hallway to the very end you will enter the second bar of the Austral. If you stop halfway you could turn a left. This will lead to a small stage room. This stage room sometimes hosts performances of different kinds, usually they don't involve music, but comedy plays. Keep an eye out for what they have on offer as you could find some interesting things to do. Anyway, let's return to the main path.
If you walk on over to the main hall then you should be able to find the second bar to your left. This bar usually does not have tables set up. It's a pretty large open area where you could stand around and chit chat with your mates. It's pretty ideal for larger groups or for when there are moments that it's too busy to stay on the ground floor. I usually end up here as I get to meet quite a few of my mates that end up over. However, this room itself isn't the star of the show but rather it's outside area. If you walk on over to the end of the room, you will find a doorway that will lead you to the outside area.
Often there is a security guard here. He's there to make sure that not too many people end up sitting/standing outside as there are rules for balcony safety. They don't want it collapsing. It would truly be a traffic situation if it collapses as it is found directly on top of where all the individuals sitting down are stationed. However, the balcony is a very sturdy one with many safety regulations incorporated into it. Including the maximum people number. This is not an uncommon thing. Places like the nightclub Black Bull has the same rules for its balcony area. Once you walk outside you will notice that the balcony is shaped in an L form. On both sides there are tables laid out for you to sit down and relax with a couple of jugs. The view from up here is quite good. You could see most of the street and it is especially good when there is a proper night out going in full charge. You'll be able to see all the colourfully dressed individuals swaying left and right and speaking incoherently due to their alcohol intake. Hopefully you won't be in the same state after a night at the Austral.
Now, let's talk food. The Austral is known for making some good fries and schnitzels. You may or may not be surprised to learn that schnitzels are extremely popular in Australia. This is particularly in South Australia. The beloved schnitty is no joke as many restaurants are open simply using the idea of having the schnitzel as their main theme. Schnitty house is one example of such a place. Anyway, they do offer some good fries and even some seafood. I would rate their food as a 7/10 for enjoyment. It's a bit oily but then again it isn't especially their fault but that of the types of foods they have on offer. The hamburger is also a pretty popular option to try out.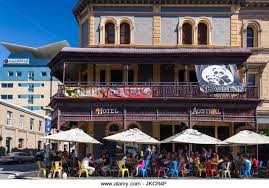 (Source: http://www.alamy.com/stock-photo/hotel-austral.html)
I recall my first time eating fries here. A family of three simply rocked up beside us and started eating their different meals. We were enjoying a jug of lager on the beautiful day out. After a short while they ended up giving us the chips as they were given a lot more food than they expected. So, yes, the portions are pretty decent and for the prices on offer. We scoffed down the fries as an enjoyable side to have with our beers. Anyway, this pretty much concludes our little adventure through the Austral, make sure you come by and enjoy what this great place has to offer. This leads us off to our next place to eat which is quite different from the Austral. Not known as a bar or a pub but a restaurant. Welcome to Cafe Michael 2.
Cafe Michael 2
This restaurant can be found just across the street of the Austral which makes it a very convenient spot to go after a drink. However, it might not be the best place. I'm not sure how many people enjoy some good Thai food after a drink. I found about this place quite randomly. From the name I assumed it was simply a cafe and decided to walk inside out of curiosity. I didn't expect to be faced with platefuls of steaming Thai food. I couldn't really complain as I had a weakness for South east Asian food. From what I recall they had won an award for their food being quite authentic tasting. I found this quite interesting. So, I went off to eat a lot of what they have to offer.
If you're looking for a good Thai restaurant then this one is the one for you. It's much calmer and less hectic than most restaurants although the atmosphere inside is pretty sweet. The design and all of the place is pretty good. I liked it overall and would give it a solid 7.5/10. I fully enjoyed the experience here. I never really figured out why they chose the name that they did. However, what's important is the fact that it's pretty tasty and at a very convenient place. They also do offer a variety of wines for you to try out. So, if you're keen for a Thai experience then go for it.
The Artisan Bakery & Cafe
Let's check out the next place we have to eat. The Artisan Bakery & Cafe. This spot is one of the top bakeries that can be found within Rundle street. It's a very common choice by many looking for a relatively healthy meal in the morn or a snack on the go. Many individuals end up flocking to this place in the morning before university or work. You could grab yourself a nice cupcake or coffee to enjoy on the go. There sometimes tends to be a small line in the morning although those tend to move pretty fast as all you need to do is pick up your readymade (but freshly made) meal.
The coffee has been rated pretty well. It was highly recommended by many of my mates who ended up going there. It's a shame I am not much of a coffee fan, so I can't inform you as to whether that's good or not. They have an assortment of pastries and even some pain au chocolate. I am very fond of these since my experience in France. Back in France they had a bakery in almost every corner and they were pretty cheap. You would pay peanuts for some high quality baked goods. I wouldn't compare them with what I ate at the Artisan's bakery and cafe although they were pretty good. It's pretty cheap as well all things considered. It's location is pretty central although it's prices are lower than it should be. Now, let's check out our next door neighbour also known for its delicious goods: Zambreros.
Zambreros
Zambreros is known for being one of the top drunk individual's choice for Mexican food. It offers an option healthier than McDonalds but not by that much. It's also pretty affordable. Now, let's focus on this exact place. Zambreros is found just a short stone throws away from this bakery. Right outside there are several seats for you to enjoy sitting down. It's often quite full of people. This is especially true during the later hours of the day. So, don't expect to find a seat to sit down outside on a proper night out. Although, the food is easy to eat while sitting down. Once you walk inside you will find the counter right on your left. Straight ahead there is the seating area. It's a bit small although it's pretty comfortable inside. The line tends to get long during the night out. However, they're pretty fast in the way they prepare their foods, so you needn't worry about it for too long.
Zambreros offer many different types of Burritos to try out from. Well, specifically they offer three varieties that could incorporate a massive combo of different types of food. You could have black beans, different meats, veggies, different sauces and much more. Just keep checking for different combos to try out. The chicken variety is pretty good. There are also some different types of chocolate bars available. Much healthier than regular bars but pretty thick in calories. They are also full of flavour with more of its unique taste coming from it's ingredients rather than simply sugar.
I thoroughly enjoy Zambys. They also offer different types of chains all around the city. Even in North Adelaide there was one that recently opened (well, recently being more than a year ago). So, what they did to celebrate was to give out one thousand burritos for free. Imagine that. One thousand!! Of course, you could only order one at a time. Also, before I forget I should mention that this place would be a low to mid-range priced eatery. The burritos on average cost around 15 dollars for a regular sized one. Unless you grab extra goodies with it to enjoy a richer experience. The burritos are also pretty filling and full of goodness so go at it.
They also offer deals depending on the occasion. For example, when one of the largest pub crawls in Australia went out in full force (the Engineering pub crawl) they offered a 20% discount for those heading off to join the pub-crawl. That's a pretty good deal. Cheaper Burritos for the same quality. I quite enjoy zambreros. Keep in mind that they also have one shop in North Adelaide (as mentioned) and also one on Bank street right next to Hindley street. The latter is much bigger and definitely busier. The reason for that fact is that it's located on the party street of Adelaide. So, the number of drunk individuals partying their hearts out could be found here. One thing I noticed was that the majority of people that shopped here were university students or pretty young individuals. It could be fair to say that it's usually the younger generation that ends up getting drunk in droves and groups. McDonalds tends to be friendlier to all ages. However, I wouldn't allow age to stop you from enjoy a good sesh at Zambreros. So, go grab your juicy soul satisfying Burrito as Zambreros today. Unless, of course, you're more of a taco fan. Or perhaps you would prefer a quesadilla. All are good options although the Burrito is the main event.
San Giorgio Ristorante
Just across the street you will have access to another great place to eat that serves Italian food: San Giorgio Ristorante. This is a place to go if you want to eat proper good Italian food. You may have to pay more than Cafe Brunelli, but it certainly is worth it. I recall the first time I actually ended up here. My mate wanted to go to an Italian restaurant. We were walking through Rundle street and we then decided that we should pretty much check out this restaurant. It's located around the corner of an intersection, so it may get a bit loud if you eat outside. However, we ate inside.
From within they offer a whole variety of different meals of Italian origin. They had an assortment of absolutely delicious looking pizzas. The pastas were of pretty good quality. I ended up grabbing a carbonara fettuccini. It was out of this world good. I loved the flavours and it was actually of good quality. It wasn't simply dousing the whole concussion in sauce but rather a good mix of all the different foods and absolutely tasty as. I highly recommend that you come here. It will leave even your Italian friends impressed. It was quite funny as I recall one of my own Italian friends looking to work there. Apparently, he was told that they look kindly to Italians as it gives the place a more authentic feel. Luckily for them there are no shortage of Italians within Adelaide. South Australia as a large Greek and Italian population. Even at my work we have Greek individuals working in a Lebanese restaurant to help make some delicious pizzas. I reckon it's the Mediterranean food appeal.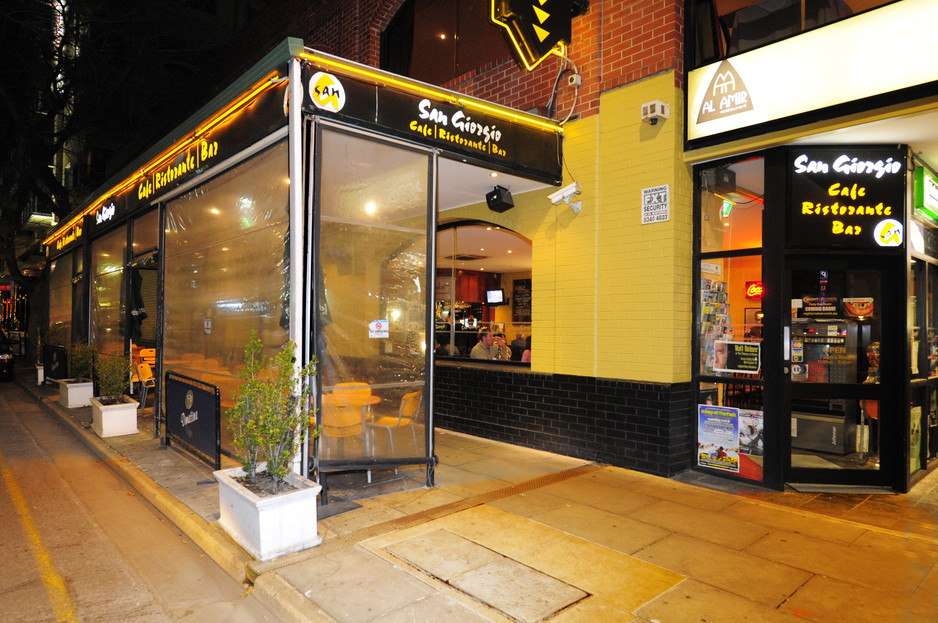 ( Source: https://www.truelocal.com.au/business/san-giorgio/adelaide)
I wasn't too sure if the chef themselves were Italian, but I do know one thing and that is their food was pretty darn good. They also provide takeaway if you don't have the time or energy to make it to the city for a meal. The prices are also quite reasonable, so I wouldn't fret too much about spending a crazy amount of money. What I would recommend is grabbing a few mates and buying several pizzas. For every four people I would grab three pizzas. That is unless your mates are very ravenous. Just make sure they're the massive family sized pizzas or else everybody will be left pretty hungry. There's nothing more satisfying then going out to eat and finding yourself still hungry by the end of it. That concludes what's located on this side of Rundle street. Once we cross the street we enter an area filled with a few more restaurants that are also quite large. Some of them aren't exactly restaurants either.
Bean Bros
Rather, they are coffee shops. I wouldn't normally give much credit to coffee shops but here in Adelaide they are absolutely amazing. Coffee is highly valued in Australian society. While the stereotypical tea time is big for the British in Australia it's the more intense caffeinated drink. So, this place is one of the places to go to for that. The Bean Bros is a very popular coffee shop known for its own blend of coffee that adds crazy flavours to all the coffee lovers. The atmosphere inside the place is very cozy and quite well designed.
They also offer a menu for different types of foods to eat. I'm told their salads are quite tasty and worth a look about.
I would recommend enjoying a nice morning start here before it all gets exciting at work. Rather, you could also simply go after work or in the evening to enjoy a relaxing period with mates. I can't really go into much detail as I have not been here before. Anyway, lets inspect our next destination. Here you will be up against the more popular places to eat.
Yiros House
We'll first start off with the Yiros house. This place is absolutely popular to an extent worth noting. The lines are almost always ever present on a night out. They offer very fatty and delicious yiros and fries for low prices. Many people end up going here to enjoy a refueling after a long night of dancing or a compensation meal. It's a pretty straightforward place. When you walk up to it to your right there's several tables for you to sit down and grab some fresh air. On your left there's the store. It's basically one small room with tables on each side. Right ahead of you is the counter to where you could enjoy a satisfyingly filling meal for a low cost. If you notice around you on the walls there are hundreds of different photos of patrons eating here. Not sure how you could become applicable to have your photo taken. Either they ask, or they do it at random. Who knows, I tend not to eat here often as I value my health. I reckon it's a way to give the place more spirit and hominess. It's practically home for many people.
The reason for the above statement is the fact that there is a nightclub nearby that tends to keep this place open even till 4 am on a Wednesday. That's a rarity for that time of the day for an eatery to stay open unless it's open 24/7. The reason for this is that sugar has its night out parties every Wednesday. Entrance is around ten dollars or free, I can't really recall. However, its popularity is so high on Wednesdays that it makes up for being open so late quite easily. This would mean that having a place with super fatty food open so late will make you a nice and tidy profit. So, feel free to enjoy a late-night meal on a Wednesday right here. Or throughout the week, whatever tickles your fancy. I just wouldn't recommend that you eat here quite often as the food is pretty unhealthy. Now, let's move on to its next door neighbour. A very popular place and one that is quite large. Just before entering you will notice to your right a large number of chairs set up to eat. I quite enjoy having outdoor areas like these. It actually reminds me of my time back in France.
Schnithouse
I was walking into one of the main restaurant and bar areas close to the musee d'orsay. While I was exploring the area, there were many 'outdoor' areas. They were absolutely filled with people. Although, it is worth noting that it was during the rainy season. You'd be surprised how much it rains in this part of Europe. So, their solution was to cover up the whole area in hard plastic and cloth roofs. This allowed for the illusion of being outside but also still within the confines of a dry environment. It was also pretty interesting to note that they incorporated heats into these 'outdoor' areas.
Anyway, back to our own country. The next place to check out is the interior. The left side of the restaurant is where the bar can be located. There are cakes and different alcoholic drinks on offer. The people here are quite nice and fun to talk to. They're pretty chatty. The inside area is also pretty good to chill in as it's quite comfortable. The inside of the place is quite comfortable with some well-designed art pieces all over the place. The food here is also pretty good. As the name implies the Schnithouse offers some great schnitzels to try out. They also offer deals where they are basically half the price to consume on certain days. I reckon it's a Monday although I would confirm with them. This makes for a very delicious experience right at your fingertips. It also makes it pretty affordable for students and other sorts of people. A very common activity in this place is simply drinking a coffee with some mates while sitting outside. They also have a selection of different cocktails to try out. I definitely would recommend you come here for a go. Ask them for what drink specials they have or if they have any 'home' cocktails which offer some spectacular tastes. Either way, you're in for a great drinking adventure.
Try their different selections of food as well besides the schnitzel. They also have some pretty tasty burgers and their fries are also not too bad. Their pizzas are actually pretty tasty and worth enjoying especially with some mates. Interesting story, I used to work here back in the day. I wouldn't exactly call working but I did have to work for them. I was doing my certificate in hospitality as I wanted to work while I was studying in university. So, by the end of it all I had to do a forty-hour work placement. Now, a work placement basically means that you work for free and unofficially as a type of internship program. For me, I had to work for forty hours. The standard work week. This, of course, wasn't done in one week. Rather it took about two weeks.
The work was not too bad. Hospitality is stressful and the amount of people who come in to eat is quite plentiful, so I was definitely overwhelmed. However, I soon got used to it. I was even rewarded by pizzas and other forms of food for free. It was truly an experience. However, back then it was known as la Cucina Forno and was more of an Italian themed restaurant rather than one standing behind the good ol schnitzel. Anyway, let's move on to our next adventure.
Another place down the road that you should not miss out is one that revolves around ice-cream. Specifically, gelati. Gelati is made a bit differently than ice-cream due to its raw ingredients. I like it a lot more to be honest. It's creamier and much tastier. So, this place is part of a chain. One of the tastiest I have ever had the satisfaction of trying: Gelatissimo. This place is a small two-level store. As the other spots you will have plenty of seats outside to enjoy a good gelati.
Gelatissimo
The reason why it's so well spread is due to the large Italian population that influenced the ice-cream industry in Adelaide. Thanks to them and others we were able to receive the goodness that is gelati. The counter inside is usually served by high school girls. There are two different sections from the counter. One side has all the sorbet ice-cream which offers all forms of nice treats such as mango, melon, strawberry and many more. On the other side you have my favourite section. Here, you can find all amazing and delicious flavours. Cake batter, cookies and cream, snickers, dark chocolate, Raffaele and many more. I salivate at the thought of eating all that ice-cream again.
Inside you could choose from an assortment of flavours and also the host of all that ice-cream. There are different sizes for cups and cones available. The cones could be smothered in Nutella and sprinkles if need be. All pretty tasty. I recall one time when I grabbed strawberries mixed with salted caramel together for an infusion of sweet and salty. It also included some Nutella. Make sure not to get too much Nutella as it will mask the taste of the rest of the food which is the complete opposite of what we want to do. Once you collect your great and beautiful meal you could then head on over inside or outside for your meal. Or, if you want some privacy because you brought your date on over then you could head off to the upstairs floor. The room is quite retro and feels as though you were in a completely different world. I had eaten here plenty of times but only noticed recently that there was an actual upstairs room. Kind of stupid really but I enjoyed most of my eating outside when it was warm. Nothing like some good ol Gelati on a hot beautiful day.
Now, this is not where the fun ends. There are also quite a few different options to enjoy your gelati. Although, I will focus on the gelati cakes. There are absolutely many delicious cakes to try from and many that could be custom made. If you have a love for ice-cream, then head on over here and have a chit chat with them. I'm not too used to ice-cream cakes but whenever I have them I go absolutely bonkers for them. Imagine having your favourite flavours covered in chocolate, caramel or whatever sauces and prepared for many to eat. Many will be too overwhelmed to finish it but that's where you come in.
There are other great places for ice-cream cakes. Cold Rock is well known for it. However, Gelatissimo has never steered me wrong before. So, it's pretty good. Also, keep in mind that it's relatively affordable. You get a couple with a couple of scoops for about 6 or so dollars. It really isn't too expensive considering how pricey other desserts are and how tasty this is. Although, that may just be a wrong analysis by me. I highly doubt it is though.
Taj Tandoor
Now, let's move on to something more savoury. As you may already know Asian cuisine-oriented restaurants are very common. Specifically, Eastern, South East and Indian cuisines. Close nearby on the northwards part of the road you could find yourself the Taj Tandoor. This restaurant is a very elegantly designed one that offers banquets and traditional Indian curries. I never personally came here before as I go to another Indian Restaurant. The atmosphere in the place is quite bright and enjoyable. The staff are also pretty competent and very polite. They also give the impression that they definitely know what they're doing from what my friends have been telling me. I've been here before, but I just hadn't eaten so I at least have a feel for the place. I was joining some friends right before as we were heading off to a bar straight after.
If my friends were being truthful then this is a place you definitely do not want to miss out on. It's very central and the food is pretty good. What more could you want in a restaurant? Probably affordability. I'm not too sure if it's affordable or not but I reckon you should check it out yourself. 
San Churro
San Churros is a chain that, you guessed it, sells Churros. They actually do sell an assortment of goods which also includes cakes, lava brownies and all sorts of goodies. I absolutely adore them all. It's a very high tier place. It's a little bit expensive but it is very tasty. It's found on the very corner of the eastern part of Rundle street. When you walk inside you will find a rectangular room. While the room is medium sized the counter takes up almost a four of the room. That's a good thing as there is so much to offer that they need an incredible amount of space to be able to house it all. While their other goodies are pretty tasty I never had the opportunity of trying out their churros.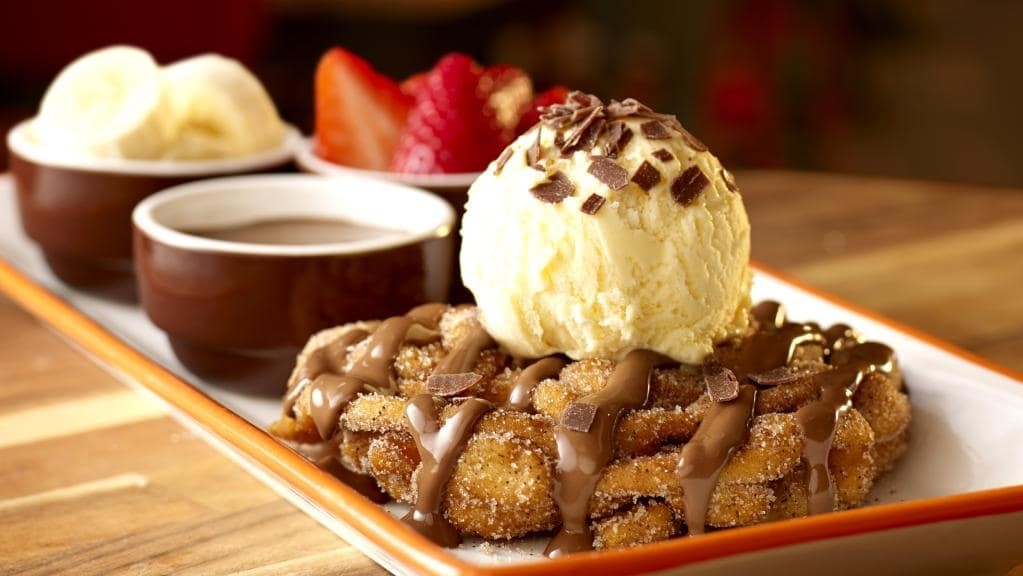 (Source:https://www.dailytelegraph.com.au/newslocal/south-west/chocolateria-san-churro-at-bankstown-sports-club-a-choc-lovers-delight-because-of-its-spanish-roots/news-story/480d7ee1f8da56dcf8a808b38b03d9a1)
Well actually, I had the opportunity, but I never ended up eating them. Why? You may ask. Why would you miss out on what the delicious brand offers even in their own name? Well, my friends, I have been eating churros all my life in Spain and even in other countries. When I was in Spain we would pay almost peanuts (worth of money) to lots of large churros. We even had their variety that were even thicker and much larger called poros. Like cigars. Lord, were they huge. My mom would also make her own churros even outside of Spain. She would buy a machine (here's a guide to make them) with prepared dough that she would make. She would then put it through the machine that would give the shape of the churros. You then fry the churros in a deep fryer and voila. She would make huge mounds of them. I reckon I recall why I was quite large as a child.
Regardless, we would have the option of dousing them in sugar or Nutella. More often than not we do it in Nutella. So, for this reason I tend not to eat out churros as they are quite expensive and smaller sized than what I am used to. However, I wouldn't let that discourage you as they are still pretty tasty. Another added bonus is that during your birthday you get a free serving of churros. I would highly recommend you look up what is available for people who have their birthdays as you could potentially get a whole assortment of different tastes and goodies to try from. I will also have to emphasise on the different cakes they have on offer. I've had my fair share of cakes through life. I even tried the ones they had in Vienna from a very luxurious looking store that only served cakes. I have to say that without a doubt the cakes here are pretty darn decent. They are rich and definitely of high quality. Don't miss out on the opportunity. Now, move on to the next and final place worth mentioning.
Belgium Beer Cafe
There is the large Belgium beer cafe. A place located in an alley from Rundle street but so good that it is definitely worth mentioning. The food here is quite good as they offer some traditional meals. Although, the thing that sticks out the most is their Belgium fries. They do put in the effort to make them pretty good. They also serve a large variety of Belgium beers that you cannot miss out on. The place is quite large. If you enter from the Rundle street side, you will enter the large bar area. This place truly looks as though you were back in Belgium. If you walk further in you will have the main dining area. This is where most people go to eat although you could eat anywhere within the bar without much worry. There is also an outside area that's worth checking out. It's pretty refreshing and almost always full due to how popular it is here.  You'll be able to relax outside in the sun in a half-closed area. You'll be able to watch the world pass by while enjoying a good Stella or Hoegaarden beer. It gets quite busy here on weekends and there is an upstairs area where people go to dance and have all different sorts of fun. I never really figured out what exactly they do up there. I reckon it's a dance area as there is usually a line of people that went to head up there.
Conclusion
This concludes our adventure through Rundle street. Here you have an extensive guide of all the places to eat. There are quite the options. You should always have many different cuisines from many different varying prices. You will also be in the position to suggest some great places to travel to for a meal with some friends. People will look up to you for suggestions and ideas. You would also be able to easily impress any dates if you take them to somewhere nice over here. Perhaps a nice Italian meal at San Giorgio's and ending it all at San churros. Or perhaps go on an ice-cream dessert night and maybe even move on to beers and fries part of the night at the Belgium beer cafe. All of it is within the tips of your fingers so go wild. Happy adventuring and good eating!
---
Photo gallery
---
Want to have your own Erasmus blog?
If you are experiencing living abroad, you're an avid traveller or want to promote the city where you live... create your own blog and share your adventures!
I want to create my Erasmus blog! →