Affordable Adelaide: Restaurants food-rush
When you think of Australian cities what would you think? Sunny Sydney, moody melbourne, perhaps beautiful Brisbane? One city that tends to be neglected due to a small tourism industry is good ol Affordable Adelaide. While many tourists may not be inclined to visit, the population of exchange students is relatively high with Adelaide University even setting goals to have one in every three of its students sent on exchange with one foreign student visiting in return. I have quickly noticed that this is the case as the majority of my friend groups in the last two and a half years have been cycling between different exchange students.
Being a student in a new country is not always glamorous. You find yourself sometimes out of depth and unable to find what you're looking for. I understand as I have been on two different exchange students. This guide right here will help you spot out many of the different restaurants that provide a great diverse meal. This will make picking a nice restaurant to take your new mates, date or simply visiting family much easier and more rewarding. This is also a great guide of my personal favourites for tourists staying for quick visit who want several great culinary delights. First of all, we will start off with my favourite and most flavoursome cuisine.
Indian
North Indian Cuisine
Thisdeceptively smalland simple looking restaurant found on Hindley street, next to McDonalds is my most visited restaurant in Adelaide. North Indian cuisine specialises in creamy curries. The rich flavours of the curry coupled with the great 'bang for your buck' portion size makes lines extending out the door a common sight. This homey place with bollywood performances playing on the restaurant's bigs screen television makes this place an enjoyable eat in. Although takeaways are also commonplace.
In essence you get to grab a small, medium or large plate with rice and pick 3 different flavours from +20 different flavours with at least eight of them being vegetarian (the number is approximate as they cycle curries on a regular). You can get all sorts of tastes such as tikka masala chicken, lamb korma, palak paneer and many, many more. They also have a wide variety of mild and medium spicy for the cautious and full spicy for the adventurous. However, the star of the culinary show is its butter chicken curry.
Personally, I would always take the butter chicken, take mango chicken half the time and for the third flavour I would pick at random depending on whether I'm keen for veggo options.
The restaurant also offers dollar snacks such as fried veggie spiced patties (bunless), meat and vegetable samosas, chicken tikka and more.
If you want a drink you have many options of regular fizzy drinks. Although they have Lassi (Mango drink) which goes well to wash down a good curry. If you want to instead wash it all down with tea you could order a couple of succulentgulab jamun(Syrup dessert balls) to satisfy any post-meal sweet tooth.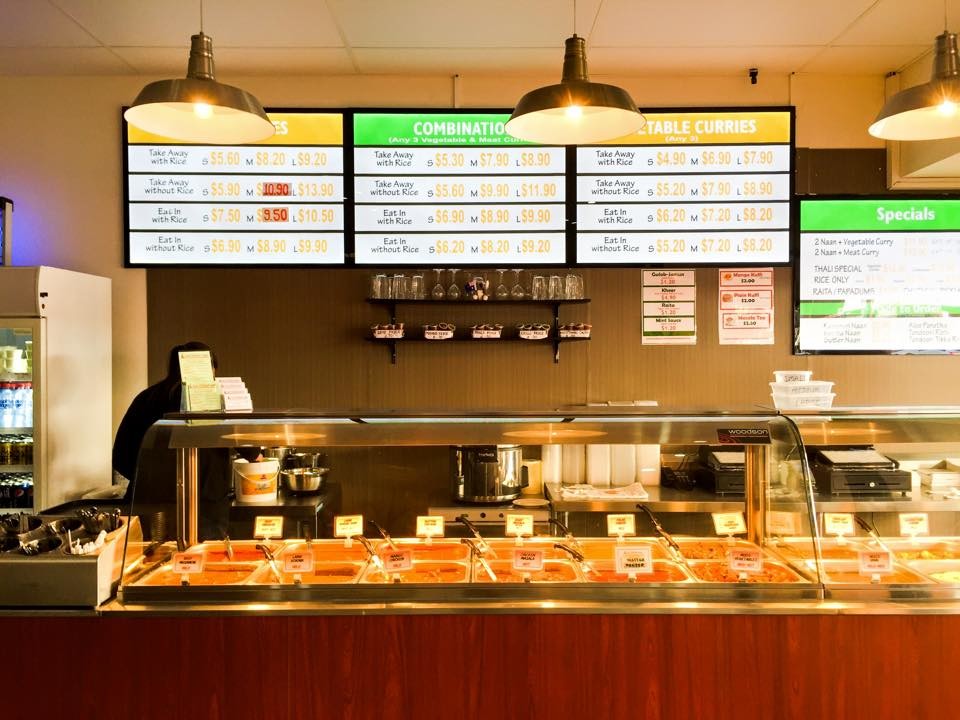 (Source: Adelaide food central)
Jasmin
I was told that this restaurant was one of the most exquisite indian eateries in Adelaide. As I enjoy food-exploration I had to take a look, and taste, for myself. What I found was a very delicious anda more refinedmenu. I've been here twice with mates, and both times my two different groups of mates were impressed.
The menu is more varied compared to North Indian Cuisine as it is more about high dining rather than large portions. You get a variety ofvery rich flavourscoupled with rice and salads. If you're feeling like spending several extra aussie bucks on better Indian cuisine, I would definitely recommendJasminover other high end Indian restaurants.
Vietnamese
Zen kitchen
Another student friendly restaurant and myall-time favourite Vietnamese restaurant in Adelaide. This placed tends to be fully packed during lunch rush hour. It is hidden away in the less visited food court on pulteney street. With friendly and chatty staff this places will make you feel as comfortable as your own home.
Zen kitchen has a plethora of options to try on the menu. This restaurant provides a large combination of egg or rice noodle soups, dry rice/noodles and phos. With these you may grab different combinations of meats ranging from duck, chicken,seafood, beef etc.
You may get your mealsroasted or steamed, fried or crispy, crackling or grilled. I have been here quite often and have still not gone finished the 30+ mains and all its different starters. The starters ranged from spring salads to spring rolls to bite sized pork bits and dumplings. They also provide a wide variety of sauces from tarter, to soy to some I not even in english.
For beverages they have vietnamese filtered coffee, tea and my top pick:authentic coconut juice.
One of my favourite experiences here had been bringing a mate's family who came all the way over from Scotland. They were shocked as to how flavoursome the food was compared to Vietnamese restaurants back home. I reckon my favourite part is that the meals take near to no time to prepare which make it a great option during the semester as it is only a five minute walk from my campus.
Sit Lo
Another highly rated Vietnamese restaurant. This smallhole in a wallrestaurant has a very cozy and slightly hipster feel to it with its decor, intricate wooden chairs and high seated tables. From my experience I have only seen people in their early to late twenties eating here, strangely enough.
This place is renowned for itsphoprepared in very round wooden bowls. If I crave a quick and reasonably priced pho I head to Sit Lo. It, however, has many great dried fruit and chicken based salads doused in soy sauce. It's also a very nice place to bring a 'special friend' if you're looking for a different experience. From regular wine and dine eateries.
However, I do recommend to be more cautious when it comes to selecting spicier meals as this place does not hold back when it comes to delivering a fiery meal.As in the Zen kitchen, it has many vegetarian and vegan options. I would rate this place an 8/10 when it comes to healthy eating.
Wokinabox
Now, if you're looking for something less healthier andmuch richerbut still maintaining some sense of south east Asian cuisine, look no further! Wokinabox isfast food south east asian inspired food. This chain is found all over the city, with one conveniently placed outside my university.
The chain sells all sort of foods from dumpling, dim sums, noodles, stir fries and rice based dishes . The most popular is the crispy pork dumplings. I normally do not eat fast food Asian food as I enjoy the more natural flavours of healthier options. However, if I do crave for heavy food with a hint of dumplings, I head to this chain.
The food comes in a, you guessed it, box. Making this place a great takeaway shop if you're looking for calorific fuel food on the go, It's especially good for study sessions or simply a pick me up for a long day of touristic activities.
South Korean
Mandoo
A tiny Korean restaurant large enough to fit in about a dozen people. This small restaurantalways has a queuewhenever I pass by it. The queues are justifiable due to its small size. This restaurant is one of the lesser known ones from what I have found out.
This restaurant specialises in dumplings of all sorts. Fromsoup dumplings to crispy and fried variants. They serve all sorts of meats such as pork, chicken and the sort. Although one thing that I found unique was itskimchi dumplings. It had been the first time trying kimchi and since then I often look towards this place to satisfy any cravings for dumplings
Italian
Jamie Oliver Italian
Growing up with my mom cooking up a variety of Italian based pastas and pizza I tend to avoid regular Italian restaurants like the plague unless they are especially good. Jamie Oliver Italian is always the exception.
I had a date with two old mates for a catch up. One of us decided to make a reservation for this place, and days after we were here. We walked through the busiest street of Adelaide, King Williams st to get to a deceptively typical looking restaurant with a sign outside ' Jamie Oliver Italian'. The high ceiling, formally dressed  eaters and the decor gave off an aura of opulence. Not a very comfortable place to let your hair down.
I decided to to order a mushroom caramelle. When the dish arrived it was oozing with sauce and the smell was divine but I did not really expect anything particularly special as I try not to hype up high class dining.
However, I wasblown away. Jamie Oliver Italian provides a wide variety of Italian foods ofsublime tasteI admit, that had been one of my most enjoyable Italian culinary experiences of all time. The flavours were extremely rich and finely textured. It is definitely an experience you do not want to miss if you have a moderate budget allocated for eating out.

(Source: Jamie Oliver Italian)
Trattoria
Another great Italian restaurant. I was first introduced when a huge group of us were meeting for one of our mutual friends birthday. The place looked as though it was built into a cave. This gave the restaurant a more authentic feel as all the odours of exquisite pizzas, Calzones and pasta overtook the atmosphere.
The place itself is moderately priced,not nearly as highly priced as it should for its quality. I ordered a nice Parmesan and pine nut fettuccine and thoroughly enjoyed every bite to the last parmesan piece.The red is also good, providing imported Italian varieties. I reckon this had been the closest to feeling like being in an Italy.
Australian
Union Hotel
Let's move on to some of my top Australian restaurants. We'll start off with the Australian gastropub, the Union hotel. This restaurant is known for itscocktail dealsand its beer variety. It's a great place to take some mates without hurting your coin holder. They have three areas. The pub area, with several tables and the pub nearby, perfect for anybody who enjoys drinking while having a meal. The main inner area where most of the tables are set, Finally, the outdoors area with long benches and several tables. Perfect to eat and chit chat with a group of mates.
The meals here vary from salads to steaks and pastas. Althoughwhat makes this place particularly special is its pizza deals. Every monday they servefreshly made good quality pizzas for a third of the original price. The pizzas are enjoyable with toppings such as pork, snow peas, pinecones and locally sourced spicy sausage.
The price of the pizzas would raise as the week progressed. This place is always a good choice to take groups of mates due to its unreasonably cheap price and its high quality. Its not uncommon for some of the mates I go with to order seconds.
Grill'd
Another chain restaurant to add to the list. This chain specialises on its variety of flavoursome hamburgers. The one place I often go to is a very homey place. Once you enter you pass three large jars filled withbottle caps. You can choose to sit down in the inner part of the interior or to the grass floor tables closer to the entrance.
You sit down and select your meal from an artistically designed menu that emphasisesfree-range and animal-cruelty free intentions. Once you select your meal you make your way up to the counter to face a one of several hip looking waiters with large earrings, tattoos and man buns. You order your meal, choose your bun from three different types and after paying you get your receipt and a bottle cap. This bottle cap is your hard paid vote. You help decide which one of three charities receives the lion's share of donations from the chain. Feeling good about yourself you sit down and surprisingly quickly, you receive your flavour explosive meal.
This place has some of the best burgers I have tried in Adelaide, I visit this place quite often to try different varieties of adventurous flavours. My personal favourite is thechicken and brie with cranberry sauce burger. Always packed with strong, rich flavour. If you are not sure what type of burger you'd like or are keen to try as many as you can, you could order the burger slider. The slider lets you order three mini versions of the chosen burgers to help put your thumb on what you would enjoy.
Although, one of the shining stars of the menu are the sides. You could order some of thebest sweet potatoes fries I have ever triedto accompany your burger. Or, if you're extra ravenous or with mates, you could order a fried slider. Here you getthree different sides.Regular potato fries, sweet potato fries and mouth wateringzucchini fries.
If you enjoy any of the above, I highly recommend this chain. They are also, as mentioned, community oriented and environmentally sensitive which helps model a cleaner and less wasteful and more pro society restaurant. Another thing thats worth noting is that they released a new burger: Wagyu beef burger. There are two different variants of this burger and both are absolutely delicious. I highly recommend you grab yourself one of these burgers with a side of either sweet potato fries or zucchini fries.
The Curious Squire
Situated on the southernmost tip of North Adelaide,the Curious Squire is another gastropub restaurant that excels in beer variety and quality. It also doubles as a sports bar during Australian football cricket or soccer games.The foods are Australian themed with the usual steaks, hamburgers, salads and fries. However, there's a deal that makes it uniquely special.
The Curious Squire offers an extremely good deal on chicken wings. If you're keen to watch a football game or simply have a pig out with your mates or alone with your stomach, this place is perfect for you. The wings can also be augmented in flavour by a variety of sauces such as barbecue, mayonnaise, ketchup, white cream, honey mustard and more. The quality of these chicken wings are decent. The best part is the large outdoors area which you could dine on a sunny day. From there you have an elevatedview of the cityand the Adelaide Oval.
I recommend this place for dinners when the weather is cooler. The price makes it very student friendly as you pay a slim amount b the wing. The pale ales are very decent and the restaurant is walking distance from the city if you want to turn the dinner into a night out.
Mexican
Burp
For a small city, Adelaide has its fair share of diversity when it comes to restaurant options. The city has many mexican restaurants scattered all around the city. One of my favourites is 'Burp'.
The name itself might not be the most appetising but I assure you, it is a great choice. This medium sized restaurant/takeaway shop offers a subway-esque approach to its menu options. Burp serves burritos, tacos, nachos, quesadillas, enchiladas and specialisedtequila shots.
From my experience the tacos here are especially good. At the beginning of the assembly line you get to choose between Mexican beef, chicken,spicy beef and 'Original' beef, All are good, although my favourite is the Mexican beef due to the addition of spices which add a lot to the concussion
After selecting the meat you have a choice of over a dozen toppings ranging from cheese and capsicum to peppers salad and corn. To top it off you have the option of 8 different sauces with a sheet of paper stuck onto the glass to warn (or encourage you) of the different spicy levels to try out. At the end of the line, if you pick any dish besides a burrito you are provided with wooden forks and tray to enjoy your meal.
What is interesting about this store is its 'tequila of the month'. You could buy an exotic tequila shot for a reasonable price. Better yet, you'll find the strangest types you would not be able to find in most stores. One example of this would be the peculiarcoconut flavoured  tequila shotsfor only 5 AUD.
The best part is itsbi-monthly taco dealswere they bring down the price of tacos from 4.5 AUD to 2.5 AUD (The deal used to be 2 AUD for a taco to promote the place). This is still a steal for the quality of these tacos. Also, there size is pretty substantial for a taco. Two to three of these tacos for the equivalent of 5 euros is enough to satisfy any hungry soul.
Zambrero
A chain born on Australia soil, Zambreros can be found on most popular streets due to its quick preparation for reasonable prices. They sell the usual Mexican popular dishes of tacos, burritos, enchiladas, tacos and all the sort. However, what I found notable is its vegetarian options. In many cases, I find vegetarian options are simply lacking in either girth or richness in flavour. In this case its the opposite.
A great part about Zambreros is how they double down on their vegetarian options.Double the beans, double the rice, double the cheese. This trinity allows for a very juicy Burrito. Its other vegetarian options are pretty good. I usually eat here if I am craving a meat-free burrito without sacrificing richness.
Another great product are its chocolate and snack bars. They offer very thickflavoured barswhich rely less on copious amounts of sugar and more on ingredients to offer a defined taste.
One thing that gives them extra bonus points is theirfight against world hunger. For every meal or salad bowl eaten they donate a meal to those in need. When I enquired about this last year, one of the employees told me about 14 million meals had been donated since they started this drive.
Guzman y Gomez
This one is a very recent addition to the list of Mexican restaurants and has become one of the busiest of them all. I had the pleasure of eating here recently and have enjoyed their food quite well. Its surprising that this shop became so popular so quick with the amount of power Zambrero has in the Mexican food world in Adelaide.
They serve all types of typical Mexican foods although their different food bowls are especially good. The team serving the food are usually either Mexican or from South American decent. So, its easy for me to chat them up in Spanish while waiting for my meal to come through. The staff are definitely quite friendly and I do recommend you eat here if you're keen for some Mexican food.
They have an upstairs area which is their main sitting area. I usually prefer sitting in the surprisingly large balcony area which has a great view of the busy Rundle mall/Hindley street intersection. This place tends to light up at night during the busy party days of Friday and Saturday. They also have a larger indoor area upstairs where you can enjoy your meal without any hassle of the noisy outside world. Either way, you're pretty much set on wherever you want to sit and dine. Do not miss out on Guzman y Gomez!
Afghan
Afghan Charcoal Kebab
Afghan food has quickly risen in popularity over the years between migrants and Aussies alike. The filling and relativelyhealthy flavoursalong with different sides allows for a delicious and not as guilty large meal.
I was first introduced to this chain by a Pakistani friend. The first thing I ordered was a verysaucy chickenwhich came with a side of salad and a large pita bread. It was a very filling dish for a reasonable price.
Since then I have eaten there several times. They also offer beef andsucculent lamb kebabs. You can choose to have a doner kebab meal with rice, salad, tomatoes and the choice of kebab meat for a full meal. The sauces are pretty good, one of the top flavours I would recommend is their capsicum sauce which contributes sufficiently to the dish without being over sugared such as ketchup. They also offer soups, Qorma and Halal pizzas (Tandoori chicken is my top pick).
Shisha lounge
Some may look at this option as a bit bizarre. Not many of us think of finding a great meal inside a smokey shisha bar. However, things here are a bit different. First of all, it is illegal to smoke shisha indoors and must be smoked outdoors. This is not as much of an issue as many think as Australia tends to have temperate winters and very warm nights the rest of the year round. This way the smoke and smell does not get in the way of enjoying the food.
Located in the busy street of Hindley, its common to find this establishment completely packed on a thursday and weekend night. If you manage to grab a seat I would highly recommend trying one of several different options on the menu.
The star section of their menu is the Manakeesh. Here you can pick from falafels, to Chicken Avocado (if you want a large filling meal), Sujic (if you are looking for a richer flavour), minced lamb (for something more tender, lahma bajheen(a dish I would often eat in the middle east. I have never really tried it outside until I visited this place) and yiros avocado. Every option is a good one as I quickly found out. Since then I often order a delicious dinner whenever my mates are keen for a shisha and tea.
There are other options such as burgers, yiros and pizzas. I have not really tried these other choices as the manakeesh are too enjoyable to pass off. Also, if you're looking to satisfy your sweet tooth they also offerNutella pizzasand different forms ofbaklavas. They also serve frappes and even mocktails if you're looking for a fruity sugary taste.
The owner is also very nice, perhaps because I am a regular. On more than one occasion he allowed me to switch up the music of the establishment. On more than one occasion he allowed my mates and I to grab a  massive goblet drum set up as decor for a fun drum and smoke sesh.
American
Maccas and Hungry Jacks (Burger king)
We all know these two as a great source of cheap bites if the wallet is feeling thin or you need something fast and greasy on a night out. There is really nothing to add except for two different facts.
Firstly,boxed fries. I do not normally eat McDonalds. I probably had a burger thrice. Although one thing that Aussie maccas has that I truly enjoy is its mixed flavours boxed fries. They offer different flavours from gravy and bacon to my all time favourite and only choice:Parmesan and truffles fries. Rich in flavour and surprisingly dynamic for its establishment, I enjoy this as a great meal after dancing all night. However, it is not what you call the most authentic food imaginable.
Secondly, and a fact that applies for both of them is their opening hours. Both chains provide a 24/7 service in the Hindley street branches. This is perfect for the late night travelers or the past midnight takeaway enthusiasts.
Regardless, I would not really recommend either if you are looking for a good bite to eat.
Chuck Wagons 175
Now, for some properly delicious American food. This restaurant located in North Adelaide is one of a kind in Adelaide. The first hint comes right before entering. At the entrance there used to be a meter high stormtrooper which has been replaced with alife size Predator figure(Aliens Vs Predators) standing menacingly by the door. Once you enter you are greeted with the Stormtrooper and Michelangelo from the Teenage Mutant Ninja Turtles with his goofy smile welcoming you into the establishment.
The interior is a world of its own. Against dark wooden walls you find movie posters of superheroes from Superman, WonderWoman to Star Wars, E.T. Lots of 80s flicks, a large fictional assault rifle, motorcycle, records, Pulp Fiction posters and a lot more. Not a single inch of the wall is visible.
The most brightened part of the wall holds hundreds of photos of individuals that dined at the place. This part of the wall is flanked by life sized figures of Batman and Captain America. From the ceiling you see more painted on art from Superman, Green lantern etc.
Hanging from the ceiling are different spaceship models from Star Wars and Star Trek, Captain America's shield and even a random Umbrella.
Every time I visit I pay close attention of my surroundings as they always add something new to the plethora of decor.
Enough about the decor, let's talks talk about what really matters. The food here isvery American in origin. Although what makes this place particularly unique in its menu is portions. Here you can get your steaks, burgers, buffalo wings and all.
You can order towering burgers with more than a couple of patties. These massive towers ooze with cheese and sauce. I had tried the mega sized option for their Pollo Loco chicken burger. My dinning mate had memphis style barbecue pork ribs which were incredibly rich in flavour. You can also order Jack Daniel doused ribs, nachos, massive wings, and more than a dozen unique burgers.
One of my favourite bits of the menu is the massive desserts. One thing that amazes me is the American enthusiasm for fried foods. As the entree had the option of a fried pickle (was not too keen to try it out at the time, but I am curious), to fried chocolate bars. They desserts are very rich with many of their brownies, cakes and fudges mixed with peanut butter, batter, nutella, caramel and evendeep fried ice cream. Although the dessert that is much celebrated among critics and food enthusiasts is their wild large sundaes. Many of them drenched in chocolate, tim tam sides and many different delights that cycle on a monthly basis.
My mates and I ordered aNutella platterwith a fried snickers bar, nutella burger, brownies and the ice cream with an ice cream upgrade. The beers are as well decent. The bar is located adjacent to the seated area.
I would recommend a moderate budget for an eat out here. Although the cost is worth the experience and taste of this hip establishment.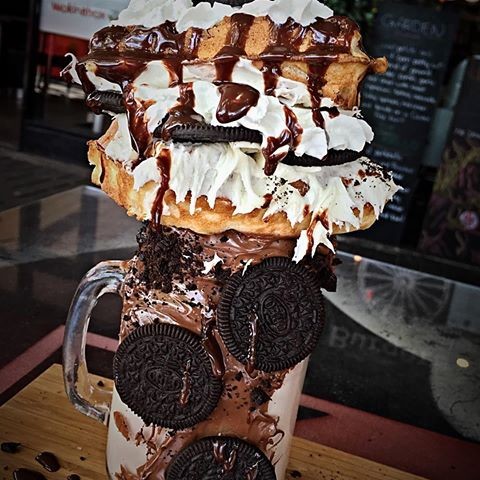 (Source: Chuck Wagon Norwood)
Beach Bum
This Hawaiian themed bar is one of my favourite decorated bars. Also found in North Adelaide, this small establishment has a very hip feeling to it with most diners I have seen seem to be in their mid twenties to early thirties.The bar has a very breezy chill feel to it. With the beautifully made blue and red sea waves against its wooden walls to its wooden surf van reception box. All perfect to make you feel like letting down your hair and relaxing.
The menu has some strange picks such as coffee beef salad, poached chicken and all the sort. My best pick is thechicken coconut salad. However, the Beach Bum kitchen specialises onseafood such as sashimi, grilled fish and more.
This place is great for small groups. They also offer some really nice fruity cocktails to quench your thirst.
Krispy Kreme
A chain that specialises in donuts is a very popular choice between sugar cravers. This takeaway shop offers many different types of different desserts and coffees to enjoy before a morning rush.
Krispy Kremes offer a few dozen different types of donuts to enjoy and many filled pastries which give off an explosion of flavour.Krispy Kreme pretty much has a flavour for anybody to enjoy.This chain is great for a passing snack or if you want to buy a box to take to the family, mates, workmates or simply to enjoy at home.
International
The Original Pancake Kitchen
This delicious establishment is popular for its delicious orders and its24 hour a day, 365 days a year open promise. A place always opened and where you're always welcomed to order a meal, snack or their famous malt shakes.
I recall the first time I came here was after a night dancing at a nearby salsa bar ( I couldn't dance salsa, but it was good fun). It was hidden in one of the little alleyways tucked into its own world. My mates and I entered the door away from the late night darkness to the bright and warm colored restaurant.
The waiters are very friendly blokes and are more than qualified to recommend you whatever you may enjoy. One comment that stuck to me a year and a half since then from waiters had been that there is no lock on the restaurant door as it never closes. I found that fact pretty refreshing and made me feel more at home.
In the restaurant you have many choices ofpancakes,crepes, waffles, fries and much more.My top pick is their flavoursome swiss shakes. They come in multiple flavours and are very rich and refreshing. Perfect to satisfy calorific cravings. The only thing better than a Swish shake is amalt Swiss shake for only an extra few coins.
Blue and White cafe 
While it says cafe in the name, it is anything but. This supposedly Greek style restaurant is a great place to find a variety of different foods from lamb and calamari to yiros and falafels. This shop is found in North Adelaide.
What makes this place especially notable is one of its prime products which it claims (contested) creation of: The AB. It is similar to a Halal snack pack but its still its very own creature. Its basically layers and layers of hot chips piled to the brim with kebab meat and smothered with chili, garlic, white sauce and barbecue sauce.
This is the ultimate cheat meal. When you want something raw and full of flavour, no refinement, no intricity, just pure flavour then you head to this restaurant.
I recall the first time I had this behemoth. I had heard a lot about it although I did not expect the size and thickness of it all. Needless to say it took more than one of us to finish it off as I was not mentally prepared to tackle such a meal.
This meal is deffo a good one to have after a long night out with some mates. Or if you're feeling extra ravenous you can down one of these bad boys on your own.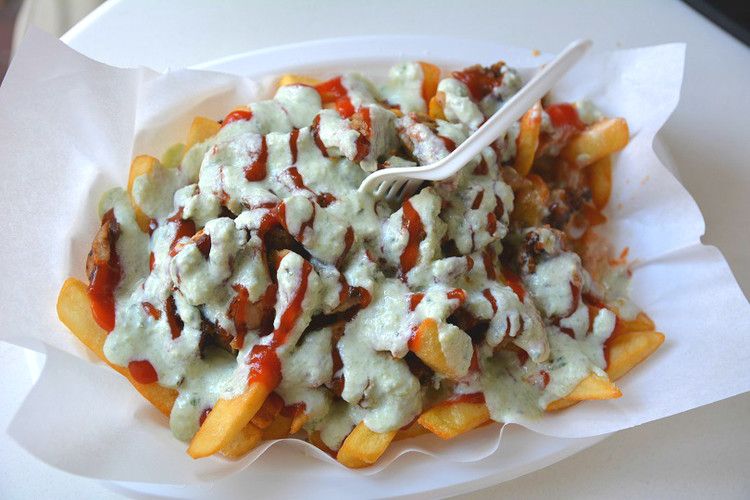 (Source:James Donald forbes Mccann)
Vegetarian
Sumosalads
If you're looking for a couple of nice vegetarian oriented restaurants, Adelaide has a large number of them. From the few I have been to I have a couple of favourites.
I am usually skeptical of most salads that aren't filled with grilled sweet potato. However, SumoSalad gets a big thumbs up from me. This chain restaurant specialises inlarge diverse salads perfect for veggo lovers and low calorie meals.
Chicken avocado and pretty much any of their avocado dishes are deffo a great option. However all the salads provide a unique and authentic taste and are worth a try.
Two bit Villains
Last but not least, one last hip vegetarian restaurant. Two bit villains is subtlety hidden soda bar/restaurant that specialises in catering for vegetarians and vegans. The first time I ate here was with an American exchange student who was vegan at the time.
I am always open for a new food experience so I agreed to go.
The menu specialises in veggo burgers based onchickpeas, soy and black bean quinoa patties, pies, fries and salads of all kinds.My favourite dish so far is the Soy patty burgers with a sweet potato pot pie. A great place to go if you're looking for new flavours within the confines of vegetarian and vegan cuisine.
Conclusion
Overall, Adelaide proves to cater to many different cuisines of all sorts. From Italian to Vietnamese, vegan to meat lovers paradise, it has it all. Finding many of these different restaurants is difficult for those visiting for a short while or semester long students. However, I find it important to have full knowledge of all the great places Adelaide has to offer to further augment your culinary experience in Adelaide. This list barely scratches the surface of all the different and dynamic restaurants with new additions popping up every few months, Adelaide also hosts many different pop-up shops and restaurants which offer a great taste of unique and diverse foods. So it is always rewarding to be on the lookout. Bon appetit and happy hunting!
---
Photo gallery
---
Want to have your own Erasmus blog?
If you are experiencing living abroad, you're an avid traveller or want to promote the city where you live... create your own blog and share your adventures!
I want to create my Erasmus blog! →