Affordable Adelaide: A bar enthusiasts guide
Many of us enjoy a good drink with a mate or two. Talking to many people and exchange students I realised there is a severe lack of knowledge as to which bars to visit as many stick to the same tacky commercial bars. Adelaide has many interesting  and unique bars to offer and hopefully we can tackle that together in this guide to a proper Adelaide night out.
Rocket bar and rooftop
Access to this place is not exactly obvious. You have to enter a seemingly typical looking door on the street with minimal decor or signs. Once you walk past the burly security guards you would have to walk up several flights of stairs where you would pass two different levels and bars. These levels and bars are very hype venues with drastically different themes which are still part of the same complex. At night these two bars light up for music performances, raves or into a regular dancing clubs with many variants of music to enjoy.
One you move past those bars you finally reach the open skies of the Rockets rooftop bar.
The bar itself follows a vintage design with grass floor and garden themed furniture placed around. There are plenty of outdoor umbrellas and covered areas with carnival lights hanging on them to keep you comfortable from the heat and rain with also heaters for the irregular spate of cold weather. The area has a very retro feel to it with a large central space for live music performances which tends to be a common theme of the night every time I visit.  There was even a retro popcorn machine which I was told was used for open air cinema nights during the summer. My favourite bit of the decor are the lazy boys strewn around. Perfect for a lie down with a wine and book.
To top it all off, the roof area has a huge palm tree which makes the venue feel like it's nowhere near the city. The cocktails here are exceptionally good and very aesthetically pleasing. The wines are also a good option. However, the star of the show easily goes to their tap beers. From Aussie beers, imports and crafts, there is no bad choice whenever you ordered a pint off the tap.
I recall how the first time I came here I experienced an unforgettable experience. I had gone out dancing with an EDM loving mate of mine. She and I came relatively early and did not have to wait too long in the line. Surprisingly, it was quite busy inside. I recall how the atmosphere was quite dark except for the stage where the band was going at it with sweet jams. They mostly stuck to alternative and light punk. After a couple of hours of their performance they began putting up a mix of RNB and EDM. We ended up dancing there for hours as the crowd pulsated with every beat and bass drop. It felt like being in a completely different world from the usual clubbing atmosphere. We eventually retired for a bit to have a drink at the bar. The bartenders were full of life and had surprisingly revealing clothing on. I reckon thats how they get more people to come to the club or order more alcohol. We were served quite quickly which could be attributed to the fact that my mate looked very foreign and caught the attention of the bartender. I didn't complain really.
If you are keen to set up a group hangout for a sunset view over the city, then this rooftop bar is perfect for that. You could also order a sweet sangria (I am usually sceptical as my mom's side of the family tends to make amazing Sangrias back in Spain) which I would give a big thumbs up. With drink, mates and a beautiful sunset view, these are the moments we have to cherish in life. My mate and I ended up chilling here the night before clubbing to see if the venue was any good. The place was impressive during the day as it is during the night. We enjoyed our drinks and the great recommendations from the bartenders and made a promise (which we fulfilled the next day) to come back for a dancing session.
Of course, if you are keen to bust a move you could come from thursday through to saturday to one of the two lower levels of the venue. You would have to pay an entrance fee that varies from 10AUD-20AUD depending on the DJ or performance. Nevertheless, I quickly found out that the fee is a small price to pay for an amazing night at the Rocket bar and rooftop.
Bank street social
If you are looking for something refined and hip, look no more! This underground bar displays a proud sign upon entrance:' The advertisers Best small bar of the year'which it won just after its first anniversary after opening. A certificate which I believe it is more than worthy to uphold. This venue is also known for its delicious pizza bar which makes regional Barossa style pizzas. I would highly recommend dining on one of their rustic pizzas or different local inspired meals.However, what makes this place especially special is its large alcohol selection.
Upon heading down the stairs to the main floor, you'll enter into a different world. You will feel a very cozy atmosphere with slightly dim lighting. Upon heading to the large bar you will be greeted by talkative and very friendly bartenders. These bartenders specialise in knowledge on all the local South Australian wines, local craft beers and Australian gin and whiskey. Right behind them you will see a massive selection of spirits with a ladder always at the ready for the spirits to high to reach.
I recall the first time coming here when one of the bartenders proudly stated how this bar is committed to helping local brewers to showcase their work to the public.The bar also offers Scotch and Japanese gins and whiskeys. The place also offers up some nice cocktails for enjoyable and casual drinking.
Bank street social also offers a small dance floor for those keen to bust a move. Most fridays and Saturdays a DJ is performing some great tunes to get the blood flowing. This place is perfect to start or end a night. It is also conveniently set next to a 24/7 Maccas and Hungry Jacks (Burger King) if you need an early morning crash meal. There is also a Zambreros located just next door which offers delicious burritos, tacos and many other Mexican treats for those looking for a good bite to enjoy.
Pink Moon saloon
This little bar is hard to miss if you do not know what you're looking for. Found on leigh street, the exterior of the venue is charming. It has the architecture of a narrow house with a triangle roof sandwiched between two high standing buildings. Nothing particularly special sticks out at the entrance until you enter through the blue door.
Upon passing it you enter the first and main part of the bar. With the bartender serving  on your right you may find many Aussie craft beers that you can't find in other bars. The bartenders also have a good idea of what they're doing so you could ask them for some advice on what to drink depending on what flavours you're looking out for.
If you're looking for a spot of fresh air you could walk further into the bar which opens up into a patio with trees and plants which helps accommodate the outdoor feel of the place. If you walk on further you will reach the main eating area for those looking to grab a snack or meal,
This place offers a nice escape from the rush and buzz of city life as an oasis of beer, wine or cocktail enjoyment with mates.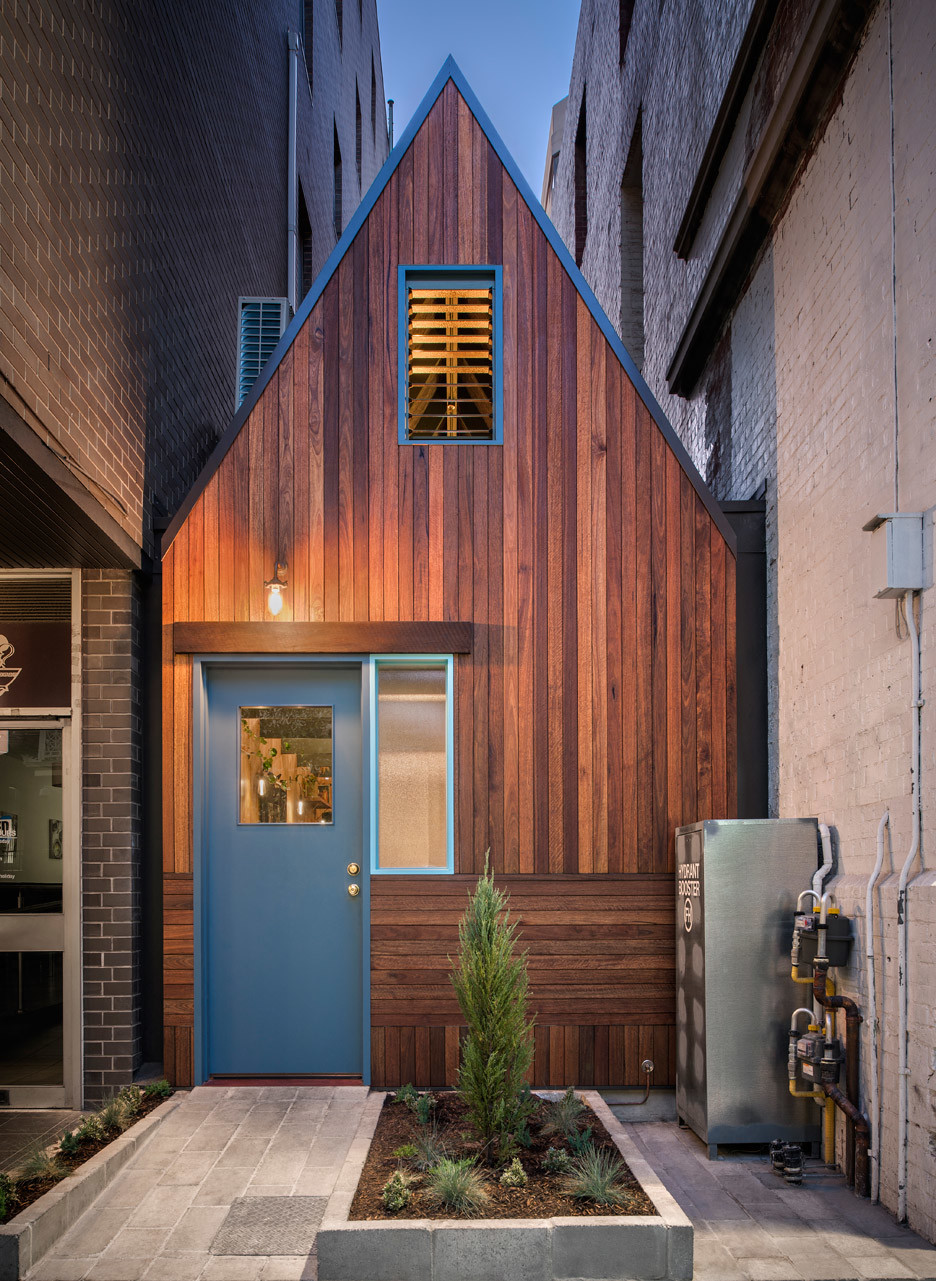 (Source: Sans Arc Studio)
2KW
Here, we have one of the best if not the best rooftop bar in Adelaide. To enter this bar you would have to dress a bit properly. That would mean leaving your t-shirts and sneakers back home. Once allowed in by the bouncer, you will take a lift all the way to the very top. The rooftop has a high-class restaurant and a bar.This bar offers the most exquisite spirits and high quality rums and whiskeys. They offer good beers and fine quality wine for anybody to enjoy.  However, the star attraction is the garden. The garden is set on a backdrop of the city where you can enjoy a beautiful sunset or simply enjoy a nice warm night. Their cocktails especially are made by a professional mixologist who works on most nights to offer you the tastiest of drinks to enjoy.
Laneway bar
I personally have a love hate relationship with this bar. The love: I enjoy this bar's many strange and cycling cocktails and I am in decent relations with the bartenders. The atmosphere and the decorations as well are very enjoyable. The hate: It is only open on friday nights and saturdays till midnight so casual drinks with mates is not always an option. The worst part is that this bar is only open roughly three to four months a year.
The bar is set in a laneway adjacent to bustling Hindley street.
Upon entering, you will realise that in this two and a half floor bar it is 80% uncovered. The decor is a bit of a jungle theme on the ground floor with trees and thick plants. The upstairs area has seats and tables of different varieties with carnival lights covered individually by plastic jars make this bar a unique and must see area.
With part of the bar allowing a secluded area to drink with mates away from the hustle and bustle of Hindley street while the other side having a view which allows you to have a relaxing drink while watching life pass by.
There is a wide variety of beers and wines to pick from. However, what they specialise in this bar is their cycling cocktails. Every month or so they switch up the different types of cocktails. Being adventurous by mixing different flavours and alcohols to form delicious concussions. This makes it that the bar is ever changing and always has something new to offer.
On saturdays a DJ is usually hired to pump out some tunes to dance to on the ground floor. This bar is very central, so it allows you to easily switch up the venue if you are keen for a different atmosphere or a bite to eat.
Casablabla
A nice tapas restaurant that offers many Latino styled dishes. This place is one of my favourites to go on a wednesday night. The venue is pretty large with a nice outdoor area to enjoy a meal or drink. Casablabla offers a wide range of spirits to enjoy from along with some good imported wines and beers which you could pick up from the main bar or take a couple of steps up the stairs to the second bar.
The decor itself is beautiful with its fish tanks, paintings from Latin American artists and fiery red walls to emphasise on its latino theme. The venue is large enough to host large groups of mates.
The unique part about it is its very vibrant Wednesday nights. One of the few bars to be active during this time, a DJ is hired every week to play the latest, and some of the classic Latino tunes, reggaeton and salsa. This is the type of bar where you could show off your salsa skills or simply enjoy watching couples with flair.
The DJ is a cool bloke who is always open to song requests, especially reggaeton related ones. A student-mate of mine founded and heads the salsa club in Adelaide University. If I need to meet him, I know exactly where to find him on a wednesday night. I personally enjoy coming here due to reggaeton being a rare genre in Australia (excluding Despacito and other explosively popular and overplayed songs).
I can't really dance salsa but it's a good genre to dance without really knowing how to. So I highly encourage showing off some of your fiery spirit and dancing the night away at Casablabla even if you have never even seen somebody dance salsa.
Duke of York Hotel
This bar is without a doubt my most visited bar in Adelaide. It has become my to go place for a casual night of dancing with mates. Located on quiet Currie street, this place is anything but quiet. The Dukes is known for its pizzas, parties and pale ales.
Before entering you will be greeted by a pretty outdoor area on the street with multiple benches. This covered area is great to sit in during a beautiful day with some mates. Upon entering you are in the area of the first dancefloor.
This dancefloor is always packed for performances by live artists and dance enthusiasts. As you walk deeper into the venue  you will notice some stairs. Up those stairs you'll have access to another bar and dancefloor with its own stage. This area tends to play electronic music on some nights although usually sticks to the hottest flavours of the month. The upstairs floor also has a large semi covered terrace to enjoy a break from all the dancing.
If you head back downstairs you will find the main bar. This place offers jugs of beers and ciders, shot deals, cocktails and more.
However, the main attraction that you'll definitely enjoy is the inner outdoor area. This part of the venue is a large drink/dance area with benches and its own bar to satisfy thirsty patrons. Every thursday the same local band, who's dreadlock rocking lead singer is also a waiter there, perform all types of classics and modern songs to sing and dance to. The covered area is flanked by two uncovered parts which allow you to have a break from the dancing or if you are keen for a smoke. After around 10-11 the band would retire from the stage and a DJ takes on where they left off, keeping the life of the party going and the dancing hits a higher note.  If you are a shisha enthusiast they have recently added that as an option if you're keen for a pipe and chit chat with mates. I would not recommend having it on a dancing night out as it would be pretty hectic and accidents tend to happen.
In this place you will mostly find students and younger patrons enjoying a night out although all ages are welcome. It is also a few minutes walk away from Hindley street and those juicy 24/7 eateries.
The Little Pub on Hindley street
This pub is anything but little. Renowned for its 'cheaper than most' cocktail jugs, this place is a great venue to bring large groups of friends. It's also a great place to hit some emergency alcohol. The place also serves good food and a mean schnitty.
Right before entering you will have a window with access to a bottle shop (alcohol store) built into the pub with employees of the venue selling alcohol. What makes this bottle shop special is its closing time. It closes its doors (or window in this case) at midnight. If you're coming from Australia you would be surprised as most to all bottle shops close around 8-9pm. So if predrinkers did not bring enough to drink, this place has got you covered. This is especially useful for those living in the nearby large student residence.
Once you enter, you would have to choose between the upstairs and downstairs area. The downstairs area holds a billiards table and live performances on a weekly basis.
If you decide to take the small staircase upstairs you would reach a hallway with pokie machines (slot machines) with the usual patrons having their try for gold. Walking past this  you will find the main area. With a long bar serving all types of tap beers, shots and cocktails to choose from, you will be spoilt with selection. Once you grab your drink (or jar), you can walk over to the main area were you'll have dozens of choices to sit in.
I highly recommend this place to start a night or if you grab a group of your best mates you can spend the night laughing and enjoying as the good times together. The bar is right next door to Downtown if you or your mates are keen for a good dance session.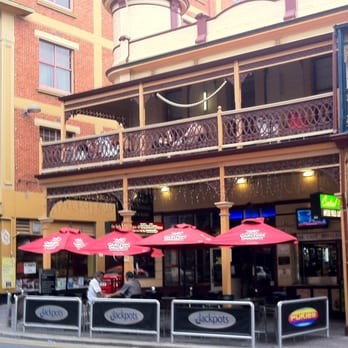 (Source: Sean J. (Yelp))
La Buvette Drinkery
Tucked away in one of Adelaide's many small streets, La Buvette provides an experience different from many others. This place serves not only quality alcohol but a wide variety of french cuisine. Including but not limited to the (in)famous escargot, cheese platters and more.
I first found out about this venue from a couple of french housemates. We were discussing different types of wines, wines made in South Australia and french wines. The conversation moved on to enjoying a good wine at a french restaurant. Fifteen minutes later we made plans to go to this very venue.
The place has a very cozy interior. It sports an aged wooden roof, hanging bulb lights and a beautifully designed floor. Its furniture and wall decorations gives us a taste of European interior design, especially french, decor. It definitely brought a bit of nostalgia to my french mates and quite a bit of awe from myself.
They serve many french-esque cocktails, cognac, imported french wines and beers of many variants. The bartenders are very friendly and always more than happy to help with their deep knowledge on wine and cognac. The food here is delicious and gets a thumbs up from my two picky Parisian housemates.
Black Bull hotel
This venue is divided into two main parts. The first part (the downstairs area) is a very retro looking bar which doubles as a restaurant. The Black Bull offers American style burgers and steaks although its menu is mostly international. This area is perfect for a group of mates to enjoy a good quality meal without hurting your budget too harshly.The downstairs venue is also great to catch a casual beer with a mate or two.
The outdoor area out front is one of the main drinking areas. It a great place to sit down and watch the world pass by over a drink and a lively chat. However, the main part of the bar is its upstairs area.
On Friday and Saturday night, the Black Bull hotel comes to life. The upstairs area lights up with the signature blue and white hues on a smoke filled dancefloor. Electronic music plays for most of the night with some of the biggest tunes around being added in between. This place tends to be packed with university students looking to have a good time,
The large bars has multiple bartenders selling the best deals and shots for those looking to have a good time.
The Black Bull hotel also has a dance floor in the back which is used to play different tunes if your tastes do not line up with the DJs. From the back you have access to the large open air area to enjoy a smoke and drink. The main dance floor also allows you access to a large terrace with benches for you to enjoy a break from the dancing or simply want to enjoy a quick smoke.
If you are looking to enjoy a relaxing drinking night here, I would recommend that you avoid friday and saturday nights. Thursday nights are pretty lively without the excessive noise and thumping of the dance enthusiasts
Austral Hotel
A gem on any night and the most popular student and budget hunter bar. This place is the home of the beginning of many good nights. It is a restaurant that serves great food for affordable prices. Every week it holds a trivia night for many to compete for bragging rights and alcohol.
The Austral also holds many performances for its denizens to enjoy. These are usually held on the ground floor. The upstairs floor has its own bar and view of the street away from the noise and clatter of the main area.
If you are lucky to grab an outdoor seat, you are set. The only thing you need now is a PokitPal app. This will get you access to an amazing deal that make the Austral so iconic. Through it you'll pay almost 50% of the original price of a jug of pale ale beer or a cider. The perfect place to meet after a long day or simply looking for an enjoyable time with mates.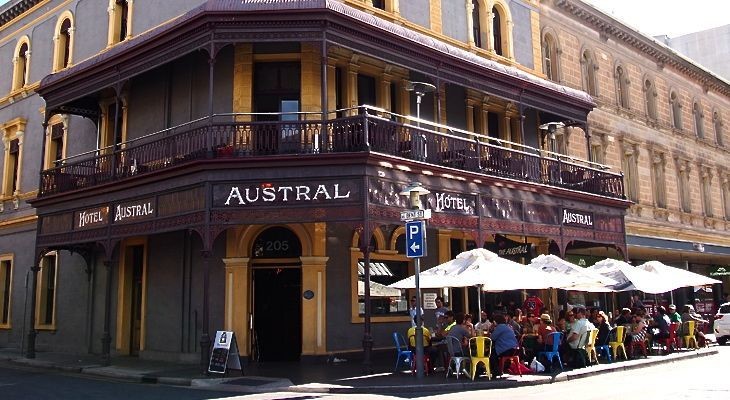 (Source:Craig Makepeace)
Electra House Hotel
A little bit out of the way from most drinking streets and closer to Victoria square, this place is perfect if you are looking for a more refined place to drink.
The bar is a semi-outdoor venue with a very futuristic look to it.The indoor areas is perfect for a good dance. Like 2KW, you would have to dressed a little bit proper for this one. Although it's an enjoyable place to spend the night. I discovered my fair share of European beers here.
I recall the first time I came here had been with several of my exchange mates. We sat about a round table and each shared in the taste of the beers served here. The setting is quite sophisticated and a great place to catch up with a mate or have a drinking night out. They also have a dancefloor inside which springs to life on the busier days of the week. I would highly recommend checking this place out for yourself either for a casual drink, a date or a group meetup.
Fumo Blu
Another hip underground bar with a theme...it is all smokey blue. This bar is easy to miss. Its flanked by two popular restaurants and its entrance is simply a door with a subtle 'Fumo Blu'' sign right above it.
Once you enter downstairs you'll feel as if you've walked into a watery world. The first thing that sticks out of this luxury cocktail bar is the fish tanks. Large beautiful fish tanks with exotic fishes to set the ambience.
You'll have many of sofa-like seats to stretch out in. Fumo Blu's reputation relies on its high quality cocktails. The flavour matches the aesthetically pleasing nature of these wonders. The bartenders are very helpful in piecing together whatever different flavours you would like to have in your cocktail from fruits, cinnamon, chocolate powder, herbs and much more.
The bar is set in a very central location with the Austral nearby for some cheeky drinks. I recommend this place for a chill night with a mates or a date. This bar is also the target of pubcrawls. They are usually reserved for the larger pubcrawls as its quite expensive for smaller ones. 
Distill
Close by to Fumo Blu, this bar shares a nice and cozy ground floor with a more lively top floor. The downstairs area is great for a drink with mates with many beers and tap beers to choose from.
The upstairs area is a busy room great for loud banter and good fun with groovy music in the background ranging from Jazz to today's best hits. Although what makes this bar stand out is its party nights.
Late at night between thursday to saturday you'll have free access to one of the wilder dance bars on this side of Adelaide. The upstairs area explodes with life with DJ tunes of the latest and classic dance songs around. A great place to bop, grind, move and groove. A place you can easily start and end the night on before limping your dance-torn body to the nearby Hungry Jacks for some much needed refueling.
Usually, the music is mostly RNB with song requests sometimes accepted. Its not a bad place to dance all night to. The bar is usually not too overwhelmingly busy as there are a sufficient amount of efficient bartenders serving up to the needs of the patrons. From the upstairs area only a sixth makes up the dancefloor. The rest is left off as relaxation spots where people could chit chat and share a drink rather than bust a move. Be wary though, on saturdays there might not be a massive line that stretches into the building, although there is a second line which leads to the upstairs area. Sometimes you would have to wait upwards of thirty minutes just to get in. So, make sure to plan accordingly. They also have a storage area where you can keep your bags in, free of charge.
The Elephant British Pub
Right in the heart of Rundle mall street East's bar scene. This beautifully designed European style pub is the perfect place to get a refreshing breath of air after a long day. With many seating areas to choose, from comfortable sofas and benches to high wooden seats around a large keg of beer.
This British pub offers a delicious selection of burgers, wraps, calamari and much more. The bar offers a wide selection of tap beers to choose from. From your ol Cooper pale ales and Little Creature's beer to Kilkennys and Guinness.  The ciders are pretty good with some English classics such as Thatchers or the classic Australian Five Seeds cider. They do also offer Japanese beverages such as Kirin.
The Pub has an enclosed outdoor area that separates you from the public but provides you with fresh air and an open sky to enjoy while sipping your drink. The upstairs area also provides a large bar with the same selection. The difference is the role of the top floor which is to host large dance parties. With a small stage for the DJ or any band to perform on, the nights quickly get fun and exciting as the regular DJ is as likely to play ABBA as they are Beyonce.
This bar has been subject to many bar crawls and exchange parties due to its relatively cheap drinks and great lively atmosphere. A good plan for the night would be to start at the nearby Austral if you're looking to get some drinks in before the night starts, then head to the Elephant for some more cheap drinks offers and dance nights. The location is great as its a stone throw away from a late night convenience store, Hungry Jacks and other bars to switch to and from.
The bar is also close to the Palace Nova Eastend movie theatre. Another suggestable course of action is watching an enjoyable late night movie with your mates then walking straight onto this pub for a quick cheeky drink.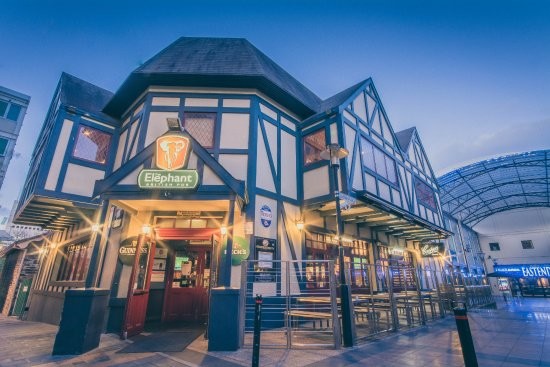 (Source: Tripadvisor management)
Maybe Maes
Another classy underground bar even the average local may find this one hard to discover. Located on Peel street, you would have to enter a laneway between two streets filled with lively music and bar patrons. In between this you'll find a large arched entrance to your left. The upstairs area looks like a lively and enjoyable bar, you must have found it!
Close but no cigar, the downstairs area with a door that looks like it's part of the wall will bring you into a quieter world away from the bustle of the upstair bars and the nearby Casablabla.
The venue is small with several round sofas with tables to sit around in. The dim lights, wooden bar and ceiling and vintage decor give this venue a classy aspect to it.
What makes Maybe Mae's interesting is its unique selection of craft beers. From their Golden Child Summer Ale to their star 'Cerveza Negra' Aged Dark Ale you are guaranteed to taste some good quality unique beers. They also pride themselves in providing local wines of high quality such as those from Adelaide Hills or Clare valley.
Although, one of its most popular services are its cocktails. Its on menu variety of cocktails are original creations created by the top three bartenders of the bar. They are renowned for their consistency in cycling new and delicious cocktails.
The bar, however, hides a secret that only regulars or chatty patrons discover, their off menu cocktails. Some of these cocktails are experimental ones being prepared for the menu. Knowledge of these cocktails would get you a first taste before they even hit the public. Feel free to ask for their off the menu cocktails for a new experience. Try out The Bill Murray (if its still in cycle). I won't diverge the interesting ingredients, it'll be more enjoyable if you head down and find out for yourself.
Maybe Mae's is open everyday from the late afternoon till 2AM. This allows a significant amount of freedom when picking your night to visit.
Chihuahua bar
Another gem located on Peel street. This one comes with a story. There was this one mate I was getting close with who took me out with a few of her friends for drinks. One of her mates suggested this place as family members run the shop. So we ended up going their and he paid for all our drinks. Ever since then this memory hits me anytime anyone mentions the name of the place.
Chihuahua is a little niche bar with a homey feel to it. While it offers tap beers and wine although excels predominantly in its cocktails. With good quality tequila, the chatty bartenders can provide great tips and mixtures for drinks that pack a real punch for you to try out. Definitely a place to stop by and try out,
Belgian Beer Café 'Oostende'
The most Belgian venue in Adelaide. No place offers the authentic feel of a proper Belgium experience than this bar. A stone's throw away from Rundle mall street East, before even entering this bar you could feel the European aura from its exterior decorations and signs.
Upon entering you will without a doubt feel as though you're in an old Belgium beer hall. This venue offers many delicious European dishes including Belgium as well as ones that are inspired by French and German cuisines. If you're looking for seafood with mates, there is the option to of their seafood special: 1kg of finely prepared mussels. The burgers, fries and pizzas are also of very good quality as they take care to maximise flavour and rely less on fats, salt and sugar for flavouring.
Many of these establishments tend to be badly made mimics that imitate the original without showcasing without doing enough justice. Out of curiosity to test this, I invited one of my Belgium mates to check this place out, We had a few drinks on the tap and bottled. To my slight surprise, my mate considered it as good as back home. Since then I have been recommending this place to many of my mates for an enjoyable European feel while savouring the great beers.
From the beers, you have a wide selection to choose from. From your lagers to wheats, to blondes, ambers and whites and many more. The top icon beers sold here are Leffe, Hoegaarden and the Stella Artois and a few others I have yet to taste. They also offer fruit beers and their most iconic trappist beers for those looking for an authentic Belgian taste.
They also offer a wide variety of Belgium wines to go along with your meal or solely for the enjoyment. You may purchase any one of these bottles for you to take home to enjoy.
Overall, I would recommend this bar if you're looking to augment your list of tried beers. It's definitely of high quality and I am currently trying a new beer every time I visit.
Belgium beer has also recently been placed on the UNESCO Intangible Cultural Heritage. Something you would truly appreciate visiting this Oostende.
Conclusion
The list of great bars to visit in Adelaide is nowhere near finished. The above is a general idea for easy accessible bars which I have visited and can endorse without hesitation. This should not stop you from checking out any other pub that might pique your interest that isn't on this list. Adelaide definitely provides more than what meets the eye. Quite a bit of exploring and perhaps some eccentric friends would make bar hunting a great past-time.Enjoy your times at these places and drink responsibly!
---
Photo gallery
---
Want to have your own Erasmus blog?
If you are experiencing living abroad, you're an avid traveller or want to promote the city where you live... create your own blog and share your adventures!
I want to create my Erasmus blog! →