BA (Hons) Organisational Communication with Media Management Degree
European School of Economics - Milan Campus (ESE Milan)
Location

Milan, Italy

Degree Type

BA

Start Date Request info
Duration

3 years

Application Deadline Request info
Language

English

Attendance

On Campus

Dedication

Full-time

Pace

Instructor-paced

Tuition fees

16000 €
Program description
You'll have access to all our campuses located in downtown Milan, Madrid, London, New York, Florence and Rome.
Maximum 25 students per course.
Enrolling all year round.
3 intakes every year: September, January and April.
To enrich your programme you will have access to extra-curricular activities, two 3 month internship experiences included and guaranteed and intra-campus mobility for study or internship reasons.
The economics to come, industries and corporate enterprises should teach the Art of Dreaming – the principles of self-improvement and inner integrity to enable their people, managers and employees, to become advanced beings. The world of business has to realize that real, financial expansion comes out of quality, and declines rapidly when quality is missing.
From "Business as a School of Being", by Elio D'Anna, Founder and President European School of Economics
In ancient times, a city was measured by the distance a common voice could carry, and there the walls would be built. With the onslaught of technology, civilisation finds itself on the brink of yet another Age, and while men scramble for a place in the panorama of a workplace that is no longer confined to one city or even one nation, the need for advance and improved forms of communication becomes vital.
We strongly believe that the sustenance of an enterprise lies not only in the workings of its systems -these relying among other things on smooth internal and external communication, but in the propagation and expansion of its values and integrity. In today's ever- expanding multi-national market, it is only with the support of rigorous communication structures and practices that an enterprise, can expect to not only sustain itself, but grow and flourish.
Distinctive Features of all ESE Undergraduate Courses:
Small class sizes which help faculty cultivate a mentor relationship with students and provide the individual attention needed to

discover their special skills and succeed in their chosen pathway

A British degree programme offered across two continents with the possibility of transferring between campuses in London, Milan, Florence, Rome, Madrid, New York (study abroad centre) on a per term or per year basis
Academic credit for language modules which will increase employability
Two internship placements from companies worldwide
Integrative workshops to provide the knowledge, skills, practice and pastoral care to ensure
Two intakes per academic year – September, January – providing extra enrolment options
Graduates from the BA ( Hons) Organisational Communication with Media Management possess:
A solid understanding of the global business environment, trading systems, and geo and socio-political influences on investments, trade, and the economic landscape and how these are conditioned and influenced by communications
Strong analytical skills, capable of identifying and assessing strategic opportunities that may benefit an organisation in both domestic and international markets
The flexibility and creativity necessary to address challenges presented by a rapidly changing international business environment.
The technical skills and experience to communicate effectively using a number of media and on numerous levels – operational, managerial and creative
Cross-cultural communication skills, capable of managing people, resources and information across cultural boundaries
Students may transfer from similar undergraduate courses with a maximum of 240 credits.
Completion of the programme requires:
Two internship placements
Final Project related to the chosen specialisation
Study of a foreign language
Full time compulsory attendance
Indicative Modules
Year 1
Introduction to Mass Communication
Quantitative Methods for Business
Language
Economics of Business
Introduction to Business
Sociology of Work and Organisation
Introduction to Marketing
1st Internship
Workshops:
Study Skills, Report Writing and Presentations
ESE Ethos
Preparation for the Workplace
Year 2
Media Management
Organisational Communication
Language
Media Law & Ethics
Language
Market Research Methods
E-Business and E-Commerce
Cross Cultural Marketing Communication
2nd Internship
Workshops:
Computer Skills
ESE Ethos
Research Methodology
Year 3
International Project Management
Strategy and Strategic Dilemmas
Global Communication Challenges
Broadcasting & Digital Innovation
Corporate Communication Strategy
Public Relations Theory & Practice
Final Project in Management
Workshops:
Creative Thinking
ESE Ethos Project
Business Plan/Final Project Development
ESE's Internship Programme:
We believe that anyone can realize their dreams and have the ability to do what they really love. From the very first year of study, ESE students therefore have the concrete opportunity to proactively move towards their professional goals and target their objectives. While developing a range of marketable skills and competencies, internships will furthermore allow students to:
bridge the gap between undergraduate study and the labour market
apply course knowledge in practical situations within the work environment
test individual career plans by obtaining experience in a chosen field, and thus helping one to better understand what it is that they really love to do
develop inner qualities and gain a practical understanding of the concept of individual responsibility, according to which external events are projections of one's own inner state
develop a professional network and assess internship providers for future employment opportunities.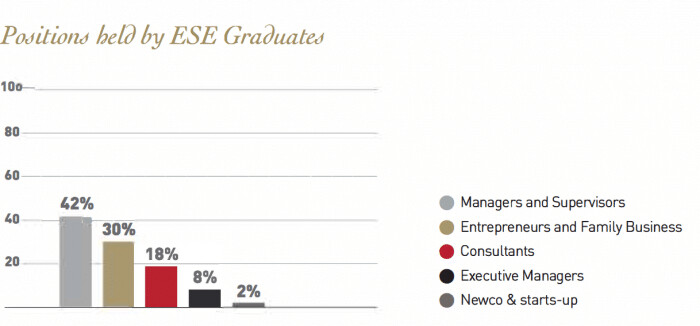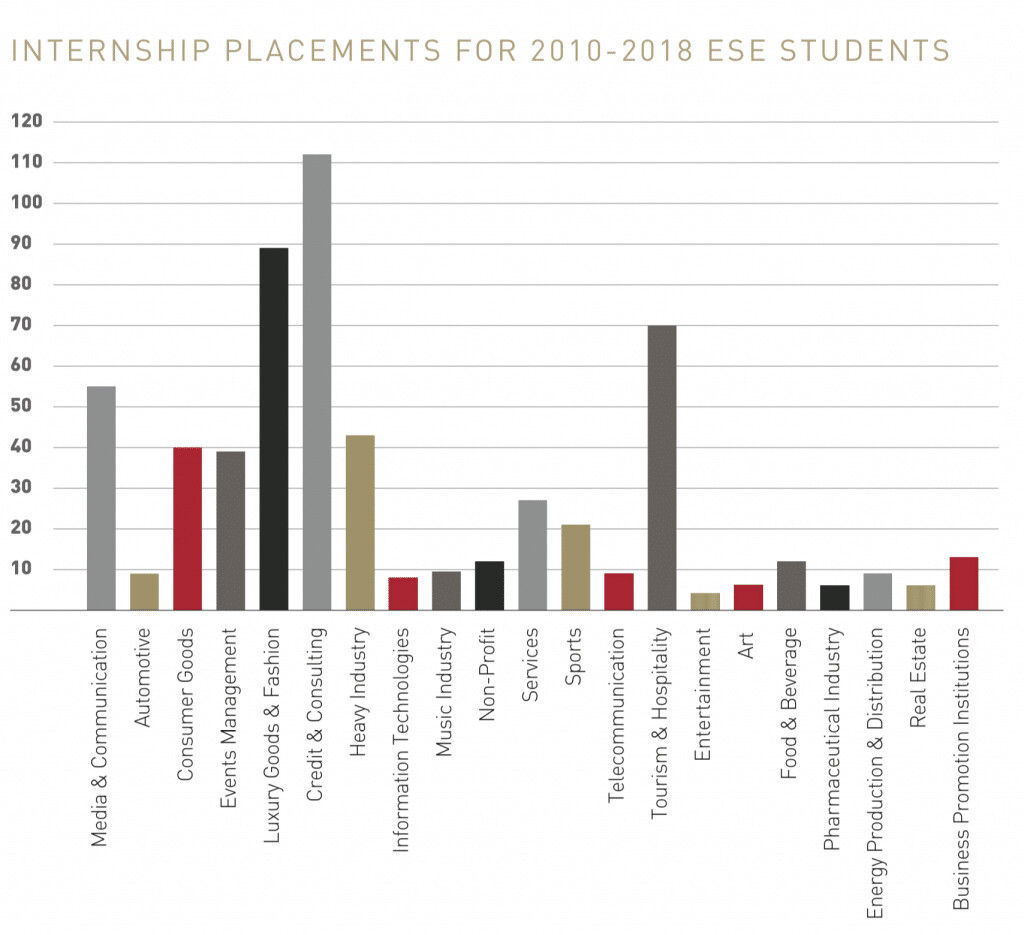 Working in collaboration with more than fifteen hundred leading international companies, including some of FORTUNE'S 100 Best Companies to Work For, the European School of Economics offers one of the most competitive university internship programmes available today.
Many students are offered jobs even before graduation. The Internship Department plays a crucial role in assisting students to identify their objectives and learn how to exert their full potential. It provides personalized and challenging internship placements worldwide at all ESE campuses.
---