Short Course in Fashion and Luxury Goods Management
European School of Economics - Milan Campus (ESE Milan)
Location

Milan, Italy

Degree Type

Bachelor

Start Date Request info
Duration

3 months

Application Deadline Request info
Language

English

Attendance

On Campus

Dedication

Full-time

Pace

Instructor-paced

Tuition fees

5000 €
Program description
To enrich your programme you will have access to extra-curricular activities, a 6 month internship experience included and guaranteed and intra-campus mobility for study or internship reasons
You'll have access to all our campuses located in downtown Milan, Madrid, London, New York, Florence and Rome
Maximum 25 students per course
Enrolling all year round
3 intakes every year: September, January and April
All Master programmes are validated by the University of Chichester and you will be awarded with a British Degree
Brilliant and successful managers across the world devote their time, knowledge and creativity to what is coined as the fashion and luxury industry. It is now your turn to join a timeless and innovative sector, filled with the very means to bring you unyielding success.
Our students will gain insider knowledge of industry strategies on a global level, in addition to a strong grasp of key business skills within the magic world of fashion and luxury.
The programme will equip the students with an invaluable education and skills base. It will ensure that the candidates develop a competitive fashion business curriculum, allowing them to become the leading fashion innovators of tomorrow.
Key Features of the Fashion & Luxury Goods Management
Three intakes per academic year January, April and September
4 Modules: Each module requires 3 in-class hours (and outdoor activities) per week, for a total of 12 /15 weekly hours (Monday-Friday)
Course Assessment: Group Project and Presentation
3 Months + 3 Months (Optional) Internship
ESE's competitive Internship Programme providing international work experience in the sector of specialization
Compact class sizes which help faculty cultivate a mentor relationship with students and provide the individual attention needed to discover their special skills and succeed in their chosen pathway
Course Programme
The course is made up of 4 modules* (modules may be subject to change and may vary according to the ESE center):
London Center:
Fashion Research, Marketing and Trend Forecasting
Brand Management
E-Business and E-Commerce
Retail Management
Milan Center:
Luxury Brand Management
Buyer Behavior
Fashion Marketing
E-Business and E-Commerce
Course Duration
3 months = 120 in-class hours + revision/ reading week + exam week
Internship (optional): 3 months
Language of Instruction
English
Level of Instruction
Undergraduate (A High-School Diploma or equivalent is required to access this course).
Course Assessment
Group Project and Presentation
Credits & Recognition
Upon completion of the programme, participants will be awarded an ESE Certification of successful completion of the programme.
Subjects
Fashion Research, Marketing and Trend Forecasting
The capacity of predicting fashion trends and forecasting where and how they will appear has proved to be an invaluable talent in these days of economic uncertainty. The ability to distinguish fashion hype from true directional signals is an essential skill for those keen on entering the world of fashion.
This module will develop your skills in the area of fashion forecasting. You will be guided to appreciate the importance of market intelligence, to observe cultural influences and to develop your own fashion instinct and intuition, being exposed to a variety of forecasting publications and media.
Having acquired the ability of identifying emerging trends, you will then learn how to transform this trend into a globally successful product by means of traditional and digital forms of marketing, communication and promotion.
You will explore the fascinating path of past and present fashion icons alongside all components of a marketing plan, from advertising to retail to the new social media.
Brand Management
This module analyses the different aspects of brand building and management in the fashion industry. It focus specifically on how a brand gets built or refreshed in different markets' segments. Students will explore how different resources and a company's capabilities are organised and leveraged to get a specific positioning. Participants will gain a clear understanding of the intrinsic nature of the multitude of relationships which characterise the fashion industry and how companies might leverage these important bonds.
Retail Management
Stores have become the most effective channel of promoting brands and supporting emerging trends, therefore, this module will provide you with the multi-disciplinary skills necessary to deal with the distribution process in the fashion retail business. Students will become familiar with visual merchandising and category management techniques, the rational organisation of the sales area and the psychology applied to the display.
Focusing on how fashion is promoted through the different distribution channels, participants will examine concept stores, department stores, flagships and the Internet. An important aim of this course is to provide the knowledge of evolutionary processes in fashion distribution on an international level, while examining how to design the "ideal" fashion store, promoting brands locally and internationally. Retail Management is a very "hands-on" module, providing indispensable practical knowledge.
Luxury Brand Management
Luxury isn't only about consumption of a brand; it's the excellence, story, and the heritage of the brand as well. Companies, by providing intangible values and deeper meanings to their audience have been able to add more to their services and products. Focusing on leisure, hospitality and fashion, the luxury industry has often been linked with the desire of expressing a person's status. Operating in a global context is exceptionally hard in this increasingly competitive digitally oriented industry. This module aims to create experts in luxury brand management, who are aware of product placement, and know the role a specific brand is playing in the market. The participants will also learn how to analyze brand's relationship with the customer and are also how to attract and retain consumers while improving the organizational and practical management of the brand itself.
Buyer Behavior
Marketing begins and ends with the customer: from determining customer needs and developing high quality products and services to delivering to customer satisfaction. The design of a successful marketing strategy requires an accurate understanding of customers' perceptions, feelings, values, choices and behavior. Virtually every decision involved in developing an effective marketing strategy for a product or service rely on in-depth knowledge of the target market. In this module the participants will examine the most recent researches concerning the behavior of the consumer, with the goal of understanding how marketing managers can use these ideas. The module will also focus in on the consumer decision-making process, highlighting the key moments from identifying a need to buying and consuming a product. The participants will learn how to adopt a true buyer focus by analyzing how consumers make choices, what happens at different stages of the decision-making process, and the variables that influence those decisions.
Fashion Marketing
Designers need to get their creations in front of the right customers in a way that makes those people want to buy them. The effort required to present fashion products in a way that appeals to potential customers is called Fashion Marketing and it's a vital part of the business side of fashion. This module will let the participants discover how companies determine the best marketing strategies to optimize economic, distribution, and production aspects of the brand, and are introduced to the main indicators for measuring financial performance. Module highlights include analyses of the fashion industry and its environments, researching and identifying strong segments and selecting target markets, product and brand differentiating, positioning and innovation in fashion markets, the fashion product, distribution strategies, pricing garments, integrated fashion communications, design management, fashion marketing planning and determining the strategy, the fashion cycle and the calendar, and the role of the buyer International dimension of fashion marketing.
E-Business and E-commerce
This module will enable students to understand the complex and powerful technological blend and planning that facilitates E-commerce, give them the skills to evaluate new E-business initiatives and asses the risks associated with this, together with acquiring an understanding of business-to -consumer as well as business-to- business markets, and emphasise legal and ethical issues.
*Subjects may be subject to change
ESE's Internship Programme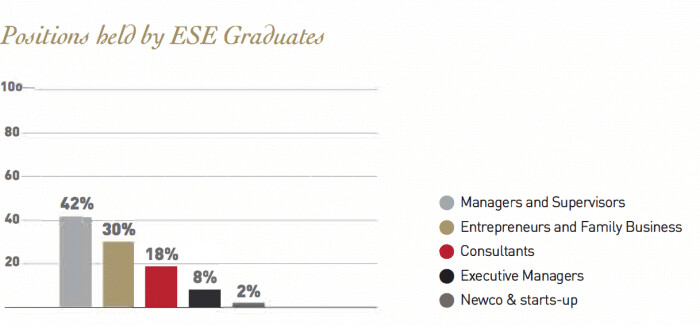 Upon successful completion of the programme participants may opt to take a 3-month internship fitted to their profile and career objectives. Students will undergo an assessment with the ESE Placement Officer, so as to determine their eligibility for an internship placement*. The placement office will assist eligible students in obtaining an internship fitting their profile and career objectives.
Working in collaboration with more than fifteen hundred leading international companies, including some of FORTUNE'S 100 Best Companies to Work For, the European School of Economics offers one of the most competitive university internship programmes available today.
* Visa Regulations Permitting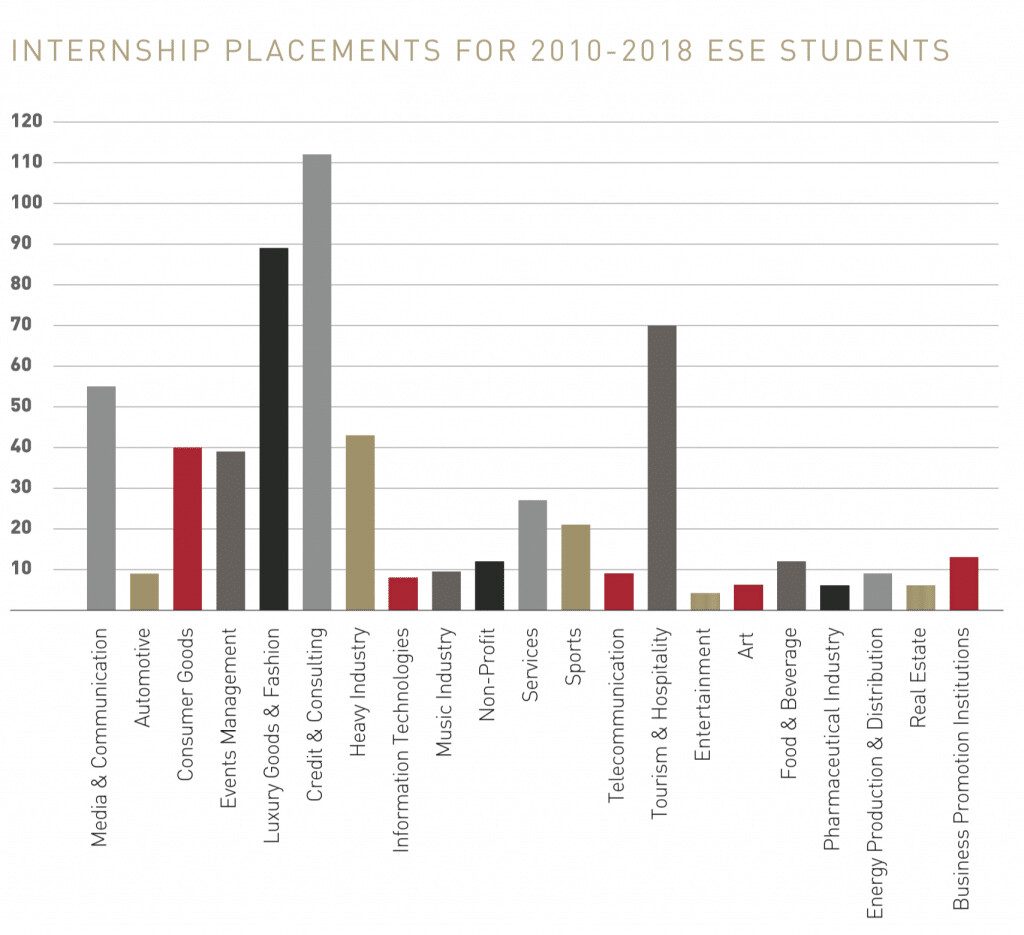 ---