Short Course in Events Management
European School of Economics - Milan Campus (ESE Milan)
Location

Milan, Italy

Type of Degree

Bachelor

Start Date Request info
Duration

3 months

Application Deadline Request info
Language

English

Attendance

On Campus

Dedication

Full-time

Pace

Instructor-paced

Tuition fees

5000 €
Program description
To enrich your programme you will have access to extra-curricular activities, a 6 month internship experience included and guaranteed and intra-campus mobility for study or internship reasons
You'll have access to all our campuses located in downtown Milan, Madrid, London, New York, Florence and Rome
Maximum 25 students per course
Enrolling all year round
3 intakes every year: September, January and April
All Master programmes are validated by the University of Chichester and you will be awarded with a British Degree
The Events Management industry is fast- paced and very competitive, where the public requires a highly trained and professionalized workforce to satisfy the increasing demand for specialized services to meet the latest market trends.
With its multifaceted role, which includes planning, organisation and execution, event management requires a thorough grasp of key procedures, such as forming an initial concept and targeting an audience through market research, as well as branding and sponsorship.
The Professional Programme in Events Management at the European School of Economics aims to equip students with essential knowledge and skills needed to excel within each stage of the event management process. The course covers such topics as conceptualisation, planning, marketing, budget forecasting, event execution and post-event analysis. Practical, theoretical and strategic expertise will be provided within a challenging environment in order for students to succeed within this dynamic field.
Key features of the Events Management Programme
Three intakes per academic year January, April and September
4 Modules: Each module requires 3 in-class hours per week, for a total of 12 /15 weekly hours (Monday-Friday)
3 Months + 3 Months (Optional) Internship
ESE's competitive Internship Programme providing international work experience in the sector of specialization
Course Assessment: Group Project and Presentation
Compact class sizes which help faculty cultivate a mentor relationship with students and provide the individual attention needed to discover their special skills and succeed in their chosen pathway
Course Programme
The course is made up of 4 modules* (modules may be subject to change and may vary according to the ESE center), such as Major Event Management, Creative Thinking, International Business Decision Making and E-Business and E-Commerce
Course Duration
3 months = 120 in-class hours + revision/ reading week + exam week
Internship (optional): 3 months
Language of Instruction
English
Level of Instruction:
Undergraduate (A High-School Diploma or equivalent is required to access this course)
Course Assessment
Group Project and Presentation
Credits & Recognition
Upon completion of the programme, participants will be awarded an ESE Certification of successful completion of the programme.
Subjects
Major Events Management
Event planning, project management and identification of key points in the planning process will be explored.
The course will cover areas such asstrategic planning, budgeting, finance, promotions, marketing and sponsorship, operations & production, health & safety and risk management. Case studies will be utilized.
The aim of the course is to provide the foundations necessary to understand the issues in how to create, plan and implement a diverse range of events.
Creative Thinking
This course explores approaches to how to proceed when confronted by problems and situations that are complex and challenging. It seeks to increase the activities designed to help develop their students understanding of the creative process and to improve creative problem solving skills. Students participate in own creativity and will also discuss how the creative process can assist in developing a new idea for a business venture.
International Business Decision Making
The aim of the module is to provide students with an appreciation of the complexity of international business enterprise decisions. The course will demonstrate how practical business decision solutions can be reached. A framework for understanding the key issues that need to be addressed by business managers in an increasingly international environment will be provided and students will be taught to explore the nature of international business.
E-business and E-Commerce
This module will enable students to understand the complex and powerful technological blend and planning that facilitates E-commerce, give them the skills to evaluate new E-business initiatives and asses the risks associated with this, together with acquiring an understanding of business-to-consumer as well as business -to-business markets, and emphasise legal and ethical issues.
ESE's Internship Programme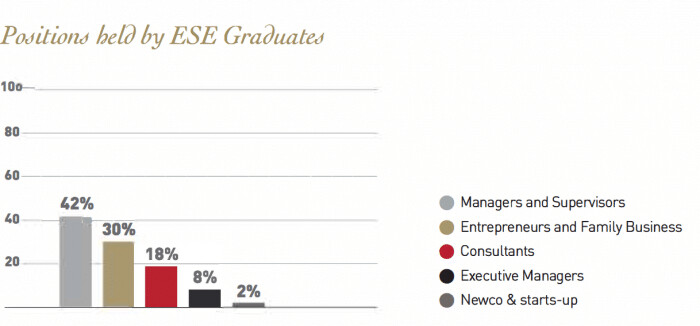 Upon successful completion of the programme participants may opt to take a 3-month internship fitted to their profile and career objectives. Students will undergo an assessment with the ESE Placement Officer, so as to determine their eligibility for an internship placement*. The placement office will assist eligible students in obtaining an internship fitting their profile and career objectives.
Working in collaboration with more than fifteen hundred leading international companies, including some of FORTUNE'S 100 Best Companies to Work For, the European School of Economics offers one of the most competitive university internship programmes available today.
* Visa Regulations Permitting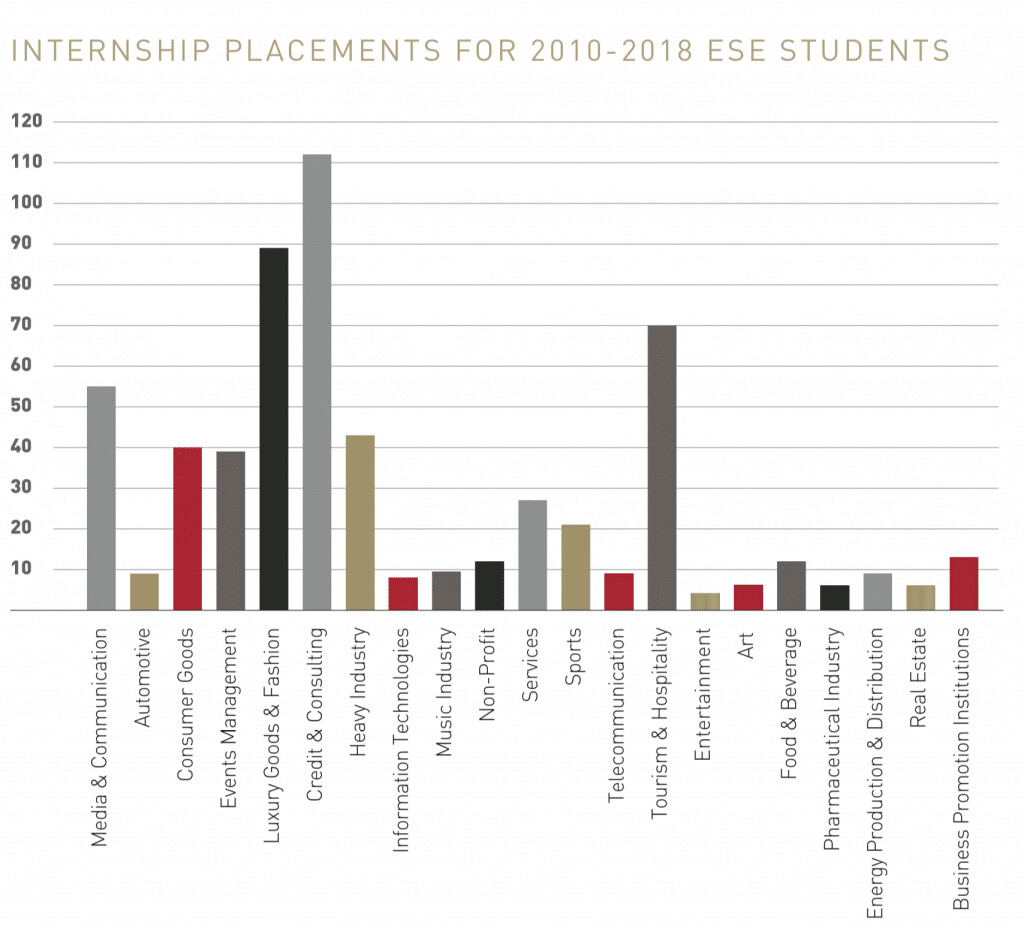 ---