Bachelor of Science in International Economics and Political Science Degree
European School of Economics - Milan Campus (ESE Milan)
Location

Milan, Italy

Degree Type

BSc

Start Date Request info
Duration

3 years

Application Deadline Request info
Language

English

Attendance

On Campus

Dedication

Full-time

Pace

Instructor-paced

Tuition fees

16000 €
Program description
To enrich your programme you will have access to extra-curricular activities, two 3 month internship experiences included and guaranteed and intra-campus mobility for study or internship reasons.
You'll have access to all our campuses located in downtown Milan, Madrid, London, New York, Florence and Rome.
Maximum 25 students per course.
Enrolling all year round.
3 intakes every year: September, January and April.
All degree programmes are validated by the University of Chichester and you will be awarded with a British Degree.
Introduction
"…. Our civilization like a starship sent into space, travels towards a not-doing society, a society of being where the value of ideas and creativity in thinking prevail on action. The next psychological revolution will produce the shift to a more evolved economy, more subtle and intelligent, to a more efficient, idealistic and concrete capitalism, at the service of life on earth and of the evolution of man.
In this economy individuals inspired by an "ethical objectiveness" will emerge, cells of a new humanity, capable of nurturing the dream of a global economy and of a politics of a planetary responsibility, people aware that individual, personal improvement is the basis for every progress made in society... "
From 'Economy is a Way of Dreaming', by Elio D'Anna, Founder and President, European School of Economics
The programme aims to:
provide a coherent, broad based programme of study of political and economic history, theory and organisations and their management and their growth within the context of a changing external environment
provide an understanding of how values are allocated and resources are distributed and contested on the local, sectoral, national, regional and global levels
place questions of political and international order and disorder, decision-making and political contestation at the centre of analysis
develop in students a capacity to think critically and independently about events, ideas and institutions
provide new ideas that will be the seeds of development for independent thinking and creation of visionary leaders
The Bachelor of Science in International Economics and Political Science (BSc Hons) is a three-year, full-time course with two pathways – one in Leadership and the other in Diplomacy. All of the ESE undergraduate Bachelor degree programmes are taught in English and have a standard 360 UK/180 ECTS credit structure and can be studied under the permission of the academic.
The two required internships may be in one of the affiliated companies seen below in the ESE's Internship Programme section – these are only some of the 1500 companies with whom we are affiliated.
Students will also have the added advantage of being able to pursue their programme in any of the ESE campuses, whether London, Milan, Florence, Madrid or Rome. They will have the unique opportunity to transfer between campuses on a per term or per year basis, experiencing the same programme in multiple international contexts and cultures.
Students may transfer from similar undergraduate courses with a maximum of 240 credits.
Completion of the programme requires:
Study of a foreign language
Final Project related to the chosen specialisation
Two internship placements
Choice of Full or Part Time study modes with compulsory attendance
Indicative Modules
Specialisation in Leaderships And Diplomacy
Year One:
Economics for Business
History of Political Thought
Quantitative Methods for Business
Geopolitics
Language
International Relations (diplomacy)
Integral Personal Development (leadership)
Sociology of Work and Organisation
First Internship
Workshops:
ESE Ethos
Study Skills, Report Writing and Presentations
Preparation for the Workplace
Specialisation in Leaderships And Diplomacy
Year Two:
Political Decision Making
Environmental Policy
European Institutions
Language
New Media for International Politics
Law, Politics and the international System (diplomacy)
Motivation and Teamwork (leadership)
2Second Internship
Workshops:
ESE Ethos
Computer Skills
Research Methodology
Specialisation in Leaderships And Diplomacy
Year Three:
International Security
International Project Management
Supply Chain Management
Negotiations and Crisis Management (diplomacy)
International Strategic Management (diplomacy)
International Trade and Financial Markets (diplomacy)
Leadership (leadership)
Integral Personal Development (leadership)
Environmental Economics (leadership)
Final Business Plan/Project
Workshops:
ESE Ethos
Creative Thinking
Business Plan/Final Project Development Workshop
ESE's Internship Programme: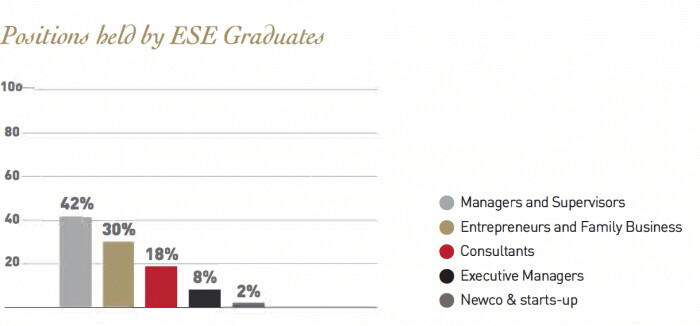 We believe that anyone can realize their dreams and have the ability to do what they really love. From the very first year of study, ESE students therefore have the concrete opportunity to proactively move towards their professional goals and target their objectives. While developing a range of marketable skills and competencies, internships will furthermore allow students to:
apply course knowledge in practical situations within the work environment
bridge the gap between undergraduate study and the labour market
develop inner qualities and gain a practical understanding of the concept of individual responsibility, according to which external events are projections of one's own inner state
test individual career plans by obtaining experience in a chosen field, and thus helping one to better understand what it is that they really love to do
develop a professional network and assess internship providers for future employment opportunities

Working in collaboration with more than fifteen hundred leading international companies, including some of FORTUNE'S 100 Best Companies to Work For, the European School of Economics offers one of the most competitive university internship programmes available today.

Many students are offered jobs even before graduation. The Internship Department plays a crucial role in assisting students to identify their objectives and learn how to exert their full potential. It provides personalized and challenging internship placements worldwide at all ESE campuses.
---