Experience in the National University of San Marcos, the Peru of Jesus Alonso
Facilities

8 / 10 points

Quality of the college

10 / 10 points

Is it easy to pass?

8 / 10 points

Activities

8 / 10 points

Tuition fees

6 / 10 points

Faculty

10 / 10 points
---
In general, how is the National University of San Marcos?
To speak about the National University of San Marcos is to speak about one of the most important national universities in Peru, there are a lot of factors that have made this possible, for example the National University of San Marcos is considered the Dean University of the Americas, which means it is the oldest university in the continent since it was founded on the 12th of May 1551, in the city of the kinds, also known as Lima.
To continue learning more about the University of San Marcos, I think it is important to know a little more about its symbols, for example its brilliant coat of arms that hasn't been altered at all since it was created and it has stayed in place through the years from the 16th Century A very long time ago!
Let me show you the coat of arms of San Marcos where you can see San Marcos, who is the patron saint of the oldest university in the continent, with a lion, on the left hand side, and on the right hand side, the figure shows two towers which represent the kings of spain at that time, and the three crowns above them which represent Lima "The city of the kings" or the town crowned three times. Due to the fact that Lima was founded on the 18th of January 1535, which was very close to what is known as the feast of the Three Wise Men. Also in the upper part of the right side of the yellow stars, you can find the main star which guided that Three Wise Men, which I refer to as the star of Bethlehem. Additionally, at the top is the face of a person which would be that of a student, with something coming from its mouth that represents the wisdom and knowledge acquired through the National University of San Marcos.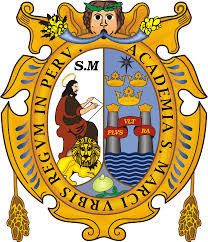 The National University of San Marcos counts on a lot of headquarters throughout the city of Lima, being the most important or better yet, the biggest city University to date. Which can be found in the central district of Lima, there you can find most of the faculties along with the university environment such as the gym, cafeteria, central library and the board of governors.
We cannot deny that between the national universities and the private universities, there is still a big gap however no one can take away from the prestige that the National University of San Marcos has, since through its classrooms, several valuable thinkers and personalities, in the history Peru, of have been formed.
To get into San Marcos, you will be given an admission exam that, which could be, next to that of the National University of Engineering, the most difficult exam that you could be given in Peru, for example I can tell you that in my case, it took me four attempts but it was worth it since I learnt, I got to know here and I experienced a lot of things here.
The National University of San Marcos gave me a lot of opportunities after leaving the home of my studies and it is thank to the university that I am now finding myself doing my masters degree abroad, I am not going to deny that there are faults but to sum up by experience I can say that it was truly gratifying given that here, I was given the bases I needed to be able to go out into the competitive market and give myself space in my career.
What if we could all agree that the National University of San Marcos is own of the most recognised in Peru, not only for the amount of professionals that have left it but also for the fact that they succeed in San Marcos, because it is said that to succeed in San Marcos is to succeed in Peru, we say that San Marcos is a small sample of Peru's success.
To get into the university you have to do an entry exam, which is given twice a year, there are also other methods with less vacancies, but the second option that they also have now which is really taking force, is through the pre-university level San Marcos, that gives out exams every month to go towards your university points, and in turn allowing you to get into the dean university of the continent of America
San Marcos really counts on professional careers, as much on the side of exact sciences as it does on the branch of humanities, in this aspect it is a very versatile university. To get in here is worth it, if you are thinking about studying in a public university, since the prestige that San Marcos has earned through time is synonymous with them, for example Mario Vargas Llosa, Noble prize winner of Literature is one of out most brilliant students.
What are the facilities like?
The City University is one of the biggest campuses in Lima and in Peru, it has a lot of faculties and speak truly of its facilities we have to speak about each one individually since they are not all modern and some are old but they are still being remodelled little by little.

I could tell you about my experience which was at the Department of Administrative Sciences which you can find between the Department of Arts and Social studies. In my opinion the Department of Administrative Sciences has been one of the pioneers in change and being at the forefront, anecdotally, I can tell you for example that other universities see students of the National University of San Marcos as rebellious because they go on strike and they always end up rebelling when there is something that they don't like, so under this context, they consider the Department of Administrative Sciences as the yellows, which means that they are in their bubble, continuing with their classes all while San Marcos is under protests or strikes. In my case I finished my degree without loosing one term over this topic and this was the same for most of my friends.
With the University of San Marcos, there are also places that all of San Marquino must go to, for example the cafeteria where food is free, the central library, the gym, la Huaca (restaurant) and to take the bus, on the other hand it is also about a relaxing life, like going out in your free time, dance a little to celebrate a friends birthday or drink a few beers, for those who like to drink.
Additionally, for the University of San Marcos being a place with so much history, we can deduce that it was not always located where you would find the city university today, for example we can mention the following headquarters, which were present before the current city university: Basilica and Convent of Santo Domingo, the Church of San Marcelo, an old building in the centre of Lima in which the Congress of the Republic of Peru meet, the Casona of San Marcos and subsequently the current city university on the central district of Lima.
The latest advances that San Marcos has made, is that now the space of the city university is practically being left small for all the projects that the university wants to do. One of its most ambitious plans is to create a new campus in the Lurín area which is a district in the south of Lima. This has not yet been confirmed by the current President of San Marcos but the media in Peru have already started to discuss this topic within issues related to the most important national university of Peru.
In my most recent visit to the University of San Marcos, I can also confirm that the infrastructure is changing for the better in the sense that a lot of departments are looking for international accreditation to allow them to be more competitive in the market. I could give the examples of the Department of Administrative Sciences and the Department of Industrial Engineering. There must others that are a lot more secure but I can only think of these right now.
What are the tutors like?
In terms of tutors, there really is a little bit of everything, since there are tutors that are very nice and I would take my hat off to them. One tutor that really stood out to me was my English teacher, not only because the language is important today in all professional degrees but also because, throughout our classesshe told us her experiences, she was shaping us, she was strict but generous. I also have had teachers that are strict but they lack this human side and clearly there are those teachers that you can easily pass with. I cannot generalise since the teaching experience is very particular and individual, therefore it depends a lot on what you think and how you feel, so I hope that if you study at San Marcos there is a good energy for you to get to know good teachers that help you become a good professional.
There are teachers that are appointed and others that work for hours, currently with the change in the university laws, I am sure that new changes for the National University of San Marcos will come out, and for all of the universities in Peru with the aim of becoming the most competitive in the region and also adapting themselves to the needs of the market.
Something that we have to take into account is that in the government of president Ollanta Humala created the SUNEDU which is the National Superintendency of Education and is in charge of good performance of both the public and private universities, thats why under this context, it is looking to make teachers more competitive in the areas that they teach. For example, before in Peru and consequently in San Marcos, you didn't need to have a teaching degree to be a university tutor, meanwhile in the new university law, this clause is going to change and it is going to have be implemented in every university in Peru, be it public or private.
I think that it is important that these changes happen in order to help develop better quality education for young people that year after year decide to apply for national universities such as San Marcos, NUE (National University of Engineering, Villareal (National University of Frederico Villareal), among many others.
Is it easy to pass in the National University of San Marcos?
As I mentioned in my last answer, it really depends on the level of teaching one can have. There are some courses that are quite complicated and they require most of your time and attention, and a lot also depend on your strengths and weaknesses. For example in my case, anything related to numbers was a real fear for me, but in a way they are necessary for Applied Administrative Sciences with Tourism.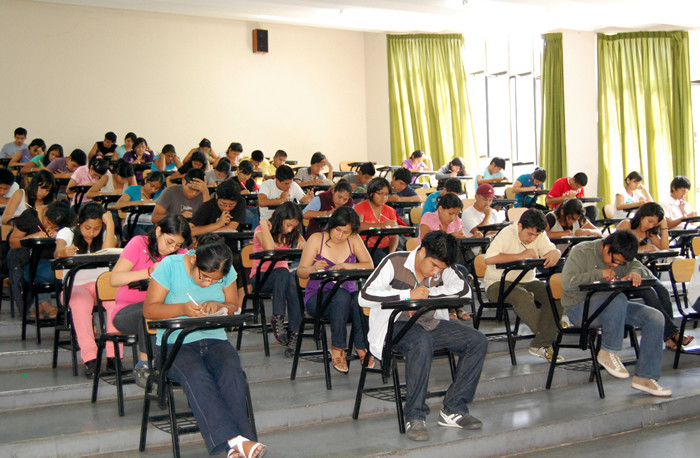 Normally people in Peru think that in San Marquinos we are "chancones", which means that we are studious, we also share this award with universities like the National University of Engineering also known as UNE where my sister studied Architecture and in my honest opinion I think that she took the most complicated course than mine in the National University of San Marcos.
What are the activities that the university organises like?
In my opinion the University of San Marcos is a university focused on humanities but perhaps I have this opinion because my department is between the department of arts and the departments of social sciences, who to tell the truth, are the most I have seen organise conferences within the university and other academic topics.
On the other hand, in reference to the University of San Marcos, we can generally say that every day they are forming different activities. For example, the university newspaper circulates weekly, which is given out to students for free, at the entrance to the university, in which people can see what activities are being advertised.
One of the activities or events that brings everyone in San Marquinos together, is when it is the anniversary of the university because they have parties and traditional dance competitions between the departments in the central building, where each department prepares for months, in anticipation to give their best.
However it is also when it is the anniversary of a department where they have festivals inside the university with live music.
Also, don't forget that the university's culture centre is not located in the city university but rather in the university park in the centre of Lima, which you can visit to learn about the history of the National University of San Marcos and to be fueled by the past that has made it one of the most prestigious national universities today.
Do you think there is a good quality of teaching?
This is a very subjective question, I cannot stop identifying myself with the National University of San Marcos but I do have to be realistic in saying that some of the teachers did not satisfy me at all but it is not because of them that I can say that the quality was bad. In this case, I believe that a lot of us think what is most important is, making the most of being in university and having the ability to insert ourselves into the labour market, while studying. I advise you to always work and study.
Do you have any anecdotes you would like you share?
I have a lot of anecdotes that I could share about my time in the National University of San Marcos, for example I can tell you about the times that I studied with my friends the eucalyptus forest, the times that danced with my friends in my spare time and how I started to let go and socialise a little more every day. The times that I was at the dance championships, giving out batons to my department of Administrative Sciences. The times that I passed my courses with high grades and also the times that failed a course and I took it again in summer, I still remember the course of "Cost and Budget" when once I got 8 in one exam and 20 in others.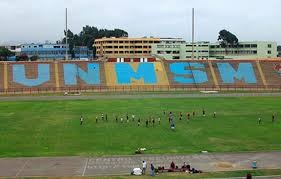 Regarding the strikes, I can also remember when the first administration of the current mayor of Lima, Luis Castañeda Lossio, made a lawsuit between the National University of San Marcos and the local council of Lima about building a bypass on university land and there were strong moments where even the politicians where faces with students throwing stones and the police throwing tear gas bombs at those that were in the strike and those who weren't, like me. There were a lot of experiences that I remember fondly. I have met friends that have left a mark on my life, teachers that have shaped me, I have been able to get in here and therefore it filled my heart every time I think about my University of San Marcos, a university that will probably keep changing and that will keep giving opportunities to many Peruvians and people that encourage living this experience. There is a reason that people say the National University of San Marcos is small version of Peru, since everything that happens in Peru, also happens in San Marcos.
Another thing about the university that I remember fondly is when I there were "cachimbos" (freshers), (this means when there are new entrées of the university), we have to pass through the most important parts of the university to be baptised. There are things that you have to do being a fresher at San Marquino such as going into the library, going for a walk with "el burro", this sky blue coloured bus that travels around the university, as well as going to the university cafeteria where the food is free, but to get in to it you have to form a long line. Another point you have to visit as a fresher is the stadium and of course go to parties in "El Hueco" (a district in Peru) which is across the tracks on "Avenida Venezuela" (Venezuela Avenue). San Marcos has filledme with a lot of anecdotes and a lot of knowledge that hang on to with a lot of love.
On the other hand I can also tell you about being a student in the Professional Academic School of Tourism Administration, I took advantage of being able to be a tour guide in San Marcos mansion for three months. This was my first professional practice! where I could learn a lot, so much about the history of my university and become a lover of the past of the dean university of America. It was just my luck, that in the time that I was in the mansion, Gastón Acurio came to record one of his programmes "Culinary Adventure" in which he used one of the patios in the culture centre to prepare a "Tacu chaufa" (Peruvian mixed rice with beans) and were I also took advantage of the opportunity to take some photos of him to remember and of course, to try the food of the best chef in Peru!
Also in the time that I was a tour guide in the mansion, one of the musicians that nowadays I refer to as the great Silvio Rodrigueaz, the musician of the "Trova Cubana" (Cuban ballad).
---
Photo gallery
---
---
Content available in other languages
Share your Erasmus Experience in National Major San Marcos University!
If you know National Major San Marcos University as native, traveler or as exchange student... share your opinion on National Major San Marcos University! Rate different characteristics and share your experience.
Add experience →